| | |
| --- | --- |
| AceNotes Today | Wednesday, December 15, 2021 |
PAYROLL REMINDER FOR 12/24/21
With a very short work week approaching, the Payroll Department is requesting the following:
Staff and students please submit timecards by Friday, December 17th for the 12/05/21 - 12/18/21 pay period.
Supervisors are reminded to approve timecards before noon on Monday, December 20th.
Thank you, and please contact Dawn Bury at EXT 2159 or db287@evansville.edu if you have questions.
2021 Employee Holiday Schedule
The University of Evansville will be closed during the holidays to allow our employees to enjoy this special time with their families. This year, our December holiday will be extended for one additional day, closing on December 22 to provide extra time with your families.
Winter Holiday Break
Closed Wednesday, December 22 through Friday, December 31
Offices reopen on Monday, January 3
Required COVID-19 Testing for the Spring Semester
The Coronavirus Task Force thanks the campus community for creating a successful fall semester with very few COVID-19 cases on our campus. Looking ahead at the Spring 2022 semester, UE will continue with the same requirements for students and employees that were in place this fall.
A negative COVID-19 test (either rapid or PCR) will be required for all full and part-time students and employees (including adjunct instructors) who have reason to be on the UE or Stone Center for Health Sciences campuses. Those who submit a negative COVID-19 test will be required to participate in the Random COVID-19 Testing program throughout the semester.
If you submitted proof of full vaccination for the fall semester, you are not required to submit a negative test, participate in the Random COVID-19 Testing Program, or re-upload your documentation.
Those who became fully vaccinated after the fall semester began will need to upload their documentation. Full vaccination is considered two doses of Pfizer or Moderna or one dose of Johnson & Johnson, plus a 14-day waiting period.
Students and faculty participating in study abroad programs, including Harlaxton College, will be provided specific information from the Study Abroad Office regarding testing and vaccine requirements for spring travel.
Please click on the links below for important information specific to requirements, submitting documents, and important deadlines:
This Week in Music
The UE Music Community Conservatory will conclude its first semester with a recital on Friday December 17 at 7:00 p.m. in Neu Chapel featuring the new Junior Horn Ensemble made up of 6th-11th graders from the Tri-State area. The program will also feature private horn students of Professor Rebecca Salo. The concert is free and open to the public.
The College Tour Watch Party – January 12, 2022
Do you remember earlier in the semester when we announced on-campus filming for our very own episode of The College Tour? This 30-minute video allows anyone in the world to get an in-depth look into our campus, programs, student life, and athletics. If the pandemic or finances get in the way of traveling to the UE campus, our episode helps high school students feel like they're right here in Evansville!
So without further ado, before you head home for the holidays, mark your calendar for The College Tour Watch Party on Wednesday, January 12, 2022!
The event will be held in Eykamp Hall that evening. Pre-show entertainment will begin at 8:30 p.m. with free snacks in Café Court, giveaways, music, and even a purple carpet! At 9:00 p.m., the episode will premiere. Make sure to get there early to secure your seat!
Whether you're a student, employee, alum, or a prospective student, we want to see you there. Those who attend the watch party will be the very first audience to see the final cut! We're so excited to share the completed episode with you.
Toyota Manufacturing, Indiana Graciously Donated $350,000 to the UE Trinity Storm Waterpark ChangeLab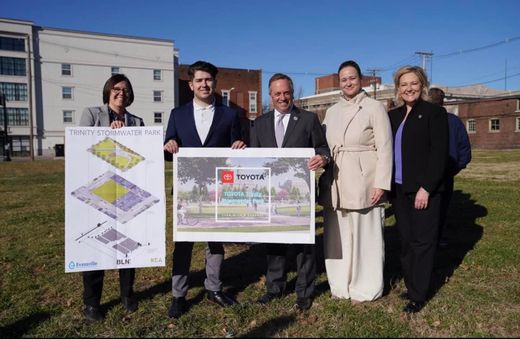 Toyota Manufacturing, Indiana graciously donated $350,000 to the UE Trinity Storm Waterpark ChangeLab. A formal announcement was made on December 13, 2021. The story of Robert Lopez, UE Junior, is one for the books. He started out competing in the UE High School Changemaker Challenge. He did not win, but continued literally walking to UE Campus from Bosse High School just to work on his dream. Fast forward 5 years later… After being coached in ChangeLabs by Erin Lewis and her gift of bringing people and resources together, we celebrate Robert's dream becoming a reality. This collaboration of UE CFIC/ChangeLab, Toyota Manufacturing Indiana, The Honorable Mayor Lloyd Winnecke, the City of Evansville, EVSC, and so many more, is a memorable example of partners coming together for something bigger than all of them. This feel good story is perfect timing as we celebrate a season of giving. Robert's speech during the formal announcement reminds all of us to dream big, and never give up. May you too be inspired by Robert's true grit, tenacity and heart of excellence. I know we are. #bethechange
Spring Meal Plan Changes
Students can adjust meal plans for the Spring semester until Friday, January 14, 2022 at 5:00 p.m.
Winter Intersession Courses
It's not too late to register for a Winter Intersession course. Classes are held December 17, 2021, through January 7, 2022. Students may take one course.
For registration, payment deadlines, and additional information visit https://www.evansville.edu/registrar/winterSessions.cfm.
Winter Intersession Course List
| Subject | Number | Cr Hrs | Course Title | Instructor |
| --- | --- | --- | --- | --- |
| ART | 105 | 3 | Introduction to the Visual Arts | Larmann |
| ASTR | 101 | 3 | Descriptive Astronomy | Braun |
| AT | 180 | 3 | Introduction to Athletic Training | Tilly |
| CHEM | 103 | 3 | Chemistry of Adult Beverages | Miller |
| CHEM | 118 | 4 | Principals of Chemistry | Miller/Morong |
| EDUC | 322 | 3 | Strategies for Special Needs Students in K-12 Schools | Jones |
| ES | 103 | 3 | Fundamentals of Environmental Science | Thananatthanachon |
| EXSS | 150 | 2 | Introduction to Health Sciences | Laughbaum |
| EXSS | 320 | 3 | Nutrition for Performance and Health | Rodd |
| EXSS | 453 | 2 | Motor Learning | Wilson |
| EXSS | 488 | 1 to 3 | Internship | Rodd |
| EXSS | 488 | 1 to 4 | Internship | Wilson |
| FIN | 280 | 3 | Personal Finance | Brockman |
| HS | 205 | 3 | Pharmacology | Pruden |
| MATH | 134 | 3 | Survey of Calculus | Salminen |
| MATH | 324 | 3 | Differential Equations | Salminen |
| MUS | 156 | 3 | Music in America | Strandberg |
| NEUR | 125 | 3 | Introduction to Neuroscience | Campese |
| NEUR/PSYC | 355 | 3 | Sensation and Perception | Becker |
| PH | 190 | 3 | Introduction to Public Health | Patel-Dovlatabadi |
| PSYC | 121 | 3 | Introduction to Psychology | Campese |
| PSYC | 226 | 3 | Child and Adolescent Psychology | Hennon |
| PSYC | 416 | 3 | Human Sexuality | Becker |
| QM | 227 | 3 | Intro to Statistics | Khormali |
| SOC | 105 | 3 | Introduction to Sociology | Plikuhn |
| SOC | 230 | 3 | Social Problems in the Modern World | Plikuhn |
| STAT | 166 | 1 | Intro to R for Data Science | Weber |
Clark Kimberling publishes article about Christmas Carols
Clark Kimberling, Professor of Mathematics, wrote an article recently published by the West Gallery Music Association. Entitled "The Carol Books of Thomas Hardy (1778-1837) and Thomas Hardy (1811-1892)", the article studies the sources of texts in the manuscript books of Christmas carols used by the father and grandfather of novelist Thomas Hardy (1840-1928). The article also discusses the influence of these carol books in the writings of Hardy the novelist. Copies of the books, dated 1799 and circa 1842, were made available to Dr. Kimberling by the Dorset County Museum, in Dorchester, Dorset, England. To download the article, go to https://wgma.org.uk/articles.htm and scroll to the last article under "Regional".
Je'Naiya Davis grabs her second MVC Newcomer of the Week honor
After another impressive week, University of Evansville women's basketball junior Je'Naiya Davis has been named Missouri Valley Conference newcomer of the week, it was announced in a release from the Conference office on Monday afternoon.
Becoming a trend, Davis again put in an impressive scoring performance this week. In an 89-83 road victory over Bellarmine, Davis became one of 13 players this season with two performances of 29 points-or-more, dropping 29 against the Knights, including a 12-14 effort at the charity stripe. Following up the performances, Davis scored in double-digits again with 12 points in just 21 minutes, adding six rebounds in the 30-point victory over Morehead State. On the season, Davis has scored in double-figures in all six contests, averaging a team-best 20 points per game.
The honor is the second of the season for Davis, who previously earned the honor on November 29, and the third-straight MVC newcomer honor that an Aces player has received after Davis' on Nov. 29 and senior Myia Clark received the recognition last week.
Evansville returns to the court on Sunday at Chicago State for a 1 PM matchup in Chicago, Ill.

Contribute to AceNotes
To have content considered for inclusion in AceNotes, please submit a Marketing Request Form. Deadline for submission to AceNotes is 10:00 a.m. on the requested date of publication. Only articles concerning UE related/sponsored activities will be accepted. Articles submitted to AceNotes may be edited for length and clarity. Submitter contact information is at the end of each article.