| | |
| --- | --- |
| AceNotes Today | Tuesday, December 7, 2021 |
Announcement of New Dean of Students and Vice President for Student Affairs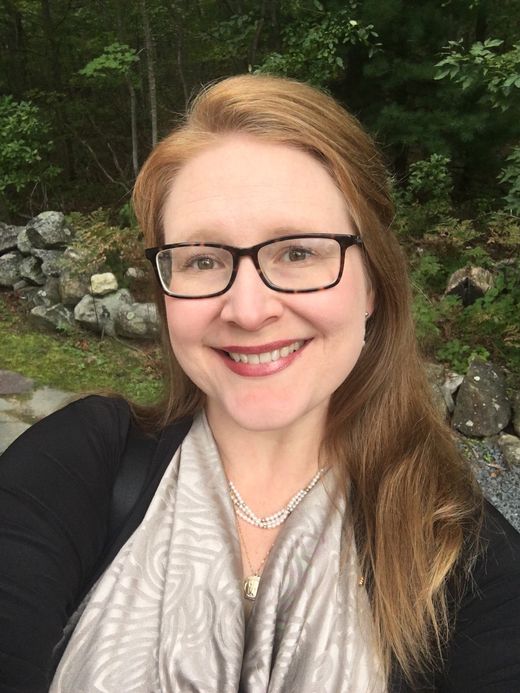 After a national search, Rachel Carpenter has been selected as the new vice president for student affairs and dean of students at the University of Evansville. She will begin her duties with an anticipated start date of June 1, 2022.
In her new role, Carpenter will serve the UE student body and help create a safe, welcoming, and supportive campus community. She will not only work one-on-one with students but also student organizations across campus.
"As someone who grew up in the military, I have rarely experienced the feeling of returning home," said Carpenter. "I am very excited to return to the UE campus, a place I once called home for several years, and work alongside talented faculty and staff. Together, I know we will move the University forward and prepare students to live meaningful lives in a changing world."
Carpenter brings nearly two decades of experience in student affairs. Currently, she is the interim university dean for students at Pace University, which has two campuses in Pleasantville and New York City, New York. Prior to serving in this role, she was interim associate vice president for student affairs and dean for students, interim dean, and director of the Center for Student Development. While at Pace, she has been working toward her Doctor of Professional Studies in business and is expected to graduate this month.
Dean Carpenter will be familiar with our campus when she joins UE, as she is both an alumna and former administrator. In 2003, she graduated from UE with a Bachelor of Arts in international studies. Later, she earned her Master of Science in public service administration in 2009. She served in various roles at the University from 2003-10, including residential coordinator, dean of students at Harlaxton College, assistant dean of students, and director of the Center for Student Engagement.
Carpenter will succeed Dean Clayton, who has been an exemplary leader for thousands of students who are making a difference in the world. Clayton is retiring in February 2022 after 32 years of service to the University. Until Carpenter's arrival, Dr. Rob Shelby, chief diversity officer, will be the interim vice president for student affairs. Michael Tessier, assistant vice president of student affairs and director of residence life, will serve as the interim dean of students.
Required COVID-19 Testing for the Spring Semester
The Coronavirus Task Force thanks the campus community for creating a successful fall semester with very few COVID-19 cases on our campus. Looking ahead at the Spring 2022 semester, UE will continue with the same requirements for students and employees that were in place this fall.
A negative COVID-19 test (either rapid or PCR) will be required for all full and part-time students and employees (including adjunct instructors) who have reason to be on the UE or Stone Center for Health Sciences campuses. Those who submit a negative COVID-19 test will be required to participate in the Random COVID-19 Testing program throughout the semester.
If you submitted proof of full vaccination for the fall semester, you are not required to submit a negative test, participate in the Random COVID-19 Testing Program, or re-upload your documentation.
Those who became fully vaccinated after the fall semester began will need to upload their documentation. Full vaccination is considered two doses of Pfizer or Moderna or one dose of Johnson & Johnson, plus a 14-day waiting period.
Students and faculty participating in study abroad programs, including Harlaxton College, will be provided specific information from the Study Abroad Office regarding testing and vaccine requirements for spring travel.
Please click on the links below for important information specific to requirements, submitting documents, and important deadlines:
Retirement Reception for Becky Buxton
The School of Engineering and Computer Science would like to invite you to a retirement reception for Becky Buxton on Thursday, December 9 from 3:00-4:00 p.m. The reception will be held in the second floor lobby (near the concrete canoe, in front of KC 271). Becky is retiring at the end of this semester after 16 years of service to the University. Please come and celebrate with us, showing our appreciation for all she has contributed to the University.
This Week in Music
Holiday Pops returns to Evansville this Tuesday, December 7 at 7:30 p.m. at Old National Events Plaza in downtown Evansville. The concert features student and community performers from the University of Evansville Music Conservatory's band, choir, and orchestra programs. The concert is free and open to the public. Join us as we wrap up the semester with Holiday cheer!
Also, this week, the newly formed University of Evansville Community Conservatory marks the end of its first semester with a student recital this Saturday, December 11 at 4:00 p.m. in Neu Chapel. The Community Conservatory is made up of young musicians from throughout the Tri-State region who come to UE weekly to study with Music Conservatory faculty. The program will showcase students ranging from 7th grade through high school on a variety of instruments including flute, oboe, violin, viola, piano, and guitar. The program will be available via live-stream at: https://www.youtube.com/c/UEDepartmentofMusic/videos
Conversations & Cocoa-to-go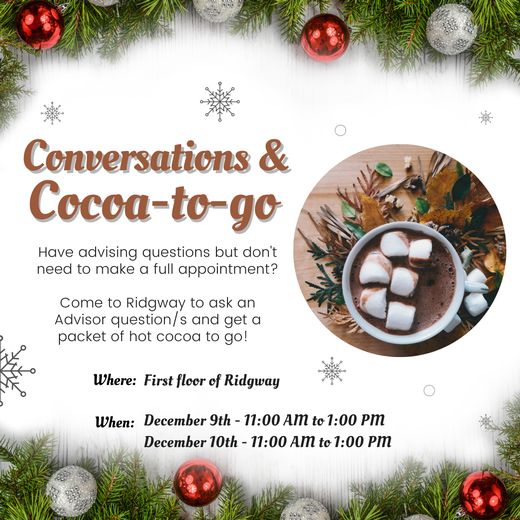 Have advising questions but don't need to make a full appointment?
Come to Ridgway to ask an Advisor question/s and get a packet of hot cocoa to go!
Where: First floor of Ridgway
When: December 9th - 11:00 AM to 1:00 PM
December 10th - 11:00 AM to 1:00 PM
Relaxation Station returning to Reading Study Day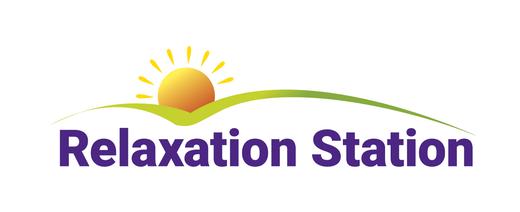 The Office of Counseling Services is excited to announce the return of the Relaxation Station to Reading Study Day! To accommodate some of the ongoing campus restrictions, this event will continue to be open house style but will be a walk-through event with activities rather than the traditional sit-down format it has been in the past.
Relaxation Station is an event hosted each Reading Study Day to promote and encourage wellness for the whole person - body, mind, and spirit! This year, the event will feature giveaway goody bags, a selfie station, custom coloring pages, a photo scavenger hunt with prizes, and the return of RSA's Create-Your-Own Aromatherapy Spray booth and the ACES Dance Party. We look forward to seeing you next Thursday, December 9th, from 2-4 pm in Eykamp 253-55!
Free Paper Shredding on Thursday, December 9
Free off-site paper shredding by Piranha Mobile Shredding will return to campus once again December 9 (Reading Study Day) from 10:00 a.m. - 1:00p.m. All UE students, faculty, staff, and alumni can take advantage of this free service by bringing paper to the Piranha truck in Koch Center for Engineering and Science parking lot. Paper will be shredded off-site. We will place bins along the parking lot to allow each person to empty their own material for a no contact approach.
So, if mounds of paper are taking over your office, home, or room, this is the time to gather those old files, receipts, cancelled checks, tax forms, etc. No need to take out the staples or paper clips. Avoid identity theft by having confidential information permanently destroyed.
Please - no telephone books, magazines, or newspapers. Also, please note that there is a 100-pound paper limit per visit (number of visits is not limited).
UE Music Conservatory Hosting Holiday Pops Concert on Dec. 7
The UE Music Conservatory will host the Holiday Pops concert on Tuesday, December 7. The event will be held at Old National Events Plaza beginning at 7:30 p.m. Admission is free, and the public is invited to enjoy the sounds of the season.
Holiday Pops will feature music from the UE Symphony Orchestra, University Choir and Choral Society, and Wind Ensemble. Musical selections will include "Have Yourself a Merry Little Christmas," "Christmas at the Movies," "Christmas and Sousa Forever," and more. Holiday Pops is made possible by the George L. Mesker Music Trust, Anna Bosse Trust, and Raymond B. Preston Family Foundation.
Experience NEW Virtual Reality Escape: The Space Bar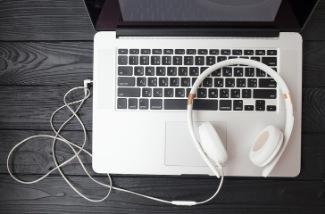 Dr. Derek Jones and his team on the Living Well Online ChangeLab was one of two inaugural recipients of the Student Changemaker Fund, and they've created a fun way to de-stress or experience a different environment. They've created "The Space Bar": a portable VR escape, and it will be doing its first test run outside the Center for Innovation & Change (2nd floor Ridgway, above the dining hall) on Wednesday, December 8th from 9:45am - 10:45am. Only 4 slots available to give time to experience it and sanitize the Occulus Headset in between users. Sign up at: https://www.signupgenius.com/go/10C0D4AA9A928A6F8C52-changelab. Questions? Contact Dr. Jones dj4@evansville.edu.
Climate Change Theatre Action ChangeLab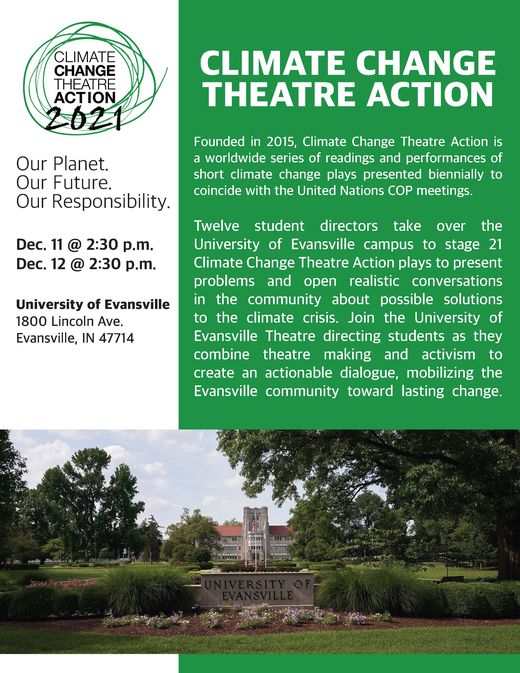 Saturday, December 11th at 2:30 pm & Sunday, December 12th at 2:30pm
Twelve directors will be presenting over twenty-one short plays about the climate crisis outside at various locations on UE Campus.
Student Media Hiring Social Media Content Manager for Spring 2022
Department: Art http://crescent.evansville.edu
Supervisor Info: Primary
Name: Tommy Housman
Email applications to: th208@evansville.edu
Pay Rate: $9.75/hr Positions Available: 1 OF 1
Federal Work-Study? Y UE Work-Study? Y Non-Work-Study? Internship?
Employment Dates: 01/10/2022 TO 05/05/2022
Application Deadline: 01/10/2022
Position Title: Student Media Social Media Content Manager Spring 2022
Job Description: Work with Student Media and Manage the Crescent Magazines social media by creating engaging content. Interested students should be prepared to familiarize themselves with University of Evansville events, organizations, sports, and news. The social media content manager will be the Crescent Magazines in-field reporter keeping its followers informed and engaged. This Position will be responsible for creating content across all of our social media platforms and with the help of Student Media staff develop a social media marketing strategy to increase awareness and followers. To learn more contact Student Media Advisor Tommy J Housman
Skills Needed: Strong to advanced understanding of social media Smart phone and basic DSLR photography and video - Training available Beginner to advanced understanding of graphic design - Training available Strong writing skills Ability to work independently and with a team.
Required Major: Students with any major may apply
Lost and Found services provided by Public Safety
The Office of Public Safety provides lost and found services for the campus. If you would like to turn in any items of value, please contact Public Safety at 488-2051. If you have lost any items of value, please contact the office to se if your property has been turned in. Lost and Found services are available 24/7.
Do you want to help with Purple Patrol?
Purple Patrol will continue into the Spring 2022 semester once we return from break, and we need volunteers! The first week of Purple Patrol will be Friday, January 14, marking the first week of classes.
Sign up on behalf of your team or coworkers here. Please sign up for one slot only so everyone has a chance to participate. Don't wait, as spots will fill up quickly!
When it's your week to help, you will receive an email in advance with basic instructions. Purple goodies will be waiting for you on Friday morning in the Office of Marketing and Publications (top floor of the Schroeder Family School of Business Administration Building). There is no specific time or place to hand out these items; the only requirement is that the recipients are wearing purple!
If you have any questions about the sign-up or Purple Patrol, please contact Julie Bryant, university relations coordinator, at jb855.
Spring Meal Plan Changes
Students can adjust meal plans for the Spring semester until Friday, January 14, 2022 at 5:00 p.m.
Winter Intersession Courses
It's not too late to register for a Winter Intersession course. Classes are held December 17, 2021, through January 7, 2022. Students may take one course.
For registration, payment deadlines, and additional information visit https://www.evansville.edu/registrar/winterSessions.cfm.
Winter Intersession Course List
| Subject | Number | Cr Hrs | Course Title | Instructor |
| --- | --- | --- | --- | --- |
| ART | 105 | 3 | Introduction to the Visual Arts | Larmann |
| ASTR | 101 | 3 | Descriptive Astronomy | Braun |
| AT | 180 | 3 | Introduction to Athletic Training | Tilly |
| CHEM | 103 | 3 | Chemistry of Adult Beverages | Miller |
| CHEM | 118 | 4 | Principals of Chemistry | Miller/Morong |
| EDUC | 322 | 3 | Strategies for Special Needs Students in K-12 Schools | Jones |
| ES | 103 | 3 | Fundamentals of Environmental Science | Thananatthanachon |
| EXSS | 150 | 2 | Introduction to Health Sciences | Laughbaum |
| EXSS | 320 | 3 | Nutrition for Performance and Health | Rodd |
| EXSS | 453 | 2 | Motor Learning | Wilson |
| EXSS | 488 | 1 to 3 | Internship | Rodd |
| EXSS | 488 | 1 to 4 | Internship | Wilson |
| FIN | 280 | 3 | Personal Finance | Brockman |
| HS | 205 | 3 | Pharmacology | Pruden |
| MATH | 134 | 3 | Survey of Calculus | Salminen |
| MATH | 324 | 3 | Differential Equations | Salminen |
| MUS | 156 | 3 | Music in America | Strandberg |
| NEUR | 125 | 3 | Introduction to Neuroscience | Campese |
| NEUR/PSYC | 355 | 3 | Sensation and Perception | Becker |
| PH | 190 | 3 | Introduction to Public Health | Patel-Dovlatabadi |
| PSYC | 121 | 3 | Introduction to Psychology | Campese |
| PSYC | 226 | 3 | Child and Adolescent Psychology | Hennon |
| PSYC | 416 | 3 | Human Sexuality | Becker |
| QM | 227 | 3 | Intro to Statistics | Khormali |
| SOC | 105 | 3 | Introduction to Sociology | Plikuhn |
| SOC | 230 | 3 | Social Problems in the Modern World | Plikuhn |
| STAT | 166 | 1 | Intro to R for Data Science | Weber |
Renschler consults on Brazilian production
Associate Professor Eric Renschler recently served as the design consultant for a Brazilian production of the Broadway musical Chicago. The production at the Teatro Santander in Sao Paulo is set to open in early January. This marks the twenty first licensed production of Chicago for which he has been a member of the design team. Eric served as the Associate Scenic Designer when the current Broadway production opened in 1996, and Design Supervisor for 16 international productions from 1997-2008.
Condolences to the Family of Peggy Louise Averill
Harlaxton College sends condolences to the family of Peggy Louise Averill, former member of the Harlaxton advisory council and faithful friend of Harlaxton Manor. Many will remember Louise and her contributions to the college through the advisory council with her service from 1976 to 2013. She served on the executive committee as Honorary Secretary, the Student Life and Community Relations Committees. Current Chair of the Advisory Council, Mrs. Henrietta Chubb, has much appreciation for the work that Louise provided to the College. "Harlaxton and the many students who have passed through its doors have been incredibly fortunate to have benefited from Louise's wisdom and advice. Louise and her late husband Charles cared deeply about Harlaxton Manor and we are truly grateful for their valuable involvement in the transformational experience for students which is Harlaxton. Louise will be deeply missed by her friends on Advisory Council, and we join in sending our heartfelt condolences to her family."
The announcement in the Telegraph tells us that Peggy Louise passed away on November 22nd, 2021, peacefully at the Dower House, Winchester aged 97 years. Adored wife of the late Charles, dearly loved mother, a devoted grandmother, great grandmother, and sister. Service at Chesil House, Winchester on Wednesday December 8th at 1 p.m. The funeral home is Richard Steele and Partners, and the family are asking for donations to be made to the British Red Cross.
Tributes are welcome via the funeral home website and the family has asked for donations to be made in her honor to the British Red Cross via this site as well. You can find this at Tribute to Peggy Louise Averill, 1924 - 2021 (muchloved.com).
Shamar Givance named MVC Player of the Week
For the second time in his career and the first instance this season, University of Evansville men's basketball senior Shamar Givance has been named the Missouri Valley Conference Player of the Week.
Givance set a new career high with 31 points in a week that saw him average 23 points per game over the last week against Southern Illinois and Tennessee Tech. He shot 58.6% from the field while averaging 5.0 rebounds, 2.5 assists and 2.0 steals per game while playing 34.9 minutes per contest.
The big performance for Givance came in the MVC opener against Southern Illinois on Wednesday where the Toronto native was 11-for-16 from the field on his way to 31 points. He added two triples and a 7-for-10 effort from the line. In 37:44 of work, he had two assists and three boards. His 31-point game against SIU surpassed his career high of 26, which came just three days earlier at Eastern Illinois.
Saturday's matchup against Tennessee Tech saw him score 15 points while grabbing 7 rebounds. Givance added 3 steals and 3 assists in a 6-for-13 shooting effort.
Entering Wednesday's game at Southeast Missouri State, Givance ranks 9th in the MVC with 15 points per game while sitting third in steals and seventh in assists.
Vazquez and Cardona break single season records
Alondra Vazquez and Giulia Cardona broke University of Evansville single season records on Monday as the Purple Aces volleyball team dropped its NIVC Quarterfinals match to Valparaiso.
Vazquez recorded 10 kills in the contest to break the UE single season kills mark with 494. Her tally on Monday gave her the record by just one kill. The previous record of 493 was set by Genesis Miranda in 2015. Giulia Cardona picked up 11 kills to complete her first collegiate season with a total of 467. Her total broke the freshman kills record, which was set by Melanie Feliciano in 2019. Feliciano had 456 kills in her inaugural campaign. The 2021 MVC Freshman of the Year finished with an average of 0.50 service aces per set, ranking in the top 15 nationally while on pace to be the top average for a freshman in the nation.
Melanie Feliciano wrapped up the year with 3.28 kills per set, giving UE three of the top six spots in the MVC in that statistic. She was rewarded with a spot on the All-MVC First Team, along with Vazquez, for her efforts.
Another freshman – Taya Haffner – accumulated 1,141 kills on the season and led the MVC for the entire year. Her total was the second-most for the program since 2009 and was just the 10th instance that a player finished with 1,000 in program history. Her average of 10.76 helpers per frame ranks in the top 35 in the NCAA. UE's top blocker in 2021 was freshman Madisyn Steele. Hitting .333 for the season, Steele accumulated six solo blocks and a team-high 73 block assists.
Tonight's match was the final in the careers of Cecilia Thon and Elena Redmond. Injury limited Redmond over the previous two seasons, but she was able to get on the floor for the senior night contest at Meeks Family Fieldhouse in November. Thon capped off her career with a spot on the MVC Scholar-Athlete Team.
As a team, the Aces finish the fall with 21 victories. It is the first 20-win campaign since 1988 and the first as members of the MVC. The appearance in the National Invitational Volleyball Championship is also the first postseason trip for the program since the early 1980's.
Set 1 – Valpo 25, UE 17
A nice start saw the Aces take a 6-4 lead with Giulia Cardona picking up a kill. Her first kill of the night officially set the program mark for most kills by a freshman. Valpo came back to tie it up at 8-8 before jumping in front by a 10-9 score. Evansville retook a 12-11 lead and the teams dueled it out to a 15-15 mark. The Beacons scored two in a row to jump in front and would stage a late rally to take the first set. Up 19-17, VU scored the final six points to complete the set.
Set 2 – Valpo 25, UE 13
UE jumped out to a 3-2 advantage but the Beacons posted seven of the next nine points to go up 9-5. Following a point by the Aces, VU scored the next five points before extending the lead to take the set by a 25-13 final.
Set 3 – Valpo 25, UE 17
With momentum on their side, the Beacons took a 3-1 lead to open the set before the Aces rallied to tie it up at 5-5 on a kill by Melanie Feliciano. Valpo slowly extended the lead to four points at 15-11 before Evansville stormed back. Kills by Hannah Watkins and Giulia Cardona got UE within just one point at 18-17, forcing a time out. Following the short break, VU reeled off the final seven points to clinch the match.
UE Student-Athletes Partnering with Toys-For-Tots
Join us in helping Local Children experience the Holiday's and Magic of Christmas.
UE Student-Athletes will be partnering with Toys-For-Tots, with two opportunities for collections of New, Un-Wrapped toys for all ages.
These dates are the December 4th Men's Basketball Game and the December 11th Women's Basketball Game.
Every donation will receive an Aces goodie bag for your help and generosity. We look forward to all the great donations and GO ACES!
Contribute to AceNotes
To have content considered for inclusion in AceNotes, please submit a Marketing Request Form. Deadline for submission to AceNotes is 10:00 a.m. on the requested date of publication. Only articles concerning UE related/sponsored activities will be accepted. Articles submitted to AceNotes may be edited for length and clarity. Submitter contact information is at the end of each article.