| | |
| --- | --- |
| AceNotes Today | Thursday, December 2, 2021 |
Required COVID-19 Testing for the Spring Semester
The Coronavirus Task Force thanks the campus community for creating a successful fall semester with very few COVID-19 cases on our campus. Looking ahead at the Spring 2022 semester, UE will continue with the same requirements for students and employees that were in place this fall.
A negative COVID-19 test (either rapid or PCR) will be required for all full and part-time students and employees (including adjunct instructors) who have reason to be on the UE or Stone Center for Health Sciences campuses. Those who submit a negative COVID-19 test will be required to participate in the Random COVID-19 Testing program throughout the semester.
If you submitted proof of full vaccination for the fall semester, you are not required to submit a negative test, participate in the Random COVID-19 Testing Program, or re-upload your documentation.
Those who became fully vaccinated after the fall semester began will need to upload their documentation. Full vaccination is considered two doses of Pfizer or Moderna or one dose of Johnson & Johnson, plus a 14-day waiting period.
Students and faculty participating in study abroad programs, including Harlaxton College, will be provided specific information from the Study Abroad Office regarding testing and vaccine requirements for spring travel.
Please click on the links below for important information specific to requirements, submitting documents, and important deadlines:
Free Paper Shredding on Thursday, December 9
Free off-site paper shredding by Piranha Mobile Shredding will return to campus once again December 9 (Reading Study Day) from 10:00 a.m. - 1:00p.m. All UE students, faculty, staff, and alumni can take advantage of this free service by bringing paper to the Piranha truck in Koch Center for Engineering and Science parking lot. Paper will be shredded off-site. We will place bins along the parking lot to allow each person to empty their own material for a no contact approach.
So, if mounds of paper are taking over your office, home, or room, this is the time to gather those old files, receipts, cancelled checks, tax forms, etc. No need to take out the staples or paper clips. Avoid identity theft by having confidential information permanently destroyed.
Please - no telephone books, magazines, or newspapers. Also, please note that there is a 100-pound paper limit per visit (number of visits is not limited).
UE Music Conservatory Hosting Holiday Pops Concert on Dec. 7
The UE Music Conservatory will host the Holiday Pops concert on Tuesday, December 7. The event will be held at Old National Events Plaza beginning at 7:30 p.m. Admission is free, and the public is invited to enjoy the sounds of the season.
Holiday Pops will feature music from the UE Symphony Orchestra, University Choir and Choral Society, and Wind Ensemble. Musical selections will include "Have Yourself a Merry Little Christmas," "Christmas at the Movies," "Christmas and Sousa Forever," and more. Holiday Pops is made possible by the George L. Mesker Music Trust, Anna Bosse Trust, and Raymond B. Preston Family Foundation.
Winter on Walnut: This Friday, December 3!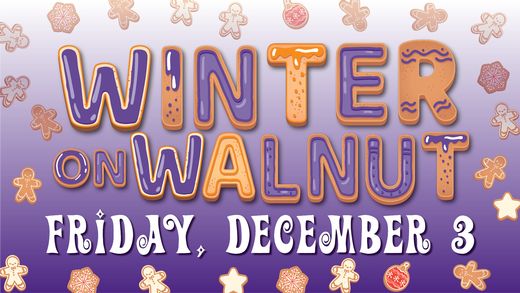 Winter on Walnut is coming up this Friday, December 3! Make plans to join us from 5-9PM on Walnut Street for lots of food, festivities, and fun! Activities on the street will includes holiday-themed food and treats, marshmallow roasting, horse-drawn carriage rides (on the oval lot), a Christmas tree farm, and giveaways.
Students: You can attend for free and don't need to register - just show up! You may use a meal swipe from 5-7PM for a dinner of chili, hot cider, and dessert!
Non-students (employees, alumni, families): the cost is $5 per person or $30 per family (no limit on family size), and it provides a wristband that covers crafts for kids, s'mores, and carriage rides. Non-students register here.
Here's a rundown of special events. The events at 6:30PM and 7:00PM are free and open to the public!! The event at 10:00PM is for students only. No registration or payment needed.
At 6:30PM, we will light the campus Christmas tree outside Graves Hall.
At 7:00PM, join us in Neu Chapel for the Candlelight Vespers service (seating is limited for this). The service will feature the UE Music Conservatory. Masks will be required while indoors. You may also live stream the service on YouTube.
At 10PM, students can join us for an "after-party" in Eykamp Hall for bingo! (No cost to attend)
The UE Bookstore will also be open during Winter on Walnut from 5-9PM! Stop by and purchase merchandise or Christmas gifts and get 10% off during the event. They are also having a Christmas Sweater contest on their Facebook page, and prizes will be awarded!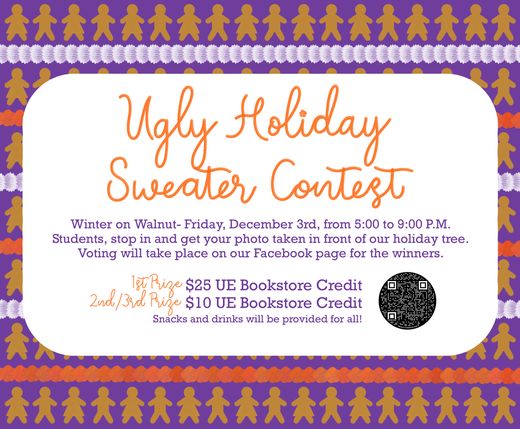 Let's kick off the holiday season together! We hope to see you there.
A special thanks to the following organizations for making this marvelous event possible:
Student Activites Board
Resident Students Association
Office of Religious Life
UE Music Conservatory
Office of Alumni and Engagement
Chartwells
This Week in Music
This is a busy week for the University of Evansville Music Conservatory. On Tuesday, November 30, the UE Jazz Ensemble will be joined by internationally acclaimed guest jazz trumpeter Graham Breedlove in a program featuring his compositions. This concert is at 7:30 p.m. in Eykamp Hall, Ridgway University Center. Earlier that same day, Mr. Breedlove will present an improvisation clinic at 12:00 PM in Fine Arts Room 110. Everyone is welcome to attend.
On Thursday, December 2, the UE Community Band and Jazz Sextet will present their fall concert at 7:30 p.m. in Eykamp Hall. The program will feature a variety of works for jazz ensemble and concert band. As a special feature, the Jazz Sextet will perform two compositions by UE Music Education Major, Luke Robertson '24.
On Friday, December 3 the UE University Choir will collaborate with the Office of Religious Life for the annual Candlelight Vespers at 7:00 p.m. in Neu Chapel. Vespers is part of UE's "Winter on Walnut" festivities running from 5:00 p.m. to 9:00 p.m. on December 3. All are welcome.
Finally, be sure to mark your calendars for the Holiday Pops concert, Tuesday, December 7 at 7:30 p.m. at Old National Events Plaza.
All events are free and open to the public. Masks are required for all attendees.
Come Join the fun at the Rotary Santa Run on Saturday, December 4, 2021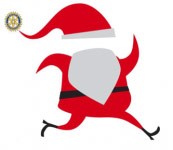 UE students, staff, administrators, and faculty are invited to participate in the Rotary Club of Evansville's 8th Annual Rotary Santa Run. This event will take place at 9:00 a.m. on Saturday, December 4th at the Buffalo Trace Council Center.
The Rotary Santa Run is a perfect way to run into the holiday season. The holidays will be here before you know it! The proceeds from this year's event will benefit the Rotary Foundation of Evansville, Inc and projects like Millie's Downtown Dino Trail.
In addition, a "spirited costume contest" will be held for children ages 1-9, teenagers from 10 to 18 and adults from 19 +. Teams and families are encouraged to participate in this festive contest. Prizes will be awarded.
Officially timed- 5K Run and 1-mile Family Fun Walk
Cost $ 25- Santa suits for the first 700 registrants are included.
Special discount rate of $5 off with code: college
This discount is good from Tuesday, November 30- Thursday, December 2nd.
Register online at: www.SantaRunEvv.com.
Submitted by Cathy Renner cr107@evansville.edu
UE Theatre offers $10 tickets to this weekend's performances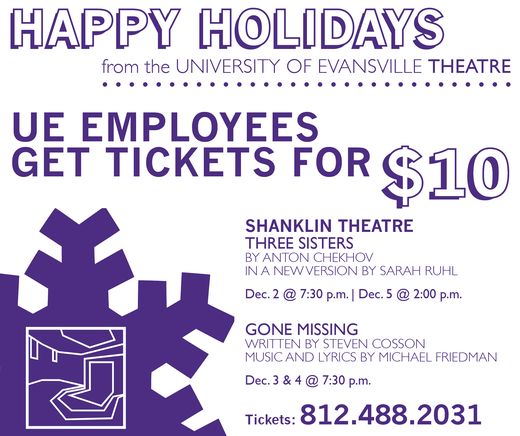 Happy holidays from UE Theatre! As a holiday treat for UE employees, $10 tickets are available for the final weekend of the "Welcome Back to Shanklin Theatre" fall line-up.
Join us for one (or both) productions of THREE SISTERS, by Anton Chekhov, in a new version by Sarah Ruhl, based off a literal translation by Elise Thoron with Natasha Paramonova and Kristin Johnsen-Neshati, and GONE MISSING, created by The Civilians, written by Steven Cosson, from interviews by the company, with music and lyrics by Michael Friedman. THREE SISTERS plays at 7:30 p.m. on Thurs., Dec. 2, and at 2:00 p.m. on Sun., Dec. 5, and GONE MISSING plays at 7:30 p.m. on Fri., Dec. 3, and Sat., Dec. 4, in Shanklin Theatre.
The safety of students and patrons is of top priority to UE Theatre. The program boasts a 100% vaccination rate against COVID-19 among the faculty and students. In addition to compliance with the University of Evansville's Coronavirus Task Force guidelines, UE Theatre continues regular weekly COVID-19 testing of students involved with productions in order to maintain a healthy, safe environment for the coalition of theatre artists working on campus.
In following industry standards, as established by the Broadway League, all audience members must show proof of COVID–19 vaccination or a negative test result taken within 72-hours of the date on their ticket. Upon arrival at Shanklin Theatre, proof of vaccination/negative test result and an ID will be checked before each performance. In compliance with professional industry standards, all audience members must remain masked when indoors on campus. Additionally, Shanklin Theatre will be seated at no more than 50% capacity.
UE employees may receive their holiday ticket by calling the ticket office at 812.488.2031, Monday through Friday, from 12:00 p.m. to 5:00 p.m, or by coming to the Shanklin Theatre Ticket Office in Hyde Hall. UE students may obtain one free rush ticket starting at 12:00 p.m. on the day of the performance they wish to attend.
Employee Headshots on Monday, Dec. 6
Are you a new employee in need of a headshot, or a current employee that still needs one? We will be offering headshots from 1:30-2:00PM on Monday, December 6. These will be walk-up style, so stop by anytime between then. If you plan to attend, please email a heads-up to Julie Bryant, university relations coordinator, at jb855@evansville.edu.
Headshots will be taken outdoors at the front, southwest corner of the oval. The photographer will be set up with a light near the green bench on the brick sidewalk.
2021-22 Student Consumer Information
The U.S. Department of Education requires universities to disclose consumer information to prospective and enrolled students, parents, and employees. This information is available on the University of Evansville website at https://www.evansville.edu/student-financial-services/student-consumer-information.cfm.
Questions may be directed to the Office of Student Financial Services at 800-424-8634, 812-488-2364, or studentfinancialservices@evansville.edu. A paper copy of this information is available upon request.
Information included on the Consumer Information page:
Academic Programs
Accrediting and Licensing Agencies
Alcohol and Drug Policy/Prevention Programs
Athletics Program Participation Rates and Financial Support Data
Code of Conduct
Copyright Infringement Policy and Peer to Peer File Sharing Information
Cost of Attendance
Diversity – Student Body Diversity by Gender, Ethnicity, and Pell Grant Status
Emergency Response and Evacuation Information
Employment and Graduate School Information for Recent UE Graduates
Family Educational Rights and Privacy Act (FERPA)
Federal Student Financial Aid Penalties for Drug Law Violations
Financial Aid Credit Balance Refund Policy
Financial Aid Information
General Information
Graduation Rates by gender, race and ethnicity, and selected financial aid groups
Graduation Rates for General Student Body
Graduation Rates for Student-Athletes
Grievance and Complaint Procedures
Health Insurance Portability and Accountability Act (HIPAA)
Missing Person Protocol
Net Price Calculator
Program Closure Policy
Refund Policy and Return of Title IV Funds
Retention and Graduation Rates of Degree-Seeking, First-Time, Undergraduate Students
Satisfactory Academic Progress Policy
Security and Fire Safety Report
Services and Facilities for Students with Disabilities
Student Loan Forgiveness, Cancellation, and Discharge
Study Abroad
Teacher Preparation Accountability
Textbook Information
Transfer Policies on Credits that Transfer to UE
Transfer Articulation Agreement Partner Colleges
Vaccination Policies
Verification Policy
Veteran Information
Voter Registration Information
Front Oval closed for parking Friday
To accommodate the horse and carriage for Winter on Walnut, the Front Oval will be blocked off Thursday evening and closed for parking on Friday, December 3. All cars should be cleared out by Thursday.
Do you want to help with Purple Patrol?
Purple Patrol will continue into the Spring 2022 semester once we return from break, and we need volunteers! The first week of Purple Patrol will be Friday, January 14, marking the first week of classes.
Sign up on behalf of your team or coworkers here. Please sign up for one slot only so everyone has a chance to participate. Don't wait, as spots will fill up quickly!
When it's your week to help, you will receive an email in advance with basic instructions. Purple goodies will be waiting for you on Friday morning in the Office of Marketing and Publications (top floor of the Schroeder Family School of Business Administration Building). There is no specific time or place to hand out these items; the only requirement is that the recipients are wearing purple!
If you have any questions about the sign-up or Purple Patrol, please contact Julie Bryant, university relations coordinator, at jb855.
Givance resets career scoring mark against SIU
Three days after scoring a career-high of 26 points, University of Evansville senior Shamar Givance recorded 31 points to lead the Purple Aces in a Missouri Valley Conference showdown at the Ford Center.
Trailing by as many as 17 points in the first half, UE (3-7, 0-1 MVC) rallied to tie Southern Illinois (4-3, 1-0 MVC) in the final minute before a last-second shot helped the Salukis edge out a win by a 54-52 final.
Givance drained 11 out of 16 attempts on his way to the new career high of 31 tallies. He was the only UE player to record double figures. Jawaun Newton scored 8 points and led the squad with five boards. Iyen Enaruna along with Givance had two assists apiece.
"Our guys showed a lot of character and heart. They changed the way they were playing and became more effective," Aces head coach Todd Lickliter said. "We had the ball with a few chances to tie it or take the lead but could not quite get there. It was a great effort that went right down to the wire."
Marcus Domask led the Salukis with 22 points and 6 rebounds.
The first 13 points of the night belonged to the Salukis before Evansville got on the board when Blaise Beauchamp knocked down a triple. UE missed its first eight attempts of the night. On the ensuing possession, SIU got the triple right back before an 8-of-12 start to the game saw them go up 18-3. After Beauchamp hit the Aces next shot, Shamar Givance scored five in a row to cut the deficit to 10 at 20-10.
SIU continued to pad its lead, going up by a 32-15 score with 2:23 left in the half before a pair of late Givance free throws made it a 32-17 halftime deficit for UE. Southern Illinois finished the opening period shooting 52.0% while the Aces shot 23.8%.
Over the first three minutes of the second half, the Aces chipped away at the deficit. Givance opened with three free throws and a layup before Antoine Smith Jr. hit a triple at the 17:16 mark to make it a 34-25 game. It was the first time since the opening minutes of the game that UE was within single digits. A pair of triples from Jawaun Newton saw Evansville get even closer with his second making it a 38-31 game at the 15-minute mark. UE connected on its first three outside attempts to begin the final period.
That is when Shamar Givance absolutely took over, scoring the next 11 UE points to cut the gap to a pair. The first six points of the run saw him drive to the basket for layups before a triple at the 9:54 mark cut the gap to four. Following a Saluki miss, Givance drove down the lane once again for a basket that made it a 44-42 game with 8:57 left in the contest. Over the next four minutes, the Aces had a chance to get even closer, but two misses on the front end of a one-and-one saw SIU keep its advantage.
Marcus Domask hit a pair of free throws with 3:57 remaining to push the lead to 48-44, but it was another Givance basket that got UE back within a pair. A jumper by Givance with 2:40 left in the game saw him score 15 out of Evansville's 17 points over a span of nearly 11 minutes.
With Evansville trailing 50-48 entering the final minute, Jawaun Newton converted a turnover into a make to tie the game up. On the other end, it was Domask hitting a layup to put the Salukis back in front with 33 ticks showing on the clock. Nineteen second later, Givance hit his 11th basket of the game to tie the score once again, but the winning shot came with 0.6 remaining when Domask hit a jumper just outside the paint to clinch the win. Evansville made one final heave down the floor but fell just short.
On Saturday, the Aces will be back home for a 1 p.m. game at the Ford Center against Tennessee Tech.
Aces open NIVC on Thursday in Chicago
The Purple Aces are headed to the postseason for the first time as members of the Missouri Valley Conference, earning a bid to the Women's National Invitational Volleyball Championship. UE opens the tournament on Thursday at 5 p.m. CT against Sam Houston on the campus of Chicago State University. Live coverage of the match will be on ESPN+.
MVC Recognition
- A total of five UE players were recognized with postseason MVC awards last week
- Giulia Cardona picked up MVC Freshman of the Year honors while earning a spot on the All-MVC Second Team and All-Freshman Team
- Alondra Vazquez and Melanie Feliciano were each named to the All-MVC First Team while Taya Haffner joined Cardona on the All-Freshman squad
- Cecilia Thon was named MVC Scholar-Athlete Honorable Mention
- It was the most recognition Evansville has received since joining the MVC in 1994...Cardona was the first Aces player to pick up one of the league's specialty awards while Feliciano and Vazquez marked the first time UE placed two on the conference first team
Last Time Out
- Advancing to the MVC Championship for the second time in three years, UE dropped its opening contest by a 3-1 final to Valpo
- Facing a 1-0 deficit, UE earned a dominant 25-16 win in the second set, but dropped the final two frames
- Alondra Vazquez picked up a double-double, totaling 17 kills and 13 digs and was named to the All-Tournament Team
- Taya Haffner paced UE with 35 assists and 18 digs
- Melanie Feliciano finished with 11 kills while Giulia Cardona had her own double-double with 10 kills and 10 digs
Top Five
- Alondra Vazquez continues to add to her kill total and currently stands with 1,384 in her Aces career
- She moved into the fifth spot in the final weekend of the regular season, surpassing Ashley Ring's total of 1,338
- Her next jump will be into the #4 spot, which is currently held by Lisa Sampson with 1,437
- Vazquez also moved into the top ten in career digs with 1,237...9th place is Sarah McClellan with 1,279
All-MVC First Team
- For the second year in a row, Alondra Vazquez was named to the All-MVC First Team after leading the league with 4.21 kills per set
- Entering the final home weekend of the season, Alondra Vazquez was averaging 3.53 kills per set in MVC contests, which was third on the team
- In the five matches since, she has recorded an average of 4.95 per set while helping UE clinch its postseason spot
- She remains on top of the MVC list with 4.21 kills/set while pacing the league in points (4.88/set)...defensively, Vazquez leads her squad with 2.82 digs per frame, 15th in the Valley...she has had 9 or more kills in all but two matches in the fall
- Nationally, Vazquez is 31st in kills average
Freshman of the Year
- Giulia Cardona became the first player in program history to earn one of the MVC specialty awards when she was named the 2021 MVC Freshman of the Year
- In one of the top freshman campaigns in program history, Cardona led the MVC with 0.50 service aces per set, a stat ranks in the top 15 in the nation and is the best average among all freshmen
- Over the last 44 sets of work, freshman Giulia Cardona has recorded a total of 26 service aces, an average of 0.591 per set
- She is currently on an offensive streak that has seen her record at least 10 kills in each of the last 17 matches while raising her season average to 3.85 per set
- Aside from leading the Valley in aces, she is second in points per set (4.50) and third with her kill average
Another First Teamer
- A member of the All-MVC Second Team as a freshman in 2019, Melanie Feliciano made the jump as a junior, earning a spot on the league's First Team
- Entering the contest against Bradley on October 8, Melanie Feliciano stood with a kill average of 3.09 per set while her hitting checked in at .262
- Since that time, the junior has upped her average to 3.36 per set and has picked up 11 or more kills in 12 of the last 15 outings while her hitting has been exceptional, finishing at .300 or higher in 10 out of the last 16 matches
- The MVC Player of the Week on Oct. 11 currently ranks 6th in the MVC with 3.30 kills per set
UE Student-Athletes Partnering with Toys-For-Tots
Join us in helping Local Children experience the Holiday's and Magic of Christmas.
UE Student-Athletes will be partnering with Toys-For-Tots, with two opportunities for collections of New, Un-Wrapped toys for all ages.
These dates are the December 4th Men's Basketball Game and the December 11th Women's Basketball Game.
Every donation will receive an Aces goodie bag for your help and generosity. We look forward to all the great donations and GO ACES!
UE Alum Publishes Children's Book
University of Evansville alumna Abigail Griebelbauer recently published a children's book titled D is for Darcy Not Dyslexia. Griebelbauer collaborated with Cecila Edwards, the illustrator, whom she met while studying abroad at Harlaxton College in the Fall of 2014. Although Edwards was from Salem University, the two became close friends while overseas and remained so even after returning home. A copy of the book was mailed to Harlaxton College, and it will remain there in the library!
When the pandemic hit in 2020, Griebelbauer was inspired to write her book, and she instantly asked Edwards to illustrate it. Her inspiration also came from the elementary education classrooms she visited in Grantham. Having changed her major only weeks before attending Harlaxton in 2014, the first class she ever taught was in the manor when a local classroom came to visit for a field trip.
D is for Dyslexia published in October 2020, and Griebelbauer hopes to write a second book about ADHD. For more information about the book, visit www.thepassagepress.com.
Contribute to AceNotes
To have content considered for inclusion in AceNotes, please submit a Marketing Request Form. Deadline for submission to AceNotes is 10:00 a.m. on the requested date of publication. Only articles concerning UE related/sponsored activities will be accepted. Articles submitted to AceNotes may be edited for length and clarity. Submitter contact information is at the end of each article.