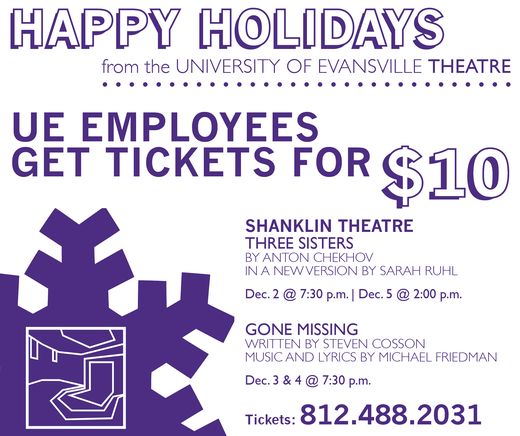 Happy holidays from UE Theatre! As a holiday treat for UE employees, $10 tickets are available for the final weekend of the "Welcome Back to Shanklin Theatre" fall line-up.
Join us for one (or both) productions of THREE SISTERS, by Anton Chekhov, in a new version by Sarah Ruhl, based off a literal translation by Elise Thoron with Natasha Paramonova and Kristin Johnsen-Neshati, and GONE MISSING, created by The Civilians, written by Steven Cosson, from interviews by the company, with music and lyrics by Michael Friedman. THREE SISTERS plays at 7:30 p.m. on Thurs., Dec. 2, and at 2:00 p.m. on Sun., Dec. 5, and GONE MISSING plays at 7:30 p.m. on Fri., Dec. 3, and Sat., Dec. 4, in Shanklin Theatre.
The safety of students and patrons is of top priority to UE Theatre. The program boasts a 100% vaccination rate against COVID-19 among the faculty and students. In addition to compliance with the University of Evansville's Coronavirus Task Force guidelines, UE Theatre continues regular weekly COVID-19 testing of students involved with productions in order to maintain a healthy, safe environment for the coalition of theatre artists working on campus.
In following industry standards, as established by the Broadway League, all audience members must show proof of COVID–19 vaccination or a negative test result taken within 72-hours of the date on their ticket. Upon arrival at Shanklin Theatre, proof of vaccination/negative test result and an ID will be checked before each performance. In compliance with professional industry standards, all audience members must remain masked when indoors on campus. Additionally, Shanklin Theatre will be seated at no more than 50% capacity.
UE employees may receive their holiday ticket by calling the ticket office at 812.488.2031, Monday through Friday, from 12:00 p.m. to 5:00 p.m, or by coming to the Shanklin Theatre Ticket Office in Hyde Hall. UE students may obtain one free rush ticket starting at 12:00 p.m. on the day of the performance they wish to attend.