| | |
| --- | --- |
| AceNotes Today | Wednesday, December 1, 2021 |
Required COVID-19 Testing for the Spring Semester
The Coronavirus Task Force thanks the campus community for creating a successful fall semester with very few COVID-19 cases on our campus. Looking ahead at the Spring 2022 semester, UE will continue with the same requirements for students and employees that were in place this fall.
A negative COVID-19 test (either rapid or PCR) will be required for all full and part-time students and employees (including adjunct instructors) who have reason to be on the UE or Stone Center for Health Sciences campuses. Those who submit a negative COVID-19 test will be required to participate in the Random COVID-19 Testing program throughout the semester.
If you submitted proof of full vaccination for the fall semester, you are not required to submit a negative test, participate in the Random COVID-19 Testing Program, or re-upload your documentation.
Those who became fully vaccinated after the fall semester began will need to upload their documentation. Full vaccination is considered two doses of Pfizer or Moderna or one dose of Johnson & Johnson, plus a 14-day waiting period.
Students and faculty participating in study abroad programs, including Harlaxton College, will be provided specific information from the Study Abroad Office regarding testing and vaccine requirements for spring travel.
Please click on the links below for important information specific to requirements, submitting documents, and important deadlines:
UE Music Conservatory Hosting Holiday Pops Concert on Dec. 7
The UE Music Conservatory will host the Holiday Pops concert on Tuesday, December 7. The event will be held at Old National Events Plaza beginning at 7:30 p.m. Admission is free, and the public is invited to enjoy the sounds of the season.
Holiday Pops will feature music from the UE Symphony Orchestra, University Choir and Choral Society, and Wind Ensemble. Musical selections will include "Have Yourself a Merry Little Christmas," "Christmas at the Movies," "Christmas and Sousa Forever," and more. Holiday Pops is made possible by the George L. Mesker Music Trust, Anna Bosse Trust, and Raymond B. Preston Family Foundation.
Winter on Walnut: This Friday, December 3!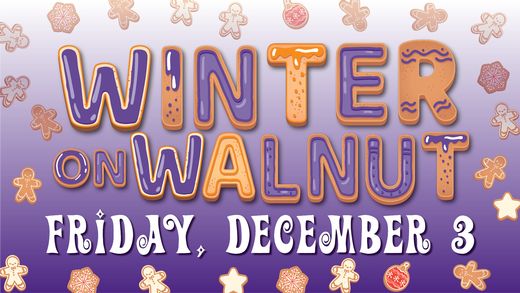 Winter on Walnut is coming up this Friday, December 3! Make plans to join us from 5-9PM on Walnut Street for lots of food, festivities, and fun! Activities on the street will includes holiday-themed food and treats, marshmallow roasting, horse-drawn carriage rides (on the oval lot), a Christmas tree farm, and giveaways.
Students: You can attend for free and don't need to register - just show up! You may use a meal swipe from 5-7PM for a dinner of chili, hot cider, and dessert!
Non-students (employees, alumni, families): the cost is $5 per person or $30 per family (no limit on family size), and it provides a wristband that covers crafts for kids, s'mores, and carriage rides. Non-students register here.
Here's a rundown of special events. The events at 6:30PM and 7:00PM are free and open to the public!! The event at 10:00PM is for students only. No registration or payment needed.
At 6:30PM, we will light the campus Christmas tree outside Graves Hall.
At 7:00PM, join us in Neu Chapel for the Candlelight Vespers service (seating is limited for this). The service will feature the UE Music Conservatory. Masks will be required while indoors. You may also live stream the service on YouTube.
At 10PM, students can join us for an "after-party" in Eykamp Hall for bingo! (No cost to attend)
The UE Bookstore will also be open during Winter on Walnut from 5-9PM! Stop by and purchase merchandise or Christmas gifts and get 10% off during the event. They are also having a Christmas Sweater contest on their Facebook page, and prizes will be awarded!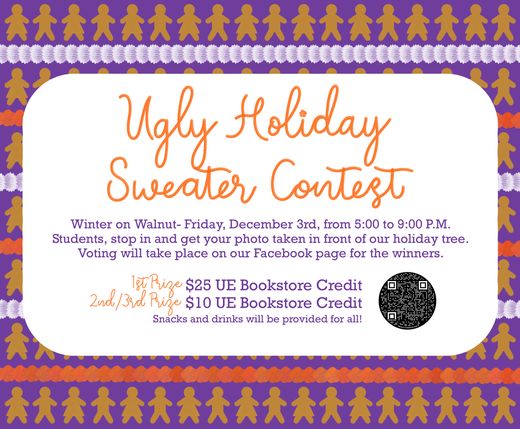 Let's kick off the holiday season together! We hope to see you there.
A special thanks to the following organizations for making this marvelous event possible:
Student Activites Board
Resident Students Association
Office of Religious Life
UE Music Conservatory
Office of Alumni and Engagement
Chartwells
This Week in Music
This is a busy week for the University of Evansville Music Conservatory. On Tuesday, November 30, the UE Jazz Ensemble will be joined by internationally acclaimed guest jazz trumpeter Graham Breedlove in a program featuring his compositions. This concert is at 7:30 p.m. in Eykamp Hall, Ridgway University Center. Earlier that same day, Mr. Breedlove will present an improvisation clinic at 12:00 PM in Fine Arts Room 110. Everyone is welcome to attend.
On Thursday, December 2, the UE Community Band and Jazz Sextet will present their fall concert at 7:30 p.m. in Eykamp Hall. The program will feature a variety of works for jazz ensemble and concert band. As a special feature, the Jazz Sextet will perform two compositions by UE Music Education Major, Luke Robertson '24.
On Friday, December 3 the UE University Choir will collaborate with the Office of Religious Life for the annual Candlelight Vespers at 7:00 p.m. in Neu Chapel. Vespers is part of UE's "Winter on Walnut" festivities running from 5:00 p.m. to 9:00 p.m. on December 3. All are welcome.
Finally, be sure to mark your calendars for the Holiday Pops concert, Tuesday, December 7 at 7:30 p.m. at Old National Events Plaza.
All events are free and open to the public. Masks are required for all attendees.
Come Join the fun at the Rotary Santa Run on Saturday, December 4, 2021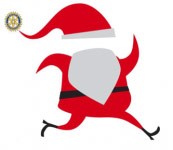 UE students, staff, administrators, and faculty are invited to participate in the Rotary Club of Evansville's 8th Annual Rotary Santa Run. This event will take place at 9:00 a.m. on Saturday, December 4th at the Buffalo Trace Council Center.
The Rotary Santa Run is a perfect way to run into the holiday season. The holidays will be here before you know it! The proceeds from this year's event will benefit the Rotary Foundation of Evansville, Inc and projects like Millie's Downtown Dino Trail.
In addition, a "spirited costume contest" will be held for children ages 1-9, teenagers from 10 to 18 and adults from 19 +. Teams and families are encouraged to participate in this festive contest. Prizes will be awarded.
Officially timed- 5K Run and 1-mile Family Fun Walk
Cost $ 25- Santa suits for the first 700 registrants are included.
Special discount rate of $5 off with code: college
This discount is good from Tuesday, November 30- Thursday, December 2nd.
Register online at: www.SantaRunEvv.com.
Submitted by Cathy Renner cr107@evansville.edu
2021-22 Student Consumer Information
The U.S. Department of Education requires universities to disclose consumer information to prospective and enrolled students, parents, and employees. This information is available on the University of Evansville website at https://www.evansville.edu/student-financial-services/student-consumer-information.cfm.
Questions may be directed to the Office of Student Financial Services at 800-424-8634, 812-488-2364, or studentfinancialservices@evansville.edu. A paper copy of this information is available upon request.
Information included on the Consumer Information page:
Academic Programs
Accrediting and Licensing Agencies
Alcohol and Drug Policy/Prevention Programs
Athletics Program Participation Rates and Financial Support Data
Code of Conduct
Copyright Infringement Policy and Peer to Peer File Sharing Information
Cost of Attendance
Diversity – Student Body Diversity by Gender, Ethnicity, and Pell Grant Status
Emergency Response and Evacuation Information
Employment and Graduate School Information for Recent UE Graduates
Family Educational Rights and Privacy Act (FERPA)
Federal Student Financial Aid Penalties for Drug Law Violations
Financial Aid Credit Balance Refund Policy
Financial Aid Information
General Information
Graduation Rates by gender, race and ethnicity, and selected financial aid groups
Graduation Rates for General Student Body
Graduation Rates for Student-Athletes
Grievance and Complaint Procedures
Health Insurance Portability and Accountability Act (HIPAA)
Missing Person Protocol
Net Price Calculator
Program Closure Policy
Refund Policy and Return of Title IV Funds
Retention and Graduation Rates of Degree-Seeking, First-Time, Undergraduate Students
Satisfactory Academic Progress Policy
Security and Fire Safety Report
Services and Facilities for Students with Disabilities
Student Loan Forgiveness, Cancellation, and Discharge
Study Abroad
Teacher Preparation Accountability
Textbook Information
Transfer Policies on Credits that Transfer to UE
Transfer Articulation Agreement Partner Colleges
Vaccination Policies
Verification Policy
Veteran Information
Voter Registration Information
Front Oval closed for parking Friday
To accommodate the horse and carriage for Winter on Walnut, the Front Oval will be blocked off Thursday evening and closed for parking on Friday, December 3. All cars should be cleared out by Thursday.
Do you want to help with Purple Patrol?
Purple Patrol will continue into the Spring 2022 semester once we return from break, and we need volunteers! The first week of Purple Patrol will be Friday, January 14, marking the first week of classes.
Sign up on behalf of your team or coworkers here. Please sign up for one slot only so everyone has a chance to participate. Don't wait, as spots will fill up quickly!
When it's your week to help, you will receive an email in advance with basic instructions. Purple goodies will be waiting for you on Friday morning in the Office of Marketing and Publications (top floor of the Schroeder Family School of Business Administration Building). There is no specific time or place to hand out these items; the only requirement is that the recipients are wearing purple!
If you have any questions about the sign-up or Purple Patrol, please contact Julie Bryant, university relations coordinator, at jb855.
Spring Meal Plan Changes
Students can adjust meal plans for the Spring semester until Friday, January 14, 2022 at 5:00 p.m.
Winter Housing
Residence Hall Students - do you need a place to stay this winter? The residence life office has limited winter housing available. Only students participating in official University functions or with approved reasons will be considered for winter housing.
Students approved for winter housing may be assigned a temporary room in another housing facility and may not have access to their permanent rooms during winter break. Approvals are subject to room availability. Students are charged a flat fee of $400 for winter housing.
Students seeking winter housing must submit a Winter Housing Request Form by December 1, 2021, available through this link - https://uesurvey.evansville.edu/WinterHousing.
Students who live in Village housing can stay in their apartment or house at no additional cost but we do ask that you let us know when you will be on campus by filling out this form - https://www.surveymonkey.com/r/villagewinterhousing.
Winter Intersession Courses
It's not too late to register for a Winter Intersession course. Classes are held December 17, 2021, through January 7, 2022. Students may take one course.
For registration, payment deadlines, and additional information visit https://www.evansville.edu/registrar/winterSessions.cfm.
Winter Intersession Course List
| Subject | Number | Cr Hrs | Course Title | Instructor |
| --- | --- | --- | --- | --- |
| ART | 105 | 3 | Introduction to the Visual Arts | Larmann |
| ASTR | 101 | 3 | Descriptive Astronomy | Braun |
| AT | 180 | 3 | Introduction to Athletic Training | Tilly |
| CHEM | 103 | 3 | Chemistry of Adult Beverages | Miller |
| CHEM | 118 | 4 | Principals of Chemistry | Miller/Morong |
| EDUC | 322 | 3 | Strategies for Special Needs Students in K-12 Schools | Jones |
| ES | 103 | 3 | Fundamentals of Environmental Science | Thananatthanachon |
| EXSS | 150 | 2 | Introduction to Health Sciences | Laughbaum |
| EXSS | 320 | 3 | Nutrition for Performance and Health | Rodd |
| EXSS | 453 | 2 | Motor Learning | Wilson |
| EXSS | 488 | 1 to 3 | Internship | Rodd |
| EXSS | 488 | 1 to 4 | Internship | Wilson |
| FIN | 280 | 3 | Personal Finance | Brockman |
| HS | 205 | 3 | Pharmacology | Pruden |
| MATH | 134 | 3 | Survey of Calculus | Salminen |
| MATH | 324 | 3 | Differential Equations | Salminen |
| MUS | 156 | 3 | Music in America | Strandberg |
| NEUR | 125 | 3 | Introduction to Neuroscience | Campese |
| NEUR/PSYC | 355 | 3 | Sensation and Perception | Becker |
| PH | 190 | 3 | Introduction to Public Health | Patel-Dovlatabadi |
| PSYC | 121 | 3 | Introduction to Psychology | Campese |
| PSYC | 226 | 3 | Child and Adolescent Psychology | Hennon |
| PSYC | 416 | 3 | Human Sexuality | Becker |
| QM | 227 | 3 | Intro to Statistics | Khormali |
| SOC | 105 | 3 | Introduction to Sociology | Plikuhn |
| SOC | 230 | 3 | Social Problems in the Modern World | Plikuhn |
| STAT | 166 | 1 | Intro to R for Data Science | Weber |
Condolences to Leland Dierks
Our sympathy goes out to Leland Dierks (Graphic Designer, Office of Publications), in the passing of his mother, Irene Dierks. Irene passed away last week at the age of 81. She leaves behind one son (Leland), three daughters, and eight grandchildren.
Condolences may be shared with Leland and his family on the funeral home's website.
Clark goes for season-high 19 points as Aces drop matchup with Murray State
Battling back in the third quarter, the University of Evansville women's basketball team was unable to complete the comeback in an 85-77 loss to Murray State on Tuesday night inside Meeks Family Fieldhouse in Evansville.
Leading the a group of four double-figure scorers for the Aces was senior Myia Clark with a season-high 19 points, while adding six boards in 28 minutes of action. Just one shy of Clark's total was junior Abby Feit with the 48th double-figure scoring performance of her career, finishing just one off of another double-double with nine boards, while adding four blocks. Round-out the double-digit scorers were junior Je'Naiya Davis, who followed her 35-point outburst against Purdue Fort Wayne with 13 points on Tuesday, and freshman Elly Morgan, who tallied 12 points for the second double-figure scoring game of her career. On the opponent side, the Racers were led by a pair of high-scorers in Macey Turley (29 points) and Katelyn Young (28), who combined for 57 of Murray State's 85 points in the win.
An intense back-and-forth battle opened the contest with both side barely missing a shot inside the game's first 10 minutes. Building an early 10-4 lead on triples by Celine Dupont and Elly Morgan, Evansville opened the game with the hot hand, but Murray was close to follow. The Racers knocked-down their final five three-point attempts of the opening quarter, helping Murray own a 25-21 lead following the first period in a high-scoring first 600 seconds.
Layups from Clark and Davis pushed the Aces within a pair to open the second quarter, but the hot shooting from Murray continued as the Racers ran out to a lead as large as 12 in the third. With 42 seconds left in the half, Clark hit another layup, giving her 11 at the break, to bring Evansville's deficit to just 10 at 45-35 at the half.
Five-straight Evansville points out of the break, punctuated by a Clark three, helped fire-up the Meeks Family Fieldhouse crowd in the early part of the third. A three by Feit with 3:15 gone in the third quarter helped Evansville push as close as three, but it was the Racers again who responded to the pressure, increasing their lead to 62-54 as the period came to a close.
As has been true all season, the Aces have never let an opponent get a comfortable lead. Facing a mounting foul problem and an 11-point deficit, Evansville showed its fight, trimming the Racers lead midway through the final 10 minutes. Trailing by seven with just over five minutes left in the game, Feit knocked-down a triple that sent the crowd into a frenzy, followed by Evansville's pressure creating a Murray turnover and a Racer timeout. With the lead hovering around five later in the period, Murray held-off any final charge from the Aces, holding on for the 85-77 win.
The Aces took care of the basketball on Tuesday night, committing just six turnovers, the fewest an Evansville team has given away since turning the ball over just five times against Bradley on Feb. 10, 2019.
Evansville returns to the court on the road on Saturday at Miami (Ohio) in Oxford, Ohio with tip-off at Noon (CT).
Men's basketball opens MVC slate on Wednesday
Playing its earliest Missouri Valley Conference opener on record, the University of Evansville men's basketball team welcomes Southern Illinois to the Ford Center for a 6 p.m. game on Wednesday evening. ESPN3 and the Purple Aces Radio Network will have the call.
Last Time Out
- Evansville led from start to finish on the way to its first road victory of the season on Sunday, earning a 70-54 at Eastern Illinois
- The Purple Aces scored the first eight points of the game on the way to a 23-5 advantage...UE led by as many as 25 points int he second half
- Shamar Givance set a new career mark with 26 points, knocking down 10 of his 13 shot attempts...he added 5 rebounds, 5 assists and 5 steals (a career high)
- Jawaun Newton finished with 13 points and 12 boards (top career tally) and earned his second double-double in as many games
- Blaise Beauchamp (12) and Antoine Smith Jr. (10) also reached double figures
Newcomer of the Week
- Antoine Smith Jr. was recognized on Monday as the MVC Newcomer of the Week
- In four games last week, Smith averaged 13.5 points per game and reached double figures on three occasions
- Highlighting the week was a career-high of 24 points against Rice where he was a perfect 9-for-9 from the floor and 6-of-6 from 3-point distance
- He added 16 points against Akron before completing the week with 10 points at EIU
- Through his first five games at UE, Smith scored 13 points, but in the four games since, he has posted 13.5 PPG while raising his season average to 7.4 PPG
- Hitting 45.2% of his outside attempts, Smith is 7th in the MVC
Upping his Game
- In Sunday's win at Eastern Illinois, Shamar Givance set a new scoring mark with 26 points on 10-of-13 shooting
- The all-around performance saw him add 5 rebounds, 5 assists and 5 steals
- He currently ranks third in the MVC with 1.6 steals per contest while sitting 5th in the league with 3.9 assists
- He has 4 or more helpers in five of the last six games including a season-high of 7 against DePauw
- Following a 7-point, 5-assist, 4-rebound effort at Cincinnati, Givance led the Aces in points (16), rebounds (7) and steals (3) in the victory against IUPUI
Checking all the Boxes
- It has been an unbelievable stretch for Jawaun Newton who has averaged 19.5 points and 8.0 rebounds over the last four contests
- He opened the Gulf Coast Showcase with a career-high of 30 points, marking the Aces first such effort since 2019
- It took until his 89th game to record the first double-double of his career, but #2 came just four days later...Newton registered 19 points and 10 boards on Nov. 24 versus Akron and followed that up with 13 points and 12 caroms at EIU
- The 12 caroms was Newton's top career tally and he now leads the Aces with 14.4 points and 6.2 rebounds per game
- Since opening the season with 5 points at Cincinnati, Newton has averaged 15.6 points per game in the last eight outings on his way to 10th in scoring in the MVC
Scouting the Opponent
- Six games into the season, Southern Illinois sits at an even 3-3 entering Wednesday's conference opener
- Highlighting the early part of the season for the Salukis was a 67-63 win over Colorado in the opening game of the Paradise Jam, which was held at the U.S. Virgin Islands just over a week ago
- Lance Jones paces SIU with 18.8 points per game while shooting 51.9% in six contests...he is also tied with J.D. Muila for the team lead with an average of 4.5 rebounds
- Marcus Domask is just behind him with a scoring mark of 14.8 PPG while leading the squad with a total of 22 assists

UE Student-Athletes Partnering with Toys-For-Tots
Join us in helping Local Children experience the Holiday's and Magic of Christmas.
UE Student-Athletes will be partnering with Toys-For-Tots, with two opportunities for collections of New, Un-Wrapped toys for all ages.
These dates are the December 4th Men's Basketball Game and the December 11th Women's Basketball Game.
Every donation will receive an Aces goodie bag for your help and generosity. We look forward to all the great donations and GO ACES!
UE Alum Publishes Children's Book
University of Evansville alumna Abigail Griebelbauer recently published a children's book titled D is for Darcy Not Dyslexia. Griebelbauer collaborated with Cecila Edwards, the illustrator, whom she met while studying abroad at Harlaxton College in the Fall of 2014. Although Edwards was from Salem University, the two became close friends while overseas and remained so even after returning home. A copy of the book was mailed to Harlaxton College, and it will remain there in the library!
When the pandemic hit in 2020, Griebelbauer was inspired to write her book, and she instantly asked Edwards to illustrate it. Her inspiration also came from the elementary education classrooms she visited in Grantham. Having changed her major only weeks before attending Harlaxton in 2014, the first class she ever taught was in the manor when a local classroom came to visit for a field trip.
D is for Dyslexia published in October 2020, and Griebelbauer hopes to write a second book about ADHD. For more information about the book, visit www.thepassagepress.com.
Contribute to AceNotes
To have content considered for inclusion in AceNotes, please submit a Marketing Request Form. Deadline for submission to AceNotes is 10:00 a.m. on the requested date of publication. Only articles concerning UE related/sponsored activities will be accepted. Articles submitted to AceNotes may be edited for length and clarity. Submitter contact information is at the end of each article.