| | |
| --- | --- |
| AceNotes Today | Tuesday, November 30, 2021 |
Winter on Walnut: This Friday, December 3!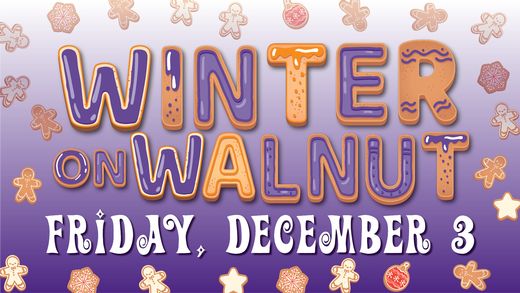 Winter on Walnut is coming up this Friday, December 3! Make plans to join us from 5-9PM on Walnut Street for lots of food, festivities, and fun! Activities on the street will includes holiday-themed food and treats, marshmallow roasting, horse-drawn carriage rides (on the oval lot), a Christmas tree farm, and giveaways.
Students: You can attend for free and don't need to register - just show up! You may use a meal swipe from 5-7PM for a dinner of chili, hot cider, and dessert!
Non-students (employees, alumni, families): the cost is $5 per person or $30 per family (no limit on family size), and it provides a wristband that covers crafts for kids, s'mores, and carriage rides. Non-students register here.
Here's a rundown of special events. The events at 6:30PM and 7:00PM are free and open to the public!! The event at 10:00PM is for students only. No registration or payment needed.
At 6:30PM, we will light the campus Christmas tree outside Graves Hall.
At 7:00PM, join us in Neu Chapel for the Candlelight Vespers service (seating is limited for this). The service will feature the UE Music Conservatory. Masks will be required while indoors. You may also live stream the service on YouTube.
At 10PM, students can join us for an "after-party" in Eykamp Hall for bingo! (No cost to attend)
The UE Bookstore will also be open during Winter on Walnut from 5-9PM! Stop by and purchase merchandise or Christmas gifts and get 10% off during the event. They are also having a Christmas Sweater contest on their Facebook page, and prizes will be awarded!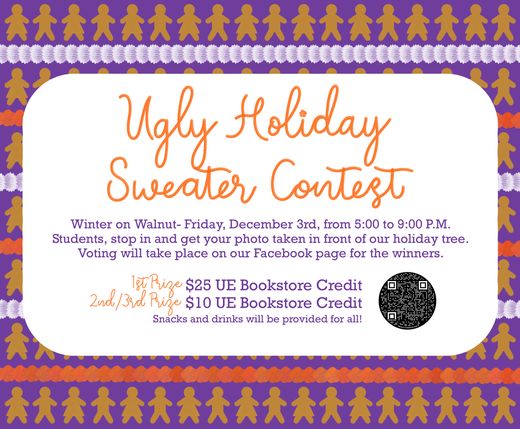 Let's kick off the holiday season together! We hope to see you there.
A special thanks to the following organizations for making this marvelous event possible:
Student Activites Board
Resident Students Association
Office of Religious Life
UE Music Conservatory
Office of Alumni and Engagement
Chartwells
This Week in Music
This is a busy week for the University of Evansville Music Conservatory. On Tuesday, November 30, the UE Jazz Ensemble will be joined by internationally acclaimed guest jazz trumpeter Graham Breedlove in a program featuring his compositions. This concert is at 7:30 p.m. in Eykamp Hall, Ridgway University Center. Earlier that same day, Mr. Breedlove will present an improvisation clinic at 12:00 PM in Fine Arts Room 110. Everyone is welcome to attend.
On Thursday, December 2, the UE Community Band and Jazz Sextet will present their fall concert at 7:30 p.m. in Eykamp Hall. The program will feature a variety of works for jazz ensemble and concert band. As a special feature, the Jazz Sextet will perform two compositions by UE Music Education Major, Luke Robertson '24.
On Friday, December 3 the UE University Choir will collaborate with the Office of Religious Life for the annual Candlelight Vespers at 7:00 p.m. in Neu Chapel. Vespers is part of UE's "Winter on Walnut" festivities running from 5:00 p.m. to 9:00 p.m. on December 3. All are welcome.
Finally, be sure to mark your calendars for the Holiday Pops concert, Tuesday, December 7 at 7:30 p.m. at Old National Events Plaza.
All events are free and open to the public. Masks are required for all attendees.
Let's Get Festive
The UESAA social committee is hosting a decorating contest for all employee areas across campus for the upcoming holiday season.
Dates to decorate: November 29 – December 10
Dates to vote: december 13 – december 17
decorate your office, department, cubicle, etc and then submit a picture to ll138@evansville.edu. voting will take place on the UE employee - positively purple facebook page. (if you have not yet joined this group, you need to join!) All pictures will be uploaded to the facebook page simultaneously at 8 am on Monday, december 13. The picture with the most likes at 5 pm on december 17 will win lunch for your area/department!
The SAA Social Committee encourages you to take a holiday stroll around campus and enjoy all the wonderful decorations. You can earn a yummy treat by capturing photos of the participating areas if you stop by our table set up in ridgway on Friday, december 17 11 am – 1 pm.
Come Join the fun at the Rotary Santa Run on Saturday, December 4, 2021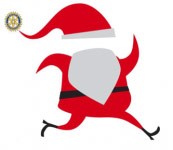 UE students, staff, administrators, and faculty are invited to participate in the Rotary Club of Evansville's 8th Annual Rotary Santa Run. This event will take place at 9:00 a.m. on Saturday, December 4th at the Buffalo Trace Council Center.
The Rotary Santa Run is a perfect way to run into the holiday season. The holidays will be here before you know it! The proceeds from this year's event will benefit the Rotary Foundation of Evansville, Inc and projects like Millie's Downtown Dino Trail.
In addition, a "spirited costume contest" will be held for children ages 1-9, teenagers from 10 to 18 and adults from 19 +. Teams and families are encouraged to participate in this festive contest. Prizes will be awarded.
Officially timed- 5K Run and 1-mile Family Fun Walk
Cost $ 25- Santa suits for the first 700 registrants are included.
Special discount rate of $5 off with code: college
This discount is good from Tuesday, November 30- Thursday, December 2nd.
Register online at: www.SantaRunEvv.com.
Submitted by Cathy Renner cr107@evansville.edu
Condolences to Leland Dierks
Our sympathy goes out to Leland Dierks (Graphic Designer, Office of Publications), in the passing of his mother, Irene Dierks. Irene passed away last week at the age of 81. She leaves behind one son (Leland), three daughters, and eight grandchildren.
Condolences may be shared with Leland and his family on the funeral home's website.
UE Student-Athletes Partnering with Toys-For-Tots
Join us in helping Local Children experience the Holiday's and Magic of Christmas.
UE Student-Athletes will be partnering with Toys-For-Tots, with two opportunities for collections of New, Un-Wrapped toys for all ages.
These dates are the December 4th Men's Basketball Game and the December 11th Women's Basketball Game.
Every donation will receive an Aces goodie bag for your help and generosity. We look forward to all the great donations and GO ACES!
Evansville back home to take on Murray State on Tuesday night
Following a split of a pair of road games over the last 10 days, the University of Evansville women's basketball team returns to Meeks Family Fieldhouse to face Murray State on Tuesday night at 6 PM in Evansville.
Last Game: Evansville 84, Purdue Fort Wayne 71
• Behind one of the best scoring performances in program history, the University of Evansville women's basketball team fired on all cylinders in a second-half surge in an 84-71 victory over Purdue Fort Wayne on Wednesday afternoon in Fort Wayne, Ind.
• In just her second game as an Ace, junior Je'Naiya Davis turned-in an historic scoring performance. Davis tallied 35 points in just 22 minutes on the court, setting the program record for most points scored by an Ace in a regulation game. Davis did so with a 16-point third quarter outburst, followed by another double-digit quarter in the fourth, tallying 10 points. Three other Aces finished in double-figures with junior Abby Feit recording her fourth double-double of the season with 12 points and 12 boards, senior Myia Clark with 11 points and seven rebounds, and junior A'Niah Griffin finishing with 10 points. The Mastodons were led by Sylare Starks with 23 points on the afternoon.
• Despite an evenly played opening 20 minutes, the first half was a story of runs. After an early 5-5 tie, Purdue Fort Wayne scored eight of the next 10 points to take a 13-7 lead. The Aces would respond though, battling back with a 7-2 run to close the period with just a one-point deficit for Evansville.
• It was a similar story in the second quarter as the 'dons jumped-out to a 28-17 lead, what would be its largest of the game, forcing an Evansville timeout with 6:45 left in the half. Challenged by Purdue Fort Wayne early in the second period, the Aces responded out of the timeout. Keyed by five points from Clark and four from freshman Elly Morgan, Evansville sprinted back into the contest and out in front, using a 16-0 run over the next 3:46 to turn the tables and secure a 33-28 lead and force a timeout from the Mastodons. An evenly played contest throughout the opening two stanzas, Purdue Fort Wayne battled back, taking a one-point, 36-35 lead to the break.
• In the third quarter, the closely contested game continued with neither team able to open up larger than a five-point advantage. That was until the Je'Naiya Davis Show began with a little over five minutes left in the period. Over the final 5:35, Davis scored 16 points, keying a resurgence from Evansville that handed the Aces a lead as large as six at one point before grabbing a 61-57 lead heading into the fourth as part of UE's 26-point third period.
• Fueled by Davis' offensive surge, the Aces built their lead to double-digits at 72-59 less than two minutes into the fourth quarter with Davis scoring the first five of the period to kick-off an 11-2 run. The Mastodons would close no nearer than seven points over the final eight minutes as Evansville's second-half offensive explosion powered UE to the 84-71 win.
• Following a 29.4% shooting performance in the opening quarter, Evansville locked-in, shooting 25-51 (49.0%) over the next 30 minutes. Continuing the strong offensive outing, on the day, the Aces hit 13 three-pointers, their most in a game since March 14, 2019 and most in a true road game since Jan. 26, 2018.
Previewing the Matchup: Murray State
• Evansville and Murray State are meeting for the 37th time in series history with the Racers owning a 22-14 lead in the all-time series.
• The two sides last met on Dec. 1, 2020 in Murray, Ky. with the Racers capturing an 84-61 win in both teams' season opener.
• Three of the last four meetings in the series have come in the opening game of the season.
• Over the last 10 meetings, Evansville has been markedly better at home than on the road. In the last five home games, Evansville is a combined +23, while in the last five road contests with the Racers, the Aces are a combined -75.
• Murray enters the Wednesday contest with a 5-1 record and has had a busy last week. Since last Tuesday, including the UE-MSU game, Murray will have played three games with two on the road in Mississippi and Indiana, while in the midst of the Thanksgiving holiday.
• Evansville's four win prior to Thanksgiving are the most since at least the 2001-02 season.
• Murray State represents the fourth team in Evansville's first six games who is either a current or former member of the OVC.
Davis Enters Rare Air
• In an 84-71 win over Purdue Fort Wayne, junior guard Je'Naiya Davis recorded a performance that has not been completed in program history.
• Davis scored a career-high 35 points in just 22 minutes of action, the most by an Ace in a regular season game in program history.
• Davis' scoring outburst is just the third of its kind in NCAA DI since 2008-09, matching a 40-point performance from UC Davis' Morgan Bertsch in 22 minutes in 2018 and a 35-point performance in 22 minutes from Baylor's three-time all-American Brittany Griner in 2012.
Fast-Paced Offense
• On the other side, Evansville's offense has been quick and high-scoring this season.
• On the year, the Aces are averaging 77.4 points per game, the most in the MVC and 40th highest average in the nation.
• Evansville has not finished the season with a scoring average above 60 since the 2014-15 season when the Aces averaged 63 points per game.
Another Double-Double for Feit
• Despite not leading the team in scoring for a fifth-straight contest, junior Abby Feit recorded another double-double against the Mastodons, tallying 12 points and 12 boards in the 84-71 win.
• The double-double was Feit's fourth of the season and the 15th of her career.
Je'Naiya Davis named MVC Newcomer of the Week after 35-point outburst
Following one of the best single-game performances in program history, University of Evansville women's basketball junior Je'Naiya Davis has been named Missouri Valley Conference Newcomer of the Week, it was announced by the Conference office on Monday afternoon.
Coming off the bench in an 84-71 win over Purdue Fort Wayne on Wednesday in just her second game as an Ace, Davis scored 35 points in just 22 minutes of action, knocking-down 4-of-7 attempts from beyond the arc and shooting 13-17 from the field. The 35 points are tied for second-most in a game in program history and sit as the program record for points in a regulation game. Davis' scoring outburst is just the third of its kind in NCAA DI since 2008-09, matching a 40-point performance from UC Davis' Morgan Bertsch in 22 minutes in 2018 and a 35-point performance in 22 minutes from Baylor's three-time all-American Brittany Griner in 2012.
Davis is the first Ace to win a weekly honor from The Valley since Abby Feit on Dec. 21, 2020 and the first Newcomer of the Week for Evansville since Lola Bracy captured the honor on Dec. 16, 2019.
Evansville returns to the court after nearly a week of preparation and recovery on Tuesday night against Murray State at 6 PM inside Meeks Family Fieldhouse in Evansville.
Antoine Smith Jr. named MVC Newcomer of the Week
Averaging 13.5 points in four games while setting his career mark with 24 points, Antoine Smith Jr. was recognized as the Missouri Valley Conference Newcomer of the Week on Monday.
Smith averaged just 2.6 points per game over the first five games of the season, but in a 4-game week, he turned the corner to finish with an average of 13.5 points per game. His shooting was off the charts, hitting 59.4% of his field goal attempts, 11 out of 21 3-pointers (52.4%) and 81.8% from the line. Smith played an average of 36.2 minutes while chipping in 2.5 rebounds per game and a total of four assists.
He had one of the most efficient games that you will ever see to open the week against Rice. Smith was a perfect 9-of-9 from the floor and 6-for-6 from long range on his way to a career-high 24 points. In 40 minutes of work, he hauled in three rebounds while adding a steal. After finishing with 4 points and 3 caroms against Vermont, Smith had another nice game when the Aces squared off against Akron. He tallied 16 points while hitting 3 of his 6 long range tries. He capped the week off with 10 points, 2 assists and 2 boards in Sunday's road win at Eastern Illinois.
Entering Wednesday's MVC opener, Smith checks in with an average of 7.4 PPG while shooting 51.1% from the field.
Contribute to AceNotes
To have content considered for inclusion in AceNotes, please submit a Marketing Request Form. Deadline for submission to AceNotes is 10:00 a.m. on the requested date of publication. Only articles concerning UE related/sponsored activities will be accepted. Articles submitted to AceNotes may be edited for length and clarity. Submitter contact information is at the end of each article.