| | |
| --- | --- |
| AceNotes Today | Monday, November 29, 2021 |
This Week in Music
This is a busy week for the University of Evansville Music Conservatory. On Tuesday, November 30, the UE Jazz Ensemble will be joined by internationally acclaimed guest jazz trumpeter Graham Breedlove in a program featuring his compositions. This concert is at 7:30 p.m. in Eykamp Hall, Ridgway University Center. Earlier that same day, Mr. Breedlove will present an improvisation clinic at 12:00 PM in Fine Arts Room 110. Everyone is welcome to attend.
On Thursday, December 2, the UE Community Band and Jazz Sextet will present their fall concert at 7:30 p.m. in Eykamp Hall. The program will feature a variety of works for jazz ensemble and concert band. As a special feature, the Jazz Sextet will perform two compositions by UE Music Education Major, Luke Robertson '24.
On Friday, December 3 the UE University Choir will collaborate with the Office of Religious Life for the annual Candlelight Vespers at 7:00 p.m. in Neu Chapel. Vespers is part of UE's "Winter on Walnut" festivities running from 5:00 p.m. to 9:00 p.m. on December 3. All are welcome.
Finally, be sure to mark your calendars for the Holiday Pops concert, Tuesday, December 7 at 7:30 p.m. at Old National Events Plaza.
All events are free and open to the public. Masks are required for all attendees.
Department of Art to host Michelle Itczak, 06', to speak about her new book Pediatric Medical Art Therapy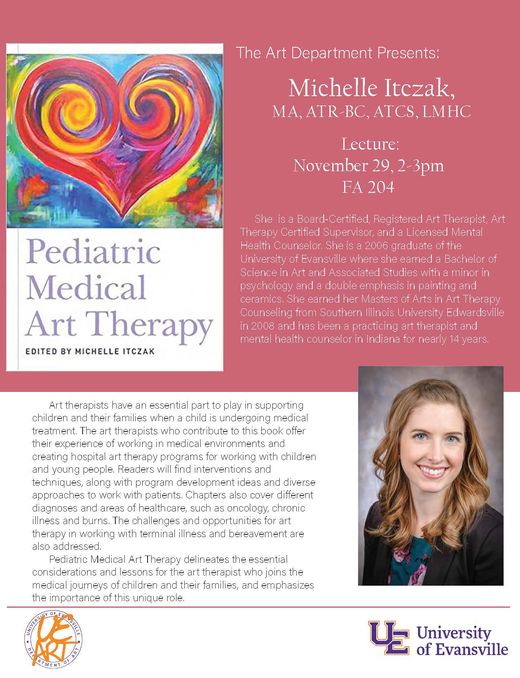 Michelle Itczak, MA, ATR-BC, ATCS, LMHC, is an Assistant Professor and Practicum and Internship Coordinator in the Department of Counseling in the College of Applied Behavioral Sciences at the University of Indianapolis. She is a 2006 UE graduate with a Bachelor of Science in Art and Associated Studies with a minor in psychology and a double emphasis in painting and ceramics. She earned her Masters of Arts in Art Therapy Counseling from Southern Illinois University Edwardsville in 2008 and has been a practicing art therapist and mental health counselor in Indiana for nearly 14 years. Michelle was a founding member and the inaugural President of the Indiana Art Therapy Association. She currently serves as the association's Treasurer. Michelle has worked in a variety of settings, including community mental health agencies, hospitals, and schools. In 2010, Michelle was hired as the founding art therapist of the Art Therapy Program at Riley Hospital for Children in Indianapolis. While at Riley, Michelle worked with the Center for Urban and Multicultural Education to conduct the first research project for the hospital's art therapy program. After leaving Riley to start a family, Michelle continued her medical art therapy work with Cancer Support Community of Central Indiana and helped establish art therapy services in hospitals throughout central Indiana. Michelle has served the art therapy profession in a variety of capacities including as a committee member for the American Art Therapy Association, as an item writer and reviewer for the Art Therapy Credentials Board, and as a site visitor for the Accreditation Council for Art Therapy Education.
Michelle will be having a discussion about her new book, Pediatric Medical Art Therapy, Monday, November 29, from 2-3 p.m. in Krannert 204. She will have a limited supply of her book on hand to buy and sign. Social distancing and masks are required. She will also be visiting the Pre-Art Therapy students during class that night to discuss graduate school and Art Therapy as a profession.
Let's Get Festive
The UESAA social committee is hosting a decorating contest for all employee areas across campus for the upcoming holiday season.
Dates to decorate: November 29 – December 10
Dates to vote: december 13 – december 17
decorate your office, department, cubicle, etc and then submit a picture to ll138@evansville.edu. voting will take place on the UE employee - positively purple facebook page. (if you have not yet joined this group, you need to join!) All pictures will be uploaded to the facebook page simultaneously at 8 am on Monday, december 13. The picture with the most likes at 5 pm on december 17 will win lunch for your area/department!
The SAA Social Committee encourages you to take a holiday stroll around campus and enjoy all the wonderful decorations. You can earn a yummy treat by capturing photos of the participating areas if you stop by our table set up in ridgway on Friday, december 17 11 am – 1 pm.
Spring Meal Plan Changes
Students can adjust meal plans for the Spring semester until Friday, January 14, 2022 at 5:00 p.m.
Winter Housing
Residence Hall Students - do you need a place to stay this winter? The residence life office has limited winter housing available. Only students participating in official University functions or with approved reasons will be considered for winter housing.
Students approved for winter housing may be assigned a temporary room in another housing facility and may not have access to their permanent rooms during winter break. Approvals are subject to room availability. Students are charged a flat fee of $400 for winter housing.
Students seeking winter housing must submit a Winter Housing Request Form by December 1, 2021, available through this link - https://uesurvey.evansville.edu/WinterHousing.
Students who live in Village housing can stay in their apartment or house at no additional cost but we do ask that you let us know when you will be on campus by filling out this form - https://www.surveymonkey.com/r/villagewinterhousing.
Winter Intersession Courses
It's not too late to register for a Winter Intersession course. Classes are held December 17, 2021, through January 7, 2022. Students may take one course.
For registration, payment deadlines, and additional information visit https://www.evansville.edu/registrar/winterSessions.cfm.
Winter Intersession Course List
| Subject | Number | Cr Hrs | Course Title | Instructor |
| --- | --- | --- | --- | --- |
| ART | 105 | 3 | Introduction to the Visual Arts | Larmann |
| ASTR | 101 | 3 | Descriptive Astronomy | Braun |
| AT | 180 | 3 | Introduction to Athletic Training | Tilly |
| CHEM | 103 | 3 | Chemistry of Adult Beverages | Miller |
| CHEM | 118 | 4 | Principals of Chemistry | Miller/Morong |
| EDUC | 322 | 3 | Strategies for Special Needs Students in K-12 Schools | Jones |
| ES | 103 | 3 | Fundamentals of Environmental Science | Thananatthanachon |
| EXSS | 150 | 2 | Introduction to Health Sciences | Laughbaum |
| EXSS | 320 | 3 | Nutrition for Performance and Health | Rodd |
| EXSS | 453 | 2 | Motor Learning | Wilson |
| EXSS | 488 | 1 to 3 | Internship | Rodd |
| EXSS | 488 | 1 to 4 | Internship | Wilson |
| FIN | 280 | 3 | Personal Finance | Brockman |
| HS | 205 | 3 | Pharmacology | Pruden |
| MATH | 134 | 3 | Survey of Calculus | Salminen |
| MATH | 324 | 3 | Differential Equations | Salminen |
| MUS | 156 | 3 | Music in America | Strandberg |
| NEUR | 125 | 3 | Introduction to Neuroscience | Campese |
| NEUR/PSYC | 355 | 3 | Sensation and Perception | Becker |
| PH | 190 | 3 | Introduction to Public Health | Patel-Dovlatabadi |
| PSYC | 121 | 3 | Introduction to Psychology | Campese |
| PSYC | 226 | 3 | Child and Adolescent Psychology | Hennon |
| PSYC | 416 | 3 | Human Sexuality | Becker |
| QM | 227 | 3 | Intro to Statistics | Khormali |
| SOC | 105 | 3 | Introduction to Sociology | Plikuhn |
| SOC | 230 | 3 | Social Problems in the Modern World | Plikuhn |
| STAT | 166 | 1 | Intro to R for Data Science | Weber |
Condolences to Leland Dierks
Our sympathy goes out to Leland Dierks (Graphic Designer, Office of Publications), in the passing of his mother, Irene Dierks. Irene passed away last week at the age of 81. She leaves behind one son (Leland), three daughters, and eight grandchildren.
Condolences may be shared with Leland and his family on the funeral home's website.
Volleyball is heading to the postseason!
For the first time as members of the Missouri Valley Conference, the University of Evansville volleyball team has earned a postseason bid. The Purple Aces were one of 31 teams chosen to participate in the Women's National Invitational Volleyball Championship.
The full bracket for the NIVC was announced on Sunday evening and the Aces are set to open play on Thursday evening against Sam Houston State with the winner facing either Bradley or Chicago State, who is one of the opening round hosts. UE will open the tournament at 5 p.m.
"I am very happy and proud of this group," UE head coach Fernando Morales exclaimed following the announcement. "We are taking giant steps towards our mid-term and long-term goals. This was one of the goals for this program and this group made it happen."
UE enjoyed one of its best seasons since becoming members of the MVC in 1994. The 19 victories in 2021 matched the 1998 and 2000 squads for the most since a 21-17 mark in 1988. Winning nine conference matches, the 2021 Aces posted the second-best MVC finish, behind only the 2000 team who went 10-8.
This is the fourth edition of the NIVC since its reboot through Triple Crown Sports; the event previously ran from 1989-95. Previous champions of the current NIVC are Georgia Tech (2019), Iowa State (2018) and Ole Miss (2017). The NIVC was not held in 2020 due to the COVID-19 pandemic.

The 2021 NIVC features Round 1 and 2 action from Dec. 2-5, with Round 3 scheduled for Dec. 6-8. The semifinals will be held Dec. 8-11, and the championship match be played Dec. 13 or 14.
Evansville heads to the postseason with a balanced roster of youth and experience. Both of those were on full display all season. Senior Alondra Vazquez and junior Melanie Feliciano were both named to the All-MVC First Team last week. Vazquez paced the MVC in kills while Feliciano finished the season sixth in that category.
Freshmen Giulia Cardona and Taya Haffner earned spots on the MVC All-Freshman Team. Cardona completed the season with the most service aces in the league while ranking in the top 15 nationally and #1 among freshmen. Haffner had a stellar season that saw her finish atop the MVC in assists.
Four MVC squads were chosen to play in the NIVC with Bradley, Indiana State, Valparaiso and UE taking part.
Carroll signs talented group to Aces Baseball for 2023
Coming-off a resurgent 2021 campaign, University of Evansville head baseball coach Wes Carroll, along with pitching coach A.J. Gaura and assistant coach Keirce Kimbel, have signed a talented group of seven players for the 2023 campaign.
"I'm excited to announce this talented 2022 recruiting class. Our coaching staff has worked hard putting together the future of Aces baseball," said Carroll on the crop of newcomers. "This group is not only talented on the field but excels in the classroom as well. I really like the balance of players we are adding with 4 pitchers, 3 position players and a legit 2-way player. Every member of this class has a high ceiling to help our program compete in the Missouri Valley Conference for years to come."
Caden Crawford, First Baseman, Liberty Township, Ohio (Cincinnati Hill Christian Academy)
Coming to Evansville from Liberty Township, Ohio, first baseman Caden Crawford brings an impressive bat and a strong glove to the Aces infield. This past spring, Crawford led all of the Miami Valley Conference with six home runs, batting .367 with 33 RBI and stealing eight bags. In his prep career, Crawford has launched eight homers across two seasons, while helping lead CHCA to the Division III state championship just five months ago.
"We are really excited about the addition of Caden to the 2022 recruiting class," said assistant baseball coach Keirce Kimbel. "Caden is a physical kid that displays a lot of athleticism and has the chance to have power at the D1 level. He should be a staple in our lineup for years to come."
Max Hansmann, Right-Handed Pitcher, Elmhurst, Ill. (York High School)
Joining the Aces from the Chicagoland area, Hansmann brings a talented right arm to Evansville's pitching staff. With an impressive breaking ball, Hansmann looks to add even more strength to a burgeoning crop of pitchers for the Aces, while also getting it done in the classroom, where Hansmann holds a 4.45 GPA on a 4.0 scale at York High School.
"We're excited to be able to add a guy like Max to our pitching staff," said Evansville pitching coach A.J. Gaura. "He's a high character guy both on and off the field. His ability to compete at a high level and spin a breaking ball should allow him to have an impact early in his career."
Elias Hachem, Right-Handed Pitcher, Oak Park, Ill. (Mount Carmel High School)
A tall right-hander from the Chicagoland area, Elias Hachem joins Hansmann in adding to the Aces pitching staff depth. With a fastball that tops out over 90 miles per hour, Hachem posted a 3-0 record with a 1.54 ERA in seven appearances for Mount Carmel last spring.
"Elias is a great addition to our pitching staff as brings a physical presence to the mound," said Gaura on the northern Illinois product. "At 6'7" 235 lbs, he has a FB that really gets on hitters and breaking ball that projects to have wipeout potential. I'm excited to watch him develop both on and off the field over the next 4 years."
Andrew Payton, Catcher, Martinsville, Ind. (Martinsville High School)
Joining the Aces from Martinsville, Ind., Andrew Payton is a stout addition behind the plate. A season ago, Payton recorded a fielding percentage of .968 with 213 putouts and 55 assists to help lead Martinsville High School.
"Andrew has been on our radar since his Freshman year at Martinsville," said Carroll on the Indiana native. "He is an elite catch and throw guy behind the plate. AP is a competitor and leader on the field. I look forward to him being on campus next fall."
Willard Peterson, Left-Handed Pitcher, Evansville, Wis. (Evansville High School)
Going from Evansville, Wisconsin to Evansville, Indiana, Willard Peterson joins the Aces pitching staff. A 6'2" left-hander, Peterson brings a fastball that averages 88 miles per hour.
"Willard is a big strong LHP from the state of Wisconsin that is just scratching the surface of his potential," said Gaura on the Wisconsin addition. "He possesses high level pitch characteristic that should allow him to develop into a front-line starter or power back end bullpen arm during his time here at UE."
Kannon Stull, Outfielder, Jeffersonville, Ind. (Jeffersonville High School)
Coming to Evansville from just down the Ohio River, Kannon Stull adds another impressive glove and bat to the Aces outfield. This spring for Jeffersonville High School, Stull ran-up a .383 batting average with 21 RBI and 12 extra-base hits.
"Kannon is an athletic outfielder who possesses the five tools needed to compete in the MVC," mentioned Carroll on the outfielder. "He will continue to develop those tools here at UE and will make an impact on our roster."
Jack Taczy, Left-Handed Pitcher, Fox River Grove, Ill. (Cary-Grove High School)
With a high 80s fastball, Fox River Grove, Illinois' Jack Taczy enters the fold for the Aces. The 6'3" lefty adds another talented arm to the Aces pitching staff heading into the 2023 season.
"Jack is an exciting LHP that we are looking forward to watch grow in our program," said Gaura on the Illinois native. "He already possesses the ability to throw 3 pitches for strikes and control the running game. I'm excited to be apart of Jack's development as he continues work in the weight room and discover just how good he can be."
UE men back on the road on Sunday
The month of November wraps up on Sunday when the University of Evansville men's basketball team travels to Eastern Illinois for a 1 p.m. contest in Charleston. ESPN+ and the Purple Aces Radio Network will have the call.
Last Time Out
- Wednesday's finale at the Gulf Coast Showcase saw the Purple Aces fall by a 69-60 final against Akron
- Jawaun Newton posted the first double-double of his career, scoring 19 points while setting his new benchmark with 10 rebounds
- Antoine Smith Jr. added 16 while Shamar Givance scored 12
- The Zips held a 33-20 lead at the half before Evansville got within a possession in the final period before Akron pulled away late in the contest
He Didn't Miss
- Monday's Gulf Coast Showcase opener versus Rice saw Antoine Smith Jr. put forth one of the most efficient games in program history, going a perfect 9-for-9 from the field and 6-of-6 from outside
- Smith finished the game with 24 points while seeing over 40 minutes of action, both career highs
- He followed that up with 16 points in the finale against Akron
Checking all the Boxes
- Jawaun Newton put together what may have been the best stretch of his career at the Gulf Coast Showcase, finishing with an average of 21.7 points in the three games
- Newton opened with the first 30-point game of his career versus Rice, tallying 30 points on 12-of-25 shooting while picking up 7 boards
- Following a 16-point effort in the Vermont game, Newton recorded the first double-double of his career with 19 points and 10 caroms against Akron
Providing the Assist
- Shamar Givance continues to rack up the assists this season, ranking 6th in the MVC with an average of 3.8 per game
- He has 4 or more helpers in four of the last five games including a season-high of 7 against DePauw
- Every time he takes the floor, Givance is a threat to record a triple double and he has continued on that path...following a 7-point, 5-assist, 4-rebound effort at Cincinnati, Givance led the Aces in points (16), rebounds (7) and steals (3) in the victory against IUPUI
Scouting the Opponent
- Monday's Gulf Coast Showcase opener versus Rice saw Antoine Smith Jr. put forth one of the most efficient games in program history, going a perfect 9-for-9 from the field and 6-of-6 from outside
- Smith finished the game with 24 points while seeing over 40 minutes of action, both career highs
- He followed that up with 16 points in the finale against Akron
Givance sets career mark in win at EIU
Shamar Givance recorded a career-high 26 points while the University of Evansville men's basketball team led from start to finish in a 70-54 road win at Eastern Illinois on Sunday inside Lantz Arena.
Givance posted a 10-of-13 day from the field and converted three of his four outside tries. His stat line also included 5 assists, 5 steals and 5 rebounds. Just four days after recording the first double-double of his UE (3-6) career, Jawaun Newton made it two in a row, finishing with 13 points while setting a new career mark with 12 caroms.
"I thought we played some pretty good basketball today. We moved the ball so well and our guys made shots," UE head men's basketball coach Todd Lickliter said after the win. "We did what we needed to do with getting the lead and extending it."
Blaise Beauchamp tied his top UE mark with 12 points while Antoine Smith Jr. scored 10, his third double figure outing in the last four games. Eastern Illinois (1-6) was led by Sammy Friday IV, who led the Panthers with 12 points and 8 rebounds.
Hitting 12 of its first 18 attempts from the field while starting 8-for-10 from outside, the Purple Aces took a 32-10 lead to begin the game. Shamar Givance hit a pair of early triples to wrap up an 8-0 run to open the game. After a Panther layup made it 11-5 at the 16:14 mark, Evansville responded with a 12-0 run. Jawaun Newton and Antoine Smith Jr. hit triples during the stretch as the first half hit the midway point.
After Noah Frederking connected from downtown, Blaise Beauchamp drained back-to-back triples to push the lead to 32-10 with 7:38 left in the half. Facing its largest deficit, Eastern Illinois clamped down on the defensive end, holding the Aces scoreless for over four minutes while scoring seven in a row to get within 15. Beauchamp, who matched his career scoring mark in the first 20 minutes with 12 points, ended the drought with a basket. EIU continued to rally, getting as close as 12 points (36-24) before UE registered the final score of the half to enter the break with a 38-24 advantage.
EIU connected on a triple in the opening minute of the second half to make it a 39-27 game before Evansville got back on track to take its largest advantage of the day. Following a Panther miss, Antoine Smith Jr. hit a pair of free throws that were the first of 11 points in a row for UE. Newton picked up seven in a row during the rally. With 10:21 remaining, it was Givance getting the job done on both ends of the floor, hitting a driving layup before forcing a turnover and converting another basket that put the Aces up 56-31.
From there, the Aces held strong to take the 70-54 win, its first on the road since an 84-72 win at Southern Illinois on Dec. 28, 2020. Evansville shot 41.5% for the game with EIU finishing at 38.0%. A big difference in the game came from long distance with the Aces hitting 11 triples and EIU finishing 3-of-10.
Wednesday will see the Aces back inside the Ford Center for the Missouri Valley Conference opener against Southern Illinois. Game time is 6 p.m.
Je'Naiya Davis' career day fuels Aces second-half push past Mastodons
Behind one of the best scoring performances in program history, the University of Evansville women's basketball team fired on all cylinders in a second-half surge in an 84-71 victory over Purdue Fort Wayne on Wednesday afternoon in Fort Wayne, Ind.
In just her second game as an Ace, junior Je'Naiya Davis turned-in an historic scoring performance. Davis tallied 35 points in just 22 minutes on the court, setting the program record for most points scored by an Ace in a regulation game. Davis did so with a 16-point third quarter outburst, followed by another double-digit quarter in the fourth, tallying 10 points. Three other Aces finished in double-figures with junior Abby Feit recording her fourth double-double of the season with 12 points and 12 boards, senior Myia Clark with 11 points and seven rebounds, and junior A'Niah Griffin finishing with 10 points. The Mastodons were led by Sylare Starks with 23 points on the afternoon.
Despite an evenly played opening 20 minutes, the first half was a story of runs. After an early 5-5 tie, Purdue Fort Wayne scored eight of the next 10 points to take a 13-7 lead. The Aces would respond though, battling back with a 7-2 run to close the period with just a one-point deficit for Evansville.
It was a similar story in the second quarter as the 'dons jumped-out to a 28-17 lead, what would be its largest of the game, forcing an Evansville timeout with 6:45 left in the half. Challenged by Purdue Fort Wayne early in the second period, the Aces responded out of the timeout. Keyed by five points from Clark and four from freshman Elly Morgan, Evansville sprinted back into the contest and out in front, using a 16-0 run over the next 3:46 to turn the tables and secure a 33-28 lead and force a timeout from the Mastodons. An evenly played contest throughout the opening two stanzas, Purdue Fort Wayne battled back, taking a one-point, 36-35 lead to the break.
In the third quarter, the closely contested game continued with neither team able to open up larger than a five-point advantage. That was until the Je'Naiya Davis Show began with a little over five minutes left in the period. Over the final 5:35, Davis scored 16 points, keying a resurgence from Evansville that handed the Aces a lead as large as six at one point before grabbing a 61-57 lead heading into the fourth as part of UE's 26-point third period.
Fueled by Davis' offensive surge, the Aces built their lead to double-digits at 72-59 less than two minutes into the fourth quarter with Davis scoring the first five of the period to kick-off an 11-2 run. The Mastodons would close no nearer than seven points over the final eight minutes as Evansville's second-half offensive explosion powered UE to the 84-71 win.
Following a 29.4% shooting performance in the opening quarter, Evansville locked-in, shooting 25-51 (49.0%) over the next 30 minutes. Continuing the strong offensive outing, on the day, the Aces hit 13 three-pointers, their most in a game since March 14, 2019 and most in a true road game since Jan. 26, 2018.
The Aces now get a six-day break before returning home to face Murray State on Tuesday, Nov. 30 at 6 PM inside Meeks Family Fieldhouse in Evansville.
Aces well-represented in postseason MVC awards
Four University of Evansville volleyball players were recognized by the Missouri Valley Conference on Thursday when the league announced its postseason awards.
Highlighting the day was the naming of Giulia Cardona as the MVC Freshman of the Year. She is the first Purple Aces player to receive one of the league's specialty awards. Alondra Vazquez and Melanie Feliciano earned spots on the All-Conference First Team while Cardona earned a nod on the second team. Cardona along with Taya Haffner were named to the All-Freshman Team. The recognition earned by the UE squad this year was more than any other season in the history of the program.
"I am very proud and happy for the four players that received individual awards. They have worked very hard and are extremely deserving," UE head coach Fernando Morales said. "This team is very fun to coach and watch and it is a total team effort from player one through 16. Everyone is pushing each other to be better and that is why these four student-athletes have been so successful this year."
Cardona completed one of the top freshman seasons in the entire nation. The first player to be named the MVC Freshman of the Year for UE completed the regular season leading the MVC and all freshmen in the NCAA in service aces with an average of 0.50 per set. Her seven aces against Indiana State was the first time a Valley player did so against a league foe since 2009. She also completed the regular season ranking third in the league with 3.90 kills per set. Cardona earned three MVC Freshman of the Week honors in a row earlier in the season. The All-MVC Second Teamer was also named to the All-Freshman squad.
For the first time in its MVC tenure, the Aces saw two student-athletes recognized on the All-Conference First team. For the second season in a row, Alondra Vazquez earned the first team honor while pacing the conference with 4.21 kills per frame. Her average finished the year in the top 30 nationally. UE's leader in digs this season was named the MVC Player of the Week on two occasions while garnering MVP honors at the PFW Invitational and Dunn Hospitality Tournament. Vazquez currently has 1,367 career kills, which is 5th on UE's all-time list.
Joining Vazquez on the First Team is Melanie Feliciano. A Second Team player in 2019 (along with Vazquez), Feliciano saw her season take off once conference season arrived. Entering league play, she averaged 3.09 kills/set, but a strong conference campaign saw that season average rise to 3.38. She was named the MVC Player of the Week on October 11. Feliciano was the MVP of the Eagle Challenge in September at Morehead State.
Taya Haffner joined Cardona on the All-Freshman squad. Her average of 10.68 assists per game paced the MVC and ranked 28th in the NCAA. Her top effort saw her finish with 60 assists in the home finale versus UNI. Haffner opened the season in her hometown of Fort Wayne, Ind. at the PFW Invitational and averaged 12.33 assists and 3.00 digs on the way to MVC Freshman of the Week honors. This was the first time UE had two players named to the All-Freshman Team in the same season.
Vazquez records double-double in MVC tournament contest
In the opening contest of the Missouri Valley Conference Championship, the University of Evansville fell to Valparaiso by a 3-1 final inside Redbird Arena.
Alondra Vazquez led the way for the Purple Aces (19-11) with a match-high 17 kills while adding 13 digs. She added a pair of service aces along with a block assist. Melanie Feliciano registered 11 kills and 9 digs while Giulia Cardona added a double-double with 10 kills and 10 digs. Taya Haffner had a match-high 35 assists while totaling 19 digs, just two short of her career mark of 21. Madisyn Steele picked up a solo block and three block assists in the contest.
Set 1 – Valpo 25, UE 20
Evansville came out of the gate strong, scoring the first four points with Alondra Vazquez recorded a kill and assisting Kate Tsironis on a block. The Aces continued to hold the lead until Valparaiso tied it up for the first time at 6-6 before taking an 8-7 edge. Three blocks in a row for the Beacons spearheaded a run that saw them take their largest lead at 16-10. All-MVC First Teamer Alondra Vazquez picked up a pair of aces that helped UE reel off five in a row to get within one, but Valpo responded with five in a row to match their largest lead before taking the set, 25-20.
Set 2 – UE 25, Valpo 16
For the second game in a row, it was the Aces with the big start, but this time, they took full advantage on their way to tying up the match. Kills by Vazquez and Giulia Cardona were part of a 4-0 start. After Valparaiso scored, Melanie Feliciano recorded her first kill of the set to begin another run that saw UE score nine in a row to cap off a 13-1 start. Feliciano had five kills during the stretch to widen the advantage. The Beacons chipped away, but the early deficit was too much to overcome with Evansville tying the match on the strength of a 25-16 victory.
Set 3 – Valpo 25, UE 22
A 3-1 start for Valpo saw them lead throughout the opening moments of the set. Evansville forced seven tied before takings its first lead at 14-13 with a kill by Vazquez. Madisyn Steele and Taya Haffner picked up a block to give the Aces a 15-13 edge before VU responded with three in a row to jump back in front. The defining moment came when the Beacons turned a 17-17 tie into a 22-17 lead. UE did its best to close, but fell by a 25-22 final.
Set 4 – Valpo 25, UE 17
The opening moments of the fourth set were similar to the third with things remaining close. After three ties, the Beacons wrestled away a 5-3 lead. Evansville made it an 8-7 game on a Cardona kill before Valparaiso countered with eight in a row to go up 16-7. Tailing 20-11, Evansville made its move, posting the next four with Vazquez recording two more kills. Unfortunately, UE could not get closer, falling by a 25-17 score to finish the match.
UE rally falls short against Vermont
Less than 24 hours after playing a triple overtime game against Rice, the University of Evansville men's basketball team was right back in action on Tuesday in the first-ever meeting against Vermont at the Gulf Coast Showcase.
After trailing by one at the half, the Purple Aces (2-5) dropped the contest to the Catamounts (4-2) by a final of 58-49. Jawaun Newton followed up Monday's career effort with 16 points on 5-of-9 shooting. He added three rebounds and connected on four 3-pointers. Noah Frederking added nine points and a team-high seven boards. Leading Vermont was Isaiah Powell with 17 points.
After completing the first 30-point game of his career, Jawaun Newton came out on fire once again, knocking down two early 3-pointers to give the Aces an 8-2 lead four minutes into the game. Vermont rallied to tie it up at 10-10 on a 3-point play at the 11:51 mark.
The next segment belonged to Evansville, who outscored the Catamounts by a 9-2 margin to take its largest lead at 19-12. Noah Frederking got it started with a jumper before Blaise Beauchamp connected on his first basket of the game. It was Newton who capped off the run, posting the final five points to give the Aces the 19-12 lead with 7:36 remaining in the half.
Evansville's lead remained at seven (23-16) with 3:41 on the clock, but over the final minutes, Vermont made its way back into the contest before eventually taking the lead. The Catamounts recorded the final 8 points of the half including a pair of free throws in the final 10 seconds to take the first lead of the game at 24-23. UE missed its final three shots while turning it over twice. Newton led all scorers with 11 in the opening stanza.
Vermont scored first out of the half before extending the advantage to eight points at 33-25. Over a stretch of 9:15, the Catamounts outscored the Aces by a 17-2 margin when the run wrapped up with 14:26 left. A 3-point play by Newton along with a triple from Gage Bobe helped the Aces cut the deficit to three, but Vermont would slowly extend its lead, pushing the edge to 42-33 as the game entered its final nine minutes.
With two minutes remaining, the Vermont lead reached a game-high 16 points (56-40) before UE was able to close in the final minutes, leading to a final of 58-49. UE completes the Gulf Coast Showcase on Wednesday at 11 a.m. against either Appalachian State or Akron.
Aces close two-game road swing at Purdue Fort Wayne on Wednesday
After a battle against EIU on Saturday, the University of Evansville women's basketball team looks to close out its two-game road swing back in the win column with a trip to take on Purdue Fort Wayne at 1 PM (CT) on Wednesday afternoon in Fort Wayne, Ind.
Last Game: EIU 85, Evansville 74 (2OT)
• Competing for all 50 minutes in an intense contest, the University of Evansville women's basketball team battled in a 85-74 double-overtime loss to Eastern Illinois on the road on Saturday night in Charleston, Ill.
• Continuing her impressive early season form, junior Abby Feit tied a career-high with 29 points, leading all scorers, while also tallying her third double-double of the year with 13 rebounds. Joining Feit in double-figures were juniors A'Niah Griffin and Je'Naiya Davis with 14 points each, with Davis doing so in her UE debut. The Panthers were led by Lariah Washington with 25 points.
• The contest was hallmarked by the inability for either team to break away and build a lead. Through the first overtime, neither team could build a lead larger than seven with the game featuring 17 ties and nine lead changes. Foul trouble bothered both teams in the opening half as EIU's starting point guard Kira Arthofer picked-up two fouls in the first seven minutes, while Feit was credited with two fouls in the first half, limiting her availability late in the second quarter.
• A three-pointer from EIU's Jordyn Huges built a four-point lead for the Panthers with 5:08 left in the opening half, but from that point, Evansville bounced-back to close out the half. The Aces mounted a 10-4 run to close the second quarter, including three-straight points by Griffin as Evansville went to the break with a 32-30 advantage.
• The third quarter saw EIU retake its lead, ultimately out-scoring the Aces, 26-19, in the period. Prior to the Panthers spurt, Evansville opened the second half by increasing its lead to four on a jumper in the paint by senior Myia Clark with 7:52 remaining in the quarter. Following Clark's bucket, EIU went on a 13-4 run, regaining the lead and building it as large as five and holding a 54-49 lead with 10 minutes in regulation remaining.
• EIU would push its lead as high as seven to open the fourth, but as has been true this season, the fourth quarter has been owned by the Aces and been an area of strength for UE. A 9-1 run keyed the Aces back into the lead, playing stifling defense and limiting the Panthers to just 3-14 (21.4%) shooting in the period. Evansville took a 62-61 lead on a jumper by Feit with just 2:15 left to play. Three consecutive made free throws from the Panthers pushed EIU back in front 64-62 with less than a minute on the clock, but it was again Feit who came up big. With 44 seconds left in regulation, Feit knocked-down a layup that tied the game at 64, cutting through the defense and laying it in. With the ball, EIU held to drain the clock, missing a three at the buzzer as the game went into overtime.
• To begin the first overtime, EIU grabbed back the lead, scoring three-straight points to hold a 67-64 lead. Evansville answered with a triple by Griffin with just over three minutes remaining in the first extra period, tying the game at 67. The two teams traded jumpers as the game remained tied at 69. With 1:10 left on the clock, EIU's Washington was sent to the line and missed the back end of a pair of free throws, limiting the Panthers leads to just 70-69. 30 seconds late, Newman split a pair at the line to keep the game tied inside the final minute. Evansville's defense again stepped-up, getting a stop with 18 seconds left. Holding the ball for the last shot, Evansville set-up a great look for Feit, whose 15-foot jump shot rolled in and popped back out as the buzzer sounded.
• In what would be the final overtime, Evansville took back the lead with a layup by Elly Morgan to lead, 74-72. Following Morgan's basket, EIU went on a run to close the game as Evansville battled foul trouble in the 85-74 loss.
Previewing the Matchup: Purdue Fort Wayne
• Evansville and Purdue Fort Wayne are meeting for the sixth time in series history with the Mastodons leading the all-time series, 3-2.
• The two sides last met on Dec. 5, 2020 inside Meeks Family Fieldhouse with the Aces picking-up a 70-60 win over Purdue Fort Wayne.
• Purdue Fort Wayne enters Wednesday's matchup having gone nearly a full week without a contest after its Saturday matchup with IUPUI was canceled due to positive COVID tests within the Jaguars program.
• Against EIU, the Aces and Panthers played to a double-overtime thriller. The contest was the first time Evansville played in a double-overtime game since Nov. 16, 2015 in a 91-85 loss to Miami (Ohio).
• Purdue Fort Wayne, under the direction of new head coach Maria Marchesano, is the third team this season that UE has faced with a new HC.
• The Aces first three wins each came by 10-or-more points. An Evansville team had not accomplished this feat since the 1972-73 season when UE women's sports pioneer led the Aces to wins over Oakland City, Vincennes, and IU Nurses in just the third season of the program's modern era.
Feit Adds Another Feat
• To open the season, Abby Feit has led the Aces in scoring in each of the team's first four games.
• The last Ace to do this was Sara Dickey in 2015-16.
• No player in program history since at least 2010-11 has led the team in scoring in the first five games of the season.
Davis Makes Immediate Impact
• In her Evansville debut, junior guard Je'Naiya Davis opened with an impressive effort.
• On the road at EIU, Davis finished tied for second on the team with 14 points in 26 minutes of action.
• Davis opened the game with six of the team's first 10 points in the first quarter.
Stifling Defense
• Evansville's defense has been stifling this season.
• UE's opponents are averaging just 31.8% shooting from the field, the 26th-lowest mark in the nation.
• The Aces have also forced their opponents into giveaways in mass, creating 24 turnovers per contest, the 23rd-most in the nation.
Newton and Smith lead UE in Gulf Coast Showcase finale
Jawaun Newton and Antoine Smith Jr. wrapped up strong weeks at the Gulf Coast Showcase in Wednesday's 69-60 loss to Akron inside Hertz Arena.
Newton recorded the first double-double of his Purple Aces (2-6) career, finishing with 19 points and a career-high 10 rebounds. Smith was just behind with 16 points while adding three triples. Akron (3-3) saw Ali Ali lead all scorers with 20 points on a 6-for-8 shooting day that saw him convert all four 3-point attempts.
Akron hit two early 3-pointers to open the game while Evansville got on the board when Antoine Smith Jr. hit a triple. Trailing 6-5, UE took its first lead at the 16:20 mark when Jawaun Newton drained a three. The Zips responded with five in a row to go up by an 11-8 margin before Iyen Enaruna hit a layup to break a scoreless drought of close to four minutes.
With nine minutes remaining in the half, Evansville remained with a point (15-14) before the Zips added to their lead, embarking on an 11-2 run to open a 26-16 advantage. Ali Ali capped off the run with a 3-pointer as the Zips hit 7 of their first 9 long range attempts. Inside the final minute, the 8th triple by Akron cemented a 33-20 lead at the break. Evansville finished the half hitting two of their final 16 field goals.
Antoine Smith Jr. took matters into his own hands out of the break, knocking down a pair of 3-pointers to make it a 9-point game at 35-26. Following a technical foul on Akron, Newton hit both free throws before Smith knocked down a layup on the ensuing possession to get UE within five. A 9-0 run was completed with a Newton dunk on a runout. To make it a 35-32 score.
Akron regrouped to get back on track, scoring 11 of the next 13 points to retake their double figure lead with a 46-34 lead inside of the 10-minute mark. Just over a minute later, a 3-point play by Newton got his team back within seven before Akron answered to push their edge back to double figures. Evansville continued to fight, hitting 5 out of 6 field goal attempts with the contest entering the final four minutes, but the Zips continued to answer and held a 12-point lead at the 3:33 mark.
Evansville showed its heart and fought back with every possession and it showed with Shamar Givance and Newton scoring three each to cut the gap to six (62-56) with 2:30 remaining, but they would not get closer with Akron clinching the 69-60 victory.
UE finished the game shooting 37.3% from the field while Akron shot 48.8%. One of the big positvies for UE came on the boards as they grabbed 12 offensive rebounds.
Next up for Evansville is a trip to Eastern Illinois for a 1 p.m. game on Sunday.
Volleyball set to open MVC Championship on Thursday
For the second time in three years, the University of Evansville has advanced to the Missouri Valley Conference Championship where they open against Valparaiso on Thursday in Normal, Ill. The 3:30 p.m. match will be available to watch on ESPN+.
A Little History
- This year marks the sixth time the Purple Aces have advanced to the conference tournament
- In its five previous appearances (1998, 2000, 2006, 2008 and 2019), the Aces are 1-5 with the victory coming in 2000 against Creighton
- Evansville has been the sixth seed in four of its previous five appearances...the Aces were seeded #5 in 2000 when they defeated the Bluejays
Last Time Out
- Regular season action came to a close last weekend when the Purple Aces traveled to Southern Illinois and Missouri State
- After defeating SIU by a 3-0 final on Friday, UE dropped the regular season finale on Saturday at MSU by a 3-1 final
- Alondra Vazquez led UE in kills in both matches with 14 versus the Salukis and 18 on Saturday
- Blakeley Freeman set her career high with 19 digs against the Bears
- Giulia Cardona recorded 13 kills, 4 digs and 2 aces to begin the weekend before posting 16 kills and 9 digs to go along with a pair of aces in the regular season finale
Scholar-Athlete
- Senior Cecilia Thon has accumulated a 3.96 GPA as an International Studies major and was recognized on Tuesday as a member of the MVC Scholar-Athlete Honorable Mention Team
- Thon was one of UE's top servers this fall, averaging 0.24 pe set, which was tied for 21st in the conference
Top Five
- Alondra Vazquez continues to add to her kill total and currently stands with 1,367 in her Aces career
- She moved into the fifth spot in the final weekend of the regular season, surpassing Ashley Ring's total of 1,338
- Her next jump will be into the #4 spot, which is currently held by Lisa Sampson with 1,437
- Vazquez also moved into the top ten in career digs with 1,224...9th place is Sarah McClellan with 1,279
Still Going Strong
- Over the last 40 sets of work, freshman Giulia Cardona has recorded a total of 25 service aces, an average of 0.625 per set
- Her season average has risen to 0.50 per set, which leads the MVC, ranks 16th in the nation and leads all freshmen nationally
- She is currently on an offensive streak that has seen her record at least 12 kills in each of the last 16 matches while raising her season average to 3.90 per set
- Aside from leading the Valley in aces, she is second in points per set (4.56) and third with her kill average
Finishing Strong
- Freshman Blakeley Freeman heeded the call when her team needed it at UNI
- With libero Rachel Basinski having to leave the match, Freeman came in and contributed 8 digs in the UE programs first-ever road win at UNI
- Back in the starting lineup at Drake, Freeman contributed 13 digs, 6 assists and a pair of service aces before totaling 9 digs and 3 helpers in the win over Indiana State
- The regular season finale at Missouri State saw her set a new career mark with 19 digs to lift her average to 2.59/set, which is second on the team
Contribute to AceNotes
To have content considered for inclusion in AceNotes, please submit a Marketing Request Form. Deadline for submission to AceNotes is 10:00 a.m. on the requested date of publication. Only articles concerning UE related/sponsored activities will be accepted. Articles submitted to AceNotes may be edited for length and clarity. Submitter contact information is at the end of each article.