| | |
| --- | --- |
| AceNotes Today | Tuesday, November 23, 2021 |
Fire Alarm Testing
Fire alarm retesting will be conducted in the following building on 11/24/2021
Koch Center, Carson Center, Hughes Hall, and Phi Tau.
2021 Employee Holiday Schedule
The University of Evansville will be closed during the holidays to allow our employees to enjoy this special time with their families. This year, our December holiday will be extended for one additional day, closing on December 22 to provide extra time with your families. As announced earlier this month, we are also closing on Wednesday, November 24 to provide our employees an additional day to enjoy the Thanksgiving holiday.
The following November – December holiday schedule will be observed:
Thanksgiving Holiday
Closed Wednesday, November 24 through Friday, November 26
Offices reopen on Monday, November 29
Winter Holiday Break
Closed Wednesday, December 22 through Friday, December 31
Offices reopen on Monday, January 3
Let's Get Festive
The UESAA social committee is hosting a decorating contest for all employee areas across campus for the upcoming holiday season.
Dates to decorate: November 29 – December 10
Dates to vote: december 13 – december 17
decorate your office, department, cubicle, etc and then submit a picture to ll138@evansville.edu. voting will take place on the UE employee - positively purple facebook page. (if you have not yet joined this group, you need to join!) All pictures will be uploaded to the facebook page simultaneously at 8 am on Monday, december 13. The picture with the most likes at 5 pm on december 17 will win lunch for your area/department!
The SAA Social Committee encourages you to take a holiday stroll around campus and enjoy all the wonderful decorations. You can earn a yummy treat by capturing photos of the participating areas if you stop by our table set up in ridgway on Friday, december 17 11 am – 1 pm.
Krannert Gallery Exhibit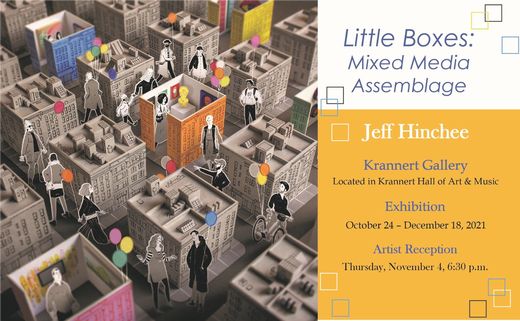 The Department of Art is pleased to announce the exhibition entitled Little Boxes: Mixed Media Assemblage by artist and visiting Theatre faculty Jeff Hinchee. Please visit the Krannert Gallery between now and December 18.
Transgender Day of Remembrance Vigil
On Saturday, November 20th, the Center for Diversity, Equity, and Inclusion held its first Transgender Day of Remembrance vigil to conclude Transgender Awareness Week. Transgender Awareness Week is a week when transgender people and their allies take action to bring attention to the community by educating the public about who transgender people are, sharing stories and experiences, and advancing advocacy around the issues of discrimination and violence towards the transgender community.
Transgender Day of Remembrance (TDoR) was founded by transgender advocate Gwendolyn Ann Smith as a vigil to honor her memory of Rita Hester, a transgender woman who was killed in 1998. TDoR is now observed annually on November 20th to honor the memory of the transgender people whose lives were lost in acts of anti-transgender violence that year. In 2019, the American Medical Association called the violence against transgender people an epidemic. While this statement is true, it has been going on long before 2019 and has only continued. This year, 2021, marks the most deadly year recorded, in less than 12 months, with at least 47 transgender people killed, most of them being Black or Latinx. Below are the stories of five transgender people who have been murdered since 1993.
Brandon Teena was a 21-year-old transgender man who was raped and later, along with Philip DeVine and Lisa Lambert, murdered in Humboldt, Nebraska. Brandon began identifying as a man during adolescence, but sadly his mother rejected his male identity, creating a hostile environment for him to grow up in. By the age of 18, he had begun regularly presenting as male and his friends noted how much happier he seemed. After moving to Nebraska in 1993, Brandon befriended ex-convicts John Lotter and Marvin Nissen, who would assault and kill him on December 31, 1993. His life and death were the subject of the films "The Brandon Teena Story" and "Boys Don't Cry."
Nireah Johnson was a 17-year-old Black transgender woman who was murdered in Indianapolis, Indiana along with her friend Brandie Coleman. On June 18, 2003, the two were riding around with another friend when they saw Paul Moore and Curtis Ward, two men whom they befriended instantly and agreed to meet at a later time. Weeks later, on July 23, Brandie and Nireah met with Paul and Curtis at Paul's home, with Brandie going to Curtis's room and Nireah to Paul's. Moments later, Paul left the room to speak with Curtis and returned with a handgun, demanding to know whether Nireah was male or female. They were then driven to a wooded area and brutally murdered.
Angie Zapata was an 18-year-old transgender woman murdered in Greeley, Colorado. From an early age, Angie expressed an attraction to boys, and in middle school, she disclosed her female identity to family and close friends. She began living outwardly as a woman full-time at the age of 16. On July 17, 2008, she was beaten to death after Allen Andrade learned after meeting and spending several days with her that she was transgender. Her death was the first case involving a transgender victim to be ruled as a hate crime.
Nikki Kuhnhausen was a 17-year-old White transgender woman murdered by David Bogdanov in 2019. Nikki had been missing June 5, 2019 when she left with David, and it was reported five days later. Her body was found near Vancouver, Washington and identified as Kuhnhausen from personal effects; her autopsy showed she died from strangulation. Authorities believe David was looking for a sexual encounter and became enraged upon learning that she was transgender. On February 26, 2020, the Washington State Legislature passed the Nikki Kuhnhausen Act, which outlawed the use of panic defenses based on gender and sexual identities. David has not yet been tried, and thus cannot use a panic defense.
Marquiisha Lawrence was 28-years-old and her death is one of the most recent that we know of: November 4, 2021 in Greenville, South Carolina. Marquiisha grew up in South Carolina and worked as a cook, residential aid, and a dancer. Her life came to an untimely end when she was found dead in her home by family members, after what appeared to be an altercation with one or more people. Her death was officially declared a homicide, but no further information has been found.
The names of the 47 transgender people who have lost their lives in 2021 can be found at https://www.hrc.org/resources/fatal-violence-against-the-transgender-and-gender-non-conforming-community-in-2021.
The following are a list of resources in the Evansville area with programs that cater to the transgender community:
Planned Parenthood
Gender Warriors
Echo Community Health Care
Lampion Center
River City Pride
UE Music Conservatory Hosts Pre-College Pianists
The Music Conservatory recently hosted the annual "KEY" (Keyboard Education for Youth) Competition sponsored by the Greater Evansville Music Teachers Association. Over 90 pre-college pianists, area piano teachers, and parents were on campus for the competition and evening recital of winners on November 20. UE piano majors served as assistants for the judges during the event.
Writing Center CLOSED for Thanksgiving Holiday
The Writing Center will close the afternoon of Tuesday, November 23, and continue until the following Monday, November 29, to allow student tutors to enjoy their holidays. Thank you for your cooperation!
Making Change on Campus
Following the recent Campus Culture panel, students are working to put some groups together to make progress on the issues brought up (e.g. lack of mental health support, toxicity in Greek Life, discrimination and lack of diversity on campus). If you're interested in pursuing activism on campus please respond to the following survey:
https://forms.gle/5rxVCVXGYegMGApY6
Recycling at UE
At UE, the following items can be placed in an appropriate recycling bin:
Paper products such as newspapers, office paper, magazines, and empty cereal boxes
Cardboard - clean and free of any food residue, flattened and put in cardboard bins or placed behind paper bins.
Note: Please place books and used toner cartridges next to the recycle bins
Please do NOT put the following items in UE's recycling bins:
Glass
Pizza boxes – these can contain food or grease
Trash such as leftover food and candy wrappers
Styrofoam
Full or partially full plastic or aluminum drink containers
Plastic bags or bubble wrap
Used tissues and paper towels
To find out where to drop off recyclables at UE, why it's important to recycle and more, check out the UE Recycling Guide at https://www.evansville.edu/residencelife/services/greenGuide.cfm. Call 2697 or email ae152@evansville.edu with questions.
NEW: Veteran focused Spring 2022 ChangeLab. CHNG 310-8Y1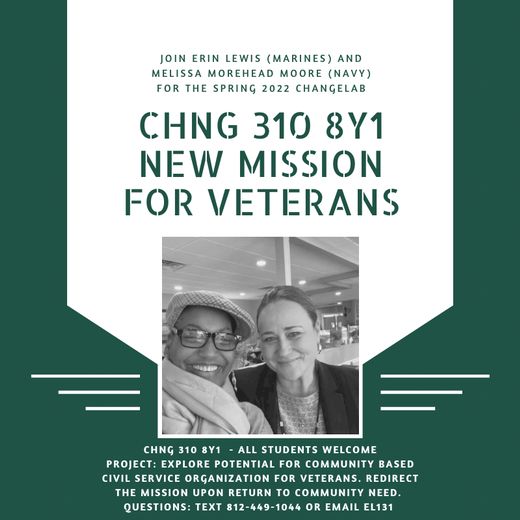 NEW: Veteran focused Spring 2022 ChangeLab. CHNG 310-8Y1. Students in this class will explore the potential for a community-based civil service organization that allows veterans to redirect the mission to community need once they return home. All students are welcome, and the class will be available for variable credit, 0-3 credit hours. The ChangeLab will be co-coached by Erin Lewis, Center for Innovation & Change Executive Director and former US Marine, and Melissa Morehead Moore, Navy Veteran, local community organizer, entrepreneur and Co-Founder of the Podcast Trashed It, which helps women focus on getting rid of emotional garbage in their lives. Questions? Contact EL131
Spring Meal Plan Changes
Students can adjust meal plans for the Spring semester until Friday, January 14, 2022 at 5:00 p.m.
Winter Intersession Courses
It's not too late to register for a Winter Intersession course. Classes are held December 17, 2021, through January 7, 2022. Students may take one course.
For registration, payment deadlines, and additional information visit https://www.evansville.edu/registrar/winterSessions.cfm.
Winter Intersession Course List
| Subject | Number | Cr Hrs | Course Title | Instructor |
| --- | --- | --- | --- | --- |
| ART | 105 | 3 | Introduction to the Visual Arts | Larmann |
| ASTR | 101 | 3 | Descriptive Astronomy | Braun |
| AT | 180 | 3 | Introduction to Athletic Training | Tilly |
| CHEM | 103 | 3 | Chemistry of Adult Beverages | Miller |
| CHEM | 118 | 4 | Principals of Chemistry | Miller/Morong |
| EDUC | 322 | 3 | Strategies for Special Needs Students in K-12 Schools | Jones |
| ES | 103 | 3 | Fundamentals of Environmental Science | Thananatthanachon |
| EXSS | 150 | 2 | Introduction to Health Sciences | Laughbaum |
| EXSS | 320 | 3 | Nutrition for Performance and Health | Rodd |
| EXSS | 453 | 2 | Motor Learning | Wilson |
| EXSS | 488 | 1 to 3 | Internship | Rodd |
| EXSS | 488 | 1 to 4 | Internship | Wilson |
| FIN | 280 | 3 | Personal Finance | Brockman |
| HS | 205 | 3 | Pharmacology | Pruden |
| MATH | 134 | 3 | Survey of Calculus | Salminen |
| MATH | 324 | 3 | Differential Equations | Salminen |
| MUS | 156 | 3 | Music in America | Strandberg |
| NEUR | 125 | 3 | Introduction to Neuroscience | Campese |
| NEUR/PSYC | 355 | 3 | Sensation and Perception | Becker |
| PH | 190 | 3 | Introduction to Public Health | Patel-Dovlatabadi |
| PSYC | 121 | 3 | Introduction to Psychology | Campese |
| PSYC | 226 | 3 | Child and Adolescent Psychology | Hennon |
| PSYC | 416 | 3 | Human Sexuality | Becker |
| QM | 227 | 3 | Intro to Statistics | Khormali |
| SOC | 105 | 3 | Introduction to Sociology | Plikuhn |
| SOC | 230 | 3 | Social Problems in the Modern World | Plikuhn |
| STAT | 166 | 1 | Intro to R for Data Science | Weber |
Cecilia Thon earns MVC Scholar-Athlete recognition
University of Evansville senior Cecilia Thon was recognized with Missouri Valley Conference Scholar-Athlete Honorable Mention recognition on Tuesday as part of a group of 22 student-athletes named to the 2021 Missouri Valley Conference volleyball scholar-athlete first team and honorable mention team, announced by the league office today.
Thon has excelled in her time at UE, accumulating a 3.96 GPA as an International Studies major. She has been named to the Dean's List in every semester at the university.
On the court, she has enjoyed her top season with the Purple Aces. In September, she earned a spot on the Eagle Challenge All-Tournament Team at Morehead State where she finished with 8.70 assists, 2.70 digs and 0.80 blocks per set. That weekend saw her total a career-high 34 assists versus defending Ohio Valley Conference champion Morehead State. Thon wrapped up the season with a total of 23 service aces, an average of 0.24 per set, which ranked 21st in the VC.
The scholar-athlete team is selected by a vote of the league's volleyball sports information directors, with approval from head coaches. Forty-three student-athletes were nominated for the MVC's scholar-athlete team. The criterion for the honor parallels the CoSIDA (College Sports Information Directors of America) standards for Academic All-America voting. Nominees must be starters or important reserves with at least a 3.30 cumulative GPA (on a 4.00 scale). Also, students must have participated in at least 75-percent of the regular-season matches. Student-athletes must have reached sophomore status in both athletic and academic standing at their institution (true freshmen and redshirt freshmen were not eligible).

UE's Lowry Named To MVC Scholar-Athlete Team
With the cross country season officially wrapped up, post-season awards are being bestowed on student-athletes now for their work both on the course and in the classroom. For the fourth time in her University of Evansville career, graduate student Anna Lowry (Taylorville, Ill./Taylorville) has been named to the Missouri Valley Conference's Scholar-Athlete Team.
Runners named to the MVC's Scholar-Athlete team must meet both academic and performance standards. The individuals must finish in the top 20 runners at the conference championships, while also maintaining at least a 3.3 cumulative grade point average in the classroom as a sophomore or above. Lowry easily accomplished both again this season, as she placed 18th individually in the women's 6-K event at the Valley Championships athletically, while maintaining a 3.76 GPA while pursuing a Doctorate in Physical Therapy.
"From a coach's perspective, I could not ask any more of a student-athlete than what Anna Lowry has accomplished over her time at Evansville," said UE cross country head coach Don Walters. "She has been the complete package, both on the course and in the classroom. And, then you throw in the type of person that she is overall, and you simply cannot ask any more out of someone. She is outstanding all the way around!"
Lowry and Loyola's Mimi Reimers both made history by earning MVC Scholar-Athlete Team honors this fall, as they joined UNI's Kari Thilges (1997-2000) as the only women in league history to earn four MVC Scholar-Athlete Team honors during their cross country careers.
Aces put up epic battle in Gulf Coast Showcase opener
In one of the most efficient games that you will ever see, Antoine Smith Jr. was a perfect 9-for-9 from the field on his way to a career-high 24 points in the opening game of the Gulf Coast Showcase on Monday at Hertz Arena. Smith along with Jawaun Newton were the top performers for the University of Evansville men's basketball team, who dropped a hard-fought triple overtime contest to Rice.
With the loss, UE (2-4) will take on the loser of today's Oakland/Vermont game at 11 a.m. on Tuesday morning. Smith's performance included a 6-of-6 showing from 3-point range. Newton had a career-high of his own in the game, finishing with 30 points in an effort that saw him go 12-of-25 from the field while tying for the team lead with 7 rebounds. Evan Kuhlman and Noah Frederking also chipped in 7 boards. Frederking finished with 16 points while Shamar Givance and Kuhlman scored 12 and 10, respectively. Givance led the way with five assists. Rice (4-1) was led by a 30-point, 12-rebounds game from Max Fieldder.
It was an unbelievable start for the Aces, who started the game 3-for-3 from outside with Antoine Smith Jr. and Noah Frederking draining triples to cap off a 9-2 start. Smith hit two in the early run before another at the 16:43 mark gave UE a 12-4 edge.
Rice scored five in a row to cut the deficit to a single point just over a minute later before Evansville countered with a 5-0 run of its own. Following a second-chance basket by Evan Kuhlman, Jawaun Newton connected from downtown. With the half nearing the midway point, UE took its first double digit lead of the day with none other than Antoine Smith Jr. getting it done. His fourth outside make in four attempts made it a 26-16 game.
Evansville added four more to push the lead 14 points before the Owls chipped in over the final minutes. Rice made it a 30-24 game with 5:15 on the clock before the Aces settled for a 39-29 lead at the half. UE shot 51.7% overall and 46.7% (7/15) from outside in the opening period with Smith leading all players with 12 points.
After the Owls converted the first field goal of the second half, Smith improved his 3-point tally to 5-for-5 to put Evansville on top, 42-31. UE's advantage would be extended to 15 points with 14:13 left in the contest. After a triple from Kuhlman, Jawaun Newton picked up three points the old-fashioned way to make it a 53-38 game.
The ensuing stretch belonged to Rice, who would hit their next five baskets to close the gap to four with the game entering the final 10 minutes. Max Fiedler scored 11 in a row for Rice as they made it a 56-52 contest. Noah Frederking drained his third trey to help UE get back on track, but the hot-shooting Owls continued a stretch of eight makes in a row to keep the Aces within two possessions.
While Rice was making its run, the Aces were putting up impressive numbers of their own, going 6-for-8 to hold a 63-57 edge with eight minutes remaining. The next RU possession saw Travis Evee hit the 7th 3-pointer of the day for Rice to get them back within a possession for the first time since the first half.
With 1:13 on the clock, the comeback for Rice was complete when a 3-point play tied the game at 71-71. In the final 20 minutes, the Aces retook a 4-point lead but Rice answered both times to knot the game at 75-75 to send the game to overtime. Two free throws to open overtime gave Rice their first lead of the game at 77-75.
Givance found Smith under the basket as Evansville opened the OT period with a make to tie it up. That would be the first of three ties in the extra session before Evansville was able to wrestle away an 82-81 lead inside the final minute with a free throw. With 2.3 seconds left, the Owls made one of their two free throws to send the game into a second overtime. The second extra period saw the Owls get right on the board with a 3-point play before taking a 5-point lead. Newton put UE on the board with his eighth field goal. With under three minutes on the clock and trialing by four, Evan Kuhlman knocked down his second triple to get his team within one at 88-87.
Rice once again pushed its lead to four points under the 2-minute mark, but it was Newton pulling off another 3-point play to make it a 1-point game at 92-91. Following a bucket by the Owls, it was Smith grabbing an offensive board and adding the putback to get UE within one tally. Each time the Aces got back in it, the Owls had the answer, but with 20 ticks showing on the clock, Noah Frederking was fouled on a 3-point attempt and connected on all three tries to tie it at 96-96 and send it into the first triple overtime game for UE since 2019 against Morgan State.
Just as they did in the second overtime, Rice registered the opening five points. Frederking's 16th point of the afternoon got UE on the board with 90 ticks left but on the other end, a triple by Rice was too much to overcome as the Owls finished with the 109-104 win.

Contribute to AceNotes
To have content considered for inclusion in AceNotes, please submit a Marketing Request Form. Deadline for submission to AceNotes is 10:00 a.m. on the requested date of publication. Only articles concerning UE related/sponsored activities will be accepted. Articles submitted to AceNotes may be edited for length and clarity. Submitter contact information is at the end of each article.