| | |
| --- | --- |
| AceNotes Today | Friday, November 19, 2021 |
Updated Mask Policy on Campus
On November 10, the Coronavirus Task Force lifted the mask mandate on campus. It was announced that if any of the conditions below were met, UE would reinstitute the mandate:
The Indiana State Department of Health (ISDH) alert status for Vanderburgh County rises to a status of orange or red
We have more than 20 active cases of COVID-19 on campus
The campus vaccination rate falls below 80%
Today, the ISDH changed Vanderburgh County's advisory status to orange on its statewide COVID-19 map. Therefore, UE will be reinstituting the mask and/or face covering mandate effective immediately. This will remain in place until the three metrics are below the targets for two consecutive weeks. UE will continue to monitor the pandemic and trends at the local, state, and national levels.
2021 Employee Holiday Schedule
The University of Evansville will be closed during the holidays to allow our employees to enjoy this special time with their families. This year, our December holiday will be extended for one additional day, closing on December 22 to provide extra time with your families. As announced earlier this month, we are also closing on Wednesday, November 24 to provide our employees an additional day to enjoy the Thanksgiving holiday.
The following November – December holiday schedule will be observed:
Thanksgiving Holiday
Closed Wednesday, November 24 through Friday, November 26
Offices reopen on Monday, November 29
Winter Holiday Break
Closed Wednesday, December 22 through Friday, December 31
Offices reopen on Monday, January 3
Save the Date: Winter on Walnut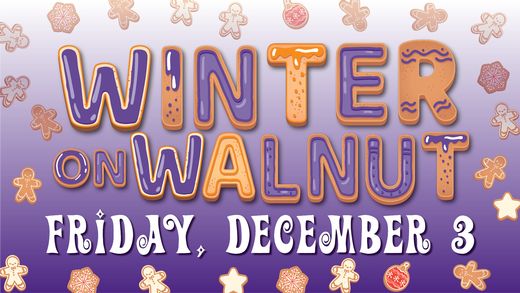 Mark your calendars for Friday, December 3, and make plans to join us for Winter on Walnut! The event is open to the campus community (students and employees) and alumni (via email invitation).
From 5-9PM, stop by Walnut Street for food and festivities. There will be holiday-themed food, treats, and drinks, as well as marshmallow roasting, horse-drawn carriage rides, a Christmas marketplace, a Christmas tree farm, and giveaways. From 5-7PM, students can use a meal swipe on Walnut Street to receive a meal of chili, hot cider, and dessert!
At 6:30PM, we will light the campus Christmas tree outside Graves Hall.
At 7:00PM, join us in Neu Chapel for the Candlelight Vespers service.
At 10PM, the Resident Students Association will host bingo in Eykamp Hall.
Let's kick off the holiday season together! We hope to see you there.
Traditional Native American Food in Ridgway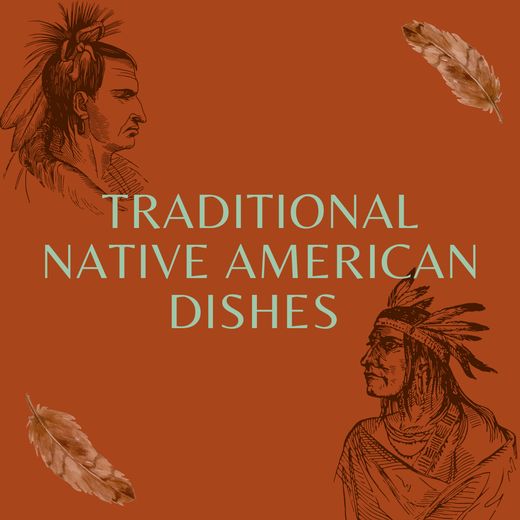 In honor of Native American Heritage Month, the Center for Diversity, Equity, and Inclusion has partnered with Chartwells to put a few traditional Native American dishes on today's lunch menu. Stop by Café Court to try a few!
More information on these dishes can be found on Instagram @UEDiversity and @FoodatUE!
University of Evansville Theatre continues its season with performances of THREE SISTERS and GONE MISSING
The University of Evansville Department of Theatre continues its 2021–2022 "Welcome Back to Shanklin Theatre" season this week with performances of THREE SISTERS by Anton Chekhov, in a new version by Sarah Ruhl, based off a literal translation by Elise Thoron with Natasha Paramonova and Kristin Johnsen-Neshati, and GONE MISSING, created by The Civilians, written by Steven Cosson from interviews by the company, with music and lyrics by Michael Friedman. The cast of THREE SISTERS will take the Shanklin Theatre stage at 7:30 p.m. on Fri., Nov. 19 and Sat., Nov. 20. In addition, performances of GONE MISSING will be at 7:30 p.m. on Thurs., Nov. 18 at 7:30 p.m., as well as at 2:00 p.m. on Sat., Nov. 20 and Sun., Nov. 21.
The safety of students and patrons is of top priority to UE Theatre. The program boasts a 100% vaccination rate against COVID-19 among the faculty and students. In addition to compliance with the University of Evansville's Coronavirus Task Force guidelines, UE Theatre continues regular weekly COVID-19 testing of students involved with productions in order to maintain a healthy, safe environment for the coalition of theatre artists working on campus.
In following industry standards, as established by the Broadway League, all audience members must show proof of COVID–19 vaccination or a negative test result taken within 72-hours of the date on their ticket. Upon arrival at Shanklin Theatre, proof of vaccination/negative test result and an ID will be checked before each performance. In compliance with professional industry standards, all audience members must remain masked when indoors on campus. Additionally, Shanklin Theatre will be seated at no more than 50% capacity.
Single ticket prices for THREE SISTERS are $20 for adults and $18 for senior adults, students, and UE faculty and staff. Interested audiences may receive entry into both shows at one low price for $35 for adults and $30 for senior adults, students, and UE faculty and staff. UE students may obtain one free student rush ticket beginning at 12:00 p.m. on the day of the performance they wish to attend. Tickets may be purchased by calling (812) 488-2031, Monday through Friday, 12:00 p.m. to 5:00 p.m.
Changelab 310 Presents: What We Didn't Learn About Thanksgiving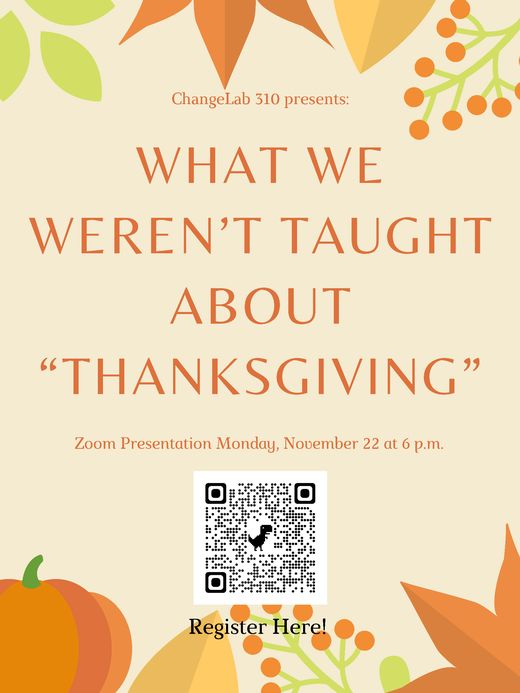 Change Lab 310 is a class that is working towards a Land Acknowledgement for UE, and towards educating the UE community on matters concerning Indigenous Peoples. In this webinar, students from Change Lab 310 will present research on the historical inaccuracies of the holiday we know as "Thanksgiving", and how we can move forward with more understanding and compassion during this time of the year.
More information about the event can be found on UEngage and on Instagram @uediversity!
CDEI Presents: Transgender Day of Remembrance Candlelight Vigil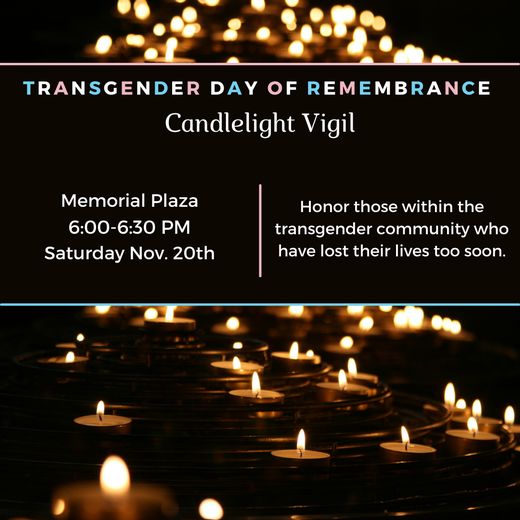 Join the CDEI on Saturday, November 20th from 6:00-6:30 PM for a candlelight vigil on Transgender Day of Remembrance. This event, which will be conducted at Memorial Plaza, will honor those lost to anti-transgender violence.
All campus community members are invited to mark the occasion by memorializing those lost and celebrating the diversity and resilience of the community in the face of harassment and violence.
This Week in Music
On Sunday November 21, the UE Choirs will be presenting their Fall Concert at 6:00 p.m. in Neu Chapel. This is the first choral concert at UE since March of 2020. The UE University Choir and the UE Choral Society will perform works ranging from the 17th century through today. Along with choral classics by Haydn, Mendelssohn, and Schütz, recent works by American composer Elaine Hagenberg and British composer Bob Chilcott will be heard. Also on the program are works by the Hungarian composer Béla Bartók and British Romantic-era composer Hubert Parry. Admission is free and open to the public. UE Music Conservatory performances continue to require masks for everyone in attendance. The concert can also be viewed by live-stream at: https://www.evansville.edu/majors/music/calendar.cfm
Also on Sunday, Senior Music Education Major, Grace Sinclair will be presenting her senior recital on flute. Grace is a student of Dr. Leanne Hampton, Consortium Instructor of Flute. Grace's senior recital is at 1:00 p.m. in Neu Chapel. Admission is free and open to the public. UE Music Conservatory performances continue to require masks for everyone in attendance.
This Week in Religious Life
The student organization, Faith In Action, is having a student-led Bible study on Sundays at 2:00 pm at Redeemer Lutheran (across the street from campus). The study is focused on "Walking With Jesus on Campus." For more information contact Jeremy Seger at js948@evansville.edu.
Musical Madness Signups
The Directors of Musical Madness are excited to announce the Spring 2022 theme to be 'Game Shows!' In light of the many challenges the UE community has faced during the COVID-19 pandemic, all proceeds from Musical Madness will be donated to Aces Haven to combat the food insecurity that our campus community faces on a daily basis.
If your organization would like to be a part of Musical Madness, please use the following link to indicate your commitment and or interest: https://www.signupgenius.com/go/30e044ba8aa2ba0ff2-musical. When signing up, there is a comment box that can be used to tell us about your organizations demographics, which will be helpful when pairing organizations.
Requirements:
1. To be considered an active participant of Musical Madness, each organization must have at least 1 director and 2 actors.
2. With organization pairings, casts must include a minimum of 6 members.
3. Participants must be current students with a minimum of a 2.0 GPA.
Pairings will be announced Friday, November 12th. If you are unable to sign-up before November 12th, please contact Lizzy Stainback (es335) and Max Budowsky (mb556) for assistance.
The Great American Smokeout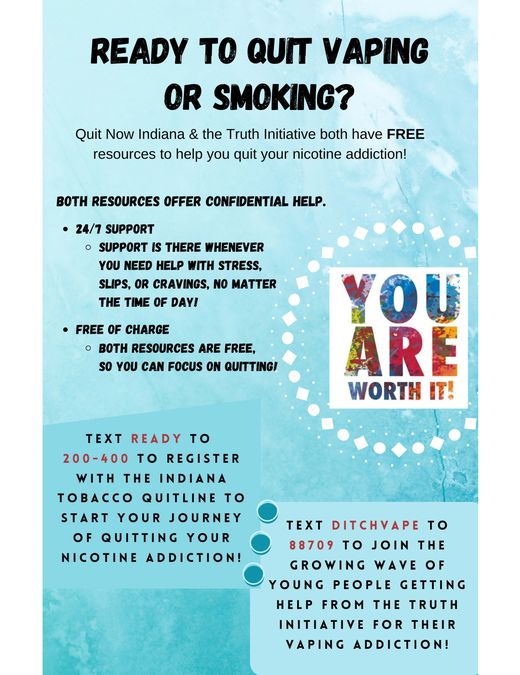 November 18th is the Great American Smokeout, which is an American Cancer Society initiative to encourage adults to take the first step towards quitting their nicotine addiction. This week to align with the Great American Smokeout, we are raising awareness about FREE cessation resources available to college students. Visit Quit Now Indiana or Truth Initiative: inspiring lives free from smoking, vaping, and nicotine for more information.
Recycling at UE
At UE, the following items can be placed in an appropriate recycling bin:
Paper products such as newspapers, office paper, magazines, and empty cereal boxes
Cardboard - clean and free of any food residue, flattened and put in cardboard bins or placed behind paper bins.
Note: Please place books and used toner cartridges next to the recycle bins
Please do NOT put the following items in UE's recycling bins:
Glass
Pizza boxes – these can contain food or grease
Trash such as leftover food and candy wrappers
Styrofoam
Full or partially full plastic or aluminum drink containers
Plastic bags or bubble wrap
Used tissues and paper towels
To find out where to drop off recyclables at UE, why it's important to recycle and more, check out the UE Recycling Guide at https://www.evansville.edu/residencelife/services/greenGuide.cfm. Call 2697 or email ae152@evansville.edu with questions.
NEW: Veteran focused Spring 2022 ChangeLab. CHNG 310-8Y1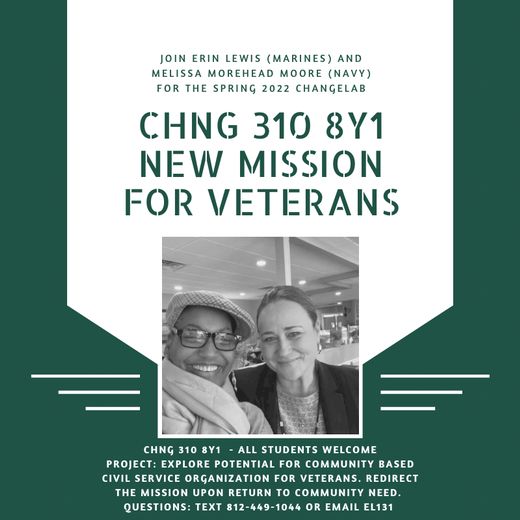 NEW: Veteran focused Spring 2022 ChangeLab. CHNG 310-8Y1. Students in this class will explore the potential for a community-based civil service organization that allows veterans to redirect the mission to community need once they return home. All students are welcome, and the class will be available for variable credit, 0-3 credit hours. The ChangeLab will be co-coached by Erin Lewis, Center for Innovation & Change Executive Director and former US Marine, and Melissa Morehead Moore, Navy Veteran, local community organizer, entrepreneur and Co-Founder of the Podcast Trashed It, which helps women focus on getting rid of emotional garbage in their lives. Questions? Contact EL131
Change a Young Life - Mentor
UE's chapter of College Mentors for Kids needs student volunteers to mentor young children from our local community. Students from all majors have the opportunity to be inspirational role models for elementary-age students, and all UE students enrolled full-time are eligible to apply. Mentoring involves a one-hour commitment once a week to check in with your little buddy. To begin the application process, please email our College Mentors for Kids President, Haley Foster, at hf71@evansville.edu. Join College Mentors for Kids today, and help us make College Mentors for Kids' 20th anniversary the best year yet for our UE chapter.
Extra Chili Bowls for Sale
Did you miss out on the Clay Club Chili Bowl Sale? Were you in class, working, or out of town? Well, I have good news for you. This Friday, from 9 a.m. - 3 p.m. in the Ceramics Studio (corner of Lincoln and Weinbach), you will have the opportunity to buy some of those bowls. We have around 100 bowls, so if you want one, please come early. Professor Matteson will be on hand to assist with your purchase. It is cash or check (UE Clay Club) only. Each Chili Bowl is $10 and you may buy as many as you like. There are a few larger bowls available as well. Social distancing will be monitored and a maximum of 10 people at a time are allowed into the studio. Parking is available behind the Art Annex. See you Friday and wear Purple!
Psychology Survey - Extra Credit Opportunity
Calling ALL college students! We are seeking participants to participate in a research study survey. By taking this 10-15 minute survey, you are contributing to science! We appreciate your help, and please share this post with your peers!
This study aims to understand effects of emotion and social status. For your participation in this survey you could earn up to 1 point of extra credit in a psychology class that you are currently enrolled in this semester.
Click the link below to participate!
https://uoebusiness.co1.qualtrics.com/jfe/form/SV_3g8TZ0NWoIoTRgq
Spring Meal Plan Changes
Students can adjust meal plans for the Spring semester until Friday, January 14, 2022 at 5:00 p.m.
Plikuhn Reelected to International Honor Society Board
Mari Plikuhn, associate professor of sociology and Director of Sociology Programs and the Gerontology Center, was reelected as Treasurer-Secretary of the Board of Pi Gamma Mu, International Honor Society in Social Sciences, at their triennial convention in November. The mission of Pi Gamma Mu is to encourage and promote excellence in the social sciences and to uphold and nurture scholarship, leadership, and service. This is the second term in as Treasurer-Secretary for Dr. Plikuhn. In addition, she served as Governor of Indiana for Pi Gamma Mu from 2014-2017, and has been the sponsor of UE's Indiana Alpha chapter since 2010.
Aces looks to clinch MVC Championship spot in final weekend
The regular season comes to a close this weekend for the University of Evansville volleyball team who travels to Southern Illinois and Missouri State. On Friday, the Purple Aces face the Salukis at 6 p.m. in Carbondale before making the trek to Springfield, Mo. for a 5 p.m. match on Saturday.
Last Time Out
- In a match for the ages, Evansville and Northern Iowa dueled in a 5-set contest on Saturday at Meeks Family Fieldhouse
- Trailing 24-19 in the fourth set, UE rallied to take a 35-33 win to force a decisive 5th set
- In the final frame, the teams once again dueled to the final point with the Panthers clinching the match with a 19-17 decision
- Alondra Vazquez had her best performance of the season, recording 31 kills and five total blocks
- Giulia Cardona had 17 kills while adding a team-high 16 digs while Melanie Feliciano contributed 16 kills and 13 digs
- Taya Haffner put forth her top assist tally of the fall, accounting for 60 helpers
Back on Track
- Entering the final home weekend of the season, Alondra Vazquez was averaging 3.53 kills per set in MVC contests, which was third on the team
- In the matches versus Drake and UNI, Vazquez found the momentum she had earlier in the fall and finished with an average of 5.50 kills per set in the two contests
- After recording 24 kills in the win over the Bulldogs, Vazquez put forth her top total of the season versus the Panthers, registering 31 kills
- She remains on top of the MVC list with 4.19 kills/set while pacing the league in points (4.86/set)...defensively, Vazquez leads her squad with 2.81 digs per frame, 13th in the Valley...she has had 9 or more kills in all but two matches in the fall
Still Going Strong
- Over the last 33 sets of work, freshman Giulia Cardona has recorded a total of 21 service aces, an average of 0.64 per set
- Her season average has risen to 0.49 per set, which leads the MVC and is 16th in the nation
- She is currently on an offensive streak that has seen her record at least 12 kills in each of the last 14 matches while raising her season average to 3.89 per set
- Aside from leading the Valley in aces, she is second in points per set (4.53) and third with her kill average (3.89/set)
New Career High
- For the first time in her UE career, Taya Haffner recorded consecutive matches with 50 or more assists as she registered 51 in the home win over Drake before setting a new career high with 60 against UNI
- Her assist numbers continue to add up as she continues to pace the league with 10.67 per set while sitting 29th nationally
- The home win over SIU saw her set career marks in a pair of categories - kills (4) and block assists (4) - her top season tally in both
- Haffner reached 50 helpers twice before the final home weekend with 50 coming at Drake and 56 in the home contest versus Loyola
- On the defensive side, Haffner ranks 5th on the team with an average of 2.26 digs per set
Contribute to AceNotes
To have content considered for inclusion in AceNotes, please submit a Marketing Request Form. Deadline for submission to AceNotes is 10:00 a.m. on the requested date of publication. Only articles concerning UE related/sponsored activities will be accepted. Articles submitted to AceNotes may be edited for length and clarity. Submitter contact information is at the end of each article.