| | |
| --- | --- |
| AceNotes Today | Thursday, November 18, 2021 |
Updated Mask Policy on Campus
On November 10, the Coronavirus Task Force lifted the mask mandate on campus. It was announced that if any of the conditions below were met, UE would reinstitute the mandate:
The Indiana State Department of Health (ISDH) alert status for Vanderburgh County rises to a status of orange or red
We have more than 20 active cases of COVID-19 on campus
The campus vaccination rate falls below 80%
Today, the ISDH changed Vanderburgh County's advisory status to orange on its statewide COVID-19 map. Therefore, UE will be reinstituting the mask and/or face covering mandate effective immediately. This will remain in place until the three metrics are below the targets for two consecutive weeks. UE will continue to monitor the pandemic and trends at the local, state, and national levels.
2021 Employee Holiday Schedule
The University of Evansville will be closed during the holidays to allow our employees to enjoy this special time with their families. This year, our December holiday will be extended for one additional day, closing on December 22 to provide extra time with your families. As announced earlier this month, we are also closing on Wednesday, November 24 to provide our employees an additional day to enjoy the Thanksgiving holiday.
The following November – December holiday schedule will be observed:
Thanksgiving Holiday
Closed Wednesday, November 24 through Friday, November 26
Offices reopen on Monday, November 29
Winter Holiday Break
Closed Wednesday, December 22 through Friday, December 31
Offices reopen on Monday, January 3
Save the Date: Winter on Walnut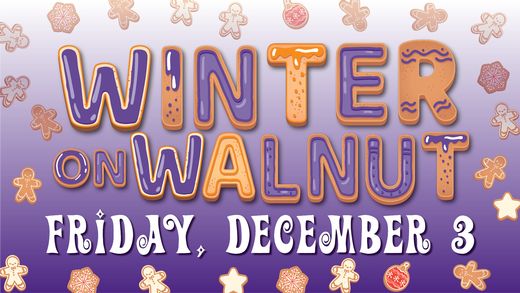 Mark your calendars for Friday, December 3, and make plans to join us for Winter on Walnut! The event is open to the campus community (students and employees) and alumni (via email invitation).
From 5-9PM, stop by Walnut Street for food and festivities. There will be holiday-themed food, treats, and drinks, as well as marshmallow roasting, horse-drawn carriage rides, a Christmas marketplace, a Christmas tree farm, and giveaways. From 5-7PM, students can use a meal swipe on Walnut Street to receive a meal of chili, hot cider, and dessert!
At 6:30PM, we will light the campus Christmas tree outside Graves Hall.
At 7:00PM, join us in Neu Chapel for the Candlelight Vespers service.
At 10PM, the Resident Students Association will host bingo in Eykamp Hall.
Let's kick off the holiday season together! We hope to see you there.
University of Evansville Theatre continues its season with performances of THREE SISTERS and GONE MISSING
The University of Evansville Department of Theatre continues its 2021–2022 "Welcome Back to Shanklin Theatre" season this week with performances of THREE SISTERS by Anton Chekhov, in a new version by Sarah Ruhl, based off a literal translation by Elise Thoron with Natasha Paramonova and Kristin Johnsen-Neshati, and GONE MISSING, created by The Civilians, written by Steven Cosson from interviews by the company, with music and lyrics by Michael Friedman. The cast of THREE SISTERS will take the Shanklin Theatre stage at 7:30 p.m. on Fri., Nov. 19 and Sat., Nov. 20. In addition, performances of GONE MISSING will be at 7:30 p.m. on Thurs., Nov. 18 at 7:30 p.m., as well as at 2:00 p.m. on Sat., Nov. 20 and Sun., Nov. 21.
The safety of students and patrons is of top priority to UE Theatre. The program boasts a 100% vaccination rate against COVID-19 among the faculty and students. In addition to compliance with the University of Evansville's Coronavirus Task Force guidelines, UE Theatre continues regular weekly COVID-19 testing of students involved with productions in order to maintain a healthy, safe environment for the coalition of theatre artists working on campus.
In following industry standards, as established by the Broadway League, all audience members must show proof of COVID–19 vaccination or a negative test result taken within 72-hours of the date on their ticket. Upon arrival at Shanklin Theatre, proof of vaccination/negative test result and an ID will be checked before each performance. In compliance with professional industry standards, all audience members must remain masked when indoors on campus. Additionally, Shanklin Theatre will be seated at no more than 50% capacity.
Single ticket prices for THREE SISTERS are $20 for adults and $18 for senior adults, students, and UE faculty and staff. Interested audiences may receive entry into both shows at one low price for $35 for adults and $30 for senior adults, students, and UE faculty and staff. UE students may obtain one free student rush ticket beginning at 12:00 p.m. on the day of the performance they wish to attend. Tickets may be purchased by calling (812) 488-2031, Monday through Friday, 12:00 p.m. to 5:00 p.m.
Changelab 310 Presents: What We Didn't Learn About Thanksgiving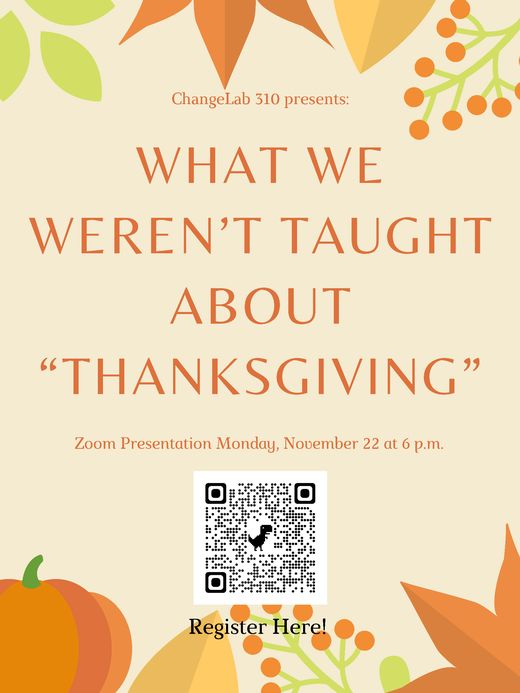 Change Lab 310 is a class that is working towards a Land Acknowledgement for UE, and towards educating the UE community on matters concerning Indigenous Peoples. In this webinar, students from Change Lab 310 will present research on the historical inaccuracies of the holiday we know as "Thanksgiving", and how we can move forward with more understanding and compassion during this time of the year.
More information about the event can be found on UEngage and on Instagram @uediversity!
CDEI Presents: Transgender Day of Remembrance Candlelight Vigil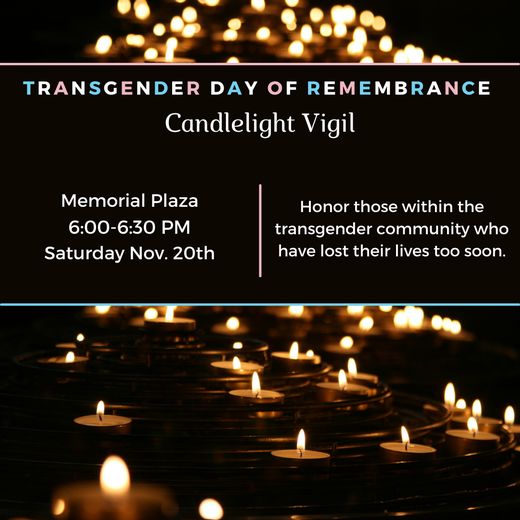 Join the CDEI on Saturday, November 20th from 6:00-6:30 PM for a candlelight vigil on Transgender Day of Remembrance. This event, which will be conducted at Memorial Plaza, will honor those lost to anti-transgender violence.
All campus community members are invited to mark the occasion by memorializing those lost and celebrating the diversity and resilience of the community in the face of harassment and violence.
This Week in Music
On Sunday November 21, the UE Choirs will be presenting their Fall Concert at 6:00 p.m. in Neu Chapel. This is the first choral concert at UE since March of 2020. The UE University Choir and the UE Choral Society will perform works ranging from the 17th century through today. Along with choral classics by Haydn, Mendelssohn, and Schütz, recent works by American composer Elaine Hagenberg and British composer Bob Chilcott will be heard. Also on the program are works by the Hungarian composer Béla Bartók and British Romantic-era composer Hubert Parry. Admission is free and open to the public. UE Music Conservatory performances continue to require masks for everyone in attendance. The concert can also be viewed by live-stream at: https://www.evansville.edu/majors/music/calendar.cfm
Also on Sunday, Senior Music Education Major, Grace Sinclair will be presenting her senior recital on flute. Grace is a student of Dr. Leanne Hampton, Consortium Instructor of Flute. Grace's senior recital is at 1:00 p.m. in Neu Chapel. Admission is free and open to the public. UE Music Conservatory performances continue to require masks for everyone in attendance.
This Week in Religious Life
The student organization, Faith In Action, is having a student-led Bible study on Sundays at 2:00 pm at Redeemer Lutheran (across the street from campus). The study is focused on "Walking With Jesus on Campus." For more information contact Jeremy Seger at js948@evansville.edu.
CDEI Presents: Spill the Tea on Gender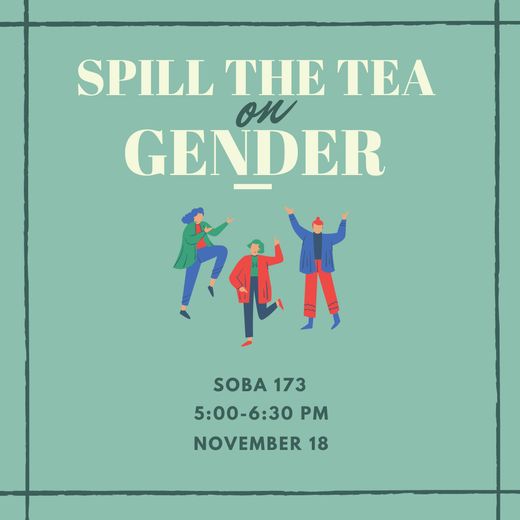 The CDEI, in collaboration with Dr. Edward Curran and members of our student body, will be hosting a Spill the Tea session on Thursday, November 18 from 5-6:30pm. Join us in SOBA 173, where we will be spilling the tea on all things gender, pronouns, and identity, as well as discussing best practices for implementing LGBTQ+ inclusivity in the classroom. We hope to see you there!
Musical Madness Signups
The Directors of Musical Madness are excited to announce the Spring 2022 theme to be 'Game Shows!' In light of the many challenges the UE community has faced during the COVID-19 pandemic, all proceeds from Musical Madness will be donated to Aces Haven to combat the food insecurity that our campus community faces on a daily basis.
If your organization would like to be a part of Musical Madness, please use the following link to indicate your commitment and or interest: https://www.signupgenius.com/go/30e044ba8aa2ba0ff2-musical. When signing up, there is a comment box that can be used to tell us about your organizations demographics, which will be helpful when pairing organizations.
Requirements:
1. To be considered an active participant of Musical Madness, each organization must have at least 1 director and 2 actors.
2. With organization pairings, casts must include a minimum of 6 members.
3. Participants must be current students with a minimum of a 2.0 GPA.
Pairings will be announced Friday, November 12th. If you are unable to sign-up before November 12th, please contact Lizzy Stainback (es335) and Max Budowsky (mb556) for assistance.
Gobbler Gathering Donation at Rademacher's and Ace's Place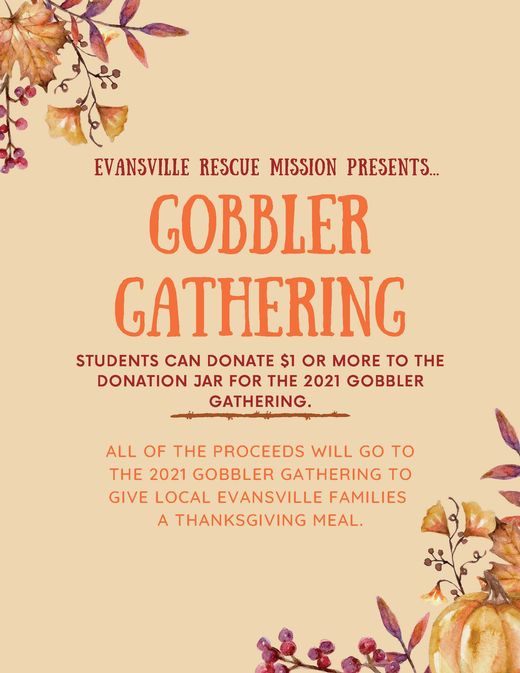 Evansville Rescue Mission is requesting donations for their Gobbler Gathering event occurring on Thanksgiving for families in-need in the local Evansville community. Donations will be collected at Rademacher's Café and Ace's Place. Cash donations only! Bring cash to either location up until November 18th to contribute to the Gobbler Gathering event. Your donations can do so much to give individuals in the local Evansville community a Thanksgiving meal this year. Donate today!
Questions? Contact Lily Renfro at lr156@evansville.edu.
Krannert Gallery Exhibit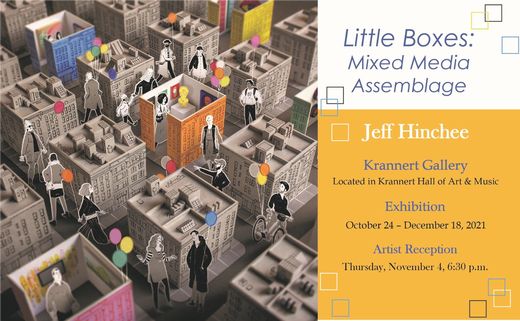 The Department of Art is pleased to announce the exhibition entitled Little Boxes: Mixed Media Assemblage by artist and visiting Theatre faculty Jeff Hinchee. Please visit the Krannert Gallery between now and December 18.
SAA Drive Benefiting United Caring Services
The SAA Social Committee invites you to participate in a donation drive benefiting United Caring Services!
United Caring Services serves hurting people experiencing homelessness, housing insecurity, and hunger through the generosity of compassionate community partners. Alongside their partners, they help ensure restorative and life-changing services continue to meet the needs of homeless men, women, and children in the Evansville area.
November 8th - 19th
Tables will be set up in Ridgway November 8th – 12th, 11am-1pm each day, to collect items from our community and share more information about United Caring Services.
Donation boxes will be available the full two weeks in Ridgway, Olmstead and Igleheart.
The most prominent needs for the month of November are:
Sugar, Deodorant (men's and women's), Bulk Drink Mixes (Coffee, Tea, Lemonade, etc. Not individual packs.)
and Cotton Jersey Work Gloves.
If you would like to volunteer for an hour at one of these tables, visit https://www.signupgenius.com/go/4090E4AAAAF2AA2FA7-united
Gamma Phi Omega International Sorority Inc. Tabling and Informational Meeting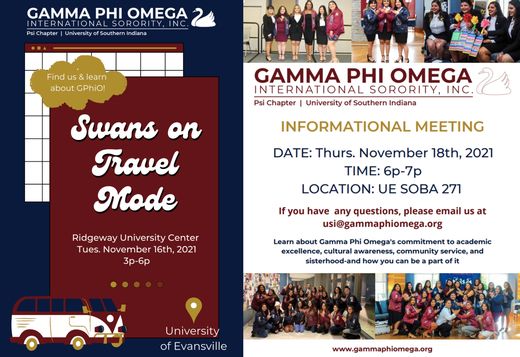 Do you want to learn about Multicultural Greek life opportunities on campus?
On Tuesday, November 16th, Gamma Phi Omega International Sorority Inc. will be tabling from 3:00- 6:00 pm in Ridgeway University Center.
Gamma Phi Omega is also hosting an informational meeting on Thursday, November 18th from 6:00- 7:00 pm in SOBA 271.
Stop by the tabling and informational meeting events to learn about Gamma Phi Omega's commitment to academic excellence, cultural awareness, community service, and sisterhood- and how you can be a part of it!
The Great American Smokeout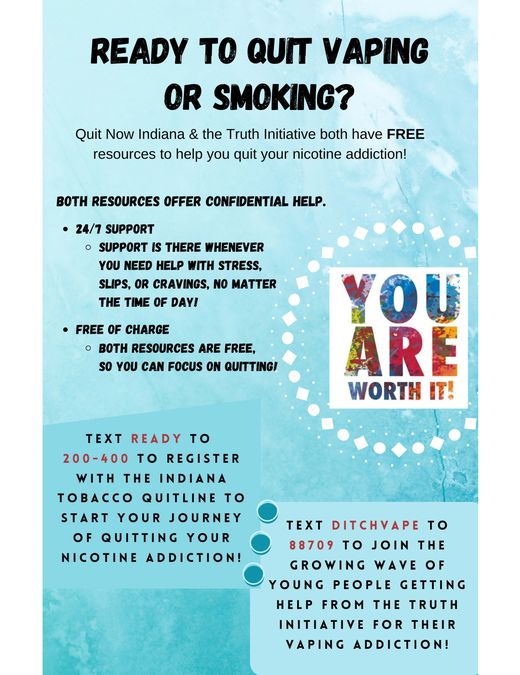 November 18th is the Great American Smokeout, which is an American Cancer Society initiative to encourage adults to take the first step towards quitting their nicotine addiction. This week to align with the Great American Smokeout, we are raising awareness about FREE cessation resources available to college students. Visit Quit Now Indiana or Truth Initiative: inspiring lives free from smoking, vaping, and nicotine for more information.
NEW: Veteran focused Spring 2022 ChangeLab. CHNG 310-8Y1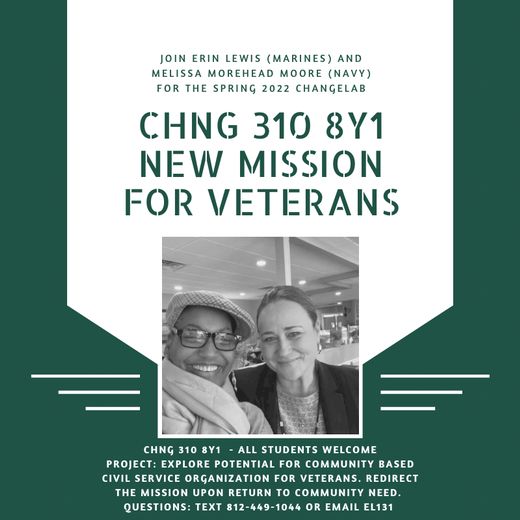 NEW: Veteran focused Spring 2022 ChangeLab. CHNG 310-8Y1. Students in this class will explore the potential for a community-based civil service organization that allows veterans to redirect the mission to community need once they return home. All students are welcome, and the class will be available for variable credit, 0-3 credit hours. The ChangeLab will be co-coached by Erin Lewis, Center for Innovation & Change Executive Director and former US Marine, and Melissa Morehead Moore, Navy Veteran, local community organizer, entrepreneur and Co-Founder of the Podcast Trashed It, which helps women focus on getting rid of emotional garbage in their lives. Questions? Contact EL131
Change a Young Life - Mentor
UE's chapter of College Mentors for Kids needs student volunteers to mentor young children from our local community. Students from all majors have the opportunity to be inspirational role models for elementary-age students, and all UE students enrolled full-time are eligible to apply. Mentoring involves a one-hour commitment once a week to check in with your little buddy. To begin the application process, please email our College Mentors for Kids President, Haley Foster, at hf71@evansville.edu. Join College Mentors for Kids today, and help us make College Mentors for Kids' 20th anniversary the best year yet for our UE chapter.
Extra Chili Bowls for Sale
Did you miss out on the Clay Club Chili Bowl Sale? Were you in class, working, or out of town? Well, I have good news for you. This Friday, from 9 a.m. - 3 p.m. in the Ceramics Studio (corner of Lincoln and Weinbach), you will have the opportunity to buy some of those bowls. We have around 100 bowls, so if you want one, please come early. Professor Matteson will be on hand to assist with your purchase. It is cash or check (UE Clay Club) only. Each Chili Bowl is $10 and you may buy as many as you like. There are a few larger bowls available as well. Social distancing will be monitored and a maximum of 10 people at a time are allowed into the studio. Parking is available behind the Art Annex. See you Friday and wear Purple!
Psychology Survey - Extra Credit Opportunity
Calling ALL college students! We are seeking participants to participate in a research study survey. By taking this 10-15 minute survey, you are contributing to science! We appreciate your help, and please share this post with your peers!
This study aims to understand effects of emotion and social status. For your participation in this survey you could earn up to 1 point of extra credit in a psychology class that you are currently enrolled in this semester.
Click the link below to participate!
https://uoebusiness.co1.qualtrics.com/jfe/form/SV_3g8TZ0NWoIoTRgq
Winter Housing
Residence Hall Students - do you need a place to stay this winter? The residence life office has limited winter housing available. Only students participating in official University functions or with approved reasons will be considered for winter housing.
Students approved for winter housing may be assigned a temporary room in another housing facility and may not have access to their permanent rooms during winter break. Approvals are subject to room availability. Students are charged a flat fee of $400 for winter housing.
Students seeking winter housing must submit a Winter Housing Request Form by December 1, 2021, available through this link - https://uesurvey.evansville.edu/WinterHousing.
Students who live in Village housing can stay in their apartment or house at no additional cost but we do ask that you let us know when you will be on campus by filling out this form - https://www.surveymonkey.com/r/villagewinterhousing.
Winter Intersession Courses
It's not too late to register for a Winter Intersession course. Classes are held December 17, 2021, through January 7, 2022. Students may take one course.
For registration, payment deadlines, and additional information visit https://www.evansville.edu/registrar/winterSessions.cfm.
Winter Intersession Course List
| Subject | Number | Cr Hrs | Course Title | Instructor |
| --- | --- | --- | --- | --- |
| ART | 105 | 3 | Introduction to the Visual Arts | Larmann |
| ASTR | 101 | 3 | Descriptive Astronomy | Braun |
| AT | 180 | 3 | Introduction to Athletic Training | Tilly |
| CHEM | 103 | 3 | Chemistry of Adult Beverages | Miller |
| CHEM | 118 | 4 | Principals of Chemistry | Miller/Morong |
| EDUC | 322 | 3 | Strategies for Special Needs Students in K-12 Schools | Jones |
| ES | 103 | 3 | Fundamentals of Environmental Science | Thananatthanachon |
| EXSS | 150 | 2 | Introduction to Health Sciences | Laughbaum |
| EXSS | 320 | 3 | Nutrition for Performance and Health | Rodd |
| EXSS | 453 | 2 | Motor Learning | Wilson |
| EXSS | 488 | 1 to 3 | Internship | Rodd |
| EXSS | 488 | 1 to 4 | Internship | Wilson |
| FIN | 280 | 3 | Personal Finance | Brockman |
| HS | 205 | 3 | Pharmacology | Pruden |
| MATH | 134 | 3 | Survey of Calculus | Salminen |
| MATH | 324 | 3 | Differential Equations | Salminen |
| MUS | 156 | 3 | Music in America | Strandberg |
| NEUR | 125 | 3 | Introduction to Neuroscience | Campese |
| NEUR/PSYC | 355 | 3 | Sensation and Perception | Becker |
| PH | 190 | 3 | Introduction to Public Health | Patel-Dovlatabadi |
| PSYC | 121 | 3 | Introduction to Psychology | Campese |
| PSYC | 226 | 3 | Child and Adolescent Psychology | Hennon |
| PSYC | 416 | 3 | Human Sexuality | Becker |
| QM | 227 | 3 | Intro to Statistics | Khormali |
| SOC | 105 | 3 | Introduction to Sociology | Plikuhn |
| SOC | 230 | 3 | Social Problems in the Modern World | Plikuhn |
| STAT | 166 | 1 | Intro to R for Data Science | Weber |
Plikuhn Reelected to International Honor Society Board
Mari Plikuhn, associate professor of sociology and Director of Sociology Programs and the Gerontology Center, was reelected as Treasurer-Secretary of the Board of Pi Gamma Mu, International Honor Society in Social Sciences, at their triennial convention in November. The mission of Pi Gamma Mu is to encourage and promote excellence in the social sciences and to uphold and nurture scholarship, leadership, and service. This is the second term in as Treasurer-Secretary for Dr. Plikuhn. In addition, she served as Governor of Indiana for Pi Gamma Mu from 2014-2017, and has been the sponsor of UE's Indiana Alpha chapter since 2010.
Win streak hits three as Aces earn 10-point victory over EKU in Ford Center
Continuing its impressive start to the season, the University of Evansville women's basketball team battled and showed intensity on the defensive end in a 67-57 win over Eastern Kentucky on Wednesday night inside the Ford Center in downtown Evansville.
"I think they just knew that we didn't play our best game in the first half and they knew that we can play better than that and we came out and we just kind of kept building that lead and we gained confidence as it went," said Aces head women's basketball coach Robyn Scherr-Wells. "I'm so proud of our girls. They have worked so hard for this and they're starting to believe. You can see that on the court. We're getting better with each game, so I'm excited with where we're at. We've got a lot of things we've got to grow and get better at, but I'm just really proud of where we're at."
For the third-straight time to open this season, junior Abby Feit led the way for Evansville offensively, scoring a game-high 18 points on an efficient 8-11 performance from the field, while battling foul trouble for much of the second half. Also finishing in double-figures were seniors A'Niah Griffin (14 points) and Anna Newman (13) both coming off the bench to aid the Aces effort. The Colonels were led by Jayla Johnson on the night, who tallied 14 points for EKU before fouling-out after 22 minutes on the floor.
The early portions of the game were marked by turnovers as both teams combined for six turnovers inside the first 2:06 of the contest. After the early sloppiness, both teams settled in and Evansville grabbed an early five-point lead at 9-4. Feit dominated the stat sheet early, scoring 14 of Evansville's first 20 points, but its was the Colonels who held the lead on the scoreboard. EKU stretched its lead as large as eight on three separate occasions midway through the second quarter before Evansville began to battle back. On the offensive end, Feit knocked-down a three with 5:44 left in the opening half, which was followed-up by a triple from Griffin that trimmed EKU's advantage to just two. Down the stretch of the second quarter, Newman's offense was key, scoring six points in the final four minutes of the half, helping Evansville retake a two-point advantage at the break.
To begin the second half, EKU quickly retook the lead on a three by Johnson just 12 seconds in, but the Aces answered 21 seconds later with a triple from Newman to regain UE the lead. Evansville would never look back after taking the lead on Newman's three, but the second half was not without its tense moments. The Colonels kept Evansville within five points or less through much of the third quarter until a stifling defensive effort paid dividends for the Aces late in the period.
The Aces limited the Colonels to just 22.9% shooting in the second half, allowing EKU to hit just eight second-half field goals, while Evansville's offense continued to be efficient, shooting 46.2% over the final 20 minutes. Evansville's lead reached its largest point at 16 with less than 90 seconds left in the game before EKU turned-up the pressure late and inched back within 10 in the Aces 67-57 win.
The win earns Evansville its first 3-0 start since the 1997-98 campaign when UE captured five-straight wins to open the season. Evansville's start marks just the second time in program history that the Aces have won their first three games by double-digits, matching the 1972-73 team coached by Evansville women's sports pioneer Lois Patton that secured double-digit victories over Oakland City, Vincennes, and IU Nurses in program's third season of the modern era.
Evansville will take to the road for the first time this season with a trip to take on unbeaten Eastern Illinois at 6 PM on Saturday in Charleston, Ill.
Contribute to AceNotes
To have content considered for inclusion in AceNotes, please submit a Marketing Request Form. Deadline for submission to AceNotes is 10:00 a.m. on the requested date of publication. Only articles concerning UE related/sponsored activities will be accepted. Articles submitted to AceNotes may be edited for length and clarity. Submitter contact information is at the end of each article.