| | |
| --- | --- |
| AceNotes Today | Tuesday, November 16, 2021 |
Changelab 310 Presents: What We Didn't Learn About Thanksgiving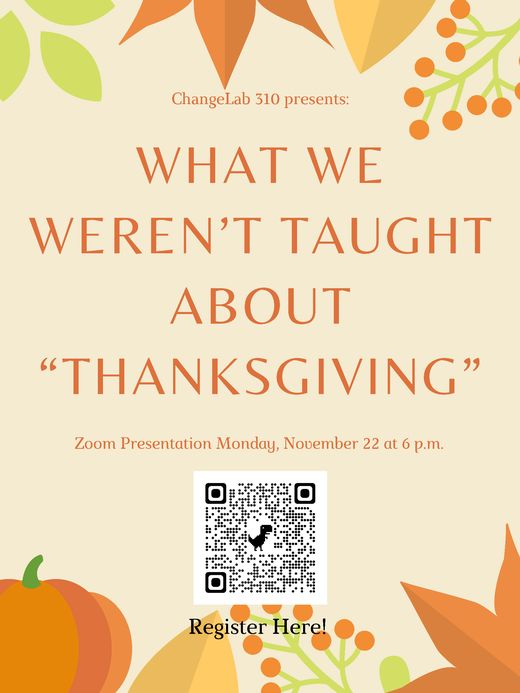 Change Lab 310 is a class that is working towards a Land Acknowledgement for UE, and towards educating the UE community on matters concerning Indigenous Peoples. In this webinar, students from Change Lab 310 will present research on the historical inaccuracies of the holiday we know as "Thanksgiving", and how we can move forward with more understanding and compassion during this time of the year.
More information about the event can be found on UEngage and on Instagram @uediversity!
CDEI Presents: Transgender Day of Remembrance Candlelight Vigil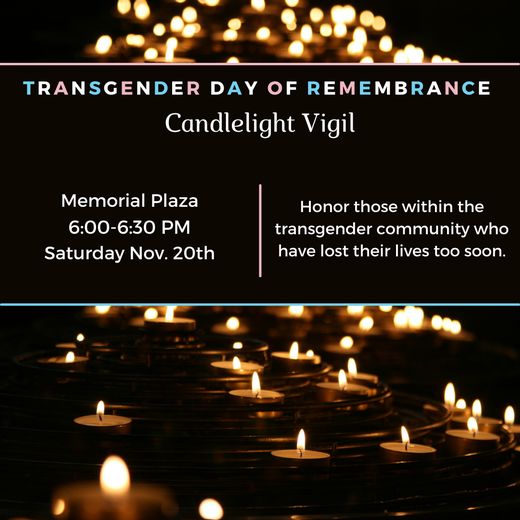 Join the CDEI on Saturday, November 20th from 6:00-6:30 PM for a candlelight vigil on Transgender Day of Remembrance. This event, which will be conducted at Memorial Plaza, will honor those lost to anti-transgender violence.
All campus community members are invited to mark the occasion by memorializing those lost and celebrating the diversity and resilience of the community in the face of harassment and violence.
This Week in Music
On Sunday November 21, the UE Choirs will be presenting their Fall Concert at 6:00 p.m. in Neu Chapel. This is the first choral concert at UE since March of 2020. The UE University Choir and the UE Choral Society will perform works ranging from the 17th century through today. Along with choral classics by Haydn, Mendelssohn, and Schütz, recent works by American composer Elaine Hagenberg and British composer Bob Chilcott will be heard. Also on the program are works by the Hungarian composer Béla Bartók and British Romantic-era composer Hubert Parry. Admission is free and open to the public. UE Music Conservatory performances continue to require masks for everyone in attendance. The concert can also be viewed by live-stream at: https://www.evansville.edu/majors/music/calendar.cfm
Also on Sunday, Senior Music Education Major, Grace Sinclair will be presenting her senior recital on flute. Grace is a student of Dr. Leanne Hampton, Consortium Instructor of Flute. Grace's senior recital is at 1:00 p.m. in Neu Chapel. Admission is free and open to the public. UE Music Conservatory performances continue to require masks for everyone in attendance.
This Week in Religious Life
The student organization, Faith In Action, is having a student-led Bible study on Sundays at 2:00 pm at Redeemer Lutheran (across the street from campus). The study is focused on "Walking With Jesus on Campus." For more information contact Jeremy Seger at js948@evansville.edu.
CDEI Presents: I-House - Healthcare Disparities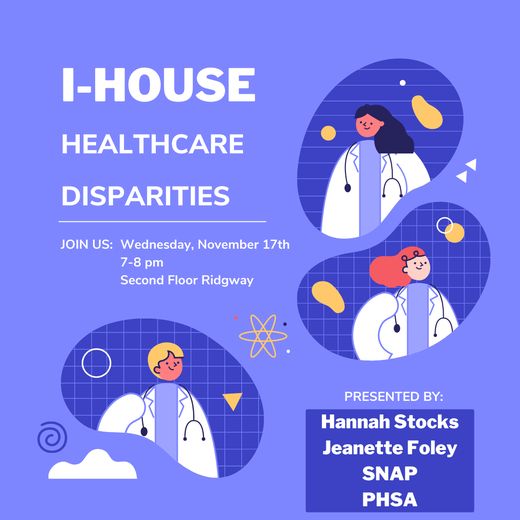 Join the CDEI in the Gallery (second floor Ridgway) on Wednesday, November 17th from 7-8pm for our fifth I-House of the semester!
This event, hosted by Hannah Stocks, Jeanette Foley, SNAP, and PHSA, will provide pertinent information about healthcare disparities in the United States and around the world.
For updates on more CDEI programming, follow us on Instagram @uediversity!
CDEI Presents: Spill the Tea on Gender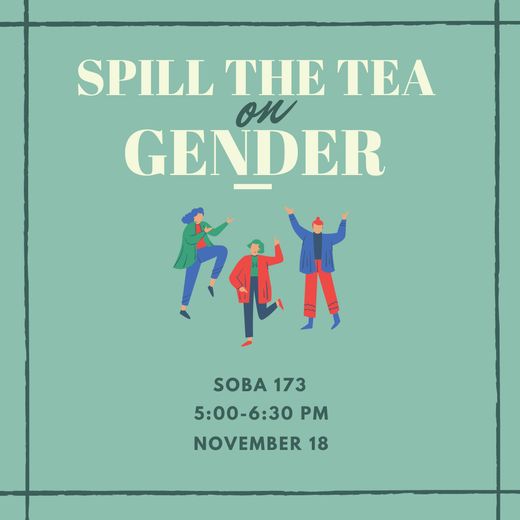 The CDEI, in collaboration with Dr. Edward Curran and members of our student body, will be hosting a Spill the Tea session on Thursday, November 18 from 5-6:30pm. Join us in SOBA 173, where we will be spilling the tea on all things gender, pronouns, and identity, as well as discussing best practices for implementing LGBTQ+ inclusivity in the classroom. We hope to see you there!
Join Harlaxton during International Education Week
Harlaxton College will be offering virtual events every day during International Education Week, November 15-19, 2021 at noon! We're offering information sessions for both students and faculty. Detailed session information and registration may be found below. We hope you can join us!
For any questions, please email harlaxton@evansville.edu.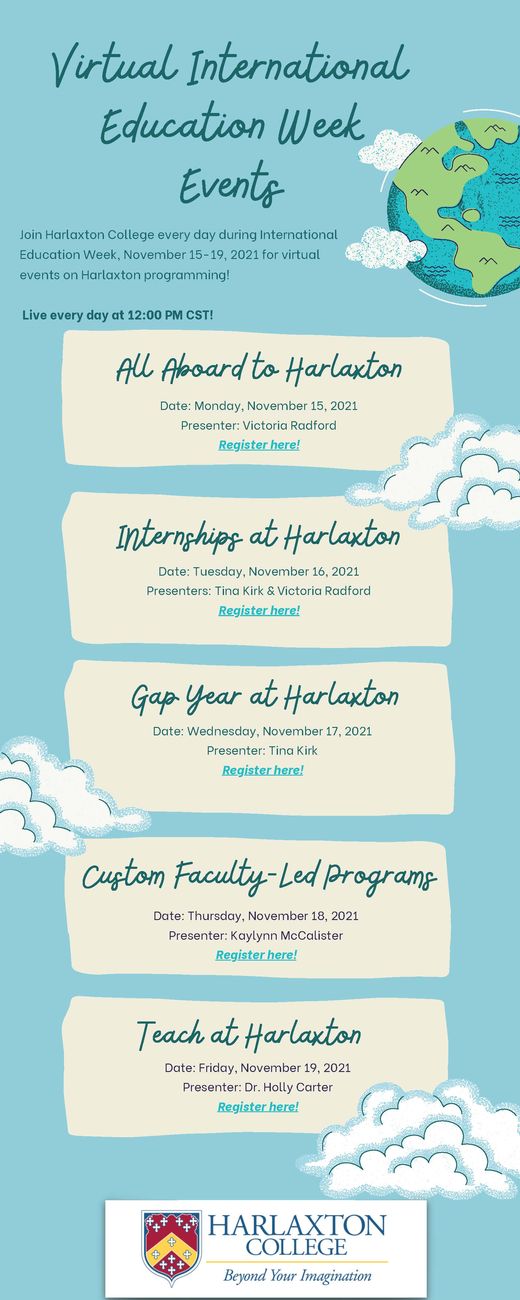 Musical Madness Signups
The Directors of Musical Madness are excited to announce the Spring 2022 theme to be 'Game Shows!' In light of the many challenges the UE community has faced during the COVID-19 pandemic, all proceeds from Musical Madness will be donated to Aces Haven to combat the food insecurity that our campus community faces on a daily basis.
If your organization would like to be a part of Musical Madness, please use the following link to indicate your commitment and or interest: https://www.signupgenius.com/go/30e044ba8aa2ba0ff2-musical. When signing up, there is a comment box that can be used to tell us about your organizations demographics, which will be helpful when pairing organizations.
Requirements:
1. To be considered an active participant of Musical Madness, each organization must have at least 1 director and 2 actors.
2. With organization pairings, casts must include a minimum of 6 members.
3. Participants must be current students with a minimum of a 2.0 GPA.
Pairings will be announced Friday, November 12th. If you are unable to sign-up before November 12th, please contact Lizzy Stainback (es335) and Max Budowsky (mb556) for assistance.
University of Evansville Hosting the High School Changemaker Challenge

Students will compete for a chance at 4-year tuition scholarships
Evansville, IN (11/11/2021) — The University of Evansville (UE) is pleased to announce the upcoming High School Changemaker Challenge, sponsored by Toyota. Any high school junior or senior is invited to participate for a chance to win a four-year scholarship, with the top prize offering full tuition.
UE believes everyone can be a changemaker, and positive change doesn't have to wait until college. The Changemaker Challenge, created by the University's Center for Innovation and Change, encourages the younger generation to identify and solve challenges in the world through innovation and creativity. Students will share their unique ideas (products, services, or programs) in the form of a 2-minute video, and scholarships will be awarded to first through third place. Once they enroll at UE to continue their education, students can continue designing and implementing their ideas to make a lasting difference.
Interested participants can attend an online information session on Thursday, November 18. Video recordings describing students' ideas must be submitted by December 8, and the top 20 finalists will be announced on the UE website on December 15. The final round will be held on UE's campus on January 25, 2022, where winners will be selected. To register for the information session and competition, please visit evansville.edu/cc-hs.
The competition is open to any high school junior or senior, and they may compete individually or in teams of up to three. Home school and club entries (e.g. Scouts, Boys and Girls Club, 4-H) will also be eligible. To qualify for a scholarship, competitors must also attend the in-person final round on campus in Evansville, Indiana. A separate Changemaker Challenge, beginning at a later date, will be virtual and geared towards a national and global audience that cannot compete in-person.
Competitors may be eligible to receive special prizes for forming ideas that:
Increase girls' access and exposure to science fields (e.g. a summer camp for girls interested in physics)
Address or mitigate climate change (e.g. decreasing air pollution, rooftop gardens)
Increase access to physical activity or health options (e.g. more dance classes or recess in schools, fitness trails, creative outdoor play options)
Provide creative ideas to improve quality of life in Evansville's Promise Zone
Winning students who choose UE as their college destination will receive four-year scholarships to attend UE as listed below:
1st place: Full tuition
2nd place: $23,000 tuition
3rd place: $18,000 tuition
Students that participate will receive ongoing support from the UE Center for Innovation and Change, including online training and connections to faculty experts. To submit your video or learn more about the High School Changemaker Challenge, visit evansville.edu/cc-hs or email Brooksie Smith, the Center's associate director, at bs267@evansville.edu.
Students at the University of Evansville shape powerful and enduring change. UE is the first in Indiana to be designated as an Ashoka U Changemaker Campus, and its changemaking culture empowers students to improve the world around them as UE Changemakers. UE has an array of majors in business; engineering; the arts and sciences; and health science programs. UE has a diverse student body that represents 44 states and 52 countries. U.S. News & World Report recognizes UE as the #4 Best Regional University in the Midwest. For more information, please visit evansville.edu.
Gobbler Gathering Donation at Rademacher's and Ace's Place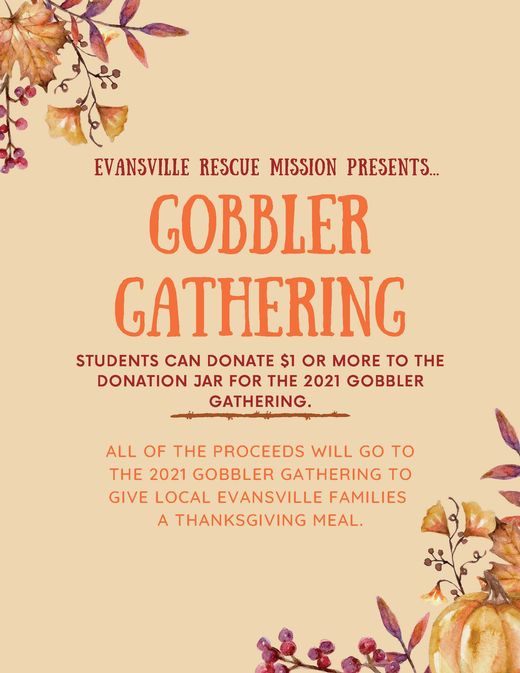 Evansville Rescue Mission is requesting donations for their Gobbler Gathering event occurring on Thanksgiving for families in-need in the local Evansville community. Donations will be collected at Rademacher's Café and Ace's Place. Cash donations only! Bring cash to either location up until November 18th to contribute to the Gobbler Gathering event. Your donations can do so much to give individuals in the local Evansville community a Thanksgiving meal this year. Donate today!
Questions? Contact Lily Renfro at lr156@evansville.edu.
Krannert Gallery Exhibit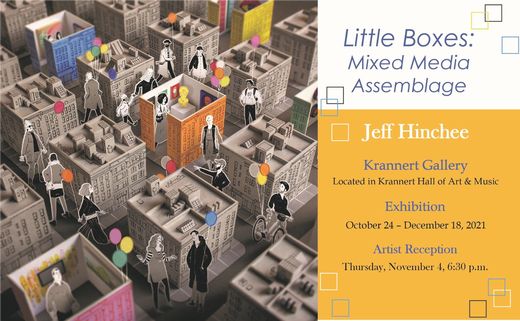 The Department of Art is pleased to announce the exhibition entitled Little Boxes: Mixed Media Assemblage by artist and visiting Theatre faculty Jeff Hinchee. Please visit the Krannert Gallery between now and December 18.
SAA Drive Benefiting United Caring Services
The SAA Social Committee invites you to participate in a donation drive benefiting United Caring Services!
United Caring Services serves hurting people experiencing homelessness, housing insecurity, and hunger through the generosity of compassionate community partners. Alongside their partners, they help ensure restorative and life-changing services continue to meet the needs of homeless men, women, and children in the Evansville area.
November 8th - 19th
Tables will be set up in Ridgway November 8th – 12th, 11am-1pm each day, to collect items from our community and share more information about United Caring Services.
Donation boxes will be available the full two weeks in Ridgway, Olmstead and Igleheart.
The most prominent needs for the month of November are:
Sugar, Deodorant (men's and women's), Bulk Drink Mixes (Coffee, Tea, Lemonade, etc. Not individual packs.)
and Cotton Jersey Work Gloves.
If you would like to volunteer for an hour at one of these tables, visit https://www.signupgenius.com/go/4090E4AAAAF2AA2FA7-united
Gamma Phi Omega International Sorority Inc. Tabling and Informational Meeting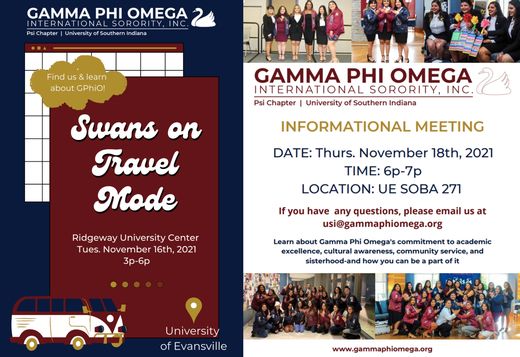 Do you want to learn about Multicultural Greek life opportunities on campus?
On Tuesday, November 16th, Gamma Phi Omega International Sorority Inc. will be tabling from 3:00- 6:00 pm in Ridgeway University Center.
Gamma Phi Omega is also hosting an informational meeting on Thursday, November 18th from 6:00- 7:00 pm in SOBA 271.
Stop by the tabling and informational meeting events to learn about Gamma Phi Omega's commitment to academic excellence, cultural awareness, community service, and sisterhood- and how you can be a part of it!
The Great American Smokeout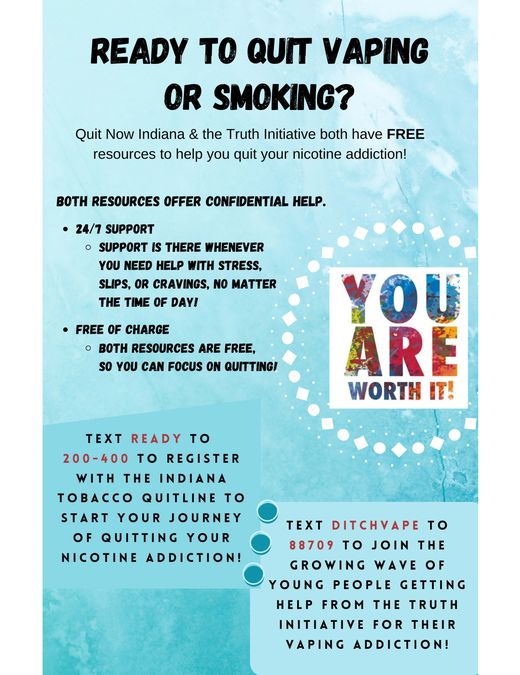 November 18th is the Great American Smokeout, which is an American Cancer Society initiative to encourage adults to take the first step towards quitting their nicotine addiction. This week to align with the Great American Smokeout, we are raising awareness about FREE cessation resources available to college students. Visit Quit Now Indiana or Truth Initiative: inspiring lives free from smoking, vaping, and nicotine for more information.
Solution Station Wednesday: How's Your Schedule For Spring?
How did registration go? Are you all set - or does your schedule need some more work? Waitlists? Time conflicts? Are you having trouble finding classes? Let's talk! Come by the Solution Station table in Ridgway from 11:00 AM to 1:00 PM on Wednesday!
As always, let us know if there's anything you need help with or if you have questions that you need the answer to. If we don't know the answer, we'll know who does! We're here to help you find solutions to issues you're facing. Let us help.
Contact: Chad Hart (ch299@evansville.edu)
Thanksgiving Dining Packages
If you are staying on campus and need to access some food, you can reserve either a Whole Roasted Chicken (meal swipe equivalent or $8.99) or a 5-Day meal carry out package ($87.50 payable with Ace Bucks or credit card). Use this Reservation Link: https://uesurvey.evansville.edu/TakeSurvey.aspx?SurveyID=98L3m995
You can also pick up a To-Go container in Ridgway and stock it with an extra Meal to be eaten over the Break or order a pizza from Papa John's with Ace Bucks. There are also establishments like Subway, Honeymoon, The Slice, Lincoln Garden, and the University Food Mart at the Marathon station across the street are all within walking distance. We hope this helps as you make your Thanksgiving plans.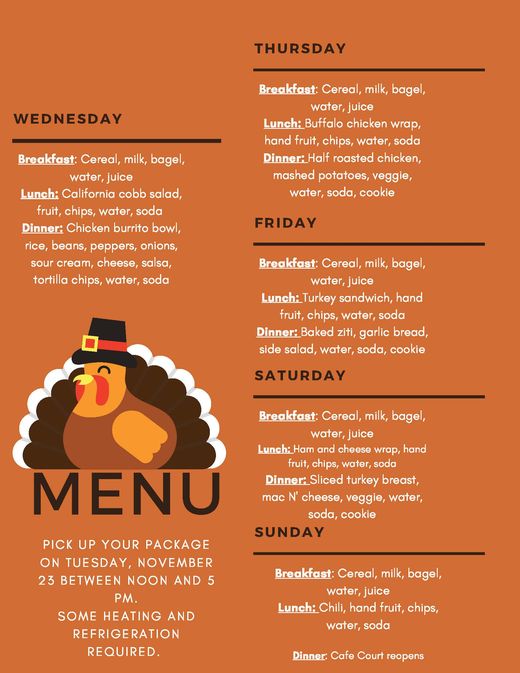 Psychology Survey - Extra Credit Opportunity
Calling ALL college students! We are seeking participants to participate in a research study survey. By taking this 10-15 minute survey, you are contributing to science! We appreciate your help, and please share this post with your peers!
This study aims to understand effects of emotion and social status. For your participation in this survey you could earn up to 1 point of extra credit in a psychology class that you are currently enrolled in this semester.
Click the link below to participate!
https://uoebusiness.co1.qualtrics.com/jfe/form/SV_3g8TZ0NWoIoTRgq
Winter Housing
Residence Hall Students - do you need a place to stay this winter? The residence life office has limited winter housing available. Only students participating in official University functions or with approved reasons will be considered for winter housing.
Students approved for winter housing may be assigned a temporary room in another housing facility and may not have access to their permanent rooms during winter break. Approvals are subject to room availability. Students are charged a flat fee of $400 for winter housing.
Students seeking winter housing must submit a Winter Housing Request Form by December 1, 2021, available through this link - https://uesurvey.evansville.edu/WinterHousing.
Students who live in Village housing can stay in their apartment or house at no additional cost but we do ask that you let us know when you will be on campus by filling out this form - https://www.surveymonkey.com/r/villagewinterhousing.
Winter Intersession Courses
It's not too late to register for a Winter Intersession course. Classes are held December 17, 2021, through January 7, 2022. Students may take one course.
For registration, payment deadlines, and additional information visit https://www.evansville.edu/registrar/winterSessions.cfm.
Winter Intersession Course List
| Subject | Number | Cr Hrs | Course Title | Instructor |
| --- | --- | --- | --- | --- |
| ART | 105 | 3 | Introduction to the Visual Arts | Larmann |
| ASTR | 101 | 3 | Descriptive Astronomy | Braun |
| AT | 180 | 3 | Introduction to Athletic Training | Tilly |
| CHEM | 103 | 3 | Chemistry of Adult Beverages | Miller |
| CHEM | 118 | 4 | Principals of Chemistry | Miller/Morong |
| EDUC | 322 | 3 | Strategies for Special Needs Students in K-12 Schools | Jones |
| ES | 103 | 3 | Fundamentals of Environmental Science | Thananatthanachon |
| EXSS | 150 | 2 | Introduction to Health Sciences | Laughbaum |
| EXSS | 320 | 3 | Nutrition for Performance and Health | Rodd |
| EXSS | 453 | 2 | Motor Learning | Wilson |
| EXSS | 488 | 1 to 3 | Internship | Rodd |
| EXSS | 488 | 1 to 4 | Internship | Wilson |
| FIN | 280 | 3 | Personal Finance | Brockman |
| HS | 205 | 3 | Pharmacology | Pruden |
| MATH | 134 | 3 | Survey of Calculus | Salminen |
| MATH | 324 | 3 | Differential Equations | Salminen |
| MUS | 156 | 3 | Music in America | Strandberg |
| NEUR | 125 | 3 | Introduction to Neuroscience | Campese |
| NEUR/PSYC | 355 | 3 | Sensation and Perception | Becker |
| PH | 190 | 3 | Introduction to Public Health | Patel-Dovlatabadi |
| PSYC | 121 | 3 | Introduction to Psychology | Campese |
| PSYC | 226 | 3 | Child and Adolescent Psychology | Hennon |
| PSYC | 416 | 3 | Human Sexuality | Becker |
| QM | 227 | 3 | Intro to Statistics | Khormali |
| SOC | 105 | 3 | Introduction to Sociology | Plikuhn |
| SOC | 230 | 3 | Social Problems in the Modern World | Plikuhn |
| STAT | 166 | 1 | Intro to R for Data Science | Weber |
Professor Todd Matteson and Senior Art Student Rohan Karanjit exhibit artwork at SWOPE Museum
Their artwork was selected by this year's juror, Drék Davis, to be part of the 77th Annual Wabash Valley Exhibition. We had a record-breaking 515 entries submitted by 164 artists. Our juror selected a variety of styles and media, choosing 77 works by 72 artists. The exhibition opens Friday, October 5th, with the award announcement and ceremony that evening. The exhibition will run until Sunday, January 9th. Professor Matteson states, "This is part of the job for me as an artist and professor, being juried into exhibitions and I am always excited when it happens. But, when one of your students has their work accepted into exhibitions, the excitement goes through the roof. This is how it all starts for them. I am so excited for Rohan and what the future holds for him as an artist."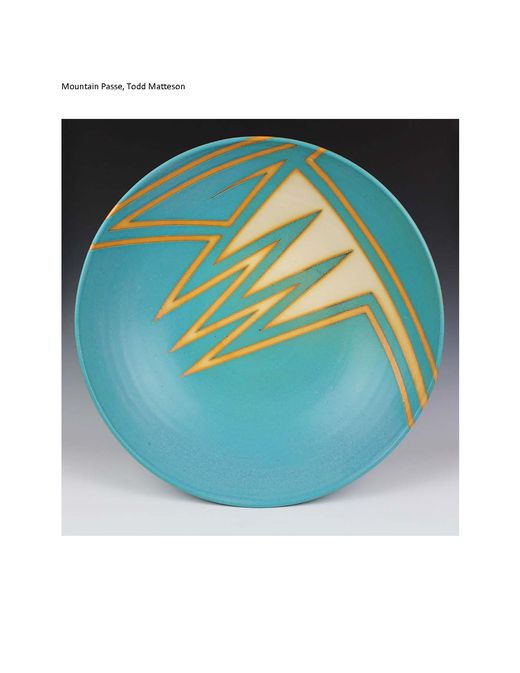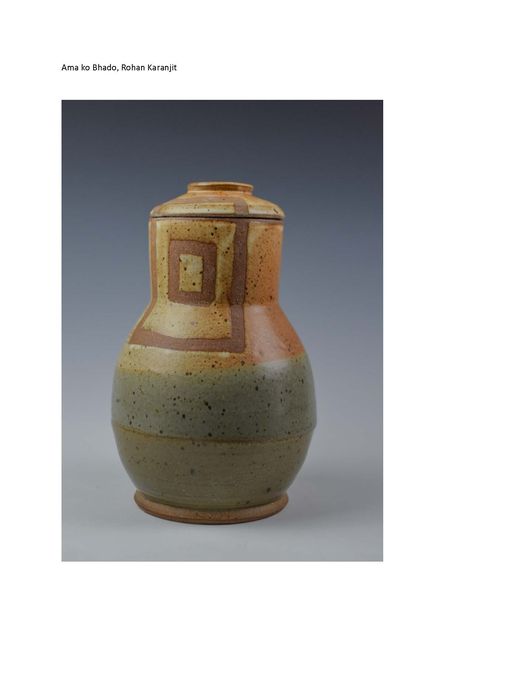 UE returns to Ford Center to face DePauw
For the first time since 1979, the University of Evansville men's basketball team will take on DePauw in a regular season contest on Tuesday evening at 6PM inside the Ford Center. The game will be carried live on ESPN3 and the Purple Aces Radio Network.
Last Time Out
- Saturday's game at Belmont saw the Bruins lead from start to finish on their way to an 81-43 victory over the Purple Aces
- The Bruins held a 34-14 lead at halftime and would lead by as many as 46 points in the second half
- Shamar Givance was the top performer for Evansville, scoring a game-high 17 points...Givance was 5-of-7 from the field while converting 4 of his 6 3-point attempts
- Jawaun Newton added 10 points and a team-high 6 rebounds
Scouting the Opponent
- DePauw holds a 1-1 record following its first two games of the 2021-22 season
- The Tigers opened with a close 73-71 loss to Benedictine (IL) before taking down Earlham, 67-58, on November 12
- Four players average double figures for the Tigers, led by Grant Gohmann's 14.0 points per game
- Cooper Mixon and Elijah Hales average 12.5 points while Nolan Niego has posted an even 12 points through two contests
- The last regular season meeting between the schools came in 1979 while the teams have met in multiple exhibition games since, most recently in 2011
All Over the Stat Sheet
- Every time he takes the floor, Shamar Givance is a threat to record a triple double and he has continued on that path through three games this season
- Following a 7-point, 5-assist, 4-rebound effort at Cincinnati, Givance led the Aces in points (16), rebounds (7) and steals (3) in the victory against IUPUI
- At Belmont, Givance had his season-high of 17 points, which led all scorers...he was 5-for-7 from the field and 4-of-6 from outside, tying his career high in long range makes
Consistent Start
- Through his first three games in an Evansville uniform, Blaise Beauchamp has recored at least 9 points each time out while sitting second on the team with his average of 10.7 points per game
- At Belmont, Beauchamp connected on 3 of his 4 outside attempts on his way to 9 points
- His top scoring mark came against IUPUI where he registered 12 points while he opened the season with 11 at Cincinnati
Getting on Track
- Shamar Givance and Blaise Beauchamp had been UE's most efficient 3-point shooters over the opening three games
- The duo have contributed 10 of the Aces' 22 outside makes and are combining to shoot 40.0% (10/25)
- Through three outings, the remainder of the team has gone 12-for-52 (23.1%) from long range
Hannah Watkins earns State Farm MVC Good Neighbor Award
In an effort to honor the achievements of exceptional student-athletes, the Missouri Valley Conference has created the State Farm MVC Good Neighbor Award. Ten student-athletes have been named by Commissioner Jeff Jackson as the honorees for the 2021-22 Fall season and one of the most deserving student-athletes at the University of Evansville is one of the recipients – volleyball player Hannah Watkins.
She is one of ten in the conference to receive the honor this fall with the others including: Katherine Poore, Bradley, Volleyball; Meghan Brown, Drake, Women's Soccer; Ashley Santos, Illinois State, Women's Soccer; Madeline Williams, Indiana State, Volleyball; Abby Swanson, Loyola, Women's Soccer; Lillie Kaempfe, Missouri State, Women's Cross Country; Brawntae Wells, UNI, Football; Kailyn Stone, Southern Illinois, Women's Soccer; Rylee Cookerly, Valparaiso, Volleyball.
In order to be eligible for the award, the student-athlete must be in good academic standing, must demonstrate good citizenship through good sportsmanship and significant community service, and must participate in a sport, during the season of recognition. The Valley will recognize 10 student-athletes three times annually (Fall, Winter, Spring), for a total of 30 honorees. Institutions select their State Farm MVC Good Neighbor Award honorees.
Watkins has supported multiple local organizations, but one that she has worked extensively with has been Young & Established Evansville. The organization works to inspire and motivate local youth through various activities and events. Her other work includes serving as a representative on the student-athlete advisory committee (SAAC), YWCA, holiday reading at local elementary schools, volleyball developmental program and Big Brothers and Big Sisters of Evansville.
A 3-time honoree on the Dean's List, Watkins has a 3.647 GPA and is a Global Business major. Watkins has been recognized on the MVC Academic Honor Roll and as a Scholar-Athlete Honorable Mention. She received the award during Friday's home match versus Drake.
Contribute to AceNotes
To have content considered for inclusion in AceNotes, please submit a Marketing Request Form. Deadline for submission to AceNotes is 10:00 a.m. on the requested date of publication. Only articles concerning UE related/sponsored activities will be accepted. Articles submitted to AceNotes may be edited for length and clarity. Submitter contact information is at the end of each article.