| | |
| --- | --- |
| AceNotes Today | Tuesday, November 9, 2021 |
Departments/Offices Requiring Masks or Face Coverings
Effective November 10, the mask mandate will be lifted on the UE campus. However, masks or face coverings may still be required in certain departments or offices (e.g. the Health Center). If your department or office is requiring masks, the indication can be made on our website. To do so, please email our Web Team (web@evansville.edu) to make this change online.
Mask Signage: Request from Publications
On the UE campus, begining November 10, the mask mandate will be lifted. Masks or face coverings will continue to be required in some departments (such as the Health Center), and faculty may require masks in their instructional spaces and during instructional activities.
Signs may be placed in these and other areas indicating that masks or face coverings are still required. If you are in need of signage, please contact the Office of Publications by emailing publications@evansville.edu.
35th Annual International Bazaar: Friday, November 12
The UE International Club will host the 35th annual International Bazaar on Friday, November 12, in Eykamp Hall! Come celebrate their largest annual event from 5-8 p.m. and celebrate diversity in a fun and exciting way!
From 5-6 p.m., there will be live performances inside Eykamp Hall. These are limited spots and will be offered on a first-come, first-serve basis.
From 6-8 p.m., there will be interactive booths for guests to visit and learn about. A total of 10 countries and 4 organizations will be featured.
To RSVP for the International Bazaar, choose your time slot through SignUpGenius. International Bazaar is free for all UE students. Employees and community members are welcome to attend for $8 per ticket. Payment will be accepted through cash or Venmo (no change, so please pay with exact cash).
You can sign up online or by visiting the International Club table in Ridgway during lunch and dinner hours, Tuesday-Friday. Tickets may be purchased in advance beginning Wednesday, or they may be purchased at the door on Friday evening.
Honors Program Project Presentations - Monday, November 15
The Honors Program invites the campus community to attend the Honors Program Project Presentations on Monday, November 15 at 5:00pm. The session will be held in Koch Center 101.
The honors project represents the culmination of the honors experience and provides an opportunity for students to explore an area about which they are passionate. The honors project may consist of a research project, thesis, or creative work.
The following Honors Program students have finished their projects this semester and will be presenting at this event. We hope you will join us to support these students and hear about the fantastic work which they have completed.
Cecilia Thon – "The Role of Trade Agreements on Regional Political Stability and the Decrease of Interstate Conflict"
Steph Voteau – "In-Betweens: A Short Film on Silence"
Meghana Bhaskara and Pranav Haran – "Catalytic Dehydrogenative Coupling of Alcohols using POCOP and PNCNP Nickel and Ruthenium Catalysts"
This Week in Music
The student and community musicians of the UE Symphony Orchestra and Wind Ensemble will be performing their fall concert on Tuesday, November 9 at 7:30 p.m. at the Old National Events Plaza in downtown Evansville. Spanning nearly 200 years of music, the program will feature works by Antonin Dvorak, Charles Ives, Florence Price, and modern composer David Gillingham. Jessica Smith, 2021 UE Music Therapy graduate and winner of the annual Concerto Competition, will be the featured flute soloist on Carl Reinecke's Ballad Op. 288 with the Symphony Orchestra. The ensembles will be led by Dr. Chun-Ming Chen and Dr. Ken Steinsultz. Admission is free and open to the public.
Climbing at Vertical Excape with the Venturing Crew
Sign-ups will be in Ridgway lobby starting today and going through Wednesday 11am-1pm and 4pm-6pm.
Join the Venturing Crew as we climb the night away at Vertical Excape from 8pm till midnight on Saturday, November 13th.
Vertical Excape offers 4 types of climbing in their facility: Bouldering, Top-Roping, Auto-Belay, and Sport Climbing.
Venturing Crew will provide Pizza, drinks and a good time. The event is free and we will provide bus transportation.
We will require a $10 deposit at the sign-up table to hold your place and will be returned once we get to Vertical Excape.
There is a maximum of 75 people allowed for the event and must be a current UE student or advisor to attend.
CDEI Presents: I-House: Peace Corps Information Session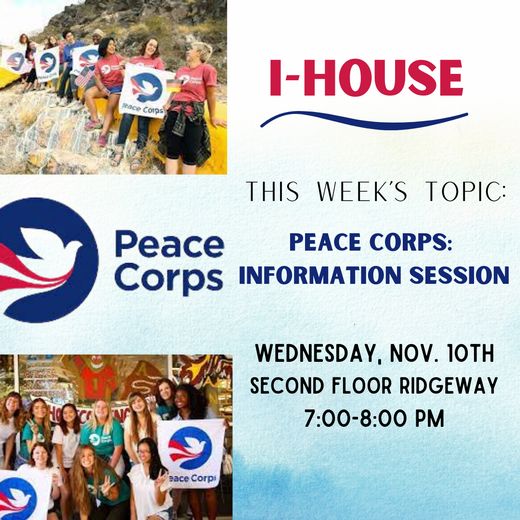 Join the CDEI on Wednesday, November 10th from 7:00- 8:00 PM on the second floor of Ridgeway for the fourth International House of the semester, focusing on Peace Corps.
This event, hosted by senior Spanish major, HarMonee Baltzel and Peace Corps Recruiter, Andrea Tiller will provide an overview of general knowledge about the Peace Corps including benefits, sectors of service, and countries of service.
Follow along with @uediversity on Instagram for additional programming!
Campus Culture Panel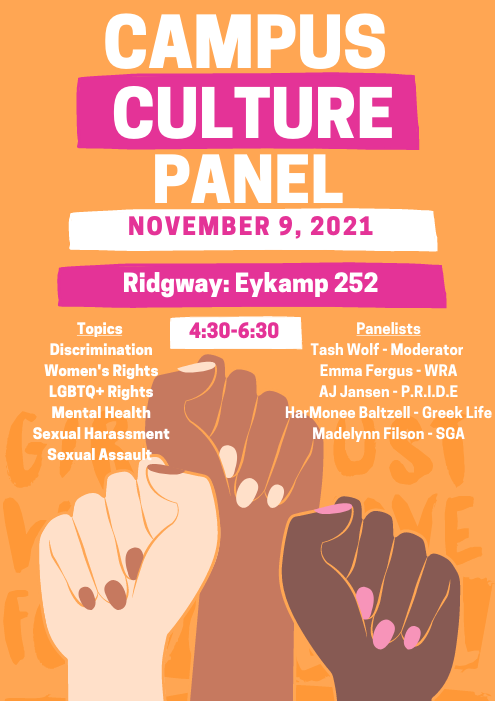 Join WRA on Tuesday, November 9th, in Eykamp 252 where the goal is to address harmful and often ignored issues that negatively impact campus culture.
An analyst from Franklin Templeton will interact with UE students
Jacek Kanur, a research analyst, with Franklin Templeton, will speak to UE students in Dr. Walayet Khan's classes via Zoom at 6.00 p.m. on Thursday, November 11. Graduated in 2021 represented UE in CFA investment challenge in 2020/2021, he started working at Franklin Templeton in Poznan, Poland, as a stock analyst in his final semester of college.
Franklin Templeton is one of the largest mutual funds in the world with over $ 1.5 trillion in assets under management from over 160 countries. Please contact Dr. Walayet A. Khan at wk3@evansville.edu for an invitation and further information.
Spring Meal Plan Changes
Students can adjust meal plans for the Spring semester until Friday, January 14, 2022 at 5:00 p.m.
UE Awarded Grant for Summer Camp to Support ALICE Families
The Center for Diversity, Equity, and Inclusion was recently awarded a $90,000 grant to advance diversity, equity, and inclusion initiatives. The grant was part of the COVID-19 Crisis Response Fund of the Greater Evansville Region, which provided $1 million to a total of six organizations in September. The purpose of these funds is to support non-profits that are reconceptualizing systems, environments, and pathways to create a more resilient region.
The Center has created "Springboard," a summer day program that seeks to address the preparation gap for under-resourced high school students before graduation. The program will include STEAM (science, technology, engineering, arts, and mathematics) curriculum, character development, and leadership training. Intracultural appreciation will also be fostered to improve intercultural competency. Through these efforts, Springboard will improve high school graduation rates as well as college readiness and admission for students from Black and African American ALICE families (Asset Limited, Income Constrained, and Employed).
Springboard is a collaborative project between UE and Black Lemonade, Inc., which is a non-profit organization "dedicated to turning sour conflict into sweet and powerful solutions." Black Lemonade originally created a summer camp for grades K-8, but the grant will expand its reach to support students up to 12th grade.
"I'm so glad to share this vision of helping my community advance in ways that oftentimes weren't discussed growing up," said Kaymi Butler, who serves as founder and chief executive officer of Black Lemonade. "This vision, and more importantly its execution, is more than preparing a student for a future career. It's about instilling in them how to avoid the hate that is often associated with indifference. It's about teaching and showing love, letting go of the stereotypes, and purposefully meeting a person where they are."
The Springboard program will be spearheaded by both UE and Black Lemonade, but current students are developing the curriculum through a ChangeLab titled "Community Race Project." ChangeLabs are semester-long courses in which students work in teams to tackle a local or regional issue and create positive change in the community. The Community Race Project will continue into the spring semester to further prepare for the camp.
Additional details for Springboard will be added to the UE website at a later date and can be found at evansville.edu/cdei.
Volunteers for Advent Vespers
Advent Vespers returns to the University of Evansville on Friday, December 3, 2021 at 7:00 pm in Neu Chapel.
In preparation for the service, the Office of Religious Life requests volunteers from the campus community (students and employees).
Volunteers have the option to help with decorating Neu Chapel or participate as readers during the festive service.
Please contact the Office of Religious Life at center4dei@evansville.edu to express your interest.
Last Day to Withdraw with a "W"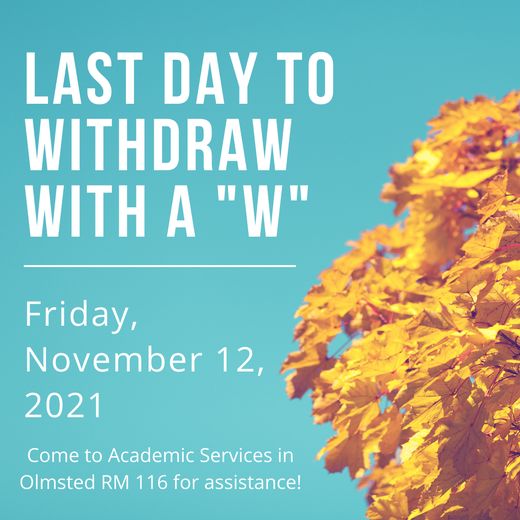 The last day to withdraw with a "W" from Fall classes is Friday, November 12, 2021. Come to Academic Services in Olmsted RM 116 for assistance!
Employees: Thanksgiving Break Extended for Wednesday, November 24
The original holiday calendar for employees included a Thanksgiving Break scheduled for Thursday and Friday, November 25-26. At the Staff and Administrators Assembly on Monday, November 1, Prez P announced that Thanksgiving Break would be extended by another day! Employees can now enjoy three days of break, from Wednesday-Friday, November 24-26.
Enjoy the holiday with your friends and family!
Elevate Ventures Experienced UE and our Evansville Innovative Ecosystem via UE CFIC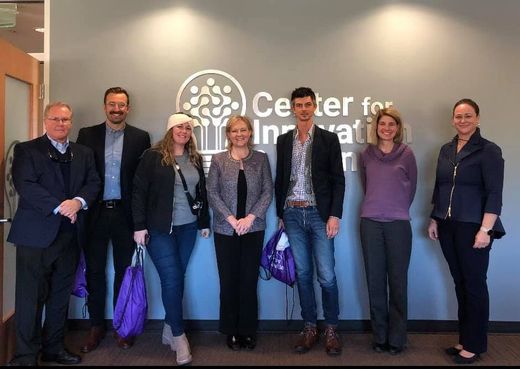 November 5th, the UE CFIC Team welcomed the Elevate Team to campus, discussed our higher education initiatives, and the role UE can play in fostering innovation in this region.
In August, UE was the recipient of a $50,000 Elevate Nexus Grant. The Center will utilize those funds to develop a 3 pronged approach to better supporting innovation education in our region. 1) Creation of the MakerspACE on campus, where people in the community can receive help with graphic design, prototyping an idea, or creating a pitch deck; 2) Creation of an internship on campus so that space can be managed by a UE student; and 3) Creation of a summer institute at UE for K-16 educators in southern Indiana who want to learn how to infuse more creative problem solving in their classrooms (regardless of subject). Educators will then have their students compete in one of the many existing pitch competitions in Indiana, leveraging resources and dramatically increasing youth access to these events and surfacing those Changemaker ideas.
We can't wait to get started, are honored and grateful to be with this group, and will document the journey!
Scherr-Wells era begins Tuesday as Aces play host to Govs
Featuring four new coaches and seven new additions to the roster, the University of Evansville women's basketball team opens its 2021-22 season on Tuesday evening at 6 PM against Austin Peay inside Meeks Family Fieldhouse in Evansville.
Previewing the Matchup: Austin Peay
• Evansville and Austin Peay are meeting for the 22nd time in series history with the Governors owning a 12-9 advantage in the series.
• The two sides last met on Nov. 21, 2019 in Clarksville, Tenn. as the Govs captured an 80-64 win.
• Over the last 10 matchups, Evansville has yet to lose a match at home, a string of five wins.
• Evansville has won two of its last four season openers with a win over Murray State to open the 2017-18 campaign and a win over Brescia to start the 2019-20 season.
• Austin Peay is one of five members of the Ohio Valley Conference that the Aces will face during their non-conference slate.
The Scherr-Wells Era Begins
• In April, Evansville announced Robyn Scherr-Wells as the new head coach of the women's basketball program.
• Coming to UE following a season as an assistant coach at FIU, Scherr-Wells returns to head coaching after four years as an assistant.
• Scherr-Wells has shown a knack for revitalizing programs and developing talent, entering her tenure with Evansville with a 144-83 record over seven seasons at Roosevelt University (Ill.) and Davenport University (Mich.), winning six conference championships.
Newcomers Galore
• After a group of three seniors departed following graduation a season ago, head coach Robyn Scherr-Wells and her staff have brought in seven newcomers to the fold.
• Featuring three transfers and four freshman, the group of newcomers feature four international players and three domestic student-athletes.
Talented Returners
• Despite the large number of newcomers, Evansville still returns four of its five starters from the 2020-21 campaign.
• Along with the four returning starters, five of the top six scorers are back for the Aces as Evansville loses less than 20% of its scoring from last season.
Postseason Play Begins for Aces Today at McCutchan Stadium
Beginning the postseason, the University of Evansville men's soccer team plays host to No. 5 Drake on Tuesday at Noon in Arad McCutchan Stadium in Evansville, Ind.
Promotions
• For Tuesday's match, Evansville has a host of promotions to help encourage fans to come out and cheer on the Aces.
• The first 200 fans at Tuesday's match will receive a voucher for a free combo meal (hot dog, chips, and drink)
• All UE students will get free admission to Tuesday's match
Previewing the Matchup
• Meeting for the second time in just over a week, Tuesday's meeting represents the 40th time the two sides have met with Drake owning a 21-16-2 advantage in the all-time series.
• In the Oct. 31 regular season meeting between the Aces and Bulldogs, Evansville captured a 2-0 victory with a pair of goals from Jakub Hall.
• Tuesday's match is the first time Evansville has hosted an MVC Tournament quarterfinal match since 2018, when the Aces hosted the entire tournament, falling to Missouri State, 5-2, in the opening round.
• A win would represent the Aces first MVC Tournament win since a 1-0 victory over Loyola Chicago in the opening round of the 2017 MVC Tournament.
• Evansville and Drake are meeting for the sixth time in the MVC Tournament with the Bulldogs holding a 4-1 advantage in the five previous matchups. Evansville did win the most recent postseason meeting, a 2-1 win in the first round of the 2016 MVC Tournament.
Hall Continues to Roll
• Over the last two weeks, redshirt junior forward Jakub Hall has started to take control of the Aces attack.
• Hall has scored in three-straight matches, including a pair of goals in a 2-0 win over Drake on Oct. 31.
• Hall is a prolific scorer by nature having scored more than 70 goals in his high school career with 41 coming in his senior season.
Madden's Shutouts
• Much like Jakub Hall, redshirt junior goalkeeper Jacob Madden has begun to hit his stride in goal over the last three matches.
• On the season, Madden has three shutouts, all coming in MVC play, the most since Matt Keller finished the season with five shutouts on the year in 2017.
Men's golf shines in opening day of Alabama A&M Invite
Monday's opening day of the Alabama A&M Invite saw the University of Evansville men's golf team record some of its lowest rounds of the season at RTJ at Hampton Cove.
Evansville split into two teams for the tournament with the Purple squad consisting of Dallas Koth, Henry Kiel, Michael Ikejiani, Nick Gushrowski and Masatoyo Kato. The Orange squad included Caleb Wassmer, Isaac Rohleder, Eli Rohleder, Carson Parker and Cody Mobley.
Leading the Purple Aces on the first day was Michael Ikejiani. After opening the day with a 1-under 71, Ikejiani carded an even 72 to finish the day with a 143. He enters Tuesday's final round in a tie for third place, just two shots off the lead.
Nick Gushrowski and Carson Parker are tied for the 14th position at 4-over par. Gusbrowski's rounds finished at 77 and 71 while Parker had scores of 73 and 75 to post a 148.
Standing at 6-over and tied for 19th going into the final 18 is the duo of Masatoyo Kato and Isaac Rohleder. Seeing his first action of the fall, Kato opened the day with a 78 before shooting an even 72. Rohleder's scores for the day finished at 76 and 74. Finishing Monday's rounds with a 153 was Henry Kiel. His scores checked in at 76 and 77.
Next up was the duo of Caleb Wassmer and Dallas Koth. Wassmer's rounds for the day finished at 79 and 77 while Koth began with a 77 before recording a 79 in the second 18. They are tied for 29th with scores of 156. In his first action at UE, Cody Mobley posted tallied of 76 and 82 and is tied for 35th. Eli Rohleder registered rounds of 81 and 87.
Alabama State holds the team lead by 11 strokes entering the final round, posting a 2-round tally of 582. Evansville's Purple team is in second with a 593 while the Orange team sits in 6th with a 612. Sebert Walker of Tennessee State leads the individuals with a 141.
On Tuesday morning, the Aces play the final 18 holes to complete the fall.
Men's basketball faces Bearcats in season opener
Following a pair of exhibition games, it is time for the real thing as the University of Evansville men's basketball team opens up the 2021-22 regular season on Tuesday against the University of Cincinnati. Set for a 6 p.m. CT tip, ESPN+ will have the coverage from Fifth Third Arena.
Setting the Scene
- Four starters highlight an experienced group that heads into the 2021-22 season with Evan Kuhlman, Noah Frederking, Jawaun Newton and Shamar Givance back in the lineup
- The lone starter to graduate as Jax Levitch, who started last season for UE as a graduate transfer
- Six newcomers join the team including four freshmen, a sophomore and a junior
- Only a year removed from an 0-18 mark in the Missouri Valley Conference, the Purple Aces won seven league games a season ago...UE is just the second team in MVC history to follow a winless conference season with seven victories
- Southern Illinois was 0-16 in 1980-81 but rebounded to go 7-9 a year later
- The 7-game improvement for UE is the best that the conference has seen since Loyola went from eight league wins in 2016-17 to 15 a season later
- Evansville was the first team to jump from 10th in the MVC standings to a top five seed since Drake went from 10th in 2017 to 4th place in 2018
Last Time Out
- Thursday's exhibition finale saw the Purple Aces take a 74-64 win over Kentucky Wesleyan at the Ford Center
- Shamar Givance led the way with 16 points while hitting 9 of his 10 free throws
- Blaise Beauchamp scored 15 while Evan Kuhlman had 12 points and a game-high 8 rebounds
- The Aces finished the game shooting 46.9% from the field while going 12-of-24 from outside
Season Openers
- Tuesday will tip off the 103rd season of Aces basketball
- In 102 previous season openers, the Aces are 67-35
- UE is in search of its first season-opening road win since a 63-51 win over Western Michigan in 1994
- Since then, the Aces have opened the season on the road just five times, dropping each contest
- This will mark the first time UE has opened the season against a school from Ohio since Nov. 17, 2001 - an 87-64 home win over Youngstown State
- The last time UE opened its season on the road in Ohio came against Miami University on 11/24/90 - a 93-82 Aces victory
New Guys Chipping In
- Exhibition games provide the opportunity to try out multiple different lineups while newcomers are able to work their way onto the floor
- Antoine Smith Jr. was in the starting lineup against Mount St. Joseph and finished with 13 points and 3 rebounds in 26 minutes of action before adding 8 points and 5 boards against Kentucky Wesleyan
- While technically not a newcomer as he played two games last season, Emmette Page was 5-of-6 from the field on his way to 14 points in the preseason opener...he led the team with three steals while adding a rebound and an assist
- Blaise Beauchamp was a perfect 4-for-4 from the line on his way to a 9-point game against MSJ before registering 15 points on 5-of-8 shooting against KWC
Scouting the Opponent
- Cincinnati returns three starters and seven letterwinners from last year's team who was 12-11 overall while going 8-6 in American Athletic Conference action, finishing in 5th
- Their top returning scorer is Jeremiah Davenport, who finished the season averaging 11.7 points per game, second on the team
- Davenport was tied for second on the team with 5.0 rebounds per contest
- Mika Adams-Woods returns with his 8.6 PPG average and was one of the top free throw shooters, hitting 87.3% of his attempts
- UC is led by Wes Miller, who is in his first season at the helm of the program following a decade at UNC Greensboro
Contribute to AceNotes
To have content considered for inclusion in AceNotes, please submit a Marketing Request Form. Deadline for submission to AceNotes is 10:00 a.m. on the requested date of publication. Only articles concerning UE related/sponsored activities will be accepted. Articles submitted to AceNotes may be edited for length and clarity. Submitter contact information is at the end of each article.