| | |
| --- | --- |
| AceNotes Today | Friday, November 5, 2021 |
Open Student Forum - Vice President for Student Affairs and Dean of Students Candidate
All University of Evansville students are invited to attend an Open Student Forum for the Vice President for Student Affairs and Dean of Students Candidate. Contact Alex Amick, aa308@evansville.edu, in the Office of the President with any questions.
Open Student Forum
Presentation and Engagement with Rachel S. Carpenter
Vice President for Student Affairs and Dean of Students Candidate
Monday, November 8, 2021
4:00 – 4:45 PM
Eykamp Hall 251
Ridgway University Center
New Employee Headshots
Are you new to UE and/or have not yet had a headshot taken? The Office of Marketing & Communications will be taking headshots next week for those on Monday, November 8, from 9:45-10:15AM. Photos will be taken on the southwest end of the front oval lawn, near Lincoln Street (the photographer will be set up on the brick sidewalk near the green bench).
If you would like to attend and didn't complete the Doodle, please contact Julie Bryant, university relations coordinator (jb855).
Updated COVID-19 Policies
Dear Campus Community,
On Wednesday, October 27, the Indiana State Department of Health (ISDH) changed Vanderburgh County's advisory status to yellow on its statewide COVID-19 map. If all the relevant metrics remain below the targets within the two-week window following this date, the University will be lifting the mask mandate beginning Wednesday, November 10. With the mask mandate lifted, masks or face coverings will not be required on campus. However, we strongly recommend that unvaccinated individuals continue masking in public spaces. All other COVID-19 policies and protocols, including capacity limits, will remain in effect.
Individuals and faculty members may continue to require masks or face coverings in their classrooms and office spaces.
Individual departments and administrative units may require masks in their private offices and departmental/administrative spaces. UE supports any members of the campus community who continue to wear a mask or face covering as a personal choice.
Classroom
Faculty may choose to require masks in their instructional spaces (i.e. classrooms and labs) and during research activities. Faculty who choose this option should communicate information to students before November 10.
Health Center and Other Areas Requiring Masks or Face Coverings
Masks or face coverings will continue to be required in the Health Center. If you do not have a mask or face covering, one will be provided. A list of areas requiring masks or face coverings is available on the Coronavirus webpage at evansville.edu/coronavirus. Signs may be placed in these and other areas indicating that masks or face coverings are required. Signs may be requested through the Office of Publications.
Mask Mandate Reinstitution
If any of the following conditions are met, the mask mandate will be reinstituted and will remain in place until all three metrics are below the targets for two consecutive weeks:
The ISDH alert status for Vanderburgh County rises to a status of orange or red
More than 20 active cases of COVID-19 on campus
A decrease in the campus vaccination rate to lower than 80%
Continued Random Testing
The Random COVID-19 Testing Program will continue throughout the fall semester for those that are unvaccinated.
We are very thankful for your patience and understanding over the past 20 months as we?have navigated this pandemic together. We look toward the future and know that our community will continue to be supportive of all individuals who choose to continue wearing a mask. We also will continue to monitor national, regional, and campus statistics and implement any additional precautions as necessary.
Sincerely,
Coronavirus Task Force
Krannert Gallery Exhibit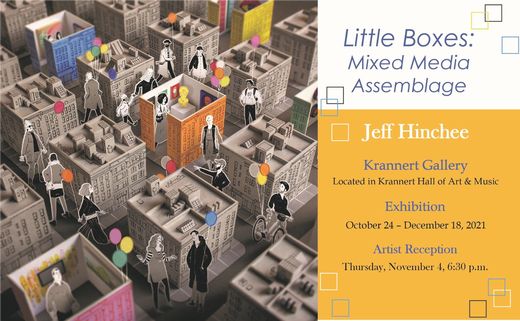 The Department of Art is pleased to announce the exhibition entitled Little Boxes: Mixed Media Assemblage by artist and visiting Theatre faculty Jeff Hinchee. Please visit the Krannert Gallery between now and December 18.
CDEI Presents: I-House: Peace Corps Information Session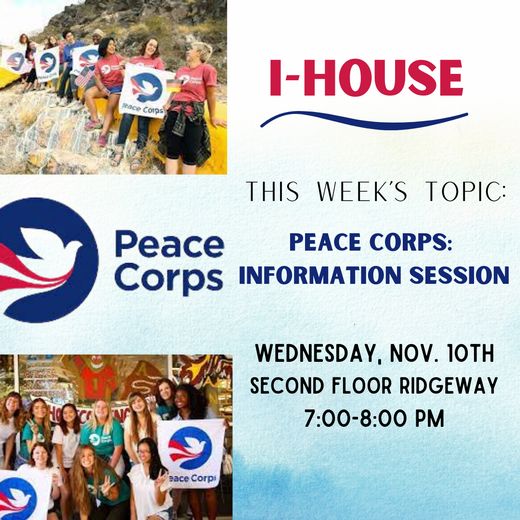 Join the CDEI on Wednesday, November 10th from 7:00- 8:00 PM on the second floor of Ridgeway for the fourth International House of the semester, focusing on Peace Corps.
This event, hosted by senior Spanish major, HarMonee Baltzel and Peace Corps Recruiter, Andrea Tiller will provide an overview of general knowledge about the Peace Corps including benefits, sectors of service, and countries of service.
Follow along with @uediversity on Instagram for additional programming!
Campus Culture Panel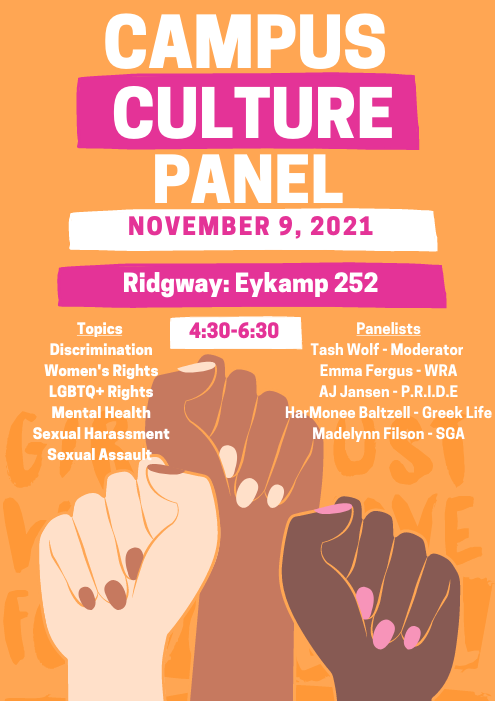 Join WRA on Tuesday, November 9th, in Eykamp 252 where the goal is to address harmful and often ignored issues that negatively impact campus culture.
Climbing at Vertical Excape with the Venturing Crew
Join the Venturing Crew as we climb the night away at Vertical Excape from 8pm till midnight on Saturday, November 13th.
Vertical Excape offers 4 types of climbing in their facility: Bouldering, Top-Roping, Auto-Belay, and Sport Climbing.
Venturing Crew will provide Pizza, drinks and a good time. The event is free and we will provide bus transportation.
We will require a $10 deposit at the sign-up table to hold your place and will be returned once we get to Vertical Excape.
There is a maximum of 75 people allowed for the event and must be a current UE student or advisor to attend.
Sign-ups will be in Ridgway lobby Monday, November 8th at 11am-1pm and 4pm-6pm as well as Tuesday and Wednesday at the same times.
Vanderburgh Electronics Fall Recycling Event
Did you know that during the "Fall 2021 recycling days, a variety of electronic materials will be accepted for recycling at no charge. The items will include, but are not limited to computers and computer related equipment, laptops, printers, scanners, TVs, DVD players, DVR devices, digital cameras and fax machines.
Copy machines and appliances, including microwaves, will NOT be accepted.
This program is for Vanderburgh County households only. Items from businesses will not be accepted."
Fall Event: November 6, 2021, 8:00 am - 2:00 pm, Civic Center parking lot (9th & Walnut Streets)
For more information, please call the Vanderburgh County Solid Waste District at 812-436-7800.
Distinguished Historian Sally Roesch Wagner to Deliver Fiddick Lecture on November 5
The Department of History, Politics, and Social Change will welcome Dr. Sally Roesch Wagner for the 19th annual Thomas C. Fiddick Memorial Lecture on Friday, November 5. The lecture will begin at 7:00 p.m. in Eykamp Hall and is free and open to the public. For those who are unable to attend in person, the lecture will be live streamed at evansville.edu/live.
The 19th annual Fiddick Lecture is a centennial celebration (delayed by one year due to COVID-19) of the passing of the 19th Amendment, which gave American women the right to vote. Focusing on the women's rights movement over three centuries, Dr. Wagner's lecture examines the movement's changing agenda, why it has happened, and how we can move forward today with United States democracy and the very existence of life on the planet hanging in the balance.
Dr. Sally Roesch Wagner was awarded one of the first doctorates in the country for work in women's studies (UC Santa Cruz), and she is a founder of one the first college-level women's studies programs in the United States (CSU Sacramento). Dr. Wagner has taught women's studies courses for 50 years, and she currently teaches for Syracuse University's Honors Program.
A major historian of the suffrage movement, Dr. Wagner has been active on the national scene. She appeared in and wrote the faculty guide for the Ken Burns documentary Not for Ourselves Alone. A prolific author, Dr. Wagner's anthology The Women's Suffrage Movement, with a foreword by Gloria Steinem (Penguin Classics, 2019), unfolds a new intersectional look at the 19th century women's rights movement. Sisters in Spirit: Haudenosaunee (Iroquois) Influence on Early American Feminists (Native Voices, 2001) documents the surprisingly unrecognized authority of Native women who inspired the suffrage movement. It was followed by her young reader's book, We Want Equal Rights: How Suffragists Were Influenced by Native American Women (Native Voices, 2020). Among her awards, Dr. Wagner was selected as a 2020 New York State Senate Woman of Distinction, one of "21 Leaders for the 21st Century" by Women's E-News in 2015, and she received the Katherine Coffey Award for outstanding service to museology from the Mid-Atlantic Association of Museums in 2012.
Thomas C. Fiddick, for whom the Fiddick Memorial Lecture is named, served as professor of history at UE from 1963 to 2002. In his 39 years at the University, he was a dedicated teacher, a productive scholar, and a tireless fighter in the cause of justice. His book, Russia's Retreat from Poland, 1920: From Permanent Revolution to Peaceful Coexistence, is still considered to be the best book on this topic. Tom's untimely death on the day of his retirement in 2002 stunned the entire UE community, especially his many former students. It was from the former students' efforts in particular, with the support of Dr. Fiddick's friends and the University, that the annual Thomas C. Fiddick Memorial Lecture was established.
Employees: Thanksgiving Break Extended for Wednesday, November 24
The original holiday calendar for employees included a Thanksgiving Break scheduled for Thursday and Friday, November 25-26. At the Staff and Administrators Assembly on Monday, November 1, Prez P announced that Thanksgiving Break would be extended by another day! Employees can now enjoy three days of break, from Wednesday-Friday, November 24-26.
Enjoy the holiday with your friends and family!
Registration Week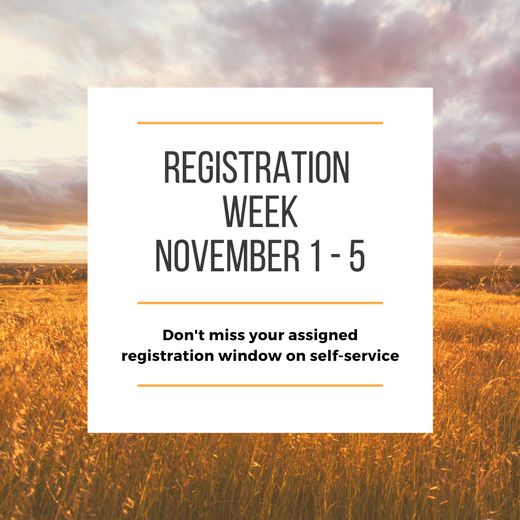 It's Registration Week!! Don't miss your assigned registration window on Self-Service. Finalize your registration for Spring 2022!
Musical Madness Call-Out Meeting
It is that time of year again to begin planning for Musical Madness!
Each year UE student organizations come together to show off their musical (or lack of) skills as they perform a short performance for the UE campus community and potential UE students (Road Trip).
There will be an interest meeting on Friday, November 5, 2021 at 5:30 PM. Only one member of an organization needs to attend to learn about the event; however, in order to be considered an active participant of Musical Madness there must be at least least three (3) members of your organization. If your organization is interested but unable to attend the meeting, please email Caroline Duffy (sd241@evansville.edu).
Join the call-out meeting using the information below:
Topic: Musical Madness Call-Out Meeting
Time: Nov 5, 2021 05:30 PM CT
Join Zoom Meeting
https://evansville-edu.zoom.us/j/96687052260
Protection of Children Training for Employees
As part of the New Protection of Children Policy, all employees have been assigned the "Protecting Children on Campus: Preventing Sexual Abuse" training module. Please watch your email over the next couple of days for an external email with the Subject: University of Evansville Vector LMS, Higher Education Edition Online Training. This training module is only sixteen minutes long and you are asked to complete it on or before November 15, 2021.
If you do not find an email by Monday, October 25 and have checked your spam folder, please email riskmanagement@evansville.edu.
Advising and Registration Dates
Advising Week | October 25 – 29
Meet with your faculty advisor this week. Make an appointment now.
Registration Week | November 1 – 5
Don't miss your assigned registration window. Finalize your registration for Spring 2022.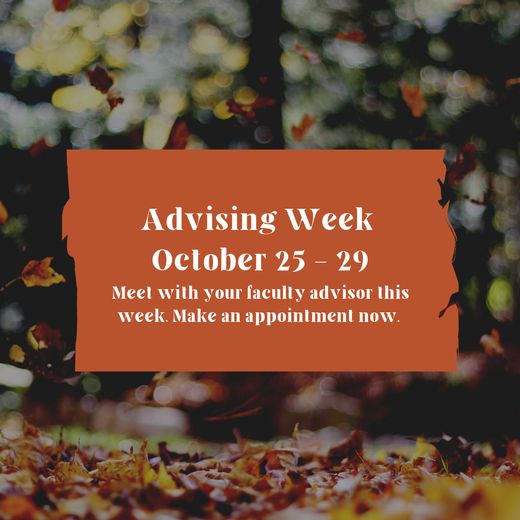 New York, Oct 27, 2021 COVID Between the Coasts ChangeLab Received Edward R Murrow Award
"Difficulty is the excuse history never accepts." - Edward R. Murrow. To the COVID Between the Coasts ChangeLab team, you knew this project would be hard, and you said yes anyway. Forever grateful to you and the students for showing what's possible, and that amazing things can happen right here in our community when people come together for the common good. Official photos from the Edward R. Murrow Awards #RTDNA #Murrow Photo credit: Chorus Photography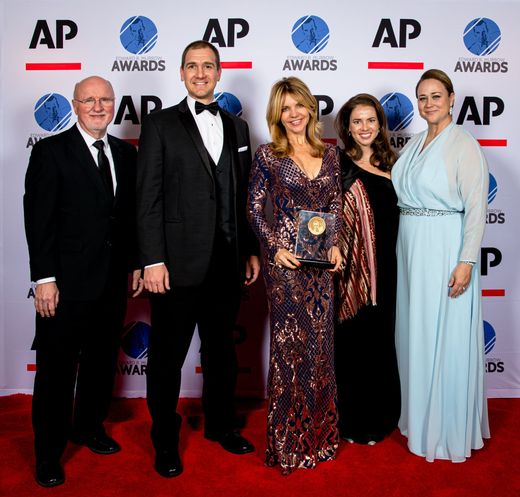 Aces bring momentum into Friday's MVC semifinal match
After a thrilling upset in penalties against Indiana State, the University of Evansville rides a wave of momentum into a Missouri Valley Conference Championship semifinal match with No. 2 seed Valparaiso on Friday afternoon at 3 PM at Loyola Soccer Park in Chicago, Ill.

Last Match: Evansville 1, Indiana State 1 (2OT) (Evansville advances 5-3 on PKs)
• Turning-in a complete performance, the University of Evansville women's soccer team overcame an early deficit, forcing penalty kicks before finishing with a 5-3 advantage over Indiana State to advance in the MVC Championship on Sunday afternoon in Terre Haute, Ind.
• In goal, redshirt senior Michaela Till was stellar again, making nine saves and allowing one goal in the draw. On the attack for Evansville, sophomore Rachel Rosborough picked the best time to score her first career goal, finding the back of the net to equalize the match.
• After going back-and-forth for the first minutes of the match, Indiana State jumped in front first. In the 15th minute, the Sycamores' Anna Holcombe recorded a shot from the top of the box that skipped across the turf and deflected off the post and in to give ISU a 1-0 lead, an advantage it would hold at the half.
• Despite trailing at the break, Evansville wasted little time equalizing the match in the second half. In the 47th minute, fifth-year senior Jayme-Lee Hunter slipped a ball to Rosborough, who went to the far post, past a diving Sycamore keeper to tie the match at one. Over the rest of the second half, Evansville was tasked with holding-off a surging Sycamore attack. In all, Indiana State recorded 17 shots in the second 45-minute period, but the Aces were up to it. The best chance of the half for ISU came in the final minutes of regulation. With less than two minutes remaining, a ball was deflected into the 18-yard box that Till chased after, once the ball hit, it spun back towards the Indiana State forward, forcing Till to make a tough play, subsequently colliding with the Sycamores forward in the process, earning ISU a penalty. On the penalty, Indiana State's CeCe Wahlberg went to Till's right, but the Avon, Ind. native was not fooled, picking correctly and punching the attempt away to preserve the tie and force overtime.
• Another 20 minutes was not enough as the Aces allowed just one shot on-goal, coming in the second OT, that Till saved, sending the match into PKs.
• In the first round of penalties, Evansville's Abby Phelps converted and the Sycamores' Maddie Alexander answered. In the second round, Emily Ormson converted and then Till showed up when it counted most again. As Isabella Hunter attempted her try, Till again made a save on a PK, giving Evansville the advantage. Down the stretch, Evansville was true again and again. Following conversions by Emilie Hill and Morgan Blair, the pressure fell on the shoulders of Jayme-Lee Hunter. The New Zealand native approached the ball and perfectly placed it into the top left corner, ending the match and sending the Aces to the MVC Championship semifinals.
Previewing the Matchup
• Friday's matchup marks the 19th all-time meeting between the two sides with Evansville owning a 10-4-4 advantage in the series. The Aces and Beacons met less than two weeks ago in Valparaiso, Ind. with Valpo grabbing a 2-1 win.
• This will mark just the second time the two teams have met in the postseason, last meeting in the quarterfinals of the 2020-211 MVC Championship with the Beacons advancing on PKs.
• The Aces win over Indiana State was the fifth time since 2013 that Evansville advanced on PKs in the MVC Championship.
• In five of its last seven MVC Championship appearances, Evansville has advanced past its opening match.
• Goalkeeper Michaela Till continued to increase her program record save count, adding nine saves against Indiana State, to bring her career total to 370. Till is currently tied for sixth all-time in MVC history.
• Over the last three seasons, fifth-year senior defender Morgan Blair has missed just 52 minutes over 3,936 minutes of match time, including just 22 minutes this season.
• An intimidating force at any time of the season, Michaela Till has put in her best performances when they matter the most. In her career, Till has a 1.42 goals-against average. In five postseason matches, Till's goals-against average drops to an incredible .52, allowing just four goals in 522 minutes between the posts.
• In matches that have gone to PKs, Jayme-Lee Hunter is 2-for-2 in coverting heer attempts, including the match winner on Sunday at Indiana State.
Using its Defense
• Evansville's goal against the Sycamores on Sunday was the first goal the Aces scored in the MVC Championship since a 2-1 loss to Illinois State on Nov. 6, 2016.
• Despite the lack of scoring, Evansville still held a 1-3 record over that span, advancing on PKs against UNI on Oct. 28, 2018 and limiting its opponents to one goal or less in all four matches.
Aces defeat Kentucky Wesleyan in final exhibition
Four players finished in double figures on Thursday to lift the University of Evansville men's basketball team to a 74-64 win over Kentucky Wesleyan in the final preseason tune-up at the Ford Center.
Leading the Purple Aces was Shamar Givance. A 9-of-10 effort from the line saw him finish with 12 points and 6 rebounds. Blaise Beauchamp had an efficient evening, totaling 15 points on a 5-for-8 outing from the field. Evan Kuhlman added 12 points and a team-high 8 rebounds while Noah Frederking hit four of his five attempts to add ten. Givance led UE with four assists while Beauchamp notched a pair of steals.
"Exhibitions are good tools to use different combinations and lineups. There are lessons to be learned and the experience you gain from these games are valuable," UE head coach Todd Lickliter said. "It definitely served its purpose as well as we could have expected. You will find out in games what the matchups and combinations are. It is good to have these experiences before opening up the regular season."
A tenacious Kentucky Wesleyan squad overcame multiple 13-point deficits to keep the game close. The Panthers were led by Jomel Boyd's 20-point, 12-rebound effort. Wyatt Battaile added 16.
Connecting on three of the opening four shots of the night, the Purple Aces jumped out to a 9-0 advantage over the first four minutes. Shamar Givance hit a triple to get the Aces on the board before the first of the night from Noah Frederking made it a 6-0 game. Frederking added a layup before a free throw by Iyen Enaruna finished off the opening run. Kentucky Wesleyan missed their opening nine attempts of the game before a triple from Jomel Boyd got them on the board at the 15:18 mark.

Following another basket by the Panthers, Aces countered to take their largest lead to that point. A 4-point play by Evan Kuhlman was followed by a triple from Blake Sisley that gave Evansville an 18-5 lead with 11:36 remaining in the opening half. Five minutes later, a pair of free throws by Jawaun Newton reestablished the 13-point advantage at 26-13. That is when KWC made its move, scoring the next ten points to make it a 1-possession game. The Panthers defense held the Aces to six consecutive missed shots while forcing two turnovers. With 1:09 remaining, a triple by Evan Kuhlman ended the stretch before a late basket by the visitors made it a 29-25 game in favor of UE at the break.

In the opening moments of the second half, Kentucky Wesleyan continued to make their way back. After a Givance basket gave UE a 31-27 lead, the Panthers rallied back with consecutive baskets to tie the score at 31-31 two minutes in. A huge turning point for the Aces came when Givance found Frederking for an open three. That basket was the start of a 12-2 stretch that saw UE go back up by double figures at 45-35. Antoine Smith Jr. capped off the run with a 3-pointer. As the game reached under 11 minutes remaining, it was Blaise Beauchamp who helped the Aces add to the lead. Back-to-back baskets by the sophomore saw UE match its largest lead at 51-38.

Kentucky Wesleyan continued to remain within striking distance, getting as close as seven points (59-52) with 5:22 on the clock, but the Aces had the answer each time and were able to fend off the challenges for a 74-64 win,
UE shot 46.9% on the night with KWC finishing at 39.0%. Helping Evansville's offense was a 12-for-24 finish from outside with the Panthers finishing 4-of-18.
With the exhibition season complete, Evansville now has its sights set on Tuesday's season opener at Cincinnati.
Ormson named All-MVC First Team as Aces earn four postseason honors
The University of Evansville women's soccer team brought home four postseason honors, it was announced at the Missouri Valley Conference Awards Banquet in Chicago, Ill. on Thursday night.
Leading Evansville on the attack, senior forward Emily Ormson garnered all-MVC First Team honors for the first time in her career. Ormson led the Aces with six goals on the season, adding an assist, and topping the team stat sheet with 45 shots. The Folscom, Cali. native is the first Ace to win first-team honors since three Evansville players were named to the first team in 2016 and is the first UE forward to make the top team since Abby Springer in 2012.
Joining Ormson with all-conference honors for the Aces were junior defender Emilie Hill and sophomore defender Rachel Rosborough who both patrolled the backline for the Aces. Helping Evansville to six shutouts on the season, the two defenders certainly locked-down opposing attacks, but also got involved on the Aces attack. Hill scored three goals on the year, second-best on the team behind Ormson, while Rosborough scored her first career goal to tie Sunday's MVC Championship quarterfinal match against Indiana State. The honor is the second for Hill, who was an honorable mention selection last season, and the first for Rosborough, who was named to the MVC's all-freshman team a year ago.
In her first season with Evansville, freshman Hailey Autenrieb receives well-earned recognition from the MVC. Autenrieb was selected to the Conference's all-freshman team after playing in all 17 matches, earning a pair of starts, while recording an assists and 12 shots.
Evansville continues its action in the MVC Championship with a semifinal match against second-seeded Valparaiso at 3 PM on Friday in Chicago, Ill.
Aces travel to Illinois State and Bradley
A pivotal road trip awaits the University of Evansville volleyball team this weekend when the Purple Aces travel to Illinois State and Bradley. UE opens on Friday evening against the Redbirds at 6 p.m. before traveling to Peoria to take on the Braves at 5 p.m. on Saturday.
Last Time Out
- Giulia Cardona recorded 18 kills, 13 digs and 5 service aces to lead the Aces to a 3-1 win over SIU on Monday evening
- UE took the first two sets before a tenacious Saluki squad pulled away in the third frame to take their first set of the night...in the fourth, the Aces clinched the match with a 25-16 decision
- Melanie Feliciano had 15 kills while Alondra Vazquez recorded a double-double with 10 kills and 15 digs
- A stellar outing saw Taya Haffner set career marks with 4 kills and 4 blocks while adding 37 assists and a pair of aces
Top Freshman
- After adding five service aces to her season tally against SIU, Giulia Cardona moved into the top ten in the nation in that statistic
- With a conference-leading 0.52 aces per set, Cardona now ranks 9th in the nation and is the top freshman in the country with her average
- Cardona won three consecutive MVC Freshman of the Week honors between Oct. 11 and 25 and was the first player to win three freshman awards in a row was Illinois State's Stef Jankiewicz in 2017
Contributing in all Facets
- Monday's win over Southern Illinois saw freshman Taya Haffner set career marks in a pair of categories - kills and blocks
- She posted 4 kills and 4 block assists - her top season tally in both
- Her assist numbers continue to add up as she continues to pace the league with 11.00 per set while sitting 14th nationally
- After reaching 50 helpers for the first time in the contest at Drake, Haffner reset her career high with 56 in the home match versus Loyola
- Averaging 10+ assists on 15 occasions this fall, Haffner has recorded at least 37 helpers in 10 consecutive matches
Moving On Up
- Madisyn Steele continues to rack up assists at an impressive level, totaling a solo block and 9 block assists over the last two matches
- Steele's season average has jumped to 0.86 per set, which is second on the team
- Over her previous 59 sets of work, Steele has registered 4 solo blocks and 51 block assists
Contribute to AceNotes
To have content considered for inclusion in AceNotes, please submit a Marketing Request Form. Deadline for submission to AceNotes is 10:00 a.m. on the requested date of publication. Only articles concerning UE related/sponsored activities will be accepted. Articles submitted to AceNotes may be edited for length and clarity. Submitter contact information is at the end of each article.