| | |
| --- | --- |
| AceNotes Today | Monday, November 1, 2021 |
Blocked Front Oval Parking at SOBA Glass Door/Elevator Entrance– Alert
On Monday morning, November 1, there will be six (6) parking spaces on the front oval blocked in front of SOBA's glass door/elevator entrance. The Office of Public Safety will be blocking off these parking spaces on Sunday, October 31 at 5:00 p.m. Blocking these parking spots is necessary to provide space for a large vendor truck delivering, staging, and installing new classroom chairs in SB170 and alcoves. Please be mindful that this exciting project will involve temporary staging of old task chairs (X99) and new sledbase chairs (Nima) in the hallways. Thank you for your patience during this one day furniture transition in SOBA.
This Week in Music
The Eykamp String Quartet, artists in residence at University of Evansville, will be presenting a concert on Tuesday, November 2 at 7:30 p.m. in Neu Chapel. The program will feature works by contemporary composers Jessie Montgomery and Gabriela Lena Frank as well as music by Florence B. Price and W.A. Mozart. The quartet will be joined by pianist Sean Cavanaugh for Price's Piano Quintet in A Minor. Admission is free and open to the public. Masks are required. The concert is also available for livestream at: https://www.evansville.edu/majors/music/calendar.cfm
CDEI Presents: I-House: First-Generation Student Panel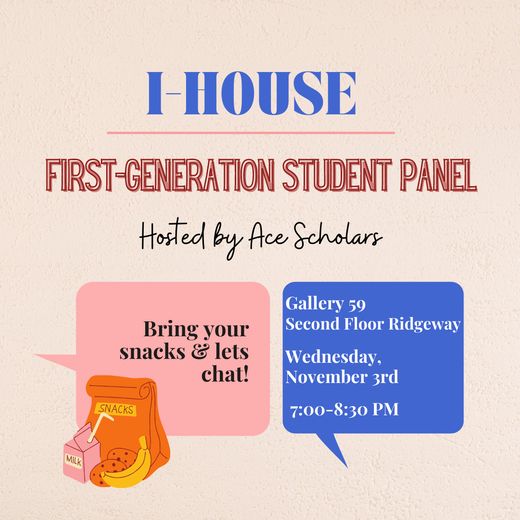 Join the CDEI on Wednesday, November 3rd in Gallery 59 (Ridgeway 2nd floor) from 7:00-8:30 pm for the third International House of the semester focusing on first-generation students.
This event, sponsored by our new organization, Ace Scholars, will give the audience an opportunity to learn what it means to be first-generation and hear the stories of first-generation students from a variety of backgrounds.
We hope to see you there!
Indiana University School of Medicine Student Panel
Please join the Health Professions Club in welcoming four current Indiana University medical students for a panel discussion 5PM, November 2 in SOBA 170. The students are looking forward to sharing their journey to medical school and the transition from undergraduate student to medical student. Included on the panel are UE alumni Morgan Saiko-Blair '18 and Luci Hulsman '20. Bring your questions!
SNACK DRIVE
Senior nursing students at the University of Evansville are sponsoring a food drive for the Dream Center. The Dream Center provides children with meals/snacks, assistance with their schoolwork, guide children in faith, and motivate them to have a positive work ethic.
The donation boxes will be located on the first floor of Ridgway and Graves Hall.
Musical Madness Call-Out Meeting
It is that time of year again to begin planning for Musical Madness!
Each year UE student organizations come together to show off their musical (or lack of) skills as they perform a short performance for the UE campus community and potential UE students (Road Trip).
There will be an interest meeting on Friday, November 5, 2021 at 5:30 PM. Only one member of an organization needs to attend to learn about the event; however, in order to be considered an active participant of Musical Madness there must be at least least three (3) members of your organization. If your organization is interested but unable to attend the meeting, please email Caroline Duffy (sd241@evansville.edu).
Join the call-out meeting using the information below:
Topic: Musical Madness Call-Out Meeting
Time: Nov 5, 2021 05:30 PM CT
Join Zoom Meeting
https://evansville-edu.zoom.us/j/96687052260
New Spring Companion Courses: Biological Perspectives on Sex and Gender (BIOL 299-01) and Premodern Sex and Gender (DISC 300-01)
The 2020-2021 Outstanding and Exemplary Teachers of the Year teamed up to create an interdisciplinary learning experience with these companion courses focusing on sex and gender. Students may sign up for each course separately or together.
Biological Perspectives on Sex and Gender (BIOL-299)
T/Th 1:15 - 2:30 PM (3 credit hours)
Dr. Julie Merkle, Dept. of Biology
Through readings and class discussions, this course will examine our understanding of sex determination, reproduction, and the evolution of sex and gender in animals, including humans. We will explore the complexity of gender diversity among animals and the roles of genetics, development, anatomy, and physiology in defining sex, gender, and fertility. Subject matter will cover sex assigned at birth and gender identity, including intersex and transgender. We will also critically evaluate misconceptions regarding the use of biology in sociopolitical discussions of gender identity. Prerequisite: GWS 101 -or- BIOL 119 -or- BIOL 107 or permission of instructor. Counts towards Biology major and Gender and Women's Studies minor.
Premodern Sex and Gender
(DISC-300, 1 credit)
Dr. Sara Petrosillo, Dept. of English and Creative Writing
Discusses theories of human sexuality, reproduction, and the construction of gender from the ancient through medieval west. Applies discussion to a literary case study: a medieval romance centering around a transgender character. Note: The time of this course will be TBA upon consensus among registered participants. Counts towards Gender and Women's Studies Minor.
Protection of Children Training for Employees
As part of the New Protection of Children Policy, all employees have been assigned the "Protecting Children on Campus: Preventing Sexual Abuse" training module. Please watch your email over the next couple of days for an external email with the Subject: University of Evansville Vector LMS, Higher Education Edition Online Training. This training module is only sixteen minutes long and you are asked to complete it on or before November 15, 2021.
If you do not find an email by Monday, October 25 and have checked your spam folder, please email riskmanagement@evansville.edu.
Advising and Registration Dates
Advising Week | October 25 – 29
Meet with your faculty advisor this week. Make an appointment now.
Registration Week | November 1 – 5
Don't miss your assigned registration window. Finalize your registration for Spring 2022.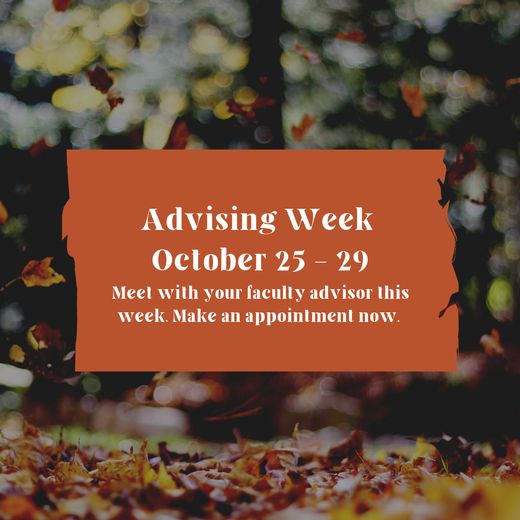 UE Alum and EVSC Teacher of the Year visits School of Education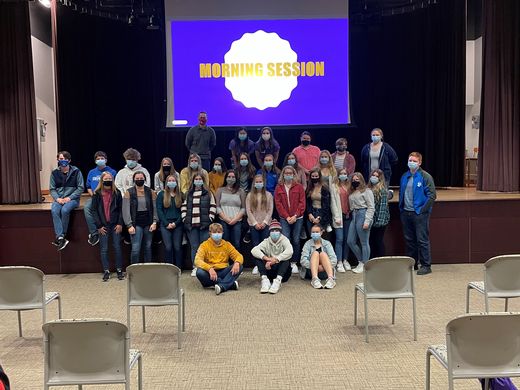 The School of Education had the privilege of hosting Peter Barringer, UE English Education graduate '12, on October 28. Peter is the current recipient of the 2021 Outstanding High School Teacher of the Year Award for Evansville Vanderburgh County. He currently teaches at Harrison High School as part of the Shepard Leadership and Law Academy. Peter spoke to high school students from both Dubois County and Memorial who participate in Cadet Teaching Programs. He also shared his expertise with several UE education classes throughout the day. We are so proud of Peter's accomplishments in the classroom.
Dr. Phil Plisky leads team of UE alumni at the inaugural International MLB Combine in the Dominican Republic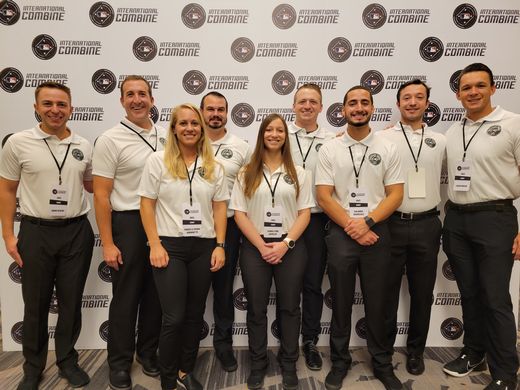 Dr. Phil Plisky, Associate Professor of Physical Therapy and Director of all Residency Programs, led a team of 9 UE alumni at the inaugural International Major League Baseball Combine in the Dominican Republic last weekend. Dr. Plisky was part of the planning and implementation of the combine and the team was part of completing necessary testing throughout the combine. "My favorite part was how engaged and inquisitive the Dominican Republic physiotherapists and medical students were in learning the testing," says Dr. Plisky.
We are all super proud of the ProRehab and University of Evansville's Sports Residency team and the Rehabilitation and Performance Institute and University of Evansville's Orthopaedic Residency team for their high quality testing. The team included: Adam Devery, AT, PTA ('19), Dr. Danielle Honnette, PT ('16, Sports Residency), Dr. Kyle Matsel, Assistant Professor of Physical Therapy, Dr. Jenna Gourlay, PT and RPI's/UE's Orthopaedic Residency Director ('15, Sports Residency), Dr. Logan Blair ('16, UEDPT and '17, Sports Residency), Dr. Rolando Rodriguez (Current Sports Resident), Dr. Ervin Velic (Current Sports Resident), and Dr. Logan Wager ('17, Sports Residency).
Haffner records career-high 56 assists in setback to Ramblers
In a contest that featured highs and lows for both teams, the University of Evansville volleyball team fell to Loyola by a 3-2 final on Saturday night inside Meeks Family Fieldhouse.
Evansville (16-6, 6-5 MVC) was led by Melanie Feliciano, who led the team in kills (19) and digs (11). Alondra Vazquez and Giulia Cardona recorded 17 and 16 kills, respectively. Another strong defensive match by Madisyn Steele saw her pick up four block assists. Taya Haffner set her career mark with 56 assists, passing her previous high of 50.
Loyola (18-6, 11-1 MVC) saw Taylor Venuto lead all players with 21 kills while Grace Hinchman tied Feliciano for the top dig tally with 11.
Set 1 – Loyola 25, UE 23
In the early part of the opening frame, it was the Ramblers who had the advantage, taking a 13-8 lead. Five UE players recorded kills over the opening portion and spreading the ball around paid off when the Aces pulled in front at 19-17. Evansville's three main weapons on offense (Alondra Vazquez, Melanie Feliciano and Giulia Cardona) each posted a kill in the stretch, forcing a Loyola time out. Following the quick break, the Ramblers regrouped to retake the lead and earn a 25-23 decision.
Set 2 – UE 25, Loyola 21
Six ties in the opening portion of the second game led to an 11-11 score. A Feliciano kill, followed by a Cardona service ace, gave the edge to the Aces. Cecilia Thon picked up her first ace of the night to help her team extend the lead to 19-14. The Ramblers fought back with consecutive Venuto aces to make it a 22-19 UE advantage before cutting it to a pair at 23-21. The Aces were able to regroup and force a pair of LUC errors to knot the match with a 25-21 win.
Set 3 – UE 27, Loyola 25
Evansville turned a 3-3 tie into a 6-3 lead thanks in part to stellar serving by Laura Ruiz, who posted an ace. Kills by Kate Tsironis and Vazquez were part of another stretch that saw UE double up the Ramblers at 14-7. Things appeared to be going the Aces way as their advantage stood strong at 20-14, but Loyola had other ideas. A 10-4 run erased the Evansville lead and tied the set at 24-24. With the score tied at 25-25, kills by Cardona and Feliciano clinched the 2-1 UE lead.
Set 4 – Loyola 25, UE 18
The Ramblers put together their top performance in the fourth set, grabbing an 11-8 lead. A pair of Vazquez kills helped to tie it up at 12-12, but a 5-0 Rambler stretch gave them a 17-12 lead. Evansville was unable to rally with the Ramblers forcing a decisive fifth set with a 25-18 victory.
Set 5 – Loyola 15, UE 12
Following three early ties, Loyola picked up three in a row to open up a 6-3 advantage. UE did its best to come back, utilizing an error by LUC to cut the deficit to 9-8. Two more Rambler points gave them the cushion that they need to take a 15-12 win and clinch the match.
Monday evening will feature the third home match in four days for UE, who welcomes Southern Illinois to Meeks Family Fieldhouse for a 6 p.m. contest.
Aces upset Sycamores to earn spot in MVC Championship semifinals
Turning-in a complete performance, the University of Evansville women's soccer team overcame an early deficit, forcing penalty kicks before finishing with a 5-3 advantage over Indiana State to advance in the MVC Championship on Sunday afternoon in Terre Haute, Ind.
In goal, redshirt senior Michaela Till was stellar again, making nine saves and allowing one goal in the draw. On the attack for Evansville, sophomore Rachel Rosborough picked the best time to score her first career goal, finding the back of the net to equalize the match.
After going back-and-forth for the first minutes of the match, Indiana State jumped in front first. In the 15th minute, the Sycamores' Anna Holcombe recorded a shot from the top of the box that skipped across the turf and deflected off the post and in to give ISU a 1-0 lead, an advantage it would hold at the half.
Despite trailing at the break, Evansville wasted little time equalizing the match in the second half. In the 47th minute, fifth-year senior Jayme-Lee Hunter slipped a ball to Rosborough, who went to the far post, past a diving Sycamore keeper to tie the match at one. Over the rest of the second half, Evansville was tasked with holding-off a surging Sycamore attack. In all, Indiana State recorded 17 shots in the second 45-minute period, but the Aces were up to it. The best chance of the half for ISU came in the final minutes of regulation. With less than two minutes remaining, a ball was deflected into the 18-yard box that Till chased after, once the ball hit, it spun back towards the Indiana State forward, forcing Till to make a tough play, subsequently colliding with the Sycamores forward in the process, earning ISU a penalty. On the penalty, Indiana State's CeCe Wahlberg went to Till's right, but the Avon, Ind. native was not fooled, picking correctly and punching the attempt away to preserve the tie and force overtime.
Another 20 minutes was not enough as the Aces allowed just one shot on-goal, coming in the second OT, that Till saved, sending the match into PKs.
In the first round of penalties, Evansville's Abby Phelps converted and the Sycamores' Maddie Alexander answered. In the second round, Emily Ormson converted and then Till showed up when it counted most again. As Isabella Hunter attempted her try, Till again made a save on a PK, giving Evansville the advantage. Down the stretch, Evansville was true again and again. Following conversions by Emilie Hill and Morgan Blair, the pressure fell on the shoulders of Jayme-Lee Hunter. The New Zealand native approached the ball and perfectly placed it into the top left corner, ending the match and sending the Aces to the MVC Championship semifinals.
Evansville will continue its postseason journey on Friday in Chicago, Ill. as the Aces face the No. 2 seed Valparaiso in the semifinals at Loyola Soccer Park at 3 PM.
Men's Soccer continues run with 2-0 shutout of Drake on Senior Day
Continuing its run of good form, the University of Evansville men's soccer captured a 2-0 shutout victory over Drake on Senior Day at Arad McCutchan Stadium in Evansville, Ind.
"It's been a long stretch of games for the guys and as I told them after the game today, I don't think there's any question we're a better team now than we were when we started this seven-game stretch," said Evansville head men's soccer coach Marshall Ray. "We kept our composure under some adverse circumstances and were able to keep two clean sheets in a row. We've got some guys banged up and we're going to have to take this week to rest, recover, and get prepared to go to Bradley. Our season is in front of us."
In goal, it was the second-straight shutout for redshirt junior Jacob Madden, who made three saves and was supported by an exceptional performance from the backline. On the attack, redshirt junior Jakub Hall turned-in what might be his best performance as an Ace, scoring twice with opportunities to record a hat trick with four shots on the afternoon.
Evansville scored quickly to take control of the match, finding the opener within the match's first quarter hour. With sophomore Pablo Guillen on the ball, Hall sprinted to the backline as Guillen slipped a well-timed through ball. Hall took a dribble and chipped the keeper, giving the Aces a 1-0 lead in the 15th minute. Drake would put three shots on-goal in the first half, challenging Madden. In the 35th minute, the Bulldogs generated their best chance of the day, sending a ball towards goal that an Evansville defender headed away as UE held the 1-0 advantage at the break.
To start the second half, it was again Evansville who came out on the front foot. Earning a free kick near midfield in the 58th minute, it was freshman Oliver Hald who stood over it. Hald sent a sailing ball into the box that junior Ethan Garvey found the end of, heading back towards the central part of the box. On the spot was Hall, who flicked the ball in on the first touch, doubling Evansville's lead and giving the West Lafayette, Ind. native his brace. The final half-hour of the match featured few chances for either side as Evansville's defense held strong in the 2-0 win.
The shutout was the third of the season for Evansville and the 2-0 win for the second-straight match marked the first time Evansville has recorded back-to-back two-goal-plus shutout wins in MVC play since 2010 when the Aces earned 3-0 and 5-0 wins over Eastern Illinois and Central Arkansas. The last time it happened with at least one of the matches coming on the road was in Oct. 1990 with wins over Loyola and at Marquette.
Evansville closes-out the regular season at 7 PM on Saturday, Nov. 6 with a trip to Peoria, Ill. to take on Bradley.
Feliciano posts double-double to open weekend
Melanie Feliciano recorded her fifth double-double of the season as the University of Evansville volleyball team opened the weekend with a 3-1 loss to Valparaiso on Friday night inside Meeks Family Fieldhouse.
Feliciano led the Purple Aces (16-5, 6-4 MVC) with 17 kills along with 10 digs. It marked the 8th match in a row for the junior with 12 or more kills. Alondra Vazquez had a strong outing with 14 kills while Giulia Cardona checked in with 13. Taya Haffner recorded a double-double of her own, adding 40 assists and 13 digs, both team highs. Hannah Watkins picked up two solo blocks and four block assists in the contest.
Set 1 – Valpo 25, UE 13
Valparaiso (16-6, 7-4 MVC) had the upper hand in the first set, taking an 8-2 lead to open the match. Evansville clawed its way back into it when Cecilia Thon picked up a service ace before a Beacon error saw UE cut the deficit to 9-7. A kill by Giulia Cardona once again cut the lead to a pair (12-10), but a 9-0 run was the difference for Valpo, who took a 21-10 lead before taking the set by a 25-13 final.
Set 2 – UE 25, Valpo 9
Evansville opened the set on one of the best runs you will ever see. The Aces scored the first 11 points before extending the lead to 16-1. Taya Haffner did the serving in the early part while Alondra Vazquez picked up three kills. Hannah Watkins and Melanie Feliciano added kills that pushed the lead to 15 points. The first four Valpo points came on UE service errors before their offense added a kill to make it 19-5. The Aces took the set by a 25-9 score to tie the match at 1-1.
Set 3 – Valpo 25, UE 20
With the first two sets featuring a lopsided win for each team, the third frame was much closer. Once again, it was Valpo taking the early lead, opening up a 9-5 edge. The Aces countered with three Vazquez kills in a row to cut the gap to 9-8. Just a few rallies later, kills by Cardona and Feliciano knotted the score at 13-13. Unfortunately, the Aces could not get the point they needed to take the lead. The Beacons slowly took control as a 25-20 decision gave them a 2-1 lead.
Set 4 – Valpo 25, UE 22
Another hard-fought set saw both teams take the early advantage before Valpo broke a 10-10 tie with a pair of scores. The Aces continued to battle, posting three tallies in a row to tie the score at 18-18. Feliciano added the final two kills in the run. Following a timeout, the Beacons scored two in a row and would go on to clinch the match with a 25-22 win.
On Saturday, the Aces look to begin a new streak when they host Loyola at 4 p.m. inside Meeks Family Fieldhouse.
Aces take 74-45 win in exhibition opener
Emmette Page and Shamar Givance recorded 14 points apiece to lead the University of Evansville men's basketball team to a 74-45 victory over Mount St. Joseph in the exhibition opener on Saturday at the Ford Center.
Page had an efficient 5-of-6 day from the field while Givance added five rebounds and five helpers, both the highest totals on the team. In his debut for the Purple Aces, Antoine Smith Jr. scored 13 points while hitting three triples.
"It was good to finally get out and play someone different than ourselves, and it is nice to now have the game film and we can go back and see what we did well today and what we need to improve upon," UE head coach Todd Lickliter said after the game. "We will go back, look at film and get better before Thursday."
Mount St. Joseph saw the duo of David Luers and Kris McClure score eight points apiece with Devin Young accounting for seven.
Noah Frederking tallied the first points of the contest, hitting a triple at the 17:27 mark to give UE a 3-0 lead. His shot ended a 0-for-4 start from the field. Mount St. Joseph countered with their first points on the ensuing possession before the Aces scored five in a row to open a 7-2 lead. Iyen Enaruna scored four in a row in the run.
The Lions did not let the early deficit phase them as they battled back to take an 11-10 lead on a basket by Evan Wieh just over seven minutes in. Trailing for the first time, Evansville took control, going on a 15-3 run to take a 25-14 advantage. With the score knotted at 13-13, a free throw by Page gave Evansville the lead for good. Over a stretch of nearly seven minutes, the Aces held the Lions to just two free throws while forcing them to miss six shots in a row while forcing a pair of turnovers.
Antoine Smith Jr. connected on a 3-pointer to get things rolling before Blaise Beauchamp finished the run with a jumper to push the lead into double figures for the first time with 5:23 remaining in the first half. A tenacious Lions squad continued to fight, getting within eight (30-22) inside of the 3-minute mark. Another UE run shifted the momentum as the Aces scored 10 in a row over the final minutes to take a 40-22 advantage into the break. Five points came from Shamar Givance before Smith wrapped up the half with his second 3-pointer of the day.
Over the first seven minutes of the final period, the advantage for Evansville hovered between 14 and 19 points with Mount St. Joseph doing its best to stay in the contest. With 12:55 on the clock, an and-one by Page pushed the lead to 22 (52-30) and Evansville would cruise from there. Gage Bobe recorded a triple that made it a 30-point game with 8:15 remaining before the game would Aces won by a final of 74-45.
A total of 3,159 fans were in attendance at Saturday's contest following last season where attendance was limited due to the COVID-19 pandemic. Shamar Givance explained how the support made a difference with more a of a normal atmosphere.
"It was nice to have the fans back today. Last year was really different, but today felt more like normal. It was great to have the fans back," Givance exclaimed.
Another exhibition game is on tap Thursday when the Aces welcome Kentucky Wesleyan to the Ford Center for a 6 p.m. contest.
Lowry, Epur Lead Aces At MVC Cross Country Championships
University of Evansville graduate student Anna Lowry (Taylorville, Ill./Taylorville) and sophomore Peter Epur (Eldoret, Kenya) paced the Purple Aces' cross country teams on Friday, as UE competed in a water-logged Missouri Valley Conference Championship at Weibring Golf Course in Normal, Illinois.
"Today was a tough meet, as the race conditions were very difficult," said UE cross country head coach Don Walters. "The rain all week made the course very soft, and in spots, it was hard to walk, let alone run, let alone run competitively.
"I thought both teams really battled through today."
Lowry led the way on the women's side for UE by posting the third-fastest 6-K time in school history with a mark of 22:00.1 to place 18th overall. It marked the second-consecutive race in which Lowry posted the third-fastest 6-K time in UE history, as she now owns the second, third and fourth-fastest 6-K times in school history.
"I thought Anna actually ran a really good race today," said Walters. "The Valley on the women's side is really tough this year, and she competed really well and was able to post one of the best times in school history in the 6-K. That's saying something."
Senior Sam Weldon (Fort Wayne, Ind./Bishop Dwenger) ran second for UE for the fourth-straight race, posting a 6-K time of 24:31.7 to place 63rd in the Valley. Freshman Ellie Stewart (Lombard, Ill./Glenbard South) ran third for UE in her first Valley Championship, with a time of 25:35.9. Senior Emma Boebinger (Frankfort, Ky./Western Hills) finished just seconds off of her personal-best 6-K time with a mark of 25:44.5 to run fourth for the Aces, and sophomore Hannah Bryan (Evansville, Ind./Reitz) rounded out UE's scoring pack with a time of 28:33.8.
On the men's side, Epur was the first Purple Ace to cross the finish line in the men's 8-K race with a time of 27:19.1 to place 57th overall. Freshman Adam Oulgout (St. Paul, Minn./Central) continued his strong rookie campaign by running second on the team for the fifth-straight race with a time of 28:51.0. Senior Carson Kline (Terre Haute, Ind./South) was just seconds behind Oulgout to cut over a minute off of his best 8-K season time with a mark of 28:59.8. It marked Kline's best race at UE since his sophomore year.
Graduate student J.J. Pedersen (Milford, Conn.) and freshman Justin Nichols (Lewis Center, Ohio) rounded out UE's scoring pack with times of 29:08.7 and 29.28.5 respectively. Sophomore Luke Watts (Austin, Ind./Austin) also had his best race as a Purple Ace, cutting over a full minute off of his person-best 8-K time with a mark of 31:45.3.
"I really have to give credit to Carson and Luke," said Walters. "They both ran outstanding races, and to cut a full minute off of your best time of the year today is pretty impressive."
Evansville will take this next week off before hosting the biggest meet in program history, as UE will serve as the host for the 2021 NCAA Great Lakes Regional Championship meet at the Angel Mounds Cross Country Course. It is the first time in which the Division I regional championship races have been run in Evansville.
# # #
MVC Championship Results (Team)
Men's 8-K:
1) Drake 20
2) Bradley 53
3) Loyola 95
4) Illinois State 117
5) Southern Illinois 121
6) Indiana State 145
7) UNI 174
8) Valparaiso 240
9) Evansville 307
Individual Winner: Isaac Basten (Drake) 24:13.0
Women's 6-K:
1) Loyola 36
2) Bradley 62
3) Illinois State 90
4) Southern Illinois 111
5) Drake 127
6) UNI 160
7) Missouri State 162
8) Indiana State 165
9) Valparaiso 294
10) Evansville 302
Individual Winner: Anneka Murrin (Loyola) 20:35.3
Women's golf to wrap up fall season in North Carolina
A trip to Grandover, North Carolina will mark the final event of the fall for the University of Evansville women's golf team, who will take part in the Grandover Invitational on Monday and Tuesday.
The East Course of the Grandover Resort will be the host course for the 3-round event. A shotgun start commences play on Monday at 8:30 a.m. ET before the final round takes place on Tuesday with another 8:30 a.m. shotgun start. Par will be 72 while the yardage comes in at 6,155.
Other teams in the tournament include: UNC Greensboro, Delaware State, East Tennessee State, High Point, Lander, Marshall, North Carolina A&T, North Carolina Central, Longwood, Towson, South Dakota, Wake Forest and William & Mary.
Evansville is coming off of its home tournament – the Braun Intercollegiate. Caitlin O'Donnell was the Purple Aces' top performer, earning a tie for 10th place. After shooting a 78 on the first day at Oak Meadow Country Club, O'Donnell carded an 80 in the second round to finish with a 158. The low score for the final 18 on the UE squad belonged to Mallory Russell. After shooting an 82 in the first round, Russell lowered her tally by four strokes on her way to a 160. She finished in 16th.
Alyssa McMinn and Allison Enchelmayer were tied following the first round of action and did the same in the final 18. The duo each finished round one with an 83 before totaling 81 strokes in the last round. Carly Frazier notched scores of 79 and 85 to tie McMinn and Enchelmayer for 21st place with final tallies of 164.

Magdalena Borisova was UE's top individual finisher. She tied for 37th in her first college tournament with a 171. After carding an 86 to open play, she lowered her final on Tuesday by one to an 85. Taylor Keating was seven spots behind her with a 184. Her scores checked in at 91 and 93.
As a team, UE finished the tournament in 5th place, just one stroke behind a tie for third place.
Postseason begins for Aces at Indiana State
After capturing the six seed in the MVC Championship, the University of Evansville women's soccer team travels to take on third-seeded Indiana State in Terre Haute, Ind. at Noon (CT) on Sunday.

Last Match: Evansville 0, Missouri State 0 (2OT)
• Led by a historic performance from fifth-year senior goalkeeper Michaela Till, the University of Evansville women's soccer team captured a result with a 0-0 draw with Missouri State on Thursday evening at Arad McCutchan Stadium in Evansville, Ind.
• Prior to the match, the Aces honored eight seniors who have contributed immensely to this program. These eight student-athletes combined to record over 30,000 minutes on the pitch, score 29 goals, deliver 16 assists, and recorded 380 saves. This season, this group helped Evansville achieve its best start in program history and earn a #5 ranking in the United Soccer Coaches Midwest Region poll for three-straight weeks.
• Evansville was active on the attack in the opening 45 minutes, out-shooting the Bears, 10-6, in the first half. The Aces nearly took the lead inside the first 10 minutes as Ormson let loose a shot from the top of the box that dipped over the keeper's head and glanced off the crossbar. Ormson put a shot on frame later in the half that were saved, along with chances from Jayme-Lee Hunter and Emily Wolak, but the match went to half tied, 0-0.
• In the second half, Evansville stayed solid defensively, facing eight shots from the Bears, keeping the match scoreless as it trickled to overtime. The first overtime saw four combined shots between the two sides with three coming from the Aces. Ormson again challenged the Bears with a shot on goal, but it was saved as the match moved to a second overtime. In the final overtime period, neither side could muster a shot as the game ended in a scoreless tie.
Previewing the Matchup
• Sunday's matchup marks the 27th all-time meeting between the Aces and Sycamores with Evansville owning a 14-10-2 advantage in the series.
• In the regular-season meeting between the two sides, Indiana State captured a 4-1 win in Terre Haute on Oct. 3.
• This marks the fourth time that the Aces and Sycamores have met in the MVC championship with Evansville holding a 3-1 record in such matches.
• The last time the two met in the postseason, Indiana State captured a 2-1 win on Nov. 2, 2012 in Omaha, Neb.
• Dating back to the 2014 season, Evansville has earned a result in six of the last eight meetings in the series with the Aces owning a 5-2-1 record during that span.
Till Makes History
• On a night that will be remembered in the history books, it was another classic performance by Michaela Till.
• Needing five saves entering the match to become the all-time saves leader at UE, Till secured seven, doing so in her 17th career shutout, tying Till for second-most in program history.
Seven to be honored as Aces host Drake on Senior Day
On a day that will honor the efforts of seven student-athletes, the University of Evansville men's soccer team hosts its Senior Day match on Sunday at 2 PM against Drake at Arad McCutchan Stadium in Evansville, Ind.
Previewing the Matchup
• Meeting for the second time this season, the Aces and Bulldogs will be meeting for the 39th time in series history with Drake owning a 21-15-2 advantage in the all-time series.
• In this season's earlier matchup in Des Moines, the Bulldogs edged-out a 1-0 win on Oct. 3.
• The Aces enter Sunday's meeting looking for their first win over Drake since a 2-1 triumph at McCutchan Stadium on Oct. 13, 2018 that featured an 89th minute goal to earn Evansville the win.
• Sunday's match holds plenty of postseason implications. The Aces enter the weekend currently in fourth in the conference and in position to host an MVC Championship quarterfinals match. Evansville holds its fate in its own hands, playing Drake, who currently sits in third, and Bradley, who sits sixth. A win for Drake would likely solidify a home match to open the postseason.
Last Match: Evansville 2, SIUE 0
• Putting together a complete 90-minute performance, the University of Evansville men's soccer captured a 2-0 victory on the road at SIUE on Wednesday night in Edwardsville, Ill.
• "There's no quit in this group. I'm proud of the guys," said Aces head men's soccer coach Marshall Ray. "It's been a struggle at times this season, but we've continued to work hard, battle, and compete. This is a good road win in The Valley for us. Now we have to get prepared for a home match and Senior Day against Drake. The whole season's in front of us."
• An efficient attack proved to be just what the Aces needed as Evansville recorded six shots on the night, putting five on frame and two in the back of the net. Redshirt junior Jakub Hall scored his first goal of the season to kick-off the scoring, followed by senior Davis Peck adding his second of the year. In goal, redshirt junior Jacob Madden put on another impressive performance, recording his second shutout of the season, while making five saves.
• Keeping possession for long stretches, the Aces played out of the back and it paid dividends. Evansville's first opportunity was converted in the 12th minute as freshman Jose Vivas slipped a clever through ball to a sprinting Hall, who put the ball across the face of goal and found the back of the net. A stout defensive effort showed itself early for the Aces as SIUE only recorded three shots after the 10-minute mark, putting none on frame.
• In the second half, Evansville turned-up the heat with run after run from junior Nkosi Graham, Vivas, and Peck. Vivas tallied his lone shot of the evening in the 53rd minute, putting pace behind the ball and forcing a tough save from the Cougars keeper Tor Erik Larsen. Graham got his chance in the 63rd minute, looking to slip the ball in near post, but again Larsen made the save. It was Peck's turn in the 64th minute with a shot that Larsen was able to corral from point-blank range. Less than five minutes later, Peck would get another chance against Larsen in a similar situation. After a giveaway, Peck received the ball at his feet and nutmegged a defender to find himself one-on-one with the keeper. This time, Peck chipped the ball over the keeper, giving Evansville a 2-0 lead with less than 25 minutes to play.
• The threat was not over from the Cougars as in the 77th minute SIUE nearly halved Evansville's advantage. A pair of shots from close range came at Madden, but the Round Rock, Texas native calmly handled the first that rebounded out and collected the second to preserve the lead as the Aces captured the 2-0 win.
• The win was Evansville first two-goal win on the road since a 2-0 victory at Belmont on Oct. 18, 2016.
Senior Day
• On Sunday, the Aces will honor seven seniors who have made a strong impact on the team and this university, on and off the pitch.
• The seven seniors have contributed seven goals, five assists, and 41 saves, while playing in a combined 205 matches.
Reviewing the Non-Conference Slate
• With the regular season winding down, let's take a look back at the Aces non-conference schedule.
• Of Evansville's seven non-con opponents, six enter the final week of the season in contention to win their respective conference's regular season championship.
• Louisville, Indiana, and Denver all lead the ACC, Big Ten, and Summit League, respectively, while Belmont is just a half game back in the SoCon, Air Force is three points back in the WAC, and Lipscomb sits just three points behind Central Arkansas in the Sun Belt.
• In terms of past opposition, the Aces have faced the 11th-most difficult schedule in the nation.
Men's basketball hosts exhibition game on Saturday
Basketball season has officially arrived at the University of Evansville with the men's basketball team set to open exhibition play on Saturday against Mount St. Joseph. Set for a 1 p.m. tip, it will mark the first of two exhibition contests for the Purple Aces.
Setting the Scene
- Four starters highlight an experienced group that heads into the 2021-22 season with Evan Kuhlman, Noah Frederking, Jawaun Newton and Shamar Givance back in the lineup
- The lone starter to graduate as Jax Levitch, who started last season for UE as a graduate transfer
- Six newcomers join the team including four freshmen, a sophomore and a junior
Wrapping up 20-21
- Last season saw a rapid climb up the Missouri Valley Conference ladder for UE, who went from an 0-18 mark in 2019-20 to a 7-11 finish a season ago
- With its improvement, UE became just the second team in MVC history to follow a winless conference season with seven victories
- The 7-game improvement for UE is the best that the conference has seen since Loyola went from eight league wins in 2016-17 to 15 a season later
- Evansville is the first team to jump from 10th in the MVC standings to a top five seed since Drake went from 10th in 2017 to 4th place in 2018
- UE completed the regular season in 5th place, marking its MVC finish since 2016
Last Time Out
- Facing Indiana State in its Arch Madness opener in March, the Aces fell by a final of 53-43 at the Enterprise Center
- Evan Kuhlman and Noah Frederking led the way with 10 points apiece while Jawaun Newton totaled 9 rebounds
- The Sycamores held a 43-41 lead with 8:19 remaining in the contest before the defense held UE to just two points over the duration of the contest to seal the win
A Brief History Lesson
- While Saturday's exhibition contest does not count as an official game, this will mark the second meeting between the Aces and Lions
- On December 22, 2016, the teams met inside the Ford Center with UE taking a 68-55 win
- Evansville's star that game was Jaylon Brown, who totaled 33 points and 6 rebounds...he connected on 11 of his 16 field goal attempts
First Time for Everything
- Last season, Evansville became the first team in MVC history to average double digit 3-point makes in conference only games
- The Aces finished with 10.0 3-pointers per contest in its 18-game Valley slate...the closest any other team came was the 2007-08 Bradley squad, who finished with 9.8 triples per contest
Scouting the Opponent
- Limited to 12 games last season, Mount St. Joseph went 2-10 while dropping both of its Heartland Conference contests
- The Lions are led by a pair of double figure scorers in Brady Thomas and Tanner Clos
- Thomas led the squad with 14.4 points while Clos completed the season with 12.4 PPG
Using The 3
- One of the staples of the Evansville offense last season was its outside shooting, the 3-point shot accounted for 44.5% of the Aces offense - the second-highest tally in the NCAA
- As a team, UE has averaged 9.6 triples per game (20th in the nation) while hitting a total of 240 (29th in the country)
- Through the 25-game season, 49.0% of the Aces field goal attempts came from outside marking the third year in a row that over 40% of UE's field goal tries have come beyond the arc (43.7% in 2018-19, 42.4% in 2019-20)
What's on tap?
- In its season opener, the Aces will match up against the University of Cincinnati for the first time since 1990...the programs have met just five times in their history with the Bearcats winning three of those games
- UE opens the home schedule against IUPUI on Nov. 11...the teams last met on Nov. 30, 2019 in Indianapolis with UE grabbing a 70-64 road win
Contribute to AceNotes
To have content considered for inclusion in AceNotes, please submit a Marketing Request Form. Deadline for submission to AceNotes is 10:00 a.m. on the requested date of publication. Only articles concerning UE related/sponsored activities will be accepted. Articles submitted to AceNotes may be edited for length and clarity. Submitter contact information is at the end of each article.