| | |
| --- | --- |
| AceNotes Today | Friday, October 29, 2021 |
Blocked Front Oval Parking at SOBA Glass Door/Elevator Entrance– Alert
On Monday morning, November 1, there will be six (6) parking spaces on the front oval blocked in front of SOBA's glass door/elevator entrance. The Office of Public Safety will be blocking off these parking spaces on Sunday, October 31 at 5:00 p.m. Blocking these parking spots is necessary to provide space for a large vendor truck delivering, staging, and installing new classroom chairs in SB170 and alcoves. Please be mindful that this exciting project will involve temporary staging of old task chairs (X99) and new sledbase chairs (Nima) in the hallways. Thank you for your patience during this one day furniture transition in SOBA.
CDEI Presents: I-House: First-Generation Student Panel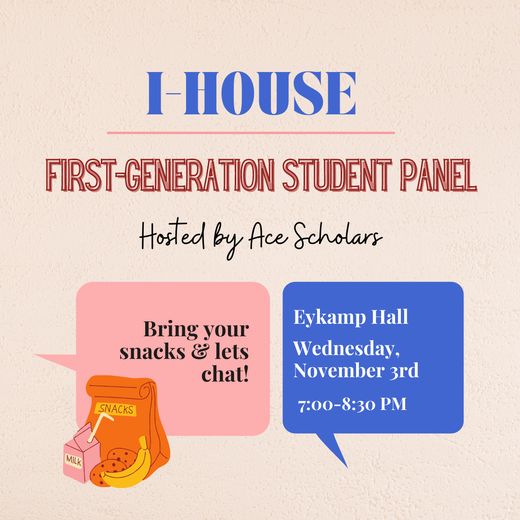 Join the CDEI on Wednesday, November 3rd in Eykamp Hall (Ridgeway 2nd floor) from 7:00-8:30 pm for the third International House of the semester focusing on first-generation students.
This event, sponsored by our new organization, Ace Scholars, will give the audience an opportunity to learn what it means to be first-generation and hear the stories of first-generation students from a variety of backgrounds.
We hope to see you there!
Vanderburgh Tire Recycling Day
Did you know "the Solid Waste District conducts a tire recycling program each year for the residents of Vanderburgh County. This program provides an environmentally proper method of disposal of used tires so that they are kept out of the landfill and are not illegally dumped. The first four car & light truck tires are accepted at no charge. There is a $1 per tire fee thereafter. Semi tires are $10 and tractor tires are $25. Tires from businesses are not accepted. The District accepts an unlimited number of tires free of charge from neighborhood associations and other civic groups who collect unwanted tires from alleys, roadsides and ditches.
The 2021 tire recycling day will be held on Saturday, October 30, 2021 from 9:00 am - 12:00 pm in the Civic Center parking lot."
For more information, call Solid Waste District at 812-436-7800 or check out their website at https://www.evansvillegov.org/city/department/division.php?structureid=261
Gamma Phi Omega International Sorority Inc. Tabling and Informational Meeting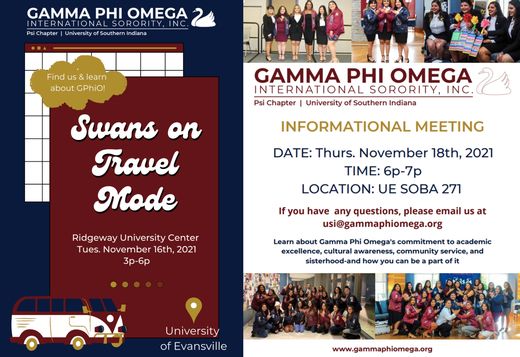 Do you want to learn about Multicultural Greek life opportunities on campus?
On Tuesday, November 16th, Gamma Phi Omega International Sorority Inc. will be tabling from 3:00- 6:00 pm in Ridgeway University Center.
Gamma Phi Omega is also hosting an informational meeting on Thursday, November 18th from 6:00- 7:00 pm in SOBA 271.
Stop by the tabling and informational meeting events to learn about Gamma Phi Omega's commitment to academic excellence, cultural awareness, community service, and sisterhood- and how you can be a part of it!
Collaborative Online Tools Workshop- New time
Explore various tools that facilitate collaboration among students or teams. We will discuss selected platforms and brainstorm potential applications. Facilitated by Kristen Strandberg and Leslie Barton.
Date: Friday, October 29, 1:00-2:00 PM
*Please note that the time has been changed from what appeared in previous AceNotes
Location: SOBA 173
UE Clay Club Chili Bowl Sale
Due to forecasted rain, the Chili Bowl Sale has been moved to Friday, October 29, from 11:30AM-1PM. The sale will be held indoors in Eykamp Hall instead of the East Terrace Lawn. Please view the map below to see where the line begins and ends. Volunteers will be there to help guide visitors through the lines.
Plan to stop by to purchase your chili bowls and fill with Chef Brown's chili (paper containers are available if you prefer not to use the bowls). Seating will be available for those who would like to have their chili in Eykamp. Masks will be required at all times except while eating.
Patrons will be given a number upon arrival at a check in table for a certain group (1, 2, 3, 4, 5). Groups will then be allowed into the sales area to pick out the bowls in 10-minute increments. Subsequent groups will be allowed in after the previous one is finished. Please be respectful of everyone's space.
For $10, customers can buy a one-of-a-kind ceramic bowl and chili. Larger bowls from $15-$50 will also be for sale. Some more artistic larger bowls will be sold at a silent auction as well ranging in price from $75-$125. Customers can only buy a maximum of eight chili bowls. Cash or check (made out to UE Clay Club) only for the event.
The bowls are made by members of the Clay Club and other UE students, faculty, staff, alumni, and members of the community.
This year 100% of the sales will go to St. Vincent de Paul's Food Pantry. The Clay Club members chose this organization to assist in fighting hunger in our local area.
The purpose of the Clay Club is to help further the knowledge of the ceramic arts at the University of Evansville, to provide activities (social and educational) to all interested students, and to offer visibility of the ceramic arts to the University and the community as a whole.
The Clay Club members raise funds to attend conferences, visit museums and galleries, and host visiting artists.
Professor Matteson, Chair of the Department of Art and Advisor to Clay Club said: "A lot of hours went into creating these unique ceramic bowls. The artists dedicated a lot of energy and hard work. I am blessed to have such a wonderful group to work with on such a great cause."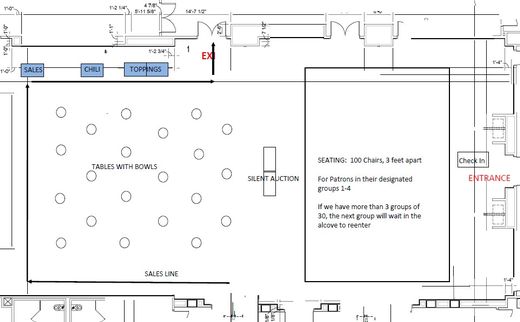 Toiletry Drive to Benefit Albion Fellows Bacon Center
Through October 31st, the American Physical Therapy Association (APTA) Indiana Southwest District will be collecting items to benefit the Albion Fellows Bacon Center. One of their many services is to provide emergency shelter as a safe haven to those who have experienced domestic or sexual violence. The items on their wishlist include deodorant, hair brushes, ladies underwear sizes 9-12, lotion, mouthwash, paper towels, plus size pants, reusable tote bags, rubbing alcohol, and toothpaste. Please place donated items in the collection box located in the lobby of Graves Hall. Contact sg184@evansville.edu with any questions.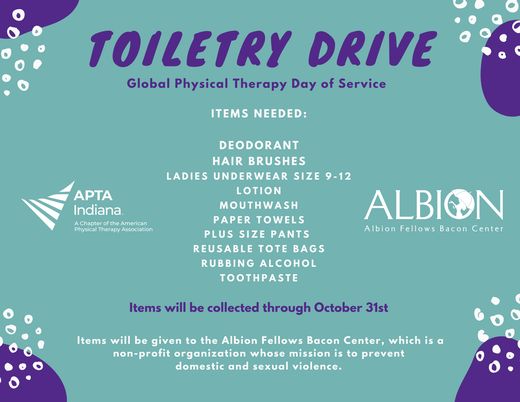 New Spring Companion Courses: Biological Perspectives on Sex and Gender (BIOL 299-01) and Premodern Sex and Gender (DISC 300-01)
The 2020-2021 Outstanding and Exemplary Teachers of the Year teamed up to create an interdisciplinary learning experience with these companion courses focusing on sex and gender. Students may sign up for each course separately or together.
Biological Perspectives on Sex and Gender (BIOL-299)
T/Th 1:15 - 2:30 PM (3 credit hours)
Dr. Julie Merkle, Dept. of Biology
Through readings and class discussions, this course will examine our understanding of sex determination, reproduction, and the evolution of sex and gender in animals, including humans. We will explore the complexity of gender diversity among animals and the roles of genetics, development, anatomy, and physiology in defining sex, gender, and fertility. Subject matter will cover sex assigned at birth and gender identity, including intersex and transgender. We will also critically evaluate misconceptions regarding the use of biology in sociopolitical discussions of gender identity. Prerequisite: GWS 101 -or- BIOL 119 -or- BIOL 107 or permission of instructor. Counts towards Biology major and Gender and Women's Studies minor.
Premodern Sex and Gender
(DISC-300, 1 credit)
Dr. Sara Petrosillo, Dept. of English and Creative Writing
Discusses theories of human sexuality, reproduction, and the construction of gender from the ancient through medieval west. Applies discussion to a literary case study: a medieval romance centering around a transgender character. Note: The time of this course will be TBA upon consensus among registered participants. Counts towards Gender and Women's Studies Minor.
UE Center for Innovation & Change Presents at Toyota Mobility Foundation Workshop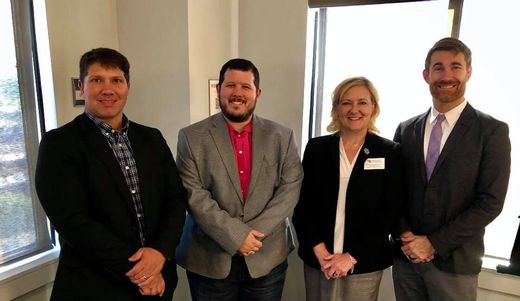 Tuesday, October 27th, Dr. Derek Jones, UE CFIC Faculty Director, and Brooksie Smith, UE CFIC Associate Director, highlighted projects the University of Evansville Changemaker students are working on or moving toward, which address mobility from several angles.
Several representatives from Toyota Motor North America, Toyota Financial Services, Toyota Connected, Toyota Mobility Foundation, Energy Systems Network, Ninetwelve, and SBA were in attendance.
Other Evansville Regional partners also present included The Honorable Lloyd Winnecke, Greg Wathen (President, Evansville Regional Economic Partnership), Tara Barney (CEO, Evansville Regional Economic Partnership), Welborn Baptist Foundation, United Way of Southwest Indiana, Junior Achievement of Southwest Indiana, Talent 2025, Henderson Economic Development, and Evansville Metropolitan Planning Organization.
Pictured from left: Gary Rainy (National Manager, Strategic Innovation, Toyota Financial Services), Trey Ingram, (Program Manager, Toyota Mobility Foundation), Brooksie Smith, and Dr. Derek Jones.
Student Tickets - Men's Basketball
University of Evansville Students may begin to request tickets for Men's Basketball home games! Please come to the Carson Center Ticket Office the week of the game you are planning on attending to request a your ticket. Your Student ID must be shown at the Ticket Window when picking up tickets. Tickets will also be made available at the Ford Center Skywalk entrance on the day of the game.
*For the game on October 30th only, tickets will be made available at the Interior Ticket Office Lobby and the Skywalk Entrance due to the Homecoming Hangout outside of the Ford Center Main Entrance*
For any questions please call 812-488-2237 or email js914@evansville.edu
Employee Tickets- Men's Basketball
University of Evansville Employees may begin to request tickets for Men's Basketball home games! Please come to the Carson Center Ticket Office the week of the game you are planning on attending to request a maximum of two (2) tickets per employee per game. A valid employee ID must be shown at the Ticket Window when picking up tickets. Tickets will not be available at the Ford Center on the day of the game - they must be picked up in advance. Ticket location will be at the sole discretion of the ticket office staff.
For any questions please call 812-488-2237 or email js914@evansville.edu
Career Guides are in for 2021-2022
The Center for Career Development is happy to announce that our 2021-2022 Career Guides are in. The Career Guide provides you with valuable information about how to successfully navigate your career plan. It is never too early to start this process and our Career Guide gives you a step by step (year by year) plan to help you achieve your goals. In addition to the Career Guide, our Center for Career Development staff is always here to help you as well. Call or stop by for an appointment.
Career Guides are available at no cost to all UE students. Stop by the Center for Career Development to get your copy!
Protection of Children Training for Employees
As part of the New Protection of Children Policy, all employees have been assigned the "Protecting Children on Campus: Preventing Sexual Abuse" training module. Please watch your email over the next couple of days for an external email with the Subject: University of Evansville Vector LMS, Higher Education Edition Online Training. This training module is only sixteen minutes long and you are asked to complete it on or before November 15, 2021.
If you do not find an email by Monday, October 25 and have checked your spam folder, please email riskmanagement@evansville.edu.
Advising and Registration Dates
Advising Week | October 25 – 29
Meet with your faculty advisor this week. Make an appointment now.
Registration Week | November 1 – 5
Don't miss your assigned registration window. Finalize your registration for Spring 2022.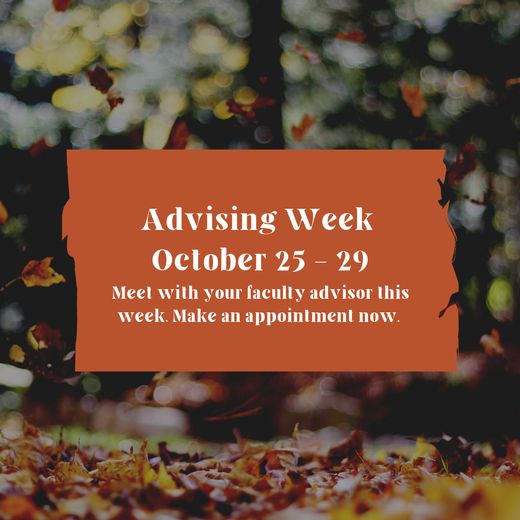 Dr. Phil Plisky leads team of UE alumni at the inaugural International MLB Combine in the Dominican Republic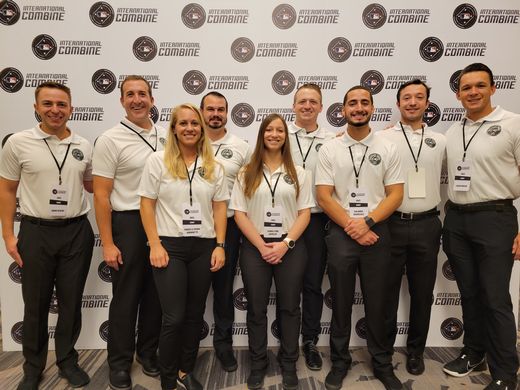 Dr. Phil Plisky, Associate Professor of Physical Therapy and Director of all Residency Programs, led a team of 9 UE alumni at the inaugural International Major League Baseball Combine in the Dominican Republic last weekend. Dr. Plisky was part of the planning and implementation of the combine and the team was part of completing necessary testing throughout the combine. "My favorite part was how engaged and inquisitive the Dominican Republic physiotherapists and medical students were in learning the testing," says Dr. Plisky.
We are all super proud of the ProRehab and University of Evansville's Sports Residency team and the Rehabilitation and Performance Institute and University of Evansville's Orthopaedic Residency team for their high quality testing. The team included: Adam Devery, AT, PTA ('19), Dr. Danielle Honnette, PT ('16, Sports Residency), Dr. Kyle Matsel, Assistant Professor of Physical Therapy, Dr. Jenna Gourlay, PT and RPI's/UE's Orthopaedic Residency Director ('15, Sports Residency), Dr. Logan Blair ('16, UEDPT and '17, Sports Residency), Dr. Rolando Rodriguez (Current Sports Resident), Dr. Ervin Velic (Current Sports Resident), and Dr. Logan Wager ('17, Sports Residency).
Biology students McKenzie Young, Makayla Gomperts, and Audrey Chambers present posters at regional conference
Biology majors McKenzie Young, Makayla Gomperts, and Audrey Chambers presented the results of their summer research projects at the 2021 Midwest Drosophila meeting on October 23-24.
McKenzie and Makayla were mentored by Dr. Julie Merkle.
McKenzie's poster, "Investigating the role of short stop (shot) in eye development and oogenesis" received an Honorable Mention in the undergraduate student poster category.
Makayla's poster was titled "Sar1, a GTPase involved in COPII vesicle trafficking, is important for oocyte fate in Drosophila".
Audrey was mentored by Dr. Joyce Stamm. Her project, "A Flp/FRT eye screen on chromosome 2L identifies enhancers and suppressors of the mosaic AIF phenotype" was performed in collaboration with Dr. Jacob Kagey and his students at University of Detroit Mercy.
Till becomes career saves leader as Aces play to scoreless draw with Missouri State
Led by a historic performance from fifth-year senior goalkeeper Michaela Till, the University of Evansville women's soccer team captured a result with a 0-0 draw with Missouri State on Thursday evening at Arad McCutchan Stadium in Evansville, Ind.
Prior to the match, the Aces honored eight seniors who have contributed immensely to this program. These eight student-athletes combined to record over 30,000 minutes on the pitch, score 29 goals, deliver 16 assists, and recorded 380 saves. This season, this group helped Evansville achieve its best start in program history and earn a #5 ranking in the United Soccer Coaches Midwest Region poll for three-straight weeks.
On a night that will be remembered in the history books, it was another classic performance by Michaela Till. Needing five saves entering the match to become the all-time saves leader at UE, Till secured seven, doing so in her 17th career shutout, tying Till for second-most in program history. Offensively, senior Emily Ormson led the way for Evansville, tying a career-high with six shots, putting a pair on goal.
Evansville was active on the attack in the opening 45 minutes, out-shooting the Bears, 10-6, in the first half. The Aces nearly took the lead inside the first 10 minutes as Ormson let loose a shot from the top of the box that dipped over the keeper's head and glanced off the crossbar. Ormson put a shot on frame later in the half that were saved, along with chances from Jayme-Lee Hunter and Emily Wolak, but the match went to half tied, 0-0.
In the second half, Evansville stayed solid defensively, facing eight shots from the Bears, keeping the match scoreless as it trickled to overtime. The first overtime saw four combined shots between the two sides with three coming from the Aces. Ormson again challenged the Bears with a shot on goal, but it was saved as the match moved to a second overtime. In the final overtime period, neither side could muster a shot as the game ended in a scoreless tie.
With the tie, Evansville earned a spot in the MVC Championship, capturing the six seed. The Aces will open postseason play on Sunday against third-seeded Indiana State in Terre Haute, Ind.
UE volleyball set for crucial weekend matches
One of the biggest weekends in the history of the University of Evansville volleyball program is on tap as the Purple Aces prepare for three matches in four nights. The stretch begins on Friday against Valparaiso before UE welcomes Loyola on Saturday and Southern Illinois on Monday.
Last Time Out
- Back home for a single match against Indiana State, Evansville rolled to another 3-0 home victory on Saturday
- Giulia Cardona accumulated 17 kills and a career-best 7 service aces...she became the first UE player to record 7 aces since Anne Teegardin had 7 versus the Sycamores in 2006
- Melanie Feliciano added 14 kills while Taya Haffner picked up 38 assists in the win
Inside the Streak
- With the win over Indiana State, the Aces pushed their current MVC win streak to six games, extending the longest streak since joining the league in 1994
- Prior to this season, the longest conference win streak was four matches in 1998
- By winning six of its first nine MVC matches, the Aces match their best league start, which has been achieved twice before - 1998 and 2000...UE has never started 7-3 in the MVC
- Overall, the Aces are 16-4, which matches the 2010 squad for the second-best start in the history of the program...the top streak to open a season belongs to the 1981 squad, who opened the year at 22-1 before finishing the year with a 39-10 mark
Home Sweet Home
- It would be hard to think of a better start to the home slate for UE - through six matches, the Aces are a perfect 6-0 and have won each contest by a 3-0 final
- The 6-0 record is tied for the second-best home start for the program, which also won its first six matches inside Meeks Family Fieldhouse in 2019
- Evansville's longest undefeated home stretch to begin a season was 8-0 in 1981
Aces Aces
- Ten more aces were added to Evansville's season tally on Saturday against Indiana State, improving the season average to 2.07 per set, which is 6th in the country
- Seven of those came off the arm of freshman Giulia Cardona, marking her career high...she was the first MVC player to have 7 aces in a match since 2019 and the first since 2009 to do so against a league foe and it was the first instance of 7 aces in 3 sets versus an MVC squad since 2007
- Cardona paces the MVC with 0.50 aces per frame and sits 16th in the nation and second among freshmen in that category
3-for-3
- Giulia Cardona made it a perfect 3-for-3 on Monday, earning her third consecutive MVC Freshman of the Week award
- The last MVC player to win three freshman awards in a row was Illinois State's Stef Jankiewicz in 2017
- On October 18, Cardona was named both the MVC Player and Freshman of the Week becoming the first player to earn both honors in the same week since Abbie Lehman of Wichita State in 2014
- Cardona has taken her performance to a new level over the recent 6-match win streak, averaging 4.90 kills, 0.71 aces and a hit tally of .347
- Her latest MVC accolade comes after a 17-kill, 7-ace contest against Indiana State...she accumulated 24.0 points in 3 sets
Top 10
- With a total of 1,216 kills in her career, Alondra Vazquez has moved into the Aces career top 10 list...she passed Laura Seib's total of 1,215 to move into the 10th spot
- She also jumped into the top ten in career digs at UE as her total of 1,140 moved her onto the list, passing Erica Haukap's tally of 1,137
UE Cross Country Heads To MVC Championships Friday
The University of Evansville cross country teams will return to the course on Friday afternoon in one of the biggest meets of the year, as the Purple Aces will take part in the Missouri Valley Conference Championships at Weibring Golf Course in Normal, Illinois. The women's 6-K race will begin the meet at 1 p.m., with the men's 8-K race scheduled for 2 p.m.
Weather could play a major factor in Friday's MVC Championship meet, as rain is expected for two-straight days in Normal, Illinois prior to meet day. On Friday, the forecast calls for more rain and a high of 56 degrees, with north winds howling between 10 and 20 miles per hour, with gusts as high as 30 mph.
"This is going to be a very different kind of race, and I say that for every school involved," said UE cross country head coach Don Walters. "The weather is going to be a factor, and the ground could be very soft and muddy, especially by the time we get to the men's race.
"We're just going to go out and try and set as many personal-best times that we can on Friday. If we can do that, especially given the expected conditions, it will be a great day."
The women will be competing in the longer 6-K event for the first time in MVC Championship history on Friday. Graduate student Anna Lowry (Taylorville, Ill./Taylorville) will be trying to become the first three-time, first-team all-MVC selection in UE women's cross country history, as she has placed in the Valley's Top 10 in each of the last two conference meets. Only UE Hall of Fame male runner Nick Waninger (2004-06) has earned first-team all-MVC honors three times on the men's side.
Lowry posted the third-fastest 6-K time on record at UE the last time out, as she clocked in with a time of 22:02.3 to place second at the UE Invitational. Senior Sam Weldon (Fort Wayne, Ind./Bishop Dwenger) also placed in the Top 10 with a personal-best 6-K time of 24:14.3 at the UE Invite.
On the men's side, sophomore Peter Epur (Eldoret, Kenya) will look to pace the Purple Aces for the fifth time this year, after posting a top-10 individual finish at the UE Invitational with an 8-K time of 26:29.4. Freshman Adam Oulgout (St. Paul, Minn./Central) has been a consistent #2 runner for UE on the men's side this year, and they will be aided by graduate student J.J. Pedersen (Milford, Conn.) who will be competing in his final race for the Purple Aces. Pedersen has run third for UE in his two meets competed in this year, as he currently splits time between Evansville and Northwestern University, where he is doing clinical work for UE's Master's in Athletic Training program with the Northwestern football program.
Friday's MVC Championships will be streamed live on ESPN3, with live stats also available off of the schedule pages of GoPurpleAces.com.
Contribute to AceNotes
To have content considered for inclusion in AceNotes, please submit a Marketing Request Form. Deadline for submission to AceNotes is 10:00 a.m. on the requested date of publication. Only articles concerning UE related/sponsored activities will be accepted. Articles submitted to AceNotes may be edited for length and clarity. Submitter contact information is at the end of each article.