| | |
| --- | --- |
| AceNotes Today | Monday, October 25, 2021 |
Stop by and Sign the Truss for the New Residence Hall
Construction for the new residence hall at the University of Evansville is well underway. The roof truss, which is the main support structure for the building, will soon be added. Before the installation, it will be painted purple and made available for our campus community to sign. Long after the residence hall is completed and students move in, these signatures will remain on this historic piece.
Please join President Pietruszkiewicz as the first signatures are added tomorrow, October 21, at 2:30 p.m. The truss will be located off Walnut Street between the construction site and Ridgway University Center. If you can't attend tomorrow, the truss will be available for signatures through next Tuesday during the following dates and times:
Thursday, October 21 from 2:30 p.m. until 4:00 p.m.
Friday, October 22 from 7:00 a.m. until 4:00 p.m.
Monday, October 25 from 7:00 a.m. until 4:00 p.m.
Tuesday, October 26 from 7:00 a.m. until 4:00 p.m.
We hope you are able to join us in celebrating this important step in the building of the new residence hall. The University will continue to provide frequent updates on the installation of the truss and the remaining construction. If you have questions, please contact the office of University Relations at UErelations@evansville.edu.
Calling all Transfer and Non-traditional Freshmen Students
Are you a transfer or non-traditional freshman who remembers what it's like to be the new student? We are looking for students who want to join a new organization centered on mentoring and offering a community to incoming transfer and non-trad students. If you're interested in volunteering, join us for a brief meeting TODAY, Monday, October 25 from 3-4 p.m. in SOBA 162. If you're unable to join us but want to volunteer, email Cherie Leonhardt at CL29@evansville.edu.
Gamma Phi Omega International Sorority Inc. Tabling and Informational Meeting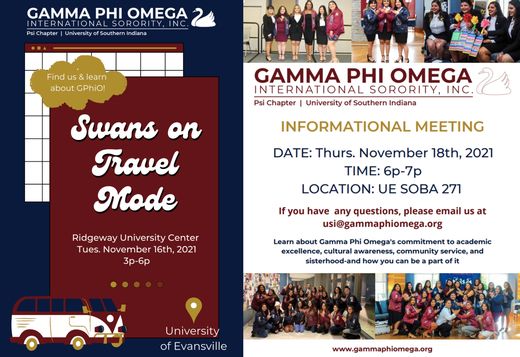 Do you want to learn about Multicultural Greek life opportunities on campus?
On Tuesday, November 16th, Gamma Phi Omega International Sorority Inc. will be tabling from 3:00- 6:00 pm in Ridgeway University Center.
Gamma Phi Omega is also hosting an informational meeting on Thursday, November 18th from 6:00- 7:00 pm in SOBA 271.
Stop by the tabling and informational meeting events to learn about Gamma Phi Omega's commitment to academic excellence, cultural awareness, community service, and sisterhood- and how you can be a part of it!
This Week in Music
The UE Music Conservatory presents two events this week.
On Tuesday, October 26, Consortium Instructor of Horn, Rebecca Salo will be joined by pianist Tom Drury for a faculty recital at 7:30 p.m. in Neu Chapel. This event is free and open to the public.
Later in the week, on both Friday October 29 and Saturday October 30, the Schmidt Opera Series will present a fully staged production with orchestra of Gian Carlo Menotti's opera The Medium. This event, featuring some of the finest vocal talent from UE, will take place at 7:30 p.m. on both Friday and Saturday at the Old Post Office Place in downtown Evansville. The event is free and open to the public. Donations to the Schmidt Opera series will be accepted at the door.
Masks are required for all Conservatory events.
Events are also livestreamed here: https://www.evansville.edu/majors/music/calendar.cfm
Virtual Career Connections- Surprising Outcomes for Arts and Science Majors
Career Connections allows students an opportunity to talk with UE alumni/employers from all over the US to answer your career-related questions regarding Surprising Outcomes for Arts and Sciences Majors. This virtual event will be held on Thursday, October 28st from 4-5:15PM.
Do not miss this opportunity to chat with professionals working in these fields and be ready to learn how to prepare for and navigate your professional career. All majors and grade levels are welcome! A list of panelists and their bios will be available prior to the event. Register for this virtual event in Handshake at evansville.joinhandshake.com.
Collaborative Online Tools Workshop- New time
Explore various tools that facilitate collaboration among students or teams. We will discuss selected platforms and brainstorm potential applications. Facilitated by Kristen Strandberg and Leslie Barton.
Date: Friday, October 29, 1:00-2:00 PM
*Please note that the time has been changed from what appeared in previous AceNotes
Location: SOBA 173
Register today for the Indiana Means Business Career Fair
Free Transportation and lunch provided!!
Register by Monday, October 25, for the Indiana Means Business Fair! This event will provide you with access to 85+ top companies from Indiana and beyond.
Indiana Means Business Fair
9:00 a.m.-1:00 p.m. (Eastern)
Wednesday, October 27, 2021
Primo South Indianapolis, IN
Full-Time, internship and co-op positions will be available, so students in all class years are encouraged to attend. Don't miss your chance to find a great internship or professional position!
Fair registration with the UE Center for Career Development is required through Handshake https://evansville.joinhandshake.com/events/874909 . Students must register by Monday, October 25, 2021.
The University of Evansville will provide transportation. There is a $10 deposit required that will be refundable upon attendance. Reserve your seat now at: www.evansville.edu/careercenter/students/busReservationForm.cfm .
You must have an approved résumé active in Handshake to register.
View registered employers at the Consortium page in Handshake https://app.joinhandshake.com/career_fairs/25915/employer_preview?token=5PIHZIDSKMpdHxD8K-tQKUmBhPDmqyLAAvSDnXPyMZHXzCkr_y_22Q
Event Details:
- Leave Evansville at 6:00am Central Time- In Front of Ridgway on Walnut St
- Arrive Primo by 10am Eastern Time
- Attend Fair 10am-1pm Eastern Time
- Eat Lunch; then leave for Evansville-1:30pm Central Time
- Arrive back in Evansville, 4:30 Central Time
Wear or bring your business suit, have ten more copies of your résumé than you intend to use and be sure to drop off your $10.00 transportation deposit at the Center for Career Development, 2nd Floor, Ridgway University Center by Monday, October 25, 2021.
If you have any questions, please call the Center for Career Development at 812-488-1083.
Indiana Means Business Fair
Wednesday, October 27, 2021
9:00am-1:00pm Eastern Time
Primo South Indianapolis
87 Organizations currently registered-updated 10/14/21
Need Assistance? Center for Career
Development/Register on Handshake
evansville.joinhandshake.com/login;
career@evansville.edu/812-488-1083
Kelley Program, IU, Kelley School of Business
Acuity Insurance
Aegis Worldwide
Allied Solutions
Allison Transmission
Alro Steel
Amazon Operations
Anderson University Residential MBA Program
Aon
Apex Energy Solutions
Approved Mortgage
Ascend Indiana
AT&T
Backhaul Direct, LLC
Ball State University Center for Information and Communication Sciences
Buckeye International, Inc
Buckle
Butler University M.S. in Management for LA/S
Carmel Clay Park & Recreation
Consolidated Electrical Distributors, Inc
Crestline Construction
Crew Carwash
Dayton Freight
Dora Hospitality Group
EF English First
enFocus
enVista LLC
Fair Housing Center of Central Indiana
FedEx Express
Fifth Third Bank
FitzMark
Franciscan Health
FULLBEAUTY Brands
Gallagher
Hoosier Logistics, Inc
Indiana Electric Cooperatives
Indiana State Board of Accounts
Indiana State police
Indiana State Senate
IU Robert H. McKinney School of Law
Indiana University School of Social Work
Indianapolis Airport Authority
Indy Tax Service
IOKDS
Kellie Taylor State Farm Agency
Kohl's Corporation
Legends
M/I Homes
Medix
MedPro Group
Milner & Associates, LLC
MSU Masters of Science in Business Data Science & Analytics
Murray State University Graduate School
Northwestern Mutual
Oaklawn Psychiatric Center
Ohio Department of Public Safety
Penske Truck Leasing
Pittsburgh Fellows
Priority Ambulance
Purdue University Krannert School of Management MBA and MS programs
Scotlynn USA Division Inc
Securitas Security Services
Selective Insurance Company of America
Senior Home Companions
Senior1Care
Sherwin-Williams Company
Simplifeye
Spot Freight
Storen Financial
Teachers Credit Union
The Heritage Group
Together Homecare of Indianapolis
Total Quality Logistics (TQL)
Travelers
Ultimate Kronos Group
United States Steel Corporation – Engineering and Business Operations
United States Steel Corporation – Product Development
University of Louisville, School of Public Health and Information Sciences
U- Notre Dame – Mendoza College of Business
Valeo Financial Advisors
Vaparaiso University Graduate School –
Vector Marketing
Versiti Inc
WEHT – All departments
YMCA of Greater Indianapolis – Youth Development
PRIDE-House: Join us for our second I-House of the semester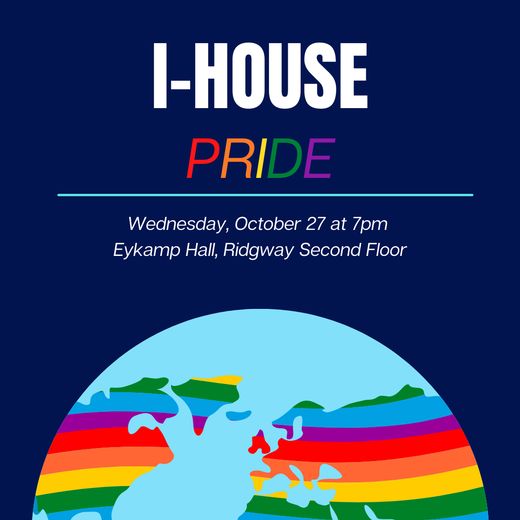 The CDEI is hosting its second International House of the semester, focusing on queer issues around the globe. This event, sponsored by UE P.R.I.D.E., will give the audience an opportunity to learn about LGBTQ+ historical events, legal rights, and pride in a variety of countries.
Want to learn what being queer looks like outside the US? Join us at PRIDE-House on Wednesday, October 27 at 7pm!
Look out for more interesting programming from the CDEI on AceNotes, and be sure to follow us on Instagram @uediversity!
Health Careers Fair- Tuesday, October 26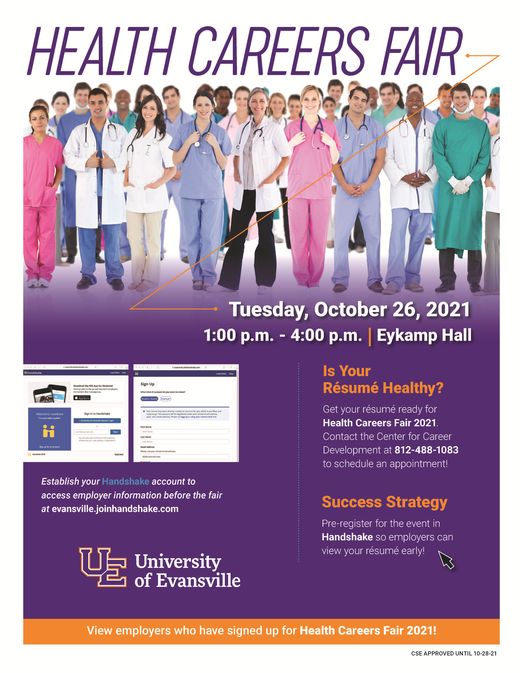 If you are pursuing a career in health care, attend this event in Eykamp Hall, Ridgway University Center. There are 47 top health care organizations from Indiana and beyond. Student registration is NOT required to attend, however refer to Handshake to see the benefits of registering early!
Health Careers Fair
1:00 p.m.-4:00p.m. Central Time
Tuesday , October 26, 2021
Eykamp Hall/2nd Floor, Ridgway University Center
Full-time, internship and part-time positions available, so students in all class years are encouraged to attend. Don't miss your chance to find a great internship or professional position!
This Week in Religious Life
Newman Club
• Catholic Mass in the Neu Chapel at 6:00 pm on 10/24 with Father Martin Estrada.
• Newman Night on 10/27 will be held in the Newman House. We will have dinner at 5:00 with Father Martin Estrada speaking on "Why is Catholicism so Rigid?" to follow.
• Service Opportunity: Cleaning Crosses for the memorial of the innocent unborn children on 10/30. We will meet at 3112 Magnolia Ln at 9:00 am. Park behind the house. Pizza will be provided for lunch.
• Join some of the Sisters in Evansville for S'mores after 7:30 PM Mass at Sacred Heart on November 1st.
• Fall Harvest Dance is on November 6th at the Catholic Center.
• There is a camping trip in New Harmony from November 12-14 . RSVP to to Holly Bittner at (812) 664-3780 as soon as possible!
UE Clay Club Chili Bowl Sale
Due to forecasted rain, the Chili Bowl Sale has been moved to Friday, October 29, from 11:30AM-1PM. The sale will be held indoors in Eykamp Hall instead of the East Terrace Lawn. Please view the map below to see where the line begins and ends. Volunteers will be there to help guide visitors through the lines.
Plan to stop by to purchase your chili bowls and fill with Chef Brown's chili (paper containers are available if you prefer not to use the bowls). Seating will be available for those who would like to have their chili in Eykamp. Masks will be required at all times except while eating.
Patrons will be given a number upon arrival at a check in table for a certain group (1, 2, 3, 4, 5). Groups will then be allowed into the sales area to pick out the bowls in 10-minute increments. Subsequent groups will be allowed in after the previous one is finished. Please be respectful of everyone's space.
For $10, customers can buy a one-of-a-kind ceramic bowl and chili. Larger bowls from $15-$50 will also be for sale. Some more artistic larger bowls will be sold at a silent auction as well ranging in price from $75-$125. Customers can only buy a maximum of eight chili bowls. Cash or check (made out to UE Clay Club) only for the event.
The bowls are made by members of the Clay Club and other UE students, faculty, staff, alumni, and members of the community.
This year 100% of the sales will go to St. Vincent de Paul's Food Pantry. The Clay Club members chose this organization to assist in fighting hunger in our local area.
The purpose of the Clay Club is to help further the knowledge of the ceramic arts at the University of Evansville, to provide activities (social and educational) to all interested students, and to offer visibility of the ceramic arts to the University and the community as a whole.
The Clay Club members raise funds to attend conferences, visit museums and galleries, and host visiting artists.
Professor Matteson, Chair of the Department of Art and Advisor to Clay Club said: "A lot of hours went into creating these unique ceramic bowls. The artists dedicated a lot of energy and hard work. I am blessed to have such a wonderful group to work with on such a great cause."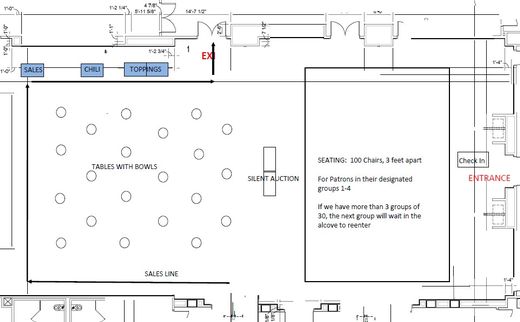 Center for Diversity, Equity, and Inclusion: Self-Service Gender Identity Announcement
The observance of LGBTQ+ History Month and National Coming Out Day occurs in the month of October. It's fitting that several University offices collaborated to activate features for students and employees related to gender identities, personal pronouns, and sexual orientations on Self-Service, Blackboard, and UE email.
Students who wish to include their chosen name, and/or who wish to add their pronouns and gender identity may do so the following way:
Log into Self-Service
Click their username in the upper-right
Select "User Profile"
On the blue bar listing confirmation information, locate the link for "Go To Contact Info", and click it.

Please take note of the following when making changes:
Chosen name, gender identity, and pronoun information is your personal choice – how you would like to be addressed by the University's faculty, staff, and administrators. Your chosen name will be associated with your Self-Service site, Blackboard site, and email. Faculty members and advisors will also be able to see your chosen name on rosters and advisee lists. Should you require a legal name change, please contact the Office of the Registrar (for students) or Office of Human Resources (for employees).
Pronoun information is currently displayed on your Self-Service site. This information is not shared outside of the University.
Proxy users—those whom you've granted permission to view your information—will continue to see your name as your birth or legal name. Any mail sent to your home address will be addressed using the same information entered in the Self-Service 'Mail Label' field.
Gender Identity and Personal Pronouns will only be used on campus. If you do not see your appropriate gender identity or pronouns, please contact the OTS Helpdesk through help@evansville.edu.
Please note that this isn't intended to be a nickname tool (for more information contact the Registrar or Human Resources) – it is intended for individuals who identify using a name that differs from their gendered birth name, gender identity that doesn't match birth gender, and/or pronouns that differ from those associated with their birth gender. Please contact the Office of the Registrar or the Office of Human Resources if you wish to specify a nickname.
We appreciate your patience as we listened to our LGBTQ+ community members and developed the most comprehensive response available through our platforms.
It's our collective intent to demonstrate an inclusive community whenever possible.
Toiletry Drive to Benefit Albion Fellows Bacon Center
Through October 31st, the American Physical Therapy Association (APTA) Indiana Southwest District will be collecting items to benefit the Albion Fellows Bacon Center. One of their many services is to provide emergency shelter as a safe haven to those who have experienced domestic or sexual violence. The items on their wishlist include deodorant, hair brushes, ladies underwear sizes 9-12, lotion, mouthwash, paper towels, plus size pants, reusable tote bags, rubbing alcohol, and toothpaste. Please place donated items in the collection box located in the lobby of Graves Hall. Contact sg184@evansville.edu with any questions.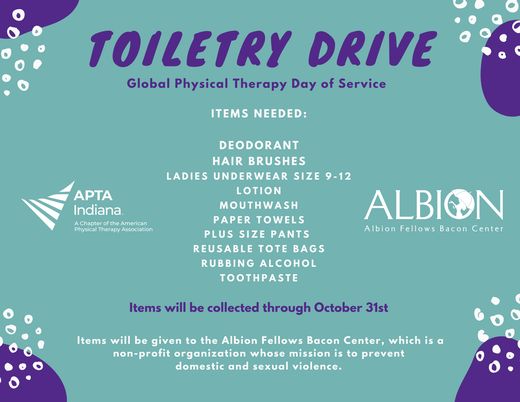 Embrace Partners with Fifth Third to Support Jacobsville Businesses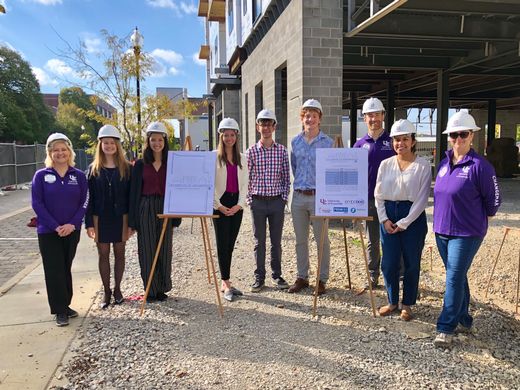 The University of Evansville, with the support of Fifth Third Bank, is launching the Jacobsville Advantage, a collaborative effort that assists small businesses in the community with the resources necessary for growth. The overall project was created by Embrace Marketing, a marketing and communications agency managed by UE students. Members of the team hope the innovative program will strengthen Jacobsville businesses and bring strategic growth to the area.
Members of Embrace held a launch event on the morning of October 21 at The Forge on Main construction site. They were joined with UE officials, Evansville councilmen, local business owners, local media, and more.
For some time, Fifth Third has been partnering with UE and the Small Business Development Corporation to find innovative solutions and initiatives for the Jacobsville community, in which approximately 460 businesses are located. After conducting research to identify the best ways to support small businesses in the community, Embrace found that marketing assistance was a significant need. Because small businesses often do not have the funds to strategically market their goods or services, they may struggle to be profitable. With a grant from Fifth Third to launch their efforts, Embrace will work one-on-one with business owners to create marketing campaigns and increase brand awareness and reach.
Any business owner in the Jacobsville community can receive these services at a very low cost, thanks to the grant from Fifth Third. A stairstep approach will set the initial 5 hours at $10 per hour, with increasing rates up to $50 after 35 hours of service. To learn more or schedule an appointment with the team, businesses can apply on the Jacobsville Advantage website.
Embrace was founded in 2018 by UE alumnus Joe Ellsworth as well as the University's Center for Innovation & Change. This unique program, now guided by alums Keith Leonhardt and Emily Schuster, is entirely student-run and provides experiential, hands-on learning for students. Clients of Embrace receive affordable marketing and communication services, including graphic design, rebranding, advertising, and consulting.
The Jacobsville Advantage is one of several improvements UE has brought to the community. ChangeLabs, or semester-long courses that seek to create positive change, helped implement Bike Share for the city. Three UE students created the CommuniTree at Mickey's Kingdom, a solar-powered structure that provides wi-fi and charging ports for mobile devices. The University also obtained $90,000 in solar panels for the Carver Community Organization. Additionally, UE teamed up with Glenwood Leadership Academy to launch the mad hot ballroom program to enhance art education and performance opportunities.
The UE Pop-Up Boutique is OPEN
The UE Pop-Up Boutique is OPEN!
THIS is your chance to purchase UE branded professional wear!
We have just a few notes to help with your shopping experience:
-Please click on the apparel item for more color choices.
-Apparel samples/sizes are available by request in the UE Bookstore.
-Shipping costs may be eliminated by simply selecting pick up in the UE Bookstore.
-The Pop-Up Shop will close on November 5th at 5:00p.m.
-Items will approximately be delivered the second week in December.
Shopping Link:
https://evansvillebrandshop.ccbrands.com/
If you have are any questions, please don't hesitate to reach out. We will help you!
ENJOY this carefree shopping experience!
SAA Exec Team
Career Guides are in for 2021-2022
The Center for Career Development is happy to announce that our 2021-2022 Career Guides are in. The Career Guide provides you with valuable information about how to successfully navigate your career plan. It is never too early to start this process and our Career Guide gives you a step by step (year by year) plan to help you achieve your goals. In addition to the Career Guide, our Center for Career Development staff is always here to help you as well. Call or stop by for an appointment.
Career Guides are available at no cost to all UE students. Stop by the Center for Career Development to get your copy!
Protection of Children Training for Employees
As part of the New Protection of Children Policy, all employees have been assigned the "Protecting Children on Campus: Preventing Sexual Abuse" training module. Please watch your email over the next couple of days for an external email with the Subject: University of Evansville Vector LMS, Higher Education Edition Online Training. This training module is only sixteen minutes long and you are asked to complete it on or before November 15, 2021.
If you do not find an email by Monday, October 25 and have checked your spam folder, please email riskmanagement@evansville.edu.
Advising for Harlaxton
As you prepare to register for your courses, Harlaxton College would like to encourage you to schedule a meeting with your advisor to talk about your course options at Harlaxton College! Course information is available for the Spring 2022, Summer 2022, and Fall 2022 terms. Your advisor can help you identify the best term to spend abroad as well as solidify your academic plans for your chosen term.
You and your advisor can review your course options on our website here: https://harlaxton.evansville.edu/accepted/course-offerings.cfm
If there is anything that the Harlaxton College staff can do to assist you during advising or registration, please let us know by sending an email to harlaxton@evansville.edu.
Happy registering!
UE Receives $3.6 Million Gift for Lucy Kelly Nursing Scholarship
UE has been provided a $3.6 million gift from the John B. and Lucille S. Kelly Trust. The funds will support and grow the Lucy Kelly Nursing Scholarship, which assists Dunigan Family School of Nursing students who demonstrate financial need and strong academic abilities.
After her marriage to Dr. John B. Kelly, Lucy relocated from St. Louis to Evansville. At age 42 she decided to enroll at UE for a nursing degree. In 1970, she graduated at 46. Looking back on her time at the University, she considered her four years of studies some of the most fulfilling and happiest of her life. Lucy worked as a nurse at Welborn Baptist Hospital for many years, while her husband was a urologist for Welborn Clinic. She eventually moved to a retirement community in Sun City, Arizona, where she lived until her passing at the age of 97.
"We are tremendously grateful for the Kellys' generosity and foresight in developing a philanthropic plan that will both make the UE Nursing degree more accessible to students and expand the pipeline of professionals in this critical need field," said Abigail Werling, vice president for university advancement at UE. "Mrs. Kelly was very proud of her UE degree, and today, we are proud of the Kellys' decision to invest in the University of Evansville's future with such a beautiful gift of scholarship."
Concerned about the nursing shortage and accessibility to education, Lucy established the Lucy Kelly Nursing Scholarship at UE. It was her hope that students in need could pursue their passion for nursing and join the field after graduation. Applicants for the scholarship must be in the top twenty percent of their class and hold a B grade average.
UE was the first institution in the state of Indiana to receive accreditation for a Bachelor of Science in Nursing (BSN) program. Now celebrating over 60 years of continuous accreditation, the program offers a scientific and creative learning environment in which students work closely with talented, experienced faculty. UE offers direct entry into the program for eligible freshmen, meaning those who meet required standards are guaranteed a spot in the program once they deposit. Direct entry students also receive a nursing scholarship valued at $20,000 per year.
"Nursing careers, especially in the tri-state region, are currently in high demand," said Jerrilee Lamar, PhD, RN, CNE, the Dunigan Family School of Nursing chair. "We are incredibly grateful for this generous gift from the John B. and Lucille S. Kelly Trust, which will support nursing students for years to come."
Advising and Registration Dates
Advising Week | October 25 – 29
Meet with your faculty advisor this week. Make an appointment now.
Registration Week | November 1 – 5
Don't miss your assigned registration window. Finalize your registration for Spring 2022.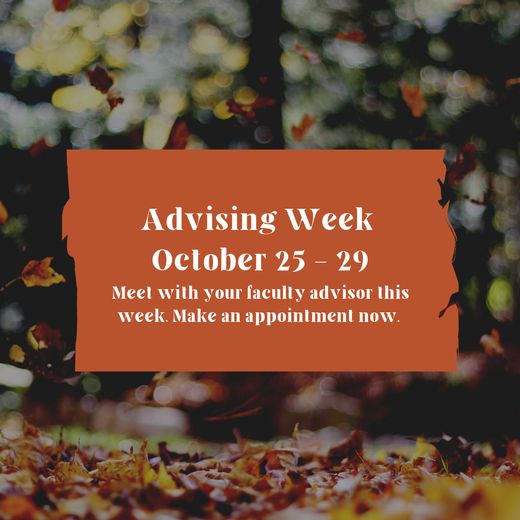 Mark Pease: Visiting Artist & Exhibition
Mark Pease is the featured artist with an exhibition on display now through December 11, 2021. Mark's exhibition can be found in the Melvin Peterson Gallery.
A student lecture will be held at 10:00 a.m. on Wednesday, November 10. The student workshop will be held on Friday, November 12, from 8:00-9:50 a.m. This workshop will be held in Krannert Hall of Art & Music.
A public lecture and reception for the artist is scheduled for Thursday, November 11, beginning at 6:30 p.m. The lecture will begin at 7:00 p.m.
This exhibition and residency is sponsored by the Efroymson Family Fund with the UE Department of Art.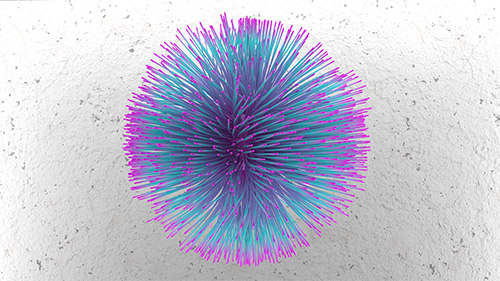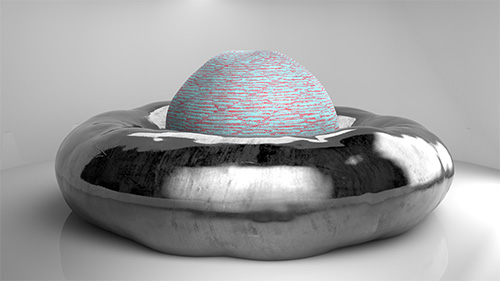 Dr. James MacLeod Receives Indiana Historical Society's Hubert Hawkins History Award
Each year, the Indiana Historical Society (IHS) presents the Foudners Day Awards, which recognize outstanding individuals and organizations whose efforts have enriched the lives of others by conveying awareness and appreciation of Indiana's history on local, regional, and statewide levels. James MacLeod, PhD, chair of the Department of History, Politics, and Social Change, has been presented with the 2021 Hubert Hawkins History Award.
The Hubert Hawkins History Award is made annually to a local historian for his or her distinguished service and career in local history. MacLeod is an active local historian, serving on the Boards of the Vanderburgh County Historical Society; the Southwestern Indiana Historical Society; and the Evansville Museum of Art, History and Science.
"Dr. James MacLeod is the heir apparent for local academic history studies in Vanderburgh County," said Terry Hughes, President of the Vanderburgh County Historical Association. "His books on World War II and cartoonist Karl Kae Knecht fill voids in local history research, and his documentary film on WWII in Evansville will be a lasting treasure for the community."
"His original research into Evansville's history is a significant addition to the body of knowledge documenting our community's development," said Tom Lonnberg, Chief Curator and Curator of History at the Evansville Museum of Arts, History, and Science. "His leadership in this area and ready willingness to share his findings are an invaluable resource."
Jennifer Greene, Chief Archivist at the University of Southern Indiana, added, "Dr. James MacLeod has made the old new again through his books and projects about local history. He brings a sense of humor in his editorial cartoons that highlights the issue of the day in much the same way Karl K. Knecht did, a history he brought to life in his recent book about the cartoon editorialist. He supports the community in his work with organizations like Southwestern Indiana Historical Society, of which he has been a long-standing board member, but also in his involvement in civic projects."
MacLeod was educated at the University of Edinburgh in Scotland, receiving a Master of Arts in 1988 and a PhD in 1993. He taught history and British studies at Harlaxton College in England from 1994-1999. Since 1999, he has been teaching at UE. Currently, MacLeod chairs the Department of History, Politics, and Social Change, and he teaches courses in European History and the two World Wars. In 2009, he received the Outstanding Teacher Award at the UE commencement.
MacLeod is the author of Evansville in World War Two, which was published in 2015, and The Cartoons of Evansville's Karl Kae Knecht, published in 2017. In 2016, he wrote and co-produced a 2-part documentary on Evansville in World War II for WNIN PBS, titled Evansville at War. In 2000, he published a book on 19th-century British religion titled The Second Disruption. MacLeod has written over 30 other scholarly publications, delivered hundreds of public lectures, and won many awards for teaching and scholarship., and was UE's Outstanding Teacher in 2009.
"Founders Day Awards honor the people and organizations who toil in the fields of history to create resources that benefit our state and its many communities," said Susan Jones-Huffine, chair of the board of trustees of the Indiana Historical Society. "Our history proves that in times like these, we have reason to be hopeful."
The IHS will honor Founders Day Award recipients during a virutal celebration on November 1. It will be streamed on Facebook Live beginning at 6 p.m.
In Remembrance of Professor Jerry Seng
Gerald "Jerry" Thomas Seng, 85, died on Sunday, October 17, at his home in Evansville.
After receiving a BS in biology at Purdue, Dr. Seng joined the Army where he won the Company Marksmanship Trophy. The Army made him a cook and assigned him to the General's Mess. He was a proud and patriotic American and was touched when he was able to participate in the "Honor Flight" of service veterans in 2018.
After serving in the Army, Jerry married his high school sweetheart Ann Poe in 1959, and the two shared a truly great love over 46 years of wedded bliss. Jerry was an avid outdoorsman, enjoying fishing, hunting, camping, hiking, sailing, and photography.
In 1976, the strong gravity of family and the hills of southern Indiana pulled Jerry and family back to the Midwest where he became a professor of biology at the University of Evansville. At UE, he was passionate about teaching and working with students. He had formal assignments as a freshman advisor, but he always went WAY over and above his normal advising duties. He really cared about these young people, many of whom were away from home for the first time and still trying to figure out not only what they wanted to do with their careers, but who they wanted to be. He gave them his time. He gave them his wisdom. He gave them his love. The students reciprocated his love as witnessed by the hundreds of letters, notes, emails, and phone calls he received from current and former students thanking him for his personal touch and care. He was nominated for the Outstanding Teacher Award in 18 of the 27 years he taught at UE, and he won the award in 1999. Of all the formal accolades he received in his career, this was his most prized, but he cherished every heartfelt letter from former students every bit as much as the plaque on his wall.
Dr. Dale Edwards, Professor of Biology and the department chair, stated, "Professor Jerry Seng was a member of the Department of Biology for 27 years, arriving in the fall of 1976 and retiring in the spring 2003. He taught general biology, genetics, and developmental biology. Dr. Seng was a gifted and passionate teacher, who truly loved and nurtured his students. His commitment to teaching and relationship-building was cherished by his students. Dr. Seng won the Outstanding Teacher Award in 1999. In recognition of his exceptional contributions to teaching and mentoring students during his career at UE, the biology department has fittingly created the Jerry T. Seng Freshmen Biology Award in his honor."
He was preceded in death by his first wife Ann, his parents Carl and Marcella (Bohnert) Seng, and his brother Robert. He is survived by wife Kathleen (Boink), children Kris (and Dave) McGill of Newburgh, Phil and Laura Seng of South Bend, Indiana, and Rebecca (and Mike) Fitzmaurice of Granger, Indiana. Grandchildren: Nathan (and Stephanie) McGill, Miriam (and Brian) Reilly, Rachael McGill, Aaron (and Hayley) Seng, Justin Seng, Jenny (and Antonio) Marchi, John Paul Fitzmaurice, and Gregory Fitzmaurice. Great-grandchildren: Gianna-Marie, Felicity, Ambrose, Elizabeth, and Joseph Seng; Aria and Crystal McGill; Mariella and Simeon Marchi.
Visitation will be held Sunday, October 24, 2021, from 2:30 p.m. to 8:00 p.m. at Ziemer Funeral Home East Chapel, 800 S. Hebron Ave. Funeral service will begin at 9:30 a.m. Monday, October 25, 2021, at the funeral home and continue with a traditional Latin Requiem Mass at 10:00 a.m. at Saint Mary Catholic Church, 613 Cherry St., Evansville.
Redbirds Edge Swimming & Diving Aces
The Illinois State Redbirds held off a hard-charging University of Evansville women's swimming and diving team on Saturday at Horton Pool in Normal, Illinois, as ISU was able to hold on for a 155-144 victory.
"I am really proud of the way that we competed today," said UE swimming and diving head coach Stuart Wilson. "The ladies really showed a lot of grit to the very end."
The Redbirds, predicted to finish fourth in the Missouri Valley Conference in the preseason poll, jumped out to an early meet lead on the diving boards, behind an NCAA provisional standard of 285.00 by freshman Eva Reyes on the one-meter board. UE senior Fae-Siri Keighley finished second behind Reyes, and just 10 points shy of the provisional mark, as she posted a season-best mark of 255.00 in the one-meter competition.
In the pool, Evansville finished first in 10 of the 14 individual and team events to rally back. Freshman Sveva Brugnoli (Rome, Italy) and junior Maya Cunningham (Yakima, Wash./Eisenhower) went one-two in both the 100-yard and 200-yard butterfly events (100 times: 57.27 and 59.25 | 200 times: 2:08.76 and 2:08.82). Brugnoli's 100 fly time ranked her as the eighth-fastest Ace in school history in the event.
Senior Jessie Steele (Houston, Texas/Klein) swept the sprint freestyle events, placing first in both the 50 free (25.18) and 100 free (53.65). Freshman Mari Mueller (Aschaffenburg, Switzerland) also posted a double by winning the 200-yard breaststroke (2:25.89) and the 200 IM (2:09.69). Juniors Sarah Jahns (200-yard backstroke – 2:07.33) and Sage Moore (100-yard breaststroke – 1:06.94) and sophomore Iryna Tsesiul (100-yard backstroke – 59.41) also won individual events for UE.
"Both Jessie and Sveva really stood out today," said Wilson. "They were dominating in their events."
UE got within striking distance at the close of the meet, but ISU was able to hold off the Purple Aces by outscoring Evansville 20-16 over the final two events. UE finished just a second behind Illinois State in the all-important final event – the women's 400-yard freestyle – that swung the victory into ISU's favor.
"Winning 10 of 16 events was outstanding, but give Illinois State a lot of credit for pulling out that last relay," said Wilson. "I still really liked the fight that our team showed today, and this is a good meet to build on going forward."
Evansville will now have a week off before returning to the pool next the weekend of November 5 and 6 to host Arkansas-Little Rock and Saint Louis.
Evansville tests #9 Missouri State as Bears hold on for win
In an evenly played match, the University of Evansville men's soccer team battled closely with the ninth-ranked team in the nation, but fell, 1-0, to No. 9 Missouri State on Saturday evening at Arad McCutchan Stadium in Evansville, Ind.
"It was a long week against three really good opponents. I give our guys credit for battling and fighting," said Evansville head men's soccer coach Marshall Ray. "We lost our way a little bit in the first part of the second half tonight and some of that is playing against a very good team in Missouri State and I think some of it is the fatigue that we felt after being on the road at Loyola to IU and now playing Missouri State at home. We've played better and we're putting ourselves in situations to compete in matches. We've got to rest and get prepared for SIUE and finish off with our three conference games and get ready for the postseason tournament."
Junior Nkosi Graham and freshman Jose Vivas led the Evansville attack, each recording three shots with Vivas putting a team-best two on-goal on the evening. In goal, redshirt junior Jacob Madden turned-in an impressive performance, limiting a potent Missouri State attack with seven saves.
The first half of action saw much of the attack lean in Evansville's favor as the Aces recorded a pair of great opportunities. In the 41st minute, Davis Peck received a ball in open space and dribbled into the box, firing a shot from 10 yards out that was blocked by a last ditch sliding effort by a Bears defender, keeping Evansville from scoring first. Just over a minute late, Evansville again challenged the Bears as Graham let loose a shot from 25 yards out that tested Missouri State Michael Creek, who eventually corralled the ball and made the save as the match went to the half scoreless.
Missouri State gained much of the early possession in the second half as the Bears went on to out-shoot the Aces, 14-5, in the second 45 minutes. In the 60th minute, the Bears found the back of the net as Aadne Bruseth made a run down the right side, crossing ball to Josh Dolling, who finished it to give the Bears a 1-0 advantage. Evansville provided a couple of heart-stopping moments in the final five minutes with Vivas curling a long shot that just missed the far post and Pablo Guillen recording a chance from the top of the box, but the Aces were unable to force OT as the Bears captured a 1-0 win.
Evansville goes back on the road on Wednesday for a midweek matchup with SIUE at 7 PM in Edwardsville, Ill.
Aces get attack going late in road loss at Valparaiso
Generating attacking opportunities late, the University of Evansville women's soccer team battled back from a deficit, but came up short in a 2-1 loss to Valparaiso on Saturday night in Valparaiso, Ind.
For the second time this season and the second time in her career, fifth-year senior Emily Olson scored a goal, helping Evansville push closer late in the second half. In goal, fellow fifth-year senior Michaela Till moved within four saves of tying the career program record, stopping four shots on the night.
The Aces generated the first shot on-goal of the night as senior Alex Eyler let go off a shot in the ninth minute that forced a save from Beacon keeper Nikki Coryell. Despite Evansville's early chance, it was Valpo who found the back of the net first, doing so in the 17th minute as Valpo's Kelsie James clipped home a ball to give the Beacons the early advantage. Nine minutes later, the Beacons added another goal with a familiar name doing the scoring. James scored her second goal of the half in the 26th minute, off an assist from Peyton Flynn, earning Valpo a 2-0 lead, an advantage it would hold at the break.
A more aggressive Evansville attack showed itself in the second half as the Aces recorded seven shots in the second period compared to four in the first 45 minutes. Less than five minutes into the second half, fifth-year senior Jayme-Lee Hunter challenged the Beacons with a shot on frame that was saved by Coryell. In the 72nd minute, Evansville's increased attack paid off as the Aces halved their deficit. Off a free kick, junior Emilie Hill sent a soaring ball into the ball that was popped up into the air multiple times before senior Emily Wolak headed the ball to Olson who directed the ball to the left of Coryell, putting Evansville on the board. Over the final 15 minutes, the Aces recorded two more shots, but could not find their second goal as Valparaiso held on for the 2-1 win.
Evansville closes out the regular season on Thursday with a 4 PM matchup with Missouri State on Senior Day at Arad McCutchan Stadium in Evansville.
Valparaiso next up for Aces as regular season wanes
With more than a week away from competition, the University of Evansville women's soccer team heads north for a meeting with Valparaiso on Saturday night in Valparaiso, Ind.
Last Match: Evansville 1, SIU 0
• Led by a dominant defensive effort, the University of Evansville women's soccer team captured a 1-0 shutout victory over Southern Illinois on Wednesday evening at Arad McCutchan Stadium in Evansville.
• In goal, fifth-year senior Michaela Till moved closer to a program record with an exceptional performance between the posts. Till recorded eight saves, including a diving save late in the match, moving her within eight of the program record for career saves. The 1-0 win also marked the Avon, Ind. native's 16th career shutout, putting her just one behind tying Misty Long for second all-time at UE.
• On the attack, it was again a connection between seniors Alex Eyler and Emily Ormson that produced successful results. Ormson's goal in the 10th minute increased her team lead with her sixth goal of the season, moving Ormson into a tie for second in The Valley in the category. Delivering the cross into the box, Eyler continued her tear this season, recording her sixth of the season and her fourth in five matches.
• Evansville's attack got started quick right out of the gate, finding the scoreboard early with the aforementioned goal. In the 10th minute, Eyler dribbled into to the side of the 18-yard box, sending a cross into the six. As the ball sailed over the keepers head, Ormson put herself in the proper spot, volleying the ball into the upper netting and giving the Aces an early lead. After scoring the early goal, Evansville locked-in defensively and prevented the Salukis from generating goal-scoring opportunities, taking the one-goal lead to the break.
• The second half presented some challenges for the Aces as SIU began to hit on the counter. While Evansville outshot the Salukis, 10-6, in the first half, SIU played evenly with the Aces in the second 45 minutes as both teams recorded six shots in the period. The best chance of the night came in the 87th minute as SIU's Ashley Scesniak turned inside the box and whipped a shot on frame that Till dove and tipped over the crossbar to help preserve Evansville's lead in the 1-0 win.
Previewing the Matchup
• Saturday night's matchup marks the 18th meeting between Evansville and Valpo with the Aces owning a 10-3-4 advantage in the all-time series.
• In the spring, the two sides met twice, once in the regular season and once in the postseason, playing to 0-0 draws both times with the Beacons advancing in the MVC Championship on penalties on April 11.
• The Aces last win at Valpo came in the regular season finale in 2017 when Evansville captured a 2-1 win to close-out the season on Oct. 26.
• Valpo enters the weekend matchup on an absolute tear, holding a 5-0-1 unblemished mark in MVC play. Unbeaten in its last eight matches, the last loss for the Beacons came in a 2-1 defeat to Western Illinois on Sept. 10.
• The Aces currently sit tied with Illinois State for fourth in the MVC standings with eight points, and are just two points back of third-place Indiana State.
• A crowded middle portion of the MVC standings means that even with a win, Evansville would still not be locked into the MVC Championship as four points separate third and seventh.
• Scoring her sixth goal of the season on Oct. 13, senior Emily Ormson matched Montana Portenier for the most goals scored by an Ace since 2016. During the 2016 campaign, Bronwyn Boswell recorded eight goals for Evansville.
Till Approaches History
• Record watch continues for Michaela Till, who enters Saturday's match just eight saves away from tying the program record for most career saves, currenty owned by Chaviel Harrison, who compiled 358 saves from 2009-12.
First Time Since 2014
• Already having put together and impressive season, the Aces sit one win away from achieving something they haven't done in seven years.
• A win would earn Evansville its seventh win of the season, the most it has amassed in one season since winning 11 games when it advanced to the NCAA Tournament in 2014.
Aces welcome ninth-ranked Missouri State to McCutchan on Saturday
Back home for the first time in 14 days, the University of Evansville men's soccer team battles No. 9 Missouri State at 5 PM on Saturday evening at Arad McCutchan Stadium in Evansville, Ind.
Previewing the Matchup
• A series filled with close contests as of late is renewed on Saturday for the 40th time with the Bears owning a 24-10-5 advantage in the all-time series.
• Meeting earlier this season in Springfield, Mo., Missouri State captured a 2-1 win over the Aces on Sept. 25.
• Seven of the last 10 meetings between the two sides have been decided by a goal or less, including the last three times the Aces and Bears met in Springfield. In games played at McCutchan Stadium, Missouri State has won three-straight by a combined score of 13-3.
• Evansville heads into the weekend contest on Saturday against No. 9 Missouri State having already played some tough competition this season. Five of the Aces opponents have been ranked at some point this season, including two currently ranked (Kentucky and Missouri State) and two more currently receiving votes (Indiana and Louisville).
• This season, much like last season, Evansville's attack has been keyed by players from Spain. Of the Aces nine goals this season have been scored by Spanish players with Pablo Guillen scoring three times and Carlos Barcia scoring twice.
Last Match: Indiana 2, Evansville 0
• Hanging with the 2021 National Runner-Up for much of the match, the University of Evansville men's soccer team battled a familiar foe before falling to Indiana, 2-0, on Wednesday evening in Bloomington, Ind.
• "Set piece goals were the difference in our match tonight. I'm pleased with the way we played; the shots and the opportunities that we created. Jose Vivas had another great game for us this evening," said Aces head men's soccer coach Marshall Ray. "But we have to correct our play on set pieces and get prepared for Missouri State at home in a very important MVC match."
• A trio of players from Spain led the attack on the evening for the Aces as junior Carlos Barcia and freshmen Jose Vivas and Jon Varela all tallied two shots on the night with each putting one on frame. In goal, redshirt-junior Jacob Madden again helped keep the Aces in the match for much of the contest, making four saves.
• An active first half for both sides attacks saw a combined 13 shots recorded by the Aces and Hoosiers with Evansville keeping pace with Indiana much of the way. In the 21st minute, Varela nearly broke the deadlock with a shot that was saved in the left corner by Indiana keeper Roman Celentano. Just three minutes later, it was Indiana who found the scoreboard first with Victor Bezerra scoring off an assist by Joe Schmidt in the 24th minute. Evansville would record five shots in the first half, but despite creating good opportunities could not equalize before the break.
• The second half began differently than the first 45 minutes as neither side recorded a shot in the first 16 minutes of the second period before Herbert Endeley's attempt for the Hoosiers was saved by Madden. Entering the final 20 minutes of regulation, Indiana scored its second goal of the night as Ryan Wittenbrink found the back of the net on his own to increase the Hoosiers' lead. Evansville got its chances late as the Aces recorded three shots in the late going, but could not pull one back in a 2-0 loss at IU.
Hald Amasses the Minutes
• Freshman Oliver Hald has been a stalwart along the Aces backline this season.
• In his first collegiate season, Hald leads the team with 1,123 minutes spent on the pitch in 13 matches.
• The last UE freshman to spend more time than that on the pitch was Ethan Garvey with 1,193 minutes in 2019, which Hald could surpass in Saturday's match against Missouri State.
Aces extend win streak with sweep over Indiana State
The longest Missouri Valley Conference win streak in program history got a little longer on Saturday when the University of Evansville volleyball team won its 6th consecutive league match with a 3-0 sweep over Indiana State inside Meeks Family Fieldhouse.
Evansville's streak pushes its record to 16-4 and 6-3 in the MVC. The league start matches the program's best since entering the league in 1994; the Purple Aces began the 2000 campaign with a 6-3 mark through nine games.
Reigning MVC Player and Freshman of the Week Giulia Cardona made an argument for the repeat, leading all players with 17 kills and 7 service aces. The finished the match with 24 points in just three sets. Cardona's 7 aces is her top collegiate mark and is the first such effort since Anne Teegardin recorded 7 in 2006, also against Indiana State.
Melanie Feliciano added 14 kills in the winning effort to go along with 6 digs. Taya Haffner recorded 38 assists while Blakeley Freeman and Alondra Vazquez led the team in digs, finishing with 9 and 8, respectively. The Sycamores (11-8, 3-6 MVC) were led by an 8-kill match by Kaitlyn Hamilton.
Set 1 – UE 26, Indiana State 16
After falling to Indiana State by a 3-0 final in the MVC opener last month, the Aces wasted little time in setting the tone. An ace by Alondra Vazquez highlighted a 5-2 run to open the match. The serving continued its dominant effort as consecutive aces by Giulia Cardona pushed the lead to 11-4. Melanie Feliciano added a pair of kills in the run. UE continued to be efficient from all spots on the floor with its middles – Hannah Watkins and Madisyn Steele – picking up kills to pace the team to a 25-16 win and an early 1-0 lead.
Set 2 – UE 25, Indiana State 17
Game two saw the teams battle to a 5-5 tie before Evansville wrestled away a 9-5 lead. Using its stellar serving to its advantage once again, Evansville saw Cardona rack up two more aces to take the lead. Indiana State stayed close, taking advantage of a pair of UE errors to get within one at 18-17. That is when a familiar face took matters into her own hands. Cardona got the Aces back on track with a kill before assuming the serving duties. She added two more aces while Feliciano recorded two more kills to complete the set on a 7-0 run, taking a 2-0 match lead on the strength of a 25-17 win.
Set 3 – UE 25, Indiana State 23
Early on, it looked like the Aces would clinch the match in runaway fashion. Another Cardona ace, coupled with a Feliciano kill, saw Evansville take an 8-3 advantage. ISU countered with a 4-0 rally to get within one, but Evansville responded with two in a row to go up 11-7. Three kills by Cardona helped the Aces pad their lead at 19-13, but a tenacious rally by the Sycamores made for an exciting finish. Madeline Williams picked up an ace that cut the UE lead to 21-19. Evansville retook control, going up 24-21 on a Cardona kill, but the Sycamores continued to fight back. Back-to-back kills made it a 24-23 game, but the defining moment came when Hannah Watkins delivered the winning kill to cap off a 25-23 win.
Evansville has won all four MVC home matches by 3-0 finals and looks to continue its home success next weekend with Valparaiso and league-leading Loyola coming to town,
UE Women's Swimming & Diving Heads To Illinois State Saturday
The University of Evansville women's swimming and diving team will take to the pool for the third-straight weekend on Saturday, as the Purple Aces will travel to Normal, Illinois for a dual meet against Missouri Valley Conference foe Illinois State. The diving competition will kick-off the meet at 10:30 a.m., with the swimming portion of things set for noon.
The UE women have been dominant so far this year, winning all but one event in their first two dual meets of the year against Eastern Illinois and Valparaiso. Saturday will be a tougher test though against an Illinois State squad predicted to finish fourth in the Valley's preseason poll.
"The ladies have done really well in the last two meets, but the real test will be this weekend," said UE swimming and diving head coach Stuart Wilson. "It will be a matter of showing mental toughness against a good Illinois State team.
"I always believe that racing week in and week out will keep you sharp when the championships come around in February."
Evansville has been led in the pool this year by junior Sarah Jahns (Lilburn, Ga./Parkview), the reigning MVC Swimmer of the Week. Jahns is unbeaten individually through the first two meets, and she is coming off a performance last week in which she broke the Roy and Mary Wyttenbach Pool record in the 200-yard backstroke with a time of 2:02.54. She won the 200 back by over 13 seconds.
"Sarah has been much more focused this year," said Wilson. "She has shown a lot of resilience in her training and has been very consistent in practice."
UE's freshman duo of Mari Mueller (Aschaffenburg, Switzerland) and Sveva Brugnoli (Rome, Italy) have impressed this year as well. Mueller is unbeaten in the IM and breaststroke events this year, while Brugnoli has been just hundredths of a second off of honorable mention all-MVC junior Maya Cunningham (Yakima, Wash./Eisenhower) in the butterfly events this year.
"The freshmen have done a great job this fall," said Wilson. "It will be fun to watch how they will match up against Illinois State's swimmers. I actually think they have made the team much stronger than last year."
Diving-wise, UE is led by current MVC Diver of the Week Maggie Franz (Mundelein, Ill./Mundelein). Franz swept the one-meter and three-meter competitions in the dual meet with Valparaiso, in UE's first diving competition of the fall. Fellow senior Fae-Siri Keighley (Johannesburg, South Africa) finished second in the one-meter competition last weekend, while sophomore Madison Rollett (Evansville, Ind./Reitz) finished second on the three-meter board.
"I really liked what I saw last weekend in the first meet of the year," said UE diving coach Dustin Bredemeier. "I am looking forward to seeing how we perform tomorrow at Illinois State."
Volleyball returns home for Saturday match against Sycamores
With its first 5-match Missouri Valley Conference win streak secured, the University of Evansville volleyball team looks to add one more to that tally on Saturday when the Purple Aces welcome Indiana State for a 1 p.m. match at Meeks Family Fieldhouse.
Last Time Out
- Trailing by a score of 10-5 in the fifth set at Drake, the Aces staged a rally for the ages, scoring 10 of the final 12 points to clinch its first-ever 5-match MVC win streak
- Taya Haffner set her career mark with 50 assists while Giulia Cardona and Alondra Vazquez recorded 21 kills apiece
- Cecilia Thon played a huge role in the final rally, picking up two service aces
First Time For Everything
- On Oct. 15, the Purple Aces earned their first-ever road win over UNI by taking a 3-1 victory...it also marked just the third victory over the Panthers in 57 tries
- UE has now won five MVC matches in a row for the first time since joining the league in 1994
Rare MVC Feat
- On Monday, Giulia Cardona was named the MVC Player and Freshman of the Week after leading UE to road wins at UNI and Drake
- She became the first player to earn both honors in the same week since Abbie Lehman of Wichita State in 2014
- In Evansville's three wins last week, Cardona racked up 4.75 kills and 19.2 digs per set while hitting .301
- The freshman recognition marked her second in a row after winning it on Oct. 11 with her efforts in wins over Illinois State and Bradley
- Over the course of UE's 5-match win streak, Cardona has averaged 4.78 kills while hitting .342...she has also added 2.06 digs/set and 0.44 service aces
Highest Efficiency
- Entering the October 23 match against Indiana State, the Aces are hitting .260 on the season, which is on pace to smash the school record
- Since 1991, the highest mark has been .219 in 1998 and just six times UE has hit .200 or above, just one since 2001
Business as Usual
- Consistently one of the nation's top players every time the Aces take the floor, Alondra Vazquez has notched at least nine kills in every match of the fall
- She remains on top of the MVC list with 4.40 kills/set while pacing the league in points (5.17/set) and aces (0.49/set)...defensively, Vazquez leads her squad with 3.13 digs per frame, 10th in the Valley
- Nationally, Vazquez is 20th in kill average, 22nd in aces per set and 27th with her service ace average
Serving up some Aces
- As a team, the Purple Aces have accumulated an average of 2.02 service aces per set, which is best in the Valley and 8th nationally
- Evansville is a perfect 15-0 on the season and 5-0 in the MVC when recording more service aces than the opposition
- The average for UE is on pace to be one of the top three on record (since 1991) with the top marks being 2.47 in 1991, 2.22 and 2.01 in 1996...UE has not averaged more than two aces per set since 1996
- Two of the heroes of the weekend Iowa sweep were Laura Ruiz and Cecilia Thon who made an extreme difference with their serving
- In the Oct. 15 win at UNI, Laura Ruiz picked up three aces in a 3-1 road victory over the Panthers...her ace in the third set was the decisive point in a 29-27 win that gave UE a 2-1 lead in the match
- It was Cecilia Thon's turn in Des Moines where her serving anchored Evansville's rally in the fifth set...Thon took over serving with the Aces trailing 11-8 and by the time she was finished - her team scored five in a row to go up 13-11, which included two service aces
Contribute to AceNotes
To have content considered for inclusion in AceNotes, please submit a Marketing Request Form. Deadline for submission to AceNotes is 10:00 a.m. on the requested date of publication. Only articles concerning UE related/sponsored activities will be accepted. Articles submitted to AceNotes may be edited for length and clarity. Submitter contact information is at the end of each article.