| | |
| --- | --- |
| AceNotes Today | Tuesday, October 12, 2021 |
Are You a First-Generation Student?
Are you a first-generation college student? Or are you an employee that earned your degree as a first-generation student? We want to hear from you!
Each year on November 8 we celebrate the First-Generation College Celebration across the nation. This day highlights the importance of college education and accessibility. At UE, we will be recognizing our first-generation students, faculty, staff, and administration for all they have achieved!

If you're "first-gen," we want to hear your story! Please email Julie Bryant, university relations coordinator, at jb855@evansville.edu. We need to have all stories collected by Wednesday, November 3, so don't wait!
2022-23 FAFSA is Open
File the 2022-23 FAFSA by April 15 at fafsa.gov.
Continuing students should file the 2022-23 Free Application for Federal Student Aid (FAFSA) to apply for federal, state and University need-based financial aid, including all federal student loans. UE's FAFSA code is 001795.
Filing by April 15 is essential for Indiana residents to receive state aid, and highly recommended for all.
Questions regarding the FAFSA should be directed to the Student Financial Services (Olmsted Administration Hall, Rm. 105) at 812-488-2364.
An equity analyst will interact with UE students
An equity analyst will interact with UE students
Sam Carden, an equity research analyst, with Jefferies investment banking firm, will speak to UE students in Dr. Walayet Khan's classes via Zoom at 5.00 p.m. on Thursday, October 14, 2021. He covers the healthcare services sector. Prior to Jefferies, he spent about three years in Region's corporate banking division and a little under 2 years at UBS as a risk analyst in the derivatives department. He graduated from the University of Alabama with a degree in Finance in 2015 and earned the CFA charter in 2019. (https://www.jefferies.com/)
Please contact Dr. Walayet A. Khan at wk3@ evansville.edu for an invitation and further information.
Distinguished Historian Sally Roesch Wagner to Deliver Fiddick Lecture on November 5
The Department of History, Politics, and Social Change will welcome Dr. Sally Roesch Wagner for the 19th annual Thomas C. Fiddick Memorial Lecture on Friday, November 5. The lecture will begin at 7:00 p.m. in Eykamp Hall and is free and open to the public. For those who are unable to attend in person, the lecture will be live streamed at evansville.edu/live.
The 19th annual Fiddick Lecture is a centennial celebration (delayed by one year due to COVID-19) of the passing of the 19th Amendment, which gave American women the right to vote. Focusing on the women's rights movement over three centuries, Dr. Wagner's lecture examines the movement's changing agenda, why it has happened, and how we can move forward today with United States democracy and the very existence of life on the planet hanging in the balance.
Dr. Sally Roesch Wagner was awarded one of the first doctorates in the country for work in women's studies (UC Santa Cruz), and she is a founder of one the first college-level women's studies programs in the United States (CSU Sacramento). Dr. Wagner has taught women's studies courses for 50 years, and she currently teaches for Syracuse University's Honors Program.
A major historian of the suffrage movement, Dr. Wagner has been active on the national scene. She appeared in and wrote the faculty guide for the Ken Burns documentary Not for Ourselves Alone. A prolific author, Dr. Wagner's anthology The Women's Suffrage Movement, with a foreword by Gloria Steinem (Penguin Classics, 2019), unfolds a new intersectional look at the 19th century women's rights movement. Sisters in Spirit: Haudenosaunee (Iroquois) Influence on Early American Feminists (Native Voices, 2001) documents the surprisingly unrecognized authority of Native women who inspired the suffrage movement. It was followed by her young reader's book, We Want Equal Rights: How Suffragists Were Influenced by Native American Women (Native Voices, 2020). Among her awards, Dr. Wagner was selected as a 2020 New York State Senate Woman of Distinction, one of "21 Leaders for the 21st Century" by Women's E-News in 2015, and she received the Katherine Coffey Award for outstanding service to museology from the Mid-Atlantic Association of Museums in 2012.
Thomas C. Fiddick, for whom the Fiddick Memorial Lecture is named, served as professor of history at UE from 1963 to 2002. In his 39 years at the University, he was a dedicated teacher, a productive scholar, and a tireless fighter in the cause of justice. His book, Russia's Retreat from Poland, 1920: From Permanent Revolution to Peaceful Coexistence, is still considered to be the best book on this topic. Tom's untimely death on the day of his retirement in 2002 stunned the entire UE community, especially his many former students. It was from the former students' efforts in particular, with the support of Dr. Fiddick's friends and the University, that the annual Thomas C. Fiddick Memorial Lecture was established.
CDEI Presents: Spill the Tea - Religion
Join the Center for Diversity, Equity, and Inclusion at 5:00 PM on Thursday, October 14th for the first part of their two-part series: "Spill the Tea". Our first segment will be focusing on religious understanding and implicit bias through a faculty led training, student panel speakers, and break-out room discussions. Learn about the different ways religious biases impact the community, why we come to have these biases, and what we can do to understand these biases. Follow along with @uediversity on Instagram for additional programming.
Keep an eye out on social media and Ace notes for upcoming series focused on other topics like Mental Health, Religion, and Race Relations.
CDEI Presents: International House - Hispanic Heritage Month
The CDEI is hosting it's first International House of the semester, focused on celebrating Hispanic Heritage. The event will give the audience an opportunity to learn about Hispanic Heritage, while also providing interactive dance and art lessons, aimed at teaching history through participation.
Come join us in the 13th of October to celebrate Hispanic Heritage and look out for more interesting programming from the CDEI on Acenotes and social media @uediversity on Instagram.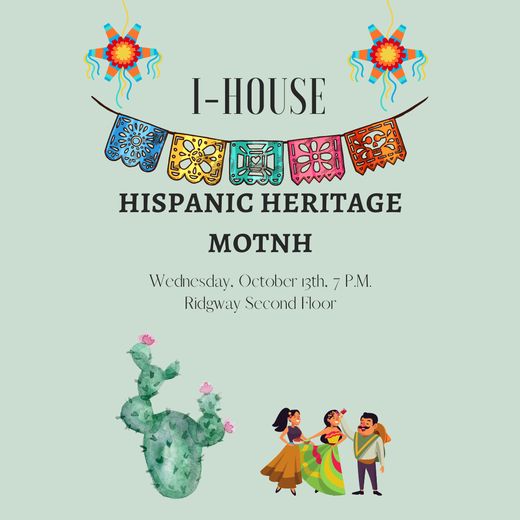 Join us for Ace RACE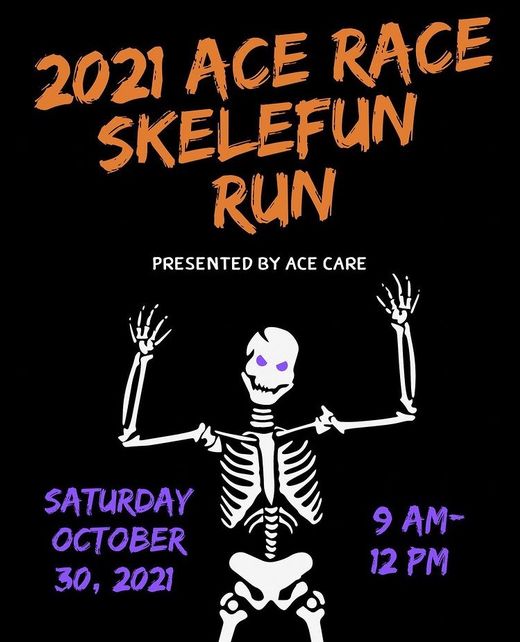 Come support AceCARE by participating in our Annual AceRACE 5k! Show off your Halloween costume, compete against your friends, and see our best dressed pets! Mark your calendars now, you won't want to miss out!
Ace Race is on Saturday, October 30th at 9:30 am, starting at the UE main campus East Terrace Lawn, and there is an option to participate either in person or virtually. Registration is only $15 for students and $30 for the general public! Deadline to register and be guaranteed a t-shirt is Saturday, October 9th, and general registration deadline is Sunday, October 23rd. Register at www.uealumnionline.com/acerace2021 .
Feel free to dress up in your best Halloween costume - there will be a costume contest (and prizes) for both racers and their dogs. That being said dogs are more than welcome at the race (just please make sure they are on a leash). There will be prize giveaways after the race, as well as lots of free food.
Ace CARE is an organization founded by University of Evansville Doctor of Physical Therapy (DPT) students. Our organization currently has three branches: Ace+PT, ACErcise, and AceBuddies. Ace+PT is an outpatient Physical Therapy clinic that serves community members who are underinsured, uninsured, or homeless. ACErcise serves adults who have had a neurologic injury, and AceBuddies serves children and young adults with special needs. Both ACErcise and AceBuddies are group exercise classes. All these services are completely student-run at no cost to patients and participants.
Thanks for supporting Ace CARE!
Costume Shop Sale
The theatre department is selling vintage clothing! Come outside the May Studio Theatre October 22nd to get your pick!
UE Gives Back for Students (October 23rd, 2021)
Community Service Initiatives is hosting the UE Gives Back event on October 23rd, 2021 from 8 A.M. to 12 P.M. Students will be able to sign up to volunteer at various organizations in the Evansville community and surrounding area. All volunteer hours will be collected by Community Service Initiatives. In addition, all volunteers will receive a free t-shirt for volunteering after the event. Sign up on UEngage today! A link to the UE Gives Back Sign-Up Genius can be found on the UEngage event post. We kindly ask that all volunteers wear a UE shirt on the day of the event to show our Aces pride! Volunteer slots are limited, so sign up today!
SNACK DRIVE
Senior nursing students at the University of Evansville are sponsoring a food drive for the Dream Center. The Dream Center provides children with meals/snacks, assistance with their schoolwork, guide children in faith, and motivate them to have a positive work ethic.
The donation boxes will be located on the first floor of Ridgway and Graves Hall.
Women Entrepreneurship Week Speaker - Oct. 20
Please join the University of Evansville as Ms. Delna Avari, global business innovator recognized as one of the top 50 influential female leaders in India, shares strategies for navigating the transitions in leadership that occur over the course of a career. Rising leaders in the start-up, corporate, and non-profit sectors will find both inspiration and practical tools to manage their leadership journey.
Date: October 20, 2021
Time: 9:00 am to 10:00 am CST
Register at www.evansville.edu/womenentrepreneurship
Delna is the founder of both Delna Avari & Consultants and Business-360°. A Fulbright Fellow for Leadership from Carnegie Mellon University, Delna has received over 100 industry awards for excellence in business and marketing. In addition to holding senior management positions with Tata Motors and serving as a Director on Board for Concorde Motors Limited, she has consulted on leadership development, diversity, and inclusion across global markets, and has mentored founders, technology start-ups and women-led businesses.
Moderator: Beverly Brockman, PhD - Schroeder Family Dean, College of Business & Engineering
Panelists:
Turae Dabney Mumford - Executive Director, People for Urban Progress
Tara Barney - Co-CEO of the Evansville Regional Economic Partnership
UE T-SHIRT EXCHANGE
Wednesday, October 27 from 11am-1pm at Ridgway
Need more purple in your closet? Bring a t-shirt from another college to the Collegiate Alumni Board table and swap it for a UE t-shirt! All collected shirts will be donated to Hangers.
Winter Intersession Courses
It's not too late to register for a Winter Intersession course. Classes are held December 17, 2021, through January 7, 2022. Students may take one course.
For registration, payment deadlines, and additional information visit https://www.evansville.edu/registrar/winterSessions.cfm.
Winter Intersession Course List
| Subject | Number | Cr Hrs | Course Title | Instructor |
| --- | --- | --- | --- | --- |
| ART | 105 | 3 | Introduction to the Visual Arts | Larmann |
| ASTR | 101 | 3 | Descriptive Astronomy | Braun |
| AT | 180 | 3 | Introduction to Athletic Training | Tilly |
| CHEM | 103 | 3 | Chemistry of Adult Beverages | Miller |
| CHEM | 118 | 4 | Principals of Chemistry | Miller/Morong |
| EDUC | 322 | 3 | Strategies for Special Needs Students in K-12 Schools | Jones |
| ES | 103 | 3 | Fundamentals of Environmental Science | Thananatthanachon |
| EXSS | 150 | 2 | Introduction to Health Sciences | Laughbaum |
| EXSS | 320 | 3 | Nutrition for Performance and Health | Rodd |
| EXSS | 453 | 2 | Motor Learning | Wilson |
| EXSS | 488 | 1 to 3 | Internship | Rodd |
| EXSS | 488 | 1 to 4 | Internship | Wilson |
| FIN | 280 | 3 | Personal Finance | Brockman |
| HS | 205 | 3 | Pharmacology | Pruden |
| MATH | 134 | 3 | Survey of Calculus | Salminen |
| MATH | 324 | 3 | Differential Equations | Salminen |
| MUS | 156 | 3 | Music in America | Strandberg |
| NEUR | 125 | 3 | Introduction to Neuroscience | Campese |
| NEUR/PSYC | 355 | 3 | Sensation and Perception | Becker |
| PH | 190 | 3 | Introduction to Public Health | Patel-Dovlatabadi |
| PSYC | 121 | 3 | Introduction to Psychology | Campese |
| PSYC | 226 | 3 | Child and Adolescent Psychology | Hennon |
| PSYC | 416 | 3 | Human Sexuality | Becker |
| QM | 227 | 3 | Intro to Statistics | Khormali |
| SOC | 105 | 3 | Introduction to Sociology | Plikuhn |
| SOC | 230 | 3 | Social Problems in the Modern World | Plikuhn |
| STAT | 166 | 1 | Intro to R for Data Science | Weber |
Special Fall Break Hours for Bookstore
The campus bookstore will have the following special Fall Break hours:
Saturday, October 9th: CLOSED
Sunday, October 10th: CLOSED
Monday, October 11th: 9am-4pm
Tuesday, October 12th: 9am-1pm
We will return to regular operating hours on Wednesday, October 13th.
UPS on campus to recruit for open positions
UPS is now hiring! A recruiter from UPS will be on campus Thursday, October 14 from 11am-1pm in Ridgway. They have multiple job openings- part time, full time and seasonal. Positions are available locally as well as nationwide.
Ridgway Information Desk Hiring Federal Work Study Student Workers
The position of the Information Desk Assistant exists to provide information regarding the Ridgway University Center, University of Evansville campus, and surrounding community via the phone and in person. Information Desk Assistants provide fast, friendly, and professional services to the students, staff, and guests of the University of Evansville.
Skills Needed: Student must be detail oriented, accurate, organized, punctual, and dependable. Students should be able to communicate well verbally and be able to respond to emergencies in a calm manner.
Students eligible for Federal Work-Study of any major may apply.
Apply by visiting WebAdvisor and downloading the application. Email completed application and availability to sd241@evansville.edu.
Drs. Plisky, Schwartzkopf-Phifer and Huebner publish a systematic review on the Lower Quarter Y-Balance Test
Dr. Phil Plisky, Associate Professor of Physical Therapy and Director of Residency Programs led a team of researchers including, Dr. Kate Schwartzkopf-Phifer, Associate Professor of Physical Therapy and Dr. Bethany Huebner, Associate Professor and Chair of Physical Therapy with a publication of a systematic review and meta-analysis titled, "Systematic Review and Meta-Analysis of the Y-Balance Test Lower Quarter: Reliability, Discriminant Validity, and Predictive Validity." This was published in the International Journal of Sports Physical Therapy on October 1, 2021 in Volume 16, Number 5. See the article here: https://ijspt.scholasticahq.com/article/27634-systematic-review-and-meta-analysis-of-the-y-balance-test-lower-quarter-reliability-discriminant-validity-and-predictive-validity
Systematic reviews and meta-analysis are the highest level of evidence and play an integral role in the progression of the field of physical therapy. We are proud of all of their hard work and for their contribution to physical therapy research. Congratulations again to Dr. Plisky, Dr. Schwartzkopf-Phifer and Dr. Huebner.

UE Gives Back - Success!
On Friday our faculty, staff, and administration brought some positively purple change to campus with our UE Gives Back event. Employees spent part of the day volunteering for different projects to beautify our campus.
Projects included:
Landscaping and cleanup in front of the Schroeder Building
Painting the front oval curbs
Planting of fall annuals in raised planters
Pressure washing at Clifford Circle
Planting at the Native Plant Garden
Cleanup and raking leaves at the Community Garden on John Street
Painting and landscaping at the Peters-Margedant House
UE is so grateful for everyone's help on Friday. You made the campus look brighter and more beautiful!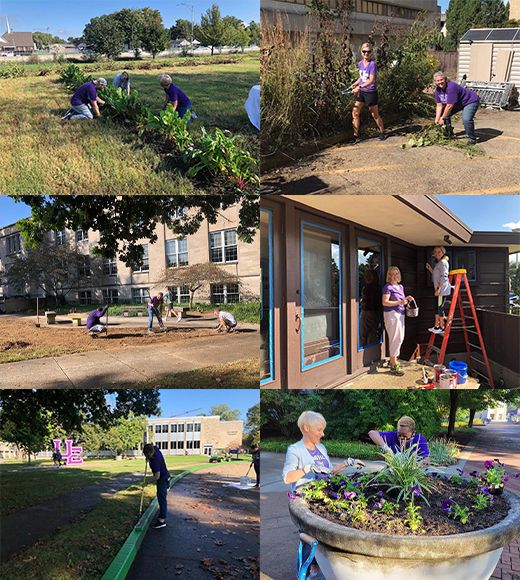 Feliciano and Cardona earn MVC awards as Aces prep for Bears
After leading the University of Evansville volleyball team to one of its most successful weekends in over a decade, the duo of Melanie Feliciano and Giulia Cardona were recognized by the Missouri Valley Conference on Monday.
Feliciano was recognized as the league's Player of the Week while Cardona earned Freshman of the Week accolades. It marked the first such honor for each. Evansville also becomes the first team in the MVC to have four different players recognized with weekly awards this season. The Purple Aces are preparing for a Tuesday match-up against Missouri State, which is slated for a 6 p.m. start at Meeks Family Fieldhouse.
Player of the Week
- Racking up 18 kills while hitting a season-high .600, Melanie Feliciano lifted UE to a 3-0 win over Illinois State on Saturday and was recognized as the MVC Player of the Week
- The contest marked the sixth in a row for Feliciano with eight or more kills
- The junior averaged 5.00 kills/set in the weekend wins over the Braves and Redbirds while improving her season average to 3.32 per set, which is 8th in the MVC
- With 2.48 digs per set, Feliciano is second on the team and 20th in the Valley
Freshman of the Week
- Averaging 4.83 kills, 2.33 digs and accumulating a total of eight service aces in the weekend wins over Bradley and Illinois State, Giulia Cardona was named the MVC Freshman of the Week on Oct. 11
- Her eight aces over the weekend pushed her season mark to 0.51 aces per set, which paces the Valley and is 22nd nationally...she opened the week with a career-high of five against Bradley
- That was not her only strong point as she tallied 4.83 kills per set in the two matches while improving her season average to 3.67
- Cardona led the way with 16 against Bradley before adding 13 versus ISU...since totaling one kill at Loyola, she has averaged 4.5 per set with 45 kills in 10 frames
- The freshman is third in the MVC in both kills 3.67/set and points (4.33/game)
Last Time Out
- It was a weekend to remember for the Purple Aces, who earned a pair of 3-0 victories against Bradley and Illinois State
- Friday's win over the Braves snapped a 7-match skid against the squad with Giulia Cardona racking up 16 kills, 5 aces and 13 digs
- On Saturday, it was Melanie Feliciano leading the way with 18 kills on the way to a win over the Redbirds...the win was just the fifth in program history versus ISU
- UE earned consecutive 3-0 shutouts over MVC opposition for the first time since October of 2010 when UE topped Illinois State and Indiana State by 3-0 scores
Are those video game numbers?
- Taya Haffner continues to tally up the assists at one of the top rates in the nation
- She recorded an average of 13.17 per set in UE's weekend sweeps of Bradley and Illinois State and improved her season total to 11.15 per game
- That average continues to pace the MVC while ranking 9th nationally and second among all NCAA freshmen
- Over the last three matches, Haffner has accumulated 12.4 helpers per frame and has reached 40 in a match on five occasions
- Haffner's numbers in home matches are off the charts - in 11 sets, she has posted 145 assists, an average of 13.18 while helping the Aces to a perfect 4-0 mark at Meeks Family Fieldhouse
Evansville makes trip to Nashville for non-conference clash with Belmont
Following a win over Bradley on Saturday, the University of Evansville men's soccer team wastes little time in returning to competition with a quick trip south to take on Belmont at 6:30 PM in Nashville, Tenn.
Last Match: Evansville 2, Bradley 1
• Behind an impressive and resilient second-half performance, the University of Evansville men's soccer team stormed back for a 2-1 win over Bradley at Arad McCutchan Stadium on Saturday afternoon in Evansville.
• Powering Evansville's potent attack were junior Nkosi Graham and sophomore Pablo Guillen. Graham scored the first goal of his Evansville career in the 68th minute, while Guillen increased his team lead with his third goal of the fall. Between the posts, redshirt junior Jacob Madden limited the Braves to one goal, while saving five Bradley shots, to earn his first win in white and purple.
• Building off the progress gained at Drake last Sunday, Evansville's attack proved to pack more punch. After recording 19 shots a week ago, the Aces tallied 27 shots against Bradley, the most by Evansville since August 25, 2017 when UE amassed 46 shots in a 9-0 win over Anderson. You have to go even further back in history to find the last time Evansville recorded 27-or-more shots against an NCAA Division I opponent, last doing so against these same Braves on Nov. 13, 2013, when UE notched 36 shots.
• Evansville's attack held the advantage early with 15 first half shots to just six for the Braves, but it was Bradley who held the halftime lead. In the 19th minute, it was the Braves who jumped on the scoreboard first as Jack Douglas tipped a ball over a charging Madden that clipped the crossbar. The ball bounced off and back into the goal as Bradley opened the 1-0 lead it would hold at the break.
• More than 20 minutes into the second half, Evansville capitalized on its increased chances. The Aces earned a throw-in well into the attacking third that fifth-year senior Davis Peck triggered. Peck's throw found its way to the edge of the 18 and redshirt junior Jakub Hall flicked the ball towards the six-yard box. Graham jumped at the opportunity and connected with his head, slipping the ball past the Braves keeper to tie the match at one.
• Less than a full four minutes later, Evansville took the lead, again utilizing its revitalized attack. From well beyond the top of the box, Guillen received the ball from Owen Butcher and Jakub Hall and dribbled towards the top of the 18, curving a shot into the left side of goal and grabbing the lead for the Aces. Evansville was tasked with staving off a late Bradley flourish and succeeded, capturing the 2-1 win over the Braves.
Previewing the Matchup
• Evansville and Belmont are meeting for the 13th time in series history when the Aces and Bruins meet on Tuesday night with UE owning a 10-2 advantage in the all-time series.
• The Aces enter the match with an eight-game winning-streak in the series, including a 3-2 overtime win over the Bruins in their last meeting on Oct. 10, 2017 as Jesse Stafford-Lacey volleyed home the game winner in the 97th minute.
• Belmont's last win in the series came on September 21, 2006 in Nashville as the Bruins captured a 1-0 win.
• Only one Ace remains on the team from the last meeting against the Bruins; fifth-year senior Filip Johansson. The Malmo, Sweden native started the match in the defense, recording one shot on-goal as the Aces earned the 3-2 win.
Emerging Offense
• Over the last two matches, Evansville's offense has hit a new gear.
• In the two matches, the Aces have combined for 46 shots, an average of 23 shots per match.
• In the eight previous matches this season, Evansville averaged just 6.3 shots per game.
Henry Kiel leads UE men in Arkansas
Henry Kiel was the top performer for the University of Evansville men's golf team in the opening day of the Bubba Barnett Intercollegiate at RidgePointe Country Club.
Kiel began the day with an 80 before recording the Purple Aces low round of the day on the second 18. His 1-over 73 launched him to the top of the UE squad and in a tie for 47th on the leaderboard with a 153.
Three behind Kiel is Dallas Koth. Finishing the day with identical scores of 78, Koth is tied for 60th with a 156. Third for the Aces was Michael Ikejiani. His top round was a 77 in the first 18 holes before finishing with an 81. Ikejiani's total of 158 strokes has him in the 74th spot.
Carson Parker made a strong improvement as the day went along. Parker carded an 84 in round one before lowering his second-round score by seven on his way to a 161 for the day. Isaac Rohleder also lowered his tally between rounds, going from an 82 to an 80. He stands with a 162 entering Tuesday's final round.
Evansville is 16th on the team side with a 625. The Aces have a chance to make some moves on Tuesday as they stand five behind Stetson and six shots away from a 13th-place tie between Central Arkansas and Long Island. Arkansas State has a sizeable grip on the top spot with a 2-round score of 581. They are 11 in front of Loyola and 13 in front of a 4-way tie for third place between Oklahoma Christian, Oral Roberts, Creighton and Valparaiso.
Arkansas State individual Jack Madden holds the individual lead. Following a 76 to open the day, Madden registered a 6-under 66 in round two to finish with a 142. He is just one shot in front of a tie for second between Dustin Hasley (Oral Roberts) and Caleb VanArragon (Valpo).
Tuesday's final round will have tee times starting at 7:45 a.m.
Contribute to AceNotes
To have content considered for inclusion in AceNotes, please submit a Marketing Request Form. Deadline for submission to AceNotes is 10:00 a.m. on the requested date of publication. Only articles concerning UE related/sponsored activities will be accepted. Articles submitted to AceNotes may be edited for length and clarity. Submitter contact information is at the end of each article.