| | |
| --- | --- |
| AceNotes Today | Monday, October 11, 2021 |
2022-23 FAFSA is Open
File the 2022-23 FAFSA by April 15 at fafsa.gov.
Continuing students should file the 2022-23 Free Application for Federal Student Aid (FAFSA) to apply for federal, state and University need-based financial aid, including all federal student loans. UE's FAFSA code is 001795.
Filing by April 15 is essential for Indiana residents to receive state aid, and highly recommended for all.
Questions regarding the FAFSA should be directed to the Student Financial Services (Olmsted Administration Hall, Rm. 105) at 812-488-2364.
Student Health Center closed for fall break
The Student Health Center will be closed for fall break on October 11th and 12th. The student clinic will resume normal business hours on Wednesday, October 13th at 8am. SHC normal business hours are Monday-Friday 8am-5pm. Please email healthcenter@evansville.edu for your non-urgent needs, or call campus security at 812-488-2051 for urgent needs.
The TSC UE Employee Medical Clinic hours of operation are unchanged during fall break.
Monday 8-11am and 3-6pm
Tuesday 7-11am
Please call 888-492-8722 for all appointment/refill needs or schedule online through the TSC website or your patient portal.
Distinguished Historian Sally Roesch Wagner to Deliver Fiddick Lecture on November 5
The Department of History, Politics, and Social Change will welcome Dr. Sally Roesch Wagner for the 19th annual Thomas C. Fiddick Memorial Lecture on Friday, November 5. The lecture will begin at 7:00 p.m. in Eykamp Hall and is free and open to the public. For those who are unable to attend in person, the lecture will be live streamed at evansville.edu/live.
The 19th annual Fiddick Lecture is a centennial celebration (delayed by one year due to COVID-19) of the passing of the 19th Amendment, which gave American women the right to vote. Focusing on the women's rights movement over three centuries, Dr. Wagner's lecture examines the movement's changing agenda, why it has happened, and how we can move forward today with United States democracy and the very existence of life on the planet hanging in the balance.
Dr. Sally Roesch Wagner was awarded one of the first doctorates in the country for work in women's studies (UC Santa Cruz), and she is a founder of one the first college-level women's studies programs in the United States (CSU Sacramento). Dr. Wagner has taught women's studies courses for 50 years, and she currently teaches for Syracuse University's Honors Program.
A major historian of the suffrage movement, Dr. Wagner has been active on the national scene. She appeared in and wrote the faculty guide for the Ken Burns documentary Not for Ourselves Alone. A prolific author, Dr. Wagner's anthology The Women's Suffrage Movement, with a foreword by Gloria Steinem (Penguin Classics, 2019), unfolds a new intersectional look at the 19th century women's rights movement. Sisters in Spirit: Haudenosaunee (Iroquois) Influence on Early American Feminists (Native Voices, 2001) documents the surprisingly unrecognized authority of Native women who inspired the suffrage movement. It was followed by her young reader's book, We Want Equal Rights: How Suffragists Were Influenced by Native American Women (Native Voices, 2020). Among her awards, Dr. Wagner was selected as a 2020 New York State Senate Woman of Distinction, one of "21 Leaders for the 21st Century" by Women's E-News in 2015, and she received the Katherine Coffey Award for outstanding service to museology from the Mid-Atlantic Association of Museums in 2012.
Thomas C. Fiddick, for whom the Fiddick Memorial Lecture is named, served as professor of history at UE from 1963 to 2002. In his 39 years at the University, he was a dedicated teacher, a productive scholar, and a tireless fighter in the cause of justice. His book, Russia's Retreat from Poland, 1920: From Permanent Revolution to Peaceful Coexistence, is still considered to be the best book on this topic. Tom's untimely death on the day of his retirement in 2002 stunned the entire UE community, especially his many former students. It was from the former students' efforts in particular, with the support of Dr. Fiddick's friends and the University, that the annual Thomas C. Fiddick Memorial Lecture was established.
Toiletry Drive to Benefit Albion Fellows Bacon Center
Through October 31st, the American Physical Therapy Association (APTA) Indiana Southwest District will be collecting items to benefit the Albion Fellows Bacon Center. One of their many services is to provide emergency shelter as a safe haven to those who have experienced domestic or sexual violence. The items on their wishlist include deodorant, hair brushes, ladies underwear sizes 9-12, lotion, mouthwash, paper towels, plus size pants, reusable tote bags, rubbing alcohol, and toothpaste. Please place donated items in the collection box located in the lobby of Graves Hall. Contact sg184@evansville.edu with any questions.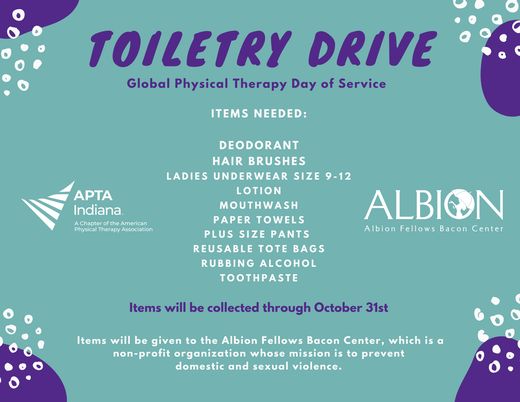 CDEI Presents: Spill the Tea - Religion
Join the Center for Diversity, Equity, and Inclusion at 5:00 PM on Thursday, October 14th for the first part of their two-part series: "Spill the Tea". Our first segment will be focusing on religious understanding and implicit bias through a faculty led training, student panel speakers, and break-out room discussions. Learn about the different ways religious biases impact the community, why we come to have these biases, and what we can do to understand these biases. Follow along with @uediversity on Instagram for additional programming.
Keep an eye out on social media and Ace notes for upcoming series focused on other topics like Mental Health, Religion, and Race Relations.
CDEI Presents: International House - Hispanic Heritage Month
The CDEI is hosting it's first International House of the semester, focused on celebrating Hispanic Heritage. The event will give the audience an opportunity to learn about Hispanic Heritage, while also providing interactive dance and art lessons, aimed at teaching history through participation.
Come join us in the 13th of October to celebrate Hispanic Heritage and look out for more interesting programming from the CDEI on Acenotes and social media @uediversity on Instagram.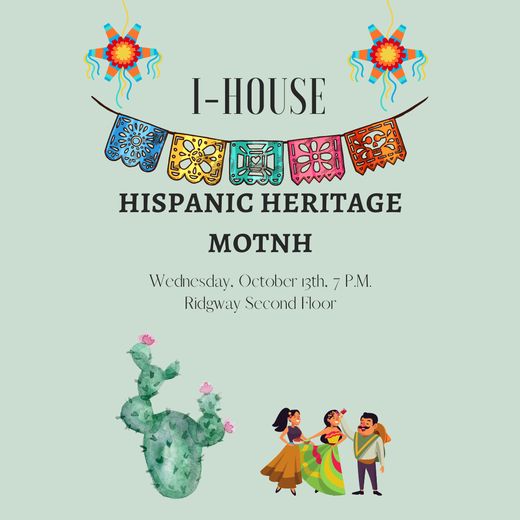 Employee & Student Flu Shot Blitz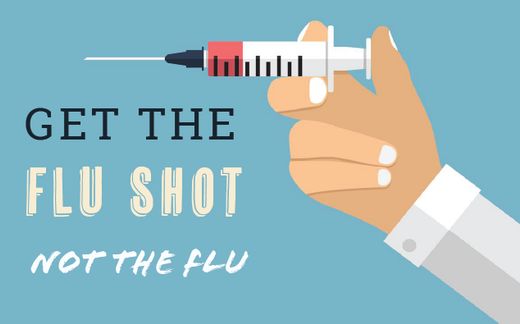 Flu shots will be available on Friday, October 15, from 7:00-9:00 a.m. and Monday, October 18, from 4:00-6:00 p.m. outside the UE campus clinic. These events are for insured employees and their covered dependents, non-insured employees, and students. There is no charge to those insured and their covered dependents. For non-insured employees (cash) and students (credit card), the cost is $20.
Sign up for your flu shot at evansville.edu/flu.
Women Entrepreneurship Week Speaker - Oct. 20
Please join the University of Evansville as Ms. Delna Avari, global business innovator recognized as one of the top 50 influential female leaders in India, shares strategies for navigating the transitions in leadership that occur over the course of a career. Rising leaders in the start-up, corporate, and non-profit sectors will find both inspiration and practical tools to manage their leadership journey.
Date: October 20, 2021
Time: 9:00 am to 10:00 am CST
Register at www.evansville.edu/womenentrepreneurship
Delna is the founder of both Delna Avari & Consultants and Business-360°. A Fulbright Fellow for Leadership from Carnegie Mellon University, Delna has received over 100 industry awards for excellence in business and marketing. In addition to holding senior management positions with Tata Motors and serving as a Director on Board for Concorde Motors Limited, she has consulted on leadership development, diversity, and inclusion across global markets, and has mentored founders, technology start-ups and women-led businesses.
Moderator: Beverly Brockman, PhD - Schroeder Family Dean, College of Business & Engineering
Panelists:
Turae Dabney Mumford - Executive Director, People for Urban Progress
Tara Barney - Co-CEO of the Evansville Regional Economic Partnership
UE T-SHIRT EXCHANGE
Wednesday, October 27 from 11am-1pm at Ridgway
Need more purple in your closet? Bring a t-shirt from another college to the Collegiate Alumni Board table and swap it for a UE t-shirt! All collected shirts will be donated to Hangers.
Winter Intersession Courses
It's not too late to register for a Winter Intersession course. Classes are held December 17, 2021, through January 7, 2022. Students may take one course.
For registration, payment deadlines, and additional information visit https://www.evansville.edu/registrar/winterSessions.cfm.
Winter Intersession Course List
| Subject | Number | Cr Hrs | Course Title | Instructor |
| --- | --- | --- | --- | --- |
| ART | 105 | 3 | Introduction to the Visual Arts | Larmann |
| ASTR | 101 | 3 | Descriptive Astronomy | Braun |
| AT | 180 | 3 | Introduction to Athletic Training | Tilly |
| CHEM | 103 | 3 | Chemistry of Adult Beverages | Miller |
| CHEM | 118 | 4 | Principals of Chemistry | Miller/Morong |
| EDUC | 322 | 3 | Strategies for Special Needs Students in K-12 Schools | Jones |
| ES | 103 | 3 | Fundamentals of Environmental Science | Thananatthanachon |
| EXSS | 150 | 2 | Introduction to Health Sciences | Laughbaum |
| EXSS | 320 | 3 | Nutrition for Performance and Health | Rodd |
| EXSS | 453 | 2 | Motor Learning | Wilson |
| EXSS | 488 | 1 to 3 | Internship | Rodd |
| EXSS | 488 | 1 to 4 | Internship | Wilson |
| FIN | 280 | 3 | Personal Finance | Brockman |
| HS | 205 | 3 | Pharmacology | Pruden |
| MATH | 134 | 3 | Survey of Calculus | Salminen |
| MATH | 324 | 3 | Differential Equations | Salminen |
| MUS | 156 | 3 | Music in America | Strandberg |
| NEUR | 125 | 3 | Introduction to Neuroscience | Campese |
| NEUR/PSYC | 355 | 3 | Sensation and Perception | Becker |
| PH | 190 | 3 | Introduction to Public Health | Patel-Dovlatabadi |
| PSYC | 121 | 3 | Introduction to Psychology | Campese |
| PSYC | 226 | 3 | Child and Adolescent Psychology | Hennon |
| PSYC | 416 | 3 | Human Sexuality | Becker |
| QM | 227 | 3 | Intro to Statistics | Khormali |
| SOC | 105 | 3 | Introduction to Sociology | Plikuhn |
| SOC | 230 | 3 | Social Problems in the Modern World | Plikuhn |
| STAT | 166 | 1 | Intro to R for Data Science | Weber |
CDEI Presents: The Pulsera Project
The CDEI intends to sell pulseras over the next few weeks in order to raise funds and awareness during Hispanic Heritage Month. Come support our philanthropic project during our tabling hours on the first floor of Rigdway!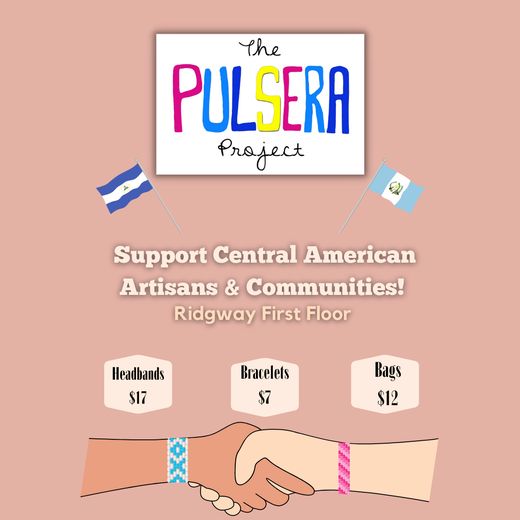 Special Fall Break Hours for Bookstore
The campus bookstore will have the following special Fall Break hours:
Saturday, October 9th: CLOSED
Sunday, October 10th: CLOSED
Monday, October 11th: 9am-4pm
Tuesday, October 12th: 9am-1pm
We will return to regular operating hours on Wednesday, October 13th.
CDEI Presents: Hispanic Heritage Month Challenge
During Hispanic Heritage Month join the UE HHM Challenge sponsored by the Center for Diversity, Equity and Inclusion!
In this challenge you will find 30 ways for 30 days of Hispanic Heritage Month (September 15- October 15) to actively learn, engage, support, and uplift the many different Hispanic cultures found in Evansville and around the world. Items listed in the challenge can be done personally or in a social group! Watch some YouTube videos to learn Zapateado or grab a friend, some popcorn and watch Selena. Either way you do it, #HHMChallenge yourself!
Happy Hispanic Heritage Month and be on the look out for some great programming throughout this next month hosted by the Hispanic Heritage Month Planning Team!
Hispanic Heritage Month Challenge
- Learn about different traditional Hispanic outfits and their importance
- Support a local Hispanic owned business
- Listen to music that is a part of Hispanic culture
- Learn about stereotypes that affect the Hispanic community
- Learn a few phrases in Spanish! Bonus-if they're in different dialects
- Research the different Spanish dialects
- Try to learn one of the many Hispanic dances ex. Bachata, Zapateado, etc.
- Read a book by a Hispanic author
- Research the significance of September 15th in relation to Hispanic Heritage month
- Amplify Hispanic voices in your community
- Follow some Hispanic activists on social media Ex. Vizo's Voice
- Learn all the Spanish speaking countries
- Share news and information related to Hispanic issues on social media
- Learn about biases towards Hispanic communities
- Research the importance of certain animals in different Hispanic cultures
- Support a Hispanic serving charity / organization ex. HOLA, Pulsera project
- Learn about Hispanic holidays
- Try a food that is important and traditional to a Hispanic culture
- Attend a Hispanic heritage month event hosted by the CDEI
- Research influential people in Hispanic culture ex. Frida Kahlo
- Share the new information you've learned with others
- Learn about the contributions that Hispanics have made in America
- Learn about the first Hispanic astronaut
- Look into and learn about the history of Afro-Latinos
- Research the differences and similarities between Hispanic countries and cultures
- Download an app created by an Hispanic person
- Watch a movie or documentary that is important to Hispanic culture ex. Bajo la Misma Luna or Living Undocumented
- Sign some petitions advocating for Hispanic rights on change.org
- Research the term Hispanic
- Listen to podcasts by a Hispanic creative // that explore Hispanic culture
- Attend a Hispanic heritage festival this month
Drs. Plisky, Schwartzkopf-Phifer and Huebner publish a systematic review on the Lower Quarter Y-Balance Test
Dr. Phil Plisky, Associate Professor of Physical Therapy and Director of Residency Programs led a team of researchers including, Dr. Kate Schwartzkopf-Phifer, Associate Professor of Physical Therapy and Dr. Bethany Huebner, Associate Professor and Chair of Physical Therapy with a publication of a systematic review and meta-analysis titled, "Systematic Review and Meta-Analysis of the Y-Balance Test Lower Quarter: Reliability, Discriminant Validity, and Predictive Validity." This was published in the International Journal of Sports Physical Therapy on October 1, 2021 in Volume 16, Number 5. See the article here: https://ijspt.scholasticahq.com/article/27634-systematic-review-and-meta-analysis-of-the-y-balance-test-lower-quarter-reliability-discriminant-validity-and-predictive-validity
Systematic reviews and meta-analysis are the highest level of evidence and play an integral role in the progression of the field of physical therapy. We are proud of all of their hard work and for their contribution to physical therapy research. Congratulations again to Dr. Plisky, Dr. Schwartzkopf-Phifer and Dr. Huebner.

UE Gives Back - Success!
On Friday our faculty, staff, and administration brought some positively purple change to campus with our UE Gives Back event. Employees spent part of the day volunteering for different projects to beautify our campus.
Projects included:
Landscaping and cleanup in front of the Schroeder Building
Painting the front oval curbs
Planting of fall annuals in raised planters
Pressure washing at Clifford Circle
Planting at the Native Plant Garden
Cleanup and raking leaves at the Community Garden on John Street
Painting and landscaping at the Peters-Margedant House
UE is so grateful for everyone's help on Friday. You made the campus look brighter and more beautiful!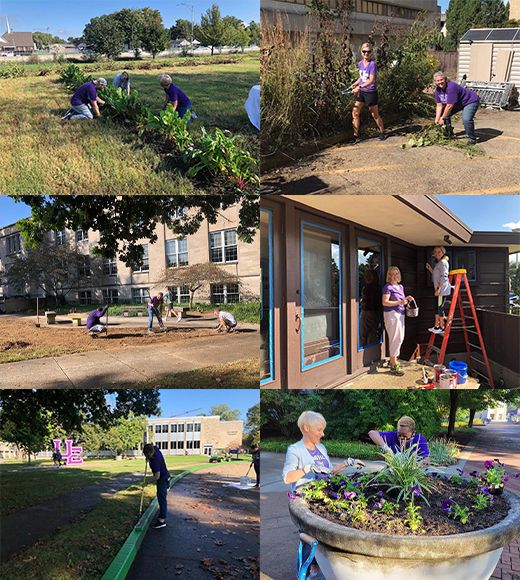 Two second half goals power Evansville to win over Bradley
Behind an impressive and resilient second-half performance, the University of Evansville men's soccer team stormed back for a 2-1 win over Bradley at Arad McCutchan Stadium on Saturday afternoon in Evansville.
Powering Evansville's potent attack were junior Nkosi Graham and sophomore Pablo Guillen. Graham scored the first goal of his Evansville career in the 68th minute, while Guillen increased his team lead with his third goal of the fall. Between the posts, redshirt junior Jacob Madden limited the Braves to one goal, while saving five Bradley shots, to earn his first win in white and purple.
Building off the progress gained at Drake last Sunday, Evansville's attack proved to pack more punch. After recording 19 shots a week ago, the Aces tallied 27 shots against Bradley, the most by Evansville since August 25, 2017 when UE amassed 46 shots in a 9-0 win over Anderson. You have to go even further back in history to find the last time Evansville recorded 27-or-more shots against an NCAA Division I opponent, last doing so against these same Braves on Nov. 13, 2013, when UE notched 36 shots.
Evansville's attack held the advantage early with 15 first half shots to just six for the Braves, but it was Bradley who held the halftime lead. In the 19th minute, it was the Braves who jumped on the scoreboard first as Jack Douglas tipped a ball over a charging Madden that clipped the crossbar. The ball bounced off and back into the goal as Bradley opened the 1-0 lead it would hold at the break.
More than 20 minutes into the second half, Evansville capitalized on its increased chances. The Aces earned a throw-in well into the attacking third that fifth-year senior Filip Johansson triggered. Johansson's throw found its way to the edge of the 18 and redshirt junior Jakub Hall flicked the ball towards the six-yard box. Graham jumped at the opportunity and connected with his head, slipping the ball past the Braves keeper to tie the match at one.
Less than a full four minutes later, Evansville took the lead, again utilizing its revitalized attack. From well beyond the top of the box, Guillen received the ball and dribbled towards the top of the 18, curving a shot into the left side of goal and grabbing the lead for the Aces. Evansville was tasked with staving off a late Bradley flourish and succeeded, capturing the 2-1 win over the Braves.
Evansville returns to action quickly, making the short trip to Nashville on Tuesday to take on Belmont in a 7 PM showdown with the Bruins.
Aces pick up point on the road at Illinois State
Earning points on the road in conference play, the University of Evansville women's soccer team battled to a 1-1 draw with Illinois State on Saturday evening in Normal, Ill.
Junior Emilie Hill recorded her third goal of the season, giving Evansville a lead in the 57th minute, while senior Emily Ormson set a career high with six shots on the evening. In goal, fifth-year senior Michaela Till moved even closer to the all-time Evansville record for career saves, now sitting just 16 from tying the record of 358, with seven saves against the Redbirds.
For the fifth time this season, the Aces played a scoreless first half with its opponent, but Evansville and Illinois State generated plenty of opportunities. The two sides recorded 16 combined shots in the opening 45 minutes, but both sides put just one shot on goal in a defensive first half.
The second half started much differently than the first as Illinois State recorded a shot on frame in the first 90 seconds, but Till made the save. Seven minutes into the half, Evansville opened the scoring and it was again a set piece that the Aces scored off of. Eyler took the corner kick and arced a ball to the far post that Hill attacked and headed back across the face of goal, finding the side of the net and a 1-0 lead for the Aces. Illinois State was quick to respond though, finding the equalizer following a free kick. The Redbirds had a free kick from near the midfield stripe which Ashley Santos sent into the box. Inside the box, Allison Baker gathered the ball at her feet and dribbled around a defender before tucking the ball into the back of the net. In the final half hour, Illinois State had the bulk of the chances, recording 10 shots to one for Evansville, but the Aces were strong defensively, taking the match to overtime.
Illinois State continued their attack in the first overtime period, recording four shots, but the Aces again kept the Redbirds from scoring heading into the final 10 minutes. In the second overtime, both teams created opportunities to steal the match late, combining for nine shots in the second overtime, including three for Ormson, as the two sides played to a 1-1 draw.
Evansville comes back home following its two-match road trip to host Southern Illinois on Wednesday, October 13 at 6 PM at Arad McCutchan Stadium in Evansville.
Cardona and Feliciano shine in win over Bradley
Back inside Meeks Family Fieldhouse for the first time in three weeks, the University of Evansville volleyball team came out on fire, defeating Bradley by a 3-0 final.
Setting the tone for the Purple Aces was the duo of Giulia Cardona and Melanie Feliciano. Cardona led everyone with 16 kills while racking up five service aces. She became the first UE (11-4, 1-3 MVC) player to register five aces since Mildrelis Rodriguez did so against UNI in 2018. Feliciano added 12 kills in the win.
"I knew that what our team went through over the last week would make us stronger. This is a great group who came together when we needed it," Purple Aces head coach Fernando Morales said. "Our message this week was to keep playing our game. Play the serve, swing every ball and hustle. We stayed with that for the entire match tonight and that made the difference."
Alondra Vazquez added 11 kills and a match-high 13 digs. Taya Haffner picked up 37 assists while Madisyn Steele had a pair of block assists. Pacing Bradley (6-9, 2-2 MVC) was Raeann Bergman, who recorded six kills.
Set 1
Game one went back and forth in the early stages before the Aces grabbed a 12-8 lead thanks to a Cardona kill along with an ace from Laura Ruiz. The Braves countered, inching their way back to go up 15-14 when Raeann Bergman picked up a kill. Three in a row by UE turned the tides once again with Cardona adding a kill and an ace. After Bradley cut their deficit to 17-16, Evansville posted four points in a row to add some breathing room. From there, Cardona added two more kills to finish with six in the set and help UE take a 25-17 decision.
Set 2
Bradley had the upper hand throughout the early parts of the second set, padding their lead at 7-4 on a Kora Kauling ace before reestablishing the 3-point edge at 10-7. With the Braves still leading by an 11-9 tally, Alondra Vazquez took matters into her own hands. A kill and service ace by the senior tied the score and started what would be a 10-0 rally for Evansville. Kate Tsironis, Melanie Feliciano and Cardona each registered kills to put the Aces up by a 19-11 tally. Back-to-back ace from Cardona kept the pressure on as the Aces took a 2-0 match lead on the strength of a 25-15 win.
Set 3
It was all Aces in the third frame with Vazquez continuing her strong match. She added two kills and an ace to cap off a 7-2 start to the set. Efficient serving from Rachel Basinski helped her squad extend the advantage to 12-3 before UE clinched the match with an 25-17 win. The Braves closed in the final stages, but the start by Evansville was too much to overcome.
On Saturday, the Aces are right back inside Meeks Family Fieldhouse to face Illinois State at 5 p.m.
Aces remain undefeated at home with 3-0 win over Redbirds
In another efficient all-around performance, the University of Evansville volleyball team defeated Illinois State by a 3-0 final on Saturday night at Meeks Family Fieldhouse.
With the victory, the Purple Aces (12-4, 2-3 MVC) earned their fifth-ever triumph over the Redbirds (7-11, 3-3 MVC). The win also marked the first time UE has earned consecutive 3-0 shutouts over Missouri Valley Conference opponents since October of 2010. On Oct. 9-10 of that season, the Aces earned home shutouts over Indiana State and Illinois State. Head coach Fernando Morales was proud of the effort from his team and the way they bounced back from adversity.
"It was a great weekend. The team came together after a rough start to conference and the situation we went through last weekend," he said. "We know how teams do not like to play at Meeks Family Fieldhouse and we want to take full advantage of that!"
A balanced offensive attack saw Melanie Feliciano record a match-high 18 kills with Alondra Vazquez and Giulia Cardona adding 13 apiece. Vazquez chipped in 13 digs while Cardona added three service aces. The freshman totaled eight aces in two weekend matches. Taya Haffner registered 42 assists. The Redbirds were led by Aliyah Moore's 12-kill effort.
Set 1 – UE 25, Illinois State 20
Evansville set the tone early, picking up the first three points of the night before going up 9-3. Vazquez had two kills in the opening three points while Madisyn Steele added two of her own in the early stretch. Cardona capped off the stretch with an ace and kill. Illinois State inched their way back, cutting the deficit to one (12-11). With the Aces in front by a 15-13 tally, Feliciano picked up a pair of kills that sent her team on a 5-1 run. From there, the Aces took a 25-20 win on their way to a 1-0 match lead.
Set 2 – UE 25, Illinois State 22
It was the Redbirds who had the early momentum, jumping out to a 6-3 lead. Evansville was unphased, quickly fighting back to tie it at 8-8 on a Vazquez kill before taking the lead at 10-9 on an ISU error. A hard-fought set on both sides featured 10 tie scores, including a 20-20 tally. With the set coming down to the wire, it was Feliciano who put her team in front for good. After her 10th kill of the night gave the Aces a 21-20 edge, a Redbird error pushed the lead to two. From there, it was the Aces taking a 2-0 lead on the strength of a 25-22 victory in the set.
Set 3 – UE 25, Illinois State 20
Another back-and-forth contest ensued in the third frame, leading to a 9-9 score. Vazquez picked up a kill before Laura Ruiz notched an ace that put the Aces up 12-9. Following an ISU time out, Evansville added two more points to pad its lead at 14-9. Illinois State continued its relentless fight, cutting the gap to 18-17 on a kill by Aliyah Moore. Feliciano countered on the other end, earning her 18th kill of the evening before another Cardona ace put Evansville up 20-17. The Redbirds were unable to overcome the deficit as the Aces clinched the match with a 25-20 decision in the set.
Next up for UE is a home match versus Missouri State on Tuesday evening at 6 p.m.
UE Swimming & Diving Cruises Past Eastern Illinois In Season's First Meet
The University of Evansville swimming and diving teams swept a dual meet from home-standing Eastern Illinois on Saturday in convincing fashion, as the Purple Aces earned 125-76 and 129-69 wins respectively on the men's and women's sides at Padovan Pool in Charleston, Illinois.
"All in all, it was a great team effort," said UE swimming and diving coach Stuart Wilson. "The freshmen class really stole the show early, as they put us ahead of Eastern Illinois to start, and then nothing can outshine the job that Riccardo Di Domenico did on the men's side, as he broke the pool record in the 200 free, won the 100 fly, and helped the 200 medley relay team win as well.
"Overall, this was a great start to the season."
Di Domenico, a junior from Johannesburg, South Africa, was dominant in UE's 125-76 win on the men's side, as he picked up right where he left off in the spring to claim individual victories in the 200-yard freestyle and the 100-yard butterfly events. Di Domenico won the 200 free event by over four seconds with a pool-record time of 1:40.82, and then came back six events later to beat the field in the 100 fly by over three seconds, clocking in with a time of 50.21.
Evansville's freshmen sparked the Aces to an early win in the 200-yard medley relay, as rookies Daniel Santos Lopez (Madrid, Spain) and Jakob Grundbacher (Long Beach, Calif.) swam the lead and anchor legs to help UE coast to a medley relay victory with a time of 1:34.54. Fellow freshman Logan Anderson (Knoxville, Tenn.) also swam the lead leg of UE's B medley relay team which placed third, and helped UE jump to a 13-4 lead.
From there, Di Domenico and sophomore Jackson Caudill (Mount Sterling, Ky.) posted doubles on the men's side to expand the lead out, with Caudill taking home both the men's 1,000-yard freestyle (9:39.92) and 500-yard freestyle (4:44.29) events in commanding fashion to help UE take control of the meet. Santos Lopez and Grundbacher took home first place spots in the 50 free (21.62) and 100 free (48.51) events respectively, while senior Zeke Metz (Topeka, Kan.) cruised to a win in the men's 200-yard IM with a time of 1:56.15. True freshman Carlos Souto Vilas (A Coruna, Spain) also made an immediate impact for UE, as he won the men's 100-yard breaststroke in a time of 57.98, which ranks 10th-fastest all-time at Evansville.
On the women's side, the Purple Aces took home first place honors in 10 of the 11 events. Junior Sarah Jahns (Lilburn, Ga.) highlighted the attack, as she posted an impressive double by winning both the 500-yard free and 1,000-yard free in dominating fashion. Jahns began her day by winning the 1,000 free by over 30 seconds with a time of 10:35.28. She then came back over an hour later to win the 500 free by over 15 seconds, with a mark of 5:11.96.
"Sarah really picked up right where she left off, and she did a tremendous job," said Wilson. "Overall, I was really proud of the effort that the women gave today. Every single race, we had impressive performances, and this is a great start to the season."
Junior Sonsoles Aguayo (Jerez, Spain) led a podium sweep for UE in the 200-yard freestyle with a time of 1:57.66. Senior Jessie Steele (Houston, Texas) claimed the individual title in the 50 free with a time of 24.66, while freshmen Mari Mueller (Aschaffenburg, Switzerland) and Sveva Brugnoli (Rome, Italy) placed first and second respectively in the women's 200-yard IM (2:09.56 and 2:09.69).
Junior Maya Cunningham (Yakima, Wash.) and Brugnoli nearly tied in the women's 100 fly event, as Cunningham edged Brugnoli by five one-hundredths of a second, 58.61 to 58.66, to claim the individual title. Sophomore Iryna Tsesiul (Minsk, Belarus) led a trio of Aces who finished first, second and third in the 100 backstroke with a time of 59.76, while junior Sage Moore (Lexington, Ohio) won the women's 100-yard breaststroke in a time of 1:07.56.
Evansville will have a short week of training this week, as both teams will compete again on Friday, as UE welcomes Valparaiso to Wyttenbach Pool for a dual meet. The meet will begin at 3:00 p.m.
UE men travel to Bubba Barnett Intercollegiate
Next up for the University of Evansville men's golf team is a trip to Jonesboro, Arkansas for the Bubba Barnett Intercollegiate.
The tournament consists of three rounds of play on Monday and Tuesday at RidgePointe Country Club. Arkansas State University is the host while other participants include Central Arkansas, Creighton, Eastern Illinois, Long Island, Loyola, Missouri State, Murray State, New Orleans, UNI, Oklahoma Christian, Oral Roberts, South Dakota, Southeastern Louisiana, Stephen F. Austin, Stetson and Valparaiso.
Day one opens with a shotgun start at 8:15 a.m. with the second round immediately following. Tee times for the third round on Tuesday morning begin at 7:45 a.m. on hole No. 1 and No. 10. Yardage for the course is 6,676 with par set for 72.
Evansville is coming off of a sixth-place finish last time out at the Valparaiso Fall Invitational. The top finish for UE was Isaac Rohleder, who tied for 16th place with a tally of 223. He recorded a 77 in the final round to lead the way. Dallas Koth wrapped up the final round with a 76 to come home in a tie for 31st. His 3-round tally finished at 231.

Evansville's low round on the final day day belonged to Nicholas Gushrowski. A 3-over 75 on Tuesday saw Gushrowski jump up the leaderboard to finish in a tie for 43rd. Henry Kiel (T52nd) and Caleb Wassmer (T55th) rounded out the Aces contingent. Kiel carded an 82 in the final 18 to complete the tournament with a 241 while Wassmer's final round 83 gave him a 2-42.
After traveling to Arkansas, the Aces will have one tournament remaining at Alabama A&M on November 8-9.
Contribute to AceNotes
To have content considered for inclusion in AceNotes, please submit a Marketing Request Form. Deadline for submission to AceNotes is 10:00 a.m. on the requested date of publication. Only articles concerning UE related/sponsored activities will be accepted. Articles submitted to AceNotes may be edited for length and clarity. Submitter contact information is at the end of each article.