| | |
| --- | --- |
| AceNotes Today | Monday, October 4, 2021 |
Vehicles Must Be Moved from the Front Oval by 8:00 PM on October 7
All vehicles parked in the Front Oval (parking lot B) must be moved by the 5:00 PM on Thursday, October 7 in preparation for UE Gives Back.
On Friday, October 8, the Front Oval curbs will be painted by members of the UE campus community who have volunteered to participate in UE Gives Back on Campus.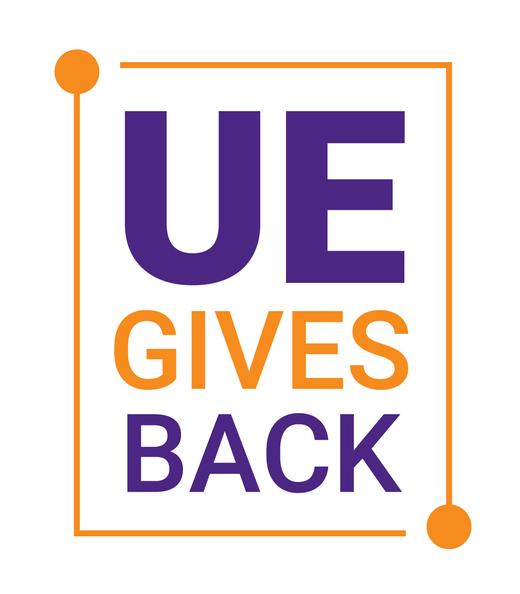 CDEI Presents: Listening Session on Race
Please join the Center for Diversity, Equity, and Inclusion this Wednesday, October 6th at 6 PM for Listening Session on Race. This program will be held in SOBA 173. All are welcome!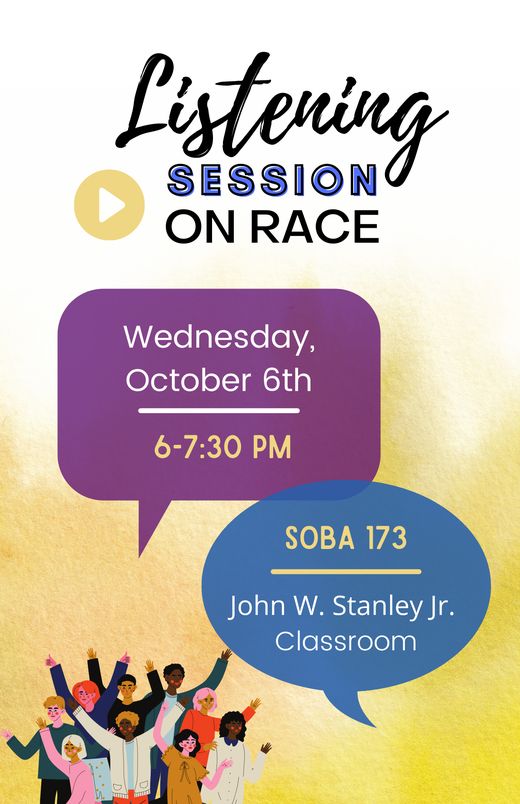 This Week in Music
After more than a year, the student musicians of the UE Music Conservatory will take to the stage for an "Ensemble Showcase" this Tuesday, October 5 at 7:30 p.m. in Neu Chapel. The University Choir, Symphony Orchestra, and Wind Ensemble will each perform selections highlighting their artistic achievements. But before the music starts, the program will begin with a very special announcement about an exciting new phase in the UE Music Conservatory. Join us in person or on live-stream at: https://www.evansville.edu/majors/music/calendar.cfm
UE Gives Back for Students (October 23rd, 2021)
Community Service Initiatives is hosting the UE Gives Back event on October 23rd, 2021 from 8 A.M. to 12 P.M. Students will be able to sign up to volunteer at various organizations in the Evansville community and surrounding area. All volunteer hours will be collected by Community Service Initiatives. In addition, all volunteers will receive a free t-shirt for volunteering after the event. Sign up on UEngage today! A link to the UE Gives Back Sign-Up Genius can be found on the UEngage event post. We kindly ask that all volunteers wear a UE shirt on the day of the event to show our Aces pride! Volunteer slots are limited, so sign up today!
This Week in Religious Life
Newman Club
• Respect Life Celebration on Thursday, Oct. 14th, $5 a person; sign up by October 3rd using this link: https://forms.gle/WYFT7P79tpxtRkVa6
• Young Adult Bonfire, Outdoor Movie and Chili Night at Corpus Christi on Saturday, October 2nd at 6:00 pm
• Catholic Mass on Sunday October 3rd in the Neu Chapel at 6:00pm
• For Wednesday, October 10th Newman Night, we will have Sr. Jeana Visel, OSB as our speaker. She will be talking about ICONS
Abbott Recruiting Event
Please join Health Professions Club, BiSci Club and Career Development in welcoming UE alumni Jessi Hildebrand for an Abbott recruiting event on Wednesday, October 6 at 5PM in Koch 100. Abbott is recruiting students to join the Clinical Specialists, EP Associate Program. Jessi will also discuss other career opportunities with Abbott, including internships! See the attached flyer for more information. RSVP is encouraged through Handshake, but not required. https://evansville.joinhandshake.com/events/841916
Interviews for the position will follow Thursday, October 7.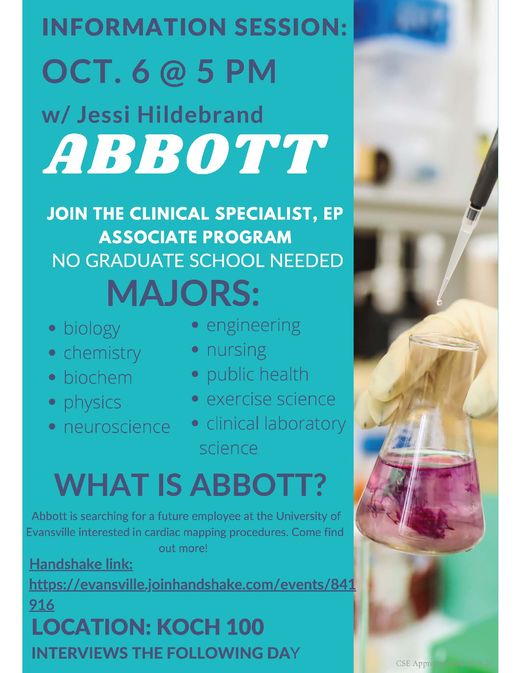 CDEI Presents: Talk About it Tuesday - Winding Down
Join the Center for Diversity, Equity, and Inclusion at 12:00 PM on Tuesday, October 5th for the second part of their six-part program: "Talk About It Tuesdays". Our second segment will be focusing on the importance of taking time for relaxation and reflection as a form of self-management. Learn about stress management techniques, sources for motivation and the importance of reflecting on the past to move forward. Follow along with @uediversity on Instagram for additional programming.
Keep an eye out on social media and Ace notes for upcoming series focused on other topics like Mental Health, Religion, and Race Relations.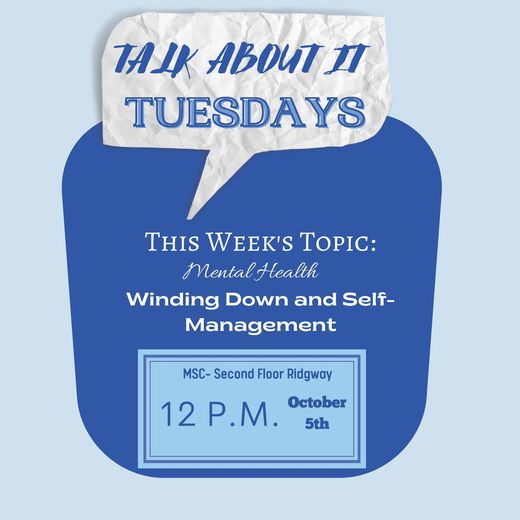 Employee & Student Flu Shot Blitz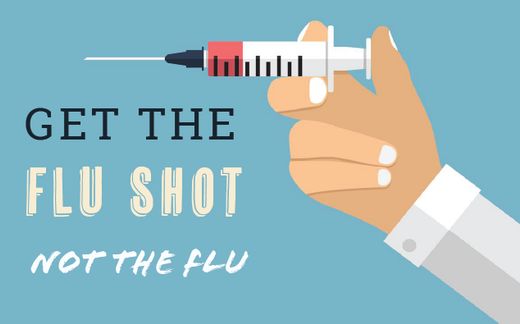 Flu shots will be available on Friday, October 15, from 7:00-9:00 a.m. and Monday, October 18, from 4:00-6:00 p.m. outside the UE campus clinic. These events are for insured employees and their covered dependents, non-insured employees, and students. There is no charge to those insured and their covered dependents. For non-insured employees (cash) and students (credit card), the cost is $20.
Sign up for your flu shot at evansville.edu/flu.
UE SAA Book club selection for October
The UE Staff and Administrator's Assembly Book Club will be reading The 7 1/2 Deaths of Evelyn Hardcastle by Stuart Turton for their October Book Club gathering. It is not too late to join them. This mystery is described as "Agatha Christie meets Groundhog Day". The book discussion will take place on Wednesday Oct 27th at 12 noon via Zoom. Email Kathy Taylor at ks6@evansville.edu to join the SAA Book Club.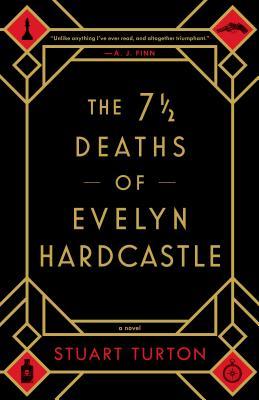 Children of Fallen Heroes Scholarship
On March 23, 2018, the President signed Public Law 115-141, the Consolidated Appropriations Act, 2018, which included an amendment to Section 473(b) of the Higher Education Act, authorizing the Children of Fallen Heroes Scholarship.
Under this scholarship, a Pell-eligible student whose parent or guardian died in the line of duty while performing as a public safety officer is eligible to receive a maximum Pell Grant for the award year for which the determination of eligibility is made.
Eligibility
• Student must be Pell-eligible and have a Pell-eligible EFC.
• Student must be less than 24 years of age or enrolled at an institution of higher education at the time of his or her parent's or guardian's death.
• For purposes of the Children of Fallen Heroes Scholarship, a public safety officer is:
o As defined in section 1204 of title I of the Omnibus Crime Control and Safe Streets Act of 1968 (42 U.S.C. 3796b); or
o A firefighter or police officer, defined as an individual who is serving in accordance with State or local law as an officially recognized or designated member of a legally organized public safety agency and provides scene security or directs traffic in response to any fire drill, fire call, or other fire, rescue, or police emergency, or at a planned special event.
If you believe you are eligible for this, please contact the Office of Student Financial Services.
Spring Housing Cancellation Deadline
Students, the deadline to cancel your UE housing contract for the spring semester is October 5. Students can cancel a UE housing contract without penalty for the spring semester if you will be:
Attending Harlaxton or studying abroad
In an internship, co-op, or clinical outside of the Evansville area
Moving into a fraternity house
Transferring, withdrawing, or graduating
Requests not falling in the above categories are typically not granted. Requests to move off campus to live with friends or move into an apartment are not sufficient reasons to cancel a UE housing contract. Entering into any other housing agreement or lease with a private landlord will have no effect upon the conditions of your contract with the University of Evansville.
Housing Cancellation forms are available on our website.
For more information, please contact the Office of Residence Life.
Sign Up Today for the Cut the Sugar Fall Health Challenge!

Sign up today for the Fall employee wellness challenge. Participation in the challenge will count towards your HRA incentive. This challenge runs from 10/4 to 10/31 and focuses on cutting down your added sugar consumption as much as possible.
A weekly email will be sent out for challenge details. The first email will be sent out on 10/1 for the challenge for week 1 as well as your tracker. View the flyer.
To sign up, contact Ashley Chipps at ac375@evansville.edu or 812-568-4420.
Ridgway Information Desk Hiring Federal Work Study Student Workers
The position of the Information Desk Assistant exists to provide information regarding the Ridgway University Center, University of Evansville campus, and surrounding community via the phone and in person. Information Desk Assistants provide fast, friendly, and professional services to the students, staff, and guests of the University of Evansville.
Skills Needed: Student must be detail oriented, accurate, organized, punctual, and dependable. Students should be able to communicate well verbally and be able to respond to emergencies in a calm manner.
Students eligible for Federal Work-Study of any major may apply.
Apply by visiting WebAdvisor and downloading the application. Email completed application and availability to sd241@evansville.edu.
CDEI Presents: Hispanic Heritage Month Challenge
During Hispanic Heritage Month join the UE HHM Challenge sponsored by the Center for Diversity, Equity and Inclusion!
In this challenge you will find 30 ways for 30 days of Hispanic Heritage Month (September 15- October 15) to actively learn, engage, support, and uplift the many different Hispanic cultures found in Evansville and around the world. Items listed in the challenge can be done personally or in a social group! Watch some YouTube videos to learn Zapateado or grab a friend, some popcorn and watch Selena. Either way you do it, #HHMChallenge yourself!
Happy Hispanic Heritage Month and be on the look out for some great programming throughout this next month hosted by the Hispanic Heritage Month Planning Team!
Hispanic Heritage Month Challenge
- Learn about different traditional Hispanic outfits and their importance
- Support a local Hispanic owned business
- Listen to music that is a part of Hispanic culture
- Learn about stereotypes that affect the Hispanic community
- Learn a few phrases in Spanish! Bonus-if they're in different dialects
- Research the different Spanish dialects
- Try to learn one of the many Hispanic dances ex. Bachata, Zapateado, etc.
- Read a book by a Hispanic author
- Research the significance of September 15th in relation to Hispanic Heritage month
- Amplify Hispanic voices in your community
- Follow some Hispanic activists on social media Ex. Vizo's Voice
- Learn all the Spanish speaking countries
- Share news and information related to Hispanic issues on social media
- Learn about biases towards Hispanic communities
- Research the importance of certain animals in different Hispanic cultures
- Support a Hispanic serving charity / organization ex. HOLA, Pulsera project
- Learn about Hispanic holidays
- Try a food that is important and traditional to a Hispanic culture
- Attend a Hispanic heritage month event hosted by the CDEI
- Research influential people in Hispanic culture ex. Frida Kahlo
- Share the new information you've learned with others
- Learn about the contributions that Hispanics have made in America
- Learn about the first Hispanic astronaut
- Look into and learn about the history of Afro-Latinos
- Research the differences and similarities between Hispanic countries and cultures
- Download an app created by an Hispanic person
- Watch a movie or documentary that is important to Hispanic culture ex. Bajo la Misma Luna or Living Undocumented
- Sign some petitions advocating for Hispanic rights on change.org
- Research the term Hispanic
- Listen to podcasts by a Hispanic creative // that explore Hispanic culture
- Attend a Hispanic heritage festival this month
Employees- UE Gives Back
Today is the last chance to sign up and be a part of UE Gives Back happening this Friday, October 8. With the approval of immediate supervisors and as schedules permit, employees may choose to volunteer on UE's campus without scheduling a day of vacation.
Fill out the UE Gives Back Survey today and come make positively purple change on campus. The safety of all employees is critically important to the success of this event. Volunteers are asked to watch this safety video and initial the final page of the survey document. Safety Video:
Evansville showcases attack, but falls to Drake, 1-0
Recording a season-high in shots, the University of Evansville men's soccer team showed its attacking ability, but was unable to find the back of the net in a 1-0 loss to Drake on Sunday afternoon in Des Moines, Iowa.
"I feel for our guys today. We did everything we needed to do to get the result and came out on the short side of it," said Aces head men's soccer coach Marshall Ray. "It was an even match, a road match in the Valley. Playing down Ethan (Garvey) and Adam (Dahou) and a few other injuries and they never gave up and battled and fought and created chances at the end. We've got to keep working, that's the answer, and stay consistent and get ready for our match on Saturday against Bradley."
A few new faces dotted the Evansville starting eleven and made a strong impact on its attack. Making his first start as an Ace, Karl Mbouombouo tallied three shots on the afternoon, including one on frame, his first shots in the white and purple. A familiar face at the top of the stat sheet for the Aces, sophomore Pablo Guillen led the team with four shots in the match. In goal, redshirt junior Jacob Madden made six saves, while starting his sixth-straight match.
The first half saw Evansville hold the advantage with its attack, generating more shots in the opening half than it has in any match this season. The Aces recorded 12 total shots in the first 45 minutes, surpassing its previous match high of 10 set against SIUE on Wednesday. Meanwhile, Evansville's defense allowed eight shots with just two coming on frame, both of which Madden saved.
Drake came out of the halftime break and immediately turned-up the heat on its attack, recording a pair of shots on goal in the first six minutes, but Madden again made saves on both. In the 62nd minute, the Bulldogs found their breakthrough, as Declan Watters received a pass from Louis Yuill and scored to give Drake the 1-0 lead. Around the 70th minute, senior Karl Mbouombouo recorded a pair of shots, with one blocked and the other missing high as the Aces looked to equalize the match. As the match entered the final 10 minutes, Evansville again mounted an attack with junior Nkosi Graham having a shot saved and Mbouombouo putting a shot on target that was saved as Drake held on to the 1-0 win.
Evansville returns to Arad McCutchan Stadium on Saturday, October 9 with a matchup against Bradley.
LOWRY, EPUR PACE ACES AT LIVE IN LOU CROSS COUNTRY CLASSIC
University of Evansville senior Anna Lowry (Taylorville, IL/Taylorville) and sophomore Peter Ekayi Epur (Eldoret, Kenya) paced the Purple Aces' cross country teams respectively at one of the nation's largest cross country meets Saturday – the Live In Lou Cross Country Classic at E.P. "Tom Sawyer" State Park in Louisville, Kentucky.
Lowry placed fifth out of 490 female competitors in the women's 5K Blue Race, while Epur placed 66th out of 532 runners in a personal-best time of 25:57.6 in the men's 8K Blue Race. Overall, four UE men and four UE women set personal-best times on the cross country course on Saturday.
"Overall, I am pleased with how we did today," said UE cross country coach Don Walters. "They have changed around the course since we were last here, and it made it tougher, but that was for the better, and I thought both teams really stepped up today. To see all of the PRs set across the board on both teams is good, and it gives us confidence going into a very important month in our season."
On the women's side, Lowry posted her best 5K time of the season at 18:24.7 to place fifth overall. Senior Sam Weldon cut over 30 seconds off of her previous-best 5K time with a mark of 20:05.7 to place 131st overall, while sophomore Tess Crosley also cut nearly 30 seconds off her best 5K time with a mark of 20:55.8.
Freshman Kaitlyn Sansone recorded her best collegiate 5K with a time of 20:57.9 to come in right behind Crosley. Senior Emma Boebinger rounded out UE's scoring pack with a time of 21:06.4. Freshman Ellie Stewart (21:13.4) and sophomore Emma Denbo (23:14.3) finished just seconds off of their season-best 5K times, while freshman Hannah Bryan posted a time of 23:24.1 in her first collegiate 5K. Freshman Kylee Peck rounded out UE's contingent on the course with a time of 26:24.7.
On the men's side, Epur cut over a minute off of his previous-best 8K time at UE, by crossing the finish line at 25:57.6 to place 66th overall. Freshman Adam Oulgout continued his strong rookie campaign with a season-best time of 27:18.7, while graduate student J.J. Pedersen clocked in at 28:16.5 in the 8K to run third for UE.
Freshman Justin Nichols (29:35.1) and senior Carson Kline (29:44.0) rounded out UE's scoring pack on the men's side, with Kline's time being a season-best mark. Sophomores Jacob Moffat (30:03.6) and Luke Watts (32:57.0) also checked in with personal-best 8K marks for the Purple Aces.
Marshall sophomore Abby Herring took home individual honors in the women's 5K with a time of 17:45.7, while Lincoln Memorial freshman Gidion Sigel won the men's 8K with a mark of 24:03.2
Evansville will take the next week off, before returning to the Angel Mounds Cross Country course on Saturday, October 16 to host the University of Evansville Invitational.

MEN
66) Peter Epur 25:57.6 (PR – previous best 26:59.7 at Spring MVCs)
224) Adam Oulgout 27:18.7 (PR)
335) JJ Pedersen 28:16.5
429) Justin Nichols 29:35.1
435) Carson Kline 29:44.0 (Season Best)
449) Jacob Moffat 30:03.6 (PR)
514) Luke Watts 32:57.0 (PR)
Team: 44th out of 61 (532 runners overall)
Results Link: https://results.flashresults.com/2021_10-01_LouisvilleClassic/003-1.pdf

WOMEN
5) Anna Lowry 18:24.7 Season-Best (18:42.2)
131) Sam Weldon 20:05.7 PR (previous best - 20:37.7)
242) Tess Crosley 20:55.8 PR (previous best - 21:24.6)
252) Kaitlyn Sansone 20:57.9 PR (previous best - 21:10.2)
269) Emma Boebinger 21:06.4
283) Ellie Stewart 21:13.4
416) Emma Denbo 23:14.3
426) Hannah Bryan 23:24.1 1st collegiate 5K
478) Kylee Peck 26:24.7
Team: 30th out of 55 (490 total runners)
Results Link: https://results.flashresults.com/2021_10-01_LouisvilleClassic/004-1.pdf
Volleyball falls in hard-fought contest at Valpo
Giulia Cardona had her top Missouri Valley Conference effort, picking up 16 kills on Saturday evening in a 3-1 loss to Valparaiso at the ARC.
Cardona led the way with her final tally while Alondra Vazquez had 14 and Melanie Feliciano added 12 for the Purple Aces (10-4, 0-3 MVC). Cardona also paced the defense with 17 digs while Vazquez and Taya Haffner finished with 13 and 12, respectively. Haffner recorded 45 assists. Madisyn Steele had a strong performance on both ends of the floor with eight kills and four block assists. Peyton McCarthy led Valpo (12-3, 3-1 MVC) with 18 kills.
Set 1 – Valpo 25, UE 21
Valparaiso opened the contest on a 10-6 run with Madisyn Steele keeping it close with a pair of early kills. The Beacons continued to hold the advantage, extending the lead to 16-11 on a Bella Ravotto kill. Evansville rallied back with three in a row, including another kill by Steele to get within a pair before Valpo countered to go up 19-15. UE rallied once again, storming back with a 6-1 stretch to take a 21-20 lead. Steele's fourth kill of the frame tied it at 20-20 before Alondra Vazquez put the Aces in front. The difference came in the ensuing stretch with the Beacons forcing a pair of errors before Kara Cooper capped off a 5-0 stretch to close out the set by a 25-21 final.
Set 2 – UE 25, Valpo 19
Another strong start by the Beacons saw them open the second game with an 11-6 advantage. Just as they did in the first set, the Purple Aces rallied back. Three in a row cut the deficit to a pair before an ace from Taya Haffner tied it up at 13-13. With the score knotted at 15-15, Evansville score six of the next seven to pull away. Steele added a kill and block in the stretch while Melanie Feliciano recorded a kill. Vazquez put the finishing touches on the frame with a pair of kills to wrap up the 25-19 win and tie the match at 1-1.
Set 3 – Valpo 25, UE 23
Looking to build off the momentum from its win in the second frame, Evansville jumped out to a 9-4 lead in the third. Once again, it was Steele playing a big part, picking up a kill and block. Valpo stormed back with five in a row to tie it up before the Aces countered with three of their own. Another Haffner service ace contributed to the rally. The Beacons did not relent and clawed back to tie it at 19-19. Four ties led to a 23-23 score before Valpo forced a pair of UE errors to finish with a 25-23 victory to retake a 2-1 lead.
Set 4 – Valpo 25, UE 23
Valparaiso held the advantage through the opening portions of the fourth set, leading to a 14-9 score. A 6-2 stretch got the Aces right back into it, making it a 16-15 VU lead. Vazquez added an ace while Feliciano and Giulia Cardona picked up kills. Evansville was not done there. Laura Ruiz recorded an ace that put UE on top by a 21-19 tally. Up 23-22, UE appeared to have score a point that would have given them a 2-point edge, but the call was overturned and the Beacons took full advantage. Following that play, Valpo picked up the final two points to clinch the match.
UE is back inside Meeks Family Fieldhouse for its next three contests, beginning next weekend with Bradley and Illinois State.
Sycamores attack too much for Aces in loss to Indiana State
Facing a strong attack, the University of Evansville women's soccer team could not overcome a second half deficit in a 4-1 loss at Indiana State in Terre Haute, Ind. on Sunday afternoon.
Senior Alex Eyler continued her re-emergence in her fourth collegiate season, scoring her first goal of the year in the 71st minute to go along with a team-high four assists in 2021. In goal, fifth-year senior Michaela Till moved closer to the program record for career saves, tallying three in the Aces loss.
In the first half, Evansville owned the slight advantage on shots, recording nine to Indiana State's 8, but it was the Sycamores who capitalized late in the opening 45 minutes. The 38th minute saw Indiana State go in front off a corner as the ball rattled around in a scrum and was clipped in by Celeste Wahlberg.
To open the second half, Indiana State continued their strong attack. In the 52nd minute, the Sycamores tallied their second goal of the afternoon as Mackenzie Kent scored from the top of the 18. Just 10 minutes later, Indiana State added a third with a goal from Chloe Tesny. Evansville would pull one back in the 71st minute, looking to set-up a late comeback. A misplayed ball from the Sycamore backline was tipped by Emily Ormson, who found a sprinting Eyler. Eyler then took just one touch before firing the ball to the right post, slipping it past the keeper to cut the deficit to 3-1. With Evansville making a late run at it, Indiana State secured the win with a goal in the 89th minute by Mackenzie Kent as the Sycamores captured the 4-1 win.
Evansville returns to the pitch on Saturday, October 9th with a trip to take on Illinois State in Bloomington, Ill. at 6 PM.
Men's Soccer makes trek to Iowa for matchup with Drake
Going back on the road, the University of Evansville men's soccer team travels to Iowa this weekend for a matchup with Drake on Sunday at Noon in Des Moines, Iowa.
Last Match: SIUE 4, Evansville 0
• In its first conference match with the Cougars since 2016, the University of Evansville men's soccer team fell to SIUE, 4-0, on Wednesday night at Arad McCutchan Stadium in Evansville.
• Junior Nkosi Graham led the Aces attack, recording a season-high three shots, putting all three on frame in the loss. Between the posts, redshirt junior Jacob Madden made five saves in his fifth-straight start.
• Featuring a crowd of nearly 500, the Aces came off kickoff quickly, generating opportunities in the attacking third. Countrymen Carlos Barcia and Pablo Guillen both recorded shots for the Aces inside the first 20 minutes to jumpstart Evansville's attack as the Aces would tally seven total shots in the opening half. Just before the break, SIUE opened the scoring as Mitchell Murphy made a run and found thr back of the net in the 42nd minute.
• Two quick goals from the Cougars inside the first 12 minutes in the second half increase its advantage to 3-0 as Pau Palacin scored and Murphy recorded his second of the match off an assist from Max Broughton. In the 78th minute, Graham nearly pulled one back for the Aces as the Lumberton, New Jersey native made a run and attempted a shot from an acute angle that the Cougars keeper saved. Closing the match, SIUE scored its fourth of the night in the 82nd minute as Noah Fetter found the back of the net off an assist from Pau Palacin in the Cougars 4-0 win.
Previewing the Matchup
• Evansville and Drake are meeting for the 38th time in series history with the Bulldogs owning a 20-15-2 advantage in the all-time series.
• The two sides last met in the 2020-21 regular season finale as the Bulldogs earned a 4-0 win over the Aces at Arad McCutchan Stadium on April 8.
• The Aces are looking for their first win in Des Moines, Iowa since a 1-0 win over Drake on Oct. 21, 2017.
• Drake heads into the weekend with a 4-3 overall record and have begun conference play with a 1-2 mark in MVC action.
• This season, the Bulldogs are undefeated at home, holding a 3-0 record in games played in Des Moines.
• Senior Juan Louis has been the catalyst for the Bulldogs' attack this season, scoring four goals on the year, and the only player on the team to score multiple goals in 2021.
Back to Iowa
• A pair of Aces make return trips to places they are plenty familiar with.
• Before arriving on campus at UE, both Adam Dahou and Karl Mbouombouo both played for junior colleges in Iowa.
• Dahou starred for Indian Hills CC in Ottumwa, Iowa and Mbouombouo played for Hawkeye CC in Waterloo, Iowa and Iowa Lakes CC in Estherville, Iowa.
Vazquez records double-double in setback at Loyola
Alondra Vazquez recorded her 7th double-double of the season, but an efficient offensive performance by Loyola saw them hit .312 on the way to a 3-0 victory over the University of Evansville volleyball team inside Gentile Arena on Friday evening.
Vazquez led UE (10-3, 0-2 MVC) with 15 kills and 10 digs. Melanie Feliciano added eight kills in the contest. Taya Haffner recorded 20 assists and six kills while Vazquez and Kate Tsironis finished with one block apiece. Three Ramblers (10-5, 3-0 MVC) led the way with nine kills with Karlie McNabb, Addie Barnes and Emily Banitt reaching the mark. Grace Hinchman posted a match-high 13 digs while Jenna Appel led all players with 21 helpers.
Set 1 – Loyola 25, UE 20
A 5-1 spurt to open the match set the tone for Loyola before Melanie Feliciano got her squad back on track with three kills to make it a 7-4 game. The Ramblers kept the pressure on, extending their lead to 19-11 thanks to an Anna Feldkamp kill. Following a time out, Evansville regrouped and cut into the deficit. Cecilia Thon recorded a pair of service aces in a 4-0 stretch that cut the LUC lead to four. Just as fast as UE made its run, the Ramblers countered with two quick points before finishing with a 25-20 win.
Set 2 – Loyola 25, UE 19
Another early run by Loyola saw them take a 4-1 edge before extending the advantage to as many as seven tallies when an Evansville error made it a 15-8 game. A tenacious Aces team clawed its way back with Alondra Vazquez taking over the match. She followed two kills with a pair of service aces to cut the gap to 15-12. Following a Loyola point, Evansville continued its rally. Chloe Bontrager picked up her first kill of the evening to commence a 4-0 rally with Vazquez adding a pair of kills before Rachel Basinski capped it off with an ace to get UE within just one at 18-17. The Ramblers took their second time out at that point and the stoppage paid off as they reeled off the next three points before pulling away to win by a 25-19 final. Karlie McNabb recorded three consecutive kills to complete the set.
Set 3 – Loyola 25, UE 15
Evansville found itself in another early hole in the third frame, trailing by a 9-2 tally. Looking for another rally, UE followed a time out with two quick scores to get within five, but the Ramblers answered with a 4-1 stretch to go up 13-5. An Addie Barnes kill made it a 20-10 contest and Loyola would hold strong to clinch the match on the strength of a 25-15 victory in the final set.
A quick turnaround will see the Purple Aces in Valparaiso, Ind. to face the Beacons in a 6 p.m. match on Saturday evening.
Aces face in-state rival Indiana State Sunday in Terre Haute
Looking to bounce-back after Wednesday's loss to Loyola, the University of Evansville women's soccer team makes the short trip up US-41 to take on Indiana State on Sunday at Noon in Terre Haute, Ind.
Last Match: Loyola Chicago 3, Evansville 1
• Despite opening the scoring in the match, the University of Evansville women's soccer team dropped the finale of a two-game homestand to Loyola Chicago, 3-1, on Wednesday afternoon at Arad McCutchan Stadium in Evansville.
• Senior Emily Ormson increased her team lead in goals, scoring her fifth goal of the season in the 32nd minute. In goal, fifth-year senior Michaela Till made four saves on the evening.
• Till was busy early, but held her ground in the opening half, stopping a pair of shots early in the match. Evansville found the scoreboard in the 32nd minutes off a free kick. Senior Alex Eyler took the free kick just inside the Ramblers half, looping it just into the box. The ball was headed up into the air by a Rambler and then bounced just outside of the box. Ormson approached the ball off the bounce and fired a volley past the keeper's right to give the Aces a 1-0 lead at the half.
• Just past five minutes into the second half, Loyola answered as Megan Nemec found Megan Demski, who slipped it into the back of the net in the 51st minute. A great chance in the 65th minute for the Aces came as freshman Hailey Autenrieb got into the box and sent a shot on-goal that was saved by the Ramblers. In the 74th minute, the Ramblers went in front as Olivia Knab scored to give Loyola a 2-1 advantage. Closing-out the match, Sarah Noonan scored for the Ramblers in the 86th minute, assisted by Jenna Ross, as Loyola secured the 3-1 win.
Previewing the Matchup
• Sunday's matchup marks the 26th all-time meeting between the Aces and Sycamores with Evansville owning a 14-9-2 advantage in the series.
• In the spring meeting between the two sides, Indiana State captured a 1-0 win over the Aces on April 7, 2021.
• Dating back to the 2014 season, Evansville has earned a result in six of the last seven meetings in the series with the Aces owning a 5-1-1 record during that span.
• Indiana State enters the match with a 2-7-2 record and has opened MVC play with an 0-2-1 mark.
• Senior Emily Ormson scored her fifth goal of the season on Wednesday against Loyola Chicago, extending her team lead in the category. Ormson's five goals are the most by an Ace in a single season since Montana Portenier scored six in 2017.
Midway Approaches
• Following the conclusion of Sunday's match, the Aces will have reached the halfway point of the conference slate.
• Evansville currently sits alone in fourth in the MVC with a 1-1-1 conference record, two games back of Loyola and Valpo, who are tied for first.
Four Draws
• Evansville has excelled this season at earning results, grabbing four points from two matches in MVC play.
• With four ties on the season, the Aces have equalled their program high for draws in a season, also matched in 1993 and 2014.

Butler Fall Invitational on tap for UE women
Highland Country Club is the next challenge on the docket for the University of Evansville women's golf team, who will play in the Butler Fall Invitational on Monday and Tuesday.
Located in Indianapolis, the course will feature 6,010 yards and a par of 70. Joining the Purple Aces in the event are Indiana State, IUPUI, Belmont, Austin Peay, Marian, Valparaiso, Bellarmine and Chicago State.
Last week, UE had another solid all-around tournament, earning a top five finish at the Briar Ridge Invitational in Schererville, Ind. Evansville was led by Mallory Russell, who earned the top finish of her Aces career, tying for 6th place. Russell carded a 79 or lower in all three rounds on her way to a final tally of 232. She was just two strokes away from a top five finish.
Second for Evansville was Allison Enchelmayer. The junior tied for 14th place with a 238. Her final round checked in with a 79. Taking third on the squad and 19th overall was Alyssa McMinn. An 80 in the final 18 holes secured the top 20 finish for McMinn.
A 79 in the final round marked the lowest round of freshman Lucia Pantigozo's UE career. Finishing with a 3-round score of 242, Pantigozo was just two strokes outside of the top 20. Just behind her was Caitlin O'Donnell, who took the 29th spot with a 252.
Contribute to AceNotes
To have content considered for inclusion in AceNotes, please submit a Marketing Request Form. Deadline for submission to AceNotes is 10:00 a.m. on the requested date of publication. Only articles concerning UE related/sponsored activities will be accepted. Articles submitted to AceNotes may be edited for length and clarity. Submitter contact information is at the end of each article.