| | |
| --- | --- |
| AceNotes Today | Tuesday, September 28, 2021 |
"Courage to Have Candor" Workshop FREE to UE Faculty and Staff
The Center for the Advancement of Learning invites all UE faculty and staff to join us over lunch for the online workshop "Courage to Have Candor". This workshop is FREE for UE employees and will be offered on October 4, from 11:45 a.m. to 1:00 p.m. through Zoom.
Dr. Rebecca Ellis will help participants find the courage to have candor when facing difficult conversations. Attendees will leave the workshop with enabling tools and confidence to engage in meaningful conversations at work and home.
To register, email cal@evansville.edu.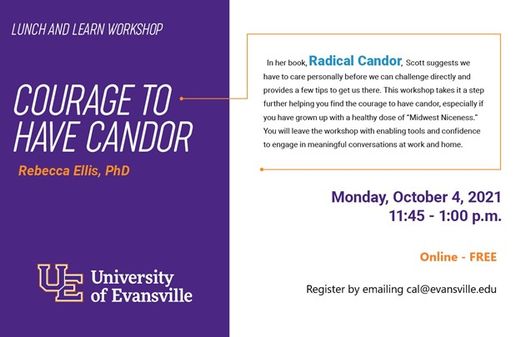 Dr. Rebecca Ellis has over 18 years of experience in organization development, change management, organization design, performance & talent management and leadership development in healthcare, financial services, construction, manufacturing, and energy sectors. Rebecca completed a Ph.D. in Organization Development program at Benedictine University in May 2013. Her research focus was on the impact of cognition on change acceptance. Rebecca has an M.S.Ed. in Instructional Systems Technology from Indiana University and a Bachelor's in Mathematics Education from the University of Evansville.
Save the Date: Author Imbolo Mbue to Discuss Her Novel, How Beautiful We Were
Save the Date!
The Honors Program invites the campus community to join us for our common read speaking event, a presentation by author Imbolo Mbue, on Monday, October 18 at 6:00pm in Eykamp Hall. Ms. Mbue will be discussing her novel, How Beautiful We Were, which was the common read for Honors Program and Fellow Scholars freshmen this year.
All event attendees will be required to present proof of vaccination or a negative COVID test result administered within 48 hours of the event.
We hope you will join us for this exciting opportunity. If you'd like to read How Beautiful We Were in advance, copies are on reserve at the library.
Please contact Jayme Williams at jw504 with any questions.
About the novel and author:
How Beautiful We Were is a sweeping tale about the collision of a small African village and an American oil company. It is a masterful exploration of what happens when the reckless drive for profit, coupled with the ghost of colonialism, comes up against one community's determination to hold on to its ancestral land and a young woman's willingness to sacrifice everything for the sake of her people's freedom.
Mbue herself grew up in Limbe, Cameroon, a seaside town with an oil refinery. She witnessed firsthand life under a dictatorship and was fascinated by the people who rose up against corporate greed and systems of injustice. The novel was inspired in part by this childhood fascination and draws heavily from historical and contemporary social and environmental justice movements as well as several current cases of environmental degradation caused by oil exploration.
Mbue's first novel, Behold the Dreamers, won the PEN/Faulkner Award for Fiction, was the Oprah Book Club selection for 2017, and became a national bestseller.
(Source: https://www.lyceumagency.com/speakers/imbolo-mbue/)
This Week in Religious Life
Faith in Action will be having our first student led study "Walking With Jesus On Campus" on Oct. 3 1-2:30pm.
We will meet at Redeemer Lutheran in the courtyard if the weather is nice and in the Fellowship Hall if it's raining.
Contact: Jeremy Seger, Redeemer Campus Ministry / js948@evansville.edu
Lincolnshire Front Porch Music Festival
The 5th Annual Front Porch Festival will be held Sunday, October 3, 2021. There will be yoga at the "triangle" (Willow Rd. & Bayard Park) from 1-2pm. There will be a variety of live musical acts in the yards & front porches throughout the Lincolnshire Neighborhood that borders Lincoln Ave, US 41, Washington Ave. & Lodge Ave. from 2-6pm. Food trucks will be there as well as free rides on the Pedicab. Free parking at Bosse High School and St. Benedict School. Bring the kids, the dog and your cooler for a fun free afternoon of family entertainment rain or shine.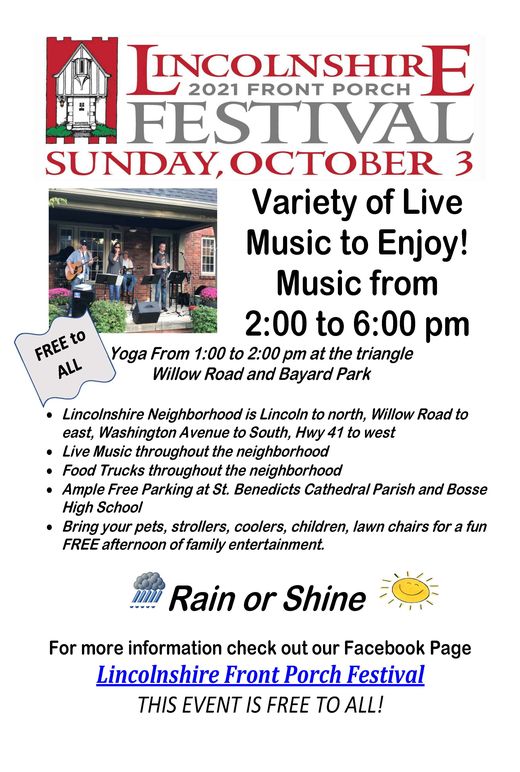 Alpha Phi Omega Co-Ed Service Fraternity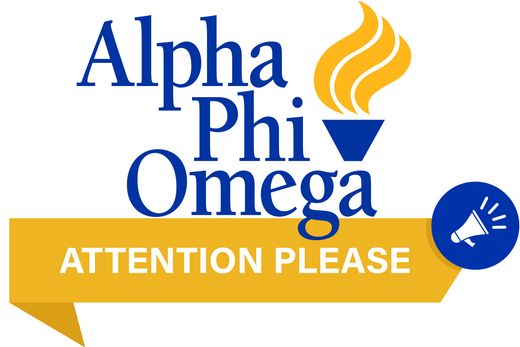 Alpha Phi Omega is a co-ed service fraternity and is being reinstated on UE Campus!
Alpha Phi Omega will be advised by the Center for Innovation & Change. This is a great opportunity to serve alongside your fellow Purple Aces!
EVERYONE IS WELCOME!!
Alex Tippett (at216) is the UE Chapter President. All interested students can contact her to join, and for more information!
Alpha Phi Omega is the single most represented co-educational intercollegiate service organization in the United States. Since 1925, more than 500,000 members on over 375 campuses, continue to provide more service on more campuses than any other collegiate service organization.
It is the vision of Alpha Phi Omega to be the premier, inclusive, campus-based, leadership development organization through the provision of service to others and the creation of community.
Alpha Phi Omega teaches through the principles of Leadership, Friendship and Service that we are architects of our own ambitions and that each of us has the opportunity to develop ourselves to be whatever we seek to be.
LEADERSHIP
The Fraternity has several leadership programs to help all members become better leaders by developing their own personal skills as well as learning more about chapter operations.
FRIENDSHIP
Alpha Phi Omega seeks to develop friendship and all members to develop a sense of connectedness by shared experiences through understanding the fraternal history and goals of creating community.
SERVICE
The chapter service program provides opportunities to develop social awareness, friendships and leadership skills. The Fraternity has established four fields of service in which chapters are involved in.
Service to the Campus
Service to the Community
Service to the Nation
Service to the Fraternity
National Website:
Alpha Phi Omega- National Service Fraternity (apo.org)
Spring Housing Cancellation Deadline
Students, the deadline to cancel your UE housing contract for the spring semester is October 5. Students can cancel a UE housing contract without penalty for the spring semester if you will be:
Attending Harlaxton or studying abroad
In an internship, co-op, or clinical outside of the Evansville area
Moving into a fraternity house
Transferring, withdrawing, or graduating
Requests not falling in the above categories are typically not granted. Requests to move off campus to live with friends or move into an apartment are not sufficient reasons to cancel a UE housing contract. Entering into any other housing agreement or lease with a private landlord will have no effect upon the conditions of your contract with the University of Evansville.
Housing Cancellation forms are available on our website.
For more information, please contact the Office of Residence Life.
Federal Work Study - Girl Scouts Work Opportunity
A partnership between the Center for Student Engagement and the Girl Scouts of Southwest Indiana presents and an opportunity for Federal Work Study-eligible students to work off campus with after school programs! Eligible students can earn $12.00 per hour for this position. Application and job description details are available in the Student Employment Positions Listing in Webadvisor (position name: Community Project Coordinators Off-Campus). If you're interested and have any questions, please let Megan Sicard know at ms331@evansville.edu.
UE Library + Social Media
The Library needs a student to manage its social media accounts. See the UE Library Social Media Intern Position Description in WebAdvisor for details. Email Kyle Stearns at ks583@evansville.edu to apply.
Letterhead and Envelope Order Due October 1
The 2021-22 letterhead and envelope orders are due October 1. If your department uses letterhead or envelopes during the fiscal year, this is the time to order. By placing one large order, we are able to get a price break on boxes of envelopes and reams of letterhead. Smaller orders placed later in the year will unfortunately be more expensive.
REMINDER: Generic letterhead and envelopes are no longer available from the office supplies order form.
Check your email inbox for a message from the Office of Publications with ordering instructions. You may also email publications@evansville.edu or call ext. 2561 for more information.
Remember – orders are due October 1, 2021.
Submitted by publications@evansville.edu

OTS HelpDesk hiring Federal Work Study Student Workers
OTS is seeking Student Workers to assist in answering calls, entering help tickets, aiding patrons at the HelpDesk counter, delivering paper/toner to labs, and other office duties as assigned. The student must have a friendly disposition, good work ethic, and effective communication skills, both verbal and written.
Students eligible for Federal Work Study of any major may apply.
Apply by visiting WebAdvisor and downloading/completing the application. Completed applications can be forwarded to nm169@evansville.edu.
Sign Up Today for the Cut the Sugar Fall Health Challenge!

Sign up today for the Fall employee wellness challenge. Participation in the challenge will count towards your HRA incentive. This challenge runs from 10/4 to 10/31 and focuses on cutting down your added sugar consumption as much as possible.
A weekly email will be sent out for challenge details. The first email will be sent out on 10/1 for the challenge for week 1 as well as your tracker. View the flyer.
To sign up, contact Ashley Chipps at ac375@evansville.edu or 812-568-4420.
Ridgway Information Desk Hiring Federal Work Study Student Workers
The position of the Information Desk Assistant exists to provide information regarding the Ridgway University Center, University of Evansville campus, and surrounding community via the phone and in person. Information Desk Assistants provide fast, friendly, and professional services to the students, staff, and guests of the University of Evansville.
Skills Needed: Student must be detail oriented, accurate, organized, punctual, and dependable. Students should be able to communicate well verbally and be able to respond to emergencies in a calm manner.
Students eligible for Federal Work-Study of any major may apply.
Apply by visiting WebAdvisor and downloading the application. Email completed application and availability to sd241@evansville.edu.
Employees- UE Gives Back
The volunteer survey is open for volunteers to select their project for UE Gives Back on Friday, October 8. With the approval of immediate supervisors and as schedules permit, employees may choose to volunteer on UE's campus without scheduling a day of vacation.
Projects this year include:
Clifford Circle Benches – Pressure Washing
Front Oval Refresh – Painting of Front Oval Curbs
John Street Community Garden Cleanup – Seasonal Cleaning Up of Vines and Plants, Raking Leaves
Krannert Hall Art Department - Inspecting and Registering Permanent Collections
Native Plant Garden – Planting
Raised Planters Across Campus – Planting Fall Annuals
Peters-Margedant House – Cleaning and Painting Exterior Walls, Outdoor Landscaping
SOBA Landscaping – Removal of Overgrown Hedges, Raking Mulch, Adding Decorative Rock
Sign up today by filling out this UE Gives Back Survey by October 4. The safety of all employees is critically important to the success of this event. Volunteers are asked to watch this safety video and initial the final page of the survey document. Safety Video: https://www.youtube.com/watch?v=8NWDbd2D6b8
Contact Alex Amick at aa308@evansville.edu with any questions.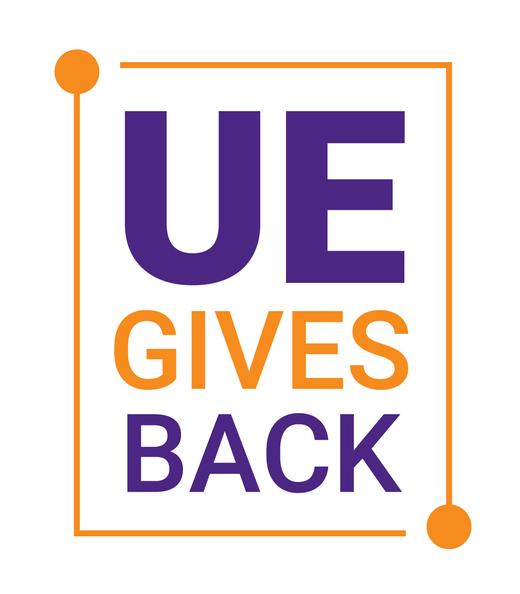 UE Alumna Shortlisted for International Award
On September 24, UE alumna Dr. Katherine Weikert has been shortlisted for one of the most important prizes in architectural history.
Dr Weikert's monograph Authority, Gender and Space in the Anglo-Norman World, 900-1200 (Boydell & Brewer, 2020) is one of six monographs on this year's shortlist for the Alice Davis Hitchcock Medallion, which is awarded by the Society of Architectural Historians of Great Britain (SAHGB). The Medallion is the most prestigious prize in the discipline, awarded annually since 1959 to a monograph that makes an outstanding contribution to the study or knowledge of architectural history. Previous winners include Howard Colvin, Dorothy Stroud, John Summerson, Nikolaus Pevsner, Hermione Hobhouse and Jill Lever.
Dr. Weikert (BA History '01) said: "It is a great honour to be short-listed for the Alice Davis Hitchcock Medallion. To be in the same footsteps as Sir Nicholas Pevsner, the great writer of the county-by-county Buildings of England guides, is an enormous thrill.
"My grounding in medieval studies comes from the very beginning of my education at the University of Evansville, and without expert guidance and scholarship from the Departments of History and Archaeology at the start of my studies, I never would have set off on an academic career of research, teaching and writing.
"The SAHGB's recognition of my book is also a great mark of support for vibrant, challenging interdisciplinary research on medieval architectural history. I am absolutely delighted to be on the shortlist for this wonderful award."
The shortlisted monograph explores medieval manor houses, revealing how concepts of space and domestic place were understood and used by their occupants in England and Normandy. Blending approaches from history and archaeology, Dr Weikert uses Anglo-Saxon wills, standing and excavated manorial sites in England and Normandy and written texts, including poetry, as evidence.
Dr Katherine Weikert is currently a Senior Lecturer in Early Medieval History at the University of Winchester (UK). She has published extensively in Anglo-Norman and early English history. Her main areas of research examine the connections between gender, space and authority in England and Normandy circa 900-1200, and the political uses of the medieval past.
The winner of the Alice Davis Hitchcock Medallion will be selected in the autumn and announced at the Society's Annual Lecture and Awards Ceremony. The full shortlist is available on the SAHGB website.
Dr. Weikert can be found on Twitter @kateweikert. Learn more about her research at https://www.katherineweikert.co.uk/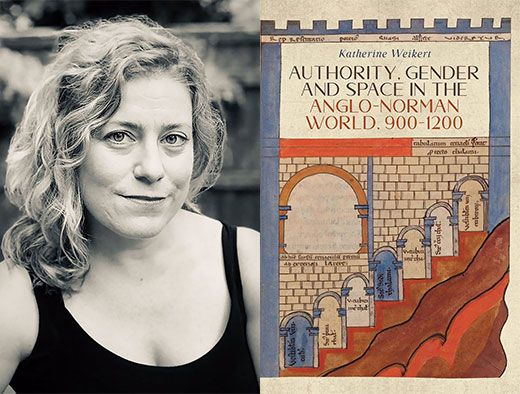 A Successful Week of Filming
The Office of Marketing and Communications would like to thank you - our students, faculty, staff, and administration - for your support and cooperation during filming all last week! We had a very successful shoot with several student interviews as well as B-roll in classrooms and across our campus. So many of our students eagerly jumped in and participated in B-roll footage. We are confident The College Tour captured the true essence of our University, and we can't wait to share it with the world!
Thank you, Aces!! We will keep you updated on the release date of our episode (expected for early 2022).
Mallory Russell earns career-best finish at Briar Ridge
Sophomore Mallory Russell tied for 6th place to lead the University of Evansville women's golf team to a top five finish at the Briar Ridge Invitational on Monday afternoon.
Russell's finish is one better than her previous best of a 7th place tie at the ASU Spring Classic last spring. Her final two rounds finished at 76 and 79 to give her a 3-round total of 232. Russell was just two strokes out of the top five.
Allison Enchelmayer earned a top 15 result, tying for 14th place with a 238. Enchelmayer carded a 79 in the third round. One behind her was Alyssa McMinn, who finished with a score of 239 on her way to a finish of 19th. McMinn fired off an 80 in the third round to pick up the top 20.
Lucia Pantigozo had her top round of the event, registering a 79 in the final 18. Just two shots out of a top 20 outing, Pantigozo's final total finished at 242. Caitlin O'Donnell tied for the 29th position. After scoring an 83 in the first two rounds, she recorded an 86 in the final round to finish with a 252.
Top team honors went to Morehead State. After trailing by 13 following the first round, the Eagles rallied with a 303 in the third round to finish with a 927. They bested IUPUI by five strokes while finishing 12 in front of Green Bay. Evansville picked up a 5th place finish with a 949. The medalist was Amelie Svejda of IUPUI. With a tally of 226, she defeated a second-place tie by two shots.
On Monday and Tuesday of next week, the Aces will be in Indianapolis for the Butler Fall Invitational. Highland Country Club will host the tournament.
Contribute to AceNotes
To have content considered for inclusion in AceNotes, please submit a Marketing Request Form. Deadline for submission to AceNotes is 10:00 a.m. on the requested date of publication. Only articles concerning UE related/sponsored activities will be accepted. Articles submitted to AceNotes may be edited for length and clarity. Submitter contact information is at the end of each article.