| | |
| --- | --- |
| AceNotes Today | Tuesday, September 21, 2021 |
UE Theatre Re-opens Shanklin Theatre With EVERYBODY, by Branden Jacobs-Jenkins
The University of Evansville (UE) Department of Theatre proudly presents the 2020–2021 Shanklin Theatre season. After more than a year's absence from live performances on campus, UE Theatre is ready to welcome patrons back with an extraordinary line-up of plays which includes a humorous interpretation of everyday life, a dashing story of self-willed sisters, and a fascinating cabaret about life and the way people interact with possessions. The season kicks off with EVERYBODY, written by Branden Jacobs-Jenkins and directed by Visiting Assistant Professor Stacey Yen. EVERYBODY opens on Fri., Sept. 24, at 7:30 p.m., in Shanklin Theatre. Additional performances are at 7:30 p.m., on Sept. 25, 30, Oct. 1, 2, and at 2:00 p.m., on Oct. 3.
A finalist for the 2018 Pulitzer Prize in Drama, this innovative play is an immersive and inclusive experience for the cast and audience—as actors draw lots onstage to discover which role they will play at each performance. This brilliant, award-winning playwright gives us a modern take on EVERYMAN, a 15th-century morality play. His inventive interpretation is a provocative and joyful romp about love and death, a whimsical look into the unknown, and, ultimately, an exploration of the ties that bind us on this wondrous journey called life. Who knew that death could be so fun? And absurdly funny! Next in the repertory line-up is THREE SISTERS from the iconic playwright Anton Chekhov, written in a new version, by Sarah Ruhl. The production is directed by Professor Diane Brewer and opens Fri., Nov. 12, at 7:30 p.m. Additional performances are at 7:30 p.m., on Nov. 19, 20, Dec. 2,
Fall Break? Join the Venturing Crew for fall break to the St Louis City Museum, Current River and Jacks Fork
Do you have plans for Fall Break? Join the Venturing Crew for fall break to the St Louis City Museum, Current River and Jacks Fork
Join the Venturing Crew as we travel to St Louis to visit the City Museum for a day of exploring the unexpected. City Museum is a hundred-year-old warehouse in downtown St. Louis in which artists have repurposed the pieces of old cities to build miles of tunnels, slides, climbers, bridges, and castles. There are secret passages and grand galleries. Playgrounds and ball pits. A circus and a train. A rooftop school bus and a Ferris wheel.
We will then travel to Two Rivers Campground where the crystal clear Current River meets the Jacks Fork and flows past the campground.
We will spend a day canoeing each river and sit around the camp fire at night playing games "Mafia", eating extreme S'mores and telling stories.
On the last day we break camp and head for home but not before stopping at Lambert's Cafe, the home of the flying rolls where we will eat a hearty brunch and try not to get hit with a hot buttery roll.
We will leave campus Friday October 8th around 6pm and return Tuesday October 12 around 3pm.
Sign up tables will be in Ridgway starting Tuesday Sept 28th and the cost will be $75
Nursing Students Offering Blood Pressure Measurements at Ridgeway
Sophomore-level nursing students in Physical Assessment Lab have been studying & practicing vital sign measurements. The 264L students will be at Ridgeway Tuesday 9/21/21, from 1-5 PM to measure blood pressures within the campus community. If you are willing and able, stop by our table to support nursing students, and get your blood pressure measured!
Sigma Alpha Iota - Informal Recruitment
Curiouser and curiouser! Come join the ladies of SAI for a night filled with events and learn some information about our organization! Each night will have a different event tied to it so you don't want to be late for this very important date! Tuesday - Mad Hatters Tea Wednesday - Alices Potions Thursday- Absalom's Tye Dye! Please contact AW483 with any questions! We're all mad here you'll fit right in!
Project Citizen ChangeLab Hosts former White House Official
Tuesday, 9/21 from 5-6pm, Project Citizen ChangeLab students will hear from former Deputy White House Chief of Staff to President Jimmy Carter, Les Francis via zoom. Anyone interested in receiving the link to listen or ask questions in should contact coach Erin Lewis (El131@evansville.edu). Link will be sent out next week.
Francis, a public affairs and communications expert strategist, will take part in an informal talk about how he got into public service, what works and doesn't work in getting public policy done, and what are some of the biggest issues facing young people today.
Francis was also former Executive Director of the Democratic National Committee and Congressional Campaign Committee. After 4 decades in Washington DC, he now lives in California with his wife Shari. Full biography available below.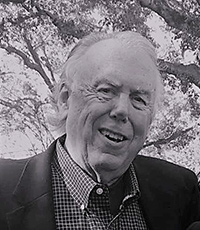 Leslie C. (Les) Francis
Les Francis is a communications specialist and public affairs strategist with extensive experience in both the private and public sectors. He is a highly regarded policy and opinion leader in national political circles.
Currently an independent consultant living in and operating from his home in California's Sierra Nevada Mountains, Francis was affiliated with a number of Washington, DC communications firms, including one he established (The FMR Group), in 1981; the firm was a pioneer in the grassroots-lobbying field, and gained prominence for its innovative and effective constituency-development efforts. In fact, Mr. Francis and his firm won national recognition from the Public Relations Society of America and the American Association of Political Consultants.
Later, Mr. Francis was executive vice president of Winner & Associates and a principal in Winner/Wagner & Mandabach Campaigns. Later, he held executive positions with Goddard Claussen Strategic Advocacy and the Washington Media Group. He also served for five years as Vice President for Communications & Public Affairs at the Educational Testing Service (ETS). Today, Francis serves as a Senior Advisor to the Washington, DC government relations firm, CJ Lake, LLC.
Beyond his experience in the private sector, Mr. Francis has also worked at the highest level of politics and government at the national level. He was chief of staff to then Representative Norman Y. Mineta (D-CA), and Deputy Assistant and Deputy White House Chief of Staff to President Jimmy Carter. He has managed or advised campaigns for office at every level of government, from City Hall to the White House. And, at different points in his career, served as Executive Director of the Democratic National Committee and Democratic Congressional Campaign Committee. He also managed or consulted with dozens of initiative and referenda campaigns on a variety of issues, and in every region of the country.
Born and raised in San Jose, CA, Francis was educated in public schools there, and received a BA degree and high school teaching credential from San Jose State University. In 2006, the College of Social Sciences at SJSU recognized him with the first ever Outstanding Graduate award. And, in May, 2018, Francis was the commencement speaker for the college.
A major focus of Mr. Francis' career and life has been spent in education. He began his career, at the age of 24, as the youngest person ever employed in a professional staff position of the California Teachers Association. Later, working for the National Education Association in Washington, DC, he was one of the original organizers of the campaign that resulted in passage and ratification of the 26th Amendment to the U.S. Constitution, which extended the franchise to 18-21 year-olds. For nearly twenty years, Mr. Francis was a faculty member of political communications at George Washington University, where he taught courses in campaign communications and political campaign ethics.
Mr. Francis has also served as a volunteer consultant to the National Democratic Institute for International Affairs and has advised democratic movements and parties in Northern Ireland, Hungary, the Czech Republic, Slovakia, Romania, Bolivia, Hong Kong, Taiwan, and Bosnia.
With his extensive and varied experience in politics and government at the local, state and federal levels, Mr. Francis is a frequent source for journalists as they cover or analyze current events. He has authored and co-authored articles for many of the country's leading newspapers, and has been a guest lecturer at several universities. He was also a founder and remains active in the Campaign for the Civic Mission of Schools, and serves as an active member of the Tower Foundation Board of Directors at SJSU.
After more than four decades working and living in Washington, DC, Mr. Francis and his wife, Shari, now live in the Gold Rush-era town of Camino, CA. They have three grown children, nine grandchildren, two great grandchildren and three hyperactive Brittany Spaniels.
UE Majors and Minor Fair
Make the Most of your future - attend the M & M Fair. Students - plan to attend the UE Majors and Minors Fair on Tuesday, October 19, from 4:00 to 5:30 p.m. in Eykamp Hall.
Make connections with faculty, students in the major, and alumni to learn how a major or minor might help lead you in your career path. You will be able to change your major or add a minor right on the spot. Get advice to help determine which courses to take before spring registration. Faculty will also be available to present their graduate programs, and campus support teams will have information on various services provided on campus.
For more information, contact academicservices@evansville.edu. Free snacks will be available too!
Constitution Day Lecture: Tuesday, September 21
Please join us on Tuesday, September 21 for our annual Consitution Day lecture. The topic for this year is "Covid and the Constitution," and it will be held at 4PM in Smythe Lecture Hall in the Schroeder School of Business Building.
The speaker this year is Professor Sheila Kennedy, who just retired from IUPUI. She was a professor of law and public policy. Before that, Kennedy was the Executive Director of the American Civil Liberties Union of Indiana. She is an author, speaker, and blogger.
The College Tour - Extras Needed
Calling all Aces! We need your help! On Wednesday, September 22, 2021 The College Tour will be filming downtown on the Riverfront Greenway. If you want to be an extra, join us on the Riverfront from 5:30 p.m. - 7:00 p.m. Bring you, your roommate and/or include your entire family. Just feel free to walk the Riverfront Greenway and wear your UE purple swag! Let's purple-up the downtown on Wednesday night.
In addition to Wednesday night, The College Tour starts filming next Monday, September 20, 2021. Don't be shy of the cameras - join in! We need extras in shots and we welcome participation. If you see cameras on campus and want to get involved, just let us know. If you'd like to see what The College Tour is all about, visit www.thecollegetour.com.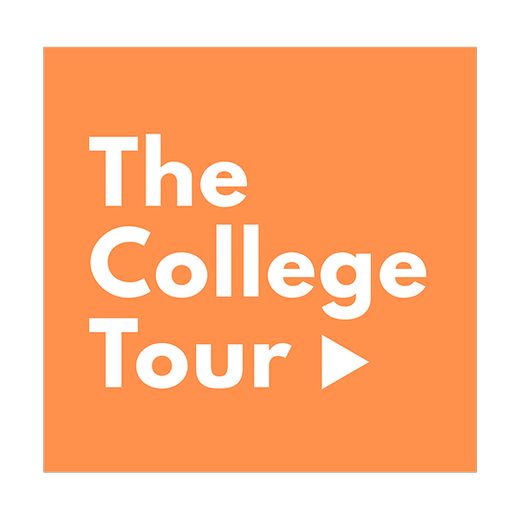 Lincolnshire Front Porch Music Festival
The 5th Annual Front Porch Festival will be held Sunday, October 3, 2021. There will be yoga at the "triangle" (Willow Rd. & Bayard Park) from 1-2pm. There will be a variety of live musical acts in the yards & front porches throughout the Lincolnshire Neighborhood that borders Lincoln Ave, US 41, Washington Ave. & Lodge Ave. from 2-6pm. Food trucks will be there as well as free rides on the Pedicab. Free parking at Bosse High School and St. Benedict School. Bring the kids, the dog and your cooler for a fun free afternoon of family entertainment rain or shine.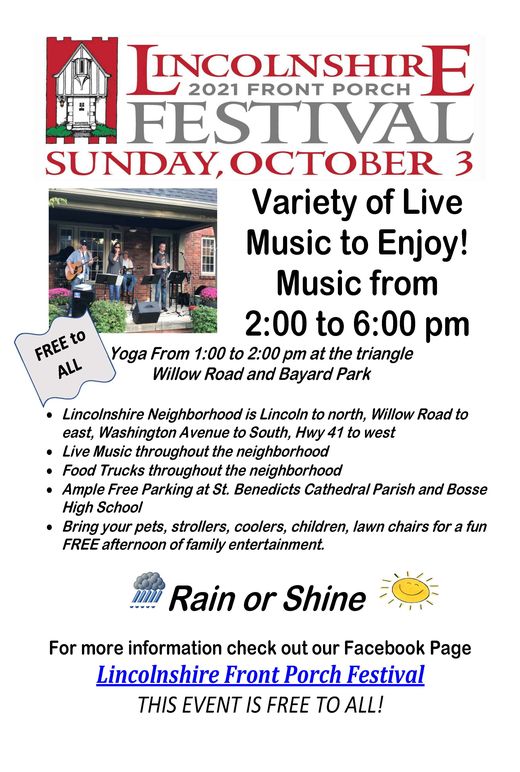 Free Philharmonic Tickets for UE Full Time Students
FREE PHILHARMONIC TICKETS FOR UE FULL TIME STUDENTS! This Saturday, Sept 25, is Evansville Philharmonic's Opening Night: "American Visionaries" with music of Gershwin, Bernstein, Florence Price, and Paul Dooley at the beautiful Main Street Victory Theatre at 7 PM, under the direction of Music Director Roger Kalia.
2 dancers from UE's Dance Company and Award Winning Mad Hot Ballroom program will accompany the orchestra. Physician Assistant student Ruben Recinos, and UEDC Advisor and Center for Innovation & Change Director Erin Lewis will join the orchestra on stage to honor the famous "Mambo" scene from West Side Story. Thank you to Concert Sponsor: Kenny Kent Lexus!
All children ages 0 - 6 can attend free, plus all full time students can attend free. View here for information to receive a free ticket: https://evansvillephilharmonic.org/free-student-tickets/
We hope you'll take advantage of the chance to support this wonderful local orchestra and your fellow purple Aces. #UEChangemakers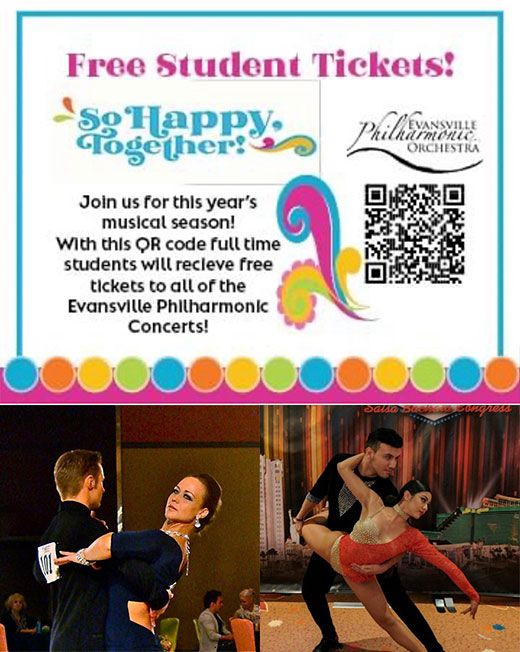 Hiring Flag Football Refs
The IM department is hiring officials for flag football. No experience necessary, all officials will receive training from the IM staff. Make $9/game, have fun, and get some great exercise!
Those interested should email Drew @ah519 or show up to the Flag football trainings this week, Tuesday, Wednesday, and Thursday at 6pm at the Intramural fields located beside the armory and baseball field.
Charlas: Informal conversation in Spanish
Wanting to practice conversation in Spanish? The next session of Charlas is Wednesday, September 29 at 6:00 p.m. This opportunity is for anyone at the intermediate or advanced Spanish language level. For more information, contact associate professor of Spanish Diana Rodríguez Quevedo at dr130@evansville.edu.
Latinx Community Health ChangeLab Hosting Youth-Focused COVID-19 Vaccination Clinic for the Latino Community
YOUTH-FOCUSED COVID-19 VACCINATION CLINIC FOR THE LATINO COMMUNITY
Protect yourself and your family.
We encourage all ages to take advantage of the free vaccines we are offering at this clinic. Youth 12 years and older now meet the safety standards for receiving the vaccine. Because the number of COVID cases is increasing among young people, we want to help this group in particular.
SCHOLARSHIP DRAWING
The University of Evansville supports the Latino community and wants to help address their health care needs. In that spirit, the university is offering anyone who receives both doses of Pfizer's COVID-19 vaccine a chance to win a scholarship. Names will be drawn, and one current Latino high school student will win a four-year, full-tuition scholarship to attend UE.
Dates: Sunday, September 26 for the first injection. Sunday, October 17 for the second injection.
Time: 1:30 p.m. to 4:00 p.m.
Location: Holy Rosary Catholic Church, 1301 S. Green River Rd. Evansville, IN 47715.
How to register: Registration will take place at the walk-in clinic provided courtesy of St. Vincent Ascension and Holy Rosary Church.
What you should know:
• Wear a mask.
• You do not need ID or health insurance to get vaccinated.
• The vaccine is free for everyone.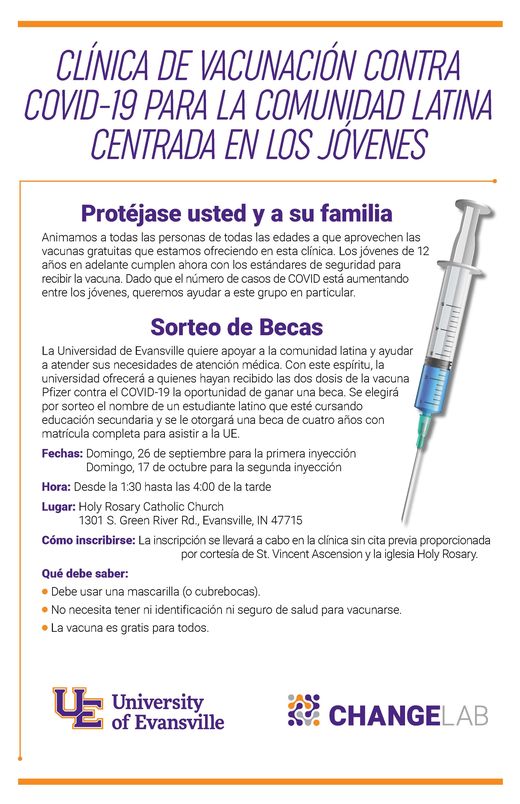 Alumni Gives Back to Nurse Anesthesia Program
Linda Alvers, alumna of the University of Evansville Nursing Program, is the proud owner and CEO of Dannemiller Healthcare Education in San Antonio, Texas. In August, Ms. Alvers reached out to Dr. Melissa Fitch, Administrator of the Nurse Anesthesia Program, after seeing the program's accreditation article in the latest issue of UE Magazine. She made a very generous donation of a free subscription to AnesthesiaFiles, Dannemiller's comprehensive database of anesthesia articles and continuing education modules to Dr. Fitch, the nurse anesthesia program faculty, and all 16 students in the first cohort of the program. Dr. Fitch and the faculty, staff, and students of the Nurse Anesthesia Program are extremely appreciative of this gift and the UE alumni who have stepped up to support the continued growth of the program.
CDEI Sponsorship: Indiana Black Expo's Circle City Classic
The Center for Diversity Equity and Inclusion is excited to announce a 50% sponsor for UE individuals interested in attending the Indiana Black Expo's 2021 Circle City Classic on September 25th in Indianapolis. More information provided below!
INFORMATION
The Circle City Classic is a HBCU (Historically Black College or University) football game held in Indianapolis by the Indiana Black Expo. This year will be Kentucky State University vs. Benedict College.
Tickets are $28.00 and you only have to pay $14! The CDEI will cover the other half. Individuals are responsible for securing their own transportation to and from Indianapolis for the day of activities and game.
The Calendar of Events Included with Tickets are:
Circle City Classic Parade
Circle City Classic Tailgate
Radio One Performance Stage
Circle City Classic 21+ Day Party
Circle City Classic Football Game &
Circle City Classic Battle of the Bands at Halftime
There are additional events taking place September 24th and later in the evening of the 25th not included with tickets and that can be bought at your own discretion.
To learn more about Indiana Black Expo Please go here: Home- Indiana Black Expo
To learn more about Circle City Classic please go here: The Circle City Classic – History is Made at The Classic
To see the full weekend calendar of events please go here: Calendar of Events – The Circle City Classic
SECURING TICKETS:
To secure your tickets please stop into the Center for Diversity Equity and Inclusion to register your name and pay your portion of the tickets NO LATER THAN 5:00pm on Thursday, September 23rd.
Purchasing Office Hours:
Monday: 8-10am, 12-2pm, 2-5pm
Tuesday: 8-10am, 10-1pm, 3-5pm
Wednesday: 8-10am, 12-2pm, 2-5pm
Thursday: 8-10am, 10-1pm, 3-5pm
Friday: 8-10am, 2-5pm
If you cannot make to the CDEI during any of the above listed times, please email Center4DEI@evansville.edu to schedule a time to register and drop off your portion of the ticket payment!
Online Title IX Training
Don't forget to take your online Title IX training. All Employees should have received a link through Catharsis Productions for the Report=Support! training on your responsibilities as a Responsible Employee at the University of Evansville. All students that are registered as Freshmen, Juniors, Transfers, and Graduate Students should have received a link to the U Got This! training that covers Title IX rights and resources, consent, and bystander intervention. Please be on the lookout for an email from Catharisisproductions.org with your specific training link. You can take the training in more than one sitting. It is recommended that you utilize Chrome and an ethernet internet connection, if possible.
Please complete the training before December 31, 2021. Any questions can be directed to the Assistant Director of Institutional Equity and Title IX Coordinator, Annie Sills at cs175@evansville.edu.
Looking for Potential Drivers for Ace CARE van
Info: Ace CARE, UE's pro bono, student run organization that offers free physical therapy services to the Evansville community, is searching for volunteers to drive our van to transport participants between their homes and services on UE's campus.
Who can volunteer as a driver: Any full-time UE employee over 30 years old that meets UE Driver requirements (A valid U.S driver's license; clear background screening, clear Motor Vehicle Record; and completion of two (2) transportation training modules assignable to UE employees)
What you will do: Drive! Drivers will always be accompanied by 1-2 students, so you will never be alone with participants. The students will be responsible for performing transfers, if necessary. Most of our participants are independent with ambulation/walking and only need assistive devices like walkers or canes (and students would be responsible for handling all equipment).
When: Tuesday or Thursday evenings from ~4:30-7:30. We can schedule you on dates that are best for your schedule. You can volunteer as much as you want, though we ask that you drive at least two times a semester.
If you are interested in volunteering, or require additional information, please reach out to Kate Schwartzkopf-Phifer (ks148).
Chat with Chaplain Andy
Did you know?: Methodist Temple's Lead Pastor Andy Payton also doubles as UE's Chaplain. Swing by lower Ridgway on Wednesdays between 10:00 am -1:00 pm for a bit of conversation. No topic is off limits.
Cleaning Supply Reminder
Need replenishment of cleaning supplies (disinfectant, hand sanitizer, paper towel, etc.) for a classroom or office area? Please complete a request form at https://uesurvey.evansville.edu/cleaningsupplies
Remember to keep spray bottles and ½ gallon bottles pumps. By keeping these, supplies of disinfectant and hand sanitizer can be replenished promptly.
Thank you for your help in keeping campus safe!
Isaac Rohleder leads Aces to strong start at Valpo
A rainy start to the day did not dampen the efforts of the University of Evansville men's golf team with the Purple Aces completing the first day of the Valparaiso Fall Invitational in 6th place.
With two out of three rounds complete, Evansville is just nine points out of the top five. UE finished with a 614 and trails Xavier, who posted a 605. The Aces are eight strokes in front of Missouri Valley Conference rival Bradley. One round remains on Tuesday at Sand Creek Country Club.
Isaac Rohleder is inside the top 15 going into the final 18. The junior had UE's low round of the day to open the tournament, recording a 2-under 70. He followed that up with a 76 to rank in a tie for 13th place with a 146. Ranking second for Evansville was Dallas Koth. He carded a 75 in round one before completing the second round with an 80. His 155 is tied for 31st.
Sitting in a tie for 47th with scores of 159 are Caleb Wassmer and Henry Kiel. Kiel finished the first 18 with a 76 before shooting an 83. Wassmer's scores finished at 79 and 80. Nicholas Gushrowski made a strong improvement as the day went along. Gushrowski fired off an 83 in the first round before dropping his score by five strokes to a 78 in round two. He is just outside the top 50, ranking in a tie for 54th with a 161.
Wright State and Valparaiso have a strong hold on the top two spots. The Raiders enter the final round with a 568 and are four in front of Valpo. Mason Bonn of Valpo is the individual leader with a 140 and is one in front of Detroit's James Hill and two in front of a for third place. Four Wright State players are tied for third on the leaderboard.
Abby Phelps named MVC Offensive Player of the Week
Following a two-goal afternoon on Friday, University of Evansville women's soccer midfielder Abby Phelps has been named Missouri Valley Conference Offensive Player of the Week, it was announced in a release from the Conference office on Monday.
In Evansville's MVC opener, midfielder Abby Phelps fueled Evansville to a win over UNI. Entering the match, Phelps had not scored in her collegiate career, but the senior not only opener her account against the Panthers, but scored twice. In the 2-0 win, Phelps scored her first in the 50th minute on a penalty kick. Just over 10 minutes later, Phelps found the back of the net again, scoring off a corner, assisted by Nicole Benati.
The honor is the first of Phelps' career and the third individual award earned by an Ace this season following Michaela Till's Defensive Player of the Week honors on August 30 and Emilie Hill's Defensive Player of the Week recognition on September 7.
Evansville enters this weekend after moving back into fifth in the United Soccer Coaches Midwest Region poll, joining TCU, West Virginia, Texas Tech, and Buffalo in the top five.
The Aces, who enter the week again ranked fifth in the United Soccer Coaches Midwest Region poll, returns to Arad McCutchan Stadium for a Saturday matchup with Drake at 1 PM in Evansville.
Vazquez earns third MVC Player of the Week award
Alondra Vazquez has been named the Missouri Valley Conference Player of the Week for the second time this season and the third time in her University of Evansville career.
Another monster week saw Vazquez lead the Purple Aces with 4.88 kills and 3.63 digs per set while winning all three matches by 3-0 finals to improve to 10-1 in the fall. Vazquez completed the week with an efficient .407 hitting percentage along with five aces and five blocks. Sparks were flying on Tuesday when the Aces faced undefeated Tennessee State in Nashville. An 11-kill,12-dig match saw Vazquez and the Aces earned a 3-0 win. She tallied two block and an assist in the win.
Friday's home opener saw Vazquez add nine kills, three digs and two aces versus Cleveland State. This came in just two sets of work as Evansville gave some of its younger players extended playing time in the third frame. In the finale against Murray State, she led all players with 19 kills and 14 digs while adding four block assists and two aces while hitting an unbelievable .643.
Vazquez paces an offense that is one of the most potent in the nation, ranking 10th in the nation in service aces, 34th in kills per set, 35th in assists and 45th in hitting. On the defensive side, the Aces boast a 0.160 opponent hitting percentage, which puts them 47th in the country. Vazquez continues to pace the MVC with 4.77 kills per set while sitting 10th in the nation in that category.
Contribute to AceNotes
To have content considered for inclusion in AceNotes, please submit a Marketing Request Form. Deadline for submission to AceNotes is 10:00 a.m. on the requested date of publication. Only articles concerning UE related/sponsored activities will be accepted. Articles submitted to AceNotes may be edited for length and clarity. Submitter contact information is at the end of each article.