| | |
| --- | --- |
| AceNotes Today | Thursday, September 16, 2021 |
This Week in Religious Life
Activities and opportunities this week in religious life:
Newman Center
1. Sunday Mass (9/19) will be at 6:00pm at Neu Chapel. Fr. Martin Estrada will be our celebrant
Talk About It Tuesday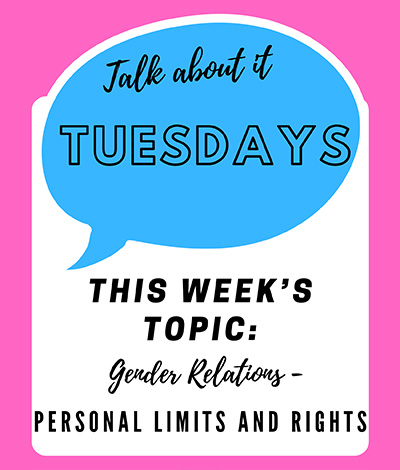 Join the Center for Diversity, Equity, and Inclusion at 12:00PM on Tuesday, September 21st for the first part of their six-part program: "Talk About It Tuesdays". This program will be held on the second floor of Ridgway University Center in the Multicultural Student Commons Alcove.
Our first segment will be focusing on varying dynamics of Gender Relations in our different communities and how these different perspectives relate to our personal rights as members of society. Grab your lunch from downstairs and head up to the alcove to discuss with peers and learn about the different resources available to combat gender discrimination, violence, and harassment and how to properly access those resources. Follow along with @uediversity on Instagram for additional programming.
Keep an eye out on social media and AceNotes for upcoming series focused on other topics like Mental Health, Religion, and Race Relations.
UE Majors and Minor Fair
Make the Most of your future - attend the M & M Fair. Students - plan to attend the UE Majors and Minors Fair on Tuesday, October 19, from 4:00 to 5:30 p.m. in Eykamp Hall.
Make connections with faculty, students in the major, and alumni to learn how a major or minor might help lead you in your career path. You will be able to change your major or add a minor right on the spot. Get advice to help determine which courses to take before spring registration. Faculty will also be available to present their graduate programs, and campus support teams will have information on various services provided on campus.
For more information, contact academicservices@evansville.edu. Free snacks will be available too!
Constitution Day Lecture: Tuesday, September 21
Please join us on Tuesday, September 21 for our annual Consitution Day lecture. The topic for this year is "Covid and the Constitution," and it will be held at 4PM in Smythe Lecture Hall in the Schroeder School of Business Building.
The speaker this year is Professor Sheila Kennedy, who just retired from IUPUI. She was a professor of law and public policy. Before that, Kennedy was the Executive Director of the American Civil Liberties Union of Indiana. She is an author, speaker, and blogger.
Pride Welcome Meeting
Please join PRIDE for our welcome meeting on Friday 9/17 @7pm in Eykamp 251. There will be Food, Drinks, and Gaymes! You can find our event on UEngage.
The College Tour - Extras Needed
Calling all Aces! We need your help! On Wednesday, September 22, 2021 The College Tour will be filming downtown on the Riverfront Greenway. If you want to be an extra, join us on the Riverfront from 5:30 p.m. - 7:00 p.m. Bring you, your roommate and/or include your entire family. Just feel free to walk the Riverfront Greenway and wear your UE purple swag! Let's purple-up the downtown on Wednesday night.
In addition to Wednesday night, The College Tour starts filming next Monday, September 20, 2021. Don't be shy of the cameras - join in! We need extras in shots and we welcome participation. If you see cameras on campus and want to get involved, just let us know. If you'd like to see what The College Tour is all about, visit www.thecollegetour.com.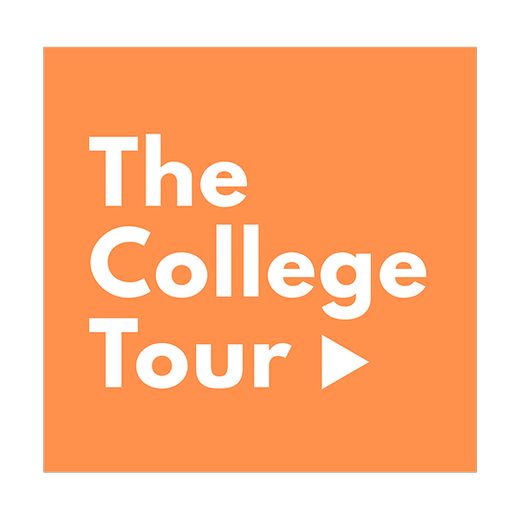 Do you have plans for Fall Break? Join the Venturing Crew for fall break to the St Louis City Museum, Current River and Jacks Fork
Join the Venturing Crew as we travel to St Louis to visit the City Museum for a day of exploring the unexpected. City Museum is a hundred-year-old warehouse in downtown St. Louis in which artists have repurposed the pieces of old cities to build miles of tunnels, slides, climbers, bridges, and castles. There are secret passages and grand galleries. Playgrounds and ball pits. A circus and a train. A rooftop school bus and a Ferris wheel.
We will then travel to Two Rivers Campground where the crystal clear Current River meets the Jacks Fork and flows past the campground.
We will spend a day canoeing each river and sit around the camp fire at night playing games "Mafia", eating extreme S'mores and telling stories.
On the last day we break camp and head for home but not before stopping at Lambert's Cafe, the home of the flying rolls where we will eat a hearty brunch and try not to get hit with a hot buttery roll.
We will leave campus Friday October 8th around 6pm and return Tuesday October 12 around 3pm.
Sign up tables will be in Ridgway starting Tuesday Sept 28th and the cost will be $75
Lincolnshire Front Porch Music Festival
The 5th Annual Front Porch Festival will be held Sunday, October 3, 2021. There will be yoga at the "triangle" (Willow Rd. & Bayard Park) from 1-2pm. There will be a variety of live musical acts in the yards & front porches throughout the Lincolnshire Neighborhood that borders Lincoln Ave, US 41, Washington Ave. & Lodge Ave. from 2-6pm. Food trucks will be there as well as free rides on the Pedicab. Free parking at Bosse High School and St. Benedict School. Bring the kids, the dog and your cooler for a fun free afternoon of family entertainment rain or shine.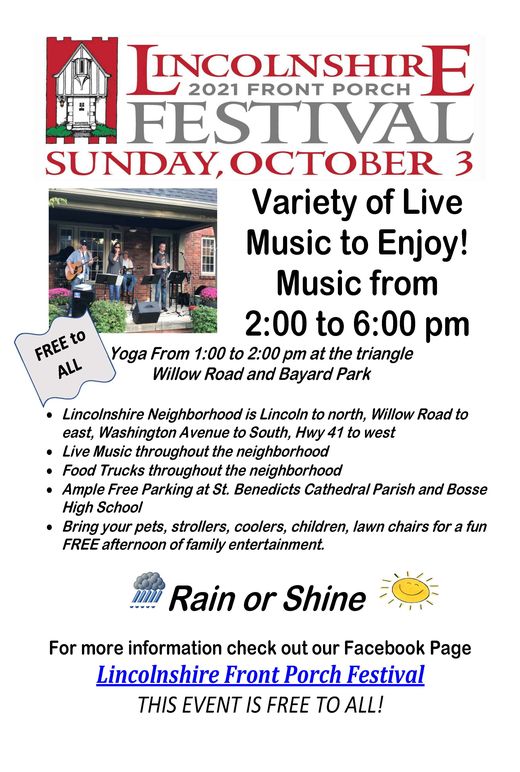 Papa Johns Ace Bucks
Papa Johns has confirmed that they are ready to start taking Ace Bucks as payment for pizza orders. If you have any issues, please reach out to Chattback at 812-213-2199 to report it to Dining Services.
Looking for Potential Drivers for Ace CARE van
Info: Ace CARE, UE's pro bono, student run organization that offers free physical therapy services to the Evansville community, is searching for volunteers to drive our van to transport participants between their homes and services on UE's campus.
Who can volunteer as a driver: Any full-time UE employee over 30 years old that meets UE Driver requirements (A valid U.S driver's license; clear background screening, clear Motor Vehicle Record; and completion of two (2) transportation training modules assignable to UE employees)
What you will do: Drive! Drivers will always be accompanied by 1-2 students, so you will never be alone with participants. The students will be responsible for performing transfers, if necessary. Most of our participants are independent with ambulation/walking and only need assistive devices like walkers or canes (and students would be responsible for handling all equipment).
When: Tuesday or Thursday evenings from ~4:30-7:30. We can schedule you on dates that are best for your schedule. You can volunteer as much as you want, though we ask that you drive at least two times a semester.
If you are interested in volunteering, or require additional information, please reach out to Kate Schwartzkopf-Phifer (ks148).
Watermelon Bust 2021
On behalf of the fraternity of Lambda Chi Alpha, I would like to invite you to our fall philanthropy, Watermelon Bust. Watermelon Bust is an Olympic style event, where teams of five compete against each other with a common goal of smashing, passing, tossing, carving, eating, and dunking as many watermelons as they can. 100% of the combined raised funds go to The Arc of Evansville, which works to empower individuals with disabilities to build relationships, gain independence, and achieve their full potential. The event will start at 5 at the Lambda Chi House, 213 S. Weinbach Ave. It will cost $25 to enter one team of five people and it is free for all students who are not participating on a team. You can sign your team up at our tabling hours in Ridgeway from 9/14-9/16 from 11-1. You can also email your teams or any questions you have to kb484@evansville.edu.
Cleaning Supply Reminder
Need replenishment of cleaning supplies (disinfectant, hand sanitizer, paper towel, etc.) for a classroom or office area? Please complete a request form at https://uesurvey.evansville.edu/cleaningsupplies
Remember to keep spray bottles and ½ gallon bottles pumps. By keeping these, supplies of disinfectant and hand sanitizer can be replenished promptly.
Thank you for your help in keeping campus safe!
September 20-24: Oval Lot to Be Closed
The oval lot, which includes Lot B and visitor parking, will be closed the full week of September 20-24 for filming purposes. It will reopen on Saturday, September 25. Please make plans to park in an alternate lot during this time. We apologize for the inconvenience this may cause, but we appreciate your patience during this time!
KUDOS! Prof Cindy Crowe and her Latinx Community Health ChangeLab makes the Indianapolis Star
The University of Evansville is doing their part to try to help bolster COVID-19 vaccination rates, especially those in the Latinx community.
"I am extremely proud of the ChangeLab students who have put in so much time and dedication to making the vaccination clinic we had in the spring and the upcoming vaccination clinic successful. They are doing a tremendous service for our community and very likely saving lives. These UE students are an inspiration to me and to so many others who hear about their work." -Prof Cindy Crowe
EVANSVILLE, Ind. — Like many public health and nonprofit entities across the Tri-state, the University of Evansville is doing its part to try to help bolster COVID-19 vaccination rates, especially those in the Latinx community. The university is using its ChangeLab — a semester course dedicated to helping students make a positive change where students join projects in an area of choice that will help them make a change in the community — to help native-Spanish speaker be informed about the vaccine.
Lucinda Crowe, assistant professor emeritus of Spanish, is the coach for the Latino Community Health course. Her ChangeLab course is dedicated to using the knowledge students gained in her medical Spanish course or other students who have a Spanish background to interpret and transcribe medical materials from English to Spanish. The main goal is to speak with community members and understand their healthcare needs.
'I hope that we can actually take the information and the data that we have regarding the perceived healthcare needs of the community, and actually do something with it to help with the health care needs of the Latino population,' Crowe said.
The course, which started in spring, allowed for students to create a pamphlet in Spanish helping people be more informed about CDC guidelines and where to get vaccinated in Evansville. For Imelda Salgado, a University of Evansville student majoring in nursing and minoring in medical Spanish, she joined the course to help people in her community and spread more awareness. Salgado, who met Crowe through a group called Good Trouble dedicated to spreading awareness about racial inequality and diversity issues, thought the course would be an interesting way to spread awareness and gain skills for her career. She also thought it was important to be a part of stopping the spread of misinformation. 'If someone actually talked to them like a nurse or a doctor or physician, I'm sure that before the actual benefit of getting the vaccine, they'd get it themselves,' she said.
For Salgado, this information had to be spread in the community and at home. Her family, which identifies as Mexican-American, were hesitant at first to get the vaccine. But after listening to the information from Crowe and their stakeholder at St. Vincent's, she was able to present the information to her family, which eventually decided to get vaccinated. Small changes like these are what lead to the team to wanting to have a greater impact. After discovering the steps needed to get vaccinated, the team needed ways to get people vaccinated. Following long meetings between their stakeholders, students and community members, they came up with a solution: hosting a vaccination clinic at a local church that doesn't require identification. Holy Rosary Catholic Church, which offers mass in Spanish on Wednesdays and Sundays became the perfect place to reach people. After speaking with Father Martin Estrada, during the spring, Crowe and her team were able to host a vaccination clinic where students translated the intake forms, revised the pamphlet to let people know they didn't need an ID and interviewed people at the clinic on what their needs were.
'We're trying to offer people the opportunity, especially Latinos, to get the vaccine,'
Estrada said. 'I think by offering it here, people feel more comfortable, because they know the church already and comfortably know where they can go.'
That day, more than 100 were vaccinated. Through their interviews, the biggest findings they discovered were lack of insurance, cultural differences and language barriers. These findings have lead to two projects that the fall ChangeLab is looking to work on: hosting another vaccination clinic and creating a cultural sensitivity workshop for health care providers. This vaccination clinic is focused on reaching younger people, specifically those 12 and up, which is now the youngest age people are able to be vaccinated. As the church and program are trying to reach out for more Latino people to get vaccinated, the clinic is open to everyone. The clinic will be held following mass on Sept. 26 for the first dose and Oct. 17 for the second dose. At the clinic for the second dose, there will be a lottery that Latinx students can enter after receiving both doses of the vaccine. One selected student will receive a four-year scholarship to the University of Evansville that will cover full-time tuition for both fall and spring semesters.
'I'm just so excited,' said Crowe on hosting the clinic again. 'I'm just thrilled about the opportunity that not only are we helping the entire community, because the more people we get vaccinated, the quicker this thing is going to go away. '
'If someone actually talked to them like a nurse or a doctor or physician, I'm sure that before the actual benefit of getting the vaccine, they'd get it themselves.' Imelda Salgado University of Evansville student.
The University of Evansville is doing their part to try to help bolster COVID-19 vaccination rates, especially those in the Latinx community.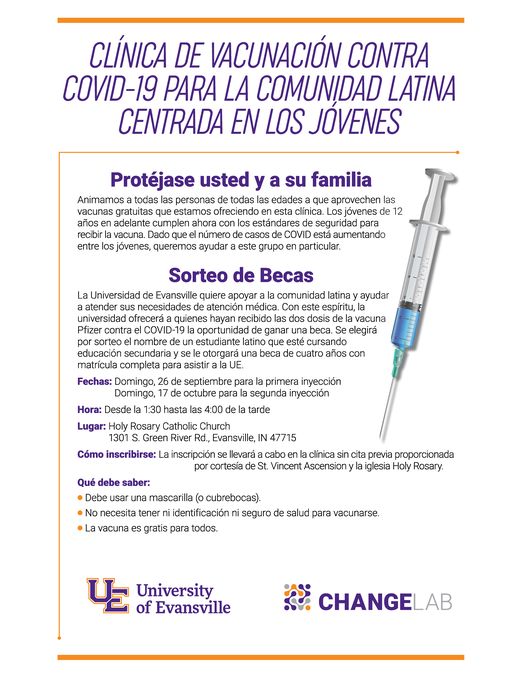 Condolences to Cheryl Shafer
Our sympathy goes out to Cheryl Shafer, School of Health Sciences, in the passing of her brother last week due to COVID. Michael Knies, was 49 years old from Ferdinand, Indiana. He leaves behind his wife, Beth, and children Alex, Madison and Connor and two grandchildren.
Evansville Women's Basketball Releases MVC Schedule
Evansville Women's Basketball releases MVC schedule
Conference season starts with Iowa road trip on Dec. 30, Jan. 1
ST. LOUIS - Finalizing its 2021-22 slate, the University of Evansville women's basketball team has released its Missouri Valley Conference schedule, along with the full league slate put out by the Conference office Tuesday afternoon.
"We certainly open up conference play with a bang, playing 4 of the top 5 teams from last season," said Aces head women's basketball coach Robyn Scherr-Wells. "It will be a great test early to see where we are at and we will be ready for the challenge. This is a phenomenal conference and at the end of the day, there is no easy path. We'll be ready to compete hard one game at a time."
Beginning December 30, the MVC portion of the Aces 2021-22 slate features its usual 18 games with a return to the traditional scheduling format the Conference used prior to the COVID-19 pandemic.
The Aces make the longest road trip of the season in week one, opening the conference campaign on December 30 at UNI before taking on Drake on January 2. Back inside Meeks Family Fieldhouse, Evansville welcomes in Bradley on January 7 before the Illinois State Redbirds make the trip to the River City on January 9.
Travel partner and in-state rival Indiana State is next up on the schedule as the Aces travel to Terre Haute to open a three-game road swing on January 13. The following weekend, Evansville makes the trek north to take-on Loyola on January 21. On January 23, the Aces head to Valparaiso to face the Beacons in the ARC, a place Evansville found success last season. In the opener of the weekend series at Valpo last year, senior Anna Newman put on an incredible performance, getting to the free-throw line 18 times and leading the Aces to the win with a game-high 17 points.
After the road trip, Evansville faces the 2020-21 MVC Regular Season Champions to Meeks with a January 27 matchup with Missouri State before taking on SIU on January 29 at home.
The second half of The Valley season begins on the road on February 4 and 6 with trips to Illinois State and Bradley. Evansville's three-game homestand begins on February 12th with a contest against Indiana State inside Meeks Family Fieldhouse, a game in which the Aces forced overtime a season ago before falling 70-63. Valparaiso and Loyola close-out the homestand for Evansville on February 18 and 20, respectively.
The final two weekends of the regular season set-up for an exciting finish for the Aces with three of the top four teams in 2020-21 included in the final stretch. Road trips to Missouri State and SIU highlight the penultimate weekend of the season on Feburary 24 and 26. For the fourth-straight season, Evansville will conclude the regular season at home with Drake (March 3) and UNI (March 5) making the trip to Meeks for the final weekend.
Evansville now offers digital, mobile ticketing that allows fans to buy tickets ahead of time. Single game tickets are $8 for adults and $6 for youth and seniors and can be purchased here. Fans can also purchase season passes for women's basketball for $65, available here.
Fans interested in women's basketball single game tickets and season passes can visit the Aces new ticketing page here
Morales Representing UE Program on a Worldwide Stage
Morales representing UE program on a worldwide stage
UE coach led Puerto Rico to silver medal at 2021 NORCECA Tournament
EVANSVILLE, Ind. – Since taking over as the University of Evansville's head volleyball coach in 2019, Fernando Morales has transformed the program into a contender in one of the toughest leagues in the nation. In his first season, the program advanced to the MVC Championship for the first time in over a decade while setting multiple records across the board while his Purple Aces squad opened the fall of 2021 with seven consecutive victories for its best start since 1981.
His work in the sport of volleyball is not limited to just the college game. Prior to his transition to the coaching ranks, Morales was a professional and national team player in Puerto Rico. Following his playing days – it was a dream of his to have the opportunity to lead the Puerto Rico National Team. In October of 2020, that dream became reality as he was named the head coach.
While some college programs would not support its head volleyball coach taking on something like this, UE encouraged him to pursue those dreams while utilizing that experience to take the Aces program to the next level. This experience was something that would increase the visibility of the UE volleyball program as well as the university as a whole.
"Representing Puerto Rico was a dream growing up as a player and now as a coach. That was my top dream," Morales exclaimed. "This was an opportunity that I wanted to take advantage of and get as much as I could out of it. Volleyball is a sport that is growing in Puerto Rico and I am happy that we are making an impact and bringing happiness in tough times."
That is exactly what his team did as they competed in the 2021 NORCECA Senior Women's Continental Championship earlier in September. While Morales was a player and assistant coach at that level, this was his first time working as the head coach. He drew on those experiences as well as his time leading the Evansville program. His team was comprised of athletes who were in their early 20's with his oldest athlete being 32 years old.
"The first time I saw the team as a whole was when we got together for two practices before the tournament," Morales said. "Prior to that, I talked to them all individually and did as much as we could, but it was good to be together and playing in a match."
Following just two practices in Guadalajara, Mexico, Morales and his team opened up the tournament with a 3-2 win over the United States. After a 3-1 setback against Canada, Puerto Rico bounced back to defeat host Mexico by a 3-1 score in the quarterfinals. A spot in the finals was on the line when his team faced Canada for a second time. In the rematch, it was Puerto Rico taking a 3-1 victory to reach the finals for just the second time.
In the championship match, Puerto Rico gave defending champion Dominican Republic its best effort before coming up just short in five sets. Prior to the championship, the Dominican Republic lost just one set in its first four matches. Earning the silver medal in this fashion was an accomplishment that was very special for Morales and his team, but the focus is now on the future. With the results at the 2021 NORCECA Championship, his team is eligible to play in the World Championships in the summer of 2022 in Poland and the Netherlands with an opportunity to play in the 2024 Summer Olympics on the line.
One of the most unique aspects of coaching at the international level for Morales is that he is coaching against various styles from around the entire world. This is something that he has brought back to Evansville to apply to the Aces program.
"I have been able to learn a lot from seeing some of the top teams and coaches in the world," Morales explained. "The girls at this level are more experienced, so I give them a little more freedom during the game. It is a similar system to what we run at UE."
International volleyball features a faster tempo offense that is a bit more specialized. One big difference is that NCAA matches allow 15 subs in a set while just six are allowed in international play.
"There are teams that play a higher tempo, but the style we play takes advantage of our strengths," Morales continued. "We are not the tallest team in the MVC, so we work to do things before the block gets there. I have been able to use certain aspects of coaching at each level and apply it to the other."
The experience he has gained coaching the Puerto Rico National Team is something that Morales has applied to the University of Evansville program. His student-athletes have the opportunity to work in a unique style of play that allows players to be successful by focusing on their strengths. This philosophy has been successful on the biggest level of the game and has already made differences in just a short time at UE.
Contribute to AceNotes
To have content considered for inclusion in AceNotes, please submit a Marketing Request Form. Deadline for submission to AceNotes is 10:00 a.m. on the requested date of publication. Only articles concerning UE related/sponsored activities will be accepted. Articles submitted to AceNotes may be edited for length and clarity. Submitter contact information is at the end of each article.