| | |
| --- | --- |
| AceNotes Today | Tuesday, September 14, 2021 |
The College Tour - Extras Needed
Calling all Aces! We need your help! On Wednesday, September 22, 2021 The College Tour will be filming downtown on the Riverfront Greenway. If you want to be an extra, join us on the Riverfront from 5:30 p.m. - 7:00 p.m. Bring you, your roommate and/or include your entire family. Just feel free to walk the Riverfront Greenway and wear your UE purple swag! Let's purple-up the downtown on Wednesday night.
In addition to Wednesday night, The College Tour starts filming next Monday, September 20, 2021. Don't be shy of the cameras - join in! We need extras in shots and we welcome participation. If you see cameras on campus and want to get involved, just let us know. If you'd like to see what The College Tour is all about, visit www.thecollegetour.com.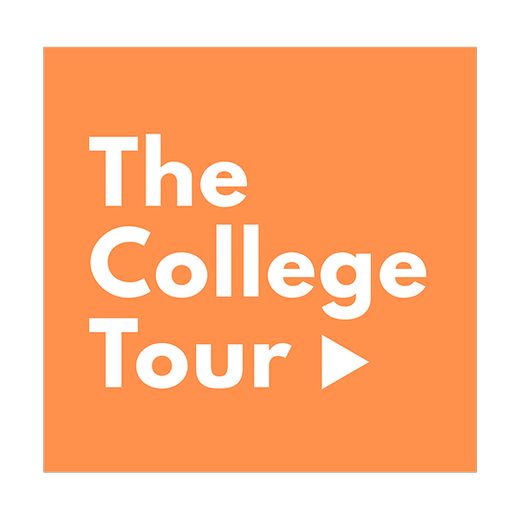 This Week in Music
The UE Music Conservatory presents a faculty recital featuring Leanne Hampton, flute and Ross Erickson, percussion on Tuesday, September 14 at 7:30 p.m. in Neu Chapel. The program will feature works by Eve Beglarian, Toshimitsu Tanaka, Robert Beaser, and Béla Bartók. Admission is free and open to the public (masks required.) For a link to a live stream of this concert as well as a list of upcoming events, visit: https://www.evansville.edu/majors/music/calendar.cfm
University of Evansville Theatre Announces Fall 2021 Season
The University of Evansville (UE) Department of Theatre proudly presents the Fall 2021 Shanklin Theatre season. After more than a year's absence from live performances on campus, UE Theatre is ready to welcome patrons back with an extraordinary line-up of plays which includes a humorous interpretation of everyday life, a dashing story of self-willed sisters, and a fascinating cabaret about life and the way people interact with possessions.
The season kicks off with EVERYBODY, written by Branden Jacobs-Jenkins and directed by Visiting Assistant Professor Stacey Yen. EVERYBODY opens on Fri., Sept. 24, at 7:30 p.m., in Shanklin Theatre. Additional performances are at 7:30 p.m., on Sept. 2–5, 30, Oct. 1, 2, and at 2:00 p.m., on Oct. 3.
A finalist for the 2018 Pulitzer Prize in Drama, this innovative play is an immersive and inclusive experience for the cast and audience—as actors draw lots onstage to discover which role they will play at each performance. This brilliant, award-winning playwright gives us a modern take on EVERYMAN, a 15th-century morality play. His inventive interpretation is a provocative and joyful romp about love and death, a whimsical look into the unknown, and, ultimately, an exploration of the ties that bind us on this wondrous journey called life. Who knew that death could be so fun? And absurdly funny!
Next in the repertory line-up is THREE SISTERS from the iconic playwright Anton Chekhov, written in a new version, by Sarah Ruhl. The production is directed by Professor Diane Brewer and opens Fri., Nov. 12, at 7:30 p.m. Additional performances are at 7:30 p.m., on Nov. 19, 20, Dec. 2, and at 2:00 p.m., on Nov. 13 and Dec. 5.
This playwright's modern voice has garnered her a Tony Award nomination, a MacArthur Fellowship, and she was twice named a Pulitzer Prize finalist. Her version of one of Chekhov's most famous plays exposes the timely struggles of a family living in a small town in Russia and facing gambling debts, a house in foreclosure, and fears of a war on the horizon. These sisters defy despair, celebrate milestones, fall hopelessly in love, and rival as only siblings can. With unyielding resilience and acerbic humor, these women throw themselves into the distance between their dreams and reality and inspire us all to brave our own "new normal."
The inventive play GONE MISSING, devised by the groundbreaking theatre troupe, The Civilians, is directed by Wes Grantom '03 and opens Sat., Nov. 13, at 7:30 p.m. Additional performances are at 7:30 p.m., on Nov. 18, Dec. 3, 4, and at 2:00 p.m., on Nov. 20, 21.
This charming show combines real-life interviews about the nature of memory with a scintillating score that effortlessly swings between salsa, ballads, jazzy numbers, and tuneful pop songs. An ensemble of eccentric characters seamlessly intertwines tales of lost objects with fascinating stories of seekers and finders and examines our tendency to place heightened significance on everyday items. While a global pandemic may be the most opportune time to explore this "cabaret of loss," it is the communal experience of shared joy that is sure to resonate and linger in hearts and minds long after the show ends.
In following industry standards, as established by the Broadway League, all audience members must show proof of COVID–19 vaccination or a negative test result
taken within 72-hours of the date on their ticket. Upon arrival at Shanklin Theatre, proof of vaccination/negative test result and an ID will be checked before each performance. In compliance with the UE Coronavirus Task Force guidelines, all audience members must remain masked when indoors on campus. Additionally, Shanklin Theatre will be seated at no more than 50% capacity.
Season tickets are available now at $45 for adults and $40 for senior adults, students, and UE faculty and staff. Single ticket prices for EVERYBODY, THREE SISTERS, and GONE MISSING are $20 for adults and $18 for senior adults, students, and UE faculty and staff. UE students may obtain one free student rush ticket beginning at 12:00 p.m. on the day of the performance they wish to attend. Tickets may be purchased by calling (812) 488–2031, Monday through Friday, 12:00 p.m. to 5:00 p.m.
Do you have plans for Fall Break? Join the Venturing Crew for fall break to the St Louis City Museum, Current River and Jacks Fork
Join the Venturing Crew as we travel to St Louis to visit the City Museum for a day of exploring the unexpected. City Museum is a hundred-year-old warehouse in downtown St. Louis in which artists have repurposed the pieces of old cities to build miles of tunnels, slides, climbers, bridges, and castles. There are secret passages and grand galleries. Playgrounds and ball pits. A circus and a train. A rooftop school bus and a Ferris wheel.
We will then travel to Two Rivers Campground where the crystal clear Current River meets the Jacks Fork and flows past the campground.
We will spend a day canoeing each river and sit around the camp fire at night playing games "Mafia", eating extreme S'mores and telling stories.
On the last day we break camp and head for home but not before stopping at Lambert's Cafe, the home of the flying rolls where we will eat a hearty brunch and try not to get hit with a hot buttery roll.
We will leave campus Friday October 8th around 6pm and return Tuesday October 12 around 3pm.
Sign up tables will be in Ridgway starting Tuesday Sept 28th and the cost will be $75
Collegiate Alumni Board Call Out Meeting
Want to make connections with UE Alumni? Collegiate Alumni Board wants you! There will be a callout meeting Monday September 13th at 4PM in the Igleheart Building. It is the stone building on the corner of Rotherwood and Lincoln across from the gas station. If you have any questions please reach out to mh527@evansville.edu.
Reminder: Engineering, Business & Technology Career Fair is Tuesday 9/14/21
IN PERSON Career Fair!!!! Join us Tuesday, September 14 from 1pm-3pm in Eykamp Hall for the opportunity to meet employers in the Engineering, Business and Technology fields. Look in Handshake to see a list of all employers planning to be in attendance. Register for this event in Handshake, you won't want to miss it!
Lincolnshire Front Porch Music Festival
The 5th Annual Front Porch Festival will be held Sunday, October 3, 2021. There will be yoga at the "triangle" (Willow Rd. & Bayard Park) from 1-2pm. There will be a variety of live musical acts in the yards & front porches throughout the Lincolnshire Neighborhood that borders Lincoln Ave, US 41, Washington Ave. & Lodge Ave. from 2-6pm. Food trucks will be there as well as free rides on the Pedicab. Free parking at Bosse High School and St. Benedict School. Bring the kids, the dog and your cooler for a fun free afternoon of family entertainment rain or shine.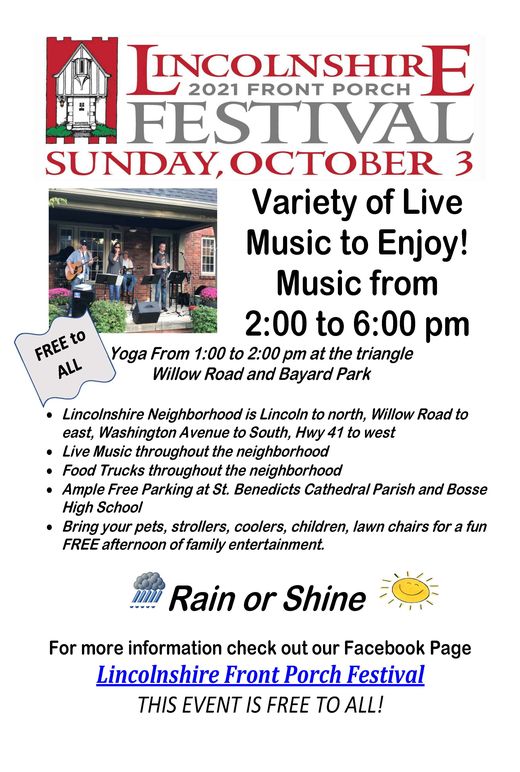 Solution Station Wednesday: Transform Your Schedule - Planner giveaway
Is it time to transform your schedule? Don't wait - act now!
Come by the Solution Station table in Ridgway this Wednesday from 11:00 AM to 1:00 PM and get a FREE UE planner! Stay organized this year and finally get your time working for YOU by using a planner.
Do you need help with something and you're not sure who to ask on campus? If we don't know the answer, we'll know who does! We're here to help you find solutions to the issues you're facing. Let us help - come to the Solution Station!
Contact: Chad Hart (ch299@evansville.edu)
Looking for Potential Drivers for Ace CARE van
Info: Ace CARE, UE's pro bono, student run organization that offers free physical therapy services to the Evansville community, is searching for volunteers to drive our van to transport participants between their homes and services on UE's campus.
Who can volunteer as a driver: Any full-time UE employee over 30 years old that meets UE Driver requirements (A valid U.S driver's license; clear background screening, clear Motor Vehicle Record; and completion of two (2) transportation training modules assignable to UE employees)
What you will do: Drive! Drivers will always be accompanied by 1-2 students, so you will never be alone with participants. The students will be responsible for performing transfers, if necessary. Most of our participants are independent with ambulation/walking and only need assistive devices like walkers or canes (and students would be responsible for handling all equipment).
When: Tuesday or Thursday evenings from ~4:30-7:30. We can schedule you on dates that are best for your schedule. You can volunteer as much as you want, though we ask that you drive at least two times a semester.
If you are interested in volunteering, or require additional information, please reach out to Kate Schwartzkopf-Phifer (ks148).
Chat with Chaplain Andy
Did you know?: Methodist Temple's Lead Pastor Andy Payton also doubles as UE's Chaplain. Swing by lower Ridgway on Wednesdays between 10:00 am -1:00 pm for a bit of conversation. No topic is off limits.
Writing Center Opens In Person AND Online Friday, September 17
The Writing Center will officially open to students on Friday, September 17. Due to demand, we will have tutors both in person and online, though not always at the same time. Hours are, tentatively, 10-6 Monday, Tuesday, Thursday, and Friday, 10-4 on Wednesday, and 12-4 on Sundays. We do not have tutors to cover every hour listed at this time, but if you are interested in the job, please email kd60@evansville.edu to set up an interview. It requires critical thought, great listening, use of logic and fact-based evidence, and compassion: I know UE students exemplify these traits and I look forward to meeting more of you!
Calling all Seniors- Orr Fellowship Campus Visit
Students of all majors are invited to connect with recruiters for the Orr Fellowship, a two year, full-time job opportunity in Indianapolis. More details and the application instructions for graduating seniors are available at orrfellowship.org.
The Orr Fellowship will be on campus Tuesday, September 14. 2 ways to connect with current fellows:
• Information table in the lobby of Ridgway 10:00 a.m.- 12:30 p.m.
• Visit their table at the Engineering, Business & Technology Fair in Eykamp Hall, 1:00 - 3:00 p.m.
For questions about Orr Fellowship, please contact Megan Taylor at mt263@evansville.edu.
Now Hiring- Center for Innovation & Change
Come change the world with us!
If you are organized, dependable, and comfortable around the chronically optimistic, then we would love to have you aboard!
Please complete the application process on the UE Website via Webadvisor as soon as possible.
Position Title: Center for Innovation and Change Office/Project Assistant Work Study
Job Description: Students are needed to assist the Center for Innovation and Change with social media and graphic design, planning and attending special events, running errands, and performing other general office duties as assigned related to the Changemaker Challenges, Ashoka projects, ChangeLab, etc.
Skills Needed: Student must have general office skills and a professional and positive attitude. Familiarity with Microsoft Word, Powerpoint, and Excel is also needed. Computer graphics is a big plus. Knowledge of social media platforms desired.
Required Major: Students of any major may apply!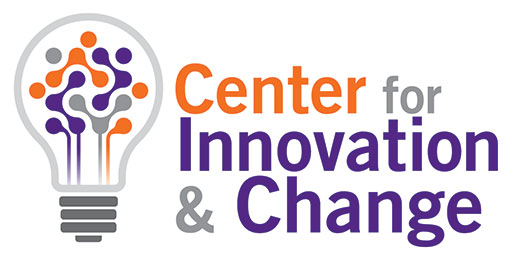 Introduction to Health Professions Workshop
Are you considering a career in medicine, dentistry, optometry, pharmacy or veterinary medicine? If so, please consider joining a 30-minute workshop exploring how to be a successful pre-health student at UE. Feel free to email me your information and/or join one of the upcoming workshops. I can be reached at fr25@evansville.edu
Introduction to Health Professions Virtual Workshop
Monday, September 13 at 6 PM OR Tuesday, September 14 at 6 PM
Francie Renschler is inviting you to a scheduled Zoom meeting.
Topic: Introduction to Health Professions Workshop
Join Zoom Meeting
https://evansville-edu.zoom.us/j/7385197423
Meeting ID: 738 519 7423
Passcode: 182059
Milan, Italy: The Center for Innovation & Change Presented at the 13th annual International Social Innovation Research Conference (ISIRC) 9/8-10
Milan, Italy: The Center for Innovation & Change had two joint paper abstracts accepted to the 13th annual International Social Innovation Research Conference (ISIRC) in Milan, 9/8-10. Executive Director Erin Lewis & Associate Director Brooksie Smith remotely presented on the abstracts. The conference hosted hundreds of faculty and program officers from universities all over the world.
September 8: Brooksie's presentation, 'The Potential for Hybrid Organization in Addressing Social Problems in a Community on Campus' examined how ChangeLab as a model can help cities and universities partner together across sectors to solve problems. Over time, ChangeLab has evolved from a consulting service for a few dozen students, to a city-wide resource with dozens of faculty and hundreds of students each year engaged in local problem solving each year across many disciplines. This presentation clarified how the core of the program's hybrid model is a commitment to making positive social, environmental, and commercial impacts, and being intentional in how we find ways to connect the academic experience to our community.
September 9: Erin's presentation, 'Social Innovation Reimagined in the Pandemic Era: A Case Study of How ChangeLab Was Ready to Adapt', told the story of the spring 2020 shutdown and how our faculty and students innovated to still conduct 14 social innovation projects. The case study highlighted projects like Dr. Anne Powell's (Biology) Horticulture ChangeLab, which designed and planted a memorial garden for a cemetery, and Dr. Jeff Braun's (Physics) ChangeLab, which worked with an independent study student to identify potential capstone projects in our community. The history of ChangeLab was explored, from its inception as GAP, to the 2015 Propose Your Own programmatic change that led to an explosion of ideas from faculty and students. The potential for this new phase of larger interdisciplinary partnerships was also examined, with a discussion of projects like COVID Between the Coasts, Trinity Storm Waterpark, and the Harper Air Filter project.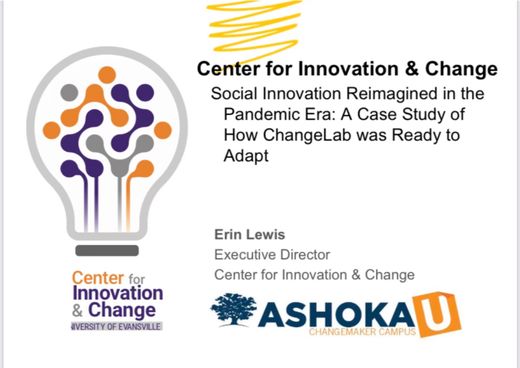 Watermelon Bust 2021
On behalf of the fraternity of Lambda Chi Alpha, I would like to invite you to our fall philanthropy, Watermelon Bust. Watermelon Bust is an Olympic style event, where teams of five compete against each other with a common goal of smashing, passing, tossing, carving, eating, and dunking as many watermelons as they can. 100% of the combined raised funds go to The Arc of Evansville, which works to empower individuals with disabilities to build relationships, gain independence, and achieve their full potential. The event will start at 5 at the Lambda Chi House, 213 S. Weinbach Ave. It will cost $25 to enter one team of five people and it is free for all students who are not participating on a team. You can sign your team up at our tabling hours in Ridgeway from 9/14-9/16 from 11-1. You can also email your teams or any questions you have to kb484@evansville.edu.
Cleaning Supply Reminder
Need replenishment of cleaning supplies (disinfectant, hand sanitizer, paper towel, etc.) for a classroom or office area? Please complete a request form at https://uesurvey.evansville.edu/cleaningsupplies
Remember to keep spray bottles and ½ gallon bottles pumps. By keeping these, supplies of disinfectant and hand sanitizer can be replenished promptly.
Thank you for your help in keeping campus safe!
September 20-24: Oval Lot to Be Closed
The oval lot, which includes Lot B and visitor parking, will be closed the full week of September 20-24 for filming purposes. It will reopen on Saturday, September 25. Please make plans to park in an alternate lot during this time. We apologize for the inconvenience this may cause, but we appreciate your patience during this time!
KUDOS! Prof Cindy Crowe and her Latinx Community Health ChangeLab makes the Indianapolis Star
The University of Evansville is doing their part to try to help bolster COVID-19 vaccination rates, especially those in the Latinx community.
"I am extremely proud of the ChangeLab students who have put in so much time and dedication to making the vaccination clinic we had in the spring and the upcoming vaccination clinic successful. They are doing a tremendous service for our community and very likely saving lives. These UE students are an inspiration to me and to so many others who hear about their work." -Prof Cindy Crowe
EVANSVILLE, Ind. — Like many public health and nonprofit entities across the Tri-state, the University of Evansville is doing its part to try to help bolster COVID-19 vaccination rates, especially those in the Latinx community. The university is using its ChangeLab — a semester course dedicated to helping students make a positive change where students join projects in an area of choice that will help them make a change in the community — to help native-Spanish speaker be informed about the vaccine.
Lucinda Crowe, assistant professor emeritus of Spanish, is the coach for the Latino Community Health course. Her ChangeLab course is dedicated to using the knowledge students gained in her medical Spanish course or other students who have a Spanish background to interpret and transcribe medical materials from English to Spanish. The main goal is to speak with community members and understand their healthcare needs.
'I hope that we can actually take the information and the data that we have regarding the perceived healthcare needs of the community, and actually do something with it to help with the health care needs of the Latino population,' Crowe said.
The course, which started in spring, allowed for students to create a pamphlet in Spanish helping people be more informed about CDC guidelines and where to get vaccinated in Evansville. For Imelda Salgado, a University of Evansville student majoring in nursing and minoring in medical Spanish, she joined the course to help people in her community and spread more awareness. Salgado, who met Crowe through a group called Good Trouble dedicated to spreading awareness about racial inequality and diversity issues, thought the course would be an interesting way to spread awareness and gain skills for her career. She also thought it was important to be a part of stopping the spread of misinformation. 'If someone actually talked to them like a nurse or a doctor or physician, I'm sure that before the actual benefit of getting the vaccine, they'd get it themselves,' she said.
For Salgado, this information had to be spread in the community and at home. Her family, which identifies as Mexican-American, were hesitant at first to get the vaccine. But after listening to the information from Crowe and their stakeholder at St. Vincent's, she was able to present the information to her family, which eventually decided to get vaccinated. Small changes like these are what lead to the team to wanting to have a greater impact. After discovering the steps needed to get vaccinated, the team needed ways to get people vaccinated. Following long meetings between their stakeholders, students and community members, they came up with a solution: hosting a vaccination clinic at a local church that doesn't require identification. Holy Rosary Catholic Church, which offers mass in Spanish on Wednesdays and Sundays became the perfect place to reach people. After speaking with Father Martin Estrada, during the spring, Crowe and her team were able to host a vaccination clinic where students translated the intake forms, revised the pamphlet to let people know they didn't need an ID and interviewed people at the clinic on what their needs were.
'We're trying to offer people the opportunity, especially Latinos, to get the vaccine,'
Estrada said. 'I think by offering it here, people feel more comfortable, because they know the church already and comfortably know where they can go.'
That day, more than 100 were vaccinated. Through their interviews, the biggest findings they discovered were lack of insurance, cultural differences and language barriers. These findings have lead to two projects that the fall ChangeLab is looking to work on: hosting another vaccination clinic and creating a cultural sensitivity workshop for health care providers. This vaccination clinic is focused on reaching younger people, specifically those 12 and up, which is now the youngest age people are able to be vaccinated. As the church and program are trying to reach out for more Latino people to get vaccinated, the clinic is open to everyone. The clinic will be held following mass on Sept. 26 for the first dose and Oct. 17 for the second dose. At the clinic for the second dose, there will be a lottery that Latinx students can enter after receiving both doses of the vaccine. One selected student will receive a four-year scholarship to the University of Evansville that will cover full-time tuition for both fall and spring semesters.
'I'm just so excited,' said Crowe on hosting the clinic again. 'I'm just thrilled about the opportunity that not only are we helping the entire community, because the more people we get vaccinated, the quicker this thing is going to go away. '
'If someone actually talked to them like a nurse or a doctor or physician, I'm sure that before the actual benefit of getting the vaccine, they'd get it themselves.' Imelda Salgado University of Evansville student.
The University of Evansville is doing their part to try to help bolster COVID-19 vaccination rates, especially those in the Latinx community.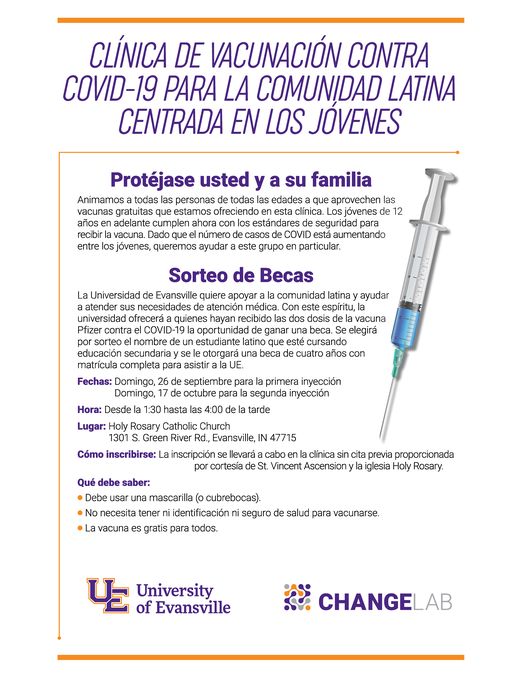 Tiffany Griffith Publishes Book, "An Introduction to College Writing"
Tiffany Griffith has put together a primer for collegiate writing. "An Introduction to College Writing" (Kendall Hunt Publishing) is forthcoming and described as such: "[It] is designed to address the essential foundations for college writing, including reading and writing critically, the writing process, paragraph development, essay structure, and modes of exposition, to provide an approachable, comprehensive introduction to the basics of writing for college. The chapters are excerpted from Linda Dawn Lukas's College Composition and Reading: Information and Strategies and also include a chapter on the major modes of exposition from George Searles' College English: The Basics."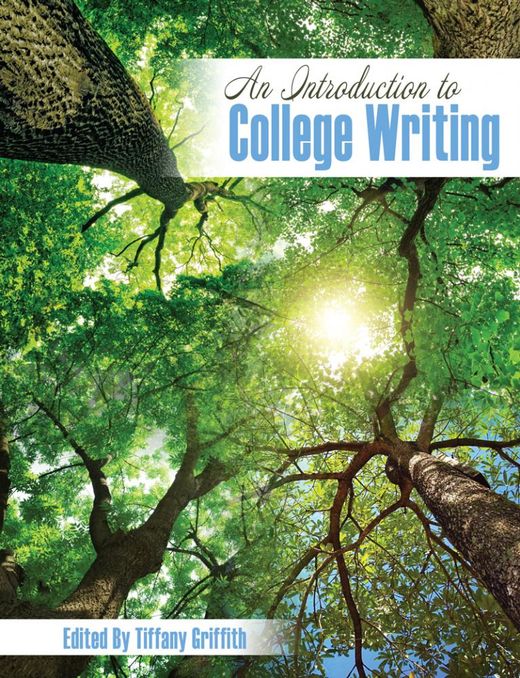 UE Recognized as a Gold-Level COVID Stops Here Workplace
The University of Evansville has been recognized as a gold-level COVID Stops Here workplace for achieving a 94% vaccination rate among employees.
The COVID Stops Here campaign was created jointly by the Indiana Chamber of Commerce and Wellness Council of Indiana to recognize Indiana workplaces that are becoming vaccinated against COVID-19. Organizations with at least a 70% vaccination rate are eligible for designation. Gold-level status is awarded to those with at least a 90% vaccination rate among employees.
The Indiana Chamber of Commerce and Wellness Council of Indiana are promoting the campaign to celebrate workplaces leading the fight to stop the spread of COVID-19, and they encourage more organizations to join the ranks.
Way to go, faculty, staff, and administration!
If you'd like to add the gold-level badge to your email signature, you can save the image below.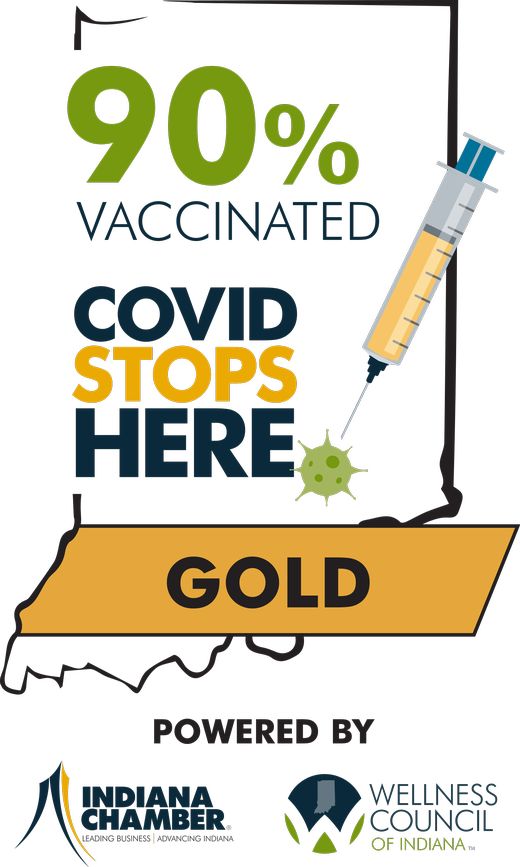 UE women in fifth following opening round in Ohio
Mallory Russell posted a 3-over 75 to help the University of Evansville women's golf team finish the opening day of the Roseann Schwartz Invite in fifth place.
Russell's first 18 holes at Mill Creek Golf Course North have her in a tie for 10th place at the midway point of the event. The final 18 holes will be played on Tuesday morning. One stroke behind her was the duo of Alyssa McMinn and Allison Enchelmayer. Both wrapped up the opening round with final tallies of 76, four over par.
Carly Frazier had a strong opening day, finishing with an 81 while Caitlin O'Donnell was one behind her with an 82. They are tied for 42nd and 51st, respectively. Lucia Pantigozo opened up her college career with an 83.
As a team, the Purple Aces are in solid shape, ranking fifth out of 14 schools with a 308. UE is right in the hunt to move up in the standings, trailing Detroit Mercy and Youngstown State by just two shots for a spot in the top three. Akron leads the way with a 297 while Cleveland State is second, five behind.
Haley Barclay of Western Michigan paces the individual leaderboard. Her 3-under 69 has her two in front of Akron's Abbie Pearce.
Aces travel to Tennessee State on Tuesday
For the first time this season, a midweek contest is on tap with the University of Evansville volleyball team traveling to Tennessee State for a match on Tuesday at 6 p.m. ESPN+ will have the broadcast.
Best Since 2010
- Sporting a 7-1 mark through its first eight matches, the Purple Aces are off to their best start since 2010
- That season saw UE win 11 of its first 12 matches
Another All-Tournament Spot
- Averaging 5.38 kills against Miami Ohio and Northern Kentucky, Alondra Vazquez was named to the All-Tournament Team at the Miami Invitational
- The senior recorded a season-high 26 kills against the Norse while improving her season average to 4.74/set
- Vazquez continues to lead the MVC while ranking 11th in the NCAA in that category
- She also holds the team lead with 3.19 digs per set (10th in the MVC)
- Vazquez has recorded at least 11 kills and 7 digs in all six matches this season while adding double-doubles in four of the last five outings
Near the Top
- In two matches at the Miami Invitational, Giulia Cardona recorded 4.13 kills on her way to a spot on the All-Tournament Team
- A career match against the RedHawks saw her record 22 kills while hitting .340
- Cardona ranks second in the MVC with averages of 3.85 kills and 4.48 points per game-
- Her efficiency has evolved - after hitting under .140 in the first two matches, Cardona has hit .200 or higher in five of the last six contests
- Cardona has also contributed on the defensive end, recording 2.30 digs per game including a season high of 17 versus NKU
Freshman of the Week
- A case could be made that Taya Haffner had a perfect week to open her college career
- The Fort Wayne, Ind. native played her first three college matches in her home town and performed exceptionally, averaging 12.33 assists per set along with an average of 3.00 digs
- She was named to the PFW Invitational All-Tournament Team before being named the MVC Freshman of the Week on Aug. 30
- She continued to add to those numbers at the Miami Invitational, recording an average of 9.75 helpers to take the MVC lead with a season average of 11.12
Aces gain ground in second day of Golfweek Challenge
A 1-under 71 by Isaac Rohleder helped the University of Evansville men's golf team rise in the team standings in the second day of the Golfweek Fall Challenge at True Blue Golf Club.
Rohleder's effort on Monday saw him rise into a tie for 34th spot with a 145. He is Evansville's top performer in the 3-round event so far, sitting five strokes ahead of teammate Caleb Wassmer. After carding a 73 on Sunday, Wassmer finished Monday's round with a 77 to enter the final day in a tie for 67th with a 150.
Third on the squad is Dallas Koth, who lowered his score by two strokes between the first and second days. A 76 in the second 18 holes has him with a 154 going into Tuesday's action. Carson Parker had the Aces' largest improvement, lowering his score by eight strokes. Parker recorded an 83 on Sunday before wrapping up the second 18 holes with a 75. Eli Rohleder is fifth on the team with a 174. His round on Monday finished at 88.
In the team standings, Mercer extended its advantage to 17 strokes over its nearest competition. The Bears shot a 273 on Sunday before completing Monday's round with a 274. Their 547 ranks ahead of second-place Delaware, who has a 564. Temple is one behind them with a 565. UE holds the 17th spot with a 607.
Playing as an individual, Wofford's Harry Jones leads the individuals with a 133. His rounds of 65 and 68 give him a one stroke lead heading into the final 18. Mercer's Tobias Johnson and Martin Plukka are tied for second with scores of 134. Tuesday morning will mark the final 18 holes of the tournament.
Contribute to AceNotes
To have content considered for inclusion in AceNotes, please submit a Marketing Request Form. Deadline for submission to AceNotes is 10:00 a.m. on the requested date of publication. Only articles concerning UE related/sponsored activities will be accepted. Articles submitted to AceNotes may be edited for length and clarity. Submitter contact information is at the end of each article.