| | |
| --- | --- |
| AceNotes Today | Monday, September 13, 2021 |
This Week in Music
The UE Music Conservatory presents a faculty recital featuring Leanne Hampton, flute and Ross Erickson, percussion on Tuesday, September 14 at 7:30 p.m. in Neu Chapel. The program will feature works by Eve Beglarian, Toshimitsu Tanaka, Robert Beaser, and Béla Bartók. Admission is free and open to the public (masks required.) For a link to a live stream of this concert as well as a list of upcoming events, visit: https://www.evansville.edu/majors/music/calendar.cfm
University of Evansville Theatre Announces Fall 2021 Season
The University of Evansville (UE) Department of Theatre proudly presents the Fall 2021 Shanklin Theatre season. After more than a year's absence from live performances on campus, UE Theatre is ready to welcome patrons back with an extraordinary line-up of plays which includes a humorous interpretation of everyday life, a dashing story of self-willed sisters, and a fascinating cabaret about life and the way people interact with possessions.
The season kicks off with EVERYBODY, written by Branden Jacobs-Jenkins and directed by Visiting Assistant Professor Stacey Yen. EVERYBODY opens on Fri., Sept. 24, at 7:30 p.m., in Shanklin Theatre. Additional performances are at 7:30 p.m., on Sept. 2–5, 30, Oct. 1, 2, and at 2:00 p.m., on Oct. 3.
A finalist for the 2018 Pulitzer Prize in Drama, this innovative play is an immersive and inclusive experience for the cast and audience—as actors draw lots onstage to discover which role they will play at each performance. This brilliant, award-winning playwright gives us a modern take on EVERYMAN, a 15th-century morality play. His inventive interpretation is a provocative and joyful romp about love and death, a whimsical look into the unknown, and, ultimately, an exploration of the ties that bind us on this wondrous journey called life. Who knew that death could be so fun? And absurdly funny!
Next in the repertory line-up is THREE SISTERS from the iconic playwright Anton Chekhov, written in a new version, by Sarah Ruhl. The production is directed by Professor Diane Brewer and opens Fri., Nov. 12, at 7:30 p.m. Additional performances are at 7:30 p.m., on Nov. 19, 20, Dec. 2, and at 2:00 p.m., on Nov. 13 and Dec. 5.
This playwright's modern voice has garnered her a Tony Award nomination, a MacArthur Fellowship, and she was twice named a Pulitzer Prize finalist. Her version of one of Chekhov's most famous plays exposes the timely struggles of a family living in a small town in Russia and facing gambling debts, a house in foreclosure, and fears of a war on the horizon. These sisters defy despair, celebrate milestones, fall hopelessly in love, and rival as only siblings can. With unyielding resilience and acerbic humor, these women throw themselves into the distance between their dreams and reality and inspire us all to brave our own "new normal."
The inventive play GONE MISSING, devised by the groundbreaking theatre troupe, The Civilians, is directed by Wes Grantom '03 and opens Sat., Nov. 13, at 7:30 p.m. Additional performances are at 7:30 p.m., on Nov. 18, Dec. 3, 4, and at 2:00 p.m., on Nov. 20, 21.
This charming show combines real-life interviews about the nature of memory with a scintillating score that effortlessly swings between salsa, ballads, jazzy numbers, and tuneful pop songs. An ensemble of eccentric characters seamlessly intertwines tales of lost objects with fascinating stories of seekers and finders and examines our tendency to place heightened significance on everyday items. While a global pandemic may be the most opportune time to explore this "cabaret of loss," it is the communal experience of shared joy that is sure to resonate and linger in hearts and minds long after the show ends.
In following industry standards, as established by the Broadway League, all audience members must show proof of COVID–19 vaccination or a negative test result
taken within 72-hours of the date on their ticket. Upon arrival at Shanklin Theatre, proof of vaccination/negative test result and an ID will be checked before each performance. In compliance with the UE Coronavirus Task Force guidelines, all audience members must remain masked when indoors on campus. Additionally, Shanklin Theatre will be seated at no more than 50% capacity.
Season tickets are available now at $45 for adults and $40 for senior adults, students, and UE faculty and staff. Single ticket prices for EVERYBODY, THREE SISTERS, and GONE MISSING are $20 for adults and $18 for senior adults, students, and UE faculty and staff. UE students may obtain one free student rush ticket beginning at 12:00 p.m. on the day of the performance they wish to attend. Tickets may be purchased by calling (812) 488–2031, Monday through Friday, 12:00 p.m. to 5:00 p.m.
Do you have plans for Fall Break? Join the Venturing Crew for fall break to the St Louis City Museum, Current River and Jacks Fork
Join the Venturing Crew as we travel to St Louis to visit the City Museum for a day of exploring the unexpected. City Museum is a hundred-year-old warehouse in downtown St. Louis in which artists have repurposed the pieces of old cities to build miles of tunnels, slides, climbers, bridges, and castles. There are secret passages and grand galleries. Playgrounds and ball pits. A circus and a train. A rooftop school bus and a Ferris wheel.
We will then travel to Two Rivers Campground where the crystal clear Current River meets the Jacks Fork and flows past the campground.
We will spend a day canoeing each river and sit around the camp fire at night playing games "Mafia", eating extreme S'mores and telling stories.
On the last day we break camp and head for home but not before stopping at Lambert's Cafe, the home of the flying rolls where we will eat a hearty brunch and try not to get hit with a hot buttery roll.
We will leave campus Friday October 8th around 6pm and return Tuesday October 12 around 3pm.
Sign up tables will be in Ridgway starting Tuesday Sept 28th and the cost will be $75
Collegiate Alumni Board Call Out Meeting
Want to make connections with UE Alumni? Collegiate Alumni Board wants you! There will be a callout meeting Monday September 13th at 4PM in the Igleheart Building. It is the stone building on the corner of Rotherwood and Lincoln across from the gas station. If you have any questions please reach out to mh527@evansville.edu.
Reminder: Engineering, Business & Technology Career Fair is Tuesday 9/14/21
IN PERSON Career Fair!!!! Join us Tuesday, September 14 from 1pm-3pm in Eykamp Hall for the opportunity to meet employers in the Engineering, Business and Technology fields. Look in Handshake to see a list of all employers planning to be in attendance. Register for this event in Handshake, you won't want to miss it!
Writing Center Opens In Person AND Online Friday, September 17
The Writing Center will officially open to students on Friday, September 17. Due to demand, we will have tutors both in person and online, though not always at the same time. Hours are, tentatively, 10-6 Monday, Tuesday, Thursday, and Friday, 10-4 on Wednesday, and 12-4 on Sundays. We do not have tutors to cover every hour listed at this time, but if you are interested in the job, please email kd60@evansville.edu to set up an interview. It requires critical thought, great listening, use of logic and fact-based evidence, and compassion: I know UE students exemplify these traits and I look forward to meeting more of you!
Calling all Seniors- Orr Fellowship Campus Visit
Students of all majors are invited to connect with recruiters for the Orr Fellowship, a two year, full-time job opportunity in Indianapolis. More details and the application instructions for graduating seniors are available at orrfellowship.org.
The Orr Fellowship will be on campus Tuesday, September 14. 2 ways to connect with current fellows:
• Information table in the lobby of Ridgway 10:00 a.m.- 12:30 p.m.
• Visit their table at the Engineering, Business & Technology Fair in Eykamp Hall, 1:00 - 3:00 p.m.
For questions about Orr Fellowship, please contact Megan Taylor at mt263@evansville.edu.
Now Hiring- Center for Innovation & Change
Come change the world with us!
If you are organized, dependable, and comfortable around the chronically optimistic, then we would love to have you aboard!
Please complete the application process on the UE Website via Webadvisor as soon as possible.
Position Title: Center for Innovation and Change Office/Project Assistant Work Study
Job Description: Students are needed to assist the Center for Innovation and Change with social media and graphic design, planning and attending special events, running errands, and performing other general office duties as assigned related to the Changemaker Challenges, Ashoka projects, ChangeLab, etc.
Skills Needed: Student must have general office skills and a professional and positive attitude. Familiarity with Microsoft Word, Powerpoint, and Excel is also needed. Computer graphics is a big plus. Knowledge of social media platforms desired.
Required Major: Students of any major may apply!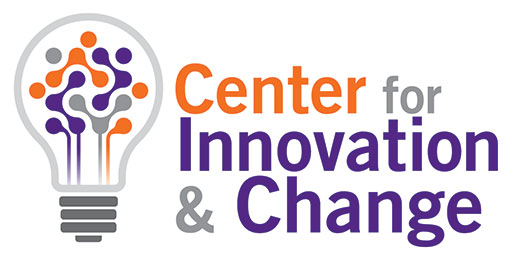 Introduction to Health Professions Workshop
Are you considering a career in medicine, dentistry, optometry, pharmacy or veterinary medicine? If so, please consider joining a 30-minute workshop exploring how to be a successful pre-health student at UE. Feel free to email me your information and/or join one of the upcoming workshops. I can be reached at fr25@evansville.edu
Introduction to Health Professions Virtual Workshop
Monday, September 13 at 6 PM OR Tuesday, September 14 at 6 PM
Francie Renschler is inviting you to a scheduled Zoom meeting.
Topic: Introduction to Health Professions Workshop
Join Zoom Meeting
https://evansville-edu.zoom.us/j/7385197423
Meeting ID: 738 519 7423
Passcode: 182059
Employees- UE Gives Back
The volunteer survey is open for volunteers to select their project for UE Gives Back on Friday, October 8. With the approval of immediate supervisors and as schedules permit, employees may choose to volunteer on UE's campus without scheduling a day of vacation.
Projects this year include:
Clifford Circle Benches – Pressure Washing
Front Oval Refresh – Painting of Front Oval Curbs
John Street Community Garden Cleanup – Seasonal Cleaning Up of Vines and Plants, Raking Leaves
Krannert Hall Art Department - Inspecting and Registering Permanent Collections
Native Plant Garden – Planting
Raised Planters Across Campus – Planting Fall Annuals
Peters-Margedant House – Cleaning and Painting Exterior Walls, Outdoor Landscaping
SOBA Landscaping – Removal of Overgrown Hedges, Raking Mulch, Adding Decorative Rock
Sign up today by filling out this UE Gives Back Survey by October 4. The safety of all employees is critically important to the success of this event. Volunteers are asked to watch this safety video and initial the final page of the survey document. Safety Video: https://www.youtube.com/watch?v=8NWDbd2D6b8
Contact Alex Amick at aa308@evansville.edu with any questions.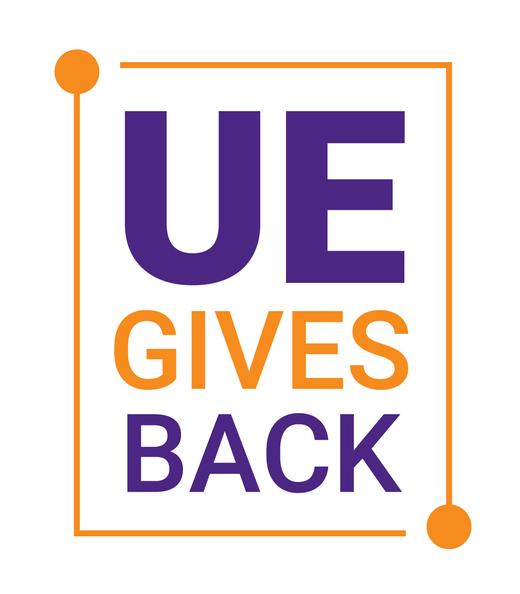 Milan, Italy: The Center for Innovation & Change Presented at the 13th annual International Social Innovation Research Conference (ISIRC) 9/8-10
Milan, Italy: The Center for Innovation & Change had two joint paper abstracts accepted to the 13th annual International Social Innovation Research Conference (ISIRC) in Milan, 9/8-10. Executive Director Erin Lewis & Associate Director Brooksie Smith remotely presented on the abstracts. The conference hosted hundreds of faculty and program officers from universities all over the world.
September 8: Brooksie's presentation, 'The Potential for Hybrid Organization in Addressing Social Problems in a Community on Campus' examined how ChangeLab as a model can help cities and universities partner together across sectors to solve problems. Over time, ChangeLab has evolved from a consulting service for a few dozen students, to a city-wide resource with dozens of faculty and hundreds of students each year engaged in local problem solving each year across many disciplines. This presentation clarified how the core of the program's hybrid model is a commitment to making positive social, environmental, and commercial impacts, and being intentional in how we find ways to connect the academic experience to our community.
September 9: Erin's presentation, 'Social Innovation Reimagined in the Pandemic Era: A Case Study of How ChangeLab Was Ready to Adapt', told the story of the spring 2020 shutdown and how our faculty and students innovated to still conduct 14 social innovation projects. The case study highlighted projects like Dr. Anne Powell's (Biology) Horticulture ChangeLab, which designed and planted a memorial garden for a cemetery, and Dr. Jeff Braun's (Physics) ChangeLab, which worked with an independent study student to identify potential capstone projects in our community. The history of ChangeLab was explored, from its inception as GAP, to the 2015 Propose Your Own programmatic change that led to an explosion of ideas from faculty and students. The potential for this new phase of larger interdisciplinary partnerships was also examined, with a discussion of projects like COVID Between the Coasts, Trinity Storm Waterpark, and the Harper Air Filter project.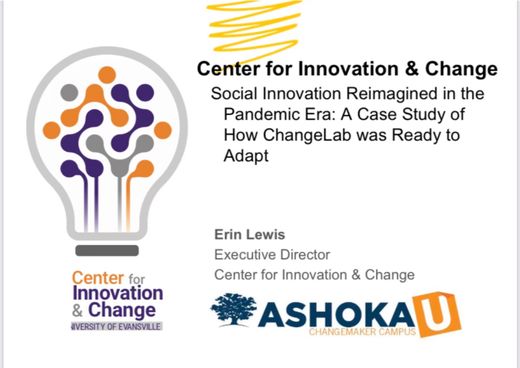 Lifeguards Needed
The Fitness Center is looking for students that are certified and up to date with their lifeguarding credentials to lifeguard the pool inside Carson Center. Starting pay is $9/hr. Contact Drew @ah519 for more information.
UE Leadership Academy Tier I/II Recruitment
The University of Evansville Leadership Academy (UELA) seeks to enrich the student organizations on campus by developing, training, and nurturing student leaders. Members of this organization will develop leadership skills and techniques through informative lectures, leadership workshops, and practical leadership experience. UELA is now accepting new applications from Freshman, Sophomores, and Juniors who are interested in becoming members for the Fall 2021 semester! Once applications close there will be a formal interview session with UELA's Advisory Council and then emails will be sent out to accepted members. Applications can be found on UEngage!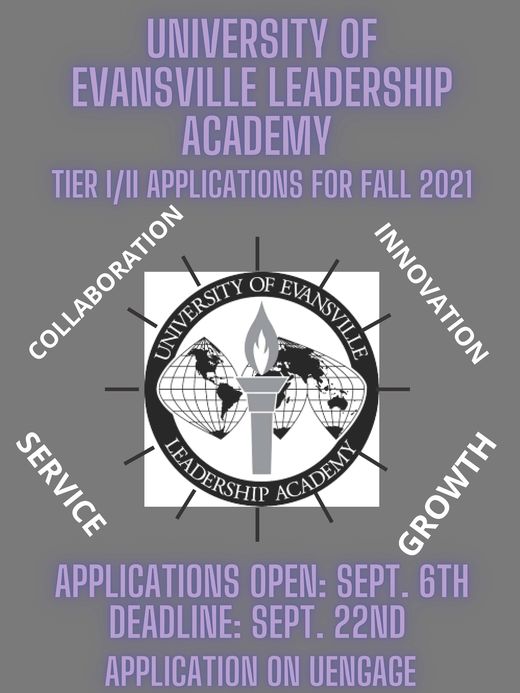 Watermelon Bust 2021
On behalf of the fraternity of Lambda Chi Alpha, I would like to invite you to our fall philanthropy, Watermelon Bust. Watermelon Bust is an Olympic style event, where teams of five compete against each other with a common goal of smashing, passing, tossing, carving, eating, and dunking as many watermelons as they can. 100% of the combined raised funds go to The Arc of Evansville, which works to empower individuals with disabilities to build relationships, gain independence, and achieve their full potential. The event will start at 5 at the Lambda Chi House, 213 S. Weinbach Ave. It will cost $25 to enter one team of five people and it is free for all students who are not participating on a team. You can sign your team up at our tabling hours in Ridgeway from 9/14-9/16 from 11-1. You can also email your teams or any questions you have to kb484@evansville.edu.
Bookstore Hiring Morning Student Workers
Are you looking to make some money, but don't want to get a job off campus? You're in luck! The Bookstore is looking to hire morning student workers!
We need folks who are available 2-3 days a week, Monday-Friday, 9am to about 1 pm.
If you're interested, please submit your schedule to us at bookstore@evansville.edu, along with a resume, and we'll reach out.
September 20-24: Oval Lot to Be Closed
The oval lot, which includes Lot B and visitor parking, will be closed the full week of September 20-24 for filming purposes. It will reopen on Saturday, September 25. Please make plans to park in an alternate lot during this time. We apologize for the inconvenience this may cause, but we appreciate your patience during this time!
Slips, Trips & Falls: September 2021 Risk Management Tip
As fall approaches slips, trips, and falls are a major cause of injury that occurs to both visitors and employees. They can occur in any business, but are of particular concern to businesses with considerable public and employee foot traffic such as those in retail, higher education, medical, and service industries.
What can you do to make a positive impact?
1) Be aware of your immediate surroundings
2) Wear comfortable, properly fitting non-slip shoes
3) Be aware of the type of surface you are walking on and its condition
4) Adjust to environmental and walking surface conditions
5) Pay attention to "Wet Floor" warning signs to warn of known hazards
6) Practice Good Housekeeping
7) Keep walkways and hallways free of debris, clutter and obstacles
8) Only carry items that allow you to see clearly where you are going
9) Use handrails when going up or down stairs and not skip steps
10) Eliminate or minimize distractions while walking, such as looking at your cell phone
Report unsafe conditions to Office of Public Safety at 812-488-2051.
Be Safe With Each Step!
Tiffany Griffith Publishes Book, "An Introduction to College Writing"
Tiffany Griffith has put together a primer for collegiate writing. "An Introduction to College Writing" (Kendall Hunt Publishing) is forthcoming and described as such: "[It] is designed to address the essential foundations for college writing, including reading and writing critically, the writing process, paragraph development, essay structure, and modes of exposition, to provide an approachable, comprehensive introduction to the basics of writing for college. The chapters are excerpted from Linda Dawn Lukas's College Composition and Reading: Information and Strategies and also include a chapter on the major modes of exposition from George Searles' College English: The Basics."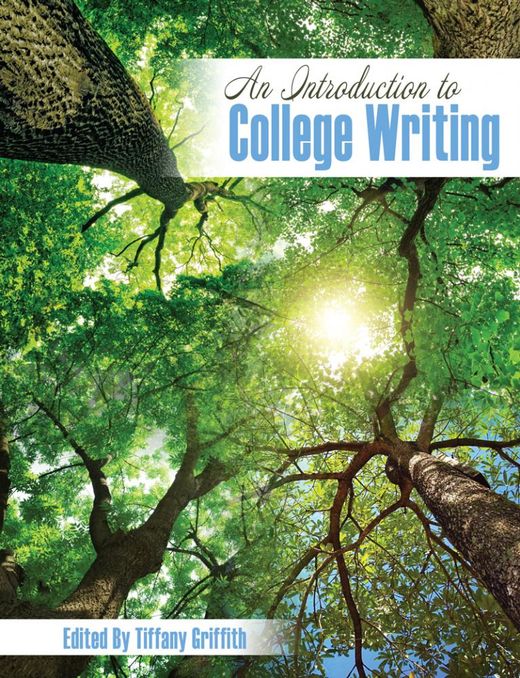 UE Recognized as a Gold-Level COVID Stops Here Workplace
The University of Evansville has been recognized as a gold-level COVID Stops Here workplace for achieving a 94% vaccination rate among employees.
The COVID Stops Here campaign was created jointly by the Indiana Chamber of Commerce and Wellness Council of Indiana to recognize Indiana workplaces that are becoming vaccinated against COVID-19. Organizations with at least a 70% vaccination rate are eligible for designation. Gold-level status is awarded to those with at least a 90% vaccination rate among employees.
The Indiana Chamber of Commerce and Wellness Council of Indiana are promoting the campaign to celebrate workplaces leading the fight to stop the spread of COVID-19, and they encourage more organizations to join the ranks.
Way to go, faculty, staff, and administration!
If you'd like to add the gold-level badge to your email signature, you can save the image below.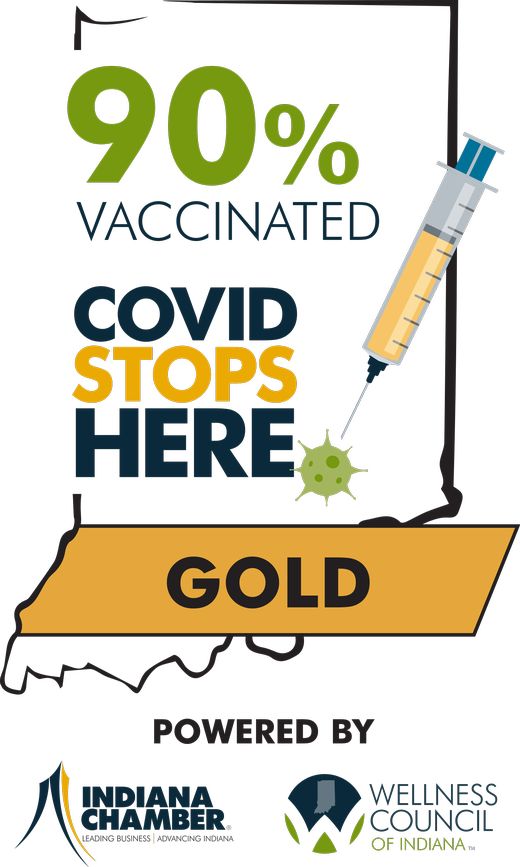 Day one complete at Golfweek Fall Challenge
For the second tournament in a row, Caleb Wassmer is the early leader for the University of Evansville men's golf team following the first day of action. The Purple Aces played the opening 18 holes of the Golfweek Fall Challenge on Sunday at the True Blue Golf Club.
Wassmer toured the course in 73 strokes, just one over par. His effort has him in a tie for the 31st spot with the first of three rounds complete. One behind him was Isaac Rohleder, who carded a 2-over 74. He stands in a tie for 43rd.
Dallas Koth recorded an opening-round score of 78. In a close battle across the board, Koth is tied for 79th, but is just five shots outside of the top 31. Carson Parker wrapped up Sunday's round with an 83 while Eli Rohleder checked in with an 86.
Mercer had the top team effort of the day, finishing with a 273 to sit eight strokes in front of Jacksonville State. Martin Plukka of the Bears is tied with individual Harry Jones of Wofford for the individual lead. Both finished with scores of 65, seven under par.
The second round of 18 is set for Monday with the final round of the 54-hole event set for Tuesday.
Aces suffer first loss of the season to SIUE in non-conference finale
Wrapping-up non-conference play, the University of Evansville women's soccer team dropped a 2-0 decision to SIUE on Sunday afternoon at Arad McCutchan Stadium in Evansville.
SIUE controlled possession and the offensive opportunities early in the game as the Cougars tallied 16 shots with nine on goal in the opening 45 minutes. The Cougars opened the scoring in the 18th minute as Mackenzie Litzsinger completed a long run by finding the back of the net, giving SIUE the early advantage. Evansville's offense could never really get started in the first half as the Cougars held the Aces without a shot in the opening stanza and held a 1-0 lead at the break.
Inside the first 10 minutes of the second half, SIUE earned another opportunity. After a collision at the top of the 18, the Cougars were awarded a free kick from a dangerous position. Lily Schnieders took the free kick and looped the ball into the top right corner, doubling SIUE's lead. Evansville put together an attack in the 54th and 60th minutes keyed by Jayme-Lee Hunter. The New Zealand native put a shot on frame that forced a save in the 54th and then gathered the ball from 25 yards out and launched a right footed shot towards goal. Hunter's shot curled towards the top right corner, but just missed. SIUE continued to control possession as regulation waned, capturing the 2-0 win.
The Aces shift to Missouri Valley Conference play now with the Conference opener against UNI on the road in Cedar Falls, Iowa at 3 PM on Friday.

Men's Soccer closes road trip with loss at Air Force
In its finale of its Colorado road trip, the University of Evansville men's soccer team scored first, but fell to Air Force, 5-1, on Sunday afternoon in USAF Academy, Colorado.
"We all have to take a good look at each other and in the mirror and ask some really tough questions as we head into conference play," said Aces head men's soccer coach Marshall Ray. "Our effort on Friday night is what's expected of the Aces. Today we fell short in the second half."
For the fourth time this season, Evansville scored first, but as has been true this season, despite its fast starts, the second halves have doomed the Aces. Opening his Evansville account, junior Carlos Barcia found the back of the net in the 16th following an assist from Raphaello Perez Colasito. The Aces nearly added to their lead four minutes later as Barcia again put a shot on frame that was saved.
10 minutes after Evansville got on the scoreboard, Air Force answered with a goal by Thaddeus Dewing, who followed a saved shot that rebounded out and finished it. In the first half, Evansville and Air Force were nearly even on shots as the Falcons had a 6-5 advantage with the match tied at the break.
The Aces recorded the first shot of the second half and it came off the foot of Nkosi Graham who missed just wide. In the 59th minute, Air Force went in front, scoring in a goal by Giuliano Daniel, assisted by Remi Smith. Less than one minute later in the 60th minute, the Falcons doubled their lead as Luke Hill scored unassisted.
Over the final 30 minutes, Air Force scored twice more as the Falcons secured a 5-1 win.
The Aces open Missouri Valley Conference action on Saturday at Arad McCutchan Stadium when Loyola Chicago comes to the River City for a 5 PM showdown.
Evansville closes non-conference slate against SIUE
Rounding-out what has been a successful non-conference slate, the University of Evansville women's soccer team welcomes SIUE in to Arad McCutchan Stadium at 2 PM on Sunday in Evansville, Ind.
Last Match: Evansville 1, Austin Peay 1
• Able to fight back from an early deficit, the University of Evansville women's soccer team kept its record unblemished with a 1-1 draw at Austin Peay on Thursday evening in Clarksville, Tenn.
• Senior Emily Ormson increased her team-high goals total to four with a goal in the 36th minute, while finishing with four shots, including three on frame. In goal, Michaela Till made five saves and preserved the tie for her fifth result of the season.
• Evansville was on the front foot early, controlling much of the early chances, but it was Austin Peay who scored first. In the 13th minute, the Governors Claire Larose found the back of the net off an assist by Anna McPhie to power Austin Peay in front. In a way similar to what unfolded at Northern Kentucky last Sunday, the Aces answered and it was Ormson who delivered. Coming off a corner kick, Ormson powered home the equalizer, tying the match at one in the 36th minute.
• The Aces tied the Governors, 5-5, in shots in the opening half, but Evansville put all five on frame.
• In the second half, Evansville focused more on its defensive efforts, sitting back and defending. Austin Peay recorded seven shots in the second 45 minutes, while the Aces tallied just three, while keeping the Governors from going back in front as the match moved to overtime.
• Defense continued to win out in the first overtime period as neither side could muster a shot in the 10 minute period. Ormson broke the defensive struggle in the second overtime period with a shot that missed high in the 105th minute as the two sides battled to a 1-1 draw.
Previewing the Matchup
• Despite being separated by just a few hours, Sunday's meeting represents just the second-ever matchup between the two sides with Evansville capturing the only previous meeting, 2-1, on Oct. 15, 2008
• SIUE is the final OVC opponent on Evansville's 2021 schedule that featured five contests against members of the conference. In the four previous matches, the Aces went 3-0-1.
• The Cougars enter Sunday's showdown with a 2-3 record, earning a 5-0 win over SIU in their most recent match.
• On the season, SIUE has played two other MVC opponents outside of Thursday's match against SIU, falling to Loyola Chicago, 3-0, and Drake, 1-0, both on the road.
Ormson Extends Lead
• On Thursday, senior Emily Ormson scored her fourth goal of the season for Evansville, increasing her team lead.
• Ormson's four goals on the season are the most since Montana Portenier (six goals) and Jayme-Lee Hunter (four goals) each reached the total in 2017.

Volleyball improves to 7-0 with road win at Miami Ohio
After dropping the opening set by a 25-16 final, the University of Evansville volleyball team showed the heart of a champion, winning three sets in a row to improve to 7-0 with a 3-1 victory over Miami Ohio on Friday evening inside Millett Hall.
Freshman Giulia Cardona had a career match, recording 22 kills while hitting an impressive .340. She added a match-high four service aces. Alondra Vazquez tallied 17 kills in an efficient .326 hitting performance. Taya Haffner led all players with 32 assists while tying for the team lead with 11 digs. Fellow freshman Blakeley Freeman matched Haffner's 11 digs. Madisyn Steele led the Purple Aces with four block assists.
"We knew that Miami was a good team, so when they started playing well in the first set, we got desperate and frustrated," UE head volleyball coach Fernando Morales said. "After that, the girls did a great job of recovering and bouncing back."
Set 1
A late rally by the RedHawks saw them pull away for a 25-16 triumph in the first set. Evansville took an early 3-1 lead on a Vazquez ace before Miami jumped in front by a 5-4 tally. Things remained close until a late MU run proved to be the difference. Up 16-14, the RedHawks outscored the Aces by a 9-2 tally to grab a 1-0 lead. Taylor Nomanson clinched the set with an ace.
Set 2
It was another hard-fought battle early in the second frame with both teams grabbing an advantage. Miami took an 11-9 lead on a Gaby Harper service ace before Evansville responded with four in a row with two points coming from a pair of Vazquez aces. Following an MU point that cut the UE lead to 13-12, Evansville reeled off six points in a row to take control. Cardona had a pair of kills to pace the run, which would eventually lead to a 25-15 win. In total, the Aces completed the set on a 12-3 run.
Set 3
Evansville had the momentum on its side to start game three, taking an 8-2 lead. Vazquez, Melanie Feliciano and Kate Tsironis all contributed kills in the stretch. UE kept the pressure on, extending the lead to nine points at 16-7. Laura Ruiz got the job done with her serving while a pair of bad sets by the RedHawks helped the Aces pad their lead. Miami never gave up and their persistence paid off. Trailing 20-13, MU scored seven in a row with Sophie Riemersma finishing it off with three kills in a row. Coach Morales took a time out to regroup and the strategy paid off. Cardona ended the 7-0 Miami stretch with a kill before immediately following it up with a service ace. UE would not relinquish the lead, taking a 2-1 match advantage with a 25-21 win.
Set 4
Trailing the match by a 2-1 score, Miami appeared to be in control through the opening portion of the fourth set. Their efforts led to a 12-8 lead. Vazquez had her top offensive stretch of the evening, recording four kills over a stretch of five points to put UE in front at 13-12. The RedHawks countered with a 5-1 run to go back up by three, but the Evansville attack proved to be too much. A Blakeley Freeman ace was followed by a Feliciano kill that knotted the score at 17-17. With the score tied at 18-18, Cardona took over as she posted a kill and two more aces to put her team back on top. The 17th kill of the match for Vazquez was the final point of the night as UE improved to 7-0 with a 25-20 win.
On Saturday, the Aces take on Northern Kentucky at 11 a.m. CT.

Aces drop road-trip opener at Denver, 1-0
Opening its western road trip, the University of Evansville men's soccer team locked-in on defense and limited the Pioneers second-half opportunities, but were unable to equalize the match in a 1-0 loss on Friday night in Denver, Colo.
"We're a young team that's battling adversity right now. We got punched in the face by Denver and responded in the second half and made a game of it," said Aces head men's soccer coach Marshall Ray. "I'm proud of the way the guys fought and battled and we'll regroup and get ready for Air Force on Sunday."
The hosts owned much of the chances in the opening half, but it took both sides a while to fine their footing. The first shot of the contest did not occur until the 14th minute as the Pioneers had a shot blocked. Redshirt junior Jacob Madden looked strong between the posts for the Aces, turning away a couple of opportunities for Denver early on. With the half waning down, Denver jumped on the scoreboard with a goal by Trevor Right in the 41st minute as the Pioneers took a goal lead to the half.
Opening the second 45 minutes, the Aces attack paid off, generating five shots in the half's first 25 minutes, including a great set of opportunities in the 56th minute. Junior Carlos Barcia sent a shot towards goal that clipped the cross bar, and one minute later, senior Evan Dekker saw his shot saved in a good spell for Evansville. Following the Aces' string of shots, Denver responded with three shots of its own, two of which were saved by Madden.
The final 20 minutes of the match went by without much attack besides two shots from Denver as the Pioneers grabbed a 1-0 win in their home opener.
Evansville closes its Colorado road trip on Sunday at 2 PM against Air Force.

Defending MVC Champions set to open 2021-22 season
Looking to build on its Missouri Valley Conference Championship from the spring, the University of Evansville women's golf team is set to embark on the 2021-22 campaign this weekend with a trip to Boardman, Ohio for the Roseann Schwartz Invitational.
An amazing finish to the spring of 2021 saw the Purple Aces take the MVC crown in a playoff hole against UNI before taking part in the NCAA Regional in Columbus, Ohio. Just a handful of months following that run, UE is set to return to the course this weekend.
Hosted by Youngstown State, the Roseann Schwartz Invitational will feature a total of 36 holes with 18 being played on Monday and the final round on Tuesday. Mill Creek Golf Course (North Course) will host the tournament with yardage set for 6,088 and par coming in at 72.
Monday's action gets underway with tee times beginning at 8 a.m. ET while Tuesday features a 9 a.m. ET shotgun start. Evansville joins a tournament field that includes Akron, Bucknell, Chicago State, Cleveland State, Dayton, Detroit Mercy, Mount St. Mary's, Niagara, Saint Francis Univ., Walsh, Western Michigan and Youngstown State.
With the graduation of defending MVC Individual Champion Sophia Rohleder, Alyssa McMinn returns with the lowest scoring average from the spring. A consistent season saw her finish with a 79.79 average with her low round of 71 coming at the Pinehurst Intercollegiate where she tied for 7th place. Her top finish of third came at the ASU Spring Classic while her tie for 17th at the MVC Championship played a huge role in the team victory.
Allison Enchelmayer and Mallory Russell each finished the spring with an average of 81.11. Enchelmayer carded a 71 in the opening round of the ISU Invitational on the way to a tie for 5th place. She raised her level of play at the most important time, earning a 12th place tie at the MVC Championship while matching that finish at the Don Benbow Invitational. In her inaugural season at UE, Russell started off with a tie for 7th at the ASU Spring Classic before tying for 12th at the Don Benbow Invitational. At the MVC Championship, Russell was the first UE player to tee off in the playoff hole, setting the tone for the win.
Caitlin O'Donnell opened the spring with a tie for 14th at the ASU Spring Classic, but her low round of the season was the difference maker at conference. A score of 73 in the first round of the MVC Championship helped the Aces jump atop the leaderboard on their way to the win. Carly Frazier played in 13 spring rounds with her low round of 76 coming at the Jan Weaver Invite. Taylor Keating saw three rounds of action at the ASU Spring Classic.
Newcomers Magdalena Borisova and Lucia Pantigozo join the squad for the fall. Borisova is a native of Bulgaria while Pantigozo joins the program from Lima, Peru.
Contribute to AceNotes
To have content considered for inclusion in AceNotes, please submit a Marketing Request Form. Deadline for submission to AceNotes is 10:00 a.m. on the requested date of publication. Only articles concerning UE related/sponsored activities will be accepted. Articles submitted to AceNotes may be edited for length and clarity. Submitter contact information is at the end of each article.