| | |
| --- | --- |
| AceNotes Today | Friday, September 10, 2021 |
Collegiate Alumni Board Call Out Meeting
Want to make connections with UE Alumni? Collegiate Alumni Board wants you! There will be a callout meeting Monday September 13th at 4PM in the Igleheart Building. It is the stone building on the corner of Rotherwood and Lincoln across from the gas station. If you have any questions please reach out to mh527@evansville.edu.
Reminder: Engineering, Business & Technology Career Fair is Tuesday 9/14/21
IN PERSON Career Fair!!!! Join us Tuesday, September 14 from 1pm-3pm in Eykamp Hall for the opportunity to meet employers in the Engineering, Business and Technology fields. Look in Handshake to see a list of all employers planning to be in attendance. Register for this event in Handshake, you won't want to miss it!
Lincolnshire Front Porch Music Festival
The 5th Annual Front Porch Festival will be held Sunday, October 3, 2021. There will be yoga at the "triangle" (Willow Rd. & Bayard Park) from 1-2pm. There will be a variety of live musical acts in the yards & front porches throughout the Lincolnshire Neighborhood that borders Lincoln Ave, US 41, Washington Ave. & Lodge Ave. from 2-6pm. Food trucks will be there as well as free rides on the Pedicab. Free parking at Bosse High School and St. Benedict School. Bring the kids, the dog and your cooler for a fun free afternoon of family entertainment rain or shine.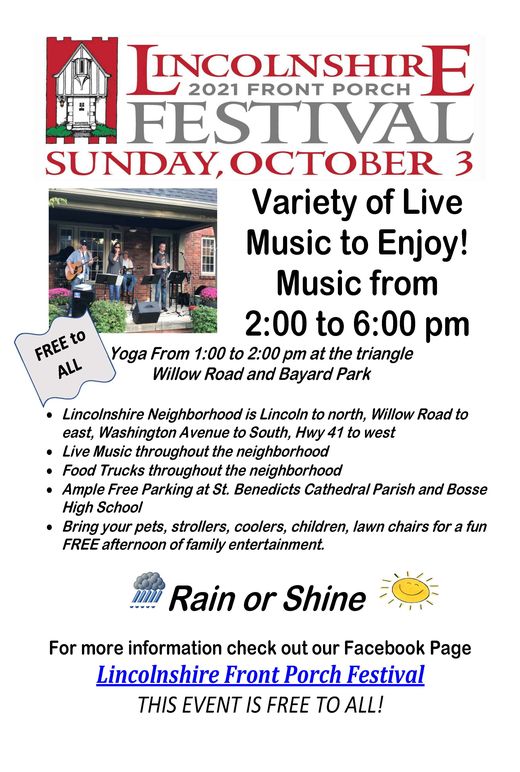 Introduction to Health Professions Workshop
Are you considering a career in medicine, dentistry, optometry, pharmacy or veterinary medicine? If so, please consider joining a 30-minute workshop exploring how to be a successful pre-health student at UE. Feel free to email me your information and/or join one of the upcoming workshops. I can be reached at fr25@evansville.edu
Introduction to Health Professions Virtual Workshop
Monday, September 13 at 6 PM OR Tuesday, September 14 at 6 PM
Francie Renschler is inviting you to a scheduled Zoom meeting.
Topic: Introduction to Health Professions Workshop
Join Zoom Meeting
https://evansville-edu.zoom.us/j/7385197423
Meeting ID: 738 519 7423
Passcode: 182059
Milan, Italy: The Center for Innovation & Change Presented at the 13th annual International Social Innovation Research Conference (ISIRC) 9/8-10
Milan, Italy: The Center for Innovation & Change had two joint paper abstracts accepted to the 13th annual International Social Innovation Research Conference (ISIRC) in Milan, 9/8-10. Executive Director Erin Lewis & Associate Director Brooksie Smith remotely presented on the abstracts. The conference hosted hundreds of faculty and program officers from universities all over the world.
September 8: Brooksie's presentation, 'The Potential for Hybrid Organization in Addressing Social Problems in a Community on Campus' examined how ChangeLab as a model can help cities and universities partner together across sectors to solve problems. Over time, ChangeLab has evolved from a consulting service for a few dozen students, to a city-wide resource with dozens of faculty and hundreds of students each year engaged in local problem solving each year across many disciplines. This presentation clarified how the core of the program's hybrid model is a commitment to making positive social, environmental, and commercial impacts, and being intentional in how we find ways to connect the academic experience to our community.
September 9: Erin's presentation, 'Social Innovation Reimagined in the Pandemic Era: A Case Study of How ChangeLab Was Ready to Adapt', told the story of the spring 2020 shutdown and how our faculty and students innovated to still conduct 14 social innovation projects. The case study highlighted projects like Dr. Anne Powell's (Biology) Horticulture ChangeLab, which designed and planted a memorial garden for a cemetery, and Dr. Jeff Braun's (Physics) ChangeLab, which worked with an independent study student to identify potential capstone projects in our community. The history of ChangeLab was explored, from its inception as GAP, to the 2015 Propose Your Own programmatic change that led to an explosion of ideas from faculty and students. The potential for this new phase of larger interdisciplinary partnerships was also examined, with a discussion of projects like COVID Between the Coasts, Trinity Storm Waterpark, and the Harper Air Filter project.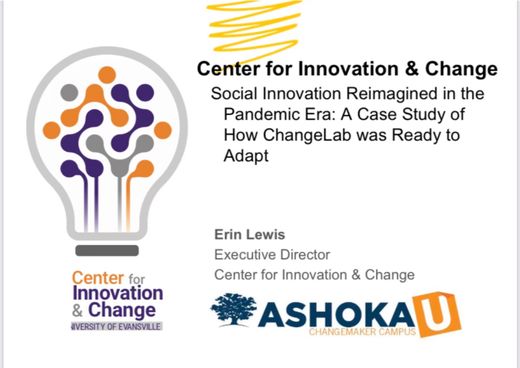 Sign Up Today For Your Employee Health Screening
Sign up today! Health screenings are scheduled for September 21st-24th from 7-11am in Eykamp Room 252. For those participating in the University's HRA health plan, HRA credits can be earned for participation. Click the link below to schedule your time slot. Please remember to fast 8-12 hours prior to screening. Water and black coffee are permitted. Maintenance medications are encouraged as long as they can be taken without food. Flu shots will also be available at this time.
Click to sign up: https://acelink.evansville.edu/Areas/MedicalClinic/Appointments/
Please schedule with the link above. Do not schedule your appointment with the clinic.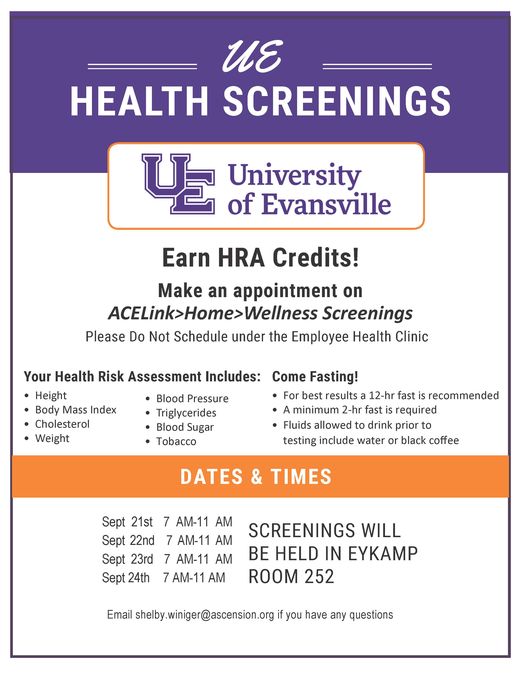 HEERF Grant Distribution Authorization Now Open for All Students
HEERF III Emergency Grant funding is now available.
- New students are required to authorize distribution of HEERF grant funds.
- Previous recipients who wish to alter prior authorization must resubmit distribution authorization.
All educationally related expenses are eligible for HEERF III funding and may be applied to current and/or future student account balances. Please be aware that funding is limited. Grant recipients requesting a refund must have bank information on file as refunds will be issued electronically via direct deposit.
Submit/Review: HEERF Grant Authorization
The deadline to submit or change authorization for September disbursement is September 10, 2021.
Now Hiring- Center for Diversity Equity and Inclusion
The Center for Diversity Equity and Inclusion (CDEI) is hiring new Student Assistants for the 2021-2022 academic year. Student Assistants will focus on projects and programming related to DEI at UE. All of those interested in DEI and fostering a sense of inclusion and belonging at the University of Evansville are encouraged to apply.
We are especially looking for people interested in/ that have skills in the following:
- Social Media/ Social Media Management
- Curation, Museums, Art
This is a work study position and those with a strong sense of work ethic and passion for diversity, equity and inclusion are encouraged to apply. Please reach out to the CDEI by emailing Center4DEI@evansville.edu to express interest. The job posting can be found via Web Advisor under student employment postings!
Requirements:
Excellent written and verbal communication skills, demonstrated organizational skills, attention to detail, strong interest in promoting diversity, equity, and inclusion at the University of Evansville, interest and/or experience in programming/ events, experience with social media, strong comfort level with people from a variety of backgrounds, as well as a willingness to expand knowledge and skills related to diversity and inclusion, ability to convey complicated and/or controversial information in a respectful manner, commitment to fostering diversity in a working and learning environment.
Intramurals Are Back! Sign Up Today
Intramurals are back!! We have a full schedule this semester and are excited to get started!
Go to imleagues.com to get signed up today and to get more info on dates and sign up info.
Sports offered will be kickball, flag football, soccer, sand volleyball, indoor volleyball, pickleball, badminton and cornhole.
We will be hiring and training officials for flag football, soccer, and volleyball. If interested, contact the Drew Hawkins @ah519
Ridgway Information Desk Seeks Federal Work-Study Student Workers
The position of the Information Desk Assistant exists to provide information regarding the Ridgway University Center, University of Evansville campus, and surrounding community via the phone and in person. Information Desk Assistants provide fast, friendly, and professional services to the students, staff, and guests of the University of Evansville.
Skills Needed: Student must be detail oriented, accurate, organized, punctual, and dependable. Students should be able to communicate well verbally and be able to respond to emergencies in a calm manner.
Students eligible for Federal Work-Study of any major may apply.
Apply by visiting WebAdvisor and downloading the application. Email completed application and availability to sd241@evansville.edu.
HEERF Grant Distribution Authorization Now Open for All Students
HEERF III Emergency Grant funding is now available.
New students are required to authorize distribution of HEERF grant funds.
Previous recipients who wish to alter prior authorization must resubmit distribution authorization.
All educationally related expenses are eligible for HEERF III funding and may be applied to current and/or future student account balances. Please be aware that funding is limited. Grant recipients requesting a refund must have bank information on file as refunds will be issued electronically via direct deposit.
Submit/Review: HEERF Grant Authorization
The deadline to submit or change authorization for September disbursement is September 10, 2021.
Ribbon Cutting Ceremony Held for Ace CARE Van
On Wednesday, UE held a ribbon-cutting ceremony for a new transportation van for the Ace CARE program. The event was held at 3:00 p.m. and included attendance from staff, faculty, alumni, and members of Evansville Regional Economic Partnership (E-REP).
Ace CARE (Community Action through Rehabilitation and Exercise) was founded 10 years ago by several students in the Doctor of Physical Therapy program at UE. The organization has three branches of service: Ace+ PT, an outpatient physical therapy clinic for the underinsured, uninsured, and those experiencing homelessness; ACErcise, which serves adults who have sustained a neurologic injury; and AceBuddies, geared toward children and young adults with special needs.
All Ace CARE services are completely student-run, held on campus, and offered at no cost to patients and participants. In previous years, those in need of Ace CARE services were responsible for their own transportation. For the vulnerable in the local community, however, finding transportation can many times be difficult or unreliable and can result in inconsistent service delivery.
"I have had participants share with me the various obstacles they must work through to make it to our Ace CARE services," said Christin Donahoe, a DPT student who serves with the program. "With this van, we can solve these problems and enthusiastically assure our patients that they are our priority. For many who may be experiencing an unstable season of life, this van opens doors – literally – and provides them reliability and stability."
Early in 2020, discussions were held regarding the need for a transportation van for the Ace CARE program. The idea was launched into reality by March, when University of Evansville parents Mike and Julie Mangan initiated fundraising efforts and provided lead gift money. The Mangans challenged others to support the cause, which prompted others to contribute. In total, 155 donors allowed UE to add the van to Ace CARE's services.
"I hope everyone will see that this van truly moves into all corners of our local community and tells those in need, 'you and your health are valued here,'" said Donahoe.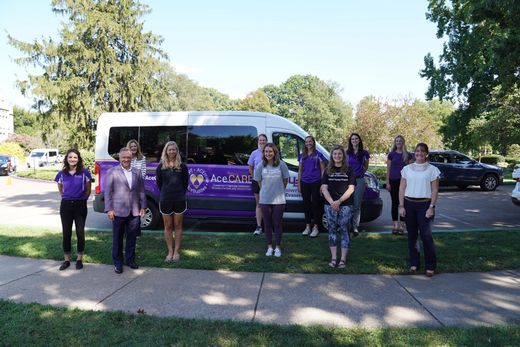 Deans' List
The Spring 2021 Deans' List is currently on display at the library. Congratulations!
Golfweek Fall Challenge on Tap for UE Men
A trip to Pawleys Island, South Carolina for the Golfweek Challenge is up next for the University of Evansville men's golf team.
Beginning on Sunday, the tournament will feature a total of 54 holes with 18 being played each day from Sept. 12-14. True Blue Golf Club will host the event with 18 teams set to participate. Golfstat will have live scoring throughout the event.
The field includes: Wofford, USC Upstate, Stephen F. Austin, Mercer, Campbell, Kennesaw State, Cal Baptist, Jacksonville State, Tennessee Tech, Gardner-Webb, Drexel, Delaware, Presbyterian College, New Orleans, St. Thomas, LaSalle and Temple.
Evansville opened the fall last weekend at the Hoosier Collegiate Invite. Isaac and Eli Rohleder led the Purple Aces with 3-round scores of 243. Isaac had the low UE score on the final day with an 80 while Eli had three identical rounds finish at 81.
Dallas Koth came home three shots behind the Rohlder brothers. He had an 85 to complete the event. Tying him was Caleb Wassmer, who carded two of the Aces' lowest rounds of the weekend to open the invite. His rounds on Sunday checked in at 77 and 76. Carson Parker rounded out the scores, completing the three rounds with a 263.
Aces Keep Record Unblemished with Draw at Austin Peay
Able to fight back from an early deficit, the University of Evansville women's soccer team kept its record unblemished with a 1-1 draw at Austin Peay on Thursday evening in Clarksville, Tenn.
Senior Emily Ormson increased her team-high goals total to four with a goal in the 36th minute, while finishing with four shots, including three on frame. In goal, Michaela Till made five saves and preserved the tie for her fifth result of the season.
Evansville was on the front foot early, controlling much of the early chances, but it was Austin Peay who scored first. In the 13th minute, the Governors Claire Larose found the back of the net off an assist by Anna McPhie to power Austin Peay in front. In a way similar to what unfolded at Northern Kentucky last Sunday, the Aces answered and it was Ormson who delivered. Coming off a corner kick, Ormson powered home the equalizer, tying the match at one in the 36th minute.
The Aces tied the Governors, 5-5, in shots in the opening half, but Evansville put all five on frame.
In the second half, Evansville focused more on its defensive efforts, sitting back and defending. Austin Peay recorded seven shots in the second 45 minutes, while the Aces tallied just three, while keeping the Governors from going back in front as the match moved to overtime.
Defense continued to win out in the first overtime period as neither side could muster a shot in the 10 minute period. Ormson broke the defensive struggle in the second overtime period with a shot that missed high in the 105th minute as the two sides battled to a 1-1 draw.
Evansville closes non-conference play on Sunday when SIUE comes to Arad McCutchan Stadium for a 2 PM meeting in Evansville, Ind.
Aces Head West for Road Swing at Denver, Air Force
Making its furthest trip west since 2018, the University of Evansville men's soccer team opens the weekend with a matchup at Denver on Friday at 8 PM (CT) in Denver, Colo. before traveling to face Air Force at 2 PM (CT) on Sunday.
Last Match: No. 23 Lipscomb 4, Evansville 1
• Getting a lead early, the University of Evansville men's soccer team was unable to hold off 23rd-ranked Lipscomb in a 4-1 defeat on Monday evening at Arad McCutchan Stadium in Evansville.
• "We have to give credit to Lipscomb. They're a very good team, there's a reason they're ranked 23rd in the country and had a very good win over UCLA on the road," said Aces head men's soccer coach Marshall Ray. "We did a great job and came out and executed our game plan and were able to create a couple opportunities and were fortunate to get a PK we converted. We couldn't make it to half. #20 (for Lipscomb) came on and was a handful and was able to equalize. I felt like we were a little slow coming out of halftime and saying that, we were able to get a goal back to tie it 2-2 that was pulled out of the net. We didn't respond well after that point. It's a tough thing to take, but we've got to do a better job of just getting on with the game. We're going to try and recover and get ready for our trip out to Denver and look forward to playing Denver and Air Force."
• Four Aces led the way with two shots each with Pablo Guillen, Jakub Hall, Jose Vivas, and Caleb Knight all recording two shots. In goal, Matt Bryant tallied six saves in the match, making it back-t0-back matches with six saves for the fifth-year senior.
• As has been the theme all season, it was Evansville who jumped out to the early lead. Just 16 minutes into the match, Hall put a shot on goal that was blocked and popped high into the air. As Hall and a Bisons defender battled for the rebound, the ball caught the arm of the defender, earning a penalty kick for Evansville. On the ensuing PK, sophomore Pablo Guillen calmly placed the ball to the left of the keeper, handing the Aces the 1-0 advantage.
• Later in the half, Lipscomb equalized, scoring in the 41st minute with the first of the night from Tyrese Spicer, knotting the match at the break.
• Soon after the intermission, the Bisons went in front, scoring their second of the evening also off the foot of Spicer with Bakary Bagayako and Killian Byrne lending assists. The Aces looked to have tied the match again in the 53rd minute as a header from Ethan Garvey was saved by the Bisons, but popped free from the keeper. Hall sprinted towards the ball, with the ball ending up in the back of the net, but Hall was ruled offside to nullify the Aces equalizer.
• In the 64th minute, Lipscomb found a third goal with Luca Naumann scoring off a free kick at the top of the 18 that curled into the side, increasing the Bisons lead to 3-1. Tyrese Spicer would complete his hat-trick in the 72nd minute, as Spicer received a pass from Seth Highfield and made a run down the left side, slipping it into the back of the net as Lipscomb grabbed the 4-1 win.
Previewing the Pioneers
• Evansville and Denver are meeting for just the third time in series history with the Aces capturing each of the previous two meetings.
• The two sides last met on Sept. 15, 2007 in Green Bay, Wis. as Evansville captured a 2-1 win.
• Denver enters the weekend with a 1-1-1 record, most recently tying SMU, 1-1, in Dallas, Texas.
Previewing the Falcons
• Evansville and Air Force are meeting for just the fourth time in series history with the Aces owning a 2-1 advantage in the all-time series.
• The two sides have not met since the 2015 season, when Air Force came to Arad McCutchan Stadium and earned a 2-1 win in overtime on Sept. 4, 2015.
• The Aces and Falcons have met once at each other's home site as well as in a neutral location. Evansville took the meetings at Air Force and at the neutral site (Springfield, Mo.), while the Falcons won the meeting at UE.
• Air Force comes into the weekend looking for its first win of the season with a matchup against CSU-Fullerton preceding the Sunday contest against UE.
Starting Fast
• The Aces have excelled this season in getting out to quick starts.
• In all three of its matches to open the season, Evansville has scored first, recording goals in the 16th, 53rd, and 63rd minutes.
• Two of the goals have come by penalty kick with sophomore Pablo Guillen on the delivering end.

Miami Invitational up Next for Undefeated UE Volleyball
Off to its best start in 40 years, the Purple Aces look to continue that success continue this weekend at the Miami (Ohio) Invitational in Oxford, Ohio. UE opens the weekend against the host RedHawks on Friday evening at 6 p.m. CT before squaring off against Northern Kentucky at 11 a.m. CT on Saturday.
Party like it's 1981
- With a clean sweep at the Eagle Challenge, the Purple Aces improved to 6-0 for the first time since 1981; that season saw UE win its first 10 games
- Highlighting the weekend for UE was a huge road win over defending Ohio Valley Conference champion Morehead State; the Eagles were 17-2 last season and defeated Creighton for their first-ever NCAA Tournament win
- Evansville also picked up victories over Radford and Cleveland State
All-Tournament Team
- It was an excellent all-around weekend for Cecila Thon at the Eagle Challenge
- The senior notched 8.70 assists, 2.70 digs and 0.80 blocks per set on the way to a spot on the All-Tournament Team
- Thon set her season mark with 34 helpers and 13 digs int he win over Morehead State while picking up two solo blocks and two block assists
- Entering the weekend, Thon had just one solo block and no assists in her career before finishing the Eagle Challenge with three solo and five assists
Immediate Impact
- Hannah Watkins missed the first weekend of the fall, but it did not take long for her to make her presence known at the Eagle Challenge
- In a defensive clinic, Watkins picked up seven block assists and one solo block versus Morehead State before adding another solo and four block assists in the win over Radford
- With an average of 1.30 blocks per set in the tournament, Watkins rose all the way to second in the Valley
- On the offensive side, Watkins had five kills versus the Eagles
- In 14 matches during the spring, Hannah Watkins finished with at least one block before finishing with 0.94 per set, just outside the MVC's top ten
Another All-Tournament Honor
- Senior Alondra Vazquez continues to lead the MVC with 4.47 kills per set; that average puts her 23rd nationally
- Vazquez has recorded at least 11 kills and 7 digs in all six matches this season while adding double-doubles in each contest at the Eagle Challenge
- The All-Tournament Team honoree at the Eagle Challenge finished the event with 3.50 kills and 3.40 digs per set
Early Season Accolades
- Junior Melanie Feliciano was named the MVP of the Eagle Challenge just a week after earning All-Tournament accolades at the PFW Invitational
- Her MVP weekend in Kentucky saw her post 2.80 kills and 2.40 digs per set, including a season-high of 11 kills versus Cleveland State
- Feliciano added 10 kills in the win over defending OVC Champion Morehead State
- Opening weekend in Fort Wayne saw Feliciano finish with 2.78 kills and 3.00 digs
- A consistent start to the season has seen Feliciano record at least 7 kills and 7 digs in all six matches
Contribute to AceNotes
To have content considered for inclusion in AceNotes, please submit a Marketing Request Form. Deadline for submission to AceNotes is 10:00 a.m. on the requested date of publication. Only articles concerning UE related/sponsored activities will be accepted. Articles submitted to AceNotes may be edited for length and clarity. Submitter contact information is at the end of each article.