| | |
| --- | --- |
| AceNotes Today | Friday, September 3, 2021 |
UE Closed on Labor Day
This is a reminder that the university will be closed on Monday, September 6, in observance of Labor Day.
Canoe with the Venturing Crew at Blue Grass FWA
Spend the day canoeing and exploring one of Blue Grass's most beautiful lakes.
We will provide free food, games and the equipment needed to provide a fun and safe outdoor experience.
If you don't know how to canoe, not to worry, we will teach you the proper way to use a paddle, enter and exit the boat and life jackets will be provided and will be required while on the water.
We will be traveling approx. 20 mins from campus by bus (mask will be required while on the bus) to Blue Grass FWA and will be there about 4 hours.
Sign up at the Ridgway lobby table #4 starting on Tuesday, Wednesday and Thursday from 11am till 1pm and 4pm till 6pm
contact hd94 or venturing@evansville.edu
Engineering, Business and Technology Career Fair- Register Today
Join us on Tuesday, September 14 from 1pm-3pm in Eykamp Hall for the opportunity to meet with dozens of employers in the Engineering, Business and Technology fields. Look in Handshake to see a list of all employers planning to be in attendance. Preregister for this event in Handshake so employers can view your résumé early!
Medical Spanish Practice
Medical Spanish practice is designed to help students practice communication skills in Spanish for medical settings. This opportunity is for anyone at the intermediate or advanced Spanish language level. For more details, please contact associate professor of Spanish, Diana Rodríguez Quevedo at dr130@evansville.edu.
CDEI- Cultural Month Planning Team
The CDEI is doing something a little different this year! We want YOU to be involved in the programming coming from the Center, so we are putting together planning teams! Each cultural or heritage month will have a different planning team and you can be involved in as many or as few of them as you want!
The first one up is the Hispanic Heritage Month planning team. You will be part of a team of interested individuals from around the university to plan and implement programming throughout Hispanic Heritage Month with help from the Center, of course!
If you are interested email us at Center4DEI@evansville.edu by Wednesday, September 8th!
Spread the word and let's have some great celebrations!
#hispanicheritagemonth #september #october #diversity #UE #eisforeveryone
Quarantine Questions Answered
Persons (Students/Staff/Faculty/Administrators) that have completed vaccination requirements If identified as a Close Contact
Symptom Free= Do NOT need to quarantine; COVID test recommended between days 3-5 after the exposure.
Experiencing symptoms= Must quarantine for 10 days unless cleared by a negative COVID test administered between days 3-5 after the exposure AND symptoms have consistently improved without the use of medication for a period of at least 24 hours.
Anyone exposed to a positive case of COVID, regardless of vaccination status or symptoms, is encouraged to get a COVID test between days 3-5 after the exposure.
Persons (Students/Staff/Faculty/Administrators) without complete vaccinations if identified as a Close Contact:
Symptom Free= MUST quarantine for 10 days
Experiencing symptoms= MUST quarantine for 10 days
A negative COVID test does not negate the quarantine directive.

HEERF Grant Distribution Authorization Now Open for All Students
HEERF III Emergency Grant funding is now available.
- New students are required to authorize distribution of HEERF grant funds.
- Previous recipients who wish to alter prior authorization must resubmit distribution authorization.
All educationally related expenses are eligible for HEERF III funding and may be applied to current and/or future student account balances. Please be aware that funding is limited. Grant recipients requesting a refund must have bank information on file as refunds will be issued electronically via direct deposit.
Submit/Review: HEERF Grant Authorization
The deadline to submit or change authorization for September disbursement is September 10, 2021.
Center for Innovation & Change Hosts Climate Leadership Summit 6
The UE Center for Innovation & Change in conjunction with Mayor Lloyd Winnecke's Office and Earth Charter Indiana hosted the Climate Leadership Summit 6 on campus at the University of Evansville on Tuesday, August 31st. Plenaries and workshops all focused on climate mitigation and adaptation. Experts from around Indiana convened to discuss challenges and opportunities to the climate crisis. Highlights included a Welcome from Evansville Mayor Lloyd Winnecke, and UE President Pietruszkiewicz; and presentations by Dr. Jeff Duke (Purdue Climate Change Research Center), Dr. Gabriel Filippeli (IU Resilience Institute) and Kim Ferraro (Hoosier Environmental Council). In addition, Dr. John Ikerd (Professor Emeritus of Agricultural & Applied Economics, University of Missouri) hosted a private session for UE Students and Faculty. Several Signature School and Memorial High School Students attended the event. Youth leaders from all across Indiana networked and created their own efforts throughout the day. There were a combined 200 participants (in person and virtual).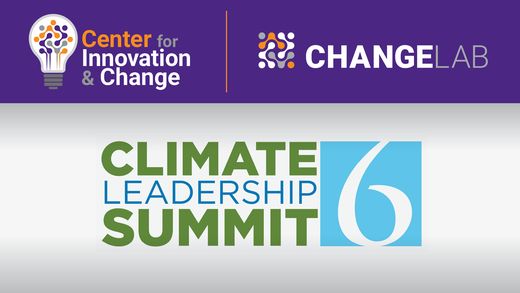 Spruce Up-Koch Center
In preparation for a special video production, the front of Koch Center 1977 building will be receiving some sprucing up. Beginning 09/02/2021 power washing of the west side of that building will be taking place, and mulch will be blown into the landscapes. There may be some disruptions to the entry of the '77 building (west side) during this process. We encourage, and thank you for using another entrance/exit while the work is taking place over the doors of that section. If you have questions please contact the facilities office at x2775.
School of Education Achieves $1 Million Mark with STEM Grant
The latest STEM grant received by the School of Education puts the School of Education over the $1 Million dollar mark in grants received since 2017. The Commission for Higher Education (CHE) awarded the department $110,000 in August. Grant funds will be used to fund full tuition scholarships for Transition to Teaching students in STEM fields such as math, science, and computer science. The grant will also provide for STEM professional development for elementary and secondary undergraduate majors, graduates, and teachers in the region. A mentoring program for graduates teaching in STEM field will also be funded by the grant as will the Project Lead the Way STEM education program for undergraduate elementary education majors. This is the third STEM grant the department has received from the CHE.
Now Hiring- Center for Diversity Equity and Inclusion
The Center for Diversity Equity and Inclusion (CDEI) is hiring new Student Assistants for the 2021-2022 academic year. Student Assistants will focus on projects and programming related to DEI at UE. All of those interested in DEI and fostering a sense of inclusion and belonging at the University of Evansville are encouraged to apply.
We are especially looking for people interested in/ that have skills in the following:
- Social Media/ Social Media Management
- Curation, Museums, Art
This is a work study position and those with a strong sense of work ethic and passion for diversity, equity and inclusion are encouraged to apply. Please reach out to the CDEI by emailing Center4DEI@evansville.edu to express interest. The job posting can be found via Web Advisor under student employment postings!
Requirements:
Excellent written and verbal communication skills, demonstrated organizational skills, attention to detail, strong interest in promoting diversity, equity, and inclusion at the University of Evansville, interest and/or experience in programming/ events, experience with social media, strong comfort level with people from a variety of backgrounds, as well as a willingness to expand knowledge and skills related to diversity and inclusion, ability to convey complicated and/or controversial information in a respectful manner, commitment to fostering diversity in a working and learning environment.
Cleaning Supply Reminder
Need replenishment of cleaning supplies (disinfectant, hand sanitizer, paper towel, etc.) for a classroom or office area? Please complete a request form at https://uesurvey.evansville.edu/cleaningsupplies
Remember to keep spray bottles and ½ gallon bottles pumps. By keeping these, supplies of disinfectant and hand sanitizer can be replenished promptly.
Thank you for your help in keeping campus safe!
Walnut St. Redesign Includes "No Parking" Zones along Campus Corridor
The Walnut St. improvement project has been completed. The updated traffic plan is designed to reduce vehicle speeds and increase pedestrian safety. A major change has been the removal of all parking on Walnut St. between Weinbach Ave. and Rotherwood Ave. The removal of authorized parking applies to all vehicles, regardless of the length of time or reason for stopping in the prohibited areas.
Despite the posted "No Parking" signs, drivers are still parking on Walnut St. Vehicles that are illegally parked on Walnut St. create blind spots for motorists and pedestrians. These blind spots create an unsafe environment for our community members. The decision to illegally park in this area can lead to preventable incidents and injuries. Please respect the health and safety of your classmates and co-workers and park only in authorized areas. If you need a temporary parking permit to access on-campus parking areas, contact the office of Public Safety at 488-2051. A temporary parking permit will be issued at no cost.
It is important to note the enforcement of parking regulations on city streets is handled by the Evansville Police Department. Although tickets issued by the EPD cannot be appealed through the Office of Public Safety, we are committed to promoting compliance with the city parking regulations as part of our overall efforts to keep our campus community safe.
Slips, Trips & Falls: September 2021 Risk Management Tip
As fall approaches slips, trips, and falls are a major cause of injury that occurs to both visitors and employees. They can occur in any business, but are of particular concern to businesses with considerable public and employee foot traffic such as those in retail, higher education, medical, and service industries.
What can you do to make a positive impact?
1) Be aware of your immediate surroundings
2) Wear comfortable, properly fitting non-slip shoes
3) Be aware of the type of surface you are walking on and its condition
4) Adjust to environmental and walking surface conditions
5) Pay attention to "Wet Floor" warning signs to warn of known hazards
6) Practice Good Housekeeping
7) Keep walkways and hallways free of debris, clutter and obstacles
8) Only carry items that allow you to see clearly where you are going
9) Use handrails when going up or down stairs and not skip steps
10) Eliminate or minimize distractions while walking, such as looking at your cell phone
Report unsafe conditions to Office of Public Safety at 812-488-2051.
Be Safe With Each Step!
Intramurals Are Back! Sign Up Today
Intramurals are back!! We have a full schedule this semester and are excited to get started!
Go to imleagues.com to get signed up today and to get more info on dates and sign up info.
Sports offered will be kickball, flag football, soccer, sand volleyball, indoor volleyball, pickleball, badminton and cornhole.
We will be hiring and training officials for flag football, soccer, and volleyball. If interested, contact the Drew Hawkins @ah519
Ridgway Information Desk Seeks Federal Work-Study Student Workers
The position of the Information Desk Assistant exists to provide information regarding the Ridgway University Center, University of Evansville campus, and surrounding community via the phone and in person. Information Desk Assistants provide fast, friendly, and professional services to the students, staff, and guests of the University of Evansville.
Skills Needed: Student must be detail oriented, accurate, organized, punctual, and dependable. Students should be able to communicate well verbally and be able to respond to emergencies in a calm manner.
Students eligible for Federal Work-Study of any major may apply.
Apply by visiting WebAdvisor and downloading the application. Email completed application and availability to sd241@evansville.edu.
HEERF Grant Distribution Authorization Now Open for All Students
HEERF III Emergency Grant funding is now available.
New students are required to authorize distribution of HEERF grant funds.
Previous recipients who wish to alter prior authorization must resubmit distribution authorization.
All educationally related expenses are eligible for HEERF III funding and may be applied to current and/or future student account balances. Please be aware that funding is limited. Grant recipients requesting a refund must have bank information on file as refunds will be issued electronically via direct deposit.
Submit/Review: HEERF Grant Authorization
The deadline to submit or change authorization for September disbursement is September 10, 2021.
Meal Plan Changes
Students can adjust meal plans for the Fall semester until Friday, September 3, 2021 at 5:00 p.m.
Changes will be reflected the next business day.
Harlaxton College Spring 2022 Waitlist
As you might know, Harlaxton College is experiencing an extremely high demand for placement on the Spring 2022 program and as such, we are operating a waitlist for the Spring 2022 semester. Because of this unprecedented demand, Harlaxton would like to kindly remind accepted students that their deposit deadline is on September 13. Students who have not paid their deposit by the deposit deadline will be removed from the program in order to accommodate students on the waitlist. Students may contact Student Financial Services to pay their deposits.
If you are no longer planning on going to Harlaxton next spring, please let us know so that we can move students off the waitlist. Additionally, if you can study in the Fall 2022 semester, we encourage you to defer your application if possible. You can view courses for the Fall 2022 term on our website here: https://harlaxton.evansville.edu/accepted/downloads/fall2022/Fall2022-Course-Descriptions.pdf
If you need to change your term, update us on your plans, or ask a question, please email Victoria Radford (vr35@evansville.edu).
Aces Begin Season with Evansville Opener at Angel Mounds
With three home meets this season, the University of Evansville men's and women's cross country teams will become even more familiar with the course at Angle Mounds, beginning with the Evansville Opener on Friday evening.
The men's 5k will begin action on the course on Friday at 5 PM with the women's 8k following. In all, Evansville has assembled an impressive field for its first meet of the season, welcoming in Ohio State, Marquette, Indiana State, Brescia, Kentucky Wesleyan, Oakland City, and Vincennes on Friday.
Many teams are utilizing the opportunity to come down and test run the course before November's NCAA Midwest Regional takes place on the same course.
A shortened 2020-21 cross country campaign due to the COVID-19 pandemic meant that the Aces competed in just three events last season; the Belmont Opener, the Murray State Open, and the Missouri Valley Conference Championships. Evansville was led by senior Anna Lowry on the women's side, who continued her improbable run, winning her fifth and sixth straight individual medals in regular season meets.
On the men's side, two of Evansville's top runners from a year ago are back for the fall with J.J. Pedersen and Peter Ekayi Ekpur returning to the fold. Finishing within 14 seconds of one another at the Belmont Opener, Epur gained a season-best finish of 14th at the Murray State Open last season, while Pedersen brought home a 22nd-place finish.
Friday's Evansville Opener will be open to the public and admission to Angel Mounds State Historic Site is $5 for all fans.
Harvey's Goal Secures Best Start in Program History for Aces
A first half goal from Kristen Harvey and a dominant effort in goal from Michaela Till helped the University of Evansville women's soccer team earn its best start in program history with a 1-0 win over SEMO on Thursday evening at Arad McCutchan Stadium in Evansville.
Till finished the night with the 14th shutout of her career, making five saves, and keeping the Aces record unblemished on the year. Offensively, Harvey propelled Evansville, recording a team-high three shots, putting a pair on goal, and scoring her first career goal in the 25th minute.
SEMO were the aggresors early in the match, recording three shots inside the first seven minutes of the match. Evansville responded well, as the Aces put two shots on frame to follow with Harvey testing the Redhawk keeper in the 10th minute and senior Emily Ormson put another shot on goal just a minute later.
The 22nd minute saw the best opportunity to that point for the Aces as a corner was whipped in by Nicole Benati. Emilie Hill found the end of the cross, heading it towards goal, but just missing high.
Evansville capitalized on their early momentum just two minutes later when UE earned another corner. This time it was Alex Eyler who stood over it, sending in a ball that ricocheted off of Hill and landed in front of Harvey, who finished to the right of the keeper to put the Aces in front.
In all, the two teams combined for 11 shots in the opening half with a near even split (SEMO 6, Evansville 5), but the Aces put four on goal with the Redhawks failing to put any on frame.
The Redhawks again started a half aggressively in the first handful of minutes of the second half, recording four quick shots in the first eight minutes, including three on goal. In the 62nd minute, the Aces nearly doubled their lead as Ormson found the ball at her feet inside the box and released a quick shot on goal that SEMO was forced to quickly handle.
Despite creating a bevy of chances early, SEMO was held from creating much of an opportunity late in the match as Evansville's defense continued to demonstrate its strength, holding on to a one-goal lead for its fourth-straight win.
Evansville goes back on the road this weekend with a Sunday showdown at Northern Kentucky at Noon in Highland Heights, Ky.
Aces Look To Keep Rolling at Eagle Challenge
Looking to build on the success from opening weekend, the University of Evansville volleyball team has its sights set on the Eagles Challenge. Hosted by Morehead State, the Eagle Challenge will take place on Friday and Saturday and will see UE face the Eagles, Radford and Cleveland State. The Eagles are coming off of a 17-2 campaign in the spring that saw them win their first-ever NCAA Tournament match.
Clean Sweep
- In the season-opening Purdue Fort Wayne Invitational, the Aces earned a trio of 3-0 victories against SIU Edwardsville, Kent State and PFW
- It marked the first 3-0 start to a season since 2018 and was the first time UE has earned three consecutive sweeps since 2011
- Averaging 5.56 kills per set, Alondra Vazquez was named the Most Valuable Player while Taya Haffner and Melanie Feliciano earned All-Tournament accolades
Picking Up Where She Left Off
- Alondra Vazquez was one of the top overall players in the Missouri Valley Conference in the spring and wasted no time in continuing that success
- In the PFW Invitational, Vazquez registered 5.56 kills per set, tops in the MVC and second in the nation through the opening week
- Her other numbers were equally impressive as she averaged 2.78 digs, hit .380 and racked up eight block assists and six service aces
- Vazquez was named the MVC Player of the Week on August 30 for the second time in her career after garnering MVP honors for the season-opening tournament
- The MVC Preseason Team member sits second in the nation with her kill average
- Last season, Vazquez paced the NCAA with an average of 14.13 attacks per game
Freshman of the Week
- A case could be made that Taya Haffner had a perfect week to open her college career
- The Fort Wayne, Ind. native played her first three college matches in her home town and performed exceptionally, averaging 12.33 assists per set along with an average of 3.00 digs
- She was named to the PFW Invitational All-Tournament Team before being named the MVC Freshman of the Week on Aug. 30
- Haffner's assist average paces the Valley and ranks fifth in the country while her dig average is in the top 15 in the league
Strong Start
- Giulia Cardona had an extraordinary start to her Evansville career, wrapping up the PFW Invitational with a mark of 4.44 kills per set
- The freshman ranks second in the MVC and 21st in the nation while her hitting was also efficient, finishing over .200
- After opening the season with 11 kills against SIUE, Cardona added nine against Kent State before racking up 20 in the finale versus the Mastodons
- Cardona also contributed on the defensive end, recording 2.67 digs per game
Early Season Accolade
- A strong all-around effort to open the fall saw Melanie Feliciano earn a spot on the PFW Invitational All-Tournament Team
- Feliciano finished the weekend with 2.78 kills/frame while sitting in a tie for the team lead with an average of 3.00 digs
- An efficient weekend saw her total at least eight kills and seven digs in each match
- In the spring, she finished fourth in the MVC with 3.89 kills/set with her season mark of 25 coming at Missouri State; she averaged 3.19 digs over the course of the spring season
Contribute to AceNotes
To have content considered for inclusion in AceNotes, please submit a Marketing Request Form. Deadline for submission to AceNotes is 10:00 a.m. on the requested date of publication. Only articles concerning UE related/sponsored activities will be accepted. Articles submitted to AceNotes may be edited for length and clarity. Submitter contact information is at the end of each article.