| | |
| --- | --- |
| AceNotes Today | Monday, August 30, 2021 |
Intramurals Are Back! Sign Up Today
Intramurals are back!! We have a full schedule this semester and are excited to get started!
Go to imleagues.com to get signed up today and to get more info on dates and sign up info.
Sports offered will be kickball, flag football, soccer, sand volleyball, indoor volleyball, pickleball, badminton and cornhole.
We will be hiring and training officials for flag football, soccer, and volleyball. If interested, contact the Drew Hawkins @ah519
Ridgway Information Desk Seeks Federal Work-Study Student Workers
The position of the Information Desk Assistant exists to provide information regarding the Ridgway University Center, University of Evansville campus, and surrounding community via the phone and in person. Information Desk Assistants provide fast, friendly, and professional services to the students, staff, and guests of the University of Evansville.
Skills Needed: Student must be detail oriented, accurate, organized, punctual, and dependable. Students should be able to communicate well verbally and be able to respond to emergencies in a calm manner.
Students eligible for Federal Work-Study of any major may apply.
Apply by visiting WebAdvisor and downloading the application. Email completed application and availability to sd241@evansville.edu.
Last Day to Add/Drop without Penalty
Last day to add/drop classes without penalty is August 31st, 2021 by 5:00pm in Academic Services. Academic Services is located in the Olmsted Administration Hall - Room 116.
Parking Lot H Announcement: August 31st
The Center for Innovation and Change in conjunction with Mayor Lloyd Winnecke's Office and Earth Charter Indiana is hosting the Climate Leadership Summit 6 at the University of Evansville next Tuesday, August 31st. Parking Lot H (located on the west side of Frederick St, north of Walnut) will have limited availability for parking on this day. Thank you in advance for your patience and understanding as we host our community partners and media presence on campus. If you have any questions, then please contact Brooksie Smith (bs267).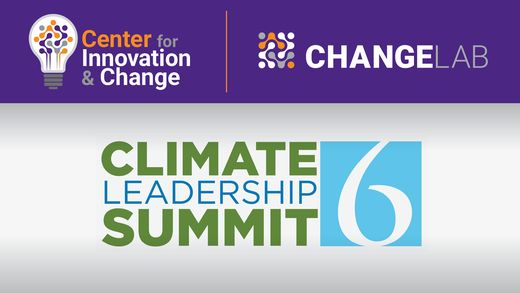 Now Hiring - Evansville Women's Basketball Managers
UE Women's Basketball is looking for student managers to assist coaches at practices and games, do laundry, keep stats, participate in film study, and occasionally travel. Along with other duties as assigned by the Head Athletic Equipment Manager. This is a work study position and those with a great enjoyment for the game of basketball, impeccable work ethic (dependable, punctual, willing to work as needed), and an interest in learning the ins and outs of collegiate basketball are encouraged to apply. Please reach out to Max Ethridge (me185@evansville.edu) to express interest. The job posting can be found via Web Advisor under student employment postings! Go Aces!
Vouchers Are Moving to Self-Service
The Office of Accounting & Audit is happy to announce a new procedure for Vouchers/Request a Payment. The Request a Payment in WebAdvisor has been replaced with creating a Payment Request in Self-Service. Invoices and supporting documents can now be attached in Self-service eliminating the need to email Accounts Payable after a Request for Payment is submitted.
The instructions to Create a Payment Request and Approve a Payment Request in Self-Service are located on the Accounting & Auditing department page on the UE Portal. Request a Payment will be available in Self-Service and WebAdvisor until Sunday, August 29th. Effective Monday, August 30th, 2021 all Payment Requests will only be available through Self-Service.
Travel Pre-Approval Forms are now also online and available on the Accounting & Audit department page on the UE portal. Travel must be pre-approved using the online approval form and then any reimbursement may be submitted using the normal Payment Request process in Self-Service. The approved travel request should be attached with receipts to the voucher request. There is also an Excel travel expense calculator template available on the Accounting departmental page to summarize and calculate total receipts and mileage. This summary can be submitted with the payment request.
HEERF Grant Distribution Authorization Now Open for All Students
HEERF III Emergency Grant funding is now available.
New students are required to authorize distribution of HEERF grant funds.
Previous recipients who wish to alter prior authorization must resubmit distribution authorization.
All educationally related expenses are eligible for HEERF III funding and may be applied to current and/or future student account balances. Please be aware that funding is limited. Grant recipients requesting a refund must have bank information on file as refunds will be issued electronically via direct deposit.
Submit/Review: HEERF Grant Authorization
The deadline to submit or change authorization for September disbursement is September 10, 2021.
Meal Plan Changes
Students can adjust meal plans for the Fall semester until Friday, September 3, 2021 at 5:00 p.m.
Changes will be reflected the next business day.
Faculty Members Presented Purple Tams at Academic Convocation
Each year, the University of Evansville holds a Purple Tam Ceremony, which is a significant moment during Academic Convocation. Purple tams are awarded to members of the faculty who have achieved the rank of full professor, which indicates their service to UE. The awarding of a purple tam is symbolic of UE's gratitude to these professors and their contributions to this institution. The purple velvet tams, which are seen at every official academic event, provide a visible sign of achievement.
Purple Tams were presented at Academic Convocation on Tuesday, August 24.
Dan Byrne | Department of History and Society
Daniel Byrne, PhD, earned his bachelor's degree in history from the University of Notre Dame and his doctorate from Georgetown University. His dissertation and subsequent research focused on the United States foreign policy surrounding the Algerian War of Independence and the decolonization of French Africa. Before joining the faculty at the University of Evansville in 2005, he taught at Georgetown, the United States Naval Academy, Francis Marion University,
the University of Notre Dame, and Bradley University. Since arriving at UE, Byrne has taught courses on the history of United States foreign policy, the American Civil War and Reconstruction, America between the Wars, Cold War America, the Decolonization of Africa, the rise of Modern China and Japan, and first year seminars on American Social Welfare policy. In addition to his teaching, Byrne has been actively engaged in university governance as a member of the Faculty Senate including participation on the Executive Council, service on the Athletics Committee, Academic Services Committee, and the Fiscal Affairs Committee.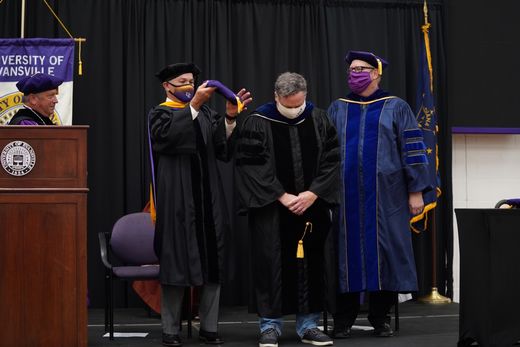 ---
Mark Cirino | Department of English and Creative Writing (not pictured)
Mark Cirino earned his PhD at the Graduate Center-CUNY and a bachelor's degree from New York University. He serves as the General Editor for Kent State University Press's Reading Hemingway series, for which he wrote the volume on "Across the River and into the Trees" and co-edited – with UE alumna Susan Vandagriff '15 – the volume on "Winner Take Nothing". In all, he has written or edited seven books on American literature, with an eighth to be published by Godine Press in 2022. He is also the author of two novels, Name the Baby and Arizona Blues. His fiction has been published in Drunken Boat, and his scholarly work has been published in The Hemingway Review, The Mailer Review, Papers on Language and Literature, Voices in Italian Americana, and PMLA. He hosts the popular podcast, One True Podcast. He teaches American literature at UE.
---
Suresh Immanuel | School of Engineering and Computer Science
Suresh Immanuel, PhD, earned his bachelor's and masters degrees from Anna University in India, his PhD in civil engineering from Auburn University in 2007, and he is a 2020 UE graduate with a master's degree.
Immanuel is the associate dean of the School of Engineering and Computer Science and professor of civil engineering. He served as chair of the Department of Mechanical and Civil Engineering before assuming his current role. He is a registered professional engineer and the recipient of the 2018 Dean's Teaching Award. He received the Outstanding Reviewer award in 2012, 2014, and 2017 from the American Society of Civil Engineers Journal of Transportation Engineering. One of his papers received the 2020 Thomas C. Evans Engineering Education Paper Award, which is given to the most outstanding paper pertaining to engineering education. Immanuel has served as the committee member in the national level ASCE Committee on Student Members, Members Communities Committee, and is currently chairing the global members task committee. He was involved in many university level committees such as Academic Services Committee, General Education Subcommittee, Curriculum Committee, and served as the University ombudsperson. He is a civil engineering program evaluator for the Accreditation Board for Engineering and Technology, Inc.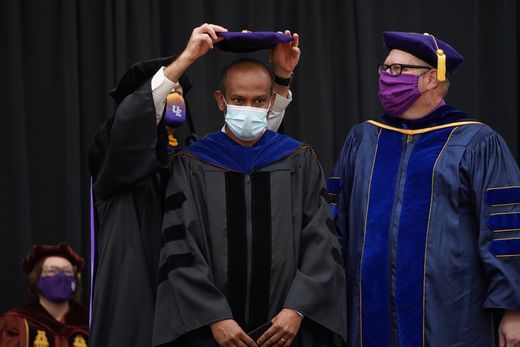 ---
Lesley Pleasant | Department of Foreign Languages and Cultures (not pictured)
Lesley Pleasant, PhD, earned her bachelor's degree in German studies from Dartmouth College and a master's and doctorate in German literature from the University of Virginia. She teaches all levels of German language, literature, and culture, as well as international film, First Year Seminar, and the senior capstone course for language majors. Her research interests include 19th through 21st century German theatre/drama, the divided Germany, film, the image of the US in German literature and film, as well as animal studies and environmental humanities.
---
Peter Schmidt | School of Engineering and Computer Science (not pictured)
Peter Schmidt earned his bachelor's degree in mechanical engineering from the University of Louisville in 1986. He earned his master's degree in mechanical engineering from the Rose-Hulman Institute of Technology in 1991. From Vanderbilt University, he earned both his doctorate and a Future Faculty Preparatory Program Teaching Certificate in 2006. He is a practicing engineer with over 30 years of experience in total and is professionally registered. He started full-time in academia over 10 years ago after working in government, manufacturing, and consulting. He continues to work on projects in conjunction with industry and other external stakeholders via consulting and through supervision of student work. Schmidt has supervised nearly 30 capstone design projects and has been funded on more than 10 external research projects. His teaching experience has been concentrated in engineering mechanics and in project-based design courses, where he brings expertise as a practitioner to the student experience.
---
Kenneth Steinsultz | Music Conservatory
Kenneth Steinsultz, DMA, holds a bachelor's degree in music education from Quincy University. He earned a master's and doctorate of musical arts from the University of Illinois at Urbana-Champaign. An active performer, Steinsultz was a guest artist for the Tuba and Euphonium Association's Midwest Conference in 2013 and 2015. He also performed at the 2014 International Tuba and Euphonium Conference. He has served as principal euphonium in the Evansville Symphonic Band. He has been a featured soloist with the Evansville Symphonic Band, the Bend in the River Brass Band (Evansville), the Concert Band of Central Illinois, and the Quincy (Illinois) Park Band. In 2005, Steinsultz was guest clinician for the Association of Concert Bands national conference and performed as a guest artist on the finale concert. He is currently the trombonist with the Shepard Brass.
Steinsultz has been a member of the Board of Directors for the Evansville Symphonic Band, serving as secretary. He has presented clinics at state conferences in Illinois and Indiana. He is a member of the College Band Directors National Association, National Band Association, Indiana Bandmasters Association, International Tuba and Euphonium Association, International Trombone Association, and Phi Mu Alpha Sinfonia (honorary membership). He has been a member of the Quincy Park Band, Quincy Symphony Orchestra, and Mississippi River Brass Band. He has performed with the Champaign-Urbana Symphony, Danville (Illinois) Symphony, Illinois Symphony of Springfield/Bloomington, and the Evansville Philharmonic Orchestra.
As a conductor, Dr. Steinsultz is a frequent guest conductor of district and regional honor bands. His university ensembles have performed at regional festivals and state organizational conferences, most recently the College Band Directors National Association 2016 North Central Division Conference at Iowa State University (Ames, Iowa). At UE, he conducts the Wind Ensemble, University/Community Band, Aces Brass Pep Band, and teaches courses in applied low brass and conducting. Steinsultz also serves as music director and conductor for The Spirit of Evansville Sweet Adelines Chorus.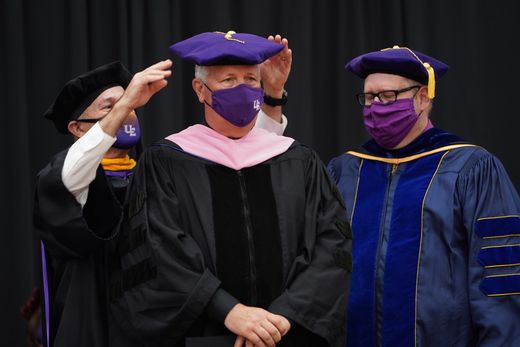 ---
Tamara Wandel | Department of Communication
Tamara Wandel, PhD, earned a bachelor's degree in journalism and English from Indiana University (1992), her master's in communication (1997) and doctorate (2002) degrees from the University of Albany. Prior to joining UE, Wandel was a director of public relations in the State University of New York system and a journalist in New York. She has conducted media research and data analytic projects with the Boston Red Sox, Denver Broncos, Utah Jazz, and other professional sports teams. In her time at UE, she has been the recipient of the MarCom Creative Award, Dean's Excellence in Teaching Award, and is a two-time Society for New Communications Research Fellow. She has received grants from the Constitutional Rights Foundation and the Free Speech Center. Wandel has published over 20 journal articles, including works in the Handbook of Research on Children's Consumption of Digital Media, Driving Customer Appeal Through the Use of Emotional Branding, Journal of New Communications Research, Planning for Higher Education, and the Journal of the Society for College & University Planning. Most recently through a collaboration with WNIN and UE's ChangeLab program, Wandel taught an investigative journalism class that helped create a podcast series having received a regional Edward R. Murrow award and a first place statewide award from Indiana's chapter of the Society of Professional Journalists.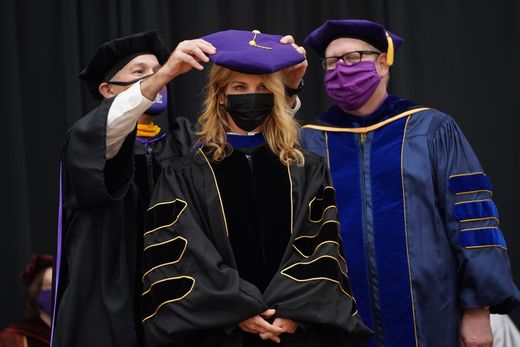 Vazquez Named MVP as Evansville Sweeps Opening Weekend
Averaging 5.56 kills per set in three matches, Alondra Vazquez was named the Purdue Fort Wayne Invitational MVP with the University of Evansville volleyball team completing a perfect weekend with a 3-0 win over Purdue Fort Wayne on Saturday morning.
Making her college debut in her hometown, Taya Haffner earned a spot on the All-Tournament along with Melanie Feliciano. Saturday's finale saw freshman Giulia Cardona continue her excellent start, recording 20 kills while hitting .447. She added nine digs and a service ace. Vazquez recorded 11 kills while Feliciano totaled nine. Haffner led UE with 14 digs and 43 assists.
SET 1 – UE 25, PFW 23
Each set was decided by two points with each team battling to the final point. With the score knotted at 6-6, Evansville made its move, scoring five in a row to take their largest lead to that point. The Mastodons stormed back within a point – 13-12 – before a kill by Kate Tsironis set the Purple Aces back on track. PFW continued its fight, getting within a single tally on multiple occasions, but they could not get over the hump. Madisyn Steele gave UE a 24-21 lead with her second kill of the set, but Purdue Fort Wayne made one final challenge. An ace by Madison Gates made it a 24-23 game before Vazquez responded with a kill to seal the win.
SET 2 – UE 25, PFW 23
Game two was another hotly contested effort by both squads. Trailing 7-5, UE scored five in a row to go up 10-7. Cardona added a kill while Feliciano posted an ace. Evansville held the advantage, going up by as many as five points at 21-16, but once again the Mastodons countered. A 7-2 stretch tied the set at 23-23 before Tsironis came through with a kill that helped to seal a 25-23 decision and 2-0 lead.
SET 3 – UE 27, PFW 25
Purdue Fort Wayne had its top performance in the third set. Midway through the frame, PFW broke a 13-13 tie with three in a row. UE fought back to tie it at 18-18 before the Mastodons wrestled away a 24-23 edge. Just when it looked like they would break through, a PFW service error tied it back up. The Mastodons jumped back in front by a 25-24 score, but the Evansville offense had the final say. A kill by Feliciano was followed by two in a row from Vazquez to finish the 27-25 victory and 3-0 sweep.
Next weekend, the Aces will be in Morehead, Ky. for the Eagle Challenge.
Louisville the Next Challenge for Aces on Monday
Making its first road trip of the season, the University of Evansville men's soccer team heads to take on Louisville on Monday evening at 5 PM in the Derby City.
Last Match: Bellarmine 2, Evansville 1
• In its regular season opener, the University of Evansville men's soccer team scored first, but allowed two late goals in a 2-1 loss to Bellarmine on Thursday evening at Arad McCutchan Stadium in Evansville.
• "It's a good lesson to learn early in the season. We went up a goal and we lost our composure a bit and gave a goal on a set piece and were chasing the game. We had some opportunities," said Aces head men's soccer coach Marshall Ray. "Credit to Bellarmine, who put us under some pressure and unfortunately tonight we didn't respond. We've got to regroup and get ready for our next match against a very good Louisville side."
• Sophomore midfielder Pablo Guillen scored his fifth career goal and the first of the fall on a penalty kick, recording two shots and putting both on goal. Evansville was led by junior Jakub Hall and his three shots on the night as the West Lafayette, Ind. found the frame with one of them. In goal for the Aces, senior Matt Bryant made two saves, allowing two goals on the evening.
• The first half was dotted by opportunities from both teams, but the Aces maintained possession for most of the opening 45 minutes. Evansville tallied its first shot of the regular season just six minutes in on a shot by Hall that was blocked by a sliding Knight.
• Evansville tallied two more shots before 15 minutes had passed, including a shot from Guillen that forced a save from Knights keeper Connor Range. After Hall put another shot on frame in the 27th minute, the two sides combined for just one shot on an attempt from Bellarmine's Nate Girao that sailed high as the match remained scoreless at the half.
• The activity picked-up and quickly in the second half, beginning with a shot from senior FIlip Johansson that had to be tipped over the cross bar by the Knights. On the ensuing corner, Evansville got its breakthrough. A foul was committed in the box, earning the Aces a penalty. Guillen was tasked with stepping up to the spot and calmly finished to the right side to put the Aces in front, 1-0.
• Just five minutes later, Bellarmine found their equalizer coming off a free kick just to the side of the 18-yard box. A low driving ball was whipped into the box, deflecting off the legs of an Ace and past keeper Matt Bryant to tie the match.
• In the 61st minute, Evansville appeared to have another chance to go in front after being awarded a penalty. A corner sent in by Guillen in the box was initially called a penalty in UE's favor, but was reversed after a discussion.
• With the match appearing to be headed for overtime, Bellarmine pounced on a chance inside the final 10 minutes of regulation. The Knights sent a ball to the far side of the box, which was controlled by Bellarmine's Micah Linscott, who fired towards the left side of goal, finding the back of the net.
• Evansville attempted again and again, sending in long ball after long ball to the top of the box late in the match, but the Aces were unable to find their equalizer in the 2-1 loss to the Knights.
Previewing the Matchup
• Evansville and Louisville are meeting for the first time since the two met in an exhibition contest in 2018 as the Cardinals earned a 3-0 win in the preseason match.
• Like Evansville, Louisville also opened its season on Thursday night, falling in overtime, 2-1, on the road at Saint Louis.
• Leading goal scorer from the spring, Aboubacar Camara, returns for the fall after tallying six goals last season.
Pablo Continues to Roll
• After four goals in his debut season with the Aces, sophomore midfielder Pablo Guillen continued his success in Evansville's season opener against Bellarmine.
• Guillen was tasked with converting a penalty in the second half and calmly powered the ball into the back of the net to give Evansville the lead.
UEFC College Academy
• Registration for the UEFC College Academy is now open here!
• For $25, current UE students can join the Aces supporters club
• All College Academy members receive $20 Turoni's Bucks, a scarf, and a shirt
• Students who sign up before Thursday's match will be entered to win a pair of Apple Airpods Pro!
Aces Sweep Opening Day Matches
Opening day went about as perfect as one could expect with the University of Evansville volleyball team earning a pair of 3-0 shutouts to open the Purdue Fort Wayne Invitational. UE opened the season with a win over SIU Edwardsville before defeating Kent State on Friday afternoon.
MATCH 1 – UE 3, SIUE 0
An early opening day start saw the Purple Aces come out on fire, taking down SIU Edwardsville by a 3-0 final. Alondra Vazquez paced all players with 14 kills while Giulia Cardona finished her college debut with 11. Melanie Feliciano added eight kills. Vazquez also led her squad with nine digs with Blakeley Freeman and Feliciano recording seven apiece. Another freshman – Taya Haffner – had a match-high 33 assists.
Evansville turned a 5-5 tie into a 9-6 lead in the first set and would not relinquish that advantage. Feliciano got the rally started with a kill before Laura Ruiz added a service ace. The Cougars kept it close, cutting the gap to a pair at 15-13, but UE countered with a 5-0 stretch. Feliciano notched her first ace of the season while Madisyn Steele and Vazquez added kills. From there, the Aces held strong to finish with a 25-19 decision. Cardona and Vazquez had five kills apiece in the opening frame.
Up by a 6-5 score to begin the second set, UE reeled off five points in a row to take an 11-5 lead. Feliciano registered a kill and ace in the stretch. SIUE made its way back within four (15-11), but another game-changing stretch saw Evansville respond with a nine in a row before taking a 25-12 victory. Freeman did the serving during the rally, picking up the first ace of her college career. Cardona and Vazquez picked up two more kills to put the Aces up by a 2-0 score.
The Cougars put their top effort together in game three, wrestling away an 11-9 lead. UE countered with four in a row as Vazquez picked up her second ace of the day. The third kill of the match from Steele helped Evansville extend its lead to 17-13, but SIU Edwardsville made one final attempt to come back, forcing a UE error to cut the deficit to 21-20. Feliciano ended the stretch with her 8th kill before UE clinched the sweep with a 25-22 win.
An efficient offensive performance saw Evansville hit .307 in the match while picking up a total of eight service aces. The defense held the SIUE offense to just .157.
MATCH 2 – UE 3, Kent State 0
With 25 kills in just three sets, Alondra Vazquez lifted the Purple Aces to another 3-0 sweep. She hit .489 in the win over Kent State while picking up four service aces. Cardona finished with nine kills while Feliciano added eight. Haffner registered 35 assists and a pair of kills while four Aces tallied nine digs.
Neither team gave an inch in the first set as the score was tied 15 times, leading to a 16-16 score. Evansville took the first 3-point lead in the game when Vazquez, Feliciano and Haffner recorded kills to give the Aces a 19-16 lead. UE continued to hold the edge and had set point with a 24-20 edge. That is when the Golden Flashes rallied, posting four in a row to tie it up. Vazquez took control at that point, posting her 9th kill of the set before clinching the 26-24 win with a service ace.
Using the momentum gained from taking the first set, Evansville posted seven of the first eight points to take a 7-1 lead in game two. It was Vazquez coming through again with a kill and ace. Kent State cut the deficit in half when an Alex Haffner kill made it a 9-6 game but UE answered with three in a row to go back up by six points. From there, it was all Evansville. A 4-point stretch saw Vazquez record two kills and two service aces to make it a 21-10 tally before a late kill from Feliciano clinched the 25-14 win.
Kent State scored the opening two points of the third game, but the tides turned with another huge Evansville rally. With the score knotted at 8-8, UE embarked on an 11-2 run to go up by a score of 19-10. Four additional Vazquez kills highlighted the run. The Golden Flashes did not go away quietly, making a furious run to get within three points before Vazquez capped off the match with her 25th kill to clinch win #2 of the season.
On Saturday, the Aces look for the weekend sweep when the face the host Purdue Fort Wayne at 10 a.m. CT.
Aces Continue to Build Momentum with Trip to Middle Tennessee up Next
Following a 1-0 win over Morehead State on Thursday, the University of Evansville women's soccer team makes the second and final stop of a two-game road swing at Middle Tennessee State on Sunday in Murfreesboro, Tenn.
Last Match: Evansville 1, Morehead State 0
• Senior Emily Ormson tallied her second goal of the season and moved into sole possession of the lead for active career leads in goals with eight in her four seasons at UE. Between the posts, fifth-year senior Michaela Till made her first start of the season, recording her 13th career shutout, putting her alone in fourth in Evansville history.
• It did not take long for Evansville to go in front in the match as the first shot of the game came in the 12th minute. A well placed through ball by senior Emily Wolak found a sprinting Ormson, who chipped the keeper and found the back of the net to open the scoring.
• Morehead State countered with six shots over the next 30 minutes, while Evansville recorded just one, but the Aces defense was strong in keeping the Eagles off the board.
• Evansville unleashed an offensive in the opening portion of the second half, recording four shots before the 59th minute, including a shot from junior Monique Landrum that forced a save from Morehead State.
• As has been true over the past two seasons, the Aces defense remained consistent, turning away Morehead State's shots down the stretch. In all, Till tallied five saves on the night as Evansville secured a 1-0 road win.
Previewing the Matchup
• Sunday's matchup marks just the sixth all-time meeting between the Aces and Blue Raiders with Middle Tennessee owning a 4-1 advantage in the series.
• The last time the two sides met on Aug. 22, 2019, when the Blue Raiders captured a 5-1 win over the Aces at Arad McCutchan Stadium.
• Middle Tennessee enters Sunday's match with a 1-1-1 record and are coming off a 4-2 loss on the road to a tough Ole Miss squad.
• Peyton DePriest is the team's leading goal scorer having already tallied three goals on the season. Against the Rebels, DePriest moved into a tie for the top spot in the C-USA record book for career goals. The senior has 49 career goals with four coming against the Aces.
Back to the Emilie/Emilys
• In the 48th minute of last Sunday's game against Belmont, junior forward Monique Landrum scored to break incomprehensible streak for Evansville. Landrum became the first goal scorer in 1,144 minutes of soccer for the Aces to not be named Emily or Emilie, dating back to the 2019 regular season. Following Landrum's goal, the streak started again with Emilie Hill scoring twice for the Aces and was continued when Emily Ormson scored the game winner against Morehead State. The streak now sits at 132 minutes. (Credit to Tom Benson)
ESPN Informational Meeting Monday At 5 PM
An informational meeting for those interested in joining UE's award-winning ESPN Production Unit - Purple Aces Productions - is set for Monday night, August 30 at 5 pm in Eykamp 252. Various positions exist, including both in-front of camera and behind-the-scenes for UE's ESPN productions. No prior experience is necessary, and students are paid to work broadcasts. Any questions or if you cannot make the Monday meeting, please contact Tom Benson, Assistant AD for Purple Aces Productions, via email at tb39@evansville.edu.
Evansville Women's Basketball Practice Players Wanted
UE Women's Basketball is looking for male practice players to assist our team during practices by playing offense and defense, helping coaches with drills, and challenging our players to get better every day. Those with good basketball knowledge and ability, strong work ethic, and general enjoyment for the game of basketball are encouraged to reach out to Max Ethridge (me185@evansville.com) to express interest!
Contribute to AceNotes
To have content considered for inclusion in AceNotes, please submit a Marketing Request Form. Deadline for submission to AceNotes is 10:00 a.m. on the requested date of publication. Only articles concerning UE related/sponsored activities will be accepted. Articles submitted to AceNotes may be edited for length and clarity. Submitter contact information is at the end of each article.