| | |
| --- | --- |
| AceNotes Today | Friday, August 27, 2021 |
Student Parking Permit Distribution Hours
Student Parking Permit Distribution Hours are as follows:
Parking Permit Distribution Center
Ridgway University Center
Saturday, August 21, 8:30am - 4:00pm (New Students ONLY)
Monday, August 23, 10:00am - 4:00pm
Tuesday, August 24, 10:00am - 4:00pm
Wednesday, August 25 10:00am – 4:00pm
Thursday, August 26, 10:00am – 4:00pm
Beginning August 30, Parking Permits will be distributed at the Cashier's window in Student Financial Services (Olmsted Hall). Remember: You must present your UE I.D. to obtain your permit (after you have registered your vehicle through self-service).
Please note: The Campus Parking Map has been updated. Please ensure you are familiar with the color coded parking lot system prior to parking on campus. Parking rules and regulations will be enforced beginning on August 25th.
Purple Friday Ice Cream Event
Take a Happy Purple Friday break and cool off with Ice Cream with PrezP (and his purple shoes!) this Friday, Aug. 27, outside Ridgway University Center from noon-1:30 pm. Sponsored by: Powerful Moments & Student Christian Fellowship.
Orr Fellowship Recruitment & Campus Visit
Students of all majors are invited to connect with recruiters for the Orr Fellowship, a two year, full-time job opportunity in Indianapolis. More details and the application instructions for graduating seniors are available at orrfellowship.org.
The Orr Fellowship will be on campus Tuesday, August 31. 3 ways to connect with current fellows:
• Information table in the Schroeder School of Business Building atrium from 10:00 a.m.-noon
• Information session in Room 170 in the Schroeder School of Business Building at 12:25 (Registration is required for the information session: Info Session Registration)
• Information table outside Ridgway from 1:45 p.m – 3 p.m.
For questions about these recruitment activities, please contact Megan Taylor at mt263@evansville.edu.
Employees – United Way Day of Caring
We still have spots left! United Way of Southwestern Indiana's Day of Caring is happening on Friday, September 24. This is the largest service day in the area where volunteers give their time and energy to help non-profit organizations in the local community of Vanderburgh, Spencer, and Warrick counties.
United Way of Southwestern Indiana's Day of Caring is happening on Friday, September 24! This is the largest service day in the area where volunteers give their time and energy to help non-profit organizations in the local community of Vanderburgh, Spencer, and Warrick counties.
This year, UE will be partnering once again with the Buffalo Trace Council of the Boy Scouts of America located at the Eykamp Scout Center just down the road off the Lloyd Expressway (behind the State Hospital).
Projects this year include general landscaping, pressure washing, new tree care, organizing program storage, painting posts, and more! Participating employees will not need to use a vacation day but are required to obtain approval from respective supervisors.
You are also invited to attend the Volunteer Breakfast at the Old National Events Plaza in Evansville, on Friday, September 24 at 7:00 AM.
Sign up by completing this survey by September 17. Contact Alex Amick, Administrative Assistant and Events Coordinator in the Office of the President at ext. 2151 or aa308@evansville.edu with any questions.
Thank You For Your Support and See you Soon!
Last Day to Add/Drop without Penalty
Last day to add/drop classes without penalty is August 31st, 2021 by 5:00pm in Academic Services. Academic Services is located in the Olmsted Administration Hall - Room 116.
Parking Lot H Announcement: August 31st
The Center for Innovation and Change in conjunction with Mayor Lloyd Winnecke's Office and Earth Charter Indiana is hosting the Climate Leadership Summit 6 at the University of Evansville next Tuesday, August 31st. Parking Lot H (located on the west side of Frederick St, north of Walnut) will have limited availability for parking on this day. Thank you in advance for your patience and understanding as we host our community partners and media presence on campus. If you have any questions, then please contact Brooksie Smith (bs267).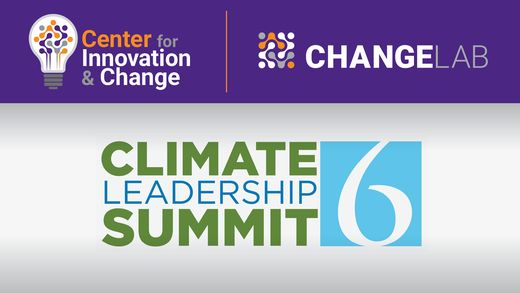 Now Hiring - Evansville Women's Basketball Managers
UE Women's Basketball is looking for student managers to assist coaches at practices and games, do laundry, keep stats, participate in film study, and occasionally travel. Along with other duties as assigned by the Head Athletic Equipment Manager. This is a work study position and those with a great enjoyment for the game of basketball, impeccable work ethic (dependable, punctual, willing to work as needed), and an interest in learning the ins and outs of collegiate basketball are encouraged to apply. Please reach out to Max Ethridge (me185@evansville.edu) to express interest. The job posting can be found via Web Advisor under student employment postings! Go Aces!
Vouchers Are Moving to Self-Service
The Office of Accounting & Audit is happy to announce a new procedure for Vouchers/Request a Payment. The Request a Payment in WebAdvisor has been replaced with creating a Payment Request in Self-Service. Invoices and supporting documents can now be attached in Self-service eliminating the need to email Accounts Payable after a Request for Payment is submitted.
The instructions to Create a Payment Request and Approve a Payment Request in Self-Service are located on the Accounting & Auditing department page on the UE Portal. Request a Payment will be available in Self-Service and WebAdvisor until Sunday, August 29th. Effective Monday, August 30th, 2021 all Payment Requests will only be available through Self-Service.
Travel Pre-Approval Forms are now also online and available on the Accounting & Audit department page on the UE portal. Travel must be pre-approved using the online approval form and then any reimbursement may be submitted using the normal Payment Request process in Self-Service. The approved travel request should be attached with receipts to the voucher request. There is also an Excel travel expense calculator template available on the Accounting departmental page to summarize and calculate total receipts and mileage. This summary can be submitted with the payment request.
HEERF Grant Distribution Authorization Now Open for All Students
HEERF III Emergency Grant funding is now available.
New students are required to authorize distribution of HEERF grant funds.
Previous recipients who wish to alter prior authorization must resubmit distribution authorization.
All educationally related expenses are eligible for HEERF III funding and may be applied to current and/or future student account balances. Please be aware that funding is limited. Grant recipients requesting a refund must have bank information on file as refunds will be issued electronically via direct deposit.
Submit/Review: HEERF Grant Authorization
The deadline to submit or change authorization for September disbursement is September 10, 2021.
Center for Career Development Seeks Student Workers
The Center for Career Development office assistant provides quality customer service to students, university personnel, alumni, and employers by enthusiastically greeting, assisting, or courteously referring all individuals who visit or call the Center for Career Development. OA duties: 1) Schedule appointments for the CCD. 2) Learn and utilize Handshake. 3) Provide support for CCD activities and events. 4) Deliver courteous and accurate information to all visitors. 5) Other duties as assigned. The CCD's mission is to provide students and alumni with resources and opportunities related to the world of work.
Skills Needed: Friendly, courteous, and approachable, organized with knowledge of business and communication software, detail oriented quick learner, experience with phone customer service preferred, willing to take direction and demonstrated abilities in teamwork. Office Assistants are expected to conduct themselves as responsible employees, citizens, and representatives of UE. OAs report directly to the Senior Administrative Assistant for the Center for Career Development.
Students with any major may apply.
Apply by visiting WebAdvisor and downloading the application. Email completed application and availability to aw505@evansville.edu.
Meal Plan Changes
Students can adjust meal plans for the Fall semester until Friday, September 3, 2021 at 5:00 p.m.
Changes will be reflected the next business day.
Alumni Office Seeks Student Workers
Job Description: The Office of Alumni and Parent Relations is hiring 3 student workers. These positions are for 8 hours per week with a maximum of 125 over the semester. Students must be eligible for Federal Work Study. Student workers are a part of the Development and Alumni Relations team, freely sharing new ideas, holding themselves accountable for their work, and preparing themselves for a real-world work experience. The department of University Advancement has dedicated itself to aiding the student to reach this goal. Student duties include typing, filing, copying, organizing, preparing mailings, maintaining the alumni database with regards to email addresses, telephone number, and event attendance. Student-workers may be asked to write class notes for the UE Magazine, answer phones, and prepare name tags, labels, table tents, and supplies for events. Student-workers may also attend and work at alumni events.
Skills Needed: Attention to detail, good manners, a good understanding of English, typing, Excel and Word experience, dependability, desire for more than a basic work experience.
Required Major: Any major may apply
Apply by visiting WebAdvisor and downloading the application. Email completed application and availability to mm825@evansville.edu.
Advancement Services Seeks Student Workers
The Office of Advancement Services (located in the Igleheart Building) is needing two students to assist with typing, filing , copying, word processing, mailings, and database maintenance, as well as answering office phones, running errands, and performing other general office duties as assigned. These positions are for 8 hours per week with a maximum of 125 hours per semester. Work study hours are available around class schedules, Monday through Friday, 8am-5pm. Students must be eligible for Federal Work Study.
Skills Needed: Student must have basic computer skills, especially Microsoft Excel.
Students of any major may apply
Apply by sending completed application and availability to as867@evansville.edu. Applications can be downloaded by visiting WebAdvisor.
Special Bookstore Hours
Special Bookstore hours for the next few weeks:
Monday, August 16th-Friday, August 20th: 9a-4p
Saturday, August 21st: 8a-4:30p (Welcome Freshmen event)
Sunday, August 22nd: 9a-1p
Monday, August 23rd-Thursday, August 26th: 9a-6p
Friday, August 27th: 9a-5p
Saturday, August 28th: 10a-2p
The Bookstore will then return to its regular operating hours beginning the week of August 30th:
Monday-Thursday: 9a-5p
Friday: 9a-4p
Saturday: 10a-2p
Sunday: CLOSED
Original Oil Painting on Display in President Pietruszkiewicz's Office Aug. 19-Sept. 3
"Looking over the Quad on an Autumn Morning (Note to Ginny)", an original oil painting, has been added to the permanent presidential collection of the University of Evansville! This collection is comprised of three original paintings by local artist Katie Waters that honor previous UE Presidents Jennings and Kazee, as well as President and Siobhan Pietruszkiewicz. The presidential collection was commissioned by Mrs. Virginia "Ginny" Schroeder, an Honorary Trustee and treasured friend of the University of Evansville.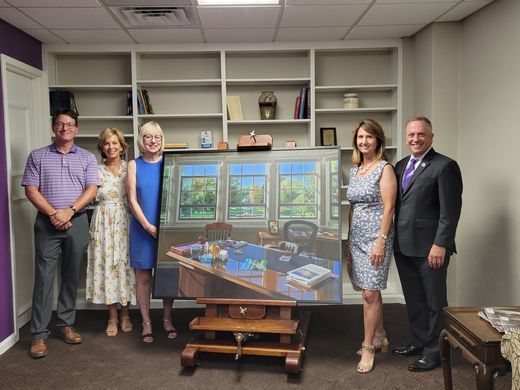 Pictured, from left to right: Todd Matteson, Chair of the Department of Art; Melissa Mattingly, daughter of Virginia "Ginny" Schroeder; Katie Waters, artist; Siobhan Pietruszkiewicz; and President Pietruszkiewicz.
"Looking over the Quad on an Autumn Morning (Note to Ginny)" will be on display in the Office of the President from August 19 through September 3, during regular business hours. The UE community is welcome to stop by and view the remarkable work of Katie Waters. Don't forget to check out the additional two paintings in the collection, located outside the Office of the President.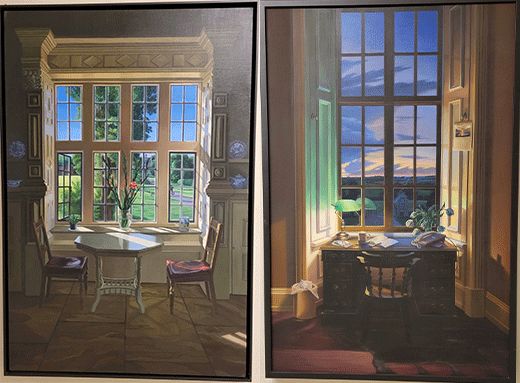 Faculty Members Presented Purple Tams at Academic Convocation
Each year, the University of Evansville holds a Purple Tam Ceremony, which is a significant moment during Academic Convocation. Purple tams are awarded to members of the faculty who have achieved the rank of full professor, which indicates their service to UE. The awarding of a purple tam is symbolic of UE's gratitude to these professors and their contributions to this institution. The purple velvet tams, which are seen at every official academic event, provide a visible sign of achievement.
Purple Tams were presented at Academic Convocation on Tuesday, August 24.
Dan Byrne | Department of History and Society
Daniel Byrne, PhD, earned his bachelor's degree in history from the University of Notre Dame and his doctorate from Georgetown University. His dissertation and subsequent research focused on the United States foreign policy surrounding the Algerian War of Independence and the decolonization of French Africa. Before joining the faculty at the University of Evansville in 2005, he taught at Georgetown, the United States Naval Academy, Francis Marion University,
the University of Notre Dame, and Bradley University. Since arriving at UE, Byrne has taught courses on the history of United States foreign policy, the American Civil War and Reconstruction, America between the Wars, Cold War America, the Decolonization of Africa, the rise of Modern China and Japan, and first year seminars on American Social Welfare policy. In addition to his teaching, Byrne has been actively engaged in university governance as a member of the Faculty Senate including participation on the Executive Council, service on the Athletics Committee, Academic Services Committee, and the Fiscal Affairs Committee.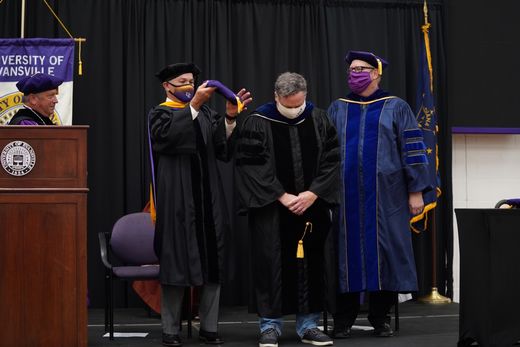 ---
Mark Cirino | Department of English and Creative Writing (not pictured)
Mark Cirino earned his PhD at the Graduate Center-CUNY and a bachelor's degree from New York University. He serves as the General Editor for Kent State University Press's Reading Hemingway series, for which he wrote the volume on "Across the River and into the Trees" and co-edited – with UE alumna Susan Vandagriff '15 – the volume on "Winner Take Nothing". In all, he has written or edited seven books on American literature, with an eighth to be published by Godine Press in 2022. He is also the author of two novels, Name the Baby and Arizona Blues. His fiction has been published in Drunken Boat, and his scholarly work has been published in The Hemingway Review, The Mailer Review, Papers on Language and Literature, Voices in Italian Americana, and PMLA. He hosts the popular podcast, One True Podcast. He teaches American literature at UE.
---
Suresh Immanuel | School of Engineering and Computer Science
Suresh Immanuel, PhD, earned his bachelor's and masters degrees from Anna University in India, his PhD in civil engineering from Auburn University in 2007, and he is a 2020 UE graduate with a master's degree.
Immanuel is the associate dean of the School of Engineering and Computer Science and professor of civil engineering. He served as chair of the Department of Mechanical and Civil Engineering before assuming his current role. He is a registered professional engineer and the recipient of the 2018 Dean's Teaching Award. He received the Outstanding Reviewer award in 2012, 2014, and 2017 from the American Society of Civil Engineers Journal of Transportation Engineering. One of his papers received the 2020 Thomas C. Evans Engineering Education Paper Award, which is given to the most outstanding paper pertaining to engineering education. Immanuel has served as the committee member in the national level ASCE Committee on Student Members, Members Communities Committee, and is currently chairing the global members task committee. He was involved in many university level committees such as Academic Services Committee, General Education Subcommittee, Curriculum Committee, and served as the University ombudsperson. He is a civil engineering program evaluator for the Accreditation Board for Engineering and Technology, Inc.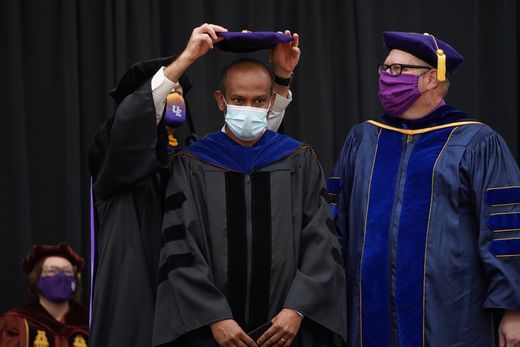 ---
Lesley Pleasant | Department of Foreign Languages and Cultures (not pictured)
Lesley Pleasant, PhD, earned her bachelor's degree in German studies from Dartmouth College and a master's and doctorate in German literature from the University of Virginia. She teaches all levels of German language, literature, and culture, as well as international film, First Year Seminar, and the senior capstone course for language majors. Her research interests include 19th through 21st century German theatre/drama, the divided Germany, film, the image of the US in German literature and film, as well as animal studies and environmental humanities.
---
Peter Schmidt | School of Engineering and Computer Science (not pictured)
Peter Schmidt earned his bachelor's degree in mechanical engineering from the University of Louisville in 1986. He earned his master's degree in mechanical engineering from the Rose-Hulman Institute of Technology in 1991. From Vanderbilt University, he earned both his doctorate and a Future Faculty Preparatory Program Teaching Certificate in 2006. He is a practicing engineer with over 30 years of experience in total and is professionally registered. He started full-time in academia over 10 years ago after working in government, manufacturing, and consulting. He continues to work on projects in conjunction with industry and other external stakeholders via consulting and through supervision of student work. Schmidt has supervised nearly 30 capstone design projects and has been funded on more than 10 external research projects. His teaching experience has been concentrated in engineering mechanics and in project-based design courses, where he brings expertise as a practitioner to the student experience.
---
Kenneth Steinsultz | Music Conservatory
Kenneth Steinsultz, DMA, holds a bachelor's degree in music education from Quincy University. He earned a master's and doctorate of musical arts from the University of Illinois at Urbana-Champaign. An active performer, Steinsultz was a guest artist for the Tuba and Euphonium Association's Midwest Conference in 2013 and 2015. He also performed at the 2014 International Tuba and Euphonium Conference. He has served as principal euphonium in the Evansville Symphonic Band. He has been a featured soloist with the Evansville Symphonic Band, the Bend in the River Brass Band (Evansville), the Concert Band of Central Illinois, and the Quincy (Illinois) Park Band. In 2005, Steinsultz was guest clinician for the Association of Concert Bands national conference and performed as a guest artist on the finale concert. He is currently the trombonist with the Shepard Brass.
Steinsultz has been a member of the Board of Directors for the Evansville Symphonic Band, serving as secretary. He has presented clinics at state conferences in Illinois and Indiana. He is a member of the College Band Directors National Association, National Band Association, Indiana Bandmasters Association, International Tuba and Euphonium Association, International Trombone Association, and Phi Mu Alpha Sinfonia (honorary membership). He has been a member of the Quincy Park Band, Quincy Symphony Orchestra, and Mississippi River Brass Band. He has performed with the Champaign-Urbana Symphony, Danville (Illinois) Symphony, Illinois Symphony of Springfield/Bloomington, and the Evansville Philharmonic Orchestra.
As a conductor, Dr. Steinsultz is a frequent guest conductor of district and regional honor bands. His university ensembles have performed at regional festivals and state organizational conferences, most recently the College Band Directors National Association 2016 North Central Division Conference at Iowa State University (Ames, Iowa). At UE, he conducts the Wind Ensemble, University/Community Band, Aces Brass Pep Band, and teaches courses in applied low brass and conducting. Steinsultz also serves as music director and conductor for The Spirit of Evansville Sweet Adelines Chorus.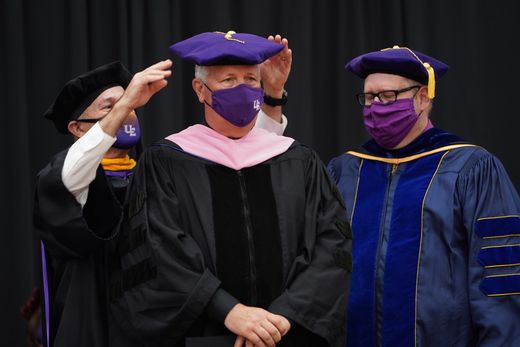 ---
Tamara Wandel | Department of Communication
Tamara Wandel, PhD, earned a bachelor's degree in journalism and English from Indiana University (1992), her master's in communication (1997) and doctorate (2002) degrees from the University of Albany. Prior to joining UE, Wandel was a director of public relations in the State University of New York system and a journalist in New York. She has conducted media research and data analytic projects with the Boston Red Sox, Denver Broncos, Utah Jazz, and other professional sports teams. In her time at UE, she has been the recipient of the MarCom Creative Award, Dean's Excellence in Teaching Award, and is a two-time Society for New Communications Research Fellow. She has received grants from the Constitutional Rights Foundation and the Free Speech Center. Wandel has published over 20 journal articles, including works in the Handbook of Research on Children's Consumption of Digital Media, Driving Customer Appeal Through the Use of Emotional Branding, Journal of New Communications Research, Planning for Higher Education, and the Journal of the Society for College & University Planning. Most recently through a collaboration with WNIN and UE's ChangeLab program, Wandel taught an investigative journalism class that helped create a podcast series having received a regional Edward R. Murrow award and a first place statewide award from Indiana's chapter of the Society of Professional Journalists.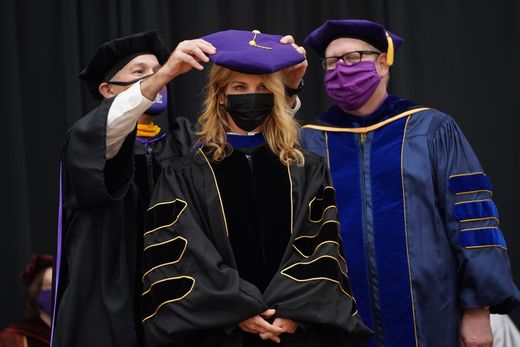 UE Faculty and Students win Edward R. Murrow Award
The Mathematics Department would like to congratulate Drs. Darrin Weber and Tamara Wandel for their work with WNIN, which won an Edward R. Murrow Award last week.
Dr. Weber led a ChangeLab course with students Maya Frederick, Timmy Miller, Ethan Morlock, and Pearl Muensterman which worked to provide data analysis, visualizations, and a constantly updating interactive tool to assist the reporting in the "COVID Between the Coasts" series.
Dr. Wandel also led a ChangeLab course with students Sammy McNeill, Maddie Jesop, Emily Ormson, Nicole Tucker, Ben Godden, Avery Pereboom, and Caleb Reinhardt. Her students conducted COVID-19 research for the region, provided a range of support for the journalists at WNIN, and produced their own podcast episodes that are included in the series.
View more information about the project.
UE Student and Alums Publish Oxford University Press Blog
UE student, Malia Metules, alongside UE alums Keaton Carr and Kirsten Spears, have recently published an Oxford University Press Blog. The blog is titled "Stop Acting Like a Child: Police Denial of Black Childhood" and can be read online.
Congratulations, Malia, Keaton, and Kirsten!
UE Students Publish Feature Article for American Psychological Association
UE students Alec McAlister and Kate Wilhite published the feature article in the American Psychological Association's Division 37 Section on Child Maltreatment: "Unpacking the Racial Underpinnings of Child Immigrant Mistreatment: The Deaths of Felipe and Jakelin". Both Alec and Kate were research students of former psychology professor Dr. Margaret Stevenson.
You can read the full article online through the link above. Congratulations, Alec and Kate!
Ormson's Goal Send Aces past Morehead State
Continuing its strong start to the season, the University of Evansville women's soccer team earned a 1-0 victory on the road at Morehead State on Thursday evening in Morehead, Ky.
Senior Emily Ormson tallied her second goal of the season and moved into sole possession of the lead for active career leads in goals with eight in her four seasons at UE. Between the posts, fifth-year senior Michaela Till made her first start of the season, recording her 13th career shutout, putting her alone in fourth in Evansville history.
It did not take long for Evansville to go in front in the match as the first shot of the game came in the 12th minute. A well placed through ball by senior Emily Wolak found a sprinting Ormson, who chipped the keeper and found the back of the net to open the scoring. Morehead State countered with six shots over the next 30 minutes, while Evansville recorded just one, but the Aces defense was strong in keeping the Eagles off the board.
Evansville unleashed an offensive in the opening portion of the second half, recording four shots before the 59th minute, including a shot from junior Monique Landrum that forced a save from Morehead State. As has been true over the past two seasons, the Aces defense remained consistent, turning away Morehead State's shots down the stretch. In all, Till tallied five saves on the night as Evansville secured a 1-0 road win.
The Aces close-out a two-game road swing on Sunday with a 1 PM contest against Middle Tennessee in Murfreesboro, Tenn.
Late Goal Hands Aces Loss to Bellarmine
In its regular season opener, the University of Evansville men's soccer team scored first, but allowed two late goals in a 2-1 loss to Bellarmine on Thursday evening at Arad McCutchan Stadium in Evansville.
"It's a good lesson to learn early in the season. We went up a goal and we lost our composure a bit and gave a goal on a set piece and were chasing the game. We had some opportunities," said Aces head men's soccer coach Marshall Ray. "Credit to Bellarmine, who put us under some pressure and unfortunately tonight we didn't respond. We've got to regroup and get ready for our next match against a very good Louisville side."
Sophomore midfielder Pablo Guillen scored his fifth career goal and the first of the fall on a penalty kick, recording two shots and putting both on goal. Evansville was led by junior Jakub Hall and his three shots on the night as the West Lafayette, Ind. found the frame with one of them. In goal for the Aces, senior Matt Bryant made two saves, allowing two goals on the evening.
The first half was dotted by opportunities from both teams, but the Aces maintained possession for most of the opening 45 minutes. Evansville tallied its first shot of the regular season just six minutes in on a shot by Hall that was blocked by a sliding Knight.
Evansville tallied two more shots before 15 minutes had passed, including a shot from Guillen that forced a save from Knights keeper Connor Range. After Hall put another shot on frame in the 27th minute, the two sides combined for just one shot on an attempt from Bellarmine's Nate Girao that sailed high as the match remained scoreless at the half.
The activity picked-up and quickly in the second half, beginning with a shot from senior FIlip Johansson that had to be tipped over the cross bar by the Knights. On the ensuing corner, Evansville got its breakthrough. A foul was committed in the box, earning the Aces a penalty. Guillen was tasked with stepping up to the spot and calmly finished to the right side to put the Aces in front, 1-0.
Just five minutes later, Bellarmine found their equalizer coming off a free kick just to the side of the 18-yard box. A low driving ball was whipped into the box, deflecting off the legs of an Ace and past keeper Matt Bryant to tie the match.
In the 61st minute, Evansville appeared to have another chance to go in front after being awarded a penalty. A corner sent in by Guillen in the box was initially called a penalty in UE's favor, but was reversed after a discussion.
With the match appearing to be headed for overtime, Bellarmine pounced on a chance inside the final 10 minutes of regulation. The Knights sent a ball to the far side of the box, which was controlled by Bellarmine's Micah Linscott, who fired towards the left side of goal, finding the back of the net.
Evansville attempted again and again, sending in long ball after long ball to the top of the box late in the match, but the Aces were unable to find their equalizer in the 2-1 loss to the Knights.
The Aces next hit the road and head for a showdown with Louisville in the Derby City on Monday at 5 PM.
Volleyball Opens Season on Friday in Fort Wayne
With a unique spring season in the books, the University of Evansville volleyball team is set for a more conventional season as the Purple Aces embark on the 2021 fall campaign this weekend.
UE travels to Fort Wayne, Ind. to take part on the Purdue Fort Wayne Invitational. SIU Edwardsville will mark the opener on Friday morning before UE faces Kent State that afternoon and the host Mastodons on Saturday morning. Head coach Fernando Morales is not with the UE squad this weekend as he is coaching the Puerto Rico National Team as they compete for a spot in the 2022 Volleyball World Championship.
Preseason Team
- Alondra Vazquez is regarded as one of the top offensive players in the Missouri Valley Conference and was named to the league's preseason team in August
- A member of the All-MVC First Team in the spring, Vazquez paced the league with 4.43 kills per set, finishing 16th in the nation
- With an average of 14.13 attacks per set, Vazquez was the national leader while her total of 1,060 attempts was 6th
- Vazquez earned MVC Player of the Week recognition on March 15 after recording 5.57 kills and 4.43 digs in a weekend sweep over Southern Illinois
Record-Breaker
- Finishing the spring with an average of 3.89 kills/set, Melanie Feliciano ranked fourth in the MVC
- A season-high of 25 kills at Missouri State highlighted a strong finish to the season that saw her average 4.47 kills in the final 12 outings
- She recorded 10 or more kills in 19 out of 20 matches and notched 15+ in seven of the last 12 matches
- Defensively, Feliciano chipped in 3.19 digs per set with her season mark of 20 coming at Loyola
Gaining Valuable Experience
- Despite a unique set of circumstances in the spring, UE saw its freshmen gain valuable experience as the team was able to play its entire MVC schedule along with two non-conference contests
- Brook Springer tied the Purple Aces program record with 11 block assists in the 3-2 win over Loyola on February 15 and her final total tied the UE program record, which was set by Meaghan Holmes against UT Martin in 2013
- Springer finished up her inaugural campaign at UE with 1.05 blocks per set, finishing 6th in the MVC
- Starting at Loyola on February 14, Rachel Basinski became Evansville's primary libero and the move paid immediate dividends - through the first six matches of her freshman season, Basinski finished with 0.95 digs per set, but over the 14 matches of the spring, she registered an average of 4.83
- In the opener against the Salukis, Elise Moeller set her career mark with nine kills before adding seven in the finale...in what was the top series of her freshman campaign, Moeller averaged 2.29 kills while hitting .471
- Moeller finished the spring with 0.95 kills per set - fourth on the squad
Fall 2021 Freshmen
#7 Taya Haffner - Freshman - S - Fort Wayne, Ind.
- Played at Carroll High School in Fort Wayne...named to the IHSVCA Players to Watch List in 2020...garnered IHSVCA Academic All-State accolades...member of the 2019 ICGSA Volleyball Class 4A All-State Team...named to Ultra Ankle JVA Watch List in 2017 and 2018.
#12 Giulia Cardona - Freshman - RS - Rosario, Argentina
- Native of Rosario, Santa Fe, Argentina...played at Instituto Politécnico Superior "General San Martin".
#15 Madisyn Steele - Freshman - MB - New Paris, Ind.
- Played at Fairfield HS in New Paris, Ind....earned a spot on the 2020 IHSVCA Players to Watch List...named to the 2020 IHSVCA 2A All-State Team and the IHSVCA 2A All-District squad...recognized for her academic efforts win an IHSVCA Academic All-State honor in 2020.
Blakeley Freeman - Freshman - DS/L - Bloomington, Ind.
- Earned an IHSVCA Academic All-State honor in 2020...3-time captain at Bloomington North HS and was a starter since freshman season...First Team All-Conference player...named a "Player to be Watched" as a junior by JVA and Under Armour.
Evansville Women's Basketball Practice Players Wanted
UE Women's Basketball is looking for male practice players to assist our team during practices by playing offense and defense, helping coaches with drills, and challenging our players to get better every day. Those with good basketball knowledge and ability, strong work ethic, and general enjoyment for the game of basketball are encouraged to reach out to Max Ethridge (me185@evansville.com) to express interest!
Men's Basketball Student Managers Needed
The Men's Basketball team is looking for student managers for the upcoming season. This is a paid position though the university work-study program. Managers are involved in every facet of the program: practices, games, and other activities. If you are interested, please contact Ryan Combs at (812)-488-2297 or rc172@evansville.edu for more information.
Contribute to AceNotes
To have content considered for inclusion in AceNotes, please submit a Marketing Request Form. Deadline for submission to AceNotes is 10:00 a.m. on the requested date of publication. Only articles concerning UE related/sponsored activities will be accepted. Articles submitted to AceNotes may be edited for length and clarity. Submitter contact information is at the end of each article.