| | |
| --- | --- |
| AceNotes Today | Thursday, August 26, 2021 |
Student Parking Permit Distribution Hours
Student Parking Permit Distribution Hours are as follows:
Parking Permit Distribution Center
Ridgway University Center
Saturday, August 21, 8:30am - 4:00pm (New Students ONLY)
Monday, August 23, 10:00am - 4:00pm
Tuesday, August 24, 10:00am - 4:00pm
Wednesday, August 25 10:00am – 4:00pm
Thursday, August 26, 10:00am – 4:00pm
Beginning August 30, Parking Permits will be distributed at the Cashier's window in Student Financial Services (Olmsted Hall). Remember: You must present your UE I.D. to obtain your permit (after you have registered your vehicle through self-service).
Please note: The Campus Parking Map has been updated. Please ensure you are familiar with the color coded parking lot system prior to parking on campus. Parking rules and regulations will be enforced beginning on August 25th.
Tonight! Venturing Crew 365 Open House
Open house tonight at 7:00 p.m. in Eykamp 251
Opportunity for students to find out more about the Venturing Crew and the kind of high adventure activities the crew offers.
Some of our high adventures include but are not limited to: White water rafting in the Smokie Mountains, high ropes, climbing and repelling, canoeing, backpacking, horse back riding, and so much more. Also we LOVE to eat and we eat well while on these trips.
At this open house we will be discussing our fall semester activities such spending a day Canoeing at Blue Grass FWL, going to St Louis to explore the City museum and canoeing the Current River and Jacks Fork.
Later in the fall we're be going to a corn maze and climbing at Vertical Excape.
Please come to our open house tonight at 7:00 p.m. in Eykamp 251, and let us show you how we like to add excitement to our college experience!
For more information contact hd94 or fw2
Purple Friday Ice Cream Event
Take a Happy Purple Friday break and cool off with Ice Cream with PrezP (and his purple shoes!) this Friday, Aug. 27, outside Ridgway University Center from noon-1:30 pm. Sponsored by: Powerful Moments & Student Christian Fellowship.
Orr Fellowship Recruitment & Campus Visit
Students of all majors are invited to connect with recruiters for the Orr Fellowship, a two year, full-time job opportunity in Indianapolis. More details and the application instructions for graduating seniors are available at orrfellowship.org.
The Orr Fellowship will be on campus Tuesday, August 31. 3 ways to connect with current fellows:
• Information table in the Schroeder School of Business Building atrium from 10:00 a.m.-noon
• Information session in Room 170 in the Schroeder School of Business Building at 12:25 (Registration is required for the information session: Info Session Registration)
• Information table outside Ridgway from 1:45 p.m – 3 p.m.
For questions about these recruitment activities, please contact Megan Taylor at mt263@evansville.edu.
Employees – United Way Day of Caring
We still have spots left! United Way of Southwestern Indiana's Day of Caring is happening on Friday, September 24. This is the largest service day in the area where volunteers give their time and energy to help non-profit organizations in the local community of Vanderburgh, Spencer, and Warrick counties.
United Way of Southwestern Indiana's Day of Caring is happening on Friday, September 24! This is the largest service day in the area where volunteers give their time and energy to help non-profit organizations in the local community of Vanderburgh, Spencer, and Warrick counties.
This year, UE will be partnering once again with the Buffalo Trace Council of the Boy Scouts of America located at the Eykamp Scout Center just down the road off the Lloyd Expressway (behind the State Hospital).
Projects this year include general landscaping, pressure washing, new tree care, organizing program storage, painting posts, and more! Participating employees will not need to use a vacation day but are required to obtain approval from respective supervisors.
You are also invited to attend the Volunteer Breakfast at the Old National Events Plaza in Evansville, on Friday, September 24 at 7:00 AM.
Sign up by completing this survey by September 17. Contact Alex Amick, Administrative Assistant and Events Coordinator in the Office of the President at ext. 2151 or aa308@evansville.edu with any questions.
Thank You For Your Support and See you Soon!
OZZI Machine is Here
For all Meal Plan users, come get your free OZZI token from the Dining Services office located next to Chick Fil A in Ridgeway. We can also teach you how to use the green OZZI to go container program. We are looking forward to seeing you!
Vouchers Are Moving to Self-Service
The Office of Accounting & Audit is happy to announce a new procedure for Vouchers/Request a Payment. The Request a Payment in WebAdvisor has been replaced with creating a Payment Request in Self-Service. Invoices and supporting documents can now be attached in Self-service eliminating the need to email Accounts Payable after a Request for Payment is submitted.
The instructions to Create a Payment Request and Approve a Payment Request in Self-Service are located on the Accounting & Auditing department page on the UE Portal. Request a Payment will be available in Self-Service and WebAdvisor until Sunday, August 29th. Effective Monday, August 30th, 2021 all Payment Requests will only be available through Self-Service.
Travel Pre-Approval Forms are now also online and available on the Accounting & Audit department page on the UE portal. Travel must be pre-approved using the online approval form and then any reimbursement may be submitted using the normal Payment Request process in Self-Service. The approved travel request should be attached with receipts to the voucher request. There is also an Excel travel expense calculator template available on the Accounting departmental page to summarize and calculate total receipts and mileage. This summary can be submitted with the payment request.
Center for Career Development Seeks Student Workers
The Center for Career Development office assistant provides quality customer service to students, university personnel, alumni, and employers by enthusiastically greeting, assisting, or courteously referring all individuals who visit or call the Center for Career Development. OA duties: 1) Schedule appointments for the CCD. 2) Learn and utilize Handshake. 3) Provide support for CCD activities and events. 4) Deliver courteous and accurate information to all visitors. 5) Other duties as assigned. The CCD's mission is to provide students and alumni with resources and opportunities related to the world of work.
Skills Needed: Friendly, courteous, and approachable, organized with knowledge of business and communication software, detail oriented quick learner, experience with phone customer service preferred, willing to take direction and demonstrated abilities in teamwork. Office Assistants are expected to conduct themselves as responsible employees, citizens, and representatives of UE. OAs report directly to the Senior Administrative Assistant for the Center for Career Development.
Students with any major may apply.
Apply by visiting WebAdvisor and downloading the application. Email completed application and availability to aw505@evansville.edu.
Meal Plan Changes
Students can adjust meal plans for the Fall semester until Friday, September 3, 2021 at 5:00 p.m.
Changes will be reflected the next business day.
Alumni Office Seeks Student Workers
Job Description: The Office of Alumni and Parent Relations is hiring 3 student workers. These positions are for 8 hours per week with a maximum of 125 over the semester. Students must be eligible for Federal Work Study. Student workers are a part of the Development and Alumni Relations team, freely sharing new ideas, holding themselves accountable for their work, and preparing themselves for a real-world work experience. The department of University Advancement has dedicated itself to aiding the student to reach this goal. Student duties include typing, filing, copying, organizing, preparing mailings, maintaining the alumni database with regards to email addresses, telephone number, and event attendance. Student-workers may be asked to write class notes for the UE Magazine, answer phones, and prepare name tags, labels, table tents, and supplies for events. Student-workers may also attend and work at alumni events.
Skills Needed: Attention to detail, good manners, a good understanding of English, typing, Excel and Word experience, dependability, desire for more than a basic work experience.
Required Major: Any major may apply
Apply by visiting WebAdvisor and downloading the application. Email completed application and availability to mm825@evansville.edu.
Advancement Services Seeks Student Workers
The Office of Advancement Services (located in the Igleheart Building) is needing two students to assist with typing, filing , copying, word processing, mailings, and database maintenance, as well as answering office phones, running errands, and performing other general office duties as assigned. These positions are for 8 hours per week with a maximum of 125 hours per semester. Work study hours are available around class schedules, Monday through Friday, 8am-5pm. Students must be eligible for Federal Work Study.
Skills Needed: Student must have basic computer skills, especially Microsoft Excel.
Students of any major may apply
Apply by sending completed application and availability to as867@evansville.edu. Applications can be downloaded by visiting WebAdvisor.
Special Bookstore Hours
Special Bookstore hours for the next few weeks:
Monday, August 16th-Friday, August 20th: 9a-4p
Saturday, August 21st: 8a-4:30p (Welcome Freshmen event)
Sunday, August 22nd: 9a-1p
Monday, August 23rd-Thursday, August 26th: 9a-6p
Friday, August 27th: 9a-5p
Saturday, August 28th: 10a-2p
The Bookstore will then return to its regular operating hours beginning the week of August 30th:
Monday-Thursday: 9a-5p
Friday: 9a-4p
Saturday: 10a-2p
Sunday: CLOSED
Original Oil Painting on Display in President Pietruszkiewicz's Office Aug. 19-Sept. 3
"Looking over the Quad on an Autumn Morning (Note to Ginny)", an original oil painting, has been added to the permanent presidential collection of the University of Evansville! This collection is comprised of three original paintings by local artist Katie Waters that honor previous UE Presidents Jennings and Kazee, as well as President and Siobhan Pietruszkiewicz. The presidential collection was commissioned by Mrs. Virginia "Ginny" Schroeder, an Honorary Trustee and treasured friend of the University of Evansville.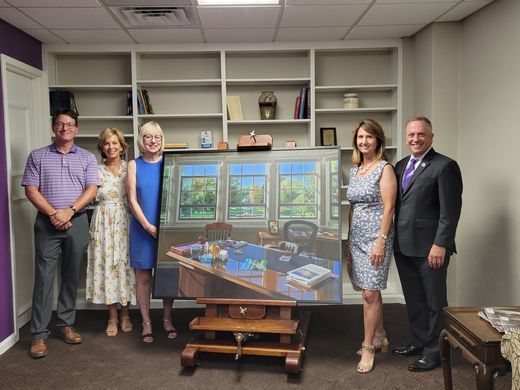 Pictured, from left to right: Todd Matteson, Chair of the Department of Art; Melissa Mattingly, daughter of Virginia "Ginny" Schroeder; Katie Waters, artist; Siobhan Pietruszkiewicz; and President Pietruszkiewicz.
"Looking over the Quad on an Autumn Morning (Note to Ginny)" will be on display in the Office of the President from August 19 through September 3, during regular business hours. The UE community is welcome to stop by and view the remarkable work of Katie Waters. Don't forget to check out the additional two paintings in the collection, located outside the Office of the President.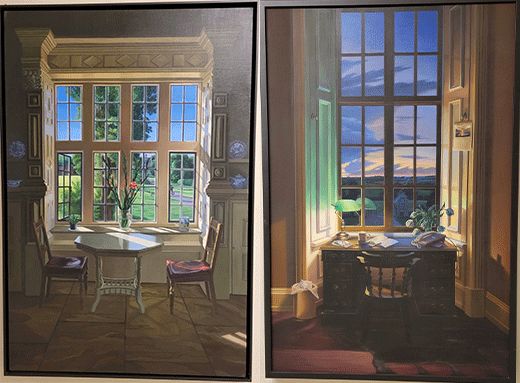 UE Faculty and Students win Edward R. Murrow Award
The Mathematics Department would like to congratulate Drs. Darrin Weber and Tamara Wandel for their work with WNIN, which won an Edward R. Murrow Award last week.
Dr. Weber led a ChangeLab course with students Maya Frederick, Timmy Miller, Ethan Morlock, and Pearl Muensterman which worked to provide data analysis, visualizations, and a constantly updating interactive tool to assist the reporting in the "COVID Between the Coasts" series.
Dr. Wandel also led a ChangeLab course with students Sammy McNeill, Maddie Jesop, Emily Ormson, Nicole Tucker, Ben Godden, Avery Pereboom, and Caleb Reinhardt. Her students conducted COVID-19 research for the region, provided a range of support for the journalists at WNIN, and produced their own podcast episodes that are included in the series.
View more information about the project.
UE Student and Alums Publish Oxford University Press Blog
UE student, Malia Metules, alongside UE alums Keaton Carr and Kirsten Spears, have recently published an Oxford University Press Blog. The blog is titled "Stop Acting Like a Child: Police Denial of Black Childhood" and can be read online.
Congratulations, Malia, Keaton, and Kirsten!
UE Students Publish Feature Article for American Psychological Association
UE students Alec McAlister and Kate Wilhite published the feature article in the American Psychological Association's Division 37 Section on Child Maltreatment: "Unpacking the Racial Underpinnings of Child Immigrant Mistreatment: The Deaths of Felipe and Jakelin". Both Alec and Kate were research students of former psychology professor Dr. Margaret Stevenson.
You can read the full article online through the link above. Congratulations, Alec and Kate!
Regular Season Begins for Aces against Bellarmine
Following a 4-0 win over Hanover in its preseason finale, the University of Evansville men's soccer team begins the regular season against Bellarmine at 6 PM on Thursday at Arad McCutchan Stadium in Evansville.
Last Match: Evansville 4, Hanover 0 (Exhibition)
In its final tune-up before regular season play, the University of Evansville men's soccer team captured a convincing 4-0 victory against Hanover on Sunday evening at Arad McCutchan Stadium in Evansville.
In front of a packed house, the Aces attack was active early and often for Evansville and was especially relentless in the opening 10 minutes. UE jumped on the board first in the sixth minute as sophomore Pablo Guillen made his way weaving through the right side before slipping a ball into the box to senior Jakub Hall, who finished past the keeper. Just over a minute later, Evansville added a second as junior Nkosi Graham sprinted through the Panthers backline and calmly finished to the right side for a 2-0 Aces lead.
In the 39th minute, Hanover looked poised to cut the Aces lead in half as the Panthers got ball in the box, past UE keeper Matt Bryant, but the shot was saved by junior Ethan Garvey. Garvey then eyed up the field sending a ball long to Davis Peck, who beat his defender and scored one-on-one with the keeper to give UE a 3-0 advantage at the half.
Evansville's offense did not let up in the second half as the Aces recorded 18 shots in the final 45 minutes. In the 78th minute, Evansville broke through again. After sophomore Alec McAlister gathered the ball at his feet, McAlister wound up and fired a shot on goal that was saved by the Panthers, but was unable to be corraled. Senior Karl Mbouombouo reacted and sent another shot, this time past the keeper, providing the Aces with what would be the final margin at 4-0.
In all, the Aces sent 30 players onto the pitch in the exhibition, including three keepers who combined for the clean sheet.
Previewing the Matchup
Evansville and Bellarmine are meeting for just the fifth time in series history with both sides winning twice in the prior four contests.
The Aces and Knights series dates back to the early days of the Evansville program, competing four- straight seasons from 1974-1977.
Like the Aces, Bellarmine also opens its regular season on Thursday after a pair of exhibitions. The Knights captured a 1-0 win over Northern Kentucky in their preseason opener before falling by the re- verse scoreline, 0-1, at Dayton on Friday night.
Season Opening Matches
In season openers, UE is 2-4 under head coach Marshall Ray securing wins over Anderson (9-0) and Eastern Illinois (3-1) in 2017 and 2019, respectively.
Over the last decade, Evansville is 4-5-1 in season openers. The Aces have excelled as of late though when opening the season at home, winning three-straight with the last loss in a season opener at home coming in a 1-0 defeat at the hands of SIUE on Sept. 1, 2009.
UEFC College Academy
Registration for the UEFC College Academy is now open here!
For $25, current UE students can join the Aces supporters club
All College Academy members receive $20 Turoni's Bucks, a scarf, and a shirt
Students who sign up before Thursday's match will be entered to win a pair of Apple Airpods Pro!
Evansville Looking to Continue Momentum at Morehead State
Following a convincing win over Belmont on Sunday, the University of Evansville women's soccer team travels to face Morehead State at 5 PM on Thursday evening in Morehead, Ky.
Last Match: Evansville 3, Belmont 0
In the Aces regular season home opener, the University of Evansville women's soccer team used its consistently stout defense combined with a second-half offensive explosion to grab a 3-0 victory over Belmont.
Senior Emilie Hill led the way offensively for Evansville, scoring twice on set pieces with pin-point accurate headers, helping lead the Aces to their first win in the young campaign. Junior Monique Landrum added a goal for the Aces, getting the offensive rhythm going in the early portion of the second half.
Between the posts, junior Georgia Katsonouri earned her first win and shutout of the season, playing the full 90 minutes and making a pair of saves.
The first half resembled many Aces games over the last two season with UE playing tremendous defense and preventing the Bruins from creating much linking or opportunities. Evansville tallied four shots in the first 45 minutes with the best opportunity coming just past the quarter-hour mark as senior Emily Ormson forced a save from Belmont.
In the second half, action got off to a much quicker start as Belmont recorded the first shot of the half in the opening minutes that missed right of the goal. Less than three minutes into the half, it was Evansville who found the back of the net first after a corner kick was earned. Senior Nicole Benati looped the corner into the box and Landrum deflected it near post, sneaking it by the keeper to put the Aces in front.
Just three minutes later, UE found its second of the match in a similar fashion. On another corner, this time taken by Alex Eyler, Hill put herself in position and nodded the ball down bouncing it at an acute angle, making it difficult for Belmont to save and propelling the Aces in front 2-0.
In the 74th minute, it was again Benati who created the chance off a corner. Benati whipped the ball in from the near side and Hill rocketed to the ball, finishing it high in the net as the Aces lead grew to three. Evansville was forced to stave off one late chance from the Bruins in the 84th minute, but Katsonouri tidily saved the Belmont shot as the Aces secured the 3-0 win.
Previewing the Matchup
Sunday's matchup marks just the sixth all-time meeting between the Aces and Eagles with Morehead State owning a 4-1 advantage in the all-time series.
The last time the two sides met came on Sept. 10, 2017 when Evansville broke a four-game losing streak to the Eagles with a 2-1 win at Arad McCutchan Stadium.
Morehead State enters Thursday's match with a 1-1 record, opening the season with a 2-0 win at home over North Alabama, before falling in a road matchup with Purdue Fort Wayne, 3-1.
Scoring six goals last season, Morehead State returns the scorers of all but one of those goals, including team leader Colleen Swift, who scored a pair of goals.
Benati and Hill's Terrific Week
Evansville's 3-0 win on Sunday was highlighted by success on corner kicks and terrific performances by Nicole Benati and Emilie Hill.
Benati delivered a pair of assists on two of the Aces goals, while Hill headed home two goals in the win.
Aces vs. OVC
Thursday's road contest at Morehead State represents the second of five matches for the Aces against opponents from the Ohio Valley Conference.
Already 1-0 against the OVC this season, Evansville has seen success against current members of the conference under head coach Chris Pfau.
In five combined seasons as head coach, Pfau has an 11-2-1 record against current members of the OVC.
Men's Basketball Student Managers Needed
The Men's Basketball team is looking for student managers for the upcoming season. This is a paid position though the university work-study program. Managers are involved in every facet of the program: practices, games, and other activities. If you are interested, please contact Ryan Combs at (812)-488-2297 or rc172@evansville.edu for more information.
Contribute to AceNotes
To have content considered for inclusion in AceNotes, please submit a Marketing Request Form. Deadline for submission to AceNotes is 10:00 a.m. on the requested date of publication. Only articles concerning UE related/sponsored activities will be accepted. Articles submitted to AceNotes may be edited for length and clarity. Submitter contact information is at the end of each article.