| | |
| --- | --- |
| AceNotes Today | Tuesday, August 24, 2021 |
Student Parking Permit Distribution Hours
Student Parking Permit Distribution Hours are as follows:
Parking Permit Distribution Center
Ridgway University Center
Saturday, August 21, 8:30am - 4:00pm (New Students ONLY)
Monday, August 23, 10:00am - 4:00pm
Tuesday, August 24, 10:00am - 4:00pm
Wednesday, August 25 10:00am – 4:00pm
Thursday, August 26, 10:00am – 4:00pm
Beginning August 30, Parking Permits will be distributed at the Cashier's window in Student Financial Services (Olmsted Hall). Remember: You must present your UE I.D. to obtain your permit (after you have registered your vehicle through self-service).
Please note: The Campus Parking Map has been updated. Please ensure you are familiar with the color coded parking lot system prior to parking on campus. Parking rules and regulations will be enforced beginning on August 25th.
Only 2 Spots Left! Sign up for Purple Patrol, Employees!
The first Purple Friday of the Fall 2021 semester is coming up in this Friday, August 27! After a long break, we are excited to bring back our weekly Purple Patrol on campus and pass out goodies to those showing their school spirit. To do this, we need your help as a Purple Patroller. There are only a few spots left for the end of the semester!
If you would like to volunteer you and your team or a few coworkers for a Purple Friday, please sign up here. Please be sure to include the names of all employees who will be helping. The more, the merrier! Note: We will not have Purple Patrol the week of Fall Break (November 12) or Thanksgiving (November 26).
When it's your week to help, you will receive an email in advance with basic instructions. Purple goodies will be waiting for you on Friday morning in the Office of Marketing and Publications (top floor of the Schroeder Family School of Business Administration Building). There is no specific time or place to hand out these items; the only requirement is that the recipients are wearing purple!
If you have any questions about the sign-up or Purple Patrol, please contact Julie Bryant, university relations coordinator, at jb855@evansville.edu.
Employees – United Way Day of Caring
We still have spots left! United Way of Southwestern Indiana's Day of Caring is happening on Friday, September 24. This is the largest service day in the area where volunteers give their time and energy to help non-profit organizations in the local community of Vanderburgh, Spencer, and Warrick counties.
United Way of Southwestern Indiana's Day of Caring is happening on Friday, September 24! This is the largest service day in the area where volunteers give their time and energy to help non-profit organizations in the local community of Vanderburgh, Spencer, and Warrick counties.
This year, UE will be partnering once again with the Buffalo Trace Council of the Boy Scouts of America located at the Eykamp Scout Center just down the road off the Lloyd Expressway (behind the State Hospital).
Projects this year include general landscaping, pressure washing, new tree care, organizing program storage, painting posts, and more! Participating employees will not need to use a vacation day but are required to obtain approval from respective supervisors.
You are also invited to attend the Volunteer Breakfast at the Old National Events Plaza in Evansville, on Friday, September 24 at 7:00 AM.
Sign up by completing this survey by September 17. Contact Alex Amick, Administrative Assistant and Events Coordinator in the Office of the President at ext. 2151 or aa308@evansville.edu with any questions.
Thank You For Your Support and See you Soon!
Introducing the Department of Psychology and Behavioral Sciences
We are pleased to announce the formation of the Department of Psychology and Behavioral Sciences. Created from the merger of the Department of Psychology and Neuroscience, and the Sociology, Criminal Justice, and Cognitive Science programs, this new department unites the talents of an outstanding variety of our behavioral, social, and cognitive science faculty.
With such a collection of colleagues, you might be unsure who to contact for which program. No problem! For questions or information on:
Cognitive Science: Dr. Derek Jones, Director of Cognitive Science (dj4@evansville.edu; HH 217B)
Criminal Justice, Legal Studies (minor), and Pre-Law advising: Dr. Kevin Gray, Director of Criminal Justice (kg70@evansville.edu; SB 57)
Neuroscience: Dr. Vinn Campese, Director of Neuroscience (vc44@evansville.edu; HH 217D)
Psychology: Dr. Beth Hennon, Chair of the Department of Psychology and Behavioral Sciences and Director of Psychology (eh82@evansville.edu; HH 217H)
Sociology, Anthropology, Gerontology, Social and Human Services (minor), and Pre-Social Work advising: Dr. Mari Plikuhn, Director of Sociology Programs (mp168@evansville.edu; SB 55)
Additionally, the department includes the following colleagues:
Dr. Lora Becker, Professor of Psychology and Neuroscience (lb47@evansville.edu; HH 217E)
Dr. S. Mark Kopta, Professor of Psychology and Licensed Clinical Psychologist (mk35@evansville.edu; HH 217G)
Prof. Evan McCracken, Visiting Assistant Professor of Psychology (em157@evansville.edu; HH217F)
Mrs. Brenda Miller, Administrative Assistant for the Departments of Psychology and Behavioral Sciences and Communication (bm24@evansville.edu; HH 217)
Meal Plan Changes
Students can adjust meal plans for the Fall semester until Friday, September 3, 2021 at 5:00 p.m.
Changes will be reflected the next business day.
UE Wind Ensemble Auditions
The UE Wind Ensemble audition will consist of prepared excerpts, 2 major scales (one in a flat key, one in a sharp key), chromatic scale (practical range of instrument), and sight reading.
Audition Schedule
Tuesday, August 24, 2021 2:00 - 4:00pm
Wednesday, August 25, 2021 7:00 - 9:00pm
Thursday, August 26, 2021 3:00 - 5:30pm
Auditions are held in Krannert Hall of Fine Arts, Room 103. Please sign up for an audition on the UE Bands bulletin board, across from FA 103.
For further information, please contact Dr. Kenneth Steinsultz (ks306@evansville.edu)
Retired UE Professor Authors Book, "Growing Good"
Bill Hemminger, retired professor for the Department of English, has recently authored a book titled Growing Good: A Beginner's Guide to Cultivating Caring Communities.

According to Hemminger, "The book focuses on "good works" that take place in the Midwest (mostly in Indiana, many in Evansville). I have also contributed a chapter and a series of poems about the UE Garden, its creation and maintenance. Within the book, you will also find a chapter about native plants, with information provided by Dr. Cris Hochwender and a biology graduate."
Below is a synopsis of the book (found on the back cover), which is now available for pre-order. The book will officially be available for purchase beginning September 14 and can be found online through Amazon, Target, and more.
Anger and hopelessness can overwhelm communities like weeds. So what can everyday people do to actually grow some good in their own hometown?

Growing Good: A Beginner's Guide to Cultivating Caring Communities shows how ordinary people have transformed themselves into volunteers and activists. Centered mostly in the Midwest, this collection of essays brings together the stories of normal people who have rolled up their sleeves to make their community a better place by serving nonprofits such as Gleaner Food Bank in Indianapolis, Indiana; Migration and Refugee Services in Louisville, Kentucky; and Patchwork Central in Evansville, Indiana, along with national organizations like CASA. For instance, a teacher and his student started a native plant garden to help local insects thrive in a disused corner of their school property. A woman saw a billboard and was moved to become a voice for children in need. A professional photographer offered his services to people experiencing homelessness in order to help others witness their humanity. Editor Bill Hemminger also writes of his own extensive experience with community gardening to feed hungry neighbors.
Filled with simple actions, clear steps, and useful lists, including how to care for and nurture your own inner peace and creativity, Growing Good will help readers of all ages plant seeds of hope and cultivate communities where everyone thrives.

Bill Hemminger is author of African Son, a collection of reflections on his life and work in Africa. He taught for 25 years in the departments of English and Foreign Languages at the University of Evansville and was Chair of the Department of English.
Join a Choir at UE - Openings for Students, Faculty, and Staff
If you sang in choir in high school, church choir, or a previous college choir, or you just want to develop your singing voice in a friendly and supportive atmosphere, then UE's choral program has a place for you!
Choir placement auditions will be held from Tuesday, August 24 through Thursday August 26 in the Krannert Fine Arts building, room 104B. Email Dr. Dennis Malfatti at dm155@evansville.edu to sign up for an audition.
Auditions only take about ten minutes and you do not need to prepare any music in advance. Learn more about UE choirs at https://www.evansville.edu/majors/music/ensChoirs.cfm
Come Sing with Us!
Alumni Office Seeks Student Workers
Job Description: The Office of Alumni and Parent Relations is hiring 3 student workers. These positions are for 8 hours per week with a maximum of 125 over the semester. Students must be eligible for Federal Work Study. Student workers are a part of the Development and Alumni Relations team, freely sharing new ideas, holding themselves accountable for their work, and preparing themselves for a real-world work experience. The department of University Advancement has dedicated itself to aiding the student to reach this goal. Student duties include typing, filing, copying, organizing, preparing mailings, maintaining the alumni database with regards to email addresses, telephone number, and event attendance. Student-workers may be asked to write class notes for the UE Magazine, answer phones, and prepare name tags, labels, table tents, and supplies for events. Student-workers may also attend and work at alumni events.
Skills Needed: Attention to detail, good manners, a good understanding of English, typing, Excel and Word experience, dependability, desire for more than a basic work experience.
Required Major: Any major may apply
Apply by visiting WebAdvisor and downloading the application. Email completed application and availability to mm825@evansville.edu.
Advancement Services Seeks Student Workers
The Office of Advancement Services (located in the Igleheart Building) is needing two students to assist with typing, filing , copying, word processing, mailings, and database maintenance, as well as answering office phones, running errands, and performing other general office duties as assigned. These positions are for 8 hours per week with a maximum of 125 hours per semester. Work study hours are available around class schedules, Monday through Friday, 8am-5pm. Students must be eligible for Federal Work Study.
Skills Needed: Student must have basic computer skills, especially Microsoft Excel.
Students of any major may apply
Apply by sending completed application and availability to as867@evansville.edu. Applications can be downloaded by visiting WebAdvisor.
Venturing Crew 365 Open House: Find out how to add some adventure to your college experience
Opportunity for students to find out more about the Venturing Crew and the kind of high adventure activities the crew offers.
Some of our high adventures include but are not limited to: White water rafting in the Smokie Mountains, high ropes, climbing and repelling, canoeing, backpacking, horse back riding, and so much more. Also we LOVE to eat and we eat well while on these trips.
At this open house we will be discussing our fall semester activities such spending a day Canoeing at Blue Grass FWL, going to St Louis to explore the City museum and canoeing the Current River and Jack Fork.
Later in the fall we're be going to a corn maze and climbing at Vertical Excape.
Please come to our open house, on Thursday, August 26,at 7:00 p.m. in Eykamp 251, and let us show you how we like to add excitement to our college experience!
For more information contact hd94 or fw2
Special Bookstore Hours
Special Bookstore hours for the next few weeks:
Monday, August 16th-Friday, August 20th: 9a-4p
Saturday, August 21st: 8a-4:30p (Welcome Freshmen event)
Sunday, August 22nd: 9a-1p
Monday, August 23rd-Thursday, August 26th: 9a-6p
Friday, August 27th: 9a-5p
Saturday, August 28th: 10a-2p
The Bookstore will then return to its regular operating hours beginning the week of August 30th:
Monday-Thursday: 9a-5p
Friday: 9a-4p
Saturday: 10a-2p
Sunday: CLOSED
Original Oil Painting on Display in President Pietruszkiewicz's Office Aug. 19-Sept. 3
"Looking over the Quad on an Autumn Morning (Note to Ginny)", an original oil painting, has been added to the permanent presidential collection of the University of Evansville! This collection is comprised of three original paintings by local artist Katie Waters that honor previous UE Presidents Jennings and Kazee, as well as President and Siobhan Pietruszkiewicz. The presidential collection was commissioned by Mrs. Virginia "Ginny" Schroeder, an Honorary Trustee and treasured friend of the University of Evansville.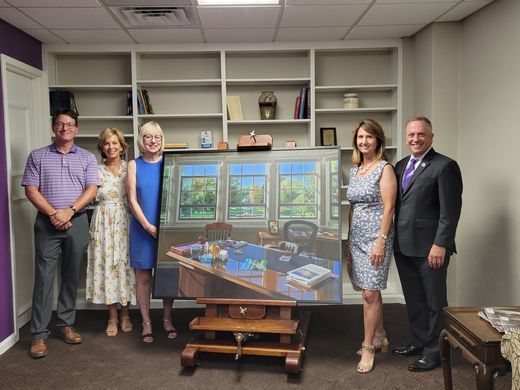 Pictured, from left to right: Todd Matteson, Chair of the Department of Art; Melissa Mattingly, daughter of Virginia "Ginny" Schroeder; Katie Waters, artist; Siobhan Pietruszkiewicz; and President Pietruszkiewicz.
"Looking over the Quad on an Autumn Morning (Note to Ginny)" will be on display in the Office of the President from August 19 through September 3, during regular business hours. The UE community is welcome to stop by and view the remarkable work of Katie Waters. Don't forget to check out the additional two paintings in the collection, located outside the Office of the President.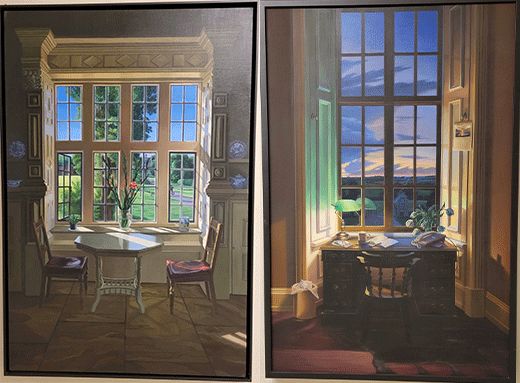 Engineering Professor Presents Technical Paper at an International Conference
David J. Unger, Professor of Mechanical and Civil Engineering, gave a televised talk during the 2nd International Workshop on Plasticity, Damage and Fracture of Engineering Materials, on August 19, 2021, in Ankara, Turkey. The title of his presentation was, "Yield Criteria Representable by Elliptic Curves and Weierstrass Form." An eight page manuscript of this title was also submitted to the journal, Structural Integrity Procedia, an open access publication, which will publish the proceedings of this conference.
David Green publishes essay
David Green of the History department and Harlaxton College has an essay in a collection recently published to honour the memory of Mark Ormrod. Prof. Ormrod, who sadly died last year, began his career at Harlaxton. One of England's most significant medieval historians, Ormrod's work on the political and social history of 14th century England transformed our understanding of the period. The collection is titled People, Power and Identity in the Late Middle Ages: Essays in Memory of W. Mark Ormrod (Routledge, 2021), and Green's contribution considers the reputation of Joan of Kent, wife of the Black Prince and mother of Richard II.
Contribute to AceNotes
To have content considered for inclusion in AceNotes, please submit a Marketing Request Form. Deadline for submission to AceNotes is 10:00 a.m. on the requested date of publication. Only articles concerning UE related/sponsored activities will be accepted. Articles submitted to AceNotes may be edited for length and clarity. Submitter contact information is at the end of each article.