| | |
| --- | --- |
| AceNotes Today | Monday, August 23, 2021 |
Student Parking Permit Distribution Hours
Student Parking Permit Distribution Hours are as follows:
Parking Permit Distribution Center
Ridgway University Center
Saturday, August 21, 8:30am - 4:00pm (New Students ONLY)
Monday, August 23, 10:00am - 4:00pm
Tuesday, August 24, 10:00am - 4:00pm
Wednesday, August 25 10:00am – 4:00pm
Thursday, August 26, 10:00am – 4:00pm
Beginning August 30, Parking Permits will be distributed at the Cashier's window in Student Financial Services (Olmsted Hall). Remember: You must present your UE I.D. to obtain your permit (after you have registered your vehicle through self-service).
Please note: The Campus Parking Map has been updated. Please ensure you are familiar with the color coded parking lot system prior to parking on campus. Parking rules and regulations will be enforced beginning on August 25th.
Employees – United Way Day of Caring
We still have spots left! United Way of Southwestern Indiana's Day of Caring is happening on Friday, September 24. This is the largest service day in the area where volunteers give their time and energy to help non-profit organizations in the local community of Vanderburgh, Spencer, and Warrick counties.
United Way of Southwestern Indiana's Day of Caring is happening on Friday, September 24! This is the largest service day in the area where volunteers give their time and energy to help non-profit organizations in the local community of Vanderburgh, Spencer, and Warrick counties.
This year, UE will be partnering once again with the Buffalo Trace Council of the Boy Scouts of America located at the Eykamp Scout Center just down the road off the Lloyd Expressway (behind the State Hospital).
Projects this year include general landscaping, pressure washing, new tree care, organizing program storage, painting posts, and more! Participating employees will not need to use a vacation day but are required to obtain approval from respective supervisors.
You are also invited to attend the Volunteer Breakfast at the Old National Events Plaza in Evansville, on Friday, September 24 at 7:00 AM.
Sign up by completing this survey by September 17. Contact Alex Amick, Administrative Assistant and Events Coordinator in the Office of the President at ext. 2151 or aa308@evansville.edu with any questions.
Thank You For Your Support and See you Soon!
Academic Convocation - August 24, 2021
The University of Evansville will hold its annual Academic Convocation on Tuesday, August 24. This special ceremony celebrates the entering class of 2021 and marks the beginning of the new academic year.

Academic Convocation will begin at 8:50 a.m. in the Meeks Family Fieldhouse. A prologue will be delivered at 8:30 a.m. by Rev. Andy Payton, university chaplain, also in Meeks Family Fieldhouse. The ceremony will include a welcome and opening message from President Pietruszkiewicz, alumni welcome, and convocation address. Purple Tams will also be presented to faculty members who have recently earned the rank of Professor during Convocation.

Following University policy, masks will be required for all individuals, regardless of vaccination status. The entering class of students is expected to attend.

Due to health and safety guidelines, this year's Convocation is unfortunately by invitation only and cannot be extended to all members of the campus community. If you would like to attend virtually, please feel free to live stream the ceremony at evansville.edu/live.
Introducing the Department of Psychology and Behavioral Sciences
We are pleased to announce the formation of the Department of Psychology and Behavioral Sciences. Created from the merger of the Department of Psychology and Neuroscience, and the Sociology, Criminal Justice, and Cognitive Science programs, this new department unites the talents of an outstanding variety of our behavioral, social, and cognitive science faculty.
With such a collection of colleagues, you might be unsure who to contact for which program. No problem! For questions or information on:
Cognitive Science: Dr. Derek Jones, Director of Cognitive Science (dj4@evansville.edu; HH 217B)
Criminal Justice, Legal Studies (minor), and Pre-Law advising: Dr. Kevin Gray, Director of Criminal Justice (kg70@evansville.edu; SB 57)
Neuroscience: Dr. Vinn Campese, Director of Neuroscience (vc44@evansville.edu; HH 217D)
Psychology: Dr. Beth Hennon, Chair of the Department of Psychology and Behavioral Sciences and Director of Psychology (eh82@evansville.edu; HH 217H)
Sociology, Anthropology, Gerontology, Social and Human Services (minor), and Pre-Social Work advising: Dr. Mari Plikuhn, Director of Sociology Programs (mp168@evansville.edu; SB 55)
Additionally, the department includes the following colleagues:
Dr. Lora Becker, Professor of Psychology and Neuroscience (lb47@evansville.edu; HH 217E)
Dr. S. Mark Kopta, Professor of Psychology and Licensed Clinical Psychologist (mk35@evansville.edu; HH 217G)
Prof. Evan McCracken, Visiting Assistant Professor of Psychology (em157@evansville.edu; HH217F)
Mrs. Brenda Miller, Administrative Assistant for the Departments of Psychology and Behavioral Sciences and Communication (bm24@evansville.edu; HH 217)
Meal Plan Changes
Students can adjust meal plans for the Fall semester until Friday, September 3, 2021 at 5:00 p.m.
Changes will be reflected the next business day.
UE Wind Ensemble Auditions
The UE Wind Ensemble audition will consist of prepared excerpts, 2 major scales (one in a flat key, one in a sharp key), chromatic scale (practical range of instrument), and sight reading.
Audition Schedule
Tuesday, August 24, 2021 2:00 - 4:00pm
Wednesday, August 25, 2021 7:00 - 9:00pm
Thursday, August 26, 2021 3:00 - 5:30pm
Auditions are held in Krannert Hall of Fine Arts, Room 103. Please sign up for an audition on the UE Bands bulletin board, across from FA 103.
For further information, please contact Dr. Kenneth Steinsultz (ks306@evansville.edu)
Retired UE Professor Authors Book, "Growing Good"
Bill Hemminger, retired professor for the Department of English, has recently authored a book titled Growing Good: A Beginner's Guide to Cultivating Caring Communities.

According to Hemminger, "The book focuses on "good works" that take place in the Midwest (mostly in Indiana, many in Evansville). I have also contributed a chapter and a series of poems about the UE Garden, its creation and maintenance. Within the book, you will also find a chapter about native plants, with information provided by Dr. Cris Hochwender and a biology graduate."
Below is a synopsis of the book (found on the back cover), which is now available for pre-order. The book will officially be available for purchase beginning September 14 and can be found online through Amazon, Target, and more.
Anger and hopelessness can overwhelm communities like weeds. So what can everyday people do to actually grow some good in their own hometown?

Growing Good: A Beginner's Guide to Cultivating Caring Communities shows how ordinary people have transformed themselves into volunteers and activists. Centered mostly in the Midwest, this collection of essays brings together the stories of normal people who have rolled up their sleeves to make their community a better place by serving nonprofits such as Gleaner Food Bank in Indianapolis, Indiana; Migration and Refugee Services in Louisville, Kentucky; and Patchwork Central in Evansville, Indiana, along with national organizations like CASA. For instance, a teacher and his student started a native plant garden to help local insects thrive in a disused corner of their school property. A woman saw a billboard and was moved to become a voice for children in need. A professional photographer offered his services to people experiencing homelessness in order to help others witness their humanity. Editor Bill Hemminger also writes of his own extensive experience with community gardening to feed hungry neighbors.
Filled with simple actions, clear steps, and useful lists, including how to care for and nurture your own inner peace and creativity, Growing Good will help readers of all ages plant seeds of hope and cultivate communities where everyone thrives.

Bill Hemminger is author of African Son, a collection of reflections on his life and work in Africa. He taught for 25 years in the departments of English and Foreign Languages at the University of Evansville and was Chair of the Department of English.
Join a Choir at UE - Openings for Students, Faculty, and Staff
If you sang in choir in high school, church choir, or a previous college choir, or you just want to develop your singing voice in a friendly and supportive atmosphere, then UE's choral program has a place for you!
Choir placement auditions will be held from Tuesday, August 24 through Thursday August 26 in the Krannert Fine Arts building, room 104B. Email Dr. Dennis Malfatti at dm155@evansville.edu to sign up for an audition.
Auditions only take about ten minutes and you do not need to prepare any music in advance. Learn more about UE choirs at https://www.evansville.edu/majors/music/ensChoirs.cfm
Come Sing with Us!
Alumni Office Seeks Student Workers
Job Description: The Office of Alumni and Parent Relations is hiring 3 student workers. These positions are for 8 hours per week with a maximum of 125 over the semester. Students must be eligible for Federal Work Study. Student workers are a part of the Development and Alumni Relations team, freely sharing new ideas, holding themselves accountable for their work, and preparing themselves for a real-world work experience. The department of University Advancement has dedicated itself to aiding the student to reach this goal. Student duties include typing, filing, copying, organizing, preparing mailings, maintaining the alumni database with regards to email addresses, telephone number, and event attendance. Student-workers may be asked to write class notes for the UE Magazine, answer phones, and prepare name tags, labels, table tents, and supplies for events. Student-workers may also attend and work at alumni events.
Skills Needed: Attention to detail, good manners, a good understanding of English, typing, Excel and Word experience, dependability, desire for more than a basic work experience.
Required Major: Any major may apply
Apply by visiting WebAdvisor and downloading the application. Email completed application and availability to mm825@evansville.edu.
Advancement Services Seeks Student Workers
The Office of Advancement Services (located in the Igleheart Building) is needing two students to assist with typing, filing , copying, word processing, mailings, and database maintenance, as well as answering office phones, running errands, and performing other general office duties as assigned. These positions are for 8 hours per week with a maximum of 125 hours per semester. Work study hours are available around class schedules, Monday through Friday, 8am-5pm. Students must be eligible for Federal Work Study.
Skills Needed: Student must have basic computer skills, especially Microsoft Excel.
Students of any major may apply
Apply by sending completed application and availability to as867@evansville.edu. Applications can be downloaded by visiting WebAdvisor.
Venturing Crew 365 Open House: Find out how to add some adventure to your college experience
Opportunity for students to find out more about the Venturing Crew and the kind of high adventure activities the crew offers.
Some of our high adventures include but are not limited to: White water rafting in the Smokie Mountains, high ropes, climbing and repelling, canoeing, backpacking, horse back riding, and so much more. Also we LOVE to eat and we eat well while on these trips.
At this open house we will be discussing our fall semester activities such spending a day Canoeing at Blue Grass FWL, going to St Louis to explore the City museum and canoeing the Current River and Jack Fork.
Later in the fall we're be going to a corn maze and climbing at Vertical Excape.
Please come to our open house, on Thursday, August 26,at 7:00 p.m. in Eykamp 251, and let us show you how we like to add excitement to our college experience!
For more information contact hd94 or fw2
Special Bookstore Hours
Special Bookstore hours for the next few weeks:
Monday, August 16th-Friday, August 20th: 9a-4p
Saturday, August 21st: 8a-4:30p (Welcome Freshmen event)
Sunday, August 22nd: 9a-1p
Monday, August 23rd-Thursday, August 26th: 9a-6p
Friday, August 27th: 9a-5p
Saturday, August 28th: 10a-2p
The Bookstore will then return to its regular operating hours beginning the week of August 30th:
Monday-Thursday: 9a-5p
Friday: 9a-4p
Saturday: 10a-2p
Sunday: CLOSED
Original Oil Painting on Display in President Pietruszkiewicz's Office Aug. 19-Sept. 3
"Looking over the Quad on an Autumn Morning (Note to Ginny)", an original oil painting, has been added to the permanent presidential collection of the University of Evansville! This collection is comprised of three original paintings by local artist Katie Waters that honor previous UE Presidents Jennings and Kazee, as well as President and Siobhan Pietruszkiewicz. The presidential collection was commissioned by Mrs. Virginia "Ginny" Schroeder, an Honorary Trustee and treasured friend of the University of Evansville.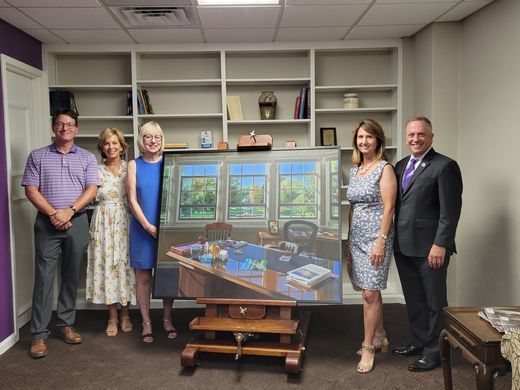 Pictured, from left to right: Todd Matteson, Chair of the Department of Art; Melissa Mattingly, daughter of Virginia "Ginny" Schroeder; Katie Waters, artist; Siobhan Pietruszkiewicz; and President Pietruszkiewicz.
"Looking over the Quad on an Autumn Morning (Note to Ginny)" will be on display in the Office of the President from August 19 through September 3, during regular business hours. The UE community is welcome to stop by and view the remarkable work of Katie Waters. Don't forget to check out the additional two paintings in the collection, located outside the Office of the President.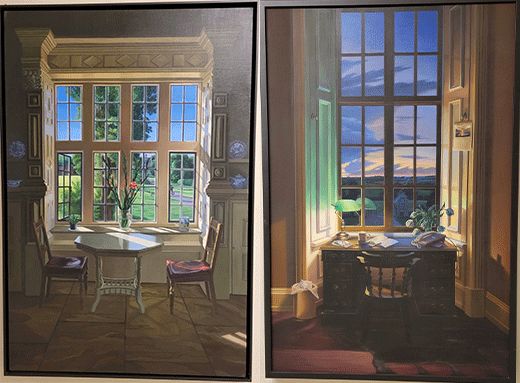 Engineering Professor Presents Technical Paper at an International Conference
David J. Unger, Professor of Mechanical and Civil Engineering, gave a televised talk during the 2nd International Workshop on Plasticity, Damage and Fracture of Engineering Materials, on August 19, 2021, in Ankara, Turkey. The title of his presentation was, "Yield Criteria Representable by Elliptic Curves and Weierstrass Form." An eight page manuscript of this title was also submitted to the journal, Structural Integrity Procedia, an open access publication, which will publish the proceedings of this conference.
University of Evansville Twenty-Five and Fifty-Year Awards
FIFTY-YEAR AWARD
Clark Kimberling – Professor of Mathematics
Congratulations to Dr. Kimberling for receiving a Fifty-Year Award for his dedicated service to UE and our students. During his tenure, he has had the advantage of witnessing countless events and associating with many who are integral to our UE history and family. Read Dr. Kimberling's full account of his 50 years at UE.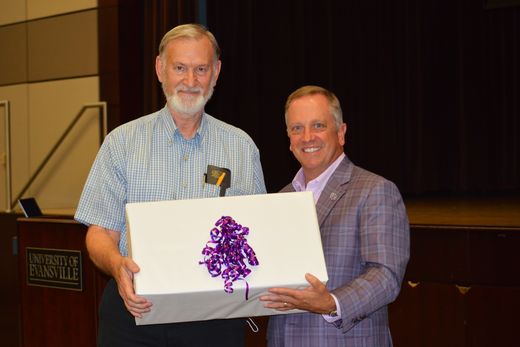 TWENTY-FIVE YEAR AWARDS
Congratulations to those who were recognized at Fall Conference for their twenty-five years of service to UE.
Becky Hamilton – Director, Student Financial Services
Becky Hamilton joined UE in 1996 as the Receivable Clerk in the Office of Student Accounts, and she was promoted to several different positions within that office. In 2019, Becky successfully led the merger of the offices of Student Accounts and Financial Aid to form a consolidated and extremely high performing Student Financial Services department in which she currently serves as the director. She is also the Institutional Data Security Officer for the University.
As the Director of Student Financial Services, Becky has established a strong culture of performance and accountability along with care and concern for the welfare of each team member. She always strives to provide exceptional student service as she works with families to find ways to make the transformative UE education financially attainable. Becky has led her team through unprecedented times during COVID, with refunds, calendar adjustments, multiple rounds of HEERF grants, and much more. This work has demanded so much from Becky and her team, and the university and our students are very grateful for all the sacrifices they have made.
Over the years, Becky has served on numerous campus committees and has played a key role in major technology transitions for our student financial system. She is recognized by many across campus for her experience, insights, candor, and commitment.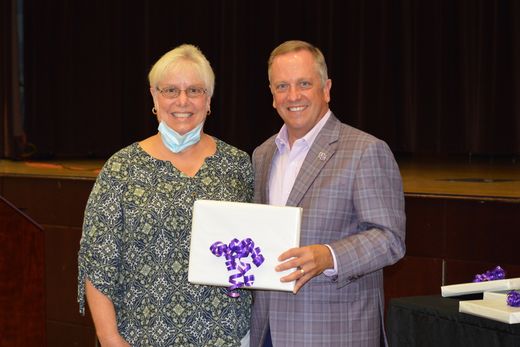 ---
Arlen Kaufman – Professor of Chemistry
Arlen Kaufman earned a BS degree in Chemistry from the University of Kansas and a PhD in Analytical Chemistry from Purdue University. Since arriving at UE, he has demonstrated his commitment to engaging undergraduate students in novel research. His current research students are exploring the use of ambient ionization techniques coupled with tandem mass spectrometry to increase the speed and reliability of analysis of biologically relevant molecules. His student's efforts have been funded through internal and external sources, and their results have been presented at international conferences and published in peer reviewed journals.
Professor Kaufman has taught a variety of courses in Chemistry, Environmental Studies, and General Education. His current teaching responsibilities include Principles of Chemistry, Quantitative Analysis, Instrumental Analysis, and Chemistry Senior Seminar. Throughout his career here he has worked to get students to actively engage in learning by using research-based projects in his courses. Kaufman has received the College of Liberal Arts and Science Dean's Teaching Award and in 2010 was voted "Best College Professor" in Evansville by the readers of Evansville Living Magazine.
Professor Kaufman is currently the G. Richard and Rita Eykamp Endowed Chair in Chemistry and the Director of the Environmental Studies Progam.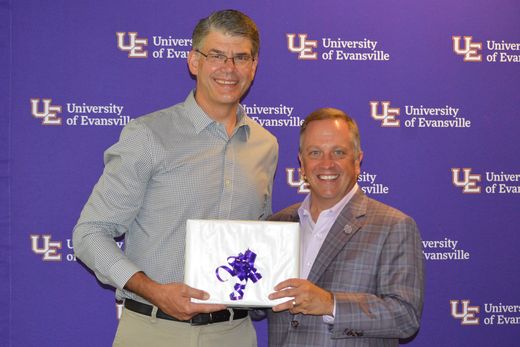 ---
Deborah Riggs – Dispatcher, Office of Public Safety
Deborah Riggs started with the Office of Safety and Security in 1983 during her freshman year as a work study student. She worked for twelve hours a week writing parking tickets. Then, her sophomore year she worked in Dispatch. She graduated from UE in 1987 and spent nine years working in Day Care which was her field of study. When she learned there was a position open at UE, she applied. Deborah was hired by Mr. Harold Matthews, whom she had worked for when she was a student.
When she first started, they didn't have internet access in the office. All their records were kept on word documents, and they still use some of those fiche files for license plates that are not on file today.
Deborah has worked every shift in the front office of what is now the Office of Public Safety. She prefers second shift as she is not a morning person but covers when someone is sick or on vacation. With her years of experience, she does most of the training for the new Dispatchers. Deborah is always willing to do what is needed and says that she is working a job that she loves.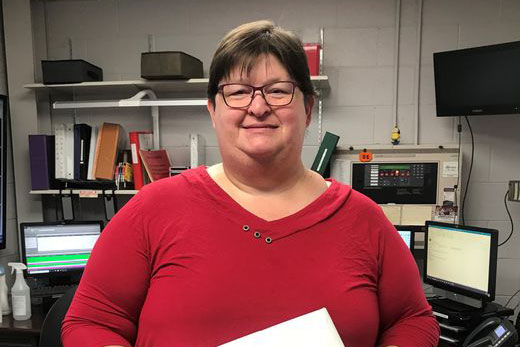 ---
Jeff Tilly – Assistant Professor of Athletic Training
Jeff Tilly began his career at the University of Evansville as an assistant athletic trainer in the fall of 1996. He oversaw the care of the men's and women's soccer programs as well as the men's basketball team from 1996 to 2002. Jeff served as an adjunct instructor in what is now the School of Health Sciences and also instructed Athletic Training classes during that time.
In 2003, Jeff was named the undergraduate athletic training education program director and now oversees the Master of Science in Athletic Training (MSAT) program. His responsibilities include the day-to-day management of the program standards set by the Commission on Accreditation of Athletic Training Education (CAATE) and has guided both programs through five self-studies and site visits over the last eighteen years. Over the last twenty years, both the undergraduate and graduate programs have produced over 150 Athletic Trainers.
Jeff now holds the rank of Assistant Professor of Athletic Training and from 2018 he has served as the department chair of the School of Health Sciences. He holds a Master of Exercise and Sport Science from the University of Florida and Bachelor of Science in Kinesiology from Indiana University.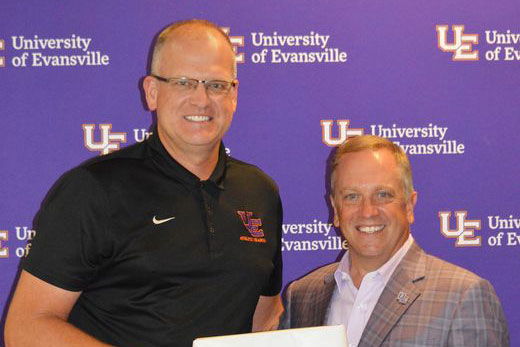 University of Evansville Announces Berger Awards for 2021
Congratulations to the newest recipients of The Sadelle and Sydney Berger Awards for Scholarly Activity and Service which were presented at the Fall Conference. The Service Award went to Drs. Alanna Keenan and Robert Baines. The Scholarship Award was presented to Dr. Noah Gordon.
It was with great pleasure that the University of Evansville Berger Award Committee bestowed the 2021 Berger Service Award to Drs. Alanna Keenan and Robert Baines. During the unprecedented academic year of 2020-2021, Drs. Keenan and Baines served as the voices and faces of the University of Evansville faculty and represented the UE faculty with dignity, respect, and courage. With the initiation of the UE realignment process, various programs, departments, majors, and individual faculty members were faced with the possibility of termination. As a result, many UE employees, including faculty members, felt voiceless. Through their exhaustive work in the UE Faculty Senate and UE AAUP, Drs. Keenan and Baines did their utmost to ensure all individuals were treated fairly and that all UE constituents were able to voice their concerns. Drs. Keenan and Baines exhibited the courage to express the opinions of the UE faculty with the administrative audience. While many other individuals were involved in the Faculty Senate and UE AAUP, Drs. Keenan and Baines were the prominent representatives of the UE Faculty. In the past, it has not been typical to select Berger Award recipients for singular achievements but rather based on an accumulation of accomplishments over a more extended period of time. However, this past year was exceptional, and the service of Drs. Keenan and Baines reflect the values of Sadelle and Sydney Berger as shared by Charlie Berger each year as he presents the awards. Therefore, it was decided to honor Sadelle and Sydney Berger by presenting the award based on actions that more directly reflect their values.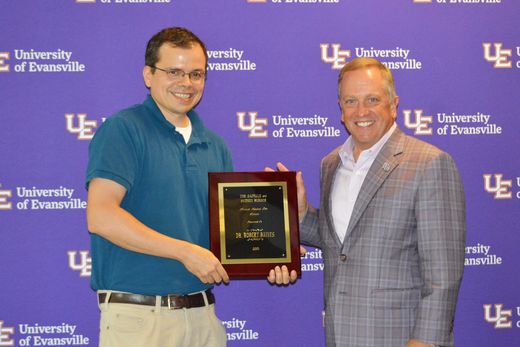 ---
The University of Evansville Berger Award Committee awarded the Berger Award for Scholarship to Dr. Noah Gordon. Dr. Gordon has a strong publication record and has published articles across a range of journals. His work has centered on acoustic calling in treefrogs, but he has expanded his publication research to compliment scholarly work within UE's biology department, working on evolution and parasitism questions with Dr. Dale Edwards and other colleagues on the potential influence of parasites on range expansion in treefrogs.
During his time at UE, Dr. Gordon has integrated students into his research. He has developed a project with students in collaboration with the Gobabeb Research and Training Center in Gobabeb, Namibia to determine environmental cues that trigger male breeding activity in geckos (Ptenopus and Stenodactylylus). This work can help to better understand the roles that communication plays in the evolution of new species. Part of this work was done using a gecko robot designed and built with assistance from Newburgh, Indiana based CIHOLAS Engineering Company. The work in Namibia has allowed multiple students to develop research projects and at least six student presentations have resulted from this work.
Dr. Gordon has developed a research project associated with a course he teaches in Costa Rica. This project provides students with the opportunity to take leadership roles in tropical research. In addition, the tropical experience allows other students to participate in that type of research and engages them in ways that tie into restoration ecology questions. His work in these fields along with his research, publications, presentations, and influential research guidance with students has been exemplary.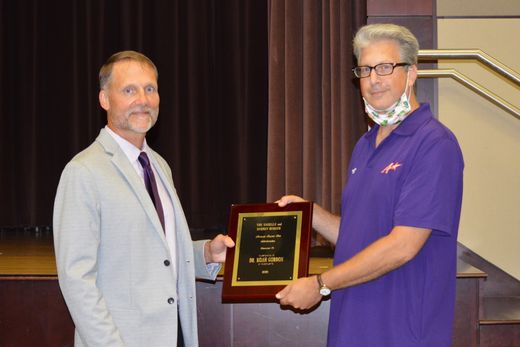 David Green publishes essay
David Green of the History department and Harlaxton College has an essay in a collection recently published to honour the memory of Mark Ormrod. Prof. Ormrod, who sadly died last year, began his career at Harlaxton. One of England's most significant medieval historians, Ormrod's work on the political and social history of 14th century England transformed our understanding of the period. The collection is titled People, Power and Identity in the Late Middle Ages: Essays in Memory of W. Mark Ormrod (Routledge, 2021), and Green's contribution considers the reputation of Joan of Kent, wife of the Black Prince and mother of Richard II.
UE Men Finalize 2021-22 Non-conference Slate
An exciting non-conference schedule awaits the University of Evansville men's basketball team with the season approaching in less than three months.
A balanced lineup features high-profile home opponents, challenging road contests and a trip to Fort Myers, Florida for the Gulf Coast Showcase.
Purple Aces head coach Todd Lickliter is excited about the schedule and the challenges that will help his team heading into Missouri Valley Conference play.
"We are excited about the many opportunities our non-conference schedule presents," he said. "Our goal was to challenge ourselves as we continue to build. We believe this schedule will prepare us to play well in the MVC as well as at Arch Madness."
Preseason action includes a pair of home exhibition contests which begins on Saturday, October 30 against Mount. St. Joseph. Five days later (11/4), the Aces will face Kentucky Wesleyan in their final tune-up before the start of the regular season.
For the first time since 1990, UE will take on the University of Cincinnati. The regular season opener is set for Tuesday, November 9 in Cincinnati. The 2019 American Athletic Conference Champions won 20 games in 2019-20 before going 12-11 a season ago. Evansville has won two of the last three matchups versus the Bearcats while UC took the last game in December of 1990 by a final of 58-48 at Roberts Stadium.
IUPUI will mark the home opener on Nov. 11. This will mark the fifth meeting between the program with the Aces taking the first four contests. The squads last met in 2019 at Indiana Farmers Coliseum with UE earning a 70-64 road win. On Nov. 13, UE will be back on the road for a contest at Belmont. The Bruins are coming off a stellar 26-4 campaign, which ended with a hard-fought loss to Morehead State in the Ohio Valley Conference championship game. In four previous meetings, each team has picked up a pair of wins. In the lone meeting in Nashville, the Aces grabbed a 65-62 win in 2014.
Two home games follow with Evansville welcoming DePauw to the Ford Center on Nov. 16. The Tigers from Greencastle, Ind. won 12 of their 13 games a year ago. The University of Central Florida heads to Evansville for its first-ever contest against the Aces on Saturday, Nov. 20. UCF won 11 games in 2020-21 including triumphs over #15 Florida State and Auburn. The Knights reeled off a 24-9 campaign in 2018-19 and gave Duke all it could handle in the NCAA Tournament before falling by a 77-76 final.
Next up is the Gulf Coast Showcase. The Aces make the trek to Fort Myers for three contests between Nov. 22 and 24. Tournament play opens against Rice. The Owls were 15-13 last year, their first season finishing above .500 since going 23-12 during the 2016-17 campaign. In the lone meeting between the programs, the Owls defeated the Aces by a score of 59-54 in the 1997 San Juan Shootout. Game two in Florida will take place against either Vermont or Oakland. One of the most consistent mid-major programs in the nation, the Catamounts recorded a 10-5 mark in 2021 and won at least 20 games each season between 2007 and 2020. Oakland is coming off of a 12-18 record. UE has not faced either program in its history. The finale in the tournament will pit the Aces against one of the following: Akron, Appalachian State, Delaware or Fordham.
Evansville remains away from home on Sunday, Nov. 28 with a short trip to Charleston, Illinois to face Eastern Illinois. In a Dec. 9 contest last season, UE put a halt to a 22-game winless streak with a 68-65 win over the Panthers. Three of the next four outings will be held at the Ford Center, starting on December 1 with the Missouri Valley Conference opener. The opponent will be announced with the remainder of the league slate.
Next up on Dec. 4 is a matchup versus Tennessee Tech, marking the first of three OVC opponents in a row. The teams split a home-and-home series in 2011 and 2012 with the road team winning each time. Evansville wrapped up the series with a 62-50 decision in Cookeville and holds an 11-3 edge in the all-time series. A trip to Cape Girardeau, Missouri will pit the Aces against Southeast Missouri State on the 8th before UT Martin heads to the Ford Center for a game on Dec. 18.
Non-conference action wraps up on Dec. 21 with a road game at SMU. In the lone meeting between the squads, the Mustangs came out on the winning end of a 59-57 defensive battle at the Ford Center in 2019.
Hill Scores Twice as Aces Earn 3-0 Win over Belmont
In the Aces regular season home opener, the University of Evansville women's soccer team used its consistently stout defense combined with a second-half offensive explosion to grab a 3-0 victory over Belmont on Sunday afternoon in Arad McCutchan Stadium in Evansville.
Senior Emilie Hill led the way offensively for Evansville, scoring twice on set pieces with pin-point accurate headers, helping lead the Aces to their first win in the young campaign. Junior Monique Landrum added a goal for the Aces, getting the offensive rhythm going in the early portion of the second half.
Between the posts, junior Georgia Katsonouri earned her first win and shutout of the season, playing the full 90 minutes and making a pair of saves.
The first half resembled many Aces games over the last two season with UE playing tremendous defense and preventing the Bruins from creating much linking or opportunities. Evansville tallied four shots in the first 45 minutes with the best opportunity coming just past the quarter-hour mark as senior Emily Ormson forced a save from Belmont.
In the second half, action got off to a much quicker start as Belmont recorded the first shot of the half in the opening minutes that missed right of the goal. Less than three minutes into the half, it was Evansville who found the back of the net first after a corner kick was earned. Senior Nicole Benati looped the corner into the box and Landrum deflected it near post, sneaking it by the keeper to put the Aces in front.
Just three minutes later, UE found its second of the match in a similar fashion. On another corner, this time taken by Alex Eyler, Hill put herself in position and nodded the ball down bouncing it at an acute angle, making it difficult for Belmont to save and propelling the Aces in front 2-0.
In the 74th minute, it was again Benati who created the chance off a corner. Benati whipped the ball in from the near side and Hill rocketed to the ball, finishing it high in the net as the Aces lead grew to three. Evansville was forced to stave off one late chance from the Bruins in the 84th minute, but Katsonouri tidily saved the Belmont shot as the Aces secured the 3-0 win.
Evansville returns to action Thursday on the road at Morehead State with a 5 PM kickoff in Morehead, Ky.
Aces Close Preseason with 4-0 Win over Hanover
In its final tune-up before regular season play, the University of Evansville men's soccer team captured a convincing 4-0 victory against Hanover on Sunday evening at Arad McCutchan Stadium in Evansville.
In front of a packed house, the Aces attack was active early and often for Evansville and was especially relentless in the opening 10 minutes. UE jumped on the board first in the sixth minute as sophomore Pablo Guillen made his way weaving through the right side before slipping a ball into the box to senior Jakub Hall, who finished past the keeper. Just over a minute later, Evansville added a second as junior Nkosi Graham sprinted through the Panthers backline and calmly finished to the right side for a 2-0 Aces lead.
In the 39th minute, Hanover looked poised to cut the Aces lead in half as the Panthers got ball in the box, past Matt Keller, but the shot was saved by junior Ethan Garvey. Garvey then eyed up the field sending a ball long to Davis Peck, who beat his defender and scored one-on-one with the keeper to give UE a 3-0 advantage at the half.
Evansville's offense did not let up in the second half as the Aces recorded 18 shots in the final 45 minutes. In the 78th minute, Evansville broke through again. After sophomore Alec McAlister gathered the ball at his feet, McAlister wound up and fired a shot on goal that was saved by the Panthers, but was unable to be corraled. Senior Karl Mbouombouo reacted and sent another shot, this time past the keeper, providing the Aces with what would be the final margin at 4-0.
In all, the Aces sent 30 players onto the pitch in the exhibition, including three keepers who combined for the clean sheet.
Evansville opens the regular season on Thursday at Arad McCutchan Stadium when the Aces play host to Bellarmine for a 6 PM kickoff.
Aces Make Regular Season Home Debut on Sunday versus Belmont
After battling to a draw against Bellarmine on Thursday, the University of Evansville women's soccer team will make its home regular season debut on Sunday at 1 PM at Arad McCutchan Stadium against Belmont.
Evansville vs. Belmont | 1 p.m.
Date | Time Sun. Aug. 22, 1 p.m.
Location Evansville, Ind.
Site Arad McCutchan Stadium
Last Match: Evansville 1, Bellarmine 1 (2OT)
The first half was marked by a defensive stalemate as both sides had limited opportunities on goal due to the quality of their opponents' defense. Bellarmine led the way at the break with four shots, but only put one on frame, while Evansville recorded one shot, taken by junior Kristen Harvey.
Each sides' offense ratcheted up the intensity in the second half. Bellarmine broke the tie in the 53rd minute on a goal set-up off a rebounded shot. A cross into the box found the foot of the Knights' Regan Kommor, who directed it towards goal. Senior goalkeeper Lauren Fischer had to react quickly, making a tremendous kick save that sent the ball right of the goal. Bellarmine's Katie Gawrys happened to find the ball and spin it in from an acute angle to give BU the lead.
The Aces created plenty of chances in the second half, out-shooting the Knights, 9-6. Persistence paid off as Evansville found its equalizer in the 67th minute. Fifth-year senior Emily Olson sent a ball forward that freshman Hailey Autenrieb sprinted to. Autenrieb's cross was blocked, but junior Monique Landrum clipped the ball back to Autenrieb, who wound up another cross into the six-yard box. Reading Autenrieb, Ormson made a run and headed the cross past the keeper to tie the match at one.
Over the final 27 minutes of regulation, Evansville recorded four more shots, including two that forced saves from Ormson and senior Emily Wolak as the match moved to overtime.
The first overtime leaned in Evansville's favor as the Aces recorded the only two shots of the 10-minute period. Bellarmine would outshoot the Aces in the second overtime, 2-1, but Fischer kept the Knights from adding a second in the 1-1 draw.
Ormson led the way for UE with four shots, placing all on goal, and scoring the equalizer in the 67th minute. Between the posts, Fischer made four saves in 110 minutes of action.
Previewing the Matchup
Sunday's matchup marks the 11th meeting all time between the Aces and Bruins, with UE owning a 6-3-1 advantage in the all-time series.
The Bruins won the last meeting between the two, 4-2, on Sept. 8, 2019 in Nashville.
Belmont enters Sunday's contest with a record following a on the road to Middle Tennessee State on Friday evening.
Six of Belmont's eight goal scorers from last season return for the fall, but the Bruins are without Julie Garst, the team's top goal scorer in the spring, who tallied three of Belmont's 11 goals.
Ormson on Offense
In Evansville's 1-1 draw with Bellarmine on Thursday evening, senior Emily Ormson scored in the 67th minute, marking her seventh career goal for the Aces, placing her in a tie with fifth-year senior Jayme-Lee Hunter for most career goals among active Aces.
Digital Ticketing
Fans are welcomed to Tuesday evening's exhibition and will be introduced to the Aces new ticketing system.
Evansville now offers digital, mobile ticketing that allows fans to buy tickets ahead of time.
Single game tickets are $8 for adults and $6 for youth and seniors and can be purchased here.
Fans can also purchase season passes for women's soccer for $40, available here.
UE Athletics 2021 Caravan Set for August 31
With the start of the 2021-22 University of Evansville athletics season under way, the Purple Aces have announced a caravan stop on Tuesday, August 31. The event is sponsored by Working Distributors.
Doc's Sports Bar at 1305 Stringtown Road in Evansville will be the site of the caravan. It is set for a 6:30 p.m. start time and will be attended by UE head men's basketball coach Todd Lickliter, women's basketball head coach Robyn Scherr-Wells, head men's soccer coach Marshall Ray along with Chris Pfau – UE's head women's soccer coach.
Admission is free to the caravan and it will give fans the opportunity to hear directly from the head coaches about the upcoming seasons. Along with previews from the coaches, fans will have the chance to enter to win prizes, tickets will be on sale multiple Aces teams and more.
Contribute to AceNotes
To have content considered for inclusion in AceNotes, please submit a Marketing Request Form. Deadline for submission to AceNotes is 10:00 a.m. on the requested date of publication. Only articles concerning UE related/sponsored activities will be accepted. Articles submitted to AceNotes may be edited for length and clarity. Submitter contact information is at the end of each article.