| | |
| --- | --- |
| AceNotes Today | Thursday, May 13, 2021 |
Advancement Services Seeks Summer Student Worker
The Advancement Services Office is hiring for a summer student worker. During the summer, this position is for 12 hours per week with a maximum of 180 over the summer. Student workers are a part of the Development and Alumni Relations team, freely sharing new ideas, holding themselves accountable for their work, and preparing themselves for a real-world work experience. The department of University Advancement has dedicated itself to aiding the student to reach this goal. Student duties include typing, filing, copying, organizing, preparing mailings, maintaining the alumni database with regards to email addresses, telephone number, and event attendance. Student-workers may be asked to answer phones and run errands around campus.
Skills Needed: Attention to detail, good manners, a good understanding of English, typing, Excel and Word experience, dependability, desire for more than a basic work experience.
Required Major: Any major may apply
Apply by visiting WebAdvisor and downloading the application. Email completed application and availability to as867@evansville.edu.
Fitness Center Summer Hours
The Fitness Center Summer Hours will start the week of May 10th. The hours will be Monday - Friday from 8:00am- 6:00pm.
Watch the 2021 Senior Video
This year's senior video was displayed at both Commencement ceremonies for the Class of 2021 on Saturday, May 8. If you couldn't attend in-person, you can view the senior video on YouTube.
A huge thank-you to communications students Jamie Born and Jalyn Davis, who worked very hard to create a special video for our Class of 2021!
Submit Your Experiences for Campus COVID-19 Commemoration
Over the past year, members of the University of Evansville community have experienced many types of loss due to the COVID-19 pandemic. Understanding the value of memorialization and mourning in the grieving and healing process, the students in the Spring 2021 Sociology of Death and Dying class at UE have created a campus commemoration of this difficult but historical moment. There will be a tree planted on the Sesquicentennial Oval of UE to symbolize that we will grow from these experiences, along with the placement of a granite bench to act as a place of reflection.
As a part of this project, we are asking that members of the UE community submit via webform what experiences of loss they have had this pandemic year. Loss can be in many forms, such as: people they know who have died or become ill; family members or themselves who have lost jobs; internships, study abroad experiences, or graduate school plans lost or deferred; lost sense of community and justice; lost feelings of security, safety, or health; or time spent in isolation or away from loved ones. These submissions of loss will be printed on biodegradable paper, shredded, and mixed with the soil as a compost for the memorial tree to help it grow. Confronting challenges together, our UE community will face the future unafraid once again.
Please submit your experience by May 15 at the link below:
https://uesurvey.evansville.edu/CovidMemorial
No names or loss experiences will be shared, nor will a record of the entries be kept after the shredding takes place. Aggregate information of how many members of the UE community participated will be recorded for historic purposes only (ex: total number of participants, etc.).

Purchasing Procedures Announced for May 2021
As the end of the University's fiscal year approaches on May 31, Administrative Services and Accounting and Audit announce the following procedures related to purchases of goods and services during May.
Pcard Purchases
• Pcard purchases posting on the May statement (cycle end date is May 21) will be paid from FY 2020-2021 funds unless a prepaid item. Most shipments post on your Pcard within three to four business days. However, vendors have up to nine business days to post transactions.
• Pcard purchases posting from May 22 through May 31 will be paid from FY 2021-2022(new year) funds, unless the item purchased exceeds $500. Purchases exceeding $500 will be paid from FY 2020-2021 funds.
Office Depot Orders
• Normally, Office Depot orders placed online by 3 p.m. for items in stock are delivered the next business day. Upon delivery, the transaction should post on your Pcard within three to four business days.
• Office Depot orders received by May 15 will likely post on the May 21 Pcard Cycle and be paid from FY 2020-2021 funds.
• Office Depot orders placed and received but posting to the Pcard between May 22 and May 31 will be paid from FY 2021-2022 funds, unless the items purchased exceed $500. Purchases exceeding $500 will be paid from FY 2020-2021 funds.
Purchase Orders
• Approved requisitions converted into purchase orders and delivered by May 31 will be paid from FY 2020-2021 funds.
• Approved Requisitions indicating FY 2021-2022 in Self-Service with a Requisition Date of 6/1/21 or later and a typed Internal Comment of FY 2021-2022 will be processed with a delivery date of June 1 or later.
• Backordered Purchase Orders not delivered by May 31 will be paid from FY 2021-2022 funds.
Blanket Orders
• All FY 2020-2021 Blanket orders expire on May 31, 2021.
• Approved Requisitions for FY 2021-2022 (new year) Blanket Orders may now be submitted via Self-Service with a Requisition Date of 6/1/21 or later with "Blanket Purchase order for _(specify items or service effective June 1, 2021 through May 31, 2021" included in the line item description.
• Backordered Blanket Purchase Order items not delivered by May 31, 2021 will be paid from FY 2021-2022 funds.
Voucher for Payment Requests
• All services completed and items purchased (and on campus) by May 31 must be submitted on a WebAdvisor voucher to Accounting and Audit by Monday, June 21 to be paid from FY 2020-2021 funds. Any pre-May 31st purchases submitted for payment after this date will be charged to FY 2021-22.

Bookstore Hiring for Summer
Are you looking for a Summer job on campus? Well you're in luck: the bookstore is hiring!
Expectations:
-Greet customers, answer questions, and assist with the purchase of merchandise or services.
-Shelve, arrange, clean, and organize product or space within the store to maintain an appealing sales floor.
-Assist with processing sales transactions involving cash, credit, or financial aid payments.
-Temporary positions require availability to work on a weekly basis with occasional weekends, and flexibility in scheduling for opening, midday, or closing shifts.
Physical Demands:
-Frequent movement within the store to access various departments, areas, and/or products.
-Ability to remain in a stationary position for extended periods.
-Frequent lifting.
-Occasional reaching, stooping, kneeling, crouching, and climbing ladders.
Qualifications:
-Candidates must be a minimum of 18 years of age to be considered for employment.
-High-energy, friendly personality, with strong communication skills to interact with a variety of people.
-Outstanding customer service skills to match customers to products that meet their needs.
-Basic math, keyboarding, and data entry skills.
-Flexibility in scheduling is necessary.
We will be open Monday-Friday 9am-4pm, with the occasional Saturday.
If you're interested, please follow this link to apply! https://bit.ly/2PCJbiB

Attention: Parking Lot Closures and Limitations
Attention Parking Lot Closures and Limitations
As preparations and excitement continues in anticipation of a new residence hall, the Morton/Brentano Furniture Removal/Relocation Project will begin on Thursday, May 6, which requires parking lot closures and limitations. These parking closures and limitations are necessary for the safe removal of equipment, removal and relocation of furniture, traffic flow of multiple vendor trucks, trailers, and flat beds and placement of dumpsters, and large enclosed storage containers. Please note the following:

Please use the following information in AceNotes. Public Safety asked that the info in purple be added!! Thanks - Kim
Parking Lot Closures and Limitations:

On Wednesday, May 5, at 5:00 p.m. the Office of Public Safety will:
Limit parking in Lot J (FIJI/Phi Tau/Sig Ep)
Close the Parking Lot F (Lagoon)
Students are encouraged to use Lot N, or Lot O. Also, the "right" hand side of Ridgway Drive only (This is the side of the drive closest to Morton/Brentano.) may be used for loading vehicles for move out.
On Sunday, May 9, at 3 p.m. the Office of Public Safety will:
Close/limit parking in Lot G around the perimeter of Schroeder Hall
Athletic event fan parking will be accessible in the Armory Lot and team buses in Lot H.
Close the parking area North of Powell Hall
Re-open the lots on Monday, May 17.

If you have a vehicle parked in any of the above lots, please remove them accordingly. Vehicle use of sidewalks, Walnut St, the identified parking lot closures/limitations above including the "left" hand side of Ridgway Drive (the side closest to the Ridgway building) for loading or parking is prohibited and subject to being towed.

Your cooperation and patience is appreciated!
2021 Outstanding Senior Service Award Presented at Commencement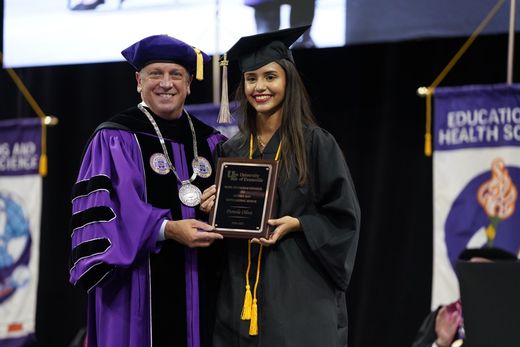 Congratulations to Pam Oliva, who was presented the 2021 Outstanding Senior Service Award at the 163rd Commencement!
Each year, a committee of students and faculty selects an award recipient for the most outstanding senior. The committee takes into consideration a commitment to service, high academic performance, outstanding leadership, and involvement in diverse campus activities. The Outstanding Senior Service Award is named for two of the University's most respected alumni, Mabel Dillingham Nenneker and Guthrie May.?
Pam Oliva exhibits a spirit of changemaking, innovation, intellectual curiosity, and inclusivity – all of which are at the heart of the University of Evansville experience.
In addition to pursuing a degree in accounting, Pam has been a leader for the campus community through various roles. As the president of the Student Government Association, she helped establish Aces Haven, an on-campus food pantry which seeks to combat food insecurity. After the University established the Coronavirus Task Force in response to the global pandemic, she served as a committee member to ensure faithful representation of students' needs and concerns.
During her junior and senior years, Pam was a member of Embrace, a student-run marketing and communications organization that also serves as a ChangeLab. For the past two semesters, she served as the Chief Executive Officer, leading the transition to a complete remote working environment for team members and clients. Pam served the campus through other roles, including international orientation, leadership development, residence life, and the Center for Diversity, Equity, and Inclusion.
2021 Outstanding Teacher Award Recipient Announced at Commencement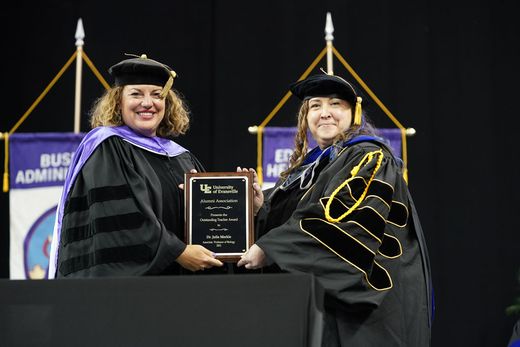 Congratulations to Dr. Julie Merkle, assistant professor of biology, who was named the 2021 Outstanding Teacher at our 163rd Commencement!
Dr. Merkle is highly revered by students and colleagues alike. Her academic skills sets combined with her "warm, nurturing personality make her an ideal candidate for this award."
Her students support this claim, with one student stating that "this professor is by far one of the most caring and available professors that they have ever encountered. She makes time for students as often as possible and creates a positive environment for learning."
Dr. Merkle's peers say she has proven to be an essential member of the University when it comes to student recruitment and retention, and they often showcase her talents during student recruiting events.
2021 Eykamp Prize Recipient Announced at Commencement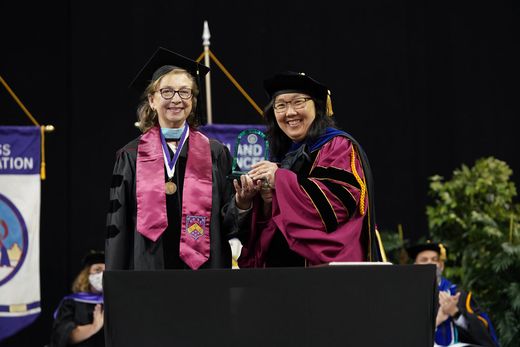 Congratulations to Dr. Joyce Stamm, professor of biology, who has been named the 2021 recipient of the Eykamp Prize!
Through the generosity of the Eykamp Family, an award for members of the faculty was created to recognize faculty members who have displayed extraordinary service to the University of Evansville. Recipients of this award are nominated by members of the campus community for inspiring students and providing a platform upon which they can explore and develop innovative ideas; for going above and beyond their regular classroom duties to interact with budding, talented young adults; for bringing positive awareness to the University; and for having a track record of program recruitment and commitment to student success.
Dr. Stamm has been dedicated to creating a high-quality student learning experience since her arrival to UE 16 years ago. She has developed and modernized curriculum for freshman biology classes, which has positively impacted students across all majors. Additionally, she has been instrumental in bringing research opportunities into the classroom. Dr. Stamm developed a Genomics in Research and Medicine course, in which students could contribute to large, distributed projects in genomics. As a result, she helped 33 students become authors of research publications.
Dr. Stamm has been closely involved with several large-scale projects on a national level, which focus on genomics and microbiology. Through her work, she has been able to expand the research opportunities for her students and equip them with experience necessary for graduate learning and careers in STEM – or science, technology, engineering, and math.
Last fall, Dr. Stamm was awarded a $300,000 grant from the National Science Foundation for a three-year, genetics-focused research initiative. Additionally, she served as a principal writer and developer for two of the largest federal grants in UE history.
Dr. Stamm is creating a long-lasting impact on the University by increasing student interest and retention in the field of biology. As future generations explore UE, they will see the vast opportunities for collaborative research projects that are available to students, thanks to the hard work and contributions of Dr. Stamm.
Congratulations to Accounting Data Analytics Certificate and Badge Recipients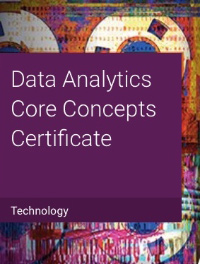 Rania Mousa, Mead Johnson Nutrition Endowed Chair and Associate Professor of Accounting, would like to congratulate her accounting students for successfully completing the requirements for the Data Analytics Core Concepts Certificate, offered by the American Institute of Certified Public Accountants (AICPA). The certificate offers an opportunity to understand the language of data analytics and develop data-driven mindset by using three real-world business scenarios covering revenue analysis, financial planning and analysis, and business performance. Students have also earned digital badges which are shared on professional networks.
The following students have completed their certification and earned their digital badges while enrolled in Professor Mousa's Accounting Information Systems course in Spring 2021:
• Karyn Banks
• Alex Bauer
• Hank Bergmann
• Luc Farrow
• Emily Flener
• Emilie Hill
• Nicholas Huber
• Grant Oxford
• Alisha Rhea
• Bethany Scales
• Megan Vandevender
• Jordan Wible
Gould Sets UE Records as Aces Complete Season
In the opening contest of the 2021 Missouri Valley Conference Championship, the University of Evansville softball team fell to Loyola by a 3-1 final at Cooper Stadium.
UE (23-22) senior Eryn Gould went 1-2 in the contest with two walks. Those walks helped her secure a new program record with 98 in her career. That passed Nicole Farris' total of 97, which was set in 1997. She also officially set the program records for single season batting (.418) and on-base percentage (.566). Gould is just the second Evansville player to bat .400 in a season.
Gould led the bottom of the first off with the 97th walk of her career, tying the program record. Loyola (13-28) was the first to find the scoreboard in the top half of the second. After stranding two runners in the opening frame, Teagan Sopczak led the second off with a solo home run to make it a 1-0 game.
Evansville put two runners on in the second when Alyssa Barela recorded the Aces first hit of the day before Hannah Wood reached on a walk before LUC pitcher Sydney Ruggles escaped unscathed. The Ramblers made a run of their own in the third, but it was the arm of Gould that saved a run. With a runner on second, Sopczak singled to right, but Gould's quick defense forced Loyola to hold the runner at third before an Izzy Vetter strikeout ended the threat.
Jenna Lis tied the game up in the third with an RBI single. Her hit scored Katie McLean, who reached on a fielder's choice earlier in the inning. Gould looked like she was about to give the Aces the lead, hitting a long fly ball to the warning track. In the top half of the sixth, Allyson Ivey put the Ramblers in front with a 2-run shot to center field.
Walks by Haley Woolf and Marah Wood set UE up in the bottom of the inning, but Ruggles once again got out of the jam. Gould earned her second free pass of the game in the seventh, breaking the Aces career record. McLean reached on a hit to put two on base, but UE could not get the big hit to tie the game and fell by the 3-1 final.
Loyola finished with eight hits on the day, led by a 3-for-3 performance by Sopczak. Evansville finished with five hits. Sydney Ruggles picked up her seventh win of the season, going the entire distance. Vetter took the loss, allowing three runs in six innings of work. She struck out nine batters.
With a 23-22 mark, the program clinches its second winning season in a row following a 12-11 mark in 2020.
Women's Golf Completes First NCAA Regional
The third and final round of the 2021 NCAA Regional was completed by the University of Evansville women's golf team on Wednesday at the Scarlet Course at The Ohio State University.
Leading the Purple Aces in the final standings was Sophia Rohleder. In the final round of her college career, Rohleder recorded a 6-over 78 to complete the regional with a score of 237. Finishing second on the team was Alyssa McMinn. She carded the low round of the event for the Aces, completing the final round with a 4-over 76. Her final tally finished at 245.
Next up was Allison Enchelmayer, who recorded an 82 on the last day. Combined with her other scores, Enchelmayer finished with a 248. Caitlin O'Donnell was just behind her with a final score of 250. She posted an 81 in round three. Mallory Russell was back on Wednesday and scored an 82.
UE came home in 18th place in the regional, but finished on a high note, recording its lowest team score of the tournament – a 317.
Georgia extended its lead to win the team championship. The Bulldogs' final total of 865 strokes finished 15 ahead of a second-place tie between Duke and Arizona State. Kentucky finished fourth. Jenny Bae of UGA was the medalist. A 1-over 73 in the final round saw her finish with a 212, three in front of the competition.
For the Aces, a magical 2021 campaign comes to an end. The team won its first Missouri Valley Conference Championship in an exciting finish in the snow while Rohleder became the second individual conference champion in program history. A total team effort helped UE defeat UNI in a sudden death playoff hole to clinch the victory.
Rohleder and Enchelmayer Post Low Scores in Round Two
Sophia Rohleder and Allison Enchelmayer posted the low scores of the day for the University of Evansville women's golf team at the 2021 NCAA Regional at the Scarlet Course at The Ohio State University.
Rohleder led the Purple Aces with a score of 82 in the second trip around the course. She was followed by Enchelmayer, who recorded an 83. Through two rounds, Rohleder stands with a 159 while Enchelmayer's two scores of 83 have her at a 166.
Alyssa McMinn and Caitlin O'Donnell were next up for UE, posting identical scores of 85. The duo also recorded identical rounds on Monday and are tied with totals of 169. Mallory Russell did not play in the second round.
The Aces remain in 18th place in the regional with two of the three rounds complete. The University of Georgia had the low round on Tuesday to jump into the lead. The Bulldogs posted a 288 and have a total score of 577. They are seven in front of Michigan and eight ahead of Duke.
Jenny Bae from UGA has a slight lead on the individual leaderboard. Her 4-under 68 on Tuesday has her in front with a 139. Monet Chun of Michigan is one behind her in second. All teams will wrap up the regional with a final round on Wednesday.
Three Aces Earn All-MVC Recognition
Three University of Evansville softball players earned All-Missouri Conference recognition on Wednesday morning as the league prepares to open the 2021 championship at Cooper Stadium.
Senior Eryn Gould was named to the First Team while Jessica Fehr earned a spot on the Second Team. Sophomore Hannah Hood was recognized as a member of the All-Defensive squad.
Gould earned First Team accolades for the third time in her career. She continues to have one of the best offensive seasons in program history and is on pace to break the single season batting and on-base percentages. Her .562 on-base total is 15th in the nation while her .417 average is on pace for the top Aces total and just the second player to bat ,400 over the course of a season.
"Eryn had one of the best seasons for an Ace of all time," Purple Aces head softball coach Mat Mundell said. "She is not only one of the best hitters in the MVC, but the entire country. I am really excited for her to finish her stellar career on such a high note."
One of the top offensive second basemen in the league for the entirety of the season has been Jessica Fehr. She enters the conference championship on a streak that has seen her reach base safely in each of the last 19 games. Fehr has posted a hit in 15 of the last 18 games while seeing her average rise from .260 to .330.
"Jess really stepped up offensively in MVC play for us. I felt that she was the best offensive 2nd base in the league," Mundell said. "She continues to get better each year. I can't wait to see what she does next season."
Playing left field for the majority of the season, Hannah Hood earned the All-Defensive nod. The Newburgh, Ind. native finished with a perfect 1.000 fielding percentage while leading the Aces with five outfield assists. Hood made numerous plays throughout the year that would have been worthy of SportsCenter Top Ten recognition.
MVC Championship to Open on Wednesday Morning
The 2021 Missouri Valley Conference Softball Championship comes to Cooper Stadium with the University of Evansville softball team set to face Loyola in the opening game on Wednesday at 11 a.m. All games in the tournament will be carried live on ESPN+.
Last Time Out
- UE closed out the regular season last weekend at Missouri State in a shortened series due to weather
- Friday's opener was a pitcher's duel with Izzy Vetter and the duo of Madison Hunsaker and Gracie Johnson putting on a clinic...MSU picked up the win with a run in the 10th inning
- Vetter set her career mark with 14 strikeouts in the contest
- In the second contest, the Bears finished with a 6-1 win
A History Lesson
- This season marks the second time that the University of Evansville has hosted the MVC Softball Championship with the other coming in 2003...in that tournament, Evansville advanced to the championship game to battle Creighton, who won by a final of 6-2
- In the 2019 championship in Peoria, Ill, the Aces squared off against Valparaiso, falling by a 50- final...Eryn Gould went 2-3 with a walk in the contest and was named to the All-Tournament Team
Approaching a Record
- Eryn Gould is set to leave her mark on the UE record book following the completion of her career with records set to fall on both the career and single season sides
- She is just one walk away from tying the all-time program mark of 97 while her batting and on-base percentages are tops in school history
- Reaching base in any way possible has been a strength for Gould, whose .562 on-base tally ranks 15th in the country
- Upon recording her 100th at-bat, she became eligible for UE's single season marks...her current batting average of .417 is on pace to break the program mark that Staci Hatz set in 1998 when she batted .408...Hatz was the only player in program history to finish a season batting over .400...Gould also has an on-base percentage of .562, which is also on pace for the program mark...Brittany Herald currently holds the UE record of .511, which she accomplished in 2007
New Strikeout Mark
- Izzy Vetter threw the first no-hitter of her collegiate career on May2 against Bradley...just a day earlier, she showed signs of what may be coming as she sat the first 11 Braves batters down in order in the opener
- The effort saw her keep the Braves hitters off balance over the course of five innings...it was Evansville's first no-hitter since February 16, 2019 when Emily Lockhart accomplished the feat against Southern in the finale of the Roul's Deli MVC-SWAC Challenge
- With three wins in UE's four games between April 28 and May 2, Vetter owns 13 wins on the season, the most for an Evansville player since Morgan Florey won 14 games in 2017
- In a 10-inning performance at Missouri State, Vetter set her career high with 14 strikeouts...her total of 190 strikeouts
Putting a Streak Together
- Jessica Fehr has recorded a hit in 15 of the last 18 games while seeing her average rise from .260 to .330
- She has recorded a hit in 22 of her last 55 at-bats...despite an 8-game hit streak coming to an end in the opener against Indiana State, she reached base with a walk before going 2-4 with a triple in game two and has reached safely in each of the last 19 games...in the Bradley series, she recorded five hits in nine at-bats
Contribute to AceNotes
To have content considered for inclusion in AceNotes, please submit a Marketing Request Form. Deadline for submission to AceNotes is 10:00 a.m. on the requested date of publication. Only articles concerning UE related/sponsored activities will be accepted. Articles submitted to AceNotes may be edited for length and clarity. Submitter contact information is at the end of each article.