| | |
| --- | --- |
| AceNotes Today | Tuesday, May 11, 2021 |
Summer Hours
For the past few years, UE created a modified summer schedule by reducing business hours. We will again operate a modified summer schedule from 8:00 a.m. to 4:30 p.m. from Monday, May 10 through ending summer hours on Friday, August 6 and returning to regular hours on Monday, August 9. We will reduce hours even further on Fridays in the summer as just a little way to say thank you to our employees -- summer Friday hours will be from 8:00 a.m. – 4:00 p.m. to help you enjoy the weekend a little earlier.
Fitness Center Summer Hours
The Fitness Center Summer Hours will start the week of May 10th. The hours will be Monday - Friday from 8:00am- 6:00pm.
Watch the 2021 Senior Video
This year's senior video was displayed at both Commencement ceremonies for the Class of 2021 on Saturday, May 8. If you couldn't attend in-person, you can view the senior video on YouTube.
A huge thank-you to communications students Jamie Born and Jalyn Davis, who worked very hard to create a special video for our Class of 2021!
Submit Your Experiences for Campus COVID-19 Commemoration
Over the past year, members of the University of Evansville community have experienced many types of loss due to the COVID-19 pandemic. Understanding the value of memorialization and mourning in the grieving and healing process, the students in the Spring 2021 Sociology of Death and Dying class at UE have created a campus commemoration of this difficult but historical moment. There will be a tree planted on the Sesquicentennial Oval of UE to symbolize that we will grow from these experiences, along with the placement of a granite bench to act as a place of reflection.
As a part of this project, we are asking that members of the UE community submit via webform what experiences of loss they have had this pandemic year. Loss can be in many forms, such as: people they know who have died or become ill; family members or themselves who have lost jobs; internships, study abroad experiences, or graduate school plans lost or deferred; lost sense of community and justice; lost feelings of security, safety, or health; or time spent in isolation or away from loved ones. These submissions of loss will be printed on biodegradable paper, shredded, and mixed with the soil as a compost for the memorial tree to help it grow. Confronting challenges together, our UE community will face the future unafraid once again.
Please submit your experience by May 15 at the link below:
https://uesurvey.evansville.edu/CovidMemorial
No names or loss experiences will be shared, nor will a record of the entries be kept after the shredding takes place. Aggregate information of how many members of the UE community participated will be recorded for historic purposes only (ex: total number of participants, etc.).

Alumni Office Seeks Summer Student Worker
Job Description: The Office of Alumni and Parent Relations is hiring for a summer student worker. During the summer, this position is for 13 hours per week with a maximum of 195 over the summer. Student workers are a part of the Development and Alumni Relations team, freely sharing new ideas, holding themselves accountable for their work, and preparing themselves for a real-world work experience. The department of University Advancement has dedicated itself to aiding the student to reach this goal. Student duties include typing, filing, copying, organizing, preparing mailings, maintaining the alumni database with regards to email addresses, telephone number, and event attendance. Student-workers may be asked to write class notes for the UE Magazine, answer phones, and prepare name tags, labels, table tents, and supplies for events. Student-workers may also attend and work at alumni events.
Skills Needed: Attention to detail, good manners, a good understanding of English, typing, Excel and Word experience, dependability, desire for more than a basic work experience.
Required Major: Any major may apply
Apply by visiting WebAdvisor and downloading the application. Email completed application and availability to mm825@evansville.edu
Purchasing Procedures Announced for May 2021
As the end of the University's fiscal year approaches on May 31, Administrative Services and Accounting and Audit announce the following procedures related to purchases of goods and services during May.
Pcard Purchases
• Pcard purchases posting on the May statement (cycle end date is May 21) will be paid from FY 2020-2021 funds unless a prepaid item. Most shipments post on your Pcard within three to four business days. However, vendors have up to nine business days to post transactions.
• Pcard purchases posting from May 22 through May 31 will be paid from FY 2021-2022(new year) funds, unless the item purchased exceeds $500. Purchases exceeding $500 will be paid from FY 2020-2021 funds.
Office Depot Orders
• Normally, Office Depot orders placed online by 3 p.m. for items in stock are delivered the next business day. Upon delivery, the transaction should post on your Pcard within three to four business days.
• Office Depot orders received by May 15 will likely post on the May 21 Pcard Cycle and be paid from FY 2020-2021 funds.
• Office Depot orders placed and received but posting to the Pcard between May 22 and May 31 will be paid from FY 2021-2022 funds, unless the items purchased exceed $500. Purchases exceeding $500 will be paid from FY 2020-2021 funds.
Purchase Orders
• Approved requisitions converted into purchase orders and delivered by May 31 will be paid from FY 2020-2021 funds.
• Approved Requisitions indicating FY 2021-2022 in Self-Service with a Requisition Date of 6/1/21 or later and a typed Internal Comment of FY 2021-2022 will be processed with a delivery date of June 1 or later.
• Backordered Purchase Orders not delivered by May 31 will be paid from FY 2021-2022 funds.
Blanket Orders
• All FY 2020-2021 Blanket orders expire on May 31, 2021.
• Approved Requisitions for FY 2021-2022 (new year) Blanket Orders may now be submitted via Self-Service with a Requisition Date of 6/1/21 or later with "Blanket Purchase order for _(specify items or service effective June 1, 2021 through May 31, 2021" included in the line item description.
• Backordered Blanket Purchase Order items not delivered by May 31, 2021 will be paid from FY 2021-2022 funds.
Voucher for Payment Requests
• All services completed and items purchased (and on campus) by May 31 must be submitted on a WebAdvisor voucher to Accounting and Audit by Monday, June 21 to be paid from FY 2020-2021 funds. Any pre-May 31st purchases submitted for payment after this date will be charged to FY 2021-22.

Bookstore Hiring for Summer
Are you looking for a Summer job on campus? Well you're in luck: the bookstore is hiring!
Expectations:
-Greet customers, answer questions, and assist with the purchase of merchandise or services.
-Shelve, arrange, clean, and organize product or space within the store to maintain an appealing sales floor.
-Assist with processing sales transactions involving cash, credit, or financial aid payments.
-Temporary positions require availability to work on a weekly basis with occasional weekends, and flexibility in scheduling for opening, midday, or closing shifts.
Physical Demands:
-Frequent movement within the store to access various departments, areas, and/or products.
-Ability to remain in a stationary position for extended periods.
-Frequent lifting.
-Occasional reaching, stooping, kneeling, crouching, and climbing ladders.
Qualifications:
-Candidates must be a minimum of 18 years of age to be considered for employment.
-High-energy, friendly personality, with strong communication skills to interact with a variety of people.
-Outstanding customer service skills to match customers to products that meet their needs.
-Basic math, keyboarding, and data entry skills.
-Flexibility in scheduling is necessary.
We will be open Monday-Friday 9am-4pm, with the occasional Saturday.
If you're interested, please follow this link to apply! https://bit.ly/2PCJbiB

Attention: Parking Lot Closures and Limitations
Attention Parking Lot Closures and Limitations
As preparations and excitement continues in anticipation of a new residence hall, the Morton/Brentano Furniture Removal/Relocation Project will begin on Thursday, May 6, which requires parking lot closures and limitations. These parking closures and limitations are necessary for the safe removal of equipment, removal and relocation of furniture, traffic flow of multiple vendor trucks, trailers, and flat beds and placement of dumpsters, and large enclosed storage containers. Please note the following:

Please use the following information in AceNotes. Public Safety asked that the info in purple be added!! Thanks - Kim
Parking Lot Closures and Limitations:

On Wednesday, May 5, at 5:00 p.m. the Office of Public Safety will:
Limit parking in Lot J (FIJI/Phi Tau/Sig Ep)
Close the Parking Lot F (Lagoon)
Students are encouraged to use Lot N, or Lot O. Also, the "right" hand side of Ridgway Drive only (This is the side of the drive closest to Morton/Brentano.) may be used for loading vehicles for move out.
On Sunday, May 9, at 3 p.m. the Office of Public Safety will:
Close/limit parking in Lot G around the perimeter of Schroeder Hall
Athletic event fan parking will be accessible in the Armory Lot and team buses in Lot H.
Close the parking area North of Powell Hall
Re-open the lots on Monday, May 17.

If you have a vehicle parked in any of the above lots, please remove them accordingly. Vehicle use of sidewalks, Walnut St, the identified parking lot closures/limitations above including the "left" hand side of Ridgway Drive (the side closest to the Ridgway building) for loading or parking is prohibited and subject to being towed.

Your cooperation and patience is appreciated!
2021 Outstanding Senior Service Award Presented at Commencement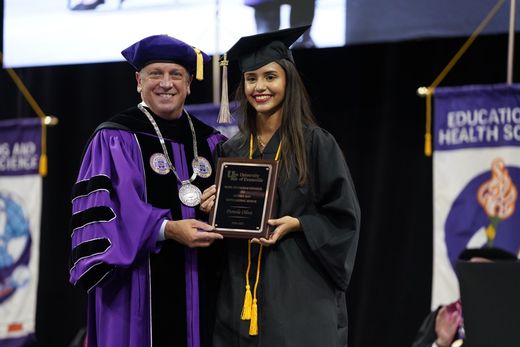 Congratulations to Pam Oliva, who was presented the 2021 Outstanding Senior Service Award at the 163rd Commencement!
Each year, a committee of students and faculty selects an award recipient for the most outstanding senior. The committee takes into consideration a commitment to service, high academic performance, outstanding leadership, and involvement in diverse campus activities. The Outstanding Senior Service Award is named for two of the University's most respected alumni, Mabel Dillingham Nenneker and Guthrie May.?
Pam Oliva exhibits a spirit of changemaking, innovation, intellectual curiosity, and inclusivity – all of which are at the heart of the University of Evansville experience.
In addition to pursuing a degree in accounting, Pam has been a leader for the campus community through various roles. As the president of the Student Government Association, she helped establish Aces Haven, an on-campus food pantry which seeks to combat food insecurity. After the University established the Coronavirus Task Force in response to the global pandemic, she served as a committee member to ensure faithful representation of students' needs and concerns.
During her junior and senior years, Pam was a member of Embrace, a student-run marketing and communications organization that also serves as a ChangeLab. For the past two semesters, she served as the Chief Executive Officer, leading the transition to a complete remote working environment for team members and clients. Pam served the campus through other roles, including international orientation, leadership development, residence life, and the Center for Diversity, Equity, and Inclusion.
2021 Outstanding Teacher Award Recipient Announced at Commencement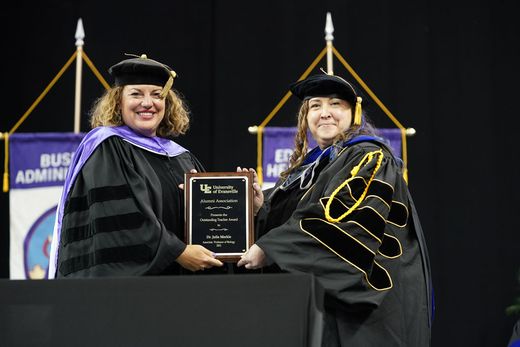 Congratulations to Dr. Julie Merkle, assistant professor of biology, who was named the 2021 Outstanding Teacher at our 163rd Commencement!
Dr. Merkle is highly revered by students and colleagues alike. Her academic skills sets combined with her "warm, nurturing personality make her an ideal candidate for this award."
Her students support this claim, with one student stating that "this professor is by far one of the most caring and available professors that they have ever encountered. She makes time for students as often as possible and creates a positive environment for learning."
Dr. Merkle's peers say she has proven to be an essential member of the University when it comes to student recruitment and retention, and they often showcase her talents during student recruiting events.
2021 Eykamp Prize Recipient Announced at Commencement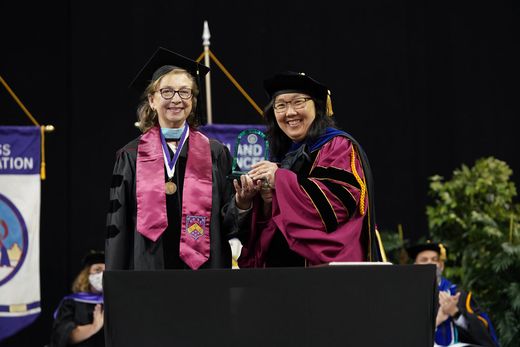 Congratulations to Dr. Joyce Stamm, professor of biology, who has been named the 2021 recipient of the Eykamp Prize!
Through the generosity of the Eykamp Family, an award for members of the faculty was created to recognize faculty members who have displayed extraordinary service to the University of Evansville. Recipients of this award are nominated by members of the campus community for inspiring students and providing a platform upon which they can explore and develop innovative ideas; for going above and beyond their regular classroom duties to interact with budding, talented young adults; for bringing positive awareness to the University; and for having a track record of program recruitment and commitment to student success.
Dr. Stamm has been dedicated to creating a high-quality student learning experience since her arrival to UE 16 years ago. She has developed and modernized curriculum for freshman biology classes, which has positively impacted students across all majors. Additionally, she has been instrumental in bringing research opportunities into the classroom. Dr. Stamm developed a Genomics in Research and Medicine course, in which students could contribute to large, distributed projects in genomics. As a result, she helped 33 students become authors of research publications.
Dr. Stamm has been closely involved with several large-scale projects on a national level, which focus on genomics and microbiology. Through her work, she has been able to expand the research opportunities for her students and equip them with experience necessary for graduate learning and careers in STEM – or science, technology, engineering, and math.
Last fall, Dr. Stamm was awarded a $300,000 grant from the National Science Foundation for a three-year, genetics-focused research initiative. Additionally, she served as a principal writer and developer for two of the largest federal grants in UE history.
Dr. Stamm is creating a long-lasting impact on the University by increasing student interest and retention in the field of biology. As future generations explore UE, they will see the vast opportunities for collaborative research projects that are available to students, thanks to the hard work and contributions of Dr. Stamm.
Congratulations to Accounting Data Analytics Certificate and Badge Recipients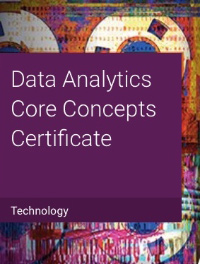 Rania Mousa, Mead Johnson Nutrition Endowed Chair and Associate Professor of Accounting, would like to congratulate her accounting students for successfully completing the requirements for the Data Analytics Core Concepts Certificate, offered by the American Institute of Certified Public Accountants (AICPA). The certificate offers an opportunity to understand the language of data analytics and develop data-driven mindset by using three real-world business scenarios covering revenue analysis, financial planning and analysis, and business performance. Students have also earned digital badges which are shared on professional networks.
The following students have completed their certification and earned their digital badges while enrolled in Professor Mousa's Accounting Information Systems course in Spring 2021:
• Karyn Banks
• Alex Bauer
• Hank Bergmann
• Luc Farrow
• Emily Flener
• Emilie Hill
• Nicholas Huber
• Grant Oxford
• Alisha Rhea
• Bethany Scales
• Megan Vandevender
• Jordan Wible
Women's Golf Completes Opening Day at NCAA Regional
History was made shortly before noon today as the University of Evansville women's golf team commenced its first round at an NCAA Regional at the Scarlet Course at The Ohio State University.
Caitlin O'Donnell took the Purple Aces first attempt to start the day at 11:50 a.m. ET with the round wrapping up at 6 p.m. Leading the Aces in their first round of action was 2021 MVC Individual Champion Sophia Rohleder. She completed the round with a 5-over 77. Closely following her was Mallory Russell. The freshman finished Monday's action with a 7-over 79.
Third on the team was Allison Enchelmayer, who recorded an 83 while Alyssa McMinn and Caitlin O'Donnell each carded scores of 84. As a team, Evansville is in 18th place, but right on the heels of Youngstown State. UE posted a 323 while the Penguins finished Monday's round with a 322.
Monday's round was the first live action that the team was able to enjoy on the course. Teams would normally play a practice round on the day prior of the tournament, but inclement weather on Sunday forced its cancelation for all participants. Teams were afforded the opportunity to walk the course on Sunday, but during Evansville's allotted time, lightning forced that to be halted shortly after walking nine holes.
Tee times for the opening round were delayed by roughly two hours in order to give the grounds crew the time needed to prepare the course for competition. Their hard work paid off and resulted in all teams finishing the first 18 holes.
Oklahoma holds a slight lead in a crowded top four on the leaderboard. The Sooners finished with a 286 and are one stroke in front of Duke. Michigan is in third with a 288 while Georgia completes the top four with a 289. Haley Borja of the Wolverines paces the individuals. A 3-under 69 has her on in front of a second-place tie.
The second 18 holes will be played on Tuesday morning.
Kara Carlson Added to Women's Basketball Coaching Staff
Filling a spot in her coaching staff, University of Evansville head women's basketball coach Robyn Scherr-Wells has made the first addition to her staff.

Scherr-Wells has announced the hiring of Kara Carlson as assistant coach, joining current assistant coach Tyra Buss, director of basketball operations Tanaeya BoClair, and graduate assistant coach Felicia Aiyeotan.

"I am thrilled Kara is joining our staff. Having worked with Kara previously, I know first-hand what a smart basketball mind she has," said Scherr-Wells on her first addition to the staff. "She is an excellent evaluator of talent and will be a very good recruiter. Like me, Kara is the daughter of a coach. She grew up around the game and is meant to do this. She will be instrumental to our program in not only building our brand of basketball, but she will also play a big role in scouting and game adjustments. Beyond the game, Kara is a great human-being. Our players will love playing for her!"

Carlson comes to Evansville after three successful seasons as assistant coach at Grand Valley State University (Grand Rapids, Mich.). With the Lakers, Carlson helped GVSU accumulate a 71-13 overall record and make NCAA Midwest Regional appearances in each of her seasons as assistant coach.

Prior to joining the Lakers, Carlson spent one season at her alma mater, Concordia-Ann Arbor, serving as graduate assistant during the 2017-18 season.

Carlson's hiring at Evansville reunites her and Scherr-Wells, as Carlson was an assistant for Scherr-Wells for one season at Davenport University. While there, the two compiled a 28-6 record, helping lead the Panthers to a regular season WHAC Championship and an NAIA Sweet 16 appearance.

"I am excited to be joining the University of Evansville women's basketball coaching staff," said Carlson. "Getting to work alongside Coach Scherr-Wells again is an opportunity that I am so grateful for. I am ready to get to work and help build something special here at UE."
A native of Kent City, Mich., Carlson played four seasons at Concordia-Ann Arbor from 2012-2016. She saw action in 117 games, including 35 starts, scoring 222 points and pulling down 184 rebounds. During her freshman season she helped the Cardinals capture a piece of the Wolverine-Hoosier Athletic Conference (WHAC) regular season title after the team went 20-2 in conference play.

Carlson earned her bachelor's degree from Concordia in Family Life Education in 2016.
Tanner Craig Named MVC Player of the Week
Following a monster week at the plate, Evansville baseball's Tanner Craig has been named Missouri Valley Conference Player of the Week, it was announced in a release by the Conference office on Tuesday.
Producing an impressive weekend, Craig continued his return to form at the plate. The Scottsburg, Ind. native hit .600 (9-15) at the plate in a four-game set against SIU, tallying six RBI and smashing three home runs. The three homers gave Craig nine on the season and 27 in his career, moving him into sole possession of sixth all-time at UE.
The honor is the first of the season for Craig, who has won the award three times in his career, and third of the season for Evansville with Kenton Crews twice capturing the honor. The Aces have also earned MVC Pitcher of the Week twice in 2021 with Shane Gray earning the honor both times.
Evansville closes-out the road portion of its schedule with a four-game series this weekend at Valparaiso, beginning with a 3 PM series opener on Friday in Valparaiso, Ind.
Relentless Bats Earn Aces a Share of Series with SIU
Notching a season-high 15 hits, Evansville's offense helped deliver a 6-5 win on Sunday in the series finale as the Aces split a four-game set with Southern Illinois at German American Bank Field at Charles H. Braun Stadium in Evansville.
"Found a way to finish the weekend with a win. Clearly we needed a deep pitching performance from our starter Donovan Schultz and he delivered.," said Evansville head baseball coach Wes Carroll. "We also got an outstanding performance from Shane Harris and Jakob Meyer. Tanner Craig had a big day and we overcame leaving 10 runners on base to get the win. "
After a tough start, Evansville showed its resiliency, battling back. The Salukis scored three runs off Aces starter Donovan Schultz in the top of the first inning to take an early advantage. Evansville got a run back in the bottom half of the first as Simon Scherry drove a sacrifice fly to center field that scored Kenton Crews.
Following the first inning, Schultz locked in and was impressive on the mound, recording three-straight innings sitting SIU down in order in the second, third, and fourth innings. Evansville continued to get steady production from its offense, tying the game in the third. Tanner Craig added to his monster weekend with a solo home run in the third to trim SIU's lead to one at 3-2. with the bases loaded, Robbie Wilkes reached on a fielder's choice that scored Scherry, tying the game at three.
Evansville took its first lead of the afternoon in the fourth, as Scherry again was involved, ripping a double to right that scored Ben Komonosky.
SIU would retake the lead in the fifth with a two-run base hit that put the Salukis back up, 5-4. As was true in the first, Evansville answered each of the Salukis attacks, scoring a pair of runs in the bottom half of the fifth. Wilkes tallied his second RBI of the day as Danny Borgstrom scored to tie the game on a groundout. The Aces would go in front for good later in the inning with an RBI single to center from Brent Widder that plated Eric Roberts, handing UE a 6-5 lead.
On in relief of Donovan Schultz, Shane Harris looked dominant. The redshirt freshman turned-in three innings of work, allowing just one hit and sitting down three Salukis via strikeouts to preserve the Evansville lead.
In the ninth with SIU down to its final three outs, Jakob Meyer tallied his team-high sixth save of the season, pitching a perfect inning, including a strikeout as the Aces earned the 6-5 win.
Evansville returns to Missouri Valley Conference competition on Friday with the series-opening game of a four-game set with Valparaiso in Valparaiso, Ind.
McMahill Commands on the Mounds in Aces Loss to SIU
Despite getting a strong performance on the mound from starter Jake McMahill, Evansville dropped its Saturday meeting with Southern Illinois, 5-0, at German American Bank Field at Charles H. Braun Stadium in Evansville.
"Great effort from McMahill on the mound, giving us a chance, but we didn't have an answer for their starter Harrison," said Aces head baseball coach Wes Carroll "Harrison had great stuff today and there is a reason he is now 8-0 on the season. We need a total team effort tomorrow."
McMahill pitched six innings for the Aces, allowing two earned runs and striking-out four, inducing 11 flyouts on the afternoon, giving Evansville a chance heading into the final three innings. His counterpart in maroon looked similarly impressive as Brad Harrison finished his effort, pitching 5.2 scoreless innings, allowing five hits and tallying eight strikeouts.
Evansville's offense struggled to complete the final step and push across runs on the afternoon. The Aces generated a bases loaded opportunity in the third with two outs, but could not score in their first opportunity of the day.
The Aces continued to generate base hits with two outs in the fourth and fifth innings, but each time, the final out of the inning was recorded in the next plate appearance.
Trailing 2-0 in the bottom of the sixth, Evansville again got its offense going, sparked by a double down the right field line by Danny Borgstrom. After Borgstrom advanced to second and Craig Shepherd earned a walk, the Aces had runners at the corners with two outs. As was the story for the day, UE could not push a run across as Evansville grounded-out to end the inning.
In the seventh, SIU added to its lead, pushing across three runs on five hits to bolster its advantage to five runs.
On in relief for the Aces in the eighth, Tyler Denu looked strong, recording the final two innings of work, pitching a pair of scoreless frames and allowing just three runners on base.
For the Salukis On the mound to close-out the game, Bubba Harris allowed just one hit over his 3.1 innings of work, sitting Evansville down in order in the eighth and ninth to secure the 5-0 win for the Salukis.
With a time change to the final game of the series, Evansville and SIU will close-out their weekend at 11 AM on Sunday at German American Bank Field at Charles H. Braun Stadium in Evansville.
UE Softball Enters MVC Championship as #8 Seed
Cooper Stadium will be the host of the 2021 Missouri Valley Conference Championship and the University of Evansville softball team will enter as the #8 seed following the completion of the regular season on Sunday.
The Purple Aces will face #9 seed Loyola on Wednesday, May 12 at 11 a.m. CT at Cooper Stadium. With a win, UE would advance to face the No. 5 seed Drake on Thursday at 10 a.m. Wednesday's other game features #7 Indiana State and #10 Valparaiso squaring off at 2 p.m.
Evansville's side of the bracket includes fourth seeded Southern Illinois and the No. 1 seed Illinois State. The championship runs from Wednesday through Saturday.
Track & Field Splinters Records at Pacesetter Invitational
The University of Evansville track and field team finished out the outdoor regular season at the Pacesetter Invitational on the campus of Indiana State.
Anna Lowry once again broke a program record, running a 4:32.88 1,500-meter time in the elite invitational race. Lowry finished in third, only two seconds behind the first-place finisher from Indiana State. Her time would rank 11th in the Missouri Valley Conference this season.
Michael Boots smashed the discus record with a 49.74-meter throw, finishing in third place in the event and moving into ninth best in the MVC this year.
Trey Riggs continued his impressive season with a new program record in the 110-meter hurdles at a time of 14.48, finishing in third place. Riggs' time is the seventh fastest in the MVC this year. Riggs also took eighth place in the long jump with a mark of 6.73-meters.
Peter Epur ran a 4:07.61 time in the 1,500-meter run, finishing in fifth place overall in the event.
Justus Donaldson (46.21m) and Joey Rucinski (42.27m) took fifth place and seventh place respectively in the men's javelin throw.
Ian Alberts posted a season best attempt in the men's pole vault with a 4.55-meter mark, taking third.
The Purple Aces will next compete at the Missouri Valley Conference Outdoor Championship, May 14-16 in Carbondale, Ill.
Power Hitting Helps Aces to Split of Doubleheader
Powered by the long ball, Evansville captured a share of Friday's non-conference doubleheader with an 8-6 win over Southern Illinois in game two after falling 16-7 in game one at German American Bank Field at Charles H. Braun Stadium in Evansville.
"Proud of our club bouncing back after the first game," said Aces head baseball coach Wes Carroll. "Shane Gray was outstanding in game one, but when you give 14 free bases in the 7th through the 9th inning we get the result we deserve. In game two, the bounce back was about our offense getting out in front enough to hang on. I love the character we revealed in the second game."
Game One: SIU 16, Evansville 7
Shane Gray took the mound to start off the weekend series for the Aces and put on a strong performance for the Aces, but the Salukis struck for a pair of runs in the third and fourth inning to take a 2-0 lead.
The Aces answered back in a big way in the bottom of the fourth as Tanner Craig launched a three-run homer to center field that pushed Evansville in front, 3-2.
The two runs the Salukis scored off of Gray would be the only two they would get off of the sophomore as Gray pitched a clean fifth inning and exited the contest, allowing five hits and striking-out three.
In the sixth, Craig continued his monstrous day, bashing another home run again to center, lifting the Aces lead to 4-2.
SIU would turn the tables on Evansville in the seventh, scoring three runs and retaking the lead on an RBI walk and a two-run single. Evansville would respond with an answer as it was again a home run that put an Aces run on the board. Troy Beilsmith lined a shot down the left field line that clanged off the foul pole, tying the game at five in the seventh.
The see-saw battle continued in the eighth with an RBI base hit by the Salukis, answered with a home run by Danny Borgstrom as the game waltzed into the ninth tied at six.
The turning point in the contest game in the top of the ninth as SIU put 10 runs on the board to take a 16-6 lead, recording four hits in the inning and receiving five free bases. Three pitchers saw the mound for Evansville in the ninth with Kenton Crews making his UE debut on the hill, allowing a hit and recording a strikeout in a third of an inning of work.
Crews continued his efforts to fuel a comeback for Evansville at the plate in the ninth, driving in a run, but the Aces could draw no closer in the 16-7 loss.
Game Two: Evansville 8, SIU 6
The Aces flipped the script on SIU in game two as it was Evansville who found an early advantage. UE scored three times in the second with Brent Widder and Crews each scoring a run on doubles and Beilsmith pushing home Max Malley on an error.
Junior Caleb Reinhardt turned-in a strong performance for the Aces on the mound, allowing just three hits through four innings. In the fourth, one of the aforementioned Saluki hits was a solo shot with one out that trimmed Evansville's advantage to 3-1.
Ever a resilient bunch, the Aces responded in the bottom half of the fourth with four runs, including the second home runs of the day for Beilsmith and Borgstrom, as Evansville saw its lead swell to 7-1.
Another run came across for UE in the sixth, but the key moments unfolded in the top of the seventh. Trailing by seven runs, the Salukis again put together a late surge. In all, four runs scored for SIU in the sixth to cut Evansville's lead to just three at 8-5.
In the top of the seventh, SIU prolonged the outing with a solo homer with one out and brought the go-ahead run to the plate, but Eric Roberts got a strikeout looking to end the contest and earn Evansville the 8-6 win.
Evansville and SIU continued their four-game series with a single game at 1 PM on Saturday at German American Bank Field at Charles H. Braun Stadium in Evansville.
MVC Champs Set for NCAA Regional in Columbus
An important milestone in University of Evansville women's golf history will take place on Monday when the Purple Aces take to The Ohio State University Golf Club – Scarlet Course to open up the first-ever NCAA Regional in program history.
The 2021 Missouri Valley Conference Champions were selected to the Columbus Regional last week during the NCAA Selection Show, which was carried on live The Golf Channel. The Purple Aces are one of 18 teams set to take part in the regional, which features Duke, Arizona State and Virginia as the top three seeds. The top six teams and three individuals from each of the four regional sites will advance to the national championship in Scottsdale, Arizona.
Golfstat will have live results during the regionals while the team is set to take over the UE Athletics Instagram account to document their experience in Columbus. GoPurpleAces.com as well as the UE Athletics Facebook and Twitter accounts will have additional coverage throughout the event.
Evansville advanced to the NCAA Regionals with an historic victory in the MVC Championship nearly three weeks ago in St. Charles, Missouri. After leading the field by ten strokes after the first two rounds, the Purple Aces battled the snow along with the University of Northern Iowa in the final round of play. Following three rounds, the teams were tied and headed to a sudden death playoff.
With the snow falling as hard as it had all day when the teams went to the 18th hole for the playoff, UE put forth its best effort to clinch the championship. A full team effort earned a dominant win in the playoff. Sophia Rohleder picked up the Aces second individual championship. Her 3-round tally of 229 bested her nearest competition by two strokes. Four UE players finished in the top 21 with all five coming home in the top 32 in the standings.
Allison Enchelmayer was second on the UE squad and tied for 12th in the event with a 237. Her low round was a 76 in the opening 18. Alyssa McMinn tied for 17th following a strong first day with scores of 76 and 75. Next up was Caitlin O'Donnell. Her low round of the season got the Aces rolling on the first day. O'Donnell carded a 73 to begin the tournament and set the tone for the entire team. Mallory Russell finished in 32nd on the individual leaderboard, but made what may have been her top contribution on the playoff hole. UE head coach John Andrews had Russell take the first shot of the playoff hole, which turned out to be a near perfect attempt that eventually led to the championship.
Columbus Regional Seedings
1. Duke (Atlantic Coast Conference)
2. Arizona State
3. Virginia
4. Kent State (Mid-American Conference)
5. Georgia
6. Vanderbilt
7. Michigan
8. Clemson
9. Oklahoma
10. Kentucky
11. Illinois
12. New Mexico (Mountain West Conference)
13. Nebraska
14. Washington
15. Coastal Carolina (Sun Belt Conference)
16. Campbell (Big South Conference)
17. Evansville (Missouri Valley Conference)
18. Youngstown State (Horizon League)
Vetter Sets Strikeout Mark with 14 in Opener at MSU
Izzy Vetter set her career mark with 14 strikeouts while Bella Coffey hit her second home run of the season in a doubleheader on Friday afternoon at Missouri State.
The Bears (25-16, 16-6 MVC) took both contests against the Purple Aces (23-21, 11-14). Game one saw them finish with a 1-0 win in 10 innings before finishing with a 6-1 win in the second contest.
Game 1
In a classic pitcher's duel, it was Missouri State scoring the winning run in the 10th inning. Izzy Vetter and the duo of Madison Hunsaker/Gracie Johnston kept the opposing offenses off the board for most of the afternoon. Vetter went the full nine innings while Johnston pitched 8 2/3 for the Bears. Vetter set her career mark with 14 strikeouts in the game while allowing five hits. MSU held the Aces to three hits.
Evansville had the first big scoring opportunity of the day with Marah Wood and Lindsay Renneisen both walking with one out, but a pitching change proved beneficial for Missouri State as they got out of the inning unscathed. Jenna Lis opened the third with a double to left field, but was stranded when the frame came to a close. The top scoring threat either team would enjoy came in the bottom of the sixth when MSU loaded the bases with no outs. That is when Vetter buckled down, getting two fly ball outs and a strikeout to keep it tied at 0-0.
In the 10th, Missouri State loaded the bases with no outs once again and were able to record the game-winning run on a bases loaded walk. Lis posted two of the Aces' three hits in the contest.
Game 2
Missouri State wasted no time getting on the board in the second game, scoring four runs in the bottom of the first inning. Olivia Krehbiel hit a 2-run homer to lead the offense. Two more hits led to a pair of runs in the second that pushed the lead to 6-0.
UE picked up its first run of the day, courtesy of Bella Coffey. She hit her second home run of the season in the top of the fourth to make it a 6-1 game. Hannah Hood followed it with a double before MSU got out of the inning without any further damage. Evansville challenged again in the next inning when Katie McLean led off with a walk before Jessica Fehr singled to center, but three quick outs kept it at 6-1 and that would be the final score.
Coffey and Fehr had two hits apiece in the game while Eryn Gould had a hit and walk. Krehbiel led MSU with three RBI. Jaime Nurrenbern made the start for the Aces, but gave up four runs in the first. Erin Kleffman tossed five solid innings of relief before Megan Brenton fanned two in a scoreless sixth inning.
Contribute to AceNotes
To have content considered for inclusion in AceNotes, please submit a Marketing Request Form. Deadline for submission to AceNotes is 10:00 a.m. on the requested date of publication. Only articles concerning UE related/sponsored activities will be accepted. Articles submitted to AceNotes may be edited for length and clarity. Submitter contact information is at the end of each article.