| | |
| --- | --- |
| AceNotes Today | Friday, April 30, 2021 |
Vaccine Mythbuster
MYTH: You don't need to get the vaccine if you've already had COVID
FACT: Those who already had COVID-19 should get vaccinated. Duration of immunity from natural infection of the virus is not known and people have reported obtaining COVID-19 twice. There are different strains of the virus and the CDC recommends getting the vaccine due to severe health risks and the possibility of re-infection.
COVID-19 Vaccinations for 16 and Older at Ascension St. Vincent
Currently, the Indiana State Department of Health (ISDH) has identified the following Indiana residents as eligible to receive the COVID vaccine:
Healthcare Workers
First Responders
Teachers and school staff in pre-K through high school, child care centers, Head Start and Early Start programs
Licensed childcare providers, including center-based and family care providers
Age 16 and above
Specific groups of patients at highest risk of severe illness from COVID-19 who are identified by their healthcare provider are also eligible. These individuals will receive a unique registration link by text or email.
We will keep our patients updated as eligibility and administration sites broaden. Although currently there is no cost to patients for the vaccine, insurance information will be collected.
Vaccine Scheduling
The COVID-19 vaccine is available by appointment only. No walk-ins will be permitted. Once listed as eligible by the ISDH, go to www.ourshot.in.gov or by calling 211 or 1-866-211-9966 to schedule an appointment.
Detailed instructions
Go to www.ourshot.in.gov
Enter date of birth and attest to being over age 16
Enter zip code and Select Ascension St Vincent Vaccine Clinic location
Select appointment date and time
Complete demographic information including accurate date of birth
Confirm appointment
Ascension St Vincent Vaccine Clinic
For your convenience, the Ascension St. Vincent Vaccine Clinic is open 7 days a week and located on the hospital campus in the Manor Auditorium. When scheduling an appointment on the state website, select "Ascension St Vincent Evansville VAX" as site location. Directions: Enter the parking garage off of Bellemeade Avenue, immediately turn left and follow the directional signage to the designated vaccine clinic parking area. Patients should enter the clinic using the doors adjacent to the parking garage. Tri State Clinics patients are encouraged to call our office at 1-888-492-8722 with questions or for assistance with scheduling at the Ascension St. Vincent Vaccine Clinic.
Spencer County Residents
Spencer County Local Health Department
Heritage Hills High School
Perry County Residents
Perry County Local Health Department
Perry County Memorial Hospital
Posey County Residents
Posey County Local Health Department
Illinois Residents
Phase 1A: Healthcare workers, those in long term care facilities.
Phase 1B : Frontline essential workers, residents 65 years of age or older and under 65 with comorbidities.
Phase 1B+ : IL residents 16+ with disabilities or serious medical conditions. Higher education staff, gov workers, and media. Details and scheduling info at: https://coronavirus.illinois.gov/s/.
Kentucky Residents
Phase 1a: Long term care facilities, healthcare personnel
Phase 1b: First responders, anyone 70 or older, K-12 school personnel
Phase 1C : KY residents age 60+ AND 16 and older with serious medical conditions and essential workers
For locations and to schedule appointment go to: https://govstatus.egov.com/kentucky-vaccine-map or call the KY COVID-19 Hotline - (800) 722-5725 for more information.
Should you have any additional questions, please contact Ashley Chipps at ashley.chipps@ascension.org or Stacey Smith at stacey.smith1@ascension.org
Reception Honoring Dr. Kyle Kiesel's Service to UE and Physical Therapy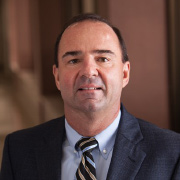 You are invited to a reception honoring Kyle Kiesel, PT, PhD, Professor and Program Director of the Department of Physical Therapy, who will retire at the end of this academic year after 21 years of service to the University. He started at UE in 2000 and has contributed to the success of the University in many ways including receiving initial accreditation of the Athletic Training Program, the growth of the Doctor of Physical Therapy Program where he served as Chair from 2014-2019 and the transition to the Stone Family Center for Health Sciences in 2018. He has over 30 peer-reviewed publications with numerous abstracts, recognized globally for his research related to core function and functional movement testing in athletic performance and injury prediction, and has been a guest speaker at many national and international conferences. Kyle has impacted the lives of hundreds of physical therapy students over his two decades as a passionate educator and advisor.
A reception to honor Kyle is planned for Wednesday, May 5th from 4:00PM - 6:00PM in the SOBA atrium.
Due to covid restrictions, staggered attendance is required, so please sign up for a time slot to congratulate Kyle and wish him the best in his next season. https://www.signupgenius.com/go/10C0C4AA5AF29A2FDC43-kyle. If you are unable to attend, well wishes may be emailed to Kyle at kk70@evansville.edu or mailed to Stone Family Center for Health Sciences, 515 Bob Jones Way, Evansville, IN 47708.
Music Conservatory Launches Today!
Today marks the day that the Department of Music officially becomes the University of Evansville Music Conservatory. As music transforms at the University, there will be three areas of focus:
Academic programs will continue to offer the distinguished degree programs and expanding for more
Community outreach will bundle an array of services for our community such as private instruction, dual credit programs for high school students and the community ensemble program.
Music Therapy Clinic development is underway to create an opportunity for students to offer Music Therapy services to our local community.
Plans are still underway to renovate Wheeler Concert Hall and the Krannert Hall of Art and Music gallery. Fundraising is in progress, but we need your support! Please give to the UE Music Conservatory and offer an opportunity for our students and community to experience Wheeler Concert Hall.

Free Paper Shredding on Friday, April 30
Free off-site paper shredding by Piranha Mobile Shredding will return to campus once again April 30 (Reading Study Day) from 9:00 a.m.-noon. All UE students, faculty, staff, and alumni can take advantage of this free service by bringing paper to the Piranha truck in Koch Center for Engineering and Science parking lot. Paper will be shredded off-site. We will place bins along the parking lot to allow each person to empty their own material for a no contact approach.
So, if mounds of paper are taking over your office, home, or room, this is the time to gather those old files, receipts, cancelled checks, tax forms, etc. No need to take out the staples or paper clips. Avoid identity theft by having confidential information permanently destroyed.
Please - no telephone books, magazines, or newspapers. Also, please note that there is a 100-pound paper limit per visit (number of visits is not limited).
BECOMING CENTERED Paintings by Lori Rivera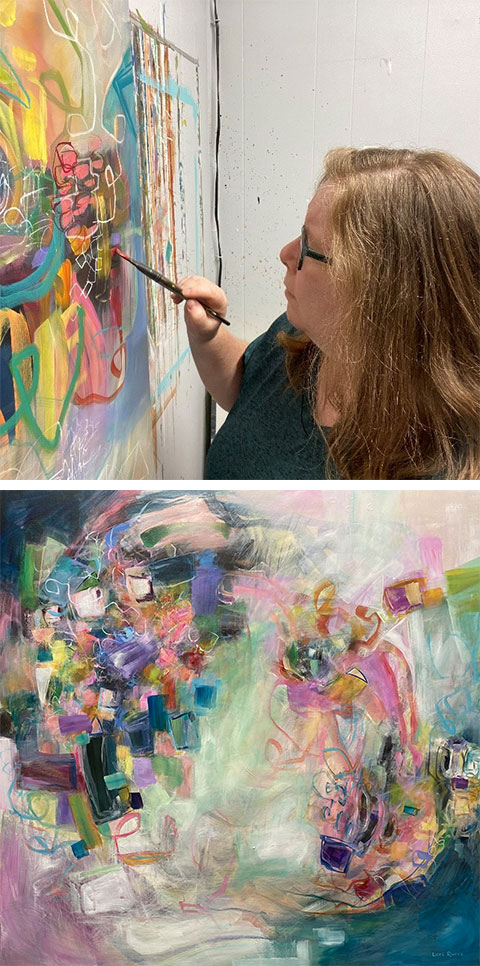 Local Artist Paints to Heal
Lori Rivera finds that the world nearly disappears when she paints, and she is deeply drawn into the meditative aspects of painting. She loves the healing benefits that painting provides, as she struggles with depression.
At any given time, Lori has a painting in progress on her painting wall in her home studio. Although her roots are in representational painting, she has recently decided to devote the majority of her time to growing as an abstract artist. She sees abstract art as the most fitting genre that allows her to communicate her emotions.
She usually starts with dark colors and then works up to lighter colors in the final layers. She feels this process is symbolic of rising from the darkness of depression and signifies her triumph over it. "As I go through this process with each painting, I am reminded of where I've been and how far I've come," says Lori.
She started painting over ten years ago, but her interest in pursuing art as a career was reawakened when she was inspired by artists at Peace Zone, where she served as Executive Director. While working, she painted in her spare time and decided to pursue art full time several years ago.
Lori's most recent project is creating paintings inspired by music, and she often listens to the music on repeat as she paints. She focuses on how the music makes her feel and communicates that feeling onto the canvas. Sometimes the music matches her mood, while other times the music she chooses is totally opposite of what she is feeling. Ultimately though, she relies on spontaneity and allows each painting to develop organically as each brushstroke guides the next.
Her work has been shown in Virginia, Pennsylvania, Ohio, New Harmony, and Evansville. You can see her work in person at the University of Evansville's Krannert Gallery April 11th through May 9th. The exhibit, Becoming Centered, overlaps with Mental Health Month, which is during the month of May. The opening reception is April 22nd at 6:30 pm.
The Department of Art at UE offers a wide range of degree programs and areas of specialization in the visual arts. It houses a number of specialized studios for ceramics, drawing, metalwork and jewelry, painting, printmaking, photography, sculpture, visual communication design, and watercolor. The Krannert and Peterson Galleries are also a vital resource for the students, as well as the Evansville area.
Students can receive BFA, BA & BS degrees in a variety of Art Studies: Studio Art, Art and
Associate Studies, Art Education, Visual Communication Design and Pre-Art Therapy. This exhibition is sponsored by the Department of Art with the generous support of the Efroymson Family Fund. The Krannert Gallery is located on the first floor of Krannert Hall of Art & Music.
Please visit the UE website www.evansville.edu/majors/art/majors.cfm
Or FaceBook Page: University of Evansville Department of Art & Melvin Peterson Gallery
For more information about Lori and her art, visit www.loririverafineart.com.
These stunning, abstract paintings can be seen in the Krannert Gallery April 11 – May 9
A public Reception for the Artist is April 22, 6:30pm. Masks & Social Distancing will be observed.
Kudos to Spanish Professor Cindy Crowe's Latinx Community Health ChangeLab!

Kudos to Spanish Professor Cindy Crowe's Latinx Community Health ChangeLab, which has worked with a local healthcare provider this semester translating as well as creating materials in Spanish for the Latinx community. They created a pamphlet to explain the importance of the COVID-19 vaccine and dispel myths. In addition, realizing that part of vaccination hesitancy in that community could be the ID requirement, the students reached out to Kelly Paul, Pharmacist in Charge at Ascension St. Vincent's Vaccine Clinic and to Fr. Martin Estrada, Associate Pastor at Holy Rosary who delivers the mass in Spanish. This group worked together to sponsor a clinic at Holy Rosary where ID would not be required. The ChangeLab students served as interpreters for the clinic where 110 members of the Latinx community were vaccinated. Congratulations to Cindy and her students on this incredible service to our community!!
Congratulations 2021 UE Leadership Award Recipients! Emerging Changemaker Award & Changemaker of the Year Award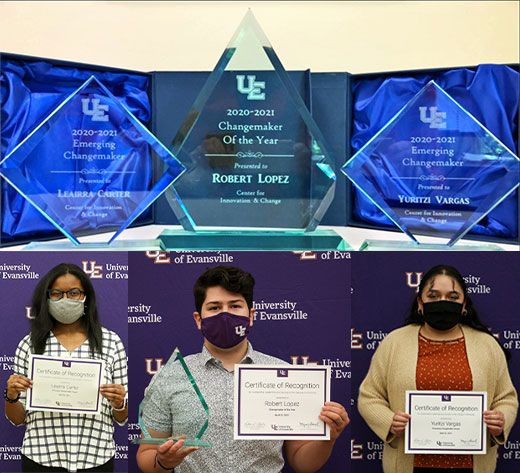 Congratulations 2021 UE Leadership Awards Recipients!
Emerging Changemaker Award
Changemaker of the Year Award
The University of Evansville is an Ashoka Changemaker campus, one of fewer than 50 in the entire world and the only one in Indiana. The Center for Innovation & Change is here to provide our students an opportunity to change their world, and each year, hundreds of students all across campus take part.
The first award we presented is the Emerging Changemaker Award. It is designed to recognize students new to UE who jump in to serve their communities. This year, it is a shared award between two freshmen who took the Transformative Action ChangeLab their first semester on campus, conducted original research, and designed a mindfulness trail that will bring health and peace to all who enjoy it. It's our great pleasure to recognize UE Fellows Leairra Carter and Yuritzi Vargas as joint recipients of the Emerging Changemaker Award!
The second award we presented is the Changemaker of the Year Award. This is award is designed to recognize sustained work on a project that is transformative for the community, whether on campus or off. The student receiving this award has been working on his project for 3 years now, even before he came to UE. He started as a participant in the High School Changemaker Challenge, kept working on his idea in ChangeLab his first semester, and recently broke ground on what will be a city-block sized park downtown for all to enjoy. We are so honored to recognize our good friend Robert Lopez as Changemaker of the Year!
Summer Work Study Available
Several Departments seeking students to fill available work-study jobs for the summer. Students are not required to be enrolled in summer classes to participate. Positions are available to all continuing undergraduate students returning for the Fall Semester. View and apply for open positions on WebAdvisor under Student Employment.
Apply Now for Summer Work Study Position in Residence Life
Apply now for a part-time (up to 35 hrs/week) position in Residence life! Student must be available to work between 8:00AM and 5:00PM on regular business days, Monday through Friday. Ideal for student who may be taking summer courses as we offer flexibility around your class schedule. The applicant should have general clerical skills, as the position entails answering phone calls, composing and sending emails, and running errands for Res Life staff. See job posting on WebAdvisor to apply.
Biology 107 Summer Lab Science
Biology 107 (4 cr) will be offered online this summer session 1 from May 17-June 18. The lab component will be online as well utilizing web-based simulations. This course satisfies lab science General Education credit (Outcome 8). All majors are welcome! If you have any questions, please contact Dr. Gordon at ng62@evansville.edu.
Students: Share your thoughts on the Spring 2021 semester!
With the spring semester ending soon, the Coronavirus Task Force wants to know how the campus supported you during this time – and how we can improve. We'd like to know about:
Your overall educational experience while taking in-person or online classes
Your emotional health and wellness
Your attitudes and actions toward the COVID-19 vaccine
Share your thoughts in this survey: https://uesurvey.evansville.edu/COVIDSP2021

The survey takes 10-15 minutes to complete, and all responses will remain anonymous unless you provide an email for follow-up. Please complete the survey by 5:00 p.m. on Friday, May 7.

With your feedback, the University of Evansville can better focus necessary efforts and resources to ensure a safe and successful Fall 2021 semester.

Thank you for your help!
April 30th Obsolete Electronics Recycling - Hale Loop Drive from 9:00 a.m. - Noon
Students and employees (faculty, administrators and staff) can bring the following personal, obsolete electronic equipment to be recycled at no cost:
• LCD displays, LCD TV's and LCD monitors, computers, printers, fax machines, laptops, cell phones, PDAs, cables, circuit boards, connectors, electrical equipment, audio video equipment, DVD players, stereos, radios, calculators, speakers, VCRs. Small quantities of batteries will be accepted provided they are not swollen or leaking.
The following items will NOT be accepted:
• CRT TV's and CRT computer monitors
• Fluorescent light bulbs (including compact bulbs), refrigerators, freezers, microwaves, stoves, vacuum cleaners, dehumidifiers, leaking or swollen batteries and any other items C&I deems unallowable
• Electronics owned by the University.
NOTE: The cost of processing CRT TV's and CRT computer monitors has increased significantly, and the University is no longer able to cover these items. However, these items may be brought to the following location:
- C&I Electronics located at 1700 N Lafayette Ave, Evansville, IN 47711 Monday – Friday from 9:00 a.m. – 5:00 p.m.
For more information or questions contact Amber Elkins at ae152 or 2697.


University of Evansville Theatre's ZOOMBOX Series Presents RED BIKE
The University of Evansville Theatre presents RED BIKE, by Caridad Svich, at 7:30 p.m., Fri., April 30, and Sat., May 1, as part of ZOOMBOX, a student-directed play series on the online platform Zoom.
This Obie Award-winning playwright kicks off her seven-play "American Psalm" cycle with RED BIKE, a funny, thought-provoking meditation on suburban capitalism—told through the eyes of an 11-year-old child. In a small Midwestern town, a bike offers true freedom to a kid and encourages them to push past the boundaries of their community and expand their imagination. Leaping through time and memory, this poetic and poignant new play offers a child's glimpse into the erosion of the "American Dream." And, yes, while children may worry and fret about this adult topic, they also offer us hope with their resiliency and their capability to also sing and dance with unabashed joy. It just may make you miss your own childhood red bike!
Julia Veiga, a senior theatre education major, from Flowery Branch, Ga., directs RED BIKE; Brandi Borchers, a sophomore design and technology major, from Portland, Ore., is the Zoom environmental designer; Joy Weidenhamer, a junior theatre studies major, from Omaha, Neb., is the costume designer/stylist; Kyla Clift, a junior performance major, from Arlington, Texas, is the dramaturg; and Lauren Ward, a senior stage management major, from Fort Worth, Texas, is the stage manager.
The cast features David Akinwande, a sophomore performance major from Houston, Texas and Marie Reilly, a sophomore performance major, from Spring Hill, Fla.
RED BIKE was first produced as a National New Play Network Rolling World Premiere by Pygmalion Productions (UT), Know Theatre of Cincinnati (OH), Simpatico Theatre (PA), and Wilbury Theatre Group (RI). For more information, please visit nnpn.org. RED BIKE was developed in association with The Lark, New Dramatists, and Chaskis Theatre (London).
Tickets are FREE, but registration is required. To secure your spot, visit www.uealumnionline.com.
Summer Work Study Position Available in Student Financial Services
Looking for extra summer income? Student Financial Services is looking for a summer student worker. Clerical assistant position available for an undergraduate student enrolled full time for the fall 2021 semester. Position is 28 hours per week and entails general office tasks, no experience needed. See job posting on Webadvisor to apply.
April is Sexual Assault Awareness Month
April is Sexual Assault Awareness Month. The Center for Diversity, Equity, and Inclusion and the Office of Institutional Equity are providing multiple opportunities for members of the campus community to get involved and stand up against sexual violence.
Sign the University's Pledge to Get Consent. The University of Evansville defines consent as "a voluntary, informed and freely-given agreement, communicated though mutually-understandable words and/or actions , to engage in agreed-upon Sexual Contact, Sexual Intercourse, Sexual Exploitation, or other sexual activity." By participating in this pledge, you are agreeing to make sure all of your sexual encounters are fully consensual. Sign the Pledge here: https://www.evansville.edu/center-for-diversity-equity-and-inclusion/pledge-to-get-consent.cfm. The link is live for the entire month of April; the student group or team with the most pledges will be featured on the Center's social media pages.
On Monday, April 26th; join us for Bystander Intervention Training from 6-7pm. CDEI intern Katie Vinci, who is trained through It's On Us to provide bystander training will take us through steps on how to appropriately and safely intervene when you witness someone being harassed. Register for the Zoom training here: https://evansville-edu.zoom.us/meeting/register/tJEsce-hrzMvGtJ3eCXJTs4ipkcK58wbNXbi.
On Tuesday the 27th, the Center has partnered with the Students for Gender Violence Awareness at USI to bring nationally renowned speaker Vankayla Haynes for a Zoom presentation. Haynes will be speaking about sexual assault and marginalized communities. The presentation runs from 6-7pm and can found here: https://usi.zoom.us/j/99201657102.
Wednesday, April 28th is Denim Day. Wear denim in support of survivors of sexual violence and to bring awareness to sexual assault.
On Thursday the 29th, join us as we speak to a panel of experts in the UE and Evansville community about sexual assault on college campus and the resources available to individuals who have experienced an assault. Join individuals from Institutional Equity, Counseling Services, Public Safety, Albion Fellows Bacon Center, the Prosecutor's Office, Evansville Police Department, and Deaconess Hospital as they discuss sexual assault. Register for the panel here: https://evansville-edu.zoom.us/meeting/register/tJYvdOmqpzwtGN3_elA-Ul7RdMLE0UDPZG8H.
2021-22 Kahn Scholarship Application Available
It was the desire of the donor, Margery Florence Kahn, that her scholarship be awarded to "dedicated and conscientious students who exhibit a true passion for their chosen fields of study, and who, in the opinion of the members of the University of Evansville faculty, are likely to bring the same enthusiasm into the performance of their jobs or the practice of the professions which they will pursue following graduation."
All University of Evansville full-time undergraduate students who will be juniors or seniors in 2021-22 may apply. An essay of about 300 words must accompany the application, along with two to four faculty recommendation letters.
Application is available here: https://forms.office.com/r/8vduXcKZXa
Completed applications and recommendation letters should be returned to the Office of Student Financial Services by MAY 10th.
Questions may be directed to the Office of Student Financial Services via email or by phone at (812) 488-2364
#OnlyYESmeansYES: Take the Pledge to Get Consent
April is Sexual Assault Awareness Month. Do your part to reduce instances of sexual violence by taking the Center for Diversity, Equity, and Inclusion's pledge against sexual violence. Pledge to always get consent from your partners, be an active bystander in dangerous situations, and to help UE create a safe campus environment.
Encourage your student groups to participate in the pledge. The Student group with the most pledges by April 30th will be featured on the Center for Diversity, Equity, and Inclusion's social media pages (Instagram: @uediversity, Facebook: UE Center for Diversity, Equity, and Inclusion).
Sexual Assault Awareness Month / Religious Exploration Month Challenge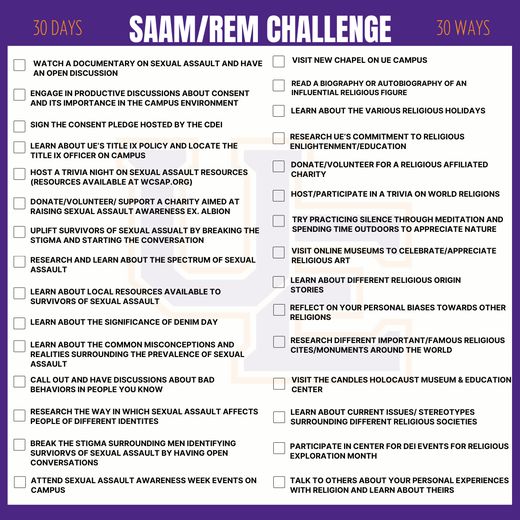 The month of April highlights Sexual Assault Awareness Month and Religious Exploration Month. Join the UE SAAM/REM Challenge sponsored by the Center for Diversity, Equity and Inclusion! In this challenge you will find 30 ways for 30 days of religious exploration and sexual assault awarness to actively learn, engage, support, communicate with individuals across the religion spectrum and survivors of sexual assault, while also breaking the stigma surrounding religion and sexual assault awareness. Items listed in the challenge can be done personally or in a social group! Join the Center in one of our many events for the month focused on religion or sexual assault awareness, research the origins and culture of Denim Day and/ or grab a friend and reflect about what religion means to you. However and whatever you do for the #SAAM/REMChallenge, challenge yourself!
We can't wait to see the ways in which you all #SAAM/REMChallenge yourself!
To make it extra fun, share what you're doing on social media and be sure to tag us!
Instagram: @uediversity Facebook: UE Center for Diversity Equity and Inclusion
Sexual Assault Awareness Month and Religious Exploration Month Task List
Watch a documentary on sexual assault and have an open discussion
Engage in productive discussions about consent and its importance in the campus environment
Sign the consent pledge hosted by the CDEI
Learn about UE's Title IX policy and locate the Title ix officer on campus
Host a trivia night on sexual assault resources (Resources available at WCSAP.org)
Donate/volunteer/ support a charity aimed at raising sexual assault awareness Ex. Albion
Uplift survivors of sexual assault by breaking the stigma and starting the conversation
Research and learn about the spectrum of sexual assault
Learn about local resources available to survivors of sexual assault
Learn about the significance of Denim Day
Learn about the common misconceptions and realities surrounding the prevalence of sexual assault
Call out and have discussions about bad behaviors in people you know
Research the way in which sexual assault affects people of different identities
Break the stigma surrounding men identifying surviorvs of sexual assault by having open conversations
Attend Sexual Assault Awareness Week events on campus
Visit New Chapel on UE Campus
Read a biography or autobiography of an influential religious figure
Learn about the various religious holidays
Research UE's commitment to religious enlightenment/education
Donate/volunteer for a religious affiliated charity
Host/participate in a trivia on world religions
Try practicing silence through meditation and spending time outdoors to appreciate nature
Visit online museums to celebrate/appreciate religious art
Learn about different religious origin stories
Reflect on your personal biases towards other religions
Research different important/famous religious cites/monuments around the world
Visit the Candles Holocaust Museum & Education Center
Learn about current issues/ stereotypes surrounding different religious societies
Participate in center for DEI events for Religious Exploration month
Talk to others about your personal experiences with religion and learn about theirs
Deadline Extended: 2021-22 Dr. Marvin E. Hartig Memorial Scholarship
UPDATE: The scholarship deadline has been extended to Friday, May 7.
Family, friends and loved ones of the late Dr. Marvin E. Hartig are pleased to announce the application process for the Dr. Marvin E. Hartig Memorial Scholarship. This scholarship is dedicated to the loving memory of Dr. Hartig, Dean of Evansville College's Evening College in 1967, and administrator for the Center for Advanced Study, director of the Evansville chapter of the American Institute of Banking (AIB), and the international student advisor. In 1974, Dr. Hartig was appointed Dean of Academic Services. He retired in 1984 after serving his alma mater for thirty-five years and passed away in 2007.
This scholarship will be awarded annually to a deserving sophomore student. Preference will be given to a student working while being enrolled as a full-time student. International students are encouraged to apply.
Eligible students for the 2021-2022 Hartig Memorial Scholarship will be sophomores in the 2021-2022 academic year.
Download the 2021-22 Dr. Marvin E. Hartig Memorial Scholarship application.
Deadline: Please return all materials to the Office of Student Financial Services by April 23, 2021. The decision will be announced by June 14, 2021.
Questions: Amanda Wood, administrative assistant to the Office of Student Financial Services, at aw505@evansville.edu or 812-488-2364
Health Risk Assessment for 2020-2021 Medical Plan Year
UE Health Risk Assessments Update:
For those enrolled in the University's HRA Medical Plan, due to the pandemic and current COVID restrictions, offering onsite health screenings has not been a possibility during the 2020-2021 plan year. Due to these circumstances, medical premiums in 2021-2022 will not be affected by your health screening status. If you wish to complete your health risk assessment in order to earn HRA credits for the current plan year, please schedule your appointment with the onsite medical clinic no later than May 1 at 888-492-8722 or message your clinic nurse through the Ascension Patient Portal. Should you have any additional questions or concerns, please contact Ashley Chipps at ac375@evansville.edu.
Class of 1961 Faculty Fellowship Awards
Congratulations to Jason Pitt, assistant professor of physical therapy and Yolanda Obaze, assistant professor of supply chain management on receiving the Class of 1961 Faculty Fellowship Award. The award was established in 1961 with gifts and pledges from the Class of 1961. It was created to provide support for pre-tenured faculty research projects. Thank you for your contributions to the University through your research endeavors.
Congratulations 28th Annual Leadership Award Recipients
The Center for Student Engagement would like to congratulate all the winners that were recognized at the University of Evansville 28th Annual Leadership Awards Ceremony that was held on April 22, 2021.
Here is a list of this year's winners.
Admission Ambassador Service Award – Ty Meadors
Admission Ambassador Leadership Award – Kirby Swails
Lois Patton Award – Eryn Gould
Ralph H. Coleman Scholar Athlete Award – Ian Alberts
Student Government Association Vision Award – Storm Poser
Mark R. Simpson Award – Nick Lewis
Outstanding Intramural Supervisor- Jeffrey Tarala
Outstanding International Leadership Award – Alfred Ijeomah
Outstanding International Senior Award – Pamela Oliva
Emerging Changemaker Awards: Leairra Carter, Yuritzi Vargas
Changemaker of the Year: Robert Lopez
Resident Assistant of the Year – Will McDonner
Donnie Dunville Service Award – Dinah Ferguson
Community Service Initiatives Golden Heart Student Award – Timothy Miller
Community Service Initiatives Golden Heart Staff Award – Michael Tessier
Senior Keynote Address Finalists: Timmy Miller, Corinne Croslyn, Grace Maddux
Senior Keynote Address Speakers: Leila Bowman, Samantha Wallisch
Howard S. Rosenblatt Dean of Students Leadership Award - Student Organization Advisor of Year – Karyssa Vasquez
Howard S. Rosenblatt Dean of Students Leadership Award - Student Leader of the Year – Pamela Oliva
Howard S. Rosenblatt Dean of Students Organization of the Year Award – International Club
ACE Certificate Recipients: Kayla Blake, Kalli Britton, Selena Carpenter, Keaton Carr, Savannah Cook, Brittany Corley, Sullivan Cox, Nick Galloway, Minka Gill, Haylee Harmeyer, Lyndia Hayes, Zachary Jakpor, Victoria Martin, Malia Metelues, Lauren Meyer, Andrea Ruiz Ramis, Rachel Pritts, Adriana Sheridan, Kirsten Spears, Kara Steward, Taylor Thomas, Benjamin Venero Concha, Alexis Wheeler, Emma Wininger, Jialin Xiang
Please take the time to watch the video and celebrate the accomplishments of your fellow students at: https://www.youtube.com/watch?v=BvhR0v93Ol0. Recipients may request their photo at cse@evansville.edu.
Student Awards Announced at English Department Literary Conference
On Saturday, April 17, the English Department's 9th Annual Chutney Literary Conference showcased award-winning student essays and contributions to the study of literature. Awards were granted in three categories:
Virginia Lowell Writing Awards
3rd place: Cecilia Thon, "How does Shakespeare Examine Gender Roles in Othello?"
2nd place: Charlie Watts, "The Voiceless Lovers Left Behind: The Silent Perspectives of Calypso and Penelope"
1st place: Sam Wallisch, "Who is the Hero of Coriolanus?"
George Klinger Memorial Prize for Excellence in Writing Academic Essays:
Victoria Martin, "The Stories We Tell: Developing the Craft of Narrative"
Larry Caldwell Award for Outstanding Contribution to the Department of English:
Katherine Fox
Congratulations to the award winners and to all presenters at the conference!
Mechanical Engineering Seniors Inducted into Order of the Engineer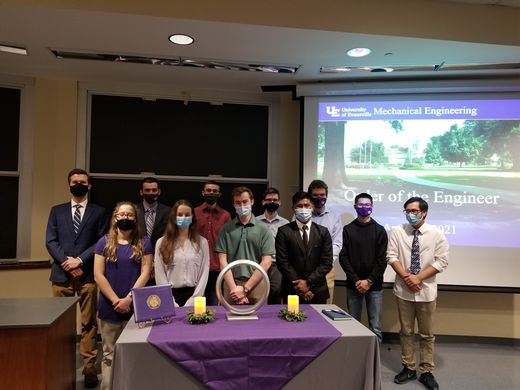 Congratulations to the newest members of the Order of the Engineer!
Mechanical Engineering seniors from the Class of 2021 were invited to join the Order of the Engineer as they prepare to enter the engineering profession. Recent graduates from the Class of 2020 were also invited to participate in a virtual induction ceremony as young engineering professionals. Details of the Order from the organization's website are included below.
The Order of the Engineer was initiated in the United States to foster a spirit of pride and responsibility in the engineering profession, to bridge the gap between training and experience, and to present to the public a visible symbol identifying the engineer. At the induction ceremony, engineers are invited to accept the Obligation of the Engineer and a stainless steel ring. The Order fosters a unity of purpose and the honoring of one's pledge lifelong. The Obligation is a creed similar to the oath attributed to Hippocrates (460-377 B.C.) that is generally taken by medical graduates and which sets forth an ethical code. The Obligation likewise, contains parts of the Canon of Ethics of major engineering societies. Initiates, as they accept it voluntarily, pledge to uphold the standards and dignity of the engineering profession and to serve humanity by making the best use of Earth's precious wealth.
Audrey Cuellar receives the Distinguished Senior Award of the International Studies Program
Audrey L. Cuellar has been awarded the 2020-21 Wesley T. Milner Distinguished Senior Award of the International Studies Program. Audrey is double majoring in International Studies and Ethics and Social Change. The honor was established in 2016 and is awarded annually to the outstanding senior of the International Studies major. The award is named for the former director of the International Studies Program, Dr. Milner in honor of his dedication in the IS program at UE for over two decades.
Congratulations to the 2021 Sigma Inductees
The University of Evansville Eta Lambda Chapter of Sigma International Honor Society of Nursing inducted new members in a ceremony April 23, 2021. Inductees included Juniors, Alexandria Brothers, Katie Goslak, Alexa Hopf, Rachel Jones, Sarah Kelley, Kylie Miles, Katelyn Sander. Seniors, inductees included Kaylee Wagler and Alison Windle. Additionally, RN to BSN Senior Denise Johnson along with Nurse Leader, Kelly Pruden, MSN, RN, CNRN, SNRN were inducted. The ceremony also recognized 2020 Inductees Emma Mehling and Tara Smith. Alexa Hopf received the Key Award. Special thanks to volunteers Jasmine Jones, Savannah Watson, Johnna Mitchell, Emily McMongile, Elaina Portor, and Alexa Wheeler assisted with the induction of new members. Kourtney Radcliff MSN, RN, CMSRN, NE-BC gave the keynote address. The mission of Sigma International is advancing world health and celebrating nursing excellence in scholarship, leadership, and service.
Aces Place Five on MVC Swimming & Diving Scholar-Athlete Team
The Missouri Valley Conference announced the 2021 Swimming and Diving Scholar-Athlete Team following the completion of the conference championship.
Five student-athletes from the University of Evansville's women's swimming and diving squad earned scholar-athlete team honors. Representing the Purple Aces were Emily Vasquez (3.90 GPA), Sarah Kempf (3.88 GPA), Margaret Franz (3.60 GPA), Allison McDonald (3.50 GPA), Sage Moore (3.35 GPA).
The Missouri Valley Conference had an outstanding 63 student-athletes overall on the scholar-athlete team this season.
Scholar-Athlete honors require athletes to have completed at least one year and maintain either a 3.3 grade-point average and obtain all-conference honors, achieve a 3.5 grade-point average and finish top-16 in an individual event at the conference championships, or maintain a 3.8 grade-point average and participate in the MVC championship (including non-scorers).

Sophia Rohleder earns MVC Scholar-Athlete recognition
For the second time in her career, University of Evansville senior golfer Sophia Rohleder was named a Missouri Valley Conference Scholar-Athlete First Team selection in an announcement by the league office this morning.
Rohedler, who was a selection to the First Team in 2020, was one of 18 student-athletes to earn either First Team or Honorable Mention recognition. The 2021 MVC individual champion led the Purple Aces to their first-ever team championship and finished the 2021 season with an average of 76.87 strokes per round.
She finished in the top four on the individual side in four of the five tournaments that she finished. Rohleder opened the season winning medalist at the ASU Spring Classic with scores of 78-77-78 before earning another individual championship with rounds of 75 and 76 at the Don Benbow Invitational.
A season-low round of 72 at the Jan Weaver Invite in Murray, Ky. saw Rohleder playing her best golf heading into the MVC Championship. Battling the elements in St. Charles, Rohleder became UE's second individual champion in the tournament, clinching the win with a final of 229 strokes.
The Evansville native is a Biology major with a 3.657 GPA.
Baseball Back Home to Open Home-Stand against Dallas Baptist
Beginning an eight-game home-stand, the University of Evansville baseball team welcomes in Dallas Baptist for a four-game set on Friday, Saturday, and Sunday at German American Bank Field at Charles H. Braun Stadium in Evansville.

Evansville vs. DBU | April 30, May 1, & 2
Date | Time Fri., April 30 | 6 PM
Sat., May 1| 1 & 4 PM
Sun. May 2 | Noon
Location Evansville, Ind.
Site German American Bank Field at Charles H. Braun Stadium
April 30, May 1 & 2 Evansville vs. DBU
Previewing the Matchup: Dallas Baptist
• The Aces and Patriots meet for the 28th time in the all-time series on Friday night. DBU owns a 19-8 advantage in one of the shorter series histories for the Aces in the Missouri Valley Conference.
• Despite trailing in the all-time series, Evansville captured the series the last time the two sides met in 2019, earning a 2-1 series win at Charles H. Braun Stadium.
• Entering the weekend, Dallas Baptist is coming off an impressive weekend, taking three of four from Indiana State, earning soul possession of first in The Valley.
• Evansville looks to continue its play from last Friday. The Aces 12-0 win over Illinois State on Friday marked the Aces largest win over a Conference opponent in nearly seven full seasons. The last time Evansville accomplished the feat came in an eerily similar performance. On May 10, 2014, the Aces defeated Illinois State, 12-0, in seven innings of the Friday night series opener. The starting pitcher that night was Kyle Freeland, whose line (7.0 IP, 4 H, 0 ER, 5 Ks, 0 BB) was identical to the line that Shane Gray recorded for the Aces on Friday.
On Base Any Way
• The Aces have found ways to get on base this season and have been comfortable earning it any way, including via hit-by-pitch.
• Evansville ranks 40th in the nation in hit-by-pitch, drawing 51 on the season through 38 games.
• Troy Beilsmith and Ben Komonosky have been the two primary batters who have been hit by pitches this season with Beilsmith sitting fifth in the nation, being hit 17 times.
Shutting Down the Opposition
• On the defensive end, Evansville has put in some strong performances, limiting its opponents runs. T
• his season, the Aces have recorded four shutouts, in first in The Valley with Indiana State.
• Nationally, Evansville is in 18th in total shutouts.
• Three of the four shutouts have come with Shane Gray on the mound as the starter. The other came with Jake McMahill starting.
Tanner Eyes Top 10
• Entering the weekend, Tanner Craig sits just one home run away from entering Evansville's career top 10 list.
• Craig has smashed 23 home runs in his Aces career, one off of the 10th-best total in school history, recorded by Ty Chiesa, Darren Niethammer, Bobby Hodges, and Pat Tumilty.

INFO
For all of the latest information on University of Evansville athletics, visit GoPurpleAces.com or follow the program on Twitter via @UEAthletics.
Contribute to AceNotes
To have content considered for inclusion in AceNotes, please submit a Marketing Request Form. Deadline for submission to AceNotes is 10:00 a.m. on the requested date of publication. Only articles concerning UE related/sponsored activities will be accepted. Articles submitted to AceNotes may be edited for length and clarity. Submitter contact information is at the end of each article.