| | |
| --- | --- |
| AceNotes Today | Thursday, April 29, 2021 |
Vaccine Mythbuster
MYTH: You don't need to get the vaccine if you've already had COVID
FACT: Those who already had COVID-19 should get vaccinated. Duration of immunity from natural infection of the virus is not known and people have reported obtaining COVID-19 twice. There are different strains of the virus and the CDC recommends getting the vaccine due to severe health risks and the possibility of re-infection.
This Week in Music
The UE Department of Music Streaming Concert Series continues this week with two performances. On Tuesday, April 27 at 7:30 p.m., we will be live streaming our annual Gumberts Award Competition. This special event features three graduating senior music majors chosen by the Music Faculty based on excellence in performance. This year's soloists are soprano Hannah Hunt, flautist Jessica Smith, and clarinetist Ashley Workman. All three soloists are graduating music therapy majors. The performance will be adjudicated by three guest judges and the winner of the Gumberts Award will be announced at the end of the live stream.
Then, on Sunday, May 2 at 4:00 p.m., the student musicians of the UE Symphony Orchestra and UE Wind Ensemble will be presenting their final recorded performance of the year. Highlights of the program will be a special arrangement of the first movement of Mahler's Fifth Symphony, Paul Hindemith's March from Symphonic Metamorphosis, and the Brandenburg Concerto No. 5 by J. S. Bach featuring faculty soloists Leanne Hampton, Jia-Rong Gan, and Robert Nicholls. The UE Symphony Orchestra is conducted by Chun-Ming Chen and the Wind Ensemble is conducted by Kenneth Steinsultz.
All concert links can be found at: https://www.evansville.edu/majors/music/calendar.cfm. We hope you will join us online.
Free Paper Shredding on Friday, April 30
Free off-site paper shredding by Piranha Mobile Shredding will return to campus once again April 30 (Reading Study Day) from 9:00 a.m.-noon. All UE students, faculty, staff, and alumni can take advantage of this free service by bringing paper to the Piranha truck in Koch Center for Engineering and Science parking lot. Paper will be shredded off-site. We will place bins along the parking lot to allow each person to empty their own material for a no contact approach.
So, if mounds of paper are taking over your office, home, or room, this is the time to gather those old files, receipts, cancelled checks, tax forms, etc. No need to take out the staples or paper clips. Avoid identity theft by having confidential information permanently destroyed.
Please - no telephone books, magazines, or newspapers. Also, please note that there is a 100-pound paper limit per visit (number of visits is not limited).
Virtual Celebration Honoring Dr. Davies Bellamy Service to the University of Evansville
The School of Education cordially invites you to join us via Zoom to celebrate with Dr. Davies Bellamy as he retires from the University of Evansville. Our virtual celebration will take place on Friday, April 30 at noon CST. We hope you can join us! Be sure to have your favorite snack on hand for the virtual party; You know Dr. Bellamy believes there should be food at every meeting!
Topic: Dr. Bellamy's Retirement Celebration via Zoom
Time: Apr 30, 2021 12:00 PM Central Time (US and Canada)
Join Zoom Meeting https://us02web.zoom.us/j/89727681501?pwd=d1hwNitPWGxhSk9pL2ZBSnJhNHRCdz09
Meeting ID: 897 2768 1501
Passcode: UE
One tap mobile
+13017158592,,89727681501#,,,,*562269# US (Washington DC)
+13126266799,,89727681501#,,,,*562269# US (Chicago)
Dial by your location
+1 301 715 8592 US (Washington DC)
+1 312 626 6799 US (Chicago)
+1 646 558 8656 US (New York)
+1 253 215 8782 US (Tacoma)
+1 346 248 7799 US (Houston)
+1 669 900 9128 US (San Jose)
Meeting ID: 897 2768 1501
Passcode: 562269
Find your local number: https://us02web.zoom.us/u/keDIWyiTN2
Congratulations 2021 UE Leadership Award Recipients! Emerging Changemaker Award & Changemaker of the Year Award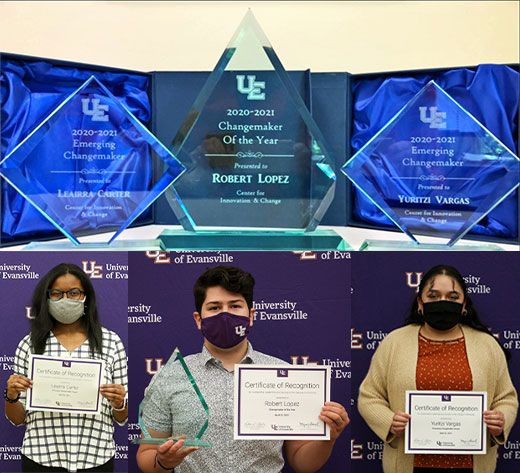 Congratulations 2021 UE Leadership Awards Recipients!
Emerging Changemaker Award
Changemaker of the Year Award
The University of Evansville is an Ashoka Changemaker campus, one of fewer than 50 in the entire world and the only one in Indiana. The Center for Innovation & Change is here to provide our students an opportunity to change their world, and each year, hundreds of students all across campus take part.
The first award we presented is the Emerging Changemaker Award. It is designed to recognize students new to UE who jump in to serve their communities. This year, it is a shared award between two freshmen who took the Transformative Action ChangeLab their first semester on campus, conducted original research, and designed a mindfulness trail that will bring health and peace to all who enjoy it. It's our great pleasure to recognize UE Fellows Leairra Carter and Yuritzi Vargas as joint recipients of the Emerging Changemaker Award!
The second award we presented is the Changemaker of the Year Award. This is award is designed to recognize sustained work on a project that is transformative for the community, whether on campus or off. The student receiving this award has been working on his project for 3 years now, even before he came to UE. He started as a participant in the High School Changemaker Challenge, kept working on his idea in ChangeLab his first semester, and recently broke ground on what will be a city-block sized park downtown for all to enjoy. We are so honored to recognize our good friend Robert Lopez as Changemaker of the Year!
Summer Work Study Available
Several Departments seeking students to fill available work-study jobs for the summer. Students are not required to be enrolled in summer classes to participate. Positions are available to all continuing undergraduate students returning for the Fall Semester. View and apply for open positions on WebAdvisor under Student Employment.
Apply Now for Summer Work Study Position in Residence Life
Apply now for a part-time (up to 35 hrs/week) position in Residence life! Student must be available to work between 8:00AM and 5:00PM on regular business days, Monday through Friday. Ideal for student who may be taking summer courses as we offer flexibility around your class schedule. The applicant should have general clerical skills, as the position entails answering phone calls, composing and sending emails, and running errands for Res Life staff. See job posting on WebAdvisor to apply.
Biology 107 Summer Lab Science
Biology 107 (4 cr) will be offered online this summer session 1 from May 17-June 18. The lab component will be online as well utilizing web-based simulations. This course satisfies lab science General Education credit (Outcome 8). All majors are welcome! If you have any questions, please contact Dr. Gordon at ng62@evansville.edu.
Students: Share your thoughts on the Spring 2021 semester!
With the spring semester ending soon, the Coronavirus Task Force wants to know how the campus supported you during this time – and how we can improve. We'd like to know about:
Your overall educational experience while taking in-person or online classes
Your emotional health and wellness
Your attitudes and actions toward the COVID-19 vaccine
Share your thoughts in this survey: https://uesurvey.evansville.edu/COVIDSP2021

The survey takes 10-15 minutes to complete, and all responses will remain anonymous unless you provide an email for follow-up. Please complete the survey by 5:00 p.m. on Friday, May 7.

With your feedback, the University of Evansville can better focus necessary efforts and resources to ensure a safe and successful Fall 2021 semester.

Thank you for your help!
April 30th Obsolete Electronics Recycling - Hale Loop Drive from 9:00 a.m. - Noon
Students and employees (faculty, administrators and staff) can bring the following personal, obsolete electronic equipment to be recycled at no cost:
• LCD displays, LCD TV's and LCD monitors, computers, printers, fax machines, laptops, cell phones, PDAs, cables, circuit boards, connectors, electrical equipment, audio video equipment, DVD players, stereos, radios, calculators, speakers, VCRs. Small quantities of batteries will be accepted provided they are not swollen or leaking.
The following items will NOT be accepted:
• CRT TV's and CRT computer monitors
• Fluorescent light bulbs (including compact bulbs), refrigerators, freezers, microwaves, stoves, vacuum cleaners, dehumidifiers, leaking or swollen batteries and any other items C&I deems unallowable
• Electronics owned by the University.
NOTE: The cost of processing CRT TV's and CRT computer monitors has increased significantly, and the University is no longer able to cover these items. However, these items may be brought to the following location:
- C&I Electronics located at 1700 N Lafayette Ave, Evansville, IN 47711 Monday – Friday from 9:00 a.m. – 5:00 p.m.
For more information or questions contact Amber Elkins at ae152 or 2697.


Dr. Bethany Huebner is Featured Speaker for ANEW Evansville Women Network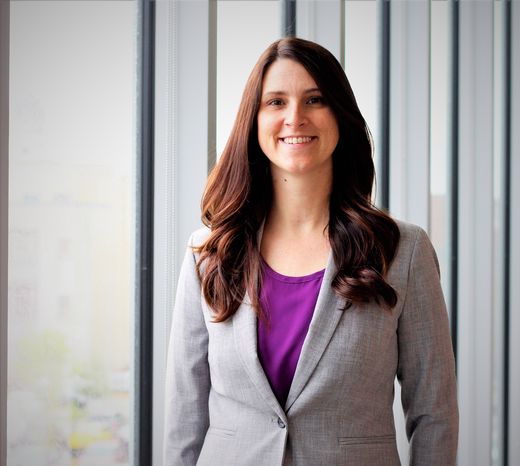 Dr. Bethany Huebner, Physical Therapy Chair and Professor, will be the guest speaker at the ANEW luncheon on April 28th. Dr. Huebner is regularly asked to provide professional development and support training to UE faculty and local leaders.
This workshop will outline 3 key ways to provide effective feedback and boost your ability to help others learn and grow.
A Network of Evansville Women (ANEW) is an organization designed to assist the advancement of women to equal participation in business, industry, and the professions, to foster a favorable climate for women entrepreneurs, and to encourage women to assume greater leadership roles within the business community.
University of Evansville Theatre's ZOOMBOX Series Presents RED BIKE
The University of Evansville Theatre presents RED BIKE, by Caridad Svich, at 7:30 p.m., Fri., April 30, and Sat., May 1, as part of ZOOMBOX, a student-directed play series on the online platform Zoom.
This Obie Award-winning playwright kicks off her seven-play "American Psalm" cycle with RED BIKE, a funny, thought-provoking meditation on suburban capitalism—told through the eyes of an 11-year-old child. In a small Midwestern town, a bike offers true freedom to a kid and encourages them to push past the boundaries of their community and expand their imagination. Leaping through time and memory, this poetic and poignant new play offers a child's glimpse into the erosion of the "American Dream." And, yes, while children may worry and fret about this adult topic, they also offer us hope with their resiliency and their capability to also sing and dance with unabashed joy. It just may make you miss your own childhood red bike!
Julia Veiga, a senior theatre education major, from Flowery Branch, Ga., directs RED BIKE; Brandi Borchers, a sophomore design and technology major, from Portland, Ore., is the Zoom environmental designer; Joy Weidenhamer, a junior theatre studies major, from Omaha, Neb., is the costume designer/stylist; Kyla Clift, a junior performance major, from Arlington, Texas, is the dramaturg; and Lauren Ward, a senior stage management major, from Fort Worth, Texas, is the stage manager.
The cast features David Akinwande, a sophomore performance major from Houston, Texas and Marie Reilly, a sophomore performance major, from Spring Hill, Fla.
RED BIKE was first produced as a National New Play Network Rolling World Premiere by Pygmalion Productions (UT), Know Theatre of Cincinnati (OH), Simpatico Theatre (PA), and Wilbury Theatre Group (RI). For more information, please visit nnpn.org. RED BIKE was developed in association with The Lark, New Dramatists, and Chaskis Theatre (London).
Tickets are FREE, but registration is required. To secure your spot, visit www.uealumnionline.com.
Summer Work Study Position Available in Student Financial Services
Looking for extra summer income? Student Financial Services is looking for a summer student worker. Clerical assistant position available for an undergraduate student enrolled full time for the fall 2021 semester. Position is 28 hours per week and entails general office tasks, no experience needed. See job posting on Webadvisor to apply.
Dr. Angie Wooton, Melissa Rea, Dr. Joni McFelea, and Joan Fedor-Bassemier Present Interprofessional Project at Research Conference
Dr. Angie Wooton, Melissa Rea, Dr. Joni McFelea, and Joan Fedor-Bassemier presented an interprofessional research project on, "Interprofessional Communication and Teamwork," at the University of Southern Indiana Research and Evidence-
Based Practice Performance Improvement Conference on April 22, 2021. This project focused on effective communication and teamwork between Nursing and Physical Therapy Assistant students. Implications for healthcare professionals included interprofessional simulation experiences can reduce faculty workload and improve communication between disciplines.
Financial Aid for Summer Courses
If you are an undergraduate or graduate student seeking financial aid or intending to use loan funds for summer courses at UE, please complete a Summer Financial Aid Application and return to the Office of Student Financial Services (Olmsted 105) however is most convenient. The application will allow our office to assess your aid and loan eligibility.
Work-Study:
On-campus jobs are available for continuing UE students during the summer. You do not need to be eligible for need-based Federal Work-Study during the academic year in order to apply. You may also apply regardless of your enrollment in summer courses. Applications are available within the Student Employment area of WebAdvisor.
Deadline Extended: 2021-22 Dr. Marvin E. Hartig Memorial Scholarship
UPDATE: The scholarship deadline has been extended to Friday, May 7.
Family, friends and loved ones of the late Dr. Marvin E. Hartig are pleased to announce the application process for the Dr. Marvin E. Hartig Memorial Scholarship. This scholarship is dedicated to the loving memory of Dr. Hartig, Dean of Evansville College's Evening College in 1967, and administrator for the Center for Advanced Study, director of the Evansville chapter of the American Institute of Banking (AIB), and the international student advisor. In 1974, Dr. Hartig was appointed Dean of Academic Services. He retired in 1984 after serving his alma mater for thirty-five years and passed away in 2007.
This scholarship will be awarded annually to a deserving sophomore student. Preference will be given to a student working while being enrolled as a full-time student. International students are encouraged to apply.
Eligible students for the 2021-2022 Hartig Memorial Scholarship will be sophomores in the 2021-2022 academic year.
Download the 2021-22 Dr. Marvin E. Hartig Memorial Scholarship application.
Deadline: Please return all materials to the Office of Student Financial Services by April 23, 2021. The decision will be announced by June 14, 2021.
Questions: Amanda Wood, administrative assistant to the Office of Student Financial Services, at aw505@evansville.edu or 812-488-2364
Health Risk Assessment for 2020-2021 Medical Plan Year
UE Health Risk Assessments Update:
For those enrolled in the University's HRA Medical Plan, due to the pandemic and current COVID restrictions, offering onsite health screenings has not been a possibility during the 2020-2021 plan year. Due to these circumstances, medical premiums in 2021-2022 will not be affected by your health screening status. If you wish to complete your health risk assessment in order to earn HRA credits for the current plan year, please schedule your appointment with the onsite medical clinic no later than May 1 at 888-492-8722 or message your clinic nurse through the Ascension Patient Portal. Should you have any additional questions or concerns, please contact Ashley Chipps at ac375@evansville.edu.
Congratulations 28th Annual Leadership Award Recipients
The Center for Student Engagement would like to congratulate all the winners that were recognized at the University of Evansville 28th Annual Leadership Awards Ceremony that was held on April 22, 2021.
Here is a list of this year's winners.
Admission Ambassador Service Award – Ty Meadors
Admission Ambassador Leadership Award – Kirby Swails
Lois Patton Award – Eryn Gould
Ralph H. Coleman Scholar Athlete Award – Ian Alberts
Student Government Association Vision Award – Storm Poser
Mark R. Simpson Award – Nick Lewis
Outstanding Intramural Supervisor- Jeffrey Tarala
Outstanding International Leadership Award – Alfred Ijeomah
Outstanding International Senior Award – Pamela Oliva
Emerging Changemaker Awards: Leairra Carter, Yuritzi Vargas
Changemaker of the Year: Robert Lopez
Resident Assistant of the Year – Will McDonner
Donnie Dunville Service Award – Dinah Ferguson
Community Service Initiatives Golden Heart Student Award – Timothy Miller
Community Service Initiatives Golden Heart Staff Award – Michael Tessier
Senior Keynote Address Finalists: Timmy Miller, Corinne Croslyn, Grace Maddux
Senior Keynote Address Speakers: Leila Bowman, Samantha Wallisch
Howard S. Rosenblatt Dean of Students Leadership Award - Student Organization Advisor of Year – Karyssa Vasquez
Howard S. Rosenblatt Dean of Students Leadership Award - Student Leader of the Year – Pamela Oliva
Howard S. Rosenblatt Dean of Students Organization of the Year Award – International Club
ACE Certificate Recipients: Kayla Blake, Kalli Britton, Selena Carpenter, Keaton Carr, Savannah Cook, Brittany Corley, Sullivan Cox, Nick Galloway, Minka Gill, Haylee Harmeyer, Lyndia Hayes, Zachary Jakpor, Victoria Martin, Malia Metelues, Lauren Meyer, Andrea Ruiz Ramis, Rachel Pritts, Adriana Sheridan, Kirsten Spears, Kara Steward, Taylor Thomas, Benjamin Venero Concha, Alexis Wheeler, Emma Wininger, Jialin Xiang
Please take the time to watch the video and celebrate the accomplishments of your fellow students at: https://www.youtube.com/watch?v=BvhR0v93Ol0. Recipients may request their photo at cse@evansville.edu.
Student Awards Announced at English Department Literary Conference
On Saturday, April 17, the English Department's 9th Annual Chutney Literary Conference showcased award-winning student essays and contributions to the study of literature. Awards were granted in three categories:
Virginia Lowell Writing Awards
3rd place: Cecilia Thon, "How does Shakespeare Examine Gender Roles in Othello?"
2nd place: Charlie Watts, "The Voiceless Lovers Left Behind: The Silent Perspectives of Calypso and Penelope"
1st place: Sam Wallisch, "Who is the Hero of Coriolanus?"
George Klinger Memorial Prize for Excellence in Writing Academic Essays:
Victoria Martin, "The Stories We Tell: Developing the Craft of Narrative"
Larry Caldwell Award for Outstanding Contribution to the Department of English:
Katherine Fox
Congratulations to the award winners and to all presenters at the conference!
Mechanical Engineering Seniors Inducted into Order of the Engineer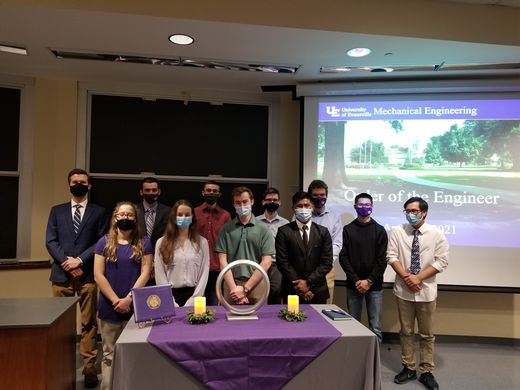 Congratulations to the newest members of the Order of the Engineer!
Mechanical Engineering seniors from the Class of 2021 were invited to join the Order of the Engineer as they prepare to enter the engineering profession. Recent graduates from the Class of 2020 were also invited to participate in a virtual induction ceremony as young engineering professionals. Details of the Order from the organization's website are included below.
The Order of the Engineer was initiated in the United States to foster a spirit of pride and responsibility in the engineering profession, to bridge the gap between training and experience, and to present to the public a visible symbol identifying the engineer. At the induction ceremony, engineers are invited to accept the Obligation of the Engineer and a stainless steel ring. The Order fosters a unity of purpose and the honoring of one's pledge lifelong. The Obligation is a creed similar to the oath attributed to Hippocrates (460-377 B.C.) that is generally taken by medical graduates and which sets forth an ethical code. The Obligation likewise, contains parts of the Canon of Ethics of major engineering societies. Initiates, as they accept it voluntarily, pledge to uphold the standards and dignity of the engineering profession and to serve humanity by making the best use of Earth's precious wealth.
Audrey Cuellar receives the Distinguished Senior Award of the International Studies Program
Audrey L. Cuellar has been awarded the 2020-21 Wesley T. Milner Distinguished Senior Award of the International Studies Program. Audrey is double majoring in International Studies and Ethics and Social Change. The honor was established in 2016 and is awarded annually to the outstanding senior of the International Studies major. The award is named for the former director of the International Studies Program, Dr. Milner in honor of his dedication in the IS program at UE for over two decades.
Dr. Brown is Featured Poet in Janus Head
A set of seven poems by Emeritus Professor of English Arthur Brown is featured, along with an introduction by the editor, in the current issue of Janus Head: Journal of Interdisciplinary Studies in Literature, Continental Philosophy, Phenomenological Psychology, and the Arts.
Anyone who likes can find and download the poems at the journal's website: http://janushead.org/
Congratulations to the 2021 Sigma Inductees
The University of Evansville Eta Lambda Chapter of Sigma International Honor Society of Nursing inducted new members in a ceremony April 23, 2021. Inductees included Juniors, Alexandria Brothers, Katie Goslak, Alexa Hopf, Rachel Jones, Sarah Kelley, Kylie Miles, Katelyn Sander. Seniors, inductees included Kaylee Wagler and Alison Windle. Additionally, RN to BSN Senior Denise Johnson along with Nurse Leader, Kelly Pruden, MSN, RN, CNRN, SNRN were inducted. The ceremony also recognized 2020 Inductees Emma Mehling and Tara Smith. Alexa Hopf received the Key Award. Special thanks to volunteers Jasmine Jones, Savannah Watson, Johnna Mitchell, Emily McMongile, Elaina Portor, and Alexa Wheeler assisted with the induction of new members. Kourtney Radcliff MSN, RN, CMSRN, NE-BC gave the keynote address. The mission of Sigma International is advancing world health and celebrating nursing excellence in scholarship, leadership, and service.
Sympathy to Amy McBride
The University extends its sympathy to Dr. Amy McBride, Associate Professor in the School of Education, in the death of her father, Richard (Dick) L. McBride. Dick studied at the University of Missouri where he was a member of Delta Upsilon fraternity and a lifelong member of the Alumni Association. He proudly served in the ROTC and the US Navy. At the age of 30, he started Abild Construction Company and continued until his retirement in 1999. His motto was to provide honest and reliable service to his customers. Dick was a member of ElKahir Shrine, the Masonic Lodge, the Royal Order of Jesters, Scottish Rite, Rotary Club, and the Elmcrest and Kensington Country Clubs where he served in various leadership roles including the Board of Governors, Executive Board, and President. He was an avid golfer, world traveler, boater, and enjoyed cheering on the Iowa Hawkeyes. A celebration of Life Memorial Service will be held at 1 pm on Thursday, May 6 at Emmanuel Lutheran Church in Naples, FL.
Women's Golf Selected to Columbus Regional
Set to take part in its first-ever NCAA Division I Women's Golf Championship, the University of Evansville women's golf team is heading to the Columbus Regional, which will be hosted by Ohio State University.
The OSU Golf Club – Scarlet Course will host the tournament from May 10-12 with a single round played each day. Each round features start times between 8 a.m. and 10:48 a.m. ET with play beginning on the #1 and #10 tees.
Evansville clinched its spot in the field with last week's exciting victory at the Missouri Valley Conference Championship in St. Charles, Mo. The Purple Aces defeated Northern Iowa in a sudden death playoff hole to finish with the victory. Along with the team success, senior Sophia Rohleder earned the individual championship, joining Kayla Katterhenry as the only UE players to do so in program history.
"It's everything I can imagine and more. It really did not set in until now, but it's a great feeling," Rohleder said. "I'm so excited and just ready to play again."
A watch party was held for the team on Wednesday afternoon during the selection show, which was carried live by the Golf Channel. The UE program played a large role in the show, including a live shot of the team during the introduction of the show, a live interview with head coach John Andrews as well as video of the team reacting to their pick.
"It means a lot to me and Coach (Jim) Hamilton. He built this program and this is what it has been leading up to for a long time," Andrews exclaimed. "The tournament will be the same: they will still play 18 holes and the golf ball will be the same size. We're just playing against bigger competition. We're going to go out and play golf."
Columbus was one of four regions in the championship with each site hosting 18 teams and six individuals. Duke is the top seed in UE's region.
COLUMBUS REGION:
1 – Duke
2 – Arizona State
3 – Virginia
4 – Kent State
5 – Georgia
6 – Vanderbilt
7 – Michigan
8 – Clemson
9 – Oklahoma
10 – Kentucky
11 – Illinois
12 – New Mexico
13 – Nebraska
14 – Washington
15 – Coastal Carolina
16 – Campbell
17 – Evansville
18 – Youngstown State
Contribute to AceNotes
To have content considered for inclusion in AceNotes, please submit a Marketing Request Form. Deadline for submission to AceNotes is 10:00 a.m. on the requested date of publication. Only articles concerning UE related/sponsored activities will be accepted. Articles submitted to AceNotes may be edited for length and clarity. Submitter contact information is at the end of each article.