| | |
| --- | --- |
| AceNotes Today | Friday, April 23, 2021 |
Vaccine Mythbuster
MYTH: The development of COVID-19 vaccines were rushed.
Although they were made in a short period of time they were not rushed. Tens of thousands of participants were studied in safety and efficacy trials. In a normal vaccine trial, enough people must get the disease to know whether it works or not, which often takes an extended period of time, however with COVID-19 it was possible to complete the studies faster due to the rate the virus spread.
COVID-19 Vaccinations for 16 and Older at Ascension St. Vincent
Currently, the Indiana State Department of Health (ISDH) has identified the following Indiana residents as eligible to receive the COVID vaccine:
Healthcare Workers
First Responders
Teachers and school staff in pre-K through high school, child care centers, Head Start and Early Start programs
Licensed childcare providers, including center-based and family care providers
Age 16 and above
Specific groups of patients at highest risk of severe illness from COVID-19 who are identified by their healthcare provider are also eligible. These individuals will receive a unique registration link by text or email.
We will keep our patients updated as eligibility and administration sites broaden. Although currently there is no cost to patients for the vaccine, insurance information will be collected.
Vaccine Scheduling
The COVID-19 vaccine is available by appointment only. No walk-ins will be permitted. Once listed as eligible by the ISDH, go to www.ourshot.in.gov or by calling 211 or 1-866-211-9966 to schedule an appointment.
Detailed instructions
Go to www.ourshot.in.gov
Enter date of birth and attest to being over age 16
Enter zip code and Select Ascension St Vincent Vaccine Clinic location
Select appointment date and time
Complete demographic information including accurate date of birth
Confirm appointment
Ascension St Vincent Vaccine Clinic
For your convenience, the Ascension St. Vincent Vaccine Clinic is open 7 days a week and located on the hospital campus in the Manor Auditorium. When scheduling an appointment on the state website, select "Ascension St Vincent Evansville VAX" as site location. Directions: Enter the parking garage off of Bellemeade Avenue, immediately turn left and follow the directional signage to the designated vaccine clinic parking area. Patients should enter the clinic using the doors adjacent to the parking garage. Tri State Clinics patients are encouraged to call our office at 1-888-492-8722 with questions or for assistance with scheduling at the Ascension St. Vincent Vaccine Clinic.
Spencer County Residents
Spencer County Local Health Department
Heritage Hills High School
Perry County Residents
Perry County Local Health Department
Perry County Memorial Hospital
Posey County Residents
Posey County Local Health Department
Illinois Residents
Phase 1A: Healthcare workers, those in long term care facilities.
Phase 1B : Frontline essential workers, residents 65 years of age or older and under 65 with comorbidities.
Phase 1B+ : IL residents 16+ with disabilities or serious medical conditions. Higher education staff, gov workers, and media. Details and scheduling info at: https://coronavirus.illinois.gov/s/.
Kentucky Residents
Phase 1a: Long term care facilities, healthcare personnel
Phase 1b: First responders, anyone 70 or older, K-12 school personnel
Phase 1C : KY residents age 60+ AND 16 and older with serious medical conditions and essential workers
For locations and to schedule appointment go to: https://govstatus.egov.com/kentucky-vaccine-map or call the KY COVID-19 Hotline - (800) 722-5725 for more information.
Should you have any additional questions, please contact Ashley Chipps at ashley.chipps@ascension.org or Stacey Smith at stacey.smith1@ascension.org
Lambda Chi Alpha Teeter Totter a-thon
The Lambda Chi Alpha Fraternity would like to invite you to the spring philanthropy, Teeter-Totter-A-Thon at Hooters on Lincoln Ave. This year we will be teeter tottering for 12 straight hours to raise money for The Leukemia and Lymphoma Society. The Leukemia and Lymphoma Society funds blood related cancer research to help cure leukemia, lymphoma, Hodgkin's disease and myeloma, and to improve the quality of life of patients and their families.
Teeter-Totter-A-Thon will be taking place from 10am to 10 pm Saturday April 24th. If you would like to ride the teeter totter to support this great cause, you may purchase a wrist bracelet at the lobby table located in Ridgeway. We will be available at the lobby table on Wednesday and Friday (4/21-4/23) from 11:00am-1:00pm. Wrist bracelets will also be sold during Teeter-Totter-A-Thon. Wrist bands will be $3 and that purchase will be good for your time slot.
Sign up through SignUpGenius! There will also be a sign-up sheet will be available in Ridgway and during our lobby table hours so that you may reserve times to ride the teeter totter. If there are any troubles with signing up you can also email Kyle Barton at kb484@evansville.edu. If you are unable to make the event we still encourage you donate to our gofundme!
Free Paper Shredding on Friday, April 30
Free off-site paper shredding by Piranha Mobile Shredding will return to campus once again April 30 (Reading Study Day) from 9:00 a.m.-noon. All UE students, faculty, staff, and alumni can take advantage of this free service by bringing paper to the Piranha truck in Koch Center for Engineering and Science parking lot. Paper will be shredded off-site. We will place bins along the parking lot to allow each person to empty their own material for a no contact approach.
So, if mounds of paper are taking over your office, home, or room, this is the time to gather those old files, receipts, cancelled checks, tax forms, etc. No need to take out the staples or paper clips. Avoid identity theft by having confidential information permanently destroyed.
Please - no telephone books, magazines, or newspapers. Also, please note that there is a 100-pound paper limit per visit (number of visits is not limited).
This Week in Music
The UE Department of Music Streaming Concert Series continues this week with three performances from student ensembles: The UE Jazz Ensembles, Brass Ensemble, and a concert featuring various small ensembles including strings, percussion, and various chamber groups for winds. These concerts feature the work of UE Music students in smaller settings compared to the larger ensembles they also perform in. The Jazz Ensembles are available for viewing now, the Brass Ensemble will be available for viewing on Thursday, April 22 and the small chamber ensembles will be available for viewing on Sunday, April 25. All concert links can be found at the following link: https://www.evansville.edu/majors/music/calendar.cfm We hope you will join us online.
Earth Day Birthday Celebration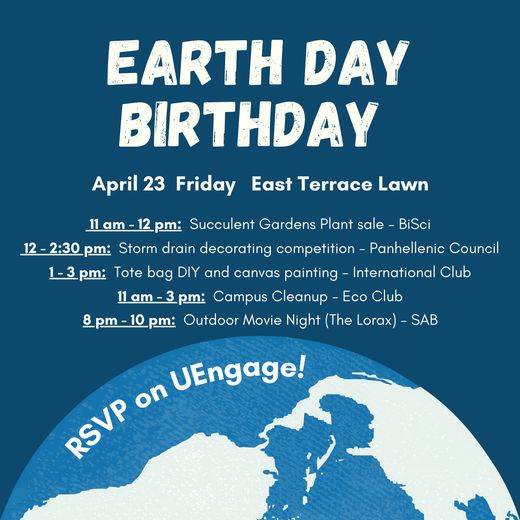 Join us to celebrate Earth Day as a campus community! Sign up for giveaways and service events on UEngage and stop by tables outside Ridgway on the East Terrace Lawn from 11am-3pm! On Friday evening, join us for a screening of The Lorax at 8pm!
Senior Art Exhibition 2021 in the Melvin Peterson Gallery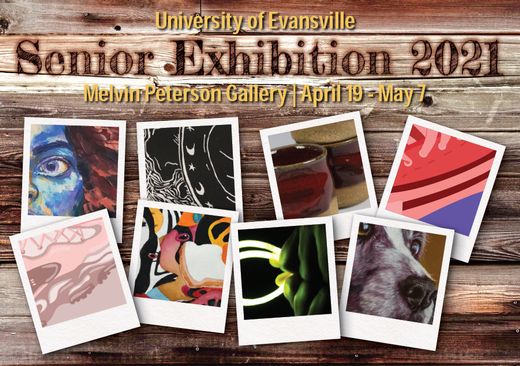 The Senior Art Exhibition 2021 is on display in the Melvin Peterson Gallery from April 19-May 7 2021.
The exhibiting artists are: Anna Brough, Arleigh Ingram, Rohan Karanjit, Michaela Kunkler, Nicolas Likulia, Sama Matkari, Hayley Tran , and Jake Watson.
Exhibition is open to the public, free, and handicap accesible. Please visit the gallery during the following hours:
Monday, Tuesday, Friday, and Saturday: Noon-3pm
Wednesday and Thursday: Noon-6pm
For further information or to arrange additional viewing times, phone 812-488-2043.
Please stop by and see the wonderful results of their hard work and creativity.
Due to COVID regulations, there will not be a public reception. Masks and Safe-Distancing are required.
ChangeLabs Receive National Honorable Mention Recognition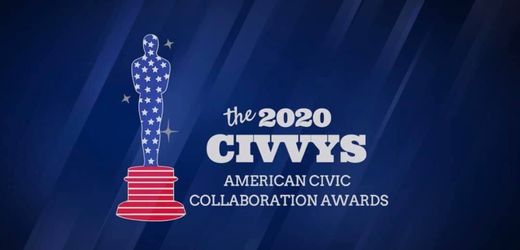 The Center for Innovation & Change is pleased to report two of its ChangeLab projects received national Honorable Mention recognition at the 2020 Civvys Awards. This event, hosted by the American Civic Collaboration Awards, highlights best practices in civic collaboration among National, Youth, and Local categories in America.
The awards ceremony was hosted live from Washington D.C. on Monday, April 19th and can be viewed here: https://www.civvys.org/the-2020-civvys
The first project receiving Honorable Mention was COVID Between the Coasts, a collaborative project with Que Pasa Midwest and WNIN. This ChangeLab was led by Darrin Weber, PhD, assistant professor of mathematics; and Tamara Wandel, PhD, associate professor of communications. During the fall semester, students conducted research to see how COVID-19 had specifically affected the Midwest, as the media largely reported on the pandemic from the East and West Coasts.
Evansville Adaptive Watersports was the second Honorable Mention at the Civvys. This project was the winning idea of Philip Jacobs at UE's first Community Changemaker Challenge. Afterwards, the project was guided by 3 ChangeLab students: Jamie Born, Ashlyn Thompson, and Jalyn Davis. This fall, Evansville Adaptive Watersports successfully launched and is making a difference in the lives of area residents with disabilities.
Congratulations to all who were involved with these two ChangeLabs!
Summer Work Study Position Available in Student Financial Services
Looking for extra summer income? Student Financial Services is looking for a summer student worker. Clerical assistant position available for an undergraduate student enrolled full time for the fall 2021 semester. Position is 28 hours per week and entails general office tasks, no experience needed. See job posting on Webadvisor to apply.
Welcome an Ace Campaign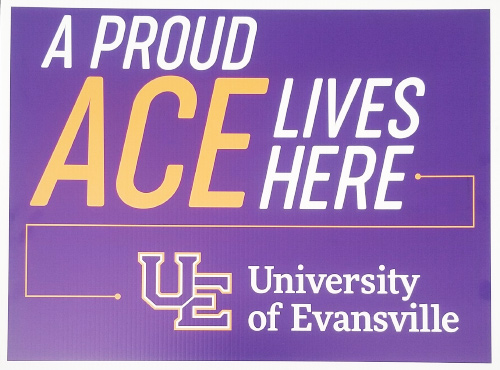 Do you want to play a role in welcoming our newest Aces to the University of Evansville family? We are seeking volunteers to place Proud Ace signs in the yards of our incoming freshman class. We have students in Evansville, Newburgh, Boonville, Mt. Vernon, Vincennes, Petersburg, and other nearby cities.
If you would like to help with this fun task, please contact the Office of Alumni and Parent Relations to arrange for sign pick up and a list of addresses. We will provide you with talking points in case you bump into a new Ace or an Ace's family member. And don't forget to wear your purple when delivering!
The alumni office can be reached at 812-488-2586 OR alumni@evansville.edu.

UE Theatre Salon Series Welcomed Scenic Designer Nick Meloro, Live From SESAME STREET, for Discussion on His Work on Broadway and in Television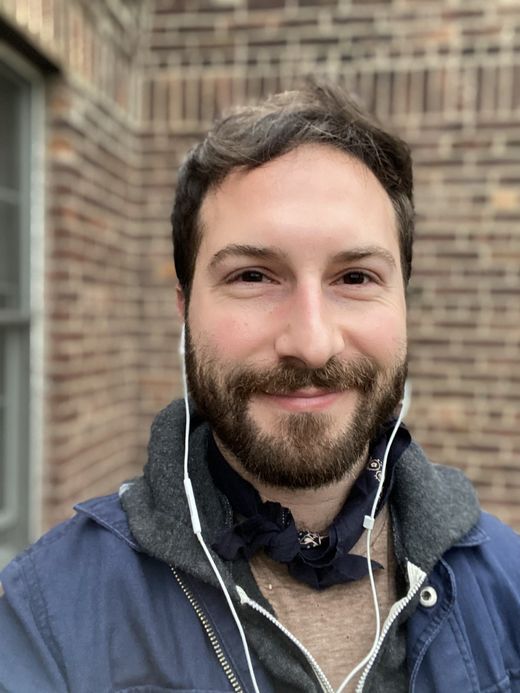 Another installment of the UET Salon Series was held on Wednesday, April 14, featuring Nick Meloro.
Meloro is a scenic artist currently working out of New York City. Working primarily in television, some of his recent credits include MR. ROBOT, THE TICK, and BILLIONS. Additionally, Meloro paints props for Broadway shows such as BEETLEJUICE, TO KILL A MOCKINGBIRD, FROZEN, and many others. Currently, Meloro is standing in for the Charge Scenic Artist on SESAME STREET for season 52, as well as for THE NOT-TOO-LATE SHOW WITH ELMO for season 2. Meloro is also a member of United Scenic Artists Local 829 and serves as one of the administrators of the USA 829 entrance exam.
This semester, UE Theatre students will have the opportunity to experience over 25 workshops and salons with various professionals from the entertainment industry.
Electronic Recycling Alternative
Did you know that the Vanderburgh District contracts with C&I Electronics to conduct a spring electronic recycling drop-off at C&I Electronics, 1700 N. Lafayette Ave, Evansville. The 2021 spring electronic recycling days are on April 29 & 30 from 10–4 pm and May 1 from 8–12 pm. More information is available at https://www.evansvillegov.org/city/department/division.php?structureid=258
During the spring 2021 recycling days, a variety of electronic materials will be accepted at no charge. The items will include, but are not limited to computers and computer related equipment, laptops, printers, scanners, TVs, DVD players, DVR devices, digital cameras and fax machines.
Copy machines and appliances, including microwaves, will not be accepted. This program is for Vanderburgh County households only. Items from businesses will not be accepted.
New Leave Request Procedures
Effectively immediately, the University of Evansville will transition to an online Leave Request Form Beginning May 3, 2021, any old leave request forms received will be sent back to the employee so that they can submit the new form.
Any paper leave requests made previously will still be processed and do not need to be resubmitted in the new form. Paper forms and emailed forms will not be accepted after April 30, 2021.
Employees who request vacation or sick time will need to complete the new online Leave Request Form. Please be sure to include your supervisor's name and UE email address for their review. Once you submit your request, the form will go to your supervisor for their approval.
Supervisors should ensure the Leave Request Form has been completed properly by the employee before approving the request. To approve the leave request, simply click approved and submit.
This form can also be found in the MyUE portal under Human Resources Vacation and Other Leave forms.2021-04-0134-A2021-04-0134-A
Pep and Vim Was a Success! THANK YOU!
Pep and Vim, our 9th annual day of giving, was a grand success! We are still counting gifts, but we are happy to report we crushed the 1,854 gift goal to unlock the Alumni Board's challenge gift to the UEvansville Fund!
The support of our campus community, alumni, and donors was overwhelmingly positive. Many areas on campus benefited from the fundraising efforts, and we appreciate the assistance, with not only spreading the Pep and Vim message, but for those who donated their time, talent, and treasures. Together, we did it!
If you have any questions about this year's Pep and Vim, or are curious how you can be a part of Pep and Vim for 2022, please contact the office of annual giving at annualgiving@evansville.edu.
Thank you and go Aces!
April is Sexual Assault Awareness Month
April is Sexual Assault Awareness Month. The Center for Diversity, Equity, and Inclusion and the Office of Institutional Equity are providing multiple opportunities for members of the campus community to get involved and stand up against sexual violence.
Sign the University's Pledge to Get Consent. The University of Evansville defines consent as "a voluntary, informed and freely-given agreement, communicated though mutually-understandable words and/or actions , to engage in agreed-upon Sexual Contact, Sexual Intercourse, Sexual Exploitation, or other sexual activity." By participating in this pledge, you are agreeing to make sure all of your sexual encounters are fully consensual. Sign the Pledge here: https://www.evansville.edu/center-for-diversity-equity-and-inclusion/pledge-to-get-consent.cfm. The link is live for the entire month of April; the student group or team with the most pledges will be featured on the Center's social media pages.
On Monday, April 26th; join us for Bystander Intervention Training from 6-7pm. CDEI intern Katie Vinci, who is trained through It's On Us to provide bystander training will take us through steps on how to appropriately and safely intervene when you witness someone being harassed. Register for the Zoom training here: https://evansville-edu.zoom.us/meeting/register/tJEsce-hrzMvGtJ3eCXJTs4ipkcK58wbNXbi.
On Tuesday the 27th, the Center has partnered with the Students for Gender Violence Awareness at USI to bring nationally renowned speaker Vankayla Haynes for a Zoom presentation. Haynes will be speaking about sexual assault and marginalized communities. The presentation runs from 6-7pm and can found here: https://usi.zoom.us/j/99201657102.
Wednesday, April 28th is Denim Day. Wear denim in support of survivors of sexual violence and to bring awareness to sexual assault.
On Thursday the 29th, join us as we speak to a panel of experts in the UE and Evansville community about sexual assault on college campus and the resources available to individuals who have experienced an assault. Join individuals from Institutional Equity, Counseling Services, Public Safety, Albion Fellows Bacon Center, the Prosecutor's Office, Evansville Police Department, and Deaconess Hospital as they discuss sexual assault. Register for the panel here: https://evansville-edu.zoom.us/meeting/register/tJYvdOmqpzwtGN3_elA-Ul7RdMLE0UDPZG8H.
Sexual Assault Awareness Month / Religious Exploration Month Challenge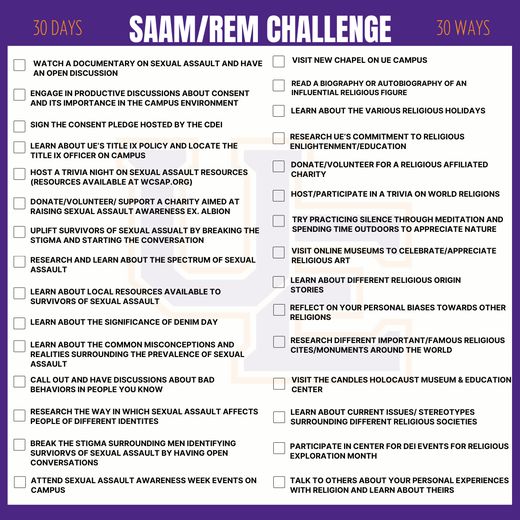 The month of April highlights Sexual Assault Awareness Month and Religious Exploration Month. Join the UE SAAM/REM Challenge sponsored by the Center for Diversity, Equity and Inclusion! In this challenge you will find 30 ways for 30 days of religious exploration and sexual assault awarness to actively learn, engage, support, communicate with individuals across the religion spectrum and survivors of sexual assault, while also breaking the stigma surrounding religion and sexual assault awareness. Items listed in the challenge can be done personally or in a social group! Join the Center in one of our many events for the month focused on religion or sexual assault awareness, research the origins and culture of Denim Day and/ or grab a friend and reflect about what religion means to you. However and whatever you do for the #SAAM/REMChallenge, challenge yourself!
We can't wait to see the ways in which you all #SAAM/REMChallenge yourself!
To make it extra fun, share what you're doing on social media and be sure to tag us!
Instagram: @uediversity Facebook: UE Center for Diversity Equity and Inclusion
Sexual Assault Awareness Month and Religious Exploration Month Task List
Watch a documentary on sexual assault and have an open discussion
Engage in productive discussions about consent and its importance in the campus environment
Sign the consent pledge hosted by the CDEI
Learn about UE's Title IX policy and locate the Title ix officer on campus
Host a trivia night on sexual assault resources (Resources available at WCSAP.org)
Donate/volunteer/ support a charity aimed at raising sexual assault awareness Ex. Albion
Uplift survivors of sexual assault by breaking the stigma and starting the conversation
Research and learn about the spectrum of sexual assault
Learn about local resources available to survivors of sexual assault
Learn about the significance of Denim Day
Learn about the common misconceptions and realities surrounding the prevalence of sexual assault
Call out and have discussions about bad behaviors in people you know
Research the way in which sexual assault affects people of different identities
Break the stigma surrounding men identifying surviorvs of sexual assault by having open conversations
Attend Sexual Assault Awareness Week events on campus
Visit New Chapel on UE Campus
Read a biography or autobiography of an influential religious figure
Learn about the various religious holidays
Research UE's commitment to religious enlightenment/education
Donate/volunteer for a religious affiliated charity
Host/participate in a trivia on world religions
Try practicing silence through meditation and spending time outdoors to appreciate nature
Visit online museums to celebrate/appreciate religious art
Learn about different religious origin stories
Reflect on your personal biases towards other religions
Research different important/famous religious cites/monuments around the world
Visit the Candles Holocaust Museum & Education Center
Learn about current issues/ stereotypes surrounding different religious societies
Participate in center for DEI events for Religious Exploration month
Talk to others about your personal experiences with religion and learn about theirs
Deadline Extended: 2021-22 Dr. Marvin E. Hartig Memorial Scholarship
UPDATE: The scholarship deadline has been extended to Friday, May 7.
Family, friends and loved ones of the late Dr. Marvin E. Hartig are pleased to announce the application process for the Dr. Marvin E. Hartig Memorial Scholarship. This scholarship is dedicated to the loving memory of Dr. Hartig, Dean of Evansville College's Evening College in 1967, and administrator for the Center for Advanced Study, director of the Evansville chapter of the American Institute of Banking (AIB), and the international student advisor. In 1974, Dr. Hartig was appointed Dean of Academic Services. He retired in 1984 after serving his alma mater for thirty-five years and passed away in 2007.
This scholarship will be awarded annually to a deserving sophomore student. Preference will be given to a student working while being enrolled as a full-time student. International students are encouraged to apply.
Eligible students for the 2021-2022 Hartig Memorial Scholarship will be sophomores in the 2021-2022 academic year.
Download the 2021-22 Dr. Marvin E. Hartig Memorial Scholarship application.
Deadline: Please return all materials to the Office of Student Financial Services by April 23, 2021. The decision will be announced by June 14, 2021.
Questions: Amanda Wood, administrative assistant to the Office of Student Financial Services, at aw505@evansville.edu or 812-488-2364
Congratulations to Our Ace Certificates Recipients
Congratulations to those students who completed the ACE Pathway earning the ACE Certificate!
Kalli Britton, Selena Carpenter, Sullivan Cox, Lyndia Hayes, Zachary Jakpor, Victoria Martin, Malia Metelues, Kara Steward, Alexis Wheeler, and Jialin Xiang
The ACE Pathway is a guided checklist for students in preparation for career-readiness. And, the ACE Certificate is awarded to those students completing each element in the categories of self-evaluation, communication and professional image development, and engagement and connection.
The ACE Pathway is open to all current students and can be accessed via Blackboard: COURSES (ACE Pathway): Request to Join. This 0-credit course will remain open until graduation allowing students to complete each element at their own pace. Step-by-step guidance is provided for creating a professional resume, cover letter, preparing for mock interviews, and so much more. Join anytime to be career ready!
All our ACE Certificate recipients will also be recognized at the 2021 Leadership Awards Ceremony!
Questions? Contact the Center for Career Development at 812-488-1083 or Kelly Bargeloh (kb396).
Penny Wars 2021 Results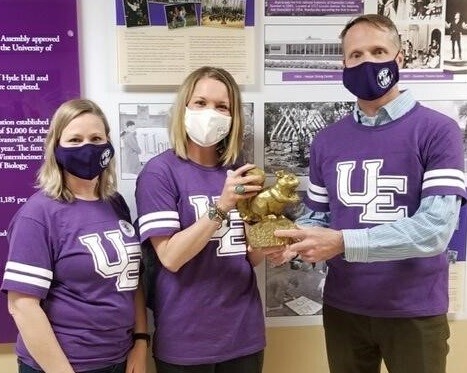 For the second time - The William Ridgway College of Arts and Sciences reigned supreme in the Pep & Vim Penny Wars competition. Their total was $112.24! Dean Lutrig was once again awarded the Pep, The Golden Squirrel.
The other jar totals were:
College of Education and Health Sciences $1.35
Schroeder School of Business Administration -$3.25
Staff and Administrators Assembly -$5.15
College of Engineering -$13.06
Keep in mind that pennies and dollar bills added to the points and silver coins subtracted.
Start collecting your pennies for next year's competition.
Photo: Pep was presented to Dean Ray Lutgring by VP of University Advancement Abigail Werling and Alumni Director Jennifer Whitaker.
Aces Set Sights on Weekend Series at Illinois State
Setting out for a Conference road trip, the University of Evansville baseball team heads to Normal, Ill. for a four-game set at Illinois State on Friday, Saturday, and Sunday.

Evansville at Illinois State | April 23, 24, 25
Date | Time Fri., April 23 | 2 PM
Sat., April 24 (DH) | 1 PM and 4 PM
Sun. April 25 | 1 PM
Location Normal, Ill.
Site Duffy Bass Field
April 23, 24, & 25 Evansville at Illinois State
Follow Along Live Stats | ESPN3 (Game One) | ESPN3 (Game Two) | ESPN3 (Game Three) | ESPN3 (Game Four)

Last Time Out: Missouri State 9, Evansville 5
• Tanner Craig turned-in another strong performance at the plate, but it was not enough in Evansville 9-5 loss to Missouri State in the series finale on Sunday.
• "Tough loss to lose the overall series. Just didn't play well enough," said Aces head baseball coach Wes Carroll. "You have to credit Missouri State for applying pressure in all aspects of the game. I'm anxious to see how this group handles this adversity deep into the season."
• The Aces offense got started early in the game with a pair of runs in the first, but it was big second and fourth innings from the Bears that was difficult for Evansville to overcome. Missouri State struck for four runs in the second frame, all coming with one out and in successive at bats. In the fourth, the Bears added two runs
• Single runs for Evansville in the fifth and eighth helped aid the Aces effort, but Dakota Katowski lifted a two-run home run to center that pushed Missouri State further in front en route to the 9-5 win.
• At the plate, the Aces were led by a trio who recorded two hits on the day. Simon Scherry, Danny Borgstrom, and Tanner Craig, the three, four, and five hitters, each tallied two hits with Borgstrom recording a pair of RBI.
• On the mound, Evansville cycled through seven pitchers as starter Donovan Schultz was credited with the loss after pitching the first two innings, allowing three earned runs on four hits. Drew Dominik pitched most effectively of Evansville relievers, entering in the seventh and throwing a scoreless inning and a third, allowing just one hit and striking-out one.
Previewing the Matchup: Illinois State
• The Aces and Redbirds meet for the 120th time on Friday night in the series opener.
• Illinois State owns a 66-53 advantage in the all-time series, but Evansville has captured five of the last seven matchups in the series.
• The Redbirds enter the weekend with a 13-21 overall record and a 4-4 mark in MVC play.
• Entering the weekend, Illinois State is coming off a series loss in non-conference action to Milwaukee last weekend, capping-off the series with a 10-2 win to avoid the series sweep.
• Despite dropping a series to Missouri State last weekend, the Aces still have a winning record in their last 10 games, going 6-4 during that stretch.
• The battle for sports 4 through 7 in the MVC is hotly contested and both Illinois State and UE both sit inside that group.
On-Base Any Way
• The Aces have found ways to get on base this season and have been comfortable earning it any way, including via hit-by-pitch.
• Evansville ranks 26th in the nation in hit-by-pitch, drawing 50 on the season through 34 games.
• Troy Beilsmith and Ben Komonosky have been the two primary batters who have been hit by pitches this season with Beilsmith sitting second in the nation, being hit 17 times.
Meyer Leads as Closer
• Freshman Jakob Meyer has been a force out of the pen for the Aces this season.
• In 13 appearances, Meyer has a 1.10 ERA, earning three victories and has recorded a team-high five saves.
• Meyer's save total is the 33rd-best in the nation and sits second in the MVC.

Contribute to AceNotes
To have content considered for inclusion in AceNotes, please submit a Marketing Request Form. Deadline for submission to AceNotes is 10:00 a.m. on the requested date of publication. Only articles concerning UE related/sponsored activities will be accepted. Articles submitted to AceNotes may be edited for length and clarity. Submitter contact information is at the end of each article.