| | |
| --- | --- |
| AceNotes Today | Thursday, April 22, 2021 |
Faculty Retirement Tree Planting Ceremony

The following were honored at the Faculty Retirement Tree Planting Ceremony that took place on Sunday, April 18:
Davies Bellamy - Associate Professor of Education
Cindy Crowe - Assistant Professor of Spanish
George Iber - Associate Professor of Education
Mark Randall - Associate Professor of Electrical Engineering
Garnet Ungar - Professor of Music/Piano
Due to COVID restrictions, this event was not open to the campus community this year. However, you can watch a recording of the ceremony. Please join us to wish them well in their retirement.
Vaccine Mythbuster
MYTH: The development of COVID-19 vaccines were rushed.
Although they were made in a short period of time they were not rushed. Tens of thousands of participants were studied in safety and efficacy trials. In a normal vaccine trial, enough people must get the disease to know whether it works or not, which often takes an extended period of time, however with COVID-19 it was possible to complete the studies faster due to the rate the virus spread.
This Week in Music
The UE Department of Music Streaming Concert Series continues this week with three performances from student ensembles: The UE Jazz Ensembles, Brass Ensemble, and a concert featuring various small ensembles including strings, percussion, and various chamber groups for winds. These concerts feature the work of UE Music students in smaller settings compared to the larger ensembles they also perform in. The Jazz Ensembles are available for viewing now, the Brass Ensemble will be available for viewing on Thursday, April 22 and the small chamber ensembles will be available for viewing on Sunday, April 25. All concert links can be found at the following link: https://www.evansville.edu/majors/music/calendar.cfm We hope you will join us online.
Earth Day Birthday Celebration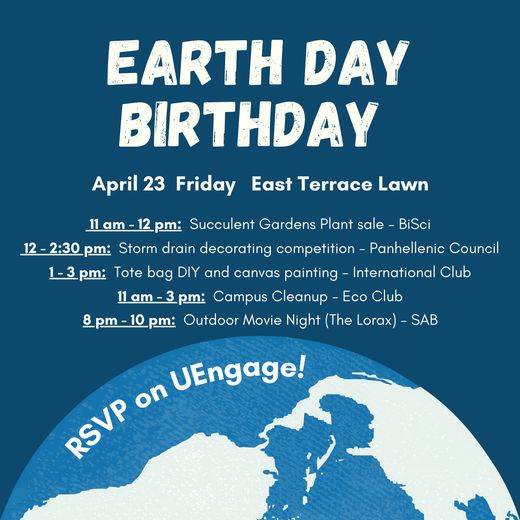 Join us to celebrate Earth Day as a campus community! Sign up for giveaways and service events on UEngage and stop by tables outside Ridgway on the East Terrace Lawn from 11am-3pm! On Friday evening, join us for a screening of The Lorax at 8pm!
Senior Art Exhibition 2021 in the Melvin Peterson Gallery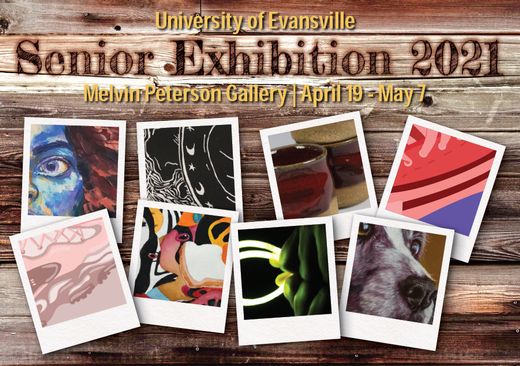 The Senior Art Exhibition 2021 is on display in the Melvin Peterson Gallery from April 19-May 7 2021.
The exhibiting artists are: Anna Brough, Arleigh Ingram, Rohan Karanjit, Michaela Kunkler, Nicolas Likulia, Sama Matkari, Hayley Tran , and Jake Watson.
Exhibition is open to the public, free, and handicap accesible. Please visit the gallery during the following hours:
Monday, Tuesday, Friday, and Saturday: Noon-3pm
Wednesday and Thursday: Noon-6pm
For further information or to arrange additional viewing times, phone 812-488-2043.
Please stop by and see the wonderful results of their hard work and creativity.
Due to COVID regulations, there will not be a public reception. Masks and Safe-Distancing are required.
BECOMING CENTERED Paintings by Lori Rivera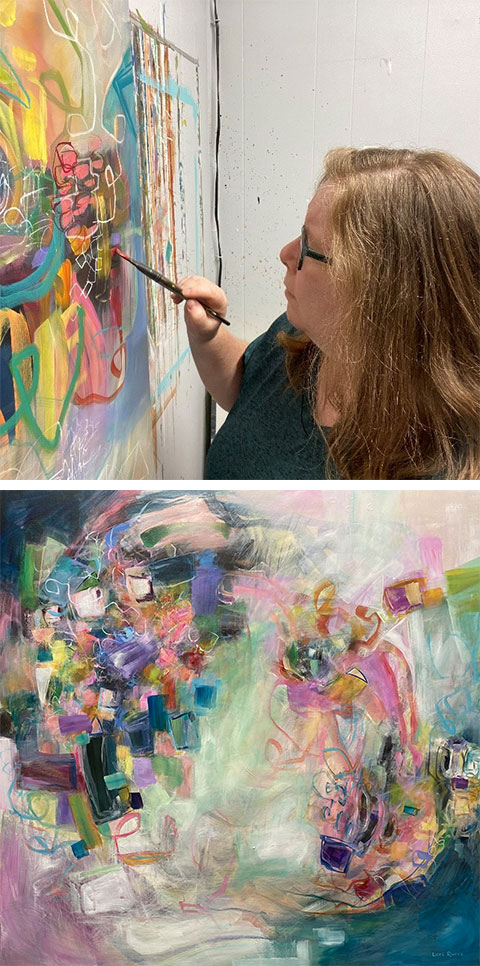 Local Artist Paints to Heal
Lori Rivera finds that the world nearly disappears when she paints, and she is deeply drawn into the meditative aspects of painting. She loves the healing benefits that painting provides, as she struggles with depression.
At any given time, Lori has a painting in progress on her painting wall in her home studio. Although her roots are in representational painting, she has recently decided to devote the majority of her time to growing as an abstract artist. She sees abstract art as the most fitting genre that allows her to communicate her emotions.
She usually starts with dark colors and then works up to lighter colors in the final layers. She feels this process is symbolic of rising from the darkness of depression and signifies her triumph over it. "As I go through this process with each painting, I am reminded of where I've been and how far I've come," says Lori.
She started painting over ten years ago, but her interest in pursuing art as a career was reawakened when she was inspired by artists at Peace Zone, where she served as Executive Director. While working, she painted in her spare time and decided to pursue art full time several years ago.
Lori's most recent project is creating paintings inspired by music, and she often listens to the music on repeat as she paints. She focuses on how the music makes her feel and communicates that feeling onto the canvas. Sometimes the music matches her mood, while other times the music she chooses is totally opposite of what she is feeling. Ultimately though, she relies on spontaneity and allows each painting to develop organically as each brushstroke guides the next.
Her work has been shown in Virginia, Pennsylvania, Ohio, New Harmony, and Evansville. You can see her work in person at the University of Evansville's Krannert Gallery April 11th through May 9th. The exhibit, Becoming Centered, overlaps with Mental Health Month, which is during the month of May. The opening reception is April 22nd at 6:30 pm.
The Department of Art at UE offers a wide range of degree programs and areas of specialization in the visual arts. It houses a number of specialized studios for ceramics, drawing, metalwork and jewelry, painting, printmaking, photography, sculpture, visual communication design, and watercolor. The Krannert and Peterson Galleries are also a vital resource for the students, as well as the Evansville area.
Students can receive BFA, BA & BS degrees in a variety of Art Studies: Studio Art, Art and
Associate Studies, Art Education, Visual Communication Design and Pre-Art Therapy. This exhibition is sponsored by the Department of Art with the generous support of the Efroymson Family Fund. The Krannert Gallery is located on the first floor of Krannert Hall of Art & Music.
Please visit the UE website www.evansville.edu/majors/art/majors.cfm
Or FaceBook Page: University of Evansville Department of Art & Melvin Peterson Gallery
For more information about Lori and her art, visit www.loririverafineart.com.
These stunning, abstract paintings can be seen in the Krannert Gallery April 11 – May 9
A public Reception for the Artist is April 22, 6:30pm. Masks & Social Distancing will be observed.
ChangeLabs Receive National Honorable Mention Recognition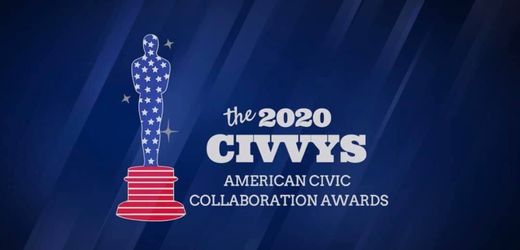 The Center for Innovation & Change is pleased to report two of its ChangeLab projects received national Honorable Mention recognition at the 2020 Civvys Awards. This event, hosted by the American Civic Collaboration Awards, highlights best practices in civic collaboration among National, Youth, and Local categories in America.
The awards ceremony was hosted live from Washington D.C. on Monday, April 19th and can be viewed here: https://www.civvys.org/the-2020-civvys
The first project receiving Honorable Mention was COVID Between the Coasts, a collaborative project with Que Pasa Midwest and WNIN. This ChangeLab was led by Darrin Weber, PhD, assistant professor of mathematics; and Tamara Wandel, PhD, associate professor of communications. During the fall semester, students conducted research to see how COVID-19 had specifically affected the Midwest, as the media largely reported on the pandemic from the East and West Coasts.
Evansville Adaptive Watersports was the second Honorable Mention at the Civvys. This project was the winning idea of Philip Jacobs at UE's first Community Changemaker Challenge. Afterwards, the project was guided by 3 ChangeLab students: Jamie Born, Ashlyn Thompson, and Jalyn Davis. This fall, Evansville Adaptive Watersports successfully launched and is making a difference in the lives of area residents with disabilities.
Congratulations to all who were involved with these two ChangeLabs!
UE Theatre Salon Series Welcomed Scenic Designer Nick Meloro, Live From SESAME STREET, for Discussion on His Work on Broadway and in Television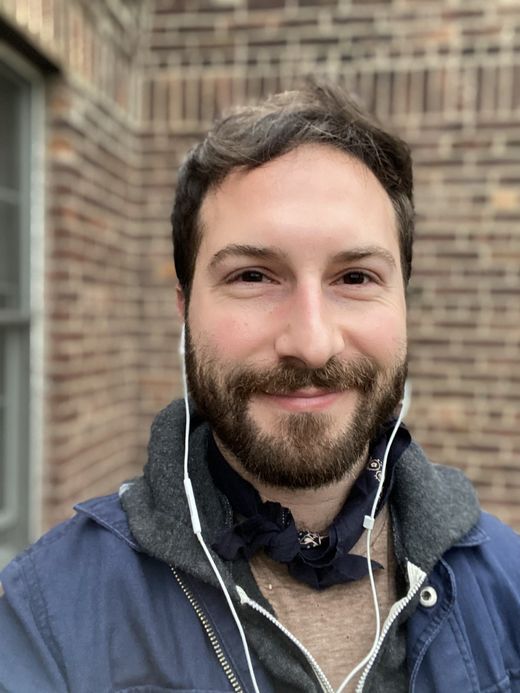 Another installment of the UET Salon Series was held on Wednesday, April 14, featuring Nick Meloro.
Meloro is a scenic artist currently working out of New York City. Working primarily in television, some of his recent credits include MR. ROBOT, THE TICK, and BILLIONS. Additionally, Meloro paints props for Broadway shows such as BEETLEJUICE, TO KILL A MOCKINGBIRD, FROZEN, and many others. Currently, Meloro is standing in for the Charge Scenic Artist on SESAME STREET for season 52, as well as for THE NOT-TOO-LATE SHOW WITH ELMO for season 2. Meloro is also a member of United Scenic Artists Local 829 and serves as one of the administrators of the USA 829 entrance exam.
This semester, UE Theatre students will have the opportunity to experience over 25 workshops and salons with various professionals from the entertainment industry.
Electronic Recycling Alternative
Did you know that the Vanderburgh District contracts with C&I Electronics to conduct a spring electronic recycling drop-off at C&I Electronics, 1700 N. Lafayette Ave, Evansville. The 2021 spring electronic recycling days are on April 29 & 30 from 10–4 pm and May 1 from 8–12 pm. More information is available at https://www.evansvillegov.org/city/department/division.php?structureid=258
During the spring 2021 recycling days, a variety of electronic materials will be accepted at no charge. The items will include, but are not limited to computers and computer related equipment, laptops, printers, scanners, TVs, DVD players, DVR devices, digital cameras and fax machines.
Copy machines and appliances, including microwaves, will not be accepted. This program is for Vanderburgh County households only. Items from businesses will not be accepted.
UE Theatre Held Scenic Painting Workshop Led by Associate Professor Eric Renschler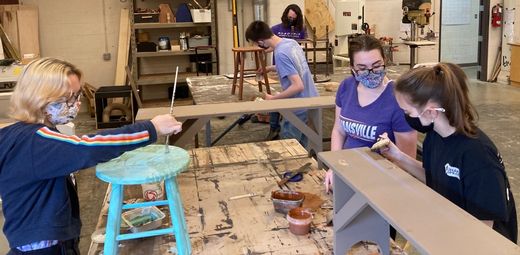 UE Theatre held another installment of their 2020–21 Workshop Series on Apr. 11 and 18. In this workshop, Associate Professor Eric Renschler demonstrated faux painting techniques including marbelizing, woodgraining, and crackle paint. Students were able to explore these techniques on items of their own.
In 2015, Mr. Renschler was named the Chair of the UE Department of Theatre, after joining the faculty in 2006 as the scenic designer. He returned to his alma mater after nearly twenty years of working on Broadway, Off-Broadway, and on regional and international productions.
His Broadway designs include scenery for MAMALOSHEN and AS LONG AS YOU BOTH SHALL LAUGH (including a subsequent national tour and PBS special). His Off-Broadway credits include designs at the New York Shakespeare Festival, Circle Repertory Company, Pan-Asian Repertory Theatre, Puerto Rican Traveling Theatre, and The Juilliard School. His regional design credits include Cincinnati Playhouse, Chautauqua Opera, Barrington Stage Company, Merrimack Repertory Theatre, Adirondack Theater Festival, Hangar Theatre, and Seattle Repertory Theatre.
As an associate designer, he worked on over forty Broadway shows, national tours, and international productions, including THE COLOR PURPLE, DOUBT, CHICAGO, WHO'S AFRAID OF VIRGINIA WOOLF, FOOTLOOSE, PROOF, WONDERFUL TOWN, THE REDWOOD CURTAIN, and HOW THE GRINCH STOLE CHRISTMAS.
The UE Center for Innovation and Change named Mr. Renschler a 2011 Global Scholar Award-winner. He used his award to expand his experience in the international design arena with a year-long comparative study of national design aesthetics as exhibited through theatrical scenography. He is a former board member for the Arts Council of Southwestern Indiana, a member of the Evansville Historic Preservation Commission, and a frequent grant reviewer for the Indiana Arts Commission.
He holds an MFA in Theatre Design from the University of Michigan and is a member of IATSE (International Alliance of Theatrical Stage Employees) and USA (United Scenic Artists).
New Leave Request Procedures
Effectively immediately, the University of Evansville will transition to an online Leave Request Form Beginning May 3, 2021, any old leave request forms received will be sent back to the employee so that they can submit the new form.
Any paper leave requests made previously will still be processed and do not need to be resubmitted in the new form. Paper forms and emailed forms will not be accepted after April 30, 2021.
Employees who request vacation or sick time will need to complete the new online Leave Request Form. Please be sure to include your supervisor's name and UE email address for their review. Once you submit your request, the form will go to your supervisor for their approval.
Supervisors should ensure the Leave Request Form has been completed properly by the employee before approving the request. To approve the leave request, simply click approved and submit.
This form can also be found in the MyUE portal under Human Resources Vacation and Other Leave forms.2021-04-0134-A2021-04-0134-A
Pep and Vim Was a Success! THANK YOU!
Pep and Vim, our 9th annual day of giving, was a grand success! We are still counting gifts, but we are happy to report we crushed the 1,854 gift goal to unlock the Alumni Board's challenge gift to the UEvansville Fund!
The support of our campus community, alumni, and donors was overwhelmingly positive. Many areas on campus benefited from the fundraising efforts, and we appreciate the assistance, with not only spreading the Pep and Vim message, but for those who donated their time, talent, and treasures. Together, we did it!
If you have any questions about this year's Pep and Vim, or are curious how you can be a part of Pep and Vim for 2022, please contact the office of annual giving at annualgiving@evansville.edu.
Thank you and go Aces!
2021-22 Kahn Scholarship Application Available
It was the desire of the donor, Margery Florence Kahn, that her scholarship be awarded to "dedicated and conscientious students who exhibit a true passion for their chosen fields of study, and who, in the opinion of the members of the University of Evansville faculty, are likely to bring the same enthusiasm into the performance of their jobs or the practice of the professions which they will pursue following graduation."
All University of Evansville full-time undergraduate students who will be juniors or seniors in 2021-22 may apply. An essay of about 300 words must accompany the application, along with two to four faculty recommendation letters.
Application is available here: https://forms.office.com/r/8vduXcKZXa
Completed applications and recommendation letters should be returned to the Office of Student Financial Services by MAY 10th.
Questions may be directed to the Office of Student Financial Services via email or by phone at (812) 488-2364
#OnlyYESmeansYES: Take the Pledge to Get Consent
April is Sexual Assault Awareness Month. Do your part to reduce instances of sexual violence by taking the Center for Diversity, Equity, and Inclusion's pledge against sexual violence. Pledge to always get consent from your partners, be an active bystander in dangerous situations, and to help UE create a safe campus environment.
Encourage your student groups to participate in the pledge. The Student group with the most pledges by April 30th will be featured on the Center for Diversity, Equity, and Inclusion's social media pages (Instagram: @uediversity, Facebook: UE Center for Diversity, Equity, and Inclusion).
Financial Aid for Summer Courses
If you are an undergraduate or graduate student seeking financial aid or intending to use loan funds for summer courses at UE, please complete a Summer Financial Aid Application and return to the Office of Student Financial Services (Olmsted 105) however is most convenient. The application will allow our office to assess your aid and loan eligibility.
Work-Study:
On-campus jobs are available for continuing UE students during the summer. You do not need to be eligible for need-based Federal Work-Study during the academic year in order to apply. You may also apply regardless of your enrollment in summer courses. Applications are available within the Student Employment area of WebAdvisor.
Health Risk Assessment for 2020-2021 Medical Plan Year
UE Health Risk Assessments Update:
For those enrolled in the University's HRA Medical Plan, due to the pandemic and current COVID restrictions, offering onsite health screenings has not been a possibility during the 2020-2021 plan year. Due to these circumstances, medical premiums in 2021-2022 will not be affected by your health screening status. If you wish to complete your health risk assessment in order to earn HRA credits for the current plan year, please schedule your appointment with the onsite medical clinic no later than May 1 at 888-492-8722 or message your clinic nurse through the Ascension Patient Portal. Should you have any additional questions or concerns, please contact Ashley Chipps at ac375@evansville.edu.
Congratulations to Our Ace Certificates Recipients
Congratulations to those students who completed the ACE Pathway earning the ACE Certificate!
Kalli Britton, Selena Carpenter, Sullivan Cox, Lyndia Hayes, Zachary Jakpor, Victoria Martin, Malia Metelues, Kara Steward, Alexis Wheeler, and Jialin Xiang
The ACE Pathway is a guided checklist for students in preparation for career-readiness. And, the ACE Certificate is awarded to those students completing each element in the categories of self-evaluation, communication and professional image development, and engagement and connection.
The ACE Pathway is open to all current students and can be accessed via Blackboard: COURSES (ACE Pathway): Request to Join. This 0-credit course will remain open until graduation allowing students to complete each element at their own pace. Step-by-step guidance is provided for creating a professional resume, cover letter, preparing for mock interviews, and so much more. Join anytime to be career ready!
All our ACE Certificate recipients will also be recognized at the 2021 Leadership Awards Ceremony!
Questions? Contact the Center for Career Development at 812-488-1083 or Kelly Bargeloh (kb396).
Penny Wars 2021 Results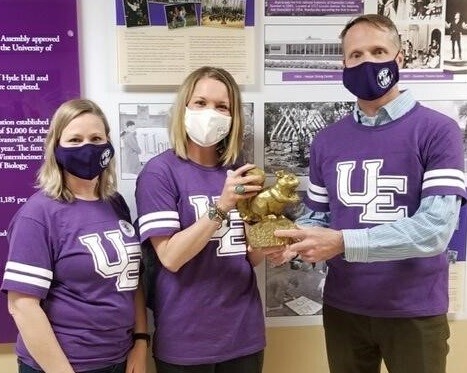 For the second time - The William Ridgway College of Arts and Sciences reigned supreme in the Pep & Vim Penny Wars competition. Their total was $112.24! Dean Lutrig was once again awarded the Pep, The Golden Squirrel.
The other jar totals were:
College of Education and Health Sciences $1.35
Schroeder School of Business Administration -$3.25
Staff and Administrators Assembly -$5.15
College of Engineering -$13.06
Keep in mind that pennies and dollar bills added to the points and silver coins subtracted.
Start collecting your pennies for next year's competition.
Photo: Pep was presented to Dean Ray Lutgring by VP of University Advancement Abigail Werling and Alumni Director Jennifer Whitaker.
Aces Launch Four Homers in Doubleheader Split
After Indiana State opened Wednesday's doubleheader with a 6-3 win, the University of Evansville softball team erupted for 12 runs in the finale to split the doubleheader with a 12-4 triumph at Cooper Stadium.
Eryn Gould finished the doubleheader with two home runs while hitting .714. Included in that was a 4-for-4 effort in game two. Marah Wood and Katie McLean each had three hits over the course of the doubleheader while McLean and Mea Adams added home runs for UE (19-17, 7-10 MVC).
Game 1
Izzy Vetter sat the Sycamores (16-20, 9-8 MVC) down in order to open the game before Eryn Gould hit the second pitch she saw out of the park for her 8th home run of the season. In the third, Indiana State countered when Mycaela Miller hit a solo homer to tie it up. They threatened as the inning moved along, but stranded the bases loaded. ISU had another chance with two on base in the fourth, but Izzy Vetter pitched out of the jam.
Vetter's work paid off in the bottom half of the frame when Katie McLean hit a home run to deep center field. Sycamore centerfielder Olivia Patton came within inches of making the catch, but in the end, it was a 2-run homer to put Evansville back on top. Just as they did earlier in the game, the Sycamores had an answer when Annie Tokarek homered in the 6th to knot the score at 3-3. In the top of the seventh, Amanda Guercio gave ISU the lead with an RBI single to center. The Sycamores added two more in the frame and held on for the 6-3 win. Tokarek had two hits and three RBI to lead ISU while McLean and Gould had the homers for UE. Vetter gave up six runs on nine hits while striking out seven.
Game 2
Similar to game one, the Aces found the scoreboard first. After Eryn Gould led the game off with a hit, she came home on a stand-up double from Marah Wood. Katie McLean also had an RBI hit in the inning to give UE a 2-0 advantage. Bella Coffey added an RBI double in the second to tack on another run. With one out, Gould picked up her second hit of the game and second home run of the doubleheader to push the edge to 5-0.
Indiana State got on the board with a run in the fourth before a double down the right field line by Amanda Guercio cut the UE lead to 5-3 an inning later. Just when it looked like Indiana State had the momentum, Mea Adams took it away with one swing. Her 2-run shot extended the lead back to four runs. After ISU scored one in the sixth, Evansville's offense continued to put the pressure on as Jessica Fehr had an RBI triple while Marah Wood added a run scoring single. That started the Aces on a 5-run rally that put an end to the contest in walk-off fashion as a bases-loaded single by Haley Woolf capped off a 12-4 win. The 12 runs was the second-most for the Aces this season – just behind 13 against Alabama State on February 20.
Pitching five frames, Jaime Nurrenbern earned her sixth win of the season. She allowed three earned runs on five hits. Erin Kleffman tossed the final inning, with an unearned run crossing the plate. Gould was 4-4 in the game while Wood added three hits. Fehr, McLean and Adams registered two hits apiece.
Home play continues this weekend when Evansville welcomes Illinois State for three games starting with a doubleheader on Saturday.
UE Men's Basketball Adds Two in Spring Signing Period
After directing one of the top turnarounds in Missouri Valley Conference history, University of Evansville head men's basketball coach Todd Lickliter has announced the addition of Antoine Smith Jr. and Preston Phillips.
"We are pleased to officially welcome Antoine and Preston as our newest Aces," Lickliter exclaimed. "They both possess a versatile skillset and a team first approach that aligns with both our early signees and returners."
Antoine Smith Jr., a native of Westerville, Ohio, is a member of Collin County Community College and was recently named 1st Team All-Conference in the North Texas College Athletic Conference. He was also awarded All-Region 5 Team and Newcomer of the Year. In 23 games this year, Smith averaged 15.0 points per game and 6.6 rebounds per game while shooting 49.0% from the field and 36.0% from three-point range.
In 2018-19, the 6-foot-7 forward spent his freshman season at Incarnate Word. He started 14 and played in all 31 games while averaging 7.3 points. He shot 45.3% from the field and 36.6% from three-point range. Before transferring to Collin County, he redshirted at Incarnate Word for the 2019-20 season.
He is joined by Preston Phillips, a native of Elkhart, IN., who most recently played at Don Bosco Academy (Ind.). Phillips, a forward measuring in at 6-foot-9, was a sharpshooter from all areas of the floor. Inside the arc, he hit 71% of his attempts and from outside, he checked in at 43%. He averaged 13 points, 6 rebounds and 3 assists per game.
Prior to Don Bosco, Phillips was an IBCA All-State Honorable Mention at Jimtown High School, averaging 14.9 points, 7.4 rebounds and 3.9 assists per game. He was awarded 1st team All-NIC, the first player in Jimtown history to receive the award. Phillips was also recognized for his work in the classroom, earning IBCA Academic All-State Honorable Mention honors as well as a spot on the NIC All-Academic Team.
Smith and Phillips join a trio of early signees including Indiana All-Star Blake Sisley, All-Region 24 Team honoree Blaise Beauchamp and TSSAA D2 All-Region player Troy Boynton.
"The vision of our staff was to prioritize the right student-athletes that will assist in building on our foundation," Lickliter added. "We feel as if all of our newcomers, individually and collectively, will complement our team and each other. Their winning approach will be valued, on and off the court. They will be tremendous additions in the pursuit of our championship goals."
Contribute to AceNotes
To have content considered for inclusion in AceNotes, please submit a Marketing Request Form. Deadline for submission to AceNotes is 10:00 a.m. on the requested date of publication. Only articles concerning UE related/sponsored activities will be accepted. Articles submitted to AceNotes may be edited for length and clarity. Submitter contact information is at the end of each article.