| | |
| --- | --- |
| AceNotes Today | Wednesday, April 21, 2021 |
Faculty Retirement Tree Planting Ceremony

The following were honored at the Faculty Retirement Tree Planting Ceremony that took place on Sunday, April 18:
Davies Bellamy - Associate Professor of Education
Cindy Crowe - Assistant Professor of Spanish
George Iber - Associate Professor of Education
Mark Randall - Associate Professor of Electrical Engineering
Garnet Ungar - Professor of Music/Piano
Due to COVID restrictions, this event was not open to the campus community this year. However, you can watch a recording of the ceremony. Please join us to wish them well in their retirement.
Vaccine Mythbuster
MYTH: The development of COVID-19 vaccines were rushed.
Although they were made in a short period of time they were not rushed. Tens of thousands of participants were studied in safety and efficacy trials. In a normal vaccine trial, enough people must get the disease to know whether it works or not, which often takes an extended period of time, however with COVID-19 it was possible to complete the studies faster due to the rate the virus spread.
COVID-19 Vaccinations for 16 and Older at Ascension St. Vincent
Currently, the Indiana State Department of Health (ISDH) has identified the following Indiana residents as eligible to receive the COVID vaccine:
Healthcare Workers
First Responders
Teachers and school staff in pre-K through high school, child care centers, Head Start and Early Start programs
Licensed childcare providers, including center-based and family care providers
Age 16 and above
Specific groups of patients at highest risk of severe illness from COVID-19 who are identified by their healthcare provider are also eligible. These individuals will receive a unique registration link by text or email.
We will keep our patients updated as eligibility and administration sites broaden. Although currently there is no cost to patients for the vaccine, insurance information will be collected.
Vaccine Scheduling
The COVID-19 vaccine is available by appointment only. No walk-ins will be permitted. Once listed as eligible by the ISDH, go to www.ourshot.in.gov or by calling 211 or 1-866-211-9966 to schedule an appointment.
Detailed instructions
Go to www.ourshot.in.gov
Enter date of birth and attest to being over age 16
Enter zip code and Select Ascension St Vincent Vaccine Clinic location
Select appointment date and time
Complete demographic information including accurate date of birth
Confirm appointment
Ascension St Vincent Vaccine Clinic
For your convenience, the Ascension St. Vincent Vaccine Clinic is open 7 days a week and located on the hospital campus in the Manor Auditorium. When scheduling an appointment on the state website, select "Ascension St Vincent Evansville VAX" as site location. Directions: Enter the parking garage off of Bellemeade Avenue, immediately turn left and follow the directional signage to the designated vaccine clinic parking area. Patients should enter the clinic using the doors adjacent to the parking garage. Tri State Clinics patients are encouraged to call our office at 1-888-492-8722 with questions or for assistance with scheduling at the Ascension St. Vincent Vaccine Clinic.
Spencer County Residents
Spencer County Local Health Department
Heritage Hills High School
Perry County Residents
Perry County Local Health Department
Perry County Memorial Hospital
Posey County Residents
Posey County Local Health Department
Illinois Residents
Phase 1A: Healthcare workers, those in long term care facilities.
Phase 1B : Frontline essential workers, residents 65 years of age or older and under 65 with comorbidities.
Phase 1B+ : IL residents 16+ with disabilities or serious medical conditions. Higher education staff, gov workers, and media. Details and scheduling info at: https://coronavirus.illinois.gov/s/.
Kentucky Residents
Phase 1a: Long term care facilities, healthcare personnel
Phase 1b: First responders, anyone 70 or older, K-12 school personnel
Phase 1C : KY residents age 60+ AND 16 and older with serious medical conditions and essential workers
For locations and to schedule appointment go to: https://govstatus.egov.com/kentucky-vaccine-map or call the KY COVID-19 Hotline - (800) 722-5725 for more information.
Should you have any additional questions, please contact Ashley Chipps at ashley.chipps@ascension.org or Stacey Smith at stacey.smith1@ascension.org
This Week in Music
The UE Department of Music Streaming Concert Series continues this week with three performances from student ensembles: The UE Jazz Ensembles, Brass Ensemble, and a concert featuring various small ensembles including strings, percussion, and various chamber groups for winds. These concerts feature the work of UE Music students in smaller settings compared to the larger ensembles they also perform in. The Jazz Ensembles are available for viewing now, the Brass Ensemble will be available for viewing on Thursday, April 22 and the small chamber ensembles will be available for viewing on Sunday, April 25. All concert links can be found at the following link: https://www.evansville.edu/majors/music/calendar.cfm We hope you will join us online.
Earth Day Birthday Celebration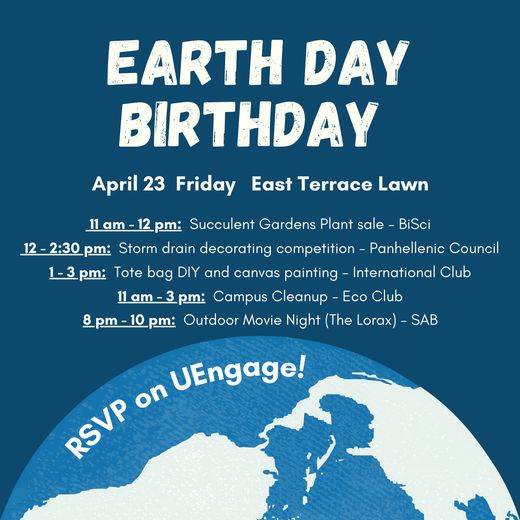 Join us to celebrate Earth Day as a campus community! Sign up for giveaways and service events on UEngage and stop by tables outside Ridgway on the East Terrace Lawn from 11am-3pm! On Friday evening, join us for a screening of The Lorax at 8pm!
Senior Art Exhibition 2021 in the Melvin Peterson Gallery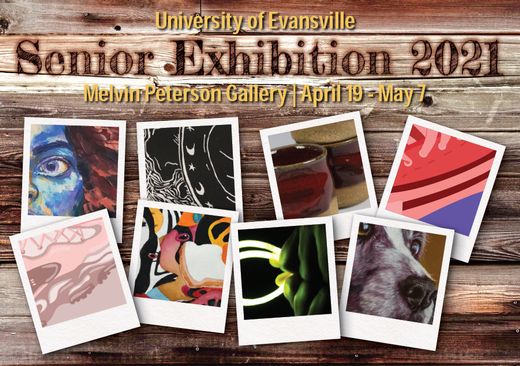 The Senior Art Exhibition 2021 is on display in the Melvin Peterson Gallery from April 19-May 7 2021.
The exhibiting artists are: Anna Brough, Arleigh Ingram, Rohan Karanjit, Michaela Kunkler, Nicolas Likulia, Sama Matkari, Hayley Tran , and Jake Watson.
Exhibition is open to the public, free, and handicap accesible. Please visit the gallery during the following hours:
Monday, Tuesday, Friday, and Saturday: Noon-3pm
Wednesday and Thursday: Noon-6pm
For further information or to arrange additional viewing times, phone 812-488-2043.
Please stop by and see the wonderful results of their hard work and creativity.
Due to COVID regulations, there will not be a public reception. Masks and Safe-Distancing are required.
This Week in Religious Life
SPIRITUAL OPPORTUNITIES
1. The Muslim and Christian Prayer Rooms in Neu Chapel are available for use 24/7. Contact the Muslim Student Association for keycard access to the Muslim Prayer Room.
2. The Center for Diversity, Equity, and Inclusion now offers a spirituality library, including books from eleven different religious traditions. From Brene Brown to Thich Nhat Hanh, and from Christian bead prayers to self-reiki, there is something for everyone. Stop by the Center's conference room to borrow one for yourself.
CHRISTIAN WORSHIP
Due to pandemic restrictions, UE will not offer Protestant worship in Neu Chapel this semester. However, there are two churches just across the street from campus that offer services online and in-person.
Methodist Temple (mask required)
8:30am, traditional worship
11am, contemporary worship
Redeemer Lutheran (mask required)
8am and 10:30am, traditional worship
The final Catholic Mass for this academic year will be held on Sunday, April 25, at 1PM in Neu Chapel.
HOLY DAYS & HOLIDAYS
1. Ridvan, the most important Baha'i Faith festival, begins on April 19. Greeting: "Happy Ridvan!"
2. The month-long Islamic fast called Ramadan continues this week. Greeting: "Ramadan Mubarak" or "Blessed Ramadan!"
ChangeLabs Receive National Honorable Mention Recognition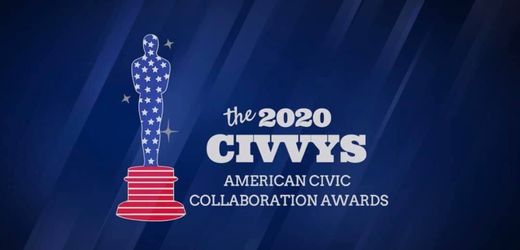 The Center for Innovation & Change is pleased to report two of its ChangeLab projects received national Honorable Mention recognition at the 2020 Civvys Awards. This event, hosted by the American Civic Collaboration Awards, highlights best practices in civic collaboration among National, Youth, and Local categories in America.
The awards ceremony was hosted live from Washington D.C. on Monday, April 19th and can be viewed here: https://www.civvys.org/the-2020-civvys
The first project receiving Honorable Mention was COVID Between the Coasts, a collaborative project with Que Pasa Midwest and WNIN. This ChangeLab was led by Darrin Weber, PhD, assistant professor of mathematics; and Tamara Wandel, PhD, associate professor of communications. During the fall semester, students conducted research to see how COVID-19 had specifically affected the Midwest, as the media largely reported on the pandemic from the East and West Coasts.
Evansville Adaptive Watersports was the second Honorable Mention at the Civvys. This project was the winning idea of Philip Jacobs at UE's first Community Changemaker Challenge. Afterwards, the project was guided by 3 ChangeLab students: Jamie Born, Ashlyn Thompson, and Jalyn Davis. This fall, Evansville Adaptive Watersports successfully launched and is making a difference in the lives of area residents with disabilities.
Congratulations to all who were involved with these two ChangeLabs!
Electronic Recycling Alternative
Did you know that the Vanderburgh District contracts with C&I Electronics to conduct a spring electronic recycling drop-off at C&I Electronics, 1700 N. Lafayette Ave, Evansville. The 2021 spring electronic recycling days are on April 29 & 30 from 10–4 pm and May 1 from 8–12 pm. More information is available at https://www.evansvillegov.org/city/department/division.php?structureid=258
During the spring 2021 recycling days, a variety of electronic materials will be accepted at no charge. The items will include, but are not limited to computers and computer related equipment, laptops, printers, scanners, TVs, DVD players, DVR devices, digital cameras and fax machines.
Copy machines and appliances, including microwaves, will not be accepted. This program is for Vanderburgh County households only. Items from businesses will not be accepted.
UE Theatre Held Scenic Painting Workshop Led by Associate Professor Eric Renschler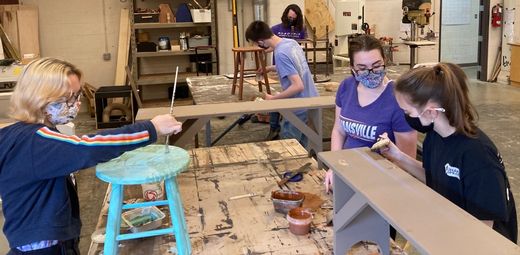 UE Theatre held another installment of their 2020–21 Workshop Series on Apr. 11 and 18. In this workshop, Associate Professor Eric Renschler demonstrated faux painting techniques including marbelizing, woodgraining, and crackle paint. Students were able to explore these techniques on items of their own.
In 2015, Mr. Renschler was named the Chair of the UE Department of Theatre, after joining the faculty in 2006 as the scenic designer. He returned to his alma mater after nearly twenty years of working on Broadway, Off-Broadway, and on regional and international productions.
His Broadway designs include scenery for MAMALOSHEN and AS LONG AS YOU BOTH SHALL LAUGH (including a subsequent national tour and PBS special). His Off-Broadway credits include designs at the New York Shakespeare Festival, Circle Repertory Company, Pan-Asian Repertory Theatre, Puerto Rican Traveling Theatre, and The Juilliard School. His regional design credits include Cincinnati Playhouse, Chautauqua Opera, Barrington Stage Company, Merrimack Repertory Theatre, Adirondack Theater Festival, Hangar Theatre, and Seattle Repertory Theatre.
As an associate designer, he worked on over forty Broadway shows, national tours, and international productions, including THE COLOR PURPLE, DOUBT, CHICAGO, WHO'S AFRAID OF VIRGINIA WOOLF, FOOTLOOSE, PROOF, WONDERFUL TOWN, THE REDWOOD CURTAIN, and HOW THE GRINCH STOLE CHRISTMAS.
The UE Center for Innovation and Change named Mr. Renschler a 2011 Global Scholar Award-winner. He used his award to expand his experience in the international design arena with a year-long comparative study of national design aesthetics as exhibited through theatrical scenography. He is a former board member for the Arts Council of Southwestern Indiana, a member of the Evansville Historic Preservation Commission, and a frequent grant reviewer for the Indiana Arts Commission.
He holds an MFA in Theatre Design from the University of Michigan and is a member of IATSE (International Alliance of Theatrical Stage Employees) and USA (United Scenic Artists).
New Leave Request Procedures
Effectively immediately, the University of Evansville will transition to an online Leave Request Form Beginning May 3, 2021, any old leave request forms received will be sent back to the employee so that they can submit the new form.
Any paper leave requests made previously will still be processed and do not need to be resubmitted in the new form. Paper forms and emailed forms will not be accepted after April 30, 2021.
Employees who request vacation or sick time will need to complete the new online Leave Request Form. Please be sure to include your supervisor's name and UE email address for their review. Once you submit your request, the form will go to your supervisor for their approval.
Supervisors should ensure the Leave Request Form has been completed properly by the employee before approving the request. To approve the leave request, simply click approved and submit.
This form can also be found in the MyUE portal under Human Resources Vacation and Other Leave forms.2021-04-0134-A2021-04-0134-A
Solution Station Wednesday: How's Your Schedule For Fall?
How did registration go? Are you all set - or does your schedule need some more work? Waitlists? Time conflicts? Are you having trouble finding classes? Let's talk! Do you need help with something else and you're not sure who to ask on campus? Come by the Solution Station table in Ridgway from 11:00 AM to 1:00 PM this Wednesday and ask! If we don't know the answer, we'll know who does! We're here to help you find solutions to the issues you're facing - with your schedule for next fall and everything else! Let us help.
Questions? Contact Chad Hart at ch299@evansville.edu.
Racial Justice Intentional Safe Space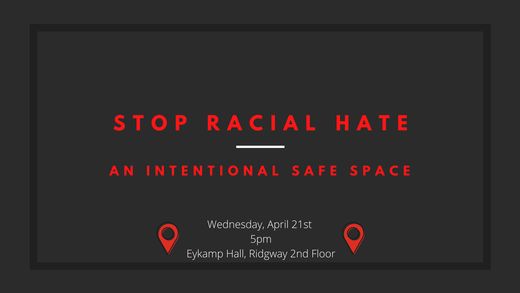 This will space is meant to be an intentional safe space for those to process recent acts of hate, bias, violence and ignorance. Processing looks different for everyone. Maybe you need some resources or maybe you want to talk about your feelings towards recent acts happening around the country. This is the space for you to process. There will be a representative from Counseling Services in attendance for anyone to talk to and the conversation will be co-facilitated by representatives from the Center for Diversity Equity and Inclusion.
Pep and Vim Was a Success! THANK YOU!
Pep and Vim, our 9th annual day of giving, was a grand success! We are still counting gifts, but we are happy to report we crushed the 1,854 gift goal to unlock the Alumni Board's challenge gift to the UEvansville Fund!
The support of our campus community, alumni, and donors was overwhelmingly positive. Many areas on campus benefited from the fundraising efforts, and we appreciate the assistance, with not only spreading the Pep and Vim message, but for those who donated their time, talent, and treasures. Together, we did it!
If you have any questions about this year's Pep and Vim, or are curious how you can be a part of Pep and Vim for 2022, please contact the office of annual giving at annualgiving@evansville.edu.
Thank you and go Aces!
April is Sexual Assault Awareness Month
April is Sexual Assault Awareness Month. The Center for Diversity, Equity, and Inclusion and the Office of Institutional Equity are providing multiple opportunities for members of the campus community to get involved and stand up against sexual violence.
Sign the University's Pledge to Get Consent. The University of Evansville defines consent as "a voluntary, informed and freely-given agreement, communicated though mutually-understandable words and/or actions , to engage in agreed-upon Sexual Contact, Sexual Intercourse, Sexual Exploitation, or other sexual activity." By participating in this pledge, you are agreeing to make sure all of your sexual encounters are fully consensual. Sign the Pledge here: https://www.evansville.edu/center-for-diversity-equity-and-inclusion/pledge-to-get-consent.cfm. The link is live for the entire month of April; the student group or team with the most pledges will be featured on the Center's social media pages.
On Monday, April 26th; join us for Bystander Intervention Training from 6-7pm. CDEI intern Katie Vinci, who is trained through It's On Us to provide bystander training will take us through steps on how to appropriately and safely intervene when you witness someone being harassed. Register for the Zoom training here: https://evansville-edu.zoom.us/meeting/register/tJEsce-hrzMvGtJ3eCXJTs4ipkcK58wbNXbi.
On Tuesday the 27th, the Center has partnered with the Students for Gender Violence Awareness at USI to bring nationally renowned speaker Vankayla Haynes for a Zoom presentation. Haynes will be speaking about sexual assault and marginalized communities. The presentation runs from 6-7pm and can found here: https://usi.zoom.us/j/99201657102.
Wednesday, April 28th is Denim Day. Wear denim in support of survivors of sexual violence and to bring awareness to sexual assault.
On Thursday the 29th, join us as we speak to a panel of experts in the UE and Evansville community about sexual assault on college campus and the resources available to individuals who have experienced an assault. Join individuals from Institutional Equity, Counseling Services, Public Safety, Albion Fellows Bacon Center, the Prosecutor's Office, Evansville Police Department, and Deaconess Hospital as they discuss sexual assault. Register for the panel here: https://evansville-edu.zoom.us/meeting/register/tJYvdOmqpzwtGN3_elA-Ul7RdMLE0UDPZG8H.
Sexual Assault Awareness Month / Religious Exploration Month Challenge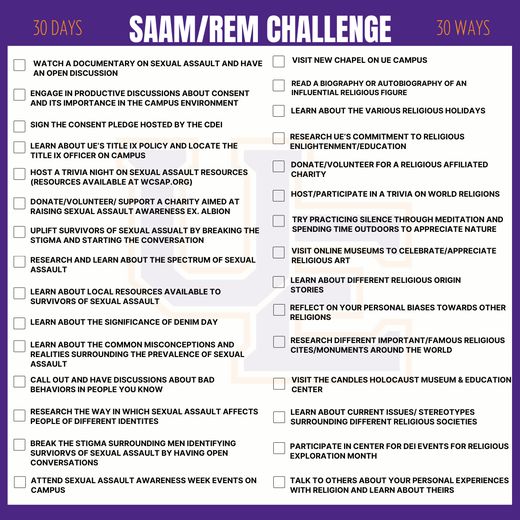 The month of April highlights Sexual Assault Awareness Month and Religious Exploration Month. Join the UE SAAM/REM Challenge sponsored by the Center for Diversity, Equity and Inclusion! In this challenge you will find 30 ways for 30 days of religious exploration and sexual assault awarness to actively learn, engage, support, communicate with individuals across the religion spectrum and survivors of sexual assault, while also breaking the stigma surrounding religion and sexual assault awareness. Items listed in the challenge can be done personally or in a social group! Join the Center in one of our many events for the month focused on religion or sexual assault awareness, research the origins and culture of Denim Day and/ or grab a friend and reflect about what religion means to you. However and whatever you do for the #SAAM/REMChallenge, challenge yourself!
We can't wait to see the ways in which you all #SAAM/REMChallenge yourself!
To make it extra fun, share what you're doing on social media and be sure to tag us!
Instagram: @uediversity Facebook: UE Center for Diversity Equity and Inclusion
Sexual Assault Awareness Month and Religious Exploration Month Task List
Watch a documentary on sexual assault and have an open discussion
Engage in productive discussions about consent and its importance in the campus environment
Sign the consent pledge hosted by the CDEI
Learn about UE's Title IX policy and locate the Title ix officer on campus
Host a trivia night on sexual assault resources (Resources available at WCSAP.org)
Donate/volunteer/ support a charity aimed at raising sexual assault awareness Ex. Albion
Uplift survivors of sexual assault by breaking the stigma and starting the conversation
Research and learn about the spectrum of sexual assault
Learn about local resources available to survivors of sexual assault
Learn about the significance of Denim Day
Learn about the common misconceptions and realities surrounding the prevalence of sexual assault
Call out and have discussions about bad behaviors in people you know
Research the way in which sexual assault affects people of different identities
Break the stigma surrounding men identifying surviorvs of sexual assault by having open conversations
Attend Sexual Assault Awareness Week events on campus
Visit New Chapel on UE Campus
Read a biography or autobiography of an influential religious figure
Learn about the various religious holidays
Research UE's commitment to religious enlightenment/education
Donate/volunteer for a religious affiliated charity
Host/participate in a trivia on world religions
Try practicing silence through meditation and spending time outdoors to appreciate nature
Visit online museums to celebrate/appreciate religious art
Learn about different religious origin stories
Reflect on your personal biases towards other religions
Research different important/famous religious cites/monuments around the world
Visit the Candles Holocaust Museum & Education Center
Learn about current issues/ stereotypes surrounding different religious societies
Participate in center for DEI events for Religious Exploration month
Talk to others about your personal experiences with religion and learn about theirs
Deadline Extended: 2021-22 Dr. Marvin E. Hartig Memorial Scholarship
UPDATE: The scholarship deadline has been extended to Friday, May 7.
Family, friends and loved ones of the late Dr. Marvin E. Hartig are pleased to announce the application process for the Dr. Marvin E. Hartig Memorial Scholarship. This scholarship is dedicated to the loving memory of Dr. Hartig, Dean of Evansville College's Evening College in 1967, and administrator for the Center for Advanced Study, director of the Evansville chapter of the American Institute of Banking (AIB), and the international student advisor. In 1974, Dr. Hartig was appointed Dean of Academic Services. He retired in 1984 after serving his alma mater for thirty-five years and passed away in 2007.
This scholarship will be awarded annually to a deserving sophomore student. Preference will be given to a student working while being enrolled as a full-time student. International students are encouraged to apply.
Eligible students for the 2021-2022 Hartig Memorial Scholarship will be sophomores in the 2021-2022 academic year.
Download the 2021-22 Dr. Marvin E. Hartig Memorial Scholarship application.
Deadline: Please return all materials to the Office of Student Financial Services by April 23, 2021. The decision will be announced by June 14, 2021.
Questions: Amanda Wood, administrative assistant to the Office of Student Financial Services, at aw505@evansville.edu or 812-488-2364
Penny Wars 2021 Results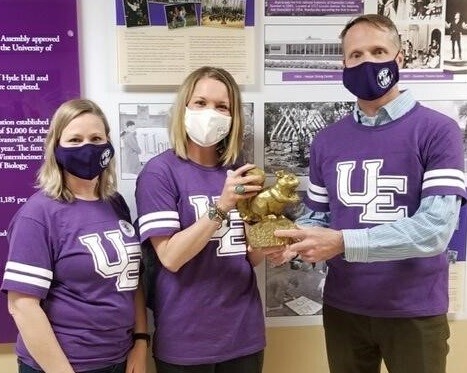 For the second time - The William Ridgway College of Arts and Sciences reigned supreme in the Pep & Vim Penny Wars competition. Their total was $112.24! Dean Lutrig was once again awarded the Pep, The Golden Squirrel.
The other jar totals were:
College of Education and Health Sciences $1.35
Schroeder School of Business Administration -$3.25
Staff and Administrators Assembly -$5.15
College of Engineering -$13.06
Keep in mind that pennies and dollar bills added to the points and silver coins subtracted.
Start collecting your pennies for next year's competition.
Photo: Pep was presented to Dean Ray Lutgring by VP of University Advancement Abigail Werling and Alumni Director Jennifer Whitaker.
Women's Golf Wins MVC Championship
Taking part in one of the most exciting finishes in Missouri Valley Conference history, the University of Evansville women's golf team outdueled UNI in a sudden death playoff…in the snow…to secure the first league championship in program history.
On top of the team performance, Sophia Rohleder won the individual championship, besting the competition by two strokes while head coach John Andrews was named the league's Coach of the Year. Andrews is passing the award to former UE head coach Jim Hamilton, who retired last year. UNI's John Bermel also received the honor.
"When I met this team after becoming head coach, I could see that they were a confident group about succeeding in this event; not necessarily saying they would win, but confident about their ability to succeed," Andrews exclaimed. "I am so proud of this team and their effort throughout the tournament. Sophia was the best player in the conference this week. Alyssa (McMinn) played really well for the full event and made some big shots. Caitlin (O'Donnell) had a phenomenal first round on Monday that put us in the lead and set the tone for us."
"Through the first 12 holes today, nobody on that course played better golf than Allison (Enchelmayer) and Mallory (Russell). It was a total team effort. They played through awful conditions today, but came out on top."
Tuesday's final round saw Northern Iowa rally to tie the Purple Aces with 942 strokes and force a sudden death playoff. The teams took to the 18th hole while battling the wind and snow. Evansville dominated the playoff, winning in one hole. While there were no "scores", Evansville's final player putted out and UNI could not force a tie, which gave the Aces the win.
"The girls had a great attitude heading to the playoff – they said that after three rounds, all we need to do is win this hole to take the championship and that is exactly what they did," Andrews added. "Our girls flat out dominated the playoff."
UE battled the elements throughout the day to finish in a tie for the top spot to force the playoff. Following a sunny start to the tournament on Monday, Bogey Hills Country Club saw snow falling on Tuesday morning. Rohleder recorded an 80 in the final round to clinch the medalist position. Her final tally came in at 229, which defeated UNI's Emily Snelling and Missouri State's Abby Cavaiani by two strokes. Her rounds on Monday finished up at 75 and 74. Rohleder was Evansville's second individual conference champion, joining Kayla Katterhenry, who won as a senior in 2017.
"I remember Coach Hamilton telling me I could be the MVC champion prior to my junior year, but unfortunately it got canceled. That had me believing that anything was possible and winning the first two tournaments this season gave me a lot of confidence," Rohleder said following the win. "But winning this as a team means so much more – it was unbelievable having our entire team up there receiving the trophy. Everyone worked so hard for this."
"Being a senior makes it even more special – I thought this would be my last tournament, but it's not!"
In a tournament that saw each and every stroke play a pivotal role in the end, Allison Enchelmayer was second for UE and tied for 12th in the final standings. After scores of 76 and 78 to open the tournament, Enchelmayer carded an 83 on Tuesday. Alyssa McMinn picked up a top 20 finish, tying for 17th place. Her final tally finished at 240.
Caitlin O'Donnell came home in 21st place with a final score of 243 while Mallory Russell completed the tournament with a 248.
Prior to this season, the Aces had not finished better than 7th place in the team standings.
With the win, the Aces earn the league's automatic NCAA bid. Their destination will be announced at the selection show on April 28, which will be carried on the Golf Channel.
Robyn Scherr-Wells named Evansville Head Women's Basketball Coach
Robyn Scherr-Wells, who has shown a knack for revitalizing programs and developing talent, has been hired as the 11th head coach in University of Evansville women's basketball history. UE Director of Athletics Mark Spencer made the announcement Tuesday.
Scherr-Wells will be introduced as the Purple Aces head coach during a press conference inside Meeks Family Fieldhouse at 3 PM on Tuesday.
"We took this opportunity to do a national search and select a candidate that will lead us to the future," said Spencer. "We believe Robyn is the perfect fit for UE and the program moving forward."
Scherr-Wells has head coaching experience, coaching for seven seasons in the NAIA with Roosevelt University and Davenport University, winning six conference championships, while also helping rebuild programs at Florida International University and Davidson College as an assistant coach at the NCAA Division I level. Scherr-Wells comes to Evansville after spending the 2020-21 season as assistant coach at Florida International University, where she was part of a staff that helped lead the Panthers to their best record in nearly a decade.
The Panthers advanced to the postseason last season, earning a berth in the Women's Basketball Invitational, advancing all the way to the consolation final where FIU captured a 59-58 win over Manhattan on a pair of free throws with less than one second remaining.
Scherr-Wells' Panthers squad was one of the best offensive teams in the NCAA, averaging 73.7 points per game. FIU finished the 2020-21 season 41st in the nation in scoring offense. Aiding to the Panthers high-scoring offense was an excellent effort from beyond the arc, while also finishing inside the top 25 in NCAA Division I in three-point field goal attempts, total makes, three-point field goals made per game.
"We're excited to welcome Coach Scherr-Wells to the University of Evansville," said Evansville President Christopher M. Pietruszkiewicz. "She will make a great addition to the campus family and will help develop student-athletes who excel in the classroom and community, as well as on the court."
Previous to FIU, Scherr-Wells spent three years as the top assistant at Davidson College where she helped rebuild a program that finished 12th in the Atlantic 10 prior to her arrival to a fourth-place finish in just her second year and aided the program to their first winning season and post-season berth (WBI) in six seasons in 2018-19. At Davidson, she recruited and coached six Atlantic 10 All-Conference Team selections, as well as one Most Improved Player, one Sixth Woman of the Year, and one Rookie of the Year.
"I am thrilled to lead Evansville Women's Basketball. From the first conversation with the search committee, I knew UE was a perfect fit for me," said Scherr-Wells. "UE provides our student-athletes the things I value most – uncompromising academics where our players learn in a tight-knit community and receive a highly regarded education, and a first-class athletic experience where winning is valued and expected. I cannot wait for our fans to see how exciting our team will be to watch. I am looking forward to building a winning tradition with our players and to showing our recruits what a special place the University of Evansville is."
Scherr-Wells has extensive experience in building programs, serving as head coach for both Roosevelt University (Chicago) and Davenport University (Grand Rapids, Mich.). As a head coach, Scherr-Wells amassed a 144-83 (.634) record across seven seasons at the helm of two programs. In conference play, Scherr-Wells record was even more impressive, going 76-26 (.745) and winning three regular season and conference tournament championships.
A native of Glen Ellyn, Illinois, Scherr-Wells attended the University of Michigan where she joined the women's basketball team. With the Wolverines, Scherr-Wells started as a manager/practice player during her freshman season and eventually earned an athletic scholarship as a sophomore for her role in that capacity for the squad. As a member of the Wolverines, Scherr-Wells was part of a team that earned three NCAA Tournament berths and made the postseason in each of her four seasons.
Beginning her coaching journey in 2005, Scherr-Wells returned to where it all started, serving as the administrative assistant for women's basketball at the University of Michigan. With the Maize & Blue, Scherr-Wells served in various capacities with the team under the mentorship of a familiar face to The Valley. Scherr-Wells worked under Hall of Fame Missouri State Coach Cheryl Burnett, who coached the Lady Bears to eight NCAA Tournaments, including appearances in the Final Four in 1992 and 2001.
A 2001 graduate of the University of Michigan, Scherr-Wells finished with distinction and earned a Bachelor's Degree in Movement Science and Athletic Training. She went on to earn a Master's Degree of Business Administration from Roosevelt in 2014. She is married to Ryan Wells.

What They're Saying

"Watching Robyn's progression in the coaching profession, her continued success throughout her career is not a surprise. From her days as a staff member, Robyn was extremely self-motivated, a brilliant self-starter who took initiative and had a real passion for basketball. The current pinnacle of her career as Head Coach at the University of Evansville in the Missouri Valley Conference is a culmination of her hard work and dedication."
- Cheryl Burnett, Former Missouri State and University of Michigan Head Coach, MVC Hall of Famer

"Robyn is a true go-getter, a very good evaluator of talent, someone who knows how to teach, but more importantly, someone who knows how to communicate. In this day and age, getting to the hearts of players and parents and helping them understand expectations and roles and how to go about things, Robyn is very good at that. I think if you look at her career, she's proven she knows how to build a program. You only do that through communication and understanding relationships, and obviously, recruiting and developing talent. I think that's one thing that Robyn really knows how to do. She knows the work that it takes to be a contributing player to a successful team. Evansville is getting a really good team player in Robyn."
- Sue Guevara, Retired Coach, Michigan and Central Michigan

"Evansville found the right person to lead its women's basketball program. Robyn is an experienced program builder, a tireless recruiter, and detailed tactician, who is dedicated to student-athlete success on the court, in the classroom and as part of the community. I witnessed these skills firsthand at Roosevelt where she took a non-existent program and created a nationally-ranked, conference champion that developed student-athletes who optimized their abilities athletically and academically. I know Robyn can have a similar impact at Evansville and I am excited to watch her take this next step in her career."
- Michael Cassidy, Vice President of Enrollment Management and Athletics, Roosevelt University

" I couldn't be happier for Robyn and the University of Evansville. The Purple Aces are not only getting a phenomenal coach with great basketball acumen, but someone with an amazing character and heart. I look forward to being a fan during the Scherr-Wells era!"
- Jesyka Burks-Wiley, Head Women's Basketball Coach, Florida International
Softball Hosts Wednesday Doubleheader against ISU
With a 9-game road trip completed, the University of Evansville softball team will be back at Cooper Stadium on Wednesday for a doubleheader against Indiana State. First pitch is set for 4 p.m. for game one with the second contest to follow...both games will be carried on The Valley on ESPN.
Last Time Out
- Over the weekend, the Purple Aces traveled to Drake for a 3-game series
- The Bulldogs opened with a close 2-0 win before scoring five runs in the first inning of game two on their way to an 8-4 win...on Sunday, they held off a late rally by UE to finish with a 5-4 win
- Alyssa Barela and Eryn Gould each went 4-9 in the series to finish hitting .444...Barela launched her first two home runs of the season in Saturday's second contest while adding a double...Gould added a walk while wrapping up the weekend with a .545 on-base total
- Despite going 0-2 in the series, Izzy Vetter recorded a 2.33 ERA
Settling In
- Early in the season, Alyssa Barela battled injury before making her season debut on March 20, picking up a hit against Loyola
- She recorded just one hit in her next 14 at-bats, but rebounded with a solid weekend in the series at Drake, going 4-for-9 in the series with two home runs and a 1.222 slugging percentage
- Barela earned a walk in the opener against the Bulldogs before going 2-3 with her first two home runs of the season in game two of Saturday's doubleheader...on Sunday, she added two more hits in four trips to the plate and in just three games, she raised her batting average from .133 to .250
Putting a Streak Together
- Jessica Fehr enters Wednesday's doubleheader with a team-best 8-game hit streak...it is tied for UE's longest streak of the season
- Fehr is batting a solid .303 on the season and over the last eight games, she has seen her average rise 43 points
- She has recorded a hit in 10 of her last 26 at-bats
Contribute to AceNotes
To have content considered for inclusion in AceNotes, please submit a Marketing Request Form. Deadline for submission to AceNotes is 10:00 a.m. on the requested date of publication. Only articles concerning UE related/sponsored activities will be accepted. Articles submitted to AceNotes may be edited for length and clarity. Submitter contact information is at the end of each article.