| | |
| --- | --- |
| AceNotes Today | Friday, April 16, 2021 |
Today is Pep and Vim - UE's Annual Day of Giving!
Today is Pep and Vim! When we work together to bring in 1,854 GIFTS today, we will unlock an additional $25,000 for student scholarships from the Alumni Association Board of Directors. You can direct your gift to support the fund of your choice! All options can be found on our giving page: www.uealumnionline.com/givetoue
Let's show the world that ACES ARE CHANGEMAKERS! If every student, faculty member, and administrator give a gift today, we will crush our goal! If we can all reach out to one friend outside of the University, imagine what we can do!!
Stop by the SAA table in Ridgway anytime today for a chance to spin the wheel for some purple swag. Bring your change to support your favorite area in the Penny Wars competition, and make sure you sign a thank you post card (or sign 5) for our amazing donors who help fund class projects and student scholarships.
And remember, its Friday, so Aces WEAR PURPLE!!
#UEPepandVim #AcesGiveBack
Recorded Session for Benefit Open Enrollment is Now Available
If you were unable to attend either of the Open Enrollment Zoom meetings, you can view the entire benefit presentation in the Open Enrollment section of the MyUE portal at: https://bit.ly/2GcdKph. You can also view all of the relevant documents beginning with the open enrollment memo for important announcements, reminders, and changes which will occur June 1 to the University's benefits.
During the period of April 5 through April 16, benefit-eligible employees may enroll or make changes in the University's health, life, long term disability, and dental insurance, and ACES flexible spending account benefit plans. It is the only chance for benefit-eligible employees to enroll or make changes until the next open enrollment period unless you have a qualifying change in status.
We will once again utilize an on-line enrollment process, eliminating all paper enrollment forms for health, life, dental, and long term disability insurance, as well as the ACES flexible spending account. This will ensure the accuracy of your enrollment elections and maintain records electronically regarding your current and future participation. Enrollment/changes to your TIAA and Emeriti VEBA Trust retirement plan salary deferrals will continue to be processed on paper forms available in the Office of Human Resources. Therefore, you do not need to re-enroll in the TIAA or Emeriti retirement plans. ALL benefit eligible employees (including those who do not want to make any changes to their current coverage) must enter their elections by April 16. Please review the open enrollment memo and On-Line Benefit Enrollment Documents on the HR Area of the MyUE portal, which should answer many of the questions you might have about this system.
Please contact the Office of Human Resources at ext. 2943 with any questions.
Vaccine Mythbuster
MYTH: The second dose of the Pfizer/BioNTech and Moderna vaccines is not needed
FACT: You need two doses of the Pfizer/BioNTech and Moderna vaccines for it to develop immunity. It is not clear how effective or durable protection from a single dose would be. When you first get exposed to a vaccine or a foreign substance, your body generates cells that can recognize that foreign substance. The second time you get exposed, you body develops a stronger understanding of the virus and builds long-term immunity.
COVID-19 Vaccinations for 16 and Older at Ascension St. Vincent
Currently, the Indiana State Department of Health (ISDH) has identified the following Indiana residents as eligible to receive the COVID vaccine:
Healthcare Workers
First Responders
Teachers and school staff in pre-K through high school, child care centers, Head Start and Early Start programs
Licensed childcare providers, including center-based and family care providers
Age 16 and above
Specific groups of patients at highest risk of severe illness from COVID-19 who are identified by their healthcare provider are also eligible. These individuals will receive a unique registration link by text or email.
We will keep our patients updated as eligibility and administration sites broaden. Although currently there is no cost to patients for the vaccine, insurance information will be collected.
Vaccine Scheduling
The COVID-19 vaccine is available by appointment only. No walk-ins will be permitted. Once listed as eligible by the ISDH, go to www.ourshot.in.gov or by calling 211 or 1-866-211-9966 to schedule an appointment.
Detailed instructions
Go to www.ourshot.in.gov
Enter date of birth and attest to being over age 16
Enter zip code and Select Ascension St Vincent Vaccine Clinic location
Select appointment date and time
Complete demographic information including accurate date of birth
Confirm appointment
Ascension St Vincent Vaccine Clinic
For your convenience, the Ascension St. Vincent Vaccine Clinic is open 7 days a week and located on the hospital campus in the Manor Auditorium. When scheduling an appointment on the state website, select "Ascension St Vincent Evansville VAX" as site location. Directions: Enter the parking garage off of Bellemeade Avenue, immediately turn left and follow the directional signage to the designated vaccine clinic parking area. Patients should enter the clinic using the doors adjacent to the parking garage. Tri State Clinics patients are encouraged to call our office at 1-888-492-8722 with questions or for assistance with scheduling at the Ascension St. Vincent Vaccine Clinic.
Spencer County Residents
Spencer County Local Health Department
Heritage Hills High School
Perry County Residents
Perry County Local Health Department
Perry County Memorial Hospital
Posey County Residents
Posey County Local Health Department
Illinois Residents
Phase 1A: Healthcare workers, those in long term care facilities.
Phase 1B : Frontline essential workers, residents 65 years of age or older and under 65 with comorbidities.
Phase 1B+ : IL residents 16+ with disabilities or serious medical conditions. Higher education staff, gov workers, and media. Details and scheduling info at: https://coronavirus.illinois.gov/s/.
Kentucky Residents
Phase 1a: Long term care facilities, healthcare personnel
Phase 1b: First responders, anyone 70 or older, K-12 school personnel
Phase 1C : KY residents age 60+ AND 16 and older with serious medical conditions and essential workers
For locations and to schedule appointment go to: https://govstatus.egov.com/kentucky-vaccine-map or call the KY COVID-19 Hotline - (800) 722-5725 for more information.
Should you have any additional questions, please contact Ashley Chipps at ashley.chipps@ascension.org or Stacey Smith at stacey.smith1@ascension.org
English Dept. Literary Conference is TONIGHT!
The English Department presents its ninth annual Student Literary Conference this weekend. It begins with the Hemminger-Brown Lecture at the Melvin M. Peterson Literary Forum tonight at 7, and continues with student panels tomorrow morning. Tonight's lecture will be delivered by scholar Michael Kim Roos: "Written in My Soul: The Anatomy of Bob Dylan's 'Tangled Up in Blue.'"
Center for DEI Presents: Religion and LGBTQ+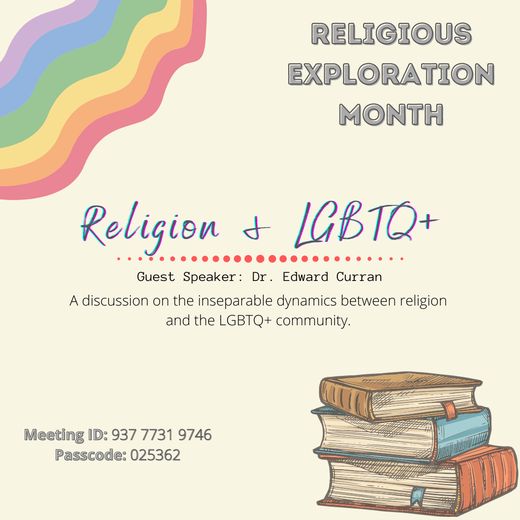 April is Religious Exploration month at UE! A time where everyone can learn more about different religions we have represented across campus. Throughout the month the Center will host a series of events aimed at creating safe spaces in order to discuss the ways our relationship with religion affects different aspects of our society! Second up we have Religion and LGBTQ+ on April 20th.
Religion and LGBTQ+ will be an open discussion aimed at highlighting the various ways religion and the LGBTQ+ community interrelate. The discussion will analyze the role religion plays in determining the visibility and acceptance of issues faced by the LGBTQ+ community.
Please register for- 20th April: Religion and LGBTQ+- here: https://evansville-edu.zoom.us/meeting/register/tJcqcO6rrzItHtKGB19J40y4pOxLq2LoWE5t
Meeting ID: 937 7731 9746
Passcode: 025362
UE Theatre's ZOOMBOX Presents William Shakespeare's Henry IV, Part I, April 16 and 17
The University of Evansville Theatre presents HENRY IV, PART I, by William Shakespeare at 7:30 p.m., Friday, Apr. 16, and Saturday, Apr. 17, as part of ZOOMBOX, a student-directed play series on the online platform Zoom.
This epic tale of power, intrigue, and war is part of Shakespeare's greatest historical saga and deftly explores the complexity of father-son relationships. The political savvy King Henry knows a rebellion is coming and despairs over young Prince Hal's proclivity to engage in drunken revels with Sir John Falstaff, a gloriously funny, but shameless rogue. Fast-paced action ensues on the bloody battlefield, as the brash and hot-headed Hotspur leads the quest to remove Henry from the throne. Will this fierce rival force the carefree prince to rise to the occasion and claim his own royal destiny?
Theodore J. Esten, a senior performance major, from Cedarburg, Wis., directs HENRY V, PART I; Rory Manley, a first-year design and technology major, from Carrollton, Texas, is the zoom environmental designer; Chloe Brzozowski, a sophomore and technology major, from Dayton, Ohio, is the costume designer/stylist; Sara Mathew, a sophomore design and technology major, from Union, Ky., is the costume designer/stylist; Olivia Darshani Pedersen a junior stage management major, from Chaska, Minn., is the dramaturg; and Zoe Paraskevopoulos, a sophomore stage management major, from Flower Mound, Texas, is the stage manager.
The cast features Yusef Louis Dixon, a first-year performance major, from Houston, Texas, as King Henry IV and Sheriff; UE Theatre alumnus Ben Khare '09, as Prince Hal; Caden Sevier, a first-year performance major, from Humble, Texas, as Hotspur; Spencer Marfy, a first-year performance major, from Tallmadge, Ohio, as Sir John Falstaff; Elizabeth Dye, a sophomore performance major, from Frisco, Texas, as Lady Percy and Bardolph; Rebecca Conaway, a sophomore theatre studies major, from Wellsburg, W.Va., as Lady Mortimer, Mistress Quickly, and Lord Vernon; Benjamin Bravard, a sophomore performance major, from Batavia, Ohio, as Northumberland, Owen Glendower, and Douglas; Jack Cory, a sophomore performance major, from Southlake, Texas, as Poins and Earl of Worcester; and Drake J. Susuras, a first-year performance major, from Broomfield, Colo., as Lord John of Lancaster, Sir Walter Blunt, and Edmund Mortimer.
Tickets are FREE, but registration is required. To secure your spot, visit www.uealumnionline.com.
Pep & Vim Penny Wars are Heating up on Thursday and Friday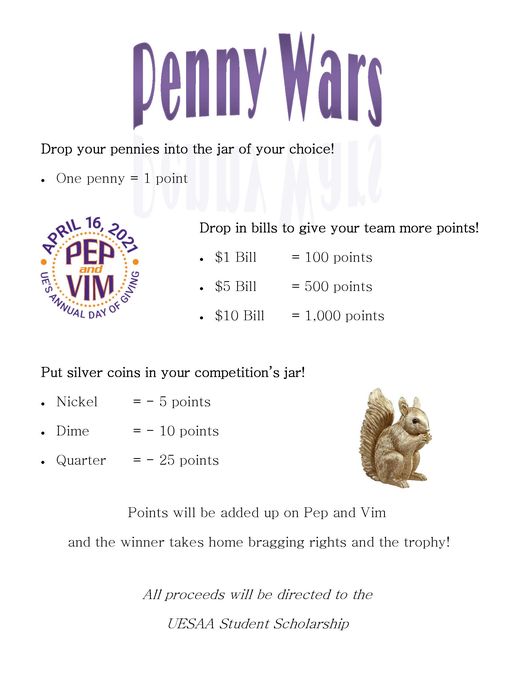 Penny Wars Challenge Accepted!
Some of the Colleges are collecting pennies in their buildings, so be sure to check the offices in your area for opportunities to boost your support! Thursday you will find the jars in the lobby of Ridgway from 5-7 p.m. and they will be there ALL DAY on Friday! Who will win the Golden Squirrel???!
PurplePalooza 2021
PurplePalooza is Friday, April 16th! There will be food trucks, live music, rides, and giveaways. Be sure to reserve your spot on UEngage today!
Spring Healthy Behavior Challenge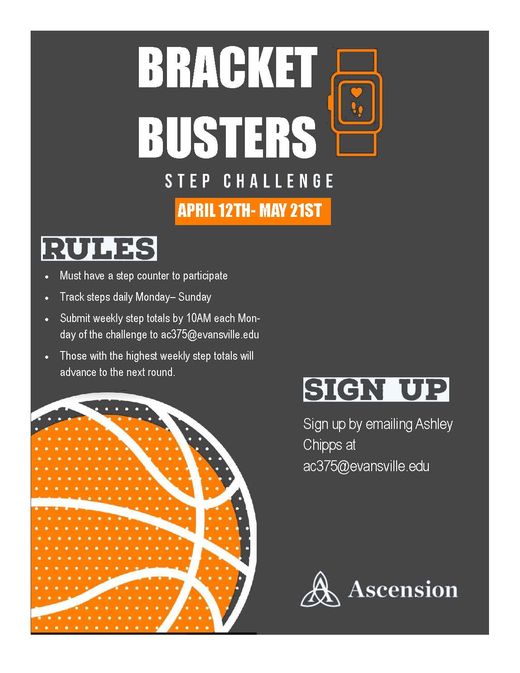 Sign up to participate in the next Healthy Behavior Challenge-- Bracket Busters! Just following March Madness, this is a group step challenge where those with the highest steps advance to the next round! Sign up today!!-- email ac375@evansville.edu. If you are enrolled in the Universities HRA Health Plan, those who complete this challenge can earn an additional $150.00 in HRA credits.
April 12 - May 21
Must have a step counter to participate
Track steps daily Monday– Sunday
Submit weekly step totals by 10AM each Mon-day of the challenge to ac375@evansville.edu
Those with the highest weekly step totals will advance to the next round.
Pep and Vim 5K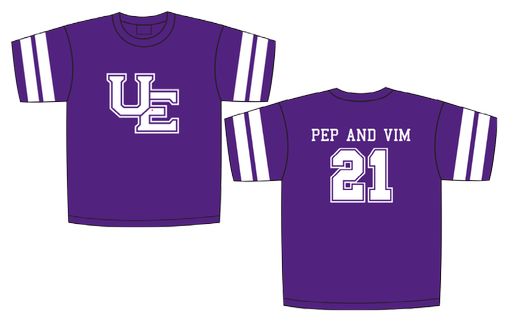 Calling all Aces!
Pep and Vim, UE's day of giving, is on Friday, April 16, and we're excited to celebrate UE's Spirit Week with you with an opportunity to participate in our Pep & Vim 5K Run.
This year, the UE Alumni Association is hosting a virtual 5K run/walk to promote a healthy lifestyle while we are all separated during this pandemic. And, by participating in Pep and Vim's Virtual 5K, you'll also be giving back to our beloved university.
The 5K can be completed indoors or outdoors between April 9 and April 16. Participants will enter their times online. All participates will receive an exclusive Pep and Vim T-shirt if registered by April 1*.
We have special pricing for students to make the opportunity more affordable while you run for UE! Your fee includes a gift to the UEvansville Fund and will also count towards the 1,854 gifts needed to unlock the Alumni Board's $25,000 Pep & Vim Challenge Gift!
On Friday, April 16, Pep and Vim, post a video or picture wearing your Pep and Vim t-shirt on social media using #UEPepandVim and #AcesGiveBack to help spread the word.
Be sure to stay tuned – Pep & Vim is all about inspiring change, so we will be rolling out many different philanthropic opportunities that may ignite your UE passion. Together, with Pep and Vim, we can make an impact while being active and connected across the globe.
If you have any questions, please contact alumni@evansville.edu.
Go Aces!
The Pep and Vim Committee
*Racers who register after April 1 will still get a T-shirt as long as supplies last, but you may not receive it before the April 16.
Register: www.uealumnionline.com/pepandvim5K
BECOMING CENTERED Paintings by Lori Rivera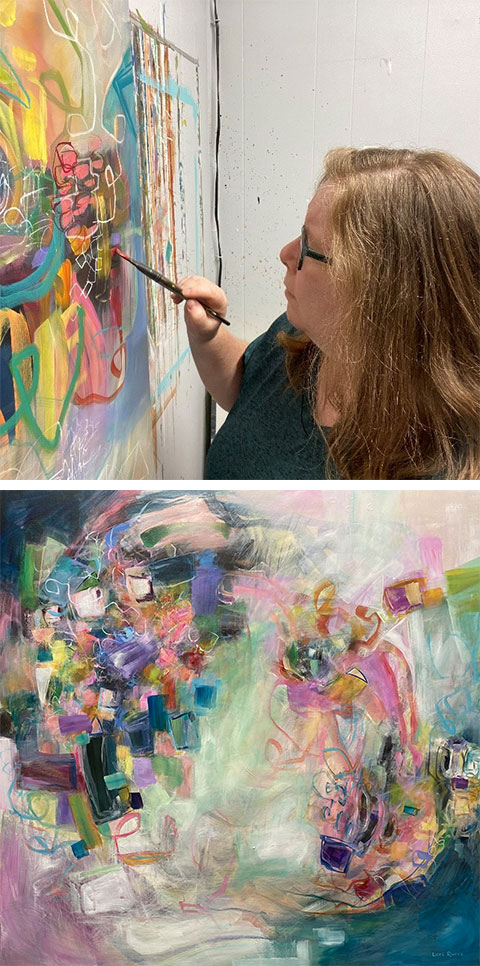 Local Artist Paints to Heal
Lori Rivera finds that the world nearly disappears when she paints, and she is deeply drawn into the meditative aspects of painting. She loves the healing benefits that painting provides, as she struggles with depression.
At any given time, Lori has a painting in progress on her painting wall in her home studio. Although her roots are in representational painting, she has recently decided to devote the majority of her time to growing as an abstract artist. She sees abstract art as the most fitting genre that allows her to communicate her emotions.
She usually starts with dark colors and then works up to lighter colors in the final layers. She feels this process is symbolic of rising from the darkness of depression and signifies her triumph over it. "As I go through this process with each painting, I am reminded of where I've been and how far I've come," says Lori.
She started painting over ten years ago, but her interest in pursuing art as a career was reawakened when she was inspired by artists at Peace Zone, where she served as Executive Director. While working, she painted in her spare time and decided to pursue art full time several years ago.
Lori's most recent project is creating paintings inspired by music, and she often listens to the music on repeat as she paints. She focuses on how the music makes her feel and communicates that feeling onto the canvas. Sometimes the music matches her mood, while other times the music she chooses is totally opposite of what she is feeling. Ultimately though, she relies on spontaneity and allows each painting to develop organically as each brushstroke guides the next.
Her work has been shown in Virginia, Pennsylvania, Ohio, New Harmony, and Evansville. You can see her work in person at the University of Evansville's Krannert Gallery April 11th through May 9th. The exhibit, Becoming Centered, overlaps with Mental Health Month, which is during the month of May. The opening reception is April 22nd at 6:30 pm.
The Department of Art at UE offers a wide range of degree programs and areas of specialization in the visual arts. It houses a number of specialized studios for ceramics, drawing, metalwork and jewelry, painting, printmaking, photography, sculpture, visual communication design, and watercolor. The Krannert and Peterson Galleries are also a vital resource for the students, as well as the Evansville area.
Students can receive BFA, BA & BS degrees in a variety of Art Studies: Studio Art, Art and
Associate Studies, Art Education, Visual Communication Design and Pre-Art Therapy. This exhibition is sponsored by the Department of Art with the generous support of the Efroymson Family Fund. The Krannert Gallery is located on the first floor of Krannert Hall of Art & Music.
Please visit the UE website www.evansville.edu/majors/art/majors.cfm
Or FaceBook Page: University of Evansville Department of Art & Melvin Peterson Gallery
For more information about Lori and her art, visit www.loririverafineart.com.
These stunning, abstract paintings can be seen in the Krannert Gallery April 11 – May 9
A public Reception for the Artist is April 22, 6:30pm. Masks & Social Distancing will be observed.
Front Circle Drive/Lot B Will Be Blocked on Sunday, April 18
The front circle drive (Lot B/visitor parking) will be blocked off this Sunday, April 18, for photos. This lot will need to be free of all vehicles during the morning hours (approx. 8AM-12PM). Please do not park your vehicle on the drive until after 12PM on Sunday.
Habitat for Humanity Barn Blitz- Teams Needed
UE's Habitat for Humanity chapter is excited to host a socially distant Barn Blitz on Saturday, April 24 at 7:30 AM at Habitat for Humanity of Evansville (560 E Diamond Avenue). Teams of five are still needed. Not familiar with Barn Blitz? At Barn Blitz, UE students, faculty, and other campus employees join together to assemble yard barns for Habitat for Humanity families. These families receive these yard barns in addition to a brand new home, helping to bring stability and security to their lives.
To sign up, email your team of five (and their emails) to Timmy Miller at tm206@evansville.edu. Please reach out with any questions you might have, too! Thank you!
UE Staff And Administrators Spring Meeting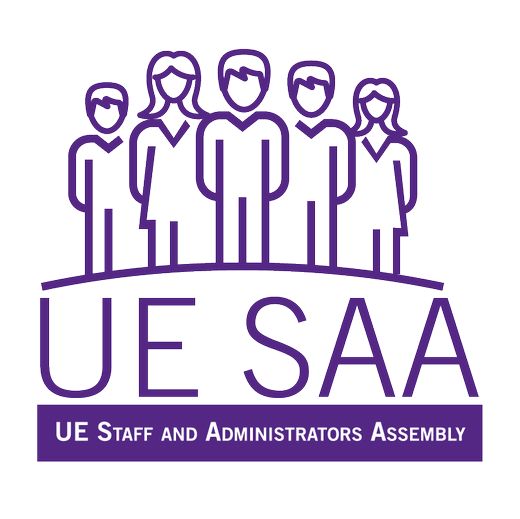 Hello Staff and Administrators,
As a reminder, we will be holding our Spring SAA Meeting Tuesday, April 20th from 3:00-4:00 p.m. The meeting will be held via zoom and you can access the meeting at https://evansville-edu.zoom.us/j/96369188544. An email meeting request was also sent that contains the full zoom log-in information as well as the dial-in options.
If you have any questions or if the SAA Executive Board can be of any assistance, then please reach out at any time.
Thank you again for all you do for the University of Evansville, and we hope to see you on the meeting!
SAA Executive Board
Brooksie Smith- President
Sarah O'Leary- Vice President
Fred Wilson- Vice President
Andrea Wallace- Secretary/ Treasurer
Catie Taylor- Immediate Past President
April Newsletter Released by Counseling Services
The Office of Counseling Services invites you to read the final monthly newsletter of the 2020-21 academic year (can you believe it?)! This month, the Office wanted to spotlight something we can all use a bit more of – the great outdoors! Whether you consider yourself to be an active individual or are just looking for an excuse to be outside and not sitting at a desk or in the library, check out this month's newsletter for information about the benefits of being outside, an app for navigating the stars, and local gems for a day of exploring!
Center for DEI Presents Religion of the Day #9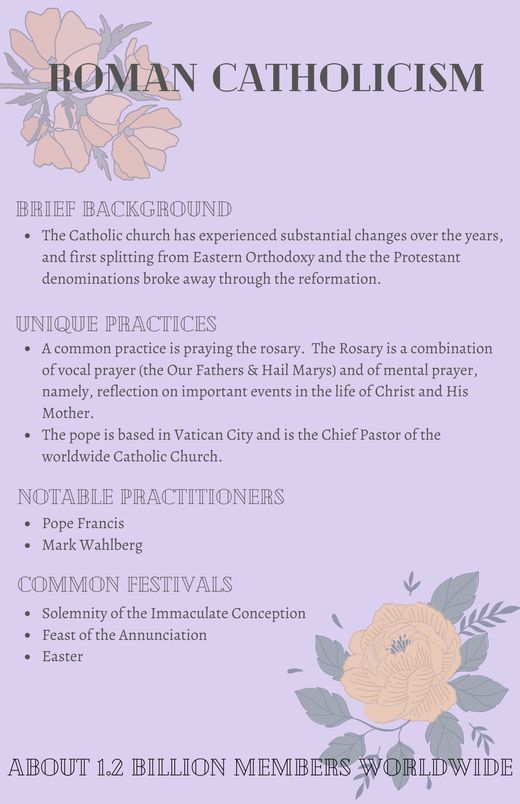 The religion of the day is Roman Catholicism! Along with Eastern Orthodoxy and Protestantism, it is one of the three major branches of Christianity. It's headed by the Pope who resides and serves as the Head of State of the Vatican City State. The Vatican is also home to a unique collection of artistic and architectural masterpieces, and at its center is the St Peter's Basilica.
April is Religious Exploration Month! For the next 9 days in the month of April, the Center for Diversity Equity and Inclusion will send out religious profiles highlighting some interesting information about different religions! Please check Acenotes and our social media for the daily profile posted! These profiles are aimed at presenting our campus community with information to allow a better understanding of UE's diverse religious representation and background.
*Please note that the information in our profile is a summary and not exhaustive of everything encompassed in this specific religion and for more information please do not hesitate to reach out to the Director of Religious Life at jk383@evansville.edu.
2021-22 Kahn Scholarship Application Available
It was the desire of the donor, Margery Florence Kahn, that her scholarship be awarded to "dedicated and conscientious students who exhibit a true passion for their chosen fields of study, and who, in the opinion of the members of the University of Evansville faculty, are likely to bring the same enthusiasm into the performance of their jobs or the practice of the professions which they will pursue following graduation."
All University of Evansville full-time undergraduate students who will be juniors or seniors in 2021-22 may apply. An essay of about 300 words must accompany the application, along with two to four faculty recommendation letters.
Application is available here: https://forms.office.com/r/8vduXcKZXa
Completed applications and recommendation letters should be returned to the Office of Student Financial Services by MAY 10th.
Questions may be directed to the Office of Student Financial Services via email or by phone at (812) 488-2364
#OnlyYESmeansYES: Take the Pledge to Get Consent
April is Sexual Assault Awareness Month. Do your part to reduce instances of sexual violence by taking the Center for Diversity, Equity, and Inclusion's pledge against sexual violence. Pledge to always get consent from your partners, be an active bystander in dangerous situations, and to help UE create a safe campus environment.
Encourage your student groups to participate in the pledge. The Student group with the most pledges by April 30th will be featured on the Center for Diversity, Equity, and Inclusion's social media pages (Instagram: @uediversity, Facebook: UE Center for Diversity, Equity, and Inclusion).
Sexual Assault Awareness Month / Religious Exploration Month Challenge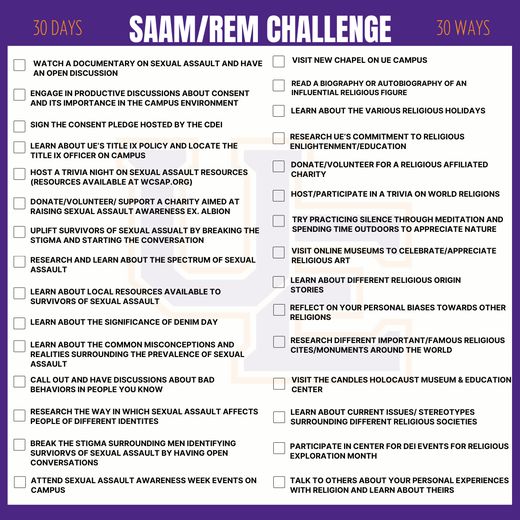 The month of April highlights Sexual Assault Awareness Month and Religious Exploration Month. Join the UE SAAM/REM Challenge sponsored by the Center for Diversity, Equity and Inclusion! In this challenge you will find 30 ways for 30 days of religious exploration and sexual assault awarness to actively learn, engage, support, communicate with individuals across the religion spectrum and survivors of sexual assault, while also breaking the stigma surrounding religion and sexual assault awareness. Items listed in the challenge can be done personally or in a social group! Join the Center in one of our many events for the month focused on religion or sexual assault awareness, research the origins and culture of Denim Day and/ or grab a friend and reflect about what religion means to you. However and whatever you do for the #SAAM/REMChallenge, challenge yourself!
We can't wait to see the ways in which you all #SAAM/REMChallenge yourself!
To make it extra fun, share what you're doing on social media and be sure to tag us!
Instagram: @uediversity Facebook: UE Center for Diversity Equity and Inclusion
Sexual Assault Awareness Month and Religious Exploration Month Task List
Watch a documentary on sexual assault and have an open discussion
Engage in productive discussions about consent and its importance in the campus environment
Sign the consent pledge hosted by the CDEI
Learn about UE's Title IX policy and locate the Title ix officer on campus
Host a trivia night on sexual assault resources (Resources available at WCSAP.org)
Donate/volunteer/ support a charity aimed at raising sexual assault awareness Ex. Albion
Uplift survivors of sexual assault by breaking the stigma and starting the conversation
Research and learn about the spectrum of sexual assault
Learn about local resources available to survivors of sexual assault
Learn about the significance of Denim Day
Learn about the common misconceptions and realities surrounding the prevalence of sexual assault
Call out and have discussions about bad behaviors in people you know
Research the way in which sexual assault affects people of different identities
Break the stigma surrounding men identifying surviorvs of sexual assault by having open conversations
Attend Sexual Assault Awareness Week events on campus
Visit New Chapel on UE Campus
Read a biography or autobiography of an influential religious figure
Learn about the various religious holidays
Research UE's commitment to religious enlightenment/education
Donate/volunteer for a religious affiliated charity
Host/participate in a trivia on world religions
Try practicing silence through meditation and spending time outdoors to appreciate nature
Visit online museums to celebrate/appreciate religious art
Learn about different religious origin stories
Reflect on your personal biases towards other religions
Research different important/famous religious cites/monuments around the world
Visit the Candles Holocaust Museum & Education Center
Learn about current issues/ stereotypes surrounding different religious societies
Participate in center for DEI events for Religious Exploration month
Talk to others about your personal experiences with religion and learn about theirs
Evansville Brings Momentum Back for Home Weekend Series
Having won eight of its last nine games, the University of Evansville baseball team brings momentum to a weekend series against Missouri State on Friday, Saturday, and Sunday at German American Bank Field at Charles H. Braun Stadium in Evansville.

Last Time Out: Evansville 4, Bradley 2
• After weather wreaked havoc on the weekend schedule, the University of Evansville baseball team split its Sunday doubleheader with Bradley, falling 5-4 in game one and winning game two, 4-2, at Dozer Park in Peoria, Ill.
• The series win marked the Aces fourth-straight series win, its longest such streak since winning six consecutive series during the 2016 campaign.
• "We showed a lot of fight all weekend. Longest day I've experienced at a baseball field and just an overall long trip to Peoria for us," said Aces head baseball coach Wes Carroll on the team's effort. "This team showed a lot of character as they picked each other up throughout."
• Evansville got off to a quick start in game two of the doubleheader, scoring a run in the top of the first as freshman Simon Scherry recorded a sacrifice fly that scored Crews, giving starting pitcher Jake McMahill an early lead to work with.
• Bradley was held at bay for much of the contest before equalizing in the fifth on a solo home run by Manteufel. McMahill's excellent effort ended after the fifth as the redshirt junior concluded his day allowing just one run on two hits, striking-out a pair.
• The Braves took the lead in the sixth, but the Aces were able to limit the damage. Bradley loaded the bases with no outs, but junior Drew Dominik and Evansville's defense saved a run, throwing-out a runner at home.
• The Braves scored on a passed ball with two outs, but Dominik stepped-up and fired a strikeout looking to end the inning. Following the strikeout, Bradley's Dan Bolt was ejected from the game, removing a critical threat from the Braves offense.
• In the top of the seventh, Evansville looked to return the favor offensively, loading the bases with no outs. After Crews fouled out, the Braves got a crucial defensive play as Beilsmith flied-out to left and Shepherd was thrown-out at home to end the inning.
• Making up for the seventh, the Aces offense continued to be relentless in the eighth. Scherry walked to lead-off the inning, followed by a double by junior Tanner Craig. Freshman Mark Shallenberger preceded to tie the game at two with a sac fly that scored Scherry. Borgstrom then earned a walk to put runners on the corners for Evansville, which proved to be key for the Aces. With junior Mason Brinkley at the plate, Bradley threw a wild pitch, giving Evansville the 3-2 lead as Craig scored. Borgstrom would due the same, this time on a passed ball, as the Aces took a 4-2 lead.
• The Braves again loaded the bases in the bottom of the eighth with freshman Jakob Meyer on the mound. With two outs, Meyer walked Dougherty to load the bases, but the Columbus, Ind. native shut down Bradley. Meyer induced a groundout to end the inning and send the game to the ninth.
• In the bottom of the ninth, Meyer continued to look in form, allowing a base-hit, but striking-out a pair as the Aces captured the 4-2 win and earned the series victory.
Previewing the Matchup: Missouri State
• The Aces and Bears are set to meet for the 101st time on Friday night with the renewal of the conference series after a season away due to the COVID-19 pandemic.
• Missouri State owns a 58-42 advantage in the series, but Evansville won the last series in 2019.
• The Bears enter the weekend with an 12-10 overall record and a 2-2 mark in The Valley, coming-off a 7-5 win at Missouri on Tuesday night.
• Evansville has won eight of its last nine games, suffering its first lost in more than two weeks on Sunday at Bradley, 5-4.
• Despite seeing its win-streak end, the Aces still earned the series win over the Braves and enter the weekend having won four-straight series, the first time Evansville has accomplished the feat since the 2016 season when the Aces won six-straight series.
Best Batters Hit vs. Best Hitting Batters
• This weekend's series pits teams that are diametrically opposed to one another in one statistical category.
• The Aces are 19th-best in the nation and tops in The Valley in batters hit-by-pitch, with Evansville batsmen drawing 48 HBPs this season.
• Missouri State enters the River City as the MVC team with the most HBPs thrown by its pitchers, recording 33 on the season, 93rd in the nation in the category.
Crews Goes for Three
• Redshirt junior Kenton Crews continued to generate extra base hits over the weekend.
• Crews recorded his fourth triple of the season on Friday night, moving the Lincoln City, Ind. native into second in the nation in the category.
Contribute to AceNotes
To have content considered for inclusion in AceNotes, please submit a Marketing Request Form. Deadline for submission to AceNotes is 10:00 a.m. on the requested date of publication. Only articles concerning UE related/sponsored activities will be accepted. Articles submitted to AceNotes may be edited for length and clarity. Submitter contact information is at the end of each article.