| | |
| --- | --- |
| AceNotes Today | Wednesday, April 14, 2021 |
Recorded Session for Benefit Open Enrollment is Now Available
If you were unable to attend either of the Open Enrollment Zoom meetings, you can view the entire benefit presentation in the Open Enrollment section of the MyUE portal at: https://bit.ly/2GcdKph. You can also view all of the relevant documents beginning with the open enrollment memo for important announcements, reminders, and changes which will occur June 1 to the University's benefits.
During the period of April 5 through April 16, benefit-eligible employees may enroll or make changes in the University's health, life, long term disability, and dental insurance, and ACES flexible spending account benefit plans. It is the only chance for benefit-eligible employees to enroll or make changes until the next open enrollment period unless you have a qualifying change in status.
We will once again utilize an on-line enrollment process, eliminating all paper enrollment forms for health, life, dental, and long term disability insurance, as well as the ACES flexible spending account. This will ensure the accuracy of your enrollment elections and maintain records electronically regarding your current and future participation. Enrollment/changes to your TIAA and Emeriti VEBA Trust retirement plan salary deferrals will continue to be processed on paper forms available in the Office of Human Resources. Therefore, you do not need to re-enroll in the TIAA or Emeriti retirement plans. ALL benefit eligible employees (including those who do not want to make any changes to their current coverage) must enter their elections by April 16. Please review the open enrollment memo and On-Line Benefit Enrollment Documents on the HR Area of the MyUE portal, which should answer many of the questions you might have about this system.
Please contact the Office of Human Resources at ext. 2943 with any questions.
Vaccine Mythbuster
MYTH: The second dose of the Pfizer/BioNTech and Moderna vaccines is not needed
FACT: You need two doses of the Pfizer/BioNTech and Moderna vaccines for it to develop immunity. It is not clear how effective or durable protection from a single dose would be. When you first get exposed to a vaccine or a foreign substance, your body generates cells that can recognize that foreign substance. The second time you get exposed, you body develops a stronger understanding of the virus and builds long-term immunity.
COVID-19 Vaccinations for 16 and Older at Ascension St. Vincent
Currently, the Indiana State Department of Health (ISDH) has identified the following Indiana residents as eligible to receive the COVID vaccine:
Healthcare Workers
First Responders
Teachers and school staff in pre-K through high school, child care centers, Head Start and Early Start programs
Licensed childcare providers, including center-based and family care providers
Age 16 and above
Specific groups of patients at highest risk of severe illness from COVID-19 who are identified by their healthcare provider are also eligible. These individuals will receive a unique registration link by text or email.
We will keep our patients updated as eligibility and administration sites broaden. Although currently there is no cost to patients for the vaccine, insurance information will be collected.
Vaccine Scheduling
The COVID-19 vaccine is available by appointment only. No walk-ins will be permitted. Once listed as eligible by the ISDH, go to www.ourshot.in.gov or by calling 211 or 1-866-211-9966 to schedule an appointment.
Detailed instructions
Go to www.ourshot.in.gov
Enter date of birth and attest to being over age 16
Enter zip code and Select Ascension St Vincent Vaccine Clinic location
Select appointment date and time
Complete demographic information including accurate date of birth
Confirm appointment
Ascension St Vincent Vaccine Clinic
For your convenience, the Ascension St. Vincent Vaccine Clinic is open 7 days a week and located on the hospital campus in the Manor Auditorium. When scheduling an appointment on the state website, select "Ascension St Vincent Evansville VAX" as site location. Directions: Enter the parking garage off of Bellemeade Avenue, immediately turn left and follow the directional signage to the designated vaccine clinic parking area. Patients should enter the clinic using the doors adjacent to the parking garage. Tri State Clinics patients are encouraged to call our office at 1-888-492-8722 with questions or for assistance with scheduling at the Ascension St. Vincent Vaccine Clinic.
Spencer County Residents
Spencer County Local Health Department
Heritage Hills High School
Perry County Residents
Perry County Local Health Department
Perry County Memorial Hospital
Posey County Residents
Posey County Local Health Department
Illinois Residents
Phase 1A: Healthcare workers, those in long term care facilities.
Phase 1B : Frontline essential workers, residents 65 years of age or older and under 65 with comorbidities.
Phase 1B+ : IL residents 16+ with disabilities or serious medical conditions. Higher education staff, gov workers, and media. Details and scheduling info at: https://coronavirus.illinois.gov/s/.
Kentucky Residents
Phase 1a: Long term care facilities, healthcare personnel
Phase 1b: First responders, anyone 70 or older, K-12 school personnel
Phase 1C : KY residents age 60+ AND 16 and older with serious medical conditions and essential workers
For locations and to schedule appointment go to: https://govstatus.egov.com/kentucky-vaccine-map or call the KY COVID-19 Hotline - (800) 722-5725 for more information.
Should you have any additional questions, please contact Ashley Chipps at ashley.chipps@ascension.org or Stacey Smith at stacey.smith1@ascension.org
PurplePalooza 2021
PurplePalooza is Friday, April 16th! There will be food trucks, live music, rides, and giveaways. Be sure to reserve your spot on UEngage today!
This Week in Music
The UE Department of Music Streaming Concert Series continues this week with a faculty recital featuring Emily Britton (horn), Jia-Rong Gan (violin), Garnet Ungar (piano), Thomas Josenhans (clarinet), Mark Hatlestad (viola), and Graham Cullen (cello.) Featuring works by composers Lennox Berkeley and Erno Dohnányi, this program honors the 100th birthday of the late, great horn virtuoso, Dennis Brain, who was among the most famous horn soloists of the last century. Both works on the program are associated with him. The concert will live stream on Tuesday April 13 at 7:30 p.m. and will remain available at the following link for viewing through the end of the week: https://www.evansville.edu/majors/music/calendar.cfm. We hope you will join us online.
Center for DEI Presents: Destigmatizing HIV Panel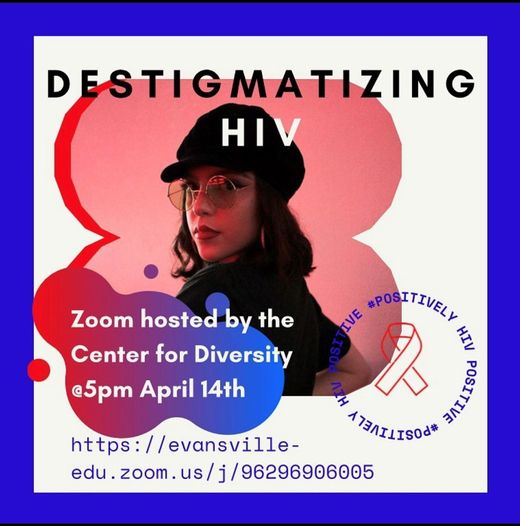 Join us Wednesday, April 14th at 5pm via Zoom for a panel discussion about the stigmatization of HIV! Our panelists consist of the Director of ARG and Su Jin Jeyong an Associate Professor and the Director of the Institute of Public Health.
Let's learn how to fight stigma together!
Zoom link
Join Zoom Meeting
https://evansville-edu.zoom.us/j/96296906005
Meeting ID: 962 9690 6005
One tap mobile
+16465588656,,96296906005# US (New York)
+13017158592,,96296906005# US (Washington DC)
Center for DEI Presents Religion and Politics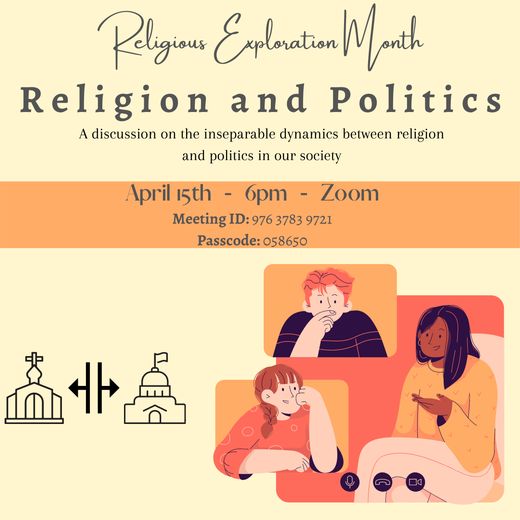 April is Religious Exploration month at UE! A time where everyone can learn more about different religions we have represented across campus. Throughout the month the Center will host a series of events aimed at creating safe spaces in order to discuss the ways our relationship with religion affects different aspects of our society- starting with Religion and Politics on April 15th.
Religion and Politics will be an open discussion exploring the ways religion and politics have influenced each other in our community and will attempt to analyze the influential role religion has played in shaping public opinion in our current political atmosphere and vice-versa.
Please register for- 15th April: Religion and Politics- here:
https://evansville-edu.zoom.us/meeting/register/tJMrdO6grTItGNV-7Uk-8yuCQ7lKQsjivwRs
Meeting ID: 976 3783 9721
Passcode: 058650
Join Us for the 2021 UE Student Research and Honors Symposium – Wednesday, April 14
The campus community is invited to attend the 2021 UE Student Research and Honors Symposium on Wednesday, April 14. This event will showcase the scholarly activities of sixteen students of diverse disciplines across UE's campus, including the graduating seniors of the Honors Program. This year's symposium will be conducted via Zoom. The schedule of presentations is listed below. Please feel free to join sessions as your schedule allows using the provided Zoom information. Contact Jayme Williams at jw504@evansville.edu with any questions.
Zoom Details:
https://evansville-edu.zoom.us/j/97603685179
Meeting ID: 976 0368 5179
Passcode: 088555
Session 1: 9:00-10:00am
Karyn Banks: "A Strategic and Financial Analysis of Activision Blizzard"
Sarah Weithers: "Foundations of Inclusive Music Therapy Practice"
Session 2: 10:00-11:00am
Aditi Sood: "Mental Health Among Homeless Youth: Education and Access to Services"
Maggie Wolf: "Weather" to Bark or Not: How Meteorological Conditions Affect Ptenopus Gecko Calling Behavior
Johnny Hoffmann: "Investigation of Clp deletion in D. melanogaster Resulting in Disruption of Oogenesis and the Lack of an Oocyte"
Session 3: 11:00am-12:00pm
Hannah Richards: "How the Survival and Biofilm Production of Enterococcus faecalis Prolongs Endodontic Infections"
Corinne Croslyn: "Investigating the Roles of Asteroid and Star during Oocyte Selection and Oogenesis in Drosophila"
Session 4: 1:00pm-2:00pm
Baylee Parten: "Redefining Our Perception: Forensic Curatorial Practices"
Carissa Eckroth: "Jurisdiction in Maritime Archaeology"
Abby Schubert: "The Development of a Novel Polymerization of Donor-Acceptor Cyclopropanes"
Session 5: 2:00pm-3:00pm
Olivia Bast: "Creativity in Quarantine: An Artist Emerges from COVID-19"
Hannah Holderby: "Corporate Entertainment: An Insider Look at the Industry"
Alexis Nau: "The Commodification of Women and Their Sexuality"
Session 6: 3:00pm-4:00pm
Vaishnavi Ravipati: "Compassion Fatigue Effects on Parental Burnout Amongst Nurses during the COVID-19 Pandemic"
Lyndia Haynes: "The Role of Religion in Mental Illness Stigma and Willingness to Seek Mental Health Treatment"
Helen William: "Determining the Basis of Primary Targeting by Quinolones in the Bacteria Escherichia coli and Staphylococcus aureus"
This Week in Religious Life
SPIRITUAL OPPORTUNITIES
1. The Muslim and Christian Prayer Rooms in Neu Chapel are available for use 24/7. Contact the Muslim Student Association for keycard access to the Muslim Prayer Room.
2. The Center for Diversity, Equity, and Inclusion now offers a spirituality library, including books from eleven different religious traditions. From Brene Brown to Thich Nhat Hanh, and from Christian bead prayers to self-reiki, there is something for everyone. Stop by the Center's conference room to borrow one for yourself.
CHRISTIAN WORSHIP
Due to pandemic restrictions, UE will not offer Protestant worship in Neu Chapel this semester. However, there are two churches just across the street from campus that offer services online and in-person.
Methodist Temple (mask required)
8:30am, traditional worship
11am, contemporary worship
Redeemer Lutheran (mask required)
8am and 10:30am, traditional worship
A Catholic Mass is held each Sunday at 1PM in Neu Chapel.
HOLY DAYS & HOLIDAYS
1. The Hindu New Year is on Monday, April 12. Greeting: "Happy New Year!"
2. The month-long Islamic fast called Ramadan begins on Tuesday, April 13. Greeting: "Ramadan Mubarak" or "Blessed Ramadan!"
Spring Healthy Behavior Challenge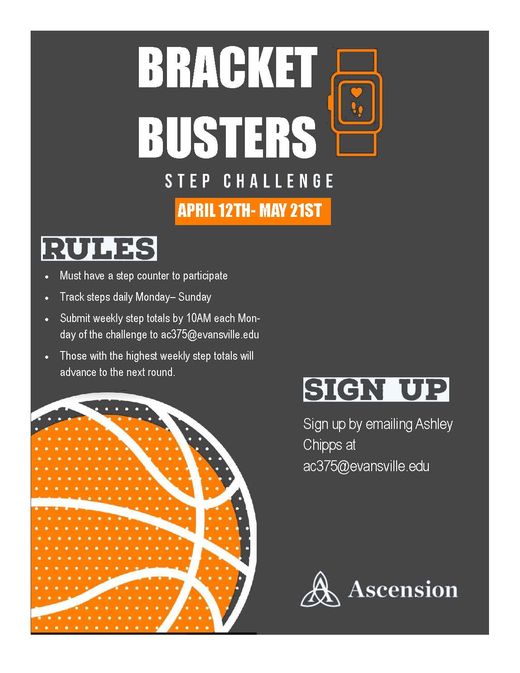 Sign up to participate in the next Healthy Behavior Challenge-- Bracket Busters! Just following March Madness, this is a group step challenge where those with the highest steps advance to the next round! Sign up today!!-- email ac375@evansville.edu. If you are enrolled in the Universities HRA Health Plan, those who complete this challenge can earn an additional $150.00 in HRA credits.
April 12 - May 21
Must have a step counter to participate
Track steps daily Monday– Sunday
Submit weekly step totals by 10AM each Mon-day of the challenge to ac375@evansville.edu
Those with the highest weekly step totals will advance to the next round.
BECOMING CENTERED Paintings by Lori Rivera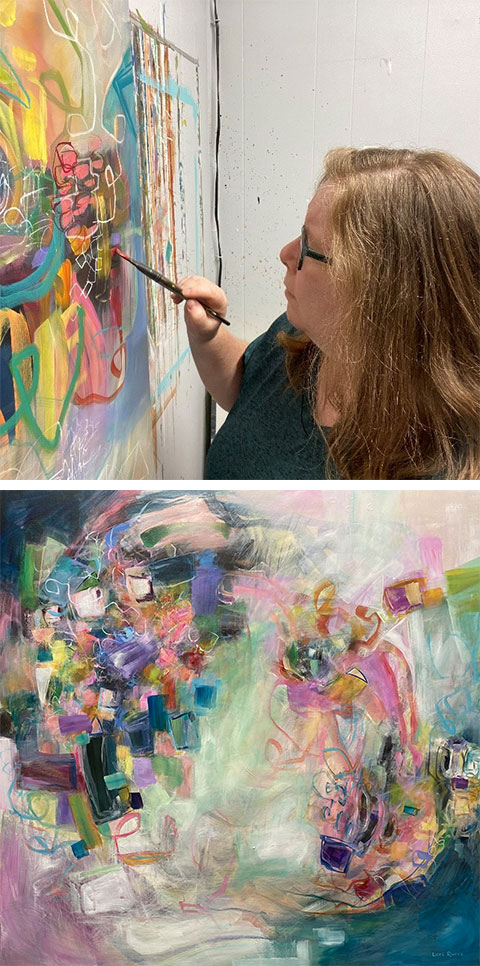 Local Artist Paints to Heal
Lori Rivera finds that the world nearly disappears when she paints, and she is deeply drawn into the meditative aspects of painting. She loves the healing benefits that painting provides, as she struggles with depression.
At any given time, Lori has a painting in progress on her painting wall in her home studio. Although her roots are in representational painting, she has recently decided to devote the majority of her time to growing as an abstract artist. She sees abstract art as the most fitting genre that allows her to communicate her emotions.
She usually starts with dark colors and then works up to lighter colors in the final layers. She feels this process is symbolic of rising from the darkness of depression and signifies her triumph over it. "As I go through this process with each painting, I am reminded of where I've been and how far I've come," says Lori.
She started painting over ten years ago, but her interest in pursuing art as a career was reawakened when she was inspired by artists at Peace Zone, where she served as Executive Director. While working, she painted in her spare time and decided to pursue art full time several years ago.
Lori's most recent project is creating paintings inspired by music, and she often listens to the music on repeat as she paints. She focuses on how the music makes her feel and communicates that feeling onto the canvas. Sometimes the music matches her mood, while other times the music she chooses is totally opposite of what she is feeling. Ultimately though, she relies on spontaneity and allows each painting to develop organically as each brushstroke guides the next.
Her work has been shown in Virginia, Pennsylvania, Ohio, New Harmony, and Evansville. You can see her work in person at the University of Evansville's Krannert Gallery April 11th through May 9th. The exhibit, Becoming Centered, overlaps with Mental Health Month, which is during the month of May. The opening reception is April 22nd at 6:30 pm.
The Department of Art at UE offers a wide range of degree programs and areas of specialization in the visual arts. It houses a number of specialized studios for ceramics, drawing, metalwork and jewelry, painting, printmaking, photography, sculpture, visual communication design, and watercolor. The Krannert and Peterson Galleries are also a vital resource for the students, as well as the Evansville area.
Students can receive BFA, BA & BS degrees in a variety of Art Studies: Studio Art, Art and
Associate Studies, Art Education, Visual Communication Design and Pre-Art Therapy. This exhibition is sponsored by the Department of Art with the generous support of the Efroymson Family Fund. The Krannert Gallery is located on the first floor of Krannert Hall of Art & Music.
Please visit the UE website www.evansville.edu/majors/art/majors.cfm
Or FaceBook Page: University of Evansville Department of Art & Melvin Peterson Gallery
For more information about Lori and her art, visit www.loririverafineart.com.
These stunning, abstract paintings can be seen in the Krannert Gallery April 11 – May 9
A public Reception for the Artist is April 22, 6:30pm. Masks & Social Distancing will be observed.
UE Theatre Salon Series Welcomed Stage Rigger Adam Gentry for Discussion on Experiences with Union Membership, Tours, and the Entertainment Industry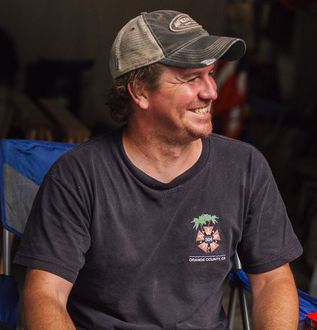 Another installment of the UET Salon Series was held on Wednesday, April 7, featuring Adam Gentry.
Gentry is a prominent member of the rigging industry whose experience ranges from Broadway, to television, to some of the biggest events of the year. He has made a career out of using math in a hands-on way in both the theatre and film industries and ultimately keeps everyone onstage safe from above. He just finished working on a show for Netflix and is currently working on an HBO production until the theatre industry regains its footing. Earlier in the year, Adam was one of the head riggers for Super Bowl LV. He will continue his position as advance rigger for Disney's ALADDIN on its first national tour once it reopens.
This semester, UE Theatre students will have the opportunity to experience over 25 workshops and salons with various professionals from the entertainment industry.
UE Receives Gift from Koch Foundation for Doctorate of Psychology Program
The University of Evansville announced on April 12 a $1.5 million gift from the Koch Foundation that will support the development of a new Doctorate of Psychology in Clinical Psychology (PsyD) program. This new opportunity will allow for providers in the region to diagnose and treat conditions associated with the brain, behaviors, and mental health.
"The Koch Foundation has long been a leader in our community for inspiring change through philanthropy," said Christopher M. Pietruszkiewicz, president of UE. "The University of Evansville is tremendously appreciative of the Koch family's spirit of philanthropy, commitment to excellence in higher education, and support of our future through this transformational gift."
Mental health was identified as a top priority for Vanderburgh and Warrick Counties in the most recent Community Health Needs Assessments (CHNA). The study was conducted for both counties by Deaconess Health System and Ascension St. Vincent, along with ECHO Community Healthcare, the United Way of Southwest Indiana, the Vanderburgh County Health Department, and the Welborn Baptist Foundation. The demand is high for mental health services in the Evansville community, but there are simply not enough providers to adequately serve the area.
Prior to the COVID-19 pandemic, studies estimated that one out of five people will be diagnosed with a mental health condition at some point in life. Recent data now suggests that a third of COVID-19 survivors are suffering with mental health issues, including anxiety and mood disorders, which directly impacts the individuals surrounding them. Through the PsyD program at UE, trained and licensed mental health providers can be placed in the community to provide care and treatment in a timely manner.
The Koch Foundation was established in 1945 to fulfill a philanthropic mission to improve the quality of life within communities where Koch Enterprises conducts operations.
UE Staff And Administrators Spring Meeting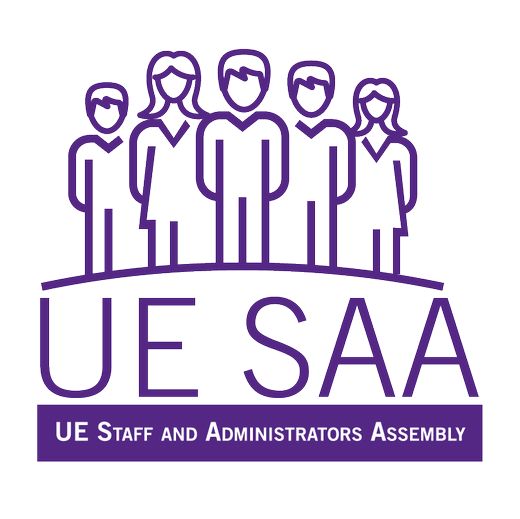 Hello Staff and Administrators,
As a reminder, we will be holding our Spring SAA Meeting Tuesday, April 20th from 3:00-4:00 p.m. The meeting will be held via zoom and you can access the meeting at https://evansville-edu.zoom.us/j/96369188544. An email meeting request was also sent that contains the full zoom log-in information as well as the dial-in options.
If you have any questions or if the SAA Executive Board can be of any assistance, then please reach out at any time.
Thank you again for all you do for the University of Evansville, and we hope to see you on the meeting!
SAA Executive Board
Brooksie Smith- President
Sarah O'Leary- Vice President
Fred Wilson- Vice President
Andrea Wallace- Secretary/ Treasurer
Catie Taylor- Immediate Past President
April Newsletter Released by Counseling Services
The Office of Counseling Services invites you to read the final monthly newsletter of the 2020-21 academic year (can you believe it?)! This month, the Office wanted to spotlight something we can all use a bit more of – the great outdoors! Whether you consider yourself to be an active individual or are just looking for an excuse to be outside and not sitting at a desk or in the library, check out this month's newsletter for information about the benefits of being outside, an app for navigating the stars, and local gems for a day of exploring!
Champion Ballroom Dance Teacher is Back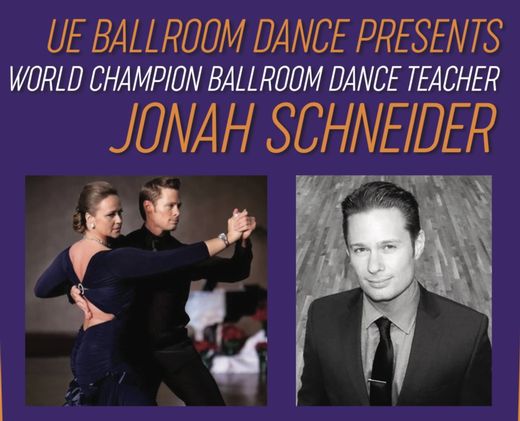 THIS Saturday, April 17th, Jonah Schneider returns to teach ballroom dance lessons to anyone interested! Ever wanted to learn Waltz, Swing, Cha Cha, Rumba, Fox Trot, Tango or more? He's teaching starting at 10am and going through 5:30pm in 45 minute blocks. First come, first serve. To sign up, text 812-449-1044 or email EL131. Private or group lessons available, masks required. All levels are welcome, no experience necessary! Final details sent upon RSVP.
Last Day to Withdraw with a "W"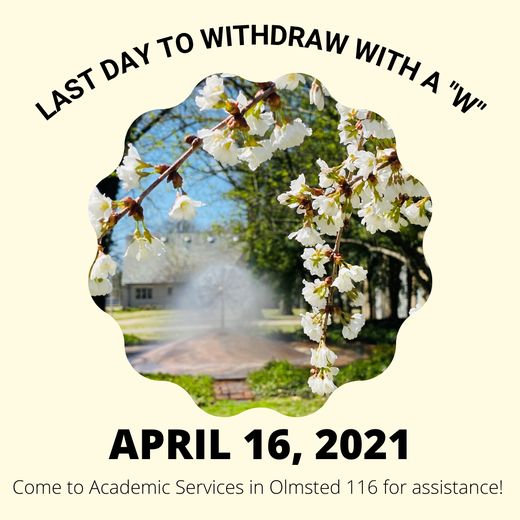 The last day to withdraw from Spring classes with a "W" is April 16, 2021. Come see Academic Services in Olmsted 116 for assistance!
Center for DEI Presents Religion of the Day #7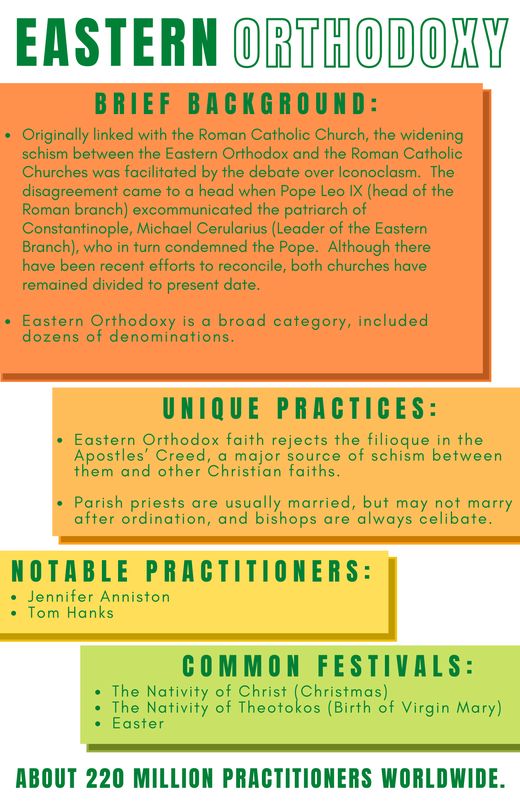 The religion of the day is Eastern Orthodoxy! As one of the three major doctrinal and jurisdictional groups of Christianity, Eastern Orthodoxy is the large body of Christians who follow the faith and practices that were defined by the first seven ecumenical councils. The Eastern Orthodox Church shared communion with the Roman Catholic Church in the state church of Rome until the East–West Schism in 1054.
April is Religious Exploration Month! For the next 9 days in the month of April, the Center for Diversity Equity and Inclusion will send out religious profiles highlighting some interesting information about different religions! Please check Acenotes and our social media for the daily profile posted! These profiles are aimed at presenting our campus community with information to allow a better understanding of UE's diverse religious representation and background.
*Please note that the information in our profile is a summary and not exhaustive of everything encompassed in this specific religion and for more information please do not hesitate to reach out to the Director of Religious Life at jk383@evansville.edu.
UE SAA Book Club: Join Us
All UE Staff and Administrators' Assembly Members are welcomed and encouraged to join the UE SAA Book Club! Our next gathering is Wednesday, April 28th at 12:00pm via Zoom. This month we will be discussing the lighthearted and award-winning teen memoir, Popular by Maya Van Wagenen. Please contact Kathy Taylor (ks6) to be added to the Book Club email list and to get the upcoming Zoom Link.
BIOL 107 (GEN ED Lab Science) Offered Summer 1
Biology 107 (4 cr) will be offered online this summer session 1 from May 17-June 18. The lab component will be online as well utilizing web-based simulations. This course satisfies lab science General Education credit (Outcome 8). All majors are welcome! If you have any questions, please contact Dr. Gordon at ng62@evansville.edu.
2021-22 Kahn Scholarship Application Available
It was the desire of the donor, Margery Florence Kahn, that her scholarship be awarded to "dedicated and conscientious students who exhibit a true passion for their chosen fields of study, and who, in the opinion of the members of the University of Evansville faculty, are likely to bring the same enthusiasm into the performance of their jobs or the practice of the professions which they will pursue following graduation."
All University of Evansville full-time undergraduate students who will be juniors or seniors in 2021-22 may apply. An essay of about 300 words must accompany the application, along with two to four faculty recommendation letters.
Application is available here: https://forms.office.com/r/8vduXcKZXa
Completed applications and recommendation letters should be returned to the Office of Student Financial Services by MAY 10th.
Questions may be directed to the Office of Student Financial Services via email or by phone at (812) 488-2364
#OnlyYESmeansYES: Take the Pledge to Get Consent
April is Sexual Assault Awareness Month. Do your part to reduce instances of sexual violence by taking the Center for Diversity, Equity, and Inclusion's pledge against sexual violence. Pledge to always get consent from your partners, be an active bystander in dangerous situations, and to help UE create a safe campus environment.
Encourage your student groups to participate in the pledge. The Student group with the most pledges by April 30th will be featured on the Center for Diversity, Equity, and Inclusion's social media pages (Instagram: @uediversity, Facebook: UE Center for Diversity, Equity, and Inclusion).
Sexual Assault Awareness Month / Religious Exploration Month Challenge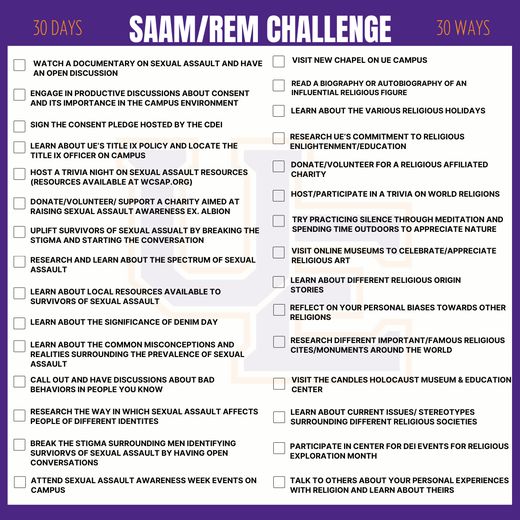 The month of April highlights Sexual Assault Awareness Month and Religious Exploration Month. Join the UE SAAM/REM Challenge sponsored by the Center for Diversity, Equity and Inclusion! In this challenge you will find 30 ways for 30 days of religious exploration and sexual assault awarness to actively learn, engage, support, communicate with individuals across the religion spectrum and survivors of sexual assault, while also breaking the stigma surrounding religion and sexual assault awareness. Items listed in the challenge can be done personally or in a social group! Join the Center in one of our many events for the month focused on religion or sexual assault awareness, research the origins and culture of Denim Day and/ or grab a friend and reflect about what religion means to you. However and whatever you do for the #SAAM/REMChallenge, challenge yourself!
We can't wait to see the ways in which you all #SAAM/REMChallenge yourself!
To make it extra fun, share what you're doing on social media and be sure to tag us!
Instagram: @uediversity Facebook: UE Center for Diversity Equity and Inclusion
Sexual Assault Awareness Month and Religious Exploration Month Task List
Watch a documentary on sexual assault and have an open discussion
Engage in productive discussions about consent and its importance in the campus environment
Sign the consent pledge hosted by the CDEI
Learn about UE's Title IX policy and locate the Title ix officer on campus
Host a trivia night on sexual assault resources (Resources available at WCSAP.org)
Donate/volunteer/ support a charity aimed at raising sexual assault awareness Ex. Albion
Uplift survivors of sexual assault by breaking the stigma and starting the conversation
Research and learn about the spectrum of sexual assault
Learn about local resources available to survivors of sexual assault
Learn about the significance of Denim Day
Learn about the common misconceptions and realities surrounding the prevalence of sexual assault
Call out and have discussions about bad behaviors in people you know
Research the way in which sexual assault affects people of different identities
Break the stigma surrounding men identifying surviorvs of sexual assault by having open conversations
Attend Sexual Assault Awareness Week events on campus
Visit New Chapel on UE Campus
Read a biography or autobiography of an influential religious figure
Learn about the various religious holidays
Research UE's commitment to religious enlightenment/education
Donate/volunteer for a religious affiliated charity
Host/participate in a trivia on world religions
Try practicing silence through meditation and spending time outdoors to appreciate nature
Visit online museums to celebrate/appreciate religious art
Learn about different religious origin stories
Reflect on your personal biases towards other religions
Research different important/famous religious cites/monuments around the world
Visit the Candles Holocaust Museum & Education Center
Learn about current issues/ stereotypes surrounding different religious societies
Participate in center for DEI events for Religious Exploration month
Talk to others about your personal experiences with religion and learn about theirs
HEERF II Grant Distribution Authorization Now Open
HEERF II Emergency Grant funding is now available. All educationally related expenses are eligible for HEERF II funding and may be applied to current and/or future student account balances. Please be aware that funding is limited, and a valid 2020-21 Free Application for Federal Student Aid (FAFSA) submission is required for grant consideration. Grant recipients requesting a refund must have bank information on file as refunds will only be issued electronically via direct deposit.
Eligible students wishing to claim a portion of HEERF II grant funds are required to submit the HEERF II Grant Authorization and confirm bank account information. The deadline to accept these funds is April 15, 2021.
Congratulations to Dr. Heidi Strobel, Professor of Art History
On Friday, 4/9/21, Dr. Strobel presented "Terminology and its Limitations: A Reconsideration of Linda Nochlin at the Half Century Mark" at the 51st Annual American Society of Eighteenth Century Studies conference. Her paper focused on textile artist Mary Linwood, who is the subject of her upcoming book which will be published by Bloomsbury later on this year. Linwood was also the subject of a recent guest lecture that she gave for Baylor University's Albritton Art Institute entitled "Recovering the Professional Woman Artist in Georgian England." Strobel also gave a second lecture for the Albritton Art Institute entitled "Art in the Era of Revolution (Industrial and Otherwise)."
Rohleder's Final Round Gives Him Top Ten Finish
Isaac Rohleder tied his career-low round on Tuesday to help the University of Evansville men's golf team finish in a tie for 7th place at the Big Blue Intercollegiate.
The Evansville native carded a 2-under 69 in the final round to finish in a tie for 10th place with a 3-round tally of 214. His round on Tuesday matched the career-low of 69 that he posted in the first round of the Murray State Invitational in the fall of 2019. Rohleder posted rounds of 71 and 74 on Monday.
Finishing second for the Purple Aces was Carson Parker. After shooting a pair of even 71's in the opening two rounds, Parker recorded a 75 on Tuesday. His 217 tied him for 15th place. Spencer Wagner wrapped up the tournament just one behind Parker with a 218. A consistent effort saw him score a 73 in the third round to tie for 17th.
Henry Kiel registered a 78 on the final day to total 232 strokes for the tournament. His top round of the weekend was Monday's second one where he checked in with a 2-over 73. Jessie Brumley also finished the final day with a 78 and completed the event with a 236. Michael Ikejiani was one of the top five individuals, finishing with a 229. He shot a 77 on Tuesday to finish with a 229.
With a final team score of 881, the Aces tied for 7th place with John A. Logan College. Both were eight strokes behind Tennessee Tech while finishing nine ahead of Arkansas-Pine Bluff. UT Martin finished Tuesday with a 283 to overtake Murray State for the team championship. Their 856 defeated the Racers by one stroke. Austin Knight from Murray State was medalist, clinching the top spot with a 210. His even 71 on Monday saw him hold off a second-place tie by just one shot.
UE will wrap up the second at the Missouri Valley Conference Championship on April 25-26 in Chicago.
Contribute to AceNotes
To have content considered for inclusion in AceNotes, please submit a Marketing Request Form. Deadline for submission to AceNotes is 10:00 a.m. on the requested date of publication. Only articles concerning UE related/sponsored activities will be accepted. Articles submitted to AceNotes may be edited for length and clarity. Submitter contact information is at the end of each article.