| | |
| --- | --- |
| AceNotes Today | Monday, April 12, 2021 |
Recorded Session for Benefit Open Enrollment is Now Available
If you were unable to attend either of the Open Enrollment Zoom meetings, you can view the entire benefit presentation in the Open Enrollment section of the MyUE portal at: https://bit.ly/2GcdKph. You can also view all of the relevant documents beginning with the open enrollment memo for important announcements, reminders, and changes which will occur June 1 to the University's benefits.
During the period of April 5 through April 16, benefit-eligible employees may enroll or make changes in the University's health, life, long term disability, and dental insurance, and ACES flexible spending account benefit plans. It is the only chance for benefit-eligible employees to enroll or make changes until the next open enrollment period unless you have a qualifying change in status.
We will once again utilize an on-line enrollment process, eliminating all paper enrollment forms for health, life, dental, and long term disability insurance, as well as the ACES flexible spending account. This will ensure the accuracy of your enrollment elections and maintain records electronically regarding your current and future participation. Enrollment/changes to your TIAA and Emeriti VEBA Trust retirement plan salary deferrals will continue to be processed on paper forms available in the Office of Human Resources. Therefore, you do not need to re-enroll in the TIAA or Emeriti retirement plans. ALL benefit eligible employees (including those who do not want to make any changes to their current coverage) must enter their elections by April 16. Please review the open enrollment memo and On-Line Benefit Enrollment Documents on the HR Area of the MyUE portal, which should answer many of the questions you might have about this system.
Please contact the Office of Human Resources at ext. 2943 with any questions.
COVID-19 Vaccinations for 16 and Older at Ascension St. Vincent
Currently, the Indiana State Department of Health (ISDH) has identified the following Indiana residents as eligible to receive the COVID vaccine:
Healthcare Workers
First Responders
Teachers and school staff in pre-K through high school, child care centers, Head Start and Early Start programs
Licensed childcare providers, including center-based and family care providers
Age 16 and above
Specific groups of patients at highest risk of severe illness from COVID-19 who are identified by their healthcare provider are also eligible. These individuals will receive a unique registration link by text or email.
We will keep our patients updated as eligibility and administration sites broaden. Although currently there is no cost to patients for the vaccine, insurance information will be collected.
Vaccine Scheduling
The COVID-19 vaccine is available by appointment only. No walk-ins will be permitted. Once listed as eligible by the ISDH, go to www.ourshot.in.gov or by calling 211 or 1-866-211-9966 to schedule an appointment.
Detailed instructions
Go to www.ourshot.in.gov
Enter date of birth and attest to being over age 16
Enter zip code and Select Ascension St Vincent Vaccine Clinic location
Select appointment date and time
Complete demographic information including accurate date of birth
Confirm appointment
Ascension St Vincent Vaccine Clinic
For your convenience, the Ascension St. Vincent Vaccine Clinic is open 7 days a week and located on the hospital campus in the Manor Auditorium. When scheduling an appointment on the state website, select "Ascension St Vincent Evansville VAX" as site location. Directions: Enter the parking garage off of Bellemeade Avenue, immediately turn left and follow the directional signage to the designated vaccine clinic parking area. Patients should enter the clinic using the doors adjacent to the parking garage. Tri State Clinics patients are encouraged to call our office at 1-888-492-8722 with questions or for assistance with scheduling at the Ascension St. Vincent Vaccine Clinic.
Spencer County Residents
Spencer County Local Health Department
Heritage Hills High School
Perry County Residents
Perry County Local Health Department
Perry County Memorial Hospital
Posey County Residents
Posey County Local Health Department
Illinois Residents
Phase 1A: Healthcare workers, those in long term care facilities.
Phase 1B : Frontline essential workers, residents 65 years of age or older and under 65 with comorbidities.
Phase 1B+ : IL residents 16+ with disabilities or serious medical conditions. Higher education staff, gov workers, and media. Details and scheduling info at: https://coronavirus.illinois.gov/s/.
Kentucky Residents
Phase 1a: Long term care facilities, healthcare personnel
Phase 1b: First responders, anyone 70 or older, K-12 school personnel
Phase 1C : KY residents age 60+ AND 16 and older with serious medical conditions and essential workers
For locations and to schedule appointment go to: https://govstatus.egov.com/kentucky-vaccine-map or call the KY COVID-19 Hotline - (800) 722-5725 for more information.
Should you have any additional questions, please contact Ashley Chipps at ashley.chipps@ascension.org or Stacey Smith at stacey.smith1@ascension.org
Penny Wars is BACK! Which School or College will win the coveted Golden Squirrel in 2021?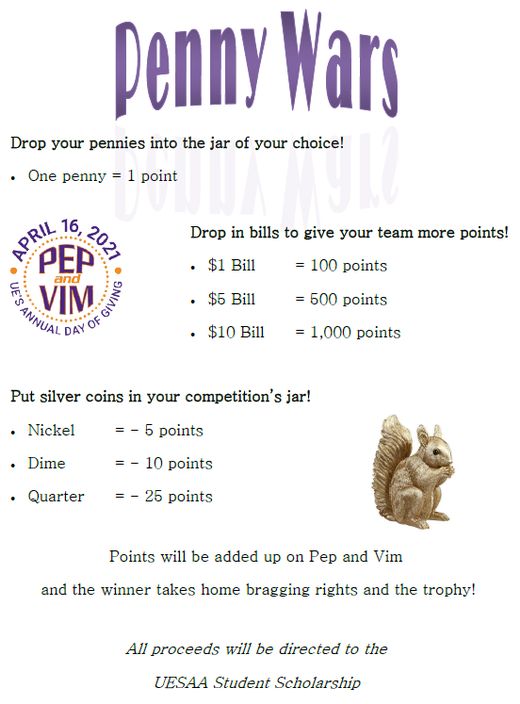 Penny Wars begins today! Grab all your pennies and any loose change. Stop by the SAA table in Ridgway between 11:00 a.m. and 1:00 p.m. today to vote.
Who will win for the most school spirit? William L. Ridgway College of Arts and Sciences, College of Education and Health Sciences, College of Engineering and Computer Science, the Schroeder Family School of Business or the Staff and Administrators? The competition starts today!! Go Aces!
Points will be added up on Pep and Vim and the winner takes home bragging rights and will be able to display the Golden Squirrel in their office for the next year!
Center for DEI Presents: Destigmatizing HIV Panel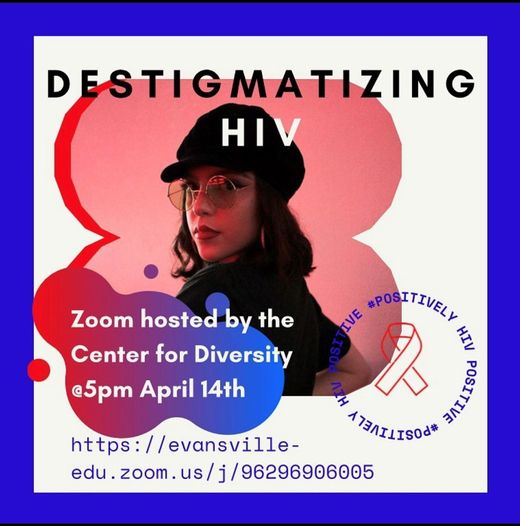 Join us Wednesday, April 14th at 5pm via Zoom for a panel discussion about the stigmatization of HIV! Our panelists consist of the Director of ARG and Su Jin Jeyong an Associate Professor and the Director of the Institute of Public Health.
Let's learn how to fight stigma together!
Zoom link
Join Zoom Meeting
https://evansville-edu.zoom.us/j/96296906005
Meeting ID: 962 9690 6005
One tap mobile
+16465588656,,96296906005# US (New York)
+13017158592,,96296906005# US (Washington DC)
Center for DEI Presents Religion and Politics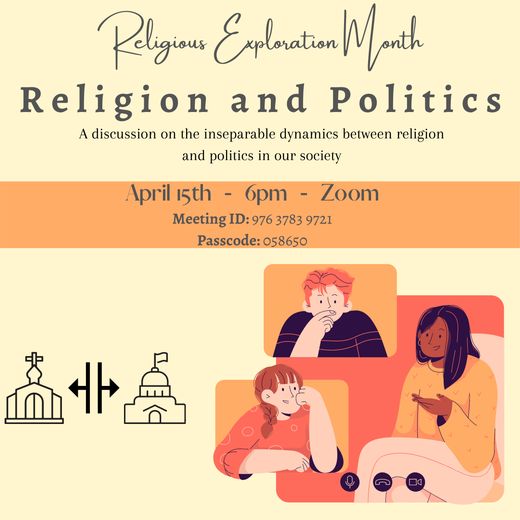 April is Religious Exploration month at UE! A time where everyone can learn more about different religions we have represented across campus. Throughout the month the Center will host a series of events aimed at creating safe spaces in order to discuss the ways our relationship with religion affects different aspects of our society- starting with Religion and Politics on April 15th.
Religion and Politics will be an open discussion exploring the ways religion and politics have influenced each other in our community and will attempt to analyze the influential role religion has played in shaping public opinion in our current political atmosphere and vice-versa.
Please register for- 15th April: Religion and Politics- here:
https://evansville-edu.zoom.us/meeting/register/tJMrdO6grTItGNV-7Uk-8yuCQ7lKQsjivwRs
Meeting ID: 976 3783 9721
Passcode: 058650
Join Us for the 2021 UE Student Research and Honors Symposium – Wednesday, April 14
The campus community is invited to attend the 2021 UE Student Research and Honors Symposium on Wednesday, April 14. This event will showcase the scholarly activities of sixteen students of diverse disciplines across UE's campus, including the graduating seniors of the Honors Program. This year's symposium will be conducted via Zoom. The schedule of presentations is listed below. Please feel free to join sessions as your schedule allows using the provided Zoom information. Contact Jayme Williams at jw504@evansville.edu with any questions.
Zoom Details:
https://evansville-edu.zoom.us/j/97603685179
Meeting ID: 976 0368 5179
Passcode: 088555
Session 1: 9:00-10:00am
Karyn Banks: "A Strategic and Financial Analysis of Activision Blizzard"
Sarah Weithers: "Foundations of Inclusive Music Therapy Practice"
Session 2: 10:00-11:00am
Aditi Sood: "Mental Health Among Homeless Youth: Education and Access to Services"
Maggie Wolf: "Weather" to Bark or Not: How Meteorological Conditions Affect Ptenopus Gecko Calling Behavior
Johnny Hoffmann: "Investigation of Clp deletion in D. melanogaster Resulting in Disruption of Oogenesis and the Lack of an Oocyte"
Session 3: 11:00am-12:00pm
Hannah Richards: "How the Survival and Biofilm Production of Enterococcus faecalis Prolongs Endodontic Infections"
Corinne Croslyn: "Investigating the Roles of Asteroid and Star during Oocyte Selection and Oogenesis in Drosophila"
Session 4: 1:00pm-2:00pm
Baylee Parten: "Redefining Our Perception: Forensic Curatorial Practices"
Carissa Eckroth: "Jurisdiction in Maritime Archaeology"
Abby Schubert: "The Development of a Novel Polymerization of Donor-Acceptor Cyclopropanes"
Session 5: 2:00pm-3:00pm
Olivia Bast: "Creativity in Quarantine: An Artist Emerges from COVID-19"
Hannah Holderby: "Corporate Entertainment: An Insider Look at the Industry"
Alexis Nau: "The Commodification of Women and Their Sexuality"
Session 6: 3:00pm-4:00pm
Vaishnavi Ravipati: "Compassion Fatigue Effects on Parental Burnout Amongst Nurses during the COVID-19 Pandemic"
Lyndia Haynes: "The Role of Religion in Mental Illness Stigma and Willingness to Seek Mental Health Treatment"
Helen William: "Determining the Basis of Primary Targeting by Quinolones in the Bacteria Escherichia coli and Staphylococcus aureus"
This Week in Religious Life
SPIRITUAL OPPORTUNITIES
1. The Muslim and Christian Prayer Rooms in Neu Chapel are available for use 24/7. Contact the Muslim Student Association for keycard access to the Muslim Prayer Room.
2. The Center for Diversity, Equity, and Inclusion now offers a spirituality library, including books from eleven different religious traditions. From Brene Brown to Thich Nhat Hanh, and from Christian bead prayers to self-reiki, there is something for everyone. Stop by the Center's conference room to borrow one for yourself.
CHRISTIAN WORSHIP
Due to pandemic restrictions, UE will not offer Protestant worship in Neu Chapel this semester. However, there are two churches just across the street from campus that offer services online and in-person.
Methodist Temple (mask required)
8:30am, traditional worship
11am, contemporary worship
Redeemer Lutheran (mask required)
8am and 10:30am, traditional worship
A Catholic Mass is held each Sunday at 1PM in Neu Chapel.
HOLY DAYS & HOLIDAYS
1. The Hindu New Year is on Monday, April 12. Greeting: "Happy New Year!"
2. The month-long Islamic fast called Ramadan begins on Tuesday, April 13. Greeting: "Ramadan Mubarak" or "Blessed Ramadan!"
Spring Healthy Behavior Challenge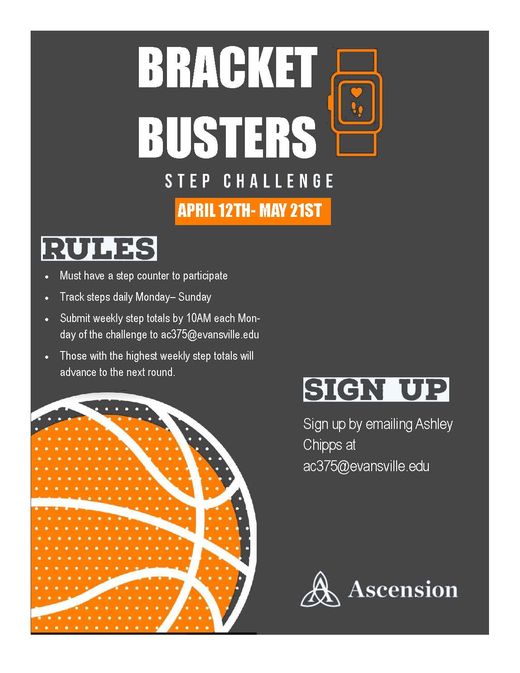 Sign up to participate in the next Healthy Behavior Challenge-- Bracket Busters! Just following March Madness, this is a group step challenge where those with the highest steps advance to the next round! Sign up today!!-- email ac375@evansville.edu. If you are enrolled in the Universities HRA Health Plan, those who complete this challenge can earn an additional $150.00 in HRA credits.
April 12 - May 21
Must have a step counter to participate
Track steps daily Monday– Sunday
Submit weekly step totals by 10AM each Mon-day of the challenge to ac375@evansville.edu
Those with the highest weekly step totals will advance to the next round.
BECOMING CENTERED Paintings by Lori Rivera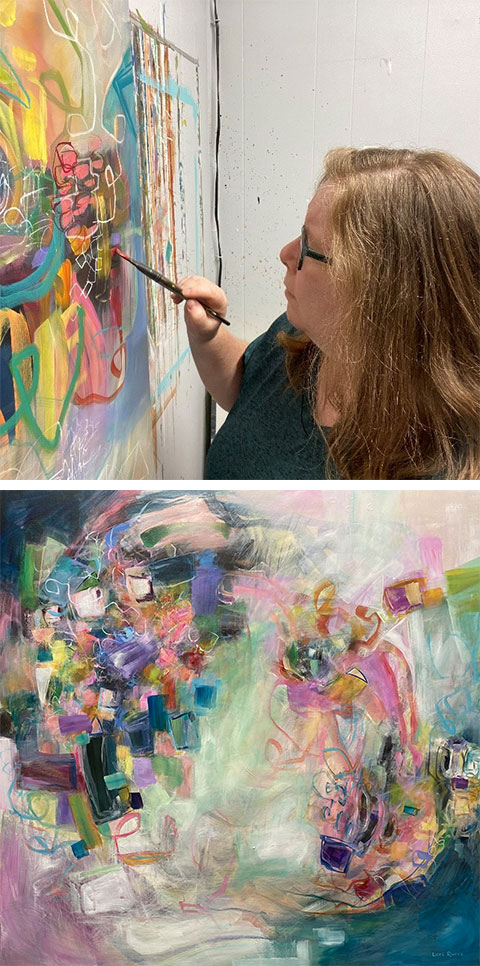 Local Artist Paints to Heal
Lori Rivera finds that the world nearly disappears when she paints, and she is deeply drawn into the meditative aspects of painting. She loves the healing benefits that painting provides, as she struggles with depression.
At any given time, Lori has a painting in progress on her painting wall in her home studio. Although her roots are in representational painting, she has recently decided to devote the majority of her time to growing as an abstract artist. She sees abstract art as the most fitting genre that allows her to communicate her emotions.
She usually starts with dark colors and then works up to lighter colors in the final layers. She feels this process is symbolic of rising from the darkness of depression and signifies her triumph over it. "As I go through this process with each painting, I am reminded of where I've been and how far I've come," says Lori.
She started painting over ten years ago, but her interest in pursuing art as a career was reawakened when she was inspired by artists at Peace Zone, where she served as Executive Director. While working, she painted in her spare time and decided to pursue art full time several years ago.
Lori's most recent project is creating paintings inspired by music, and she often listens to the music on repeat as she paints. She focuses on how the music makes her feel and communicates that feeling onto the canvas. Sometimes the music matches her mood, while other times the music she chooses is totally opposite of what she is feeling. Ultimately though, she relies on spontaneity and allows each painting to develop organically as each brushstroke guides the next.
Her work has been shown in Virginia, Pennsylvania, Ohio, New Harmony, and Evansville. You can see her work in person at the University of Evansville's Krannert Gallery April 11th through May 9th. The exhibit, Becoming Centered, overlaps with Mental Health Month, which is during the month of May. The opening reception is April 22nd at 6:30 pm.
The Department of Art at UE offers a wide range of degree programs and areas of specialization in the visual arts. It houses a number of specialized studios for ceramics, drawing, metalwork and jewelry, painting, printmaking, photography, sculpture, visual communication design, and watercolor. The Krannert and Peterson Galleries are also a vital resource for the students, as well as the Evansville area.
Students can receive BFA, BA & BS degrees in a variety of Art Studies: Studio Art, Art and
Associate Studies, Art Education, Visual Communication Design and Pre-Art Therapy. This exhibition is sponsored by the Department of Art with the generous support of the Efroymson Family Fund. The Krannert Gallery is located on the first floor of Krannert Hall of Art & Music.
Please visit the UE website www.evansville.edu/majors/art/majors.cfm
Or FaceBook Page: University of Evansville Department of Art & Melvin Peterson Gallery
For more information about Lori and her art, visit www.loririverafineart.com.
These stunning, abstract paintings can be seen in the Krannert Gallery April 11 – May 9
A public Reception for the Artist is April 22, 6:30pm. Masks & Social Distancing will be observed.
April Newsletter Released by Counseling Services
The Office of Counseling Services invites you to read the final monthly newsletter of the 2020-21 academic year (can you believe it?)! This month, the Office wanted to spotlight something we can all use a bit more of – the great outdoors! Whether you consider yourself to be an active individual or are just looking for an excuse to be outside and not sitting at a desk or in the library, check out this month's newsletter for information about the benefits of being outside, an app for navigating the stars, and local gems for a day of exploring!
Champion Ballroom Dance Teacher is Back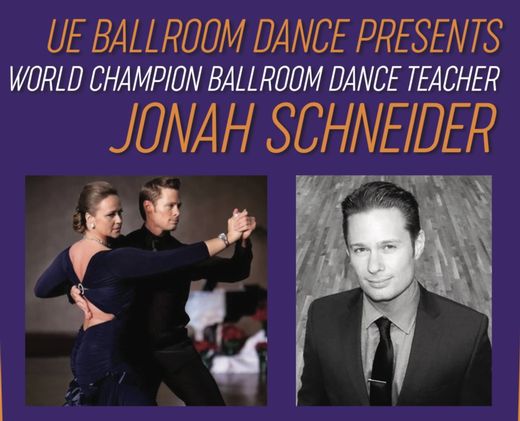 THIS Saturday, April 17th, Jonah Schneider returns to teach ballroom dance lessons to anyone interested! Ever wanted to learn Waltz, Swing, Cha Cha, Rumba, Fox Trot, Tango or more? He's teaching starting at 10am and going through 5:30pm in 45 minute blocks. First come, first serve. To sign up, text 812-449-1044 or email EL131. Private or group lessons available, masks required. All levels are welcome, no experience necessary! Final details sent upon RSVP.
Last Day to Withdraw with a "W"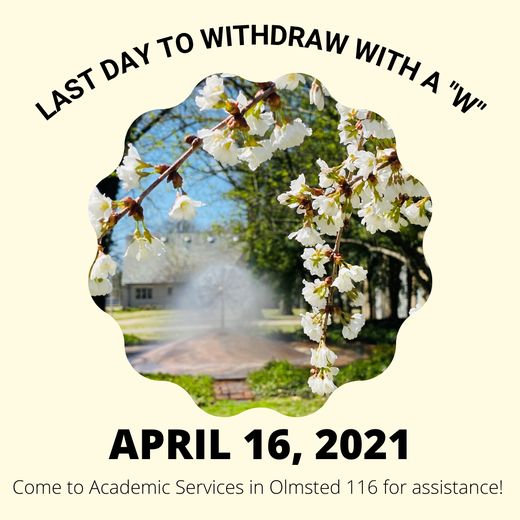 The last day to withdraw from Spring classes with a "W" is April 16, 2021. Come see Academic Services in Olmsted 116 for assistance!
Center for DEI Presents Religion of the Day #5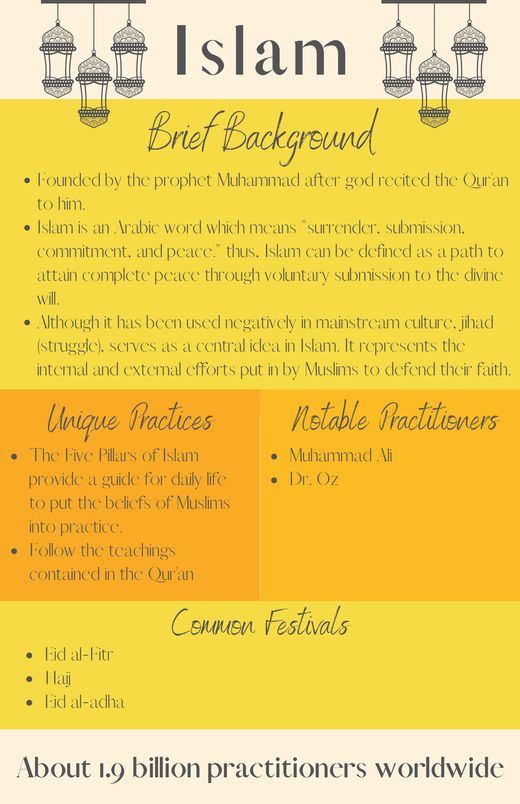 The religion of the day is Islam! Today marks the beginning of the month of Ramadan on the Islamic calendar. Ramadan serves as a time for month long fasting and is accordance with Sawm, which is one of the Five Pillars of Islam. During this period, practicing Muslims are expected to refrain from food, drink, tobacco, sexual relations, and sinful behavior, rather devoting themselves to prayer and recitation of the Quran.
April is Religious Exploration Month! For the next 9 days in the month of April, the Center for Diversity Equity and Inclusion will send out religious profiles highlighting some interesting information about different religions! Please check Acenotes and our social media for the daily profile posted! These profiles are aimed at presenting our campus community with information to allow a better understanding of UE's diverse religious representation and background.
*Please note that the information in our profile is a summary and not exhaustive of everything encompassed in this specific religion and for more information please do not hesitate to reach out to the Director of Religious Life at jk383@evansville.edu.
UE SAA Book Club: Join Us
All UE Staff and Administrators' Assembly Members are welcomed and encouraged to join the UE SAA Book Club! Our next gathering is Wednesday, April 28th at 12:00pm via Zoom. This month we will be discussing the lighthearted and award-winning teen memoir, Popular by Maya Van Wagenen. Please contact Kathy Taylor (ks6) to be added to the Book Club email list and to get the upcoming Zoom Link.
Seniors Can Win iPad by Participating In Collegiate Learning Assessment On Tuesday, April 13
Seniors who volunteer to participate in the Collegiate Learning Assessment on Tuesday, April 13 (7-9 pm) will be registered to win an iPad. The assessment measures critical thinking and writing, and takes approximately 90 minutes to complete. It may be taken remotely or in person.
As the University of Evansville's core values attest, UE values "the liberal arts, sciences, and professional programs as paths to intellectual and personal growth," and Enduring Foundations courses are an important part of that commitment. For this reason, we seek feedback from our students as part of an assessment plan to ensure that we maintain high standards and excellent quality in this program. We'll use the results to help measure how student learning across the four years at UE. As a senior, your input is central to this effort. You will also receive access to your personal results later this semester.
If you would like to participate in the CLA+ on April 13, please email Dr Kristina Hochwender at kh125@evansville.edu to register. Seniors who have taken the CLA+ on previous test dates are automatically entered in the iPad drawing.
BIOL 107 (GEN ED Lab Science) Offered Summer 1
Biology 107 (4 cr) will be offered online this summer session 1 from May 17-June 18. The lab component will be online as well utilizing web-based simulations. This course satisfies lab science General Education credit (Outcome 8). All majors are welcome! If you have any questions, please contact Dr. Gordon at ng62@evansville.edu.
2021-22 Kahn Scholarship Application Available
It was the desire of the donor, Margery Florence Kahn, that her scholarship be awarded to "dedicated and conscientious students who exhibit a true passion for their chosen fields of study, and who, in the opinion of the members of the University of Evansville faculty, are likely to bring the same enthusiasm into the performance of their jobs or the practice of the professions which they will pursue following graduation."
All University of Evansville full-time undergraduate students who will be juniors or seniors in 2021-22 may apply. An essay of about 300 words must accompany the application, along with two to four faculty recommendation letters.
Application is available here: https://forms.office.com/r/8vduXcKZXa
Completed applications and recommendation letters should be returned to the Office of Student Financial Services by MAY 10th.
Questions may be directed to the Office of Student Financial Services via email or by phone at (812) 488-2364
#OnlyYESmeansYES: Take the Pledge to Get Consent
April is Sexual Assault Awareness Month. Do your part to reduce instances of sexual violence by taking the Center for Diversity, Equity, and Inclusion's pledge against sexual violence. Pledge to always get consent from your partners, be an active bystander in dangerous situations, and to help UE create a safe campus environment.
Encourage your student groups to participate in the pledge. The Student group with the most pledges by April 30th will be featured on the Center for Diversity, Equity, and Inclusion's social media pages (Instagram: @uediversity, Facebook: UE Center for Diversity, Equity, and Inclusion).
Sexual Assault Awareness Month / Religious Exploration Month Challenge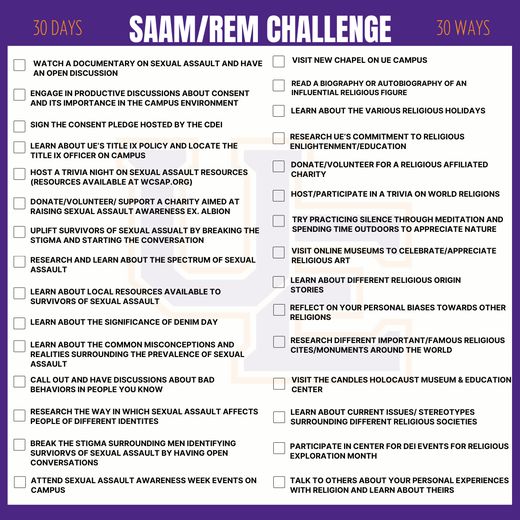 The month of April highlights Sexual Assault Awareness Month and Religious Exploration Month. Join the UE SAAM/REM Challenge sponsored by the Center for Diversity, Equity and Inclusion! In this challenge you will find 30 ways for 30 days of religious exploration and sexual assault awarness to actively learn, engage, support, communicate with individuals across the religion spectrum and survivors of sexual assault, while also breaking the stigma surrounding religion and sexual assault awareness. Items listed in the challenge can be done personally or in a social group! Join the Center in one of our many events for the month focused on religion or sexual assault awareness, research the origins and culture of Denim Day and/ or grab a friend and reflect about what religion means to you. However and whatever you do for the #SAAM/REMChallenge, challenge yourself!
We can't wait to see the ways in which you all #SAAM/REMChallenge yourself!
To make it extra fun, share what you're doing on social media and be sure to tag us!
Instagram: @uediversity Facebook: UE Center for Diversity Equity and Inclusion
Sexual Assault Awareness Month and Religious Exploration Month Task List
Watch a documentary on sexual assault and have an open discussion
Engage in productive discussions about consent and its importance in the campus environment
Sign the consent pledge hosted by the CDEI
Learn about UE's Title IX policy and locate the Title ix officer on campus
Host a trivia night on sexual assault resources (Resources available at WCSAP.org)
Donate/volunteer/ support a charity aimed at raising sexual assault awareness Ex. Albion
Uplift survivors of sexual assault by breaking the stigma and starting the conversation
Research and learn about the spectrum of sexual assault
Learn about local resources available to survivors of sexual assault
Learn about the significance of Denim Day
Learn about the common misconceptions and realities surrounding the prevalence of sexual assault
Call out and have discussions about bad behaviors in people you know
Research the way in which sexual assault affects people of different identities
Break the stigma surrounding men identifying surviorvs of sexual assault by having open conversations
Attend Sexual Assault Awareness Week events on campus
Visit New Chapel on UE Campus
Read a biography or autobiography of an influential religious figure
Learn about the various religious holidays
Research UE's commitment to religious enlightenment/education
Donate/volunteer for a religious affiliated charity
Host/participate in a trivia on world religions
Try practicing silence through meditation and spending time outdoors to appreciate nature
Visit online museums to celebrate/appreciate religious art
Learn about different religious origin stories
Reflect on your personal biases towards other religions
Research different important/famous religious cites/monuments around the world
Visit the Candles Holocaust Museum & Education Center
Learn about current issues/ stereotypes surrounding different religious societies
Participate in center for DEI events for Religious Exploration month
Talk to others about your personal experiences with religion and learn about theirs
HEERF II Grant Distribution Authorization Now Open
HEERF II Emergency Grant funding is now available. All educationally related expenses are eligible for HEERF II funding and may be applied to current and/or future student account balances. Please be aware that funding is limited, and a valid 2020-21 Free Application for Federal Student Aid (FAFSA) submission is required for grant consideration. Grant recipients requesting a refund must have bank information on file as refunds will only be issued electronically via direct deposit.
Eligible students wishing to claim a portion of HEERF II grant funds are required to submit the HEERF II Grant Authorization and confirm bank account information. The deadline to accept these funds is April 15, 2021.
Congratulations to Dr. Heidi Strobel, Professor of Art History
On Friday, 4/9/21, Dr. Strobel presented "Terminology and its Limitations: A Reconsideration of Linda Nochlin at the Half Century Mark" at the 51st Annual American Society of Eighteenth Century Studies conference. Her paper focused on textile artist Mary Linwood, who is the subject of her upcoming book which will be published by Bloomsbury later on this year. Linwood was also the subject of a recent guest lecture that she gave for Baylor University's Albritton Art Institute entitled "Recovering the Professional Woman Artist in Georgian England." Strobel also gave a second lecture for the Albritton Art Institute entitled "Art in the Era of Revolution (Industrial and Otherwise)."
Softball Earns Doubleheader Split At SIU
Marah Wood hit a 3-run blast while Izzy Vetter picked up her 10th victory of the season to help the University of Evansville softball team split Sunday's doubleheader against Southern Illinois at Charlotte West Stadium.
UE (18-13, 6-6 MVC) opened the day with an 8-2 win before the Salukis (28-7, 10-4 MVC) held on for a 4-1 decision in the second contest.
GAME 1
The offense erupted for eight runs in Sunday's opener, which was highlighted by a 3-run home run from Marah Wood. UE wasted little time in jumping out front, plating two runs in each of the first two innings. Eryn Gould and Wood each posted 1-out hits to bring Alyssa Barela to the plate. Her successful squeeze scored Gould for the opening run of the game. Haley Woolf added an RBI single to make it a 2-0 lead.
Mea Adams was hit by a pitch to lead off the second before scoring on a Katie McLean double. Jessica Fehr added an RBI knock of her own to cement a 4-0 UE lead. Izzy Vetter kept the Salukis off balance with meticulous pitching and the offense would add some extra insurance in the sixth. Some 2-out magic padded the lead with Fehr recording her second hit of the day before Gould reached on a walk. Next up was Wood, who hit a homer to right center to push the lead to 7-0. A final run would cross the plate in the 7th on a Jenna Lis sacrifice.
SIU scored two runs in the bottom of the seventh on a Jenny Jansen homer, but it could not overcome the deficit with Evansville clinching the 8-2 victory. Wood, Fehr and Woolf each recorded two hits apiece while Wood paced the team with three runs batted in. Vetter won her 10th game of the season, striking out nine batters while giving up two runs on six hits.
GAME 2
Saluki starting pitcher Sarah Harness had another strong start for her squad, fanning 11 batters while scattering four hits across the 7-inning effort. Evansville looked to be in business early on as Jessica Fehr led the game off with a double, but three strikeouts in a row ended the threat. In the bottom of the first, SIU pounced with Katelyn Massa hitting a 2-run shot.
In the third, Southern Illinois added another run to their lead. The Aces were able to push a run across in the fifth when Eryn Gould singled through the right side to score Hannah Hood, who also singled earlier in the inning. That would be the only run the Aces would score as SIU tacked on one more run to take a 4-1 win and split the doubleheader.
Evansville had four hits in the game while Katie McLean walked twice. Jaime Nurrenbern went all six innings in the circle, allowing four runs on seven hits while striking out six.
;
Evansville Earns Series Win with Doubleheader Split At Bradley
After weather wreaked havoc on the weekend schedule, the University of Evansville baseball team split its Sunday doubleheader with Bradley, falling 5-4 in game one and winning game two, 4-2, at Dozer Park in Peoria, Ill.
The series win marked the Aces fourth-straight series win, its longest such streak since winning six consecutive series during the 2016 campaign.
"We showed a lot of fight all weekend. Longest day I've experienced at a baseball field and just an overall long trip to Peoria for us," said Aces head baseball coach Wes Carroll on the team's effort. "This team showed a lot of character as they picked each other up throughout."
Game One: Bradley 5, Evansville 4
Junior Caleb Reinhardt got the start on the mound for the Aces and opened the contest pitching a pair of clean innings. Bradley would strike first in the top of the third, scoring twice to take a 2-0 lead.
Evansville halved the Braves lead in the fourth as sophomore Danny Borgstrom drove a base-hit up the middle, scoring redshirt senior Troy Beilsmith.
In the fifth, the Aces took their first lead of the day. A single to right from freshman Brent Widder tied the game, sending senior Craig Shepherd home. Redshirt junior Kenotn Crews followed, ripping a double down the left field line to score Widder.
Bradley answered in the bottom half of the inning as Dan Bolt lifted a two-run home run to right, giving the Braves a 4-3 advantage.
Sophomore Eric Roberts entered in the sixth, replacing Reinhardt, who concluded his day pitching five innings, allowing four runs and striking-out a pair. Roberts induced a pop-up to the first batter he faced, but then saw the bases loaded with two outs. Roberts came up clutch, striking-out the next batter on three pitches to end the sixth.
Evansville tied the game in the bottom of the seventh as Beilsmith dropped a double into left field that scored Widder.
With sophomore Michael Parks on the mound, the Aces looked to force the game into extras. After Parks got a groundout and struck-out a batter for the second out, Dan Bolt again came to the plate. Bolt replicated his previous at bat in the fifth, homering to right center to earn a 5-4 walk-off win for the Braves.
Game Two: Evansville 4, Bradley 2
Evansville got off to a quick start in game two of the doubleheader, scoring a run in the top of the first as freshman Simon Scherry recorded a sacrifice fly that scored Crews, giving starting pitcher Jake McMahill an early lead to work with.
Bradley was held at bay for much of the contest before equalizing in the fifth on a solo home run by Manteufel. McMahill's excellent effort ended after the fifth as the redshirt junior concluded his day allowing just one run on two hits, striking-out a pair.
The Braves took the lead in the sixth, but the Aces were able to limit the damage. Bradley loaded the bases with no outs, but junior Drew Dominik and Evansville's defense saved a run, throwing-out a runner at home. The Braves scored on a passed ball with two outs, but Dominik stepped-up and fired a strikeout looking to end the inning. Following the strikeout, Bradley's Dan Bolt was ejected from the game, removing a critical threat from the Braves offense.
In the top of the seventh, Evansville looked to return the favor offensively, loading the bases with no outs. After Crews fouled out, the Braves got a crucial defensive play as Beilsmith flied-out to left and Shepherd was thrown-out at home to end the inning.
Making up for the seventh, the Aces offense continued to be relentless in the eighth. Scherry walked to lead-off the inning, followed by a double by junior Tanner Craig. Freshman Mark Shallenberger preceded to tie the game at two with a sac fly that scored Scherry. Borgstrom then earned a walk to put runners on the corners for Evansville, which proved to be key for the Aces. With junior Mason Brinkley at the plate, Bradley threw a wild pitch, giving Evansville the 3-2 lead as Craig scored. Borgstrom would due the same, this time on a passed ball, as the Aces took a 4-2 lead.
The Braves again loaded the bases in the bottom of the eighth with freshman Jakob Meyer on the mound. With two outs, Meyer walked Dougherty to load the bases, but the Columbus, Ind. native shut down Bradley. Meyer induced a groundout to end the inning and send the game to the ninth.
In the bottom of the ninth, Meyer continued to look in form, allowing a base-hit, but striking-out a pair as the Aces captured the 4-2 win and earned the series victory.
Women's Soccer Battles in PK Thriller to End the Season
The University of Evansville women's soccer team sees the 2020-21 season end after a battle against Valparaiso in the opening round of the Missouri Valley Conference championship.
The contest stretched the full 110-minuites forcing a penalty kick shootout between the two squads, with Valpo advancing to the semi-finals with a 5-3 advantage.
As a team the Purple Aces attempted 10 shots with three aimed at goal, led by Emily Ormson and Kristen Harvey both with two efforts.
Goalkeeper Michaela Till made seven clutch saves to keep the Aces in the match, including three in the second overtime.
Evansville ends the season with a 2-3-3, 2-3-2 MVC record and ranks in the top 20 in the NCAA in goals-against-average.
Vetter Tosses Gem in Series Opener at SIU
Izzy Vetter and Sarah Harness battled it out in a pitcher's duel before Southern Illinois hit a walk-off home run to defeat the University of Evansville softball team by a 3-1 final on Saturday afternoon at Charlotte West Stadium.
Both pitchers allowed just one run through the first six frames, but it was SIU (27-6, 9-3 MVC) who would win in the 7th when Jenny Jansen hit a 2-run home run to clinch the 3-1 win. Vetter struck out five hitters for UE (17-12, 5-5 MVC) while Harness fanned 11 batters.
Eryn Gould picked up two of the Purple Aces' six hits on the day while Marah Wood, Jessica Fehr, Lindsay Renneisen and Hannah Hood recorded one hit apiece. The Salukis also finished the day with six hits. Gould started out strong, leading the game off with a double, but was stranded on the bases to wrap up the inning.
Southern Illinois broke through with a run in the second when Maddy Vermejan drew a bases loaded walk to score the first run of the game.
Evansville got the run right back in the third when Hood led off with a single before advancing to third on another double by Gould. Katie McLean converted a successful squeeze play to score Hood and tie the game. That is when the pitchers took over, keeping the opposing offenses off the board, but in the seventh, the Salukis came through. Vermejan led off with a walk before Jansen homered on a 1-0 pitch to seal the game.
Women's Golf Picks Up Top Ten at Jan Weaver Invite
In the final day of the Jan Weaver Invite, University of Evansville senior Sophia Rohleder paced the team with a 77 to lead the Purple Aces to a 9th place finish at Miller Memorial Golf Course.
UE wrapped up the tournament with a 316 on Saturday to score a 932 over the three rounds. The Aces came in one stroke ahead of Dayton and one behind Georgia State.
Rohleder carded a 5-over 77 on Saturday to clinch a tie for 4th place. Her 223 was seven off of the champion – Taylor Ledwein of Bradley. Ledwein had a 216 and defeated Belmont's Delia Gibbs by three strokes.
Second for UE was Mallory Russell. Her final round came in at a 79 and her tournament tally of 236 tied her for 41st. Allison Enchelmayer finished one behind Russell. A 78 in round three gave her a 237, which tied her for 46th.
Caitlin O'Donnell recorded an 81 on the final day to finish with a 242 while Alyssa McMinn's 82 on Saturday saw her finish with a 243. Carly Frazier rounded out the UE contingent. Her final round of 84 gave her a 3-round total of 240, which was tied for the 4th-best individual score.
Murray State took the team championship, defeating Central Arkansas by two strokes. The Racers posted a 299 on Saturday to finish with a 3-round total of 898.
The spring season wraps up on April 19 and 20 at the Missouri Valley Conference Championship in St. Charles, Mo.
Men's Swimming and Diving Concludes MAC Championship
The University of Evansville men's swimming and diving team competed in day three of the Mid-American Conference championship meet on Saturday, bringing their season to an end.
Jackson Caudill finished his historic freshman season in the 1650-yard freestyle race. He finished in sixth place with a time of 16:08.60. Grant Kay came in behind him and finished in ninth place with a time of 16:27.41.
Three Aces competed in both the 200-yard backstroke with Jackson Kennedy (1:53.08) finished in tenth, Sam Leatherwood (1:53.42) finished in eleventh, and David Killian (1:54.23) finished in thirteenth in the backstroke.
In the 200-yard breaststroke Max Dehen (2:04.94) finished in twelfth, Eli James (2:05.80) finished in thirteenth, and Pierce Lively (2:07.44) finished in fourteenth in the breaststroke.
Riccardo Domenico finished out his season by placing eleventh in the 100-yard freestyle with a time of 45.03. He also helped his team place fifth in the 400-yard freestyle relay (3:03.85) with Credence Pattinson, Zeke Metz, and Austin Smith.
Metz, Griffin Hammet, and Tsien EE Tan swam in the 200-yard butterfly. Metz (1:52.33) placed twelfth, Hammet (1:52.96) placed fourteenth, and Tan (1:53.87) placed fifteenth.
The Aces finished in fifth place with 301 points, while Miami University (Ohio) took the championship with 932 points.
The women's swimming and diving team will compete for the Missouri Valley Conference championship next week, April 15-17, in Carbondale, Ill.
Domenico Highlights Day Two of MAC Championships
The University of Evansville men's swimming and diving team returned to the pool on Friday to continue the three-day Mid-American Conference championship meet.
Riccardo Domenico led the Aces today by taking over the 100-yard butterfly school record. He broke the record in the preliminary trial with a time of 48.29 and placed fourth in the a-final with a time of 48.49.
Domenico along with teammates Credence Pattinson, Max Dehen and Jackson Kennedy all combined to set a new program record in the 200-yard medley relay (1:30.05) that placed fourth.
Pattinson took fifth place today in the 100-yard backstroke with a time of 49.56 and eighth place in the 100-yard butterfly with a time of 49.99.
Three Aces swam in the 400-yard IM. Zeke Metz placed eleventh (4:01.77), Griffin Hammet placed thirteenth (4:08.53), and David Killian placed fifteenth (4:09.45).
The 100-yard breaststroke was swam by Eli James and Pierce Lively. James placed thirteenth (58.51) and Lively placed fifteenth (58.25).
Reed Slayden placed tenth in the three-meter dive with a score of 177.75.
The team stands in fifth place overall with 199 points after day two.
The Aces will conclude their season tomorrow with preliminary trials beginning at 9:30 a.m. CT and finals beginning at 5:30 p.m. CT.
Scherry's Ninth-Inning Hit Powers Evansville to 5-3 Win
On a night that saw flashes of the best of the Aces in all three facets, the University of Evansville baseball team captured a 5-3 series-opening victory over Bradley on Friday night at Dozer Park in Peoria, Ill.
The win was the Aces eighth-straight victory, matching the eight consecutive victories Evansville earned around the same point in time during the 2019 campaign.
"Great opening win to the series. Shane Gray was outstanding tonight making some big pitches," said Aces head baseball coach Wes Carroll. "Our offense came through as we had many quality trips to the dish for two runs in the 9th. That collection of quality at bats was truly special to see."
Shining on the mound, sophomore righty Shane Gray made the start for the Aces, finishing with seven innings pitched, allowing just one run and striking-out a career-best 11 batters. Earning the win on the night was freshman Jakob Meyer, who entered with one gone in the eighth and shut down the Bradley effort in the ninth. Meyer concluded his outing having lasted 1.2 innings, giving up one hit and striking-out three.
Evansville pushed a run across in the third to open the scoring as freshman Simon Scherry drove a single through the left side, scoring senior Ben Komonsoky. In the next inning, the Aces scored another as junior Tanner Craig smashed a solo home run on the first pitch of the inning, clearing the left field wall and lifting Evansville's lead to 2-0.
Gray got out of a jam in the bottom of the fourth as the Braves loaded the bases with one out. The West Hamilton, Ohio native locked-in over the next nine pitches, striking-out Husmann on three pitches and then ending the inning with a backwards K of Keaton Rice.
A sacrifice bunt in the fifth helped Bradley have the lead, but Evansville again saw Gray come up with clutch pitches in important situations.
Evansville pushed its lead back to two in the seventh as redshirt junior Kenton Crews looped a triple into left center field, scoring freshman Brent Widder.
After Gray exited, the Aces looked to continue to limit the Braves. Bradley mounted a comeback though, scoring twice in the eighth, tying the game as it moved to the ninth.
As has been true for much of the season, Evansville's offense responded when it was needed in the ninth. A leadoff single by pinch hitter Eric Roberts helped spark the Aces offense. Widder responded by laying down a sac bunt to advance Roberts. After Crews was intentionally walked, redshirt senior Troy Beilsmith reached on a fielder's choice that gave Evansville runners on the corners. Beilsmith advanced to second on catcher's indifference and that proved key for the Aces. Freshman Simon Scherry delivered what would be the game-winning hit, ripping a single through the right side that scored Roberts and Beilsmith, handing the Aces a 5-3 lead with three outs remaining.
Meyer returned back to the mound in the ninth and following a leadoff walk, the Columbus, Ind. native did what he has all season. In the next two at-bats, Meyer induced swinging strikeouts, giving the Braves a runner on first with two outs. Down to their last out, the Braves sent Vogel to the plate, who looked to have delivered a base-hit to center, but was robbed by Widder, who soared into the air, grabbing the ball and ending the game with a 5-3 Evansville win.
Sophia Rohleder Three Strokes off Lead At Murray State
Senior Sophia Rohleder finished the opening day of the Jan Weaver Invitational just three strokes off of the lead as the University of Evansville women's golf team wrapped up the first two round of the Jan Weaver Invite on Friday at Miller Memorial Golf Course.
Rohleder began Friday's action with a 74 before carding an even 72 in the second round. Her score of 146 has her in a tie for 4th place, just three strokes off the lead entering the final 18 holes. Della Gibbs from Belmont and Bradley's Taylor Ledwein lead the individuals with scores of 143. Payton Carter from Murray State is in third with a 144.
Second on the Aces squad is Mallory Russell. She started the tournament with a 77 before recording an 80 in Friday's second round. She completed the day with a 157 and is tied for 39th. Fresh off of a career tournament at Indiana State earlier this week, Allison Enchelmayer shot a 76 to start the event before recording an 83 to finish with a 159. She is tied for 43rd with a 159.
Alyssa McMinn and Caitlin O'Donnell both completed today with a 161. McMinn fired off an 84 before lowering her second round by seven strokes to a 77. O'Donnell had a solid finish in both rounds, finishing with an 81 and 80. Carly Frazier had another strong showing playing as an individual. Like Enchelmayer, Frazier had a career tournament in Terre Haute and carried the momentum into this weekend. Rounds of 76 and 80 have her tied for 36th with a 156.
Evansville sits in 9th place in the team standings. The Aces are three behind Georgia State and five ahead of Dayton. A close race at the top of the leaderboard has Central Arkansas pacing Murray State by one stroke. Central Arkansas had a 598 in the first two rounds while the Racers finished at 599. Seton Hall is third with a 602.
Women's Soccer Heads Into MVC Tournament at Valpo
The University of Evansville women's soccer team is set for the first round of the Missouri Valley Conference quarterfinal round at Valparaiso on Sunday at 1 p.m.
Know the Aces
• The sixth-seeded Purple Aces will play Valparaiso in an opening-round match on Sunday at 1 p.m. CT. Evansville (2-3-2) earned the No. 6 seed over Drake (2-4-2) as UE had 1.14 points per MVC match played.
• UE holds a 4-1-3 all-time record in MVC First Round matchups with all three ties resulting with the Aces advancing to the next round in PKs. UE holds a 20-13-6 overall record in MVC post season matches.
• UE dropped the final game of the regular season against Indiana State on April 7 with an early goal by the Sycamores. The Aces outshot ISU 12-9, including 10 shots in the first half.
• Evansville took down the undefeated Loyola Ramblers, 1-0, on April 3. This marked the second win against Loyola in program history, first since 1993 and the first since Loyola joined the Missouri Valley.
• UE saw impressive efforts from the back line and from goal against Loyola. Goalkeeper Michaela Till made 11 saves including a massive stop during a penalty kick attempt late in the first half. Till and the rest of the Aces back line faced 20 shots from Loyola to hold up the shutout match. Till's 11 saves are the most for a MVC goalkeeper this season.
• Michaela Till ranks high nationally in three statistical categories 15th (.905) in save percentage, 23rd (.474) goals-against-average and 75th in saves per game (4.75).
• UE have started three goalies this season with Michaela Till, Lauren Fischer and Georgia Katsonouri all seeing complete game time. Between the three UE has only given up three goals, faced 89 shots and made 37 saves.
• The defense has excelled in keeping the team in each contest it has played while the goalkeepers have averaged 5.29 saves per game.
• UE boast the best defense in the MVC, ranking 8th in the country in save percentage (.925), 18th in goals-against average (.397), 37th in shutout percentage (.571) and 63rd in saves per game (5.29).
• Sophomore goalkeeper Georgia Katsonouri and junior midfielder Reilly Paterson have been called up by their respective national teams. Katsonouri was a part of the Cyprus team back in November of 2020 to play in the UEFA Women's Euro qualifiers. Paterson will join the Jamaican national team camp in April, with games being played in Spain.
• Evansville entered year one under a familiar face in head coach Chris Pfau. Pfau was promoted to head of the Evansville's women's soccer program in December of 2019. Pfau, who returned to the UE sideline as an assistant coach in May of 2019 will begin his second stint as the Aces head coach, serving at the top spot from 2005-07.
Know Valpo
• No. 3 Valpo earned the chance to host the MVC first round after the 1-0 win against Illinois State.
• Last time out against the Brown and Gold the Aces posted a scoreless draw on March 24th.

• INFO: For all of the latest information on University of Evansville athletics, visit GoPurpleAces.com or follow the program on Twitter via @UEAthletics.
• FUTURE UNAFRAID: To make a gift to the Future Unafraid initiative and contribute to the Purple Aces' response to COVID-19, please visit UEAlumniOnline.com/FutureUnafraid
• SUPPORT: For information on giving to UE Athletics or its individual athletics programs, visit the SUPPORT tab on the top of GoPurpleAces.com.
Men's Golf Travels to Big Blue Intercollegiate
For the second week in a row, the University of Evansville men's golf team visits the State of Tennessee. UE will take part in the Big Blue Intercollegiate, hosted by Tennessee State University, on Monday and Tuesday.
The event features 36 holes to open play on Monday before a single round of 18 on Tuesday. Action begins each day with an 8 a.m. shotgun start. Hermitage Golf Club – President's Reserve will host the event, which will have a par of 71 and yardage at 7,020.
Taking part in the tournament will be Arkansas-Pine Bluff, Austin Peay, Belmont, Detroit, Evansville, John A. Logan, Missouri State, Murray State, Tennessee State, Tennessee Tech and UT Martin.
In a trip to Dickson, Tenn. last week, the Purple Aces earned a fifth-place finish at the Murray State Invitational. UE was led by Spencer Wagner, who shot a 2-under 70 in the final round. The effort gave him a 3-round score of 213, which put him in a tie for 10th place.
An efficient tournament saw Carson Parker come home in the top 15. Parker finished the opening day with rounds of 72 and 73 before firing off a 1-under 71 to register a 216. He tied for 14th place. Six behind Parker was Isaac Rohleder. A pair of 75's, coupled with an even 72, saw Rohleder tie for 31st with a 222. Michael Ikejiani finished with a 227 while Jessie Brumley wrapped up the tournament with a 228. Caleb Wassmer made the largest jump in the last day, recording a 72 in the final 18 holes.
Schedule Changed Announced For Series at SIU
Road action continues for the University of Evansville softball team as they travel to Carbondale, Illinois for a 3-game series against Southern Illinois. Due to weather, the schedule will now feature a single game on Saturday at 1 p.m. with a Sunday doubleheader set to begin at noon.
Last Time Out
- Looking to continue its best Missouri Valley Conference start since 2002, the Purple Aces traveled to Cedar Falls, Iowa last weekend to face UNI
- Evansville appeared to have momentum on its side in game one when a grand slam by Bella Coffey saw the Aces make it a 7-6 game in the top of the fourth, but UNI countered with 15 runs in the bottom half of the inning before finishing with a 22-7 win
- The Panthers went on to take the second game of the doubleheader by a 14-0 final before wrapping up the series with a 9-1 triumph
Highway Robbery
- Averaging 2.18 steals per game, the Aces rank 18th in the NCAA and are tops among Valley schools...UE has two players currently ranked in the top 90 nationally in steals per game (Hannah Hood/Mea Adams)
- Hannah Hood leads the team with 12 steals in 12 attempts while Mea Adams is right behind, going 11-for-11...the duo rank third and fourth in the league, respectively
Bringing the Power
- Through the opening portion of the 2021 campaign, Lindsay Renneisen is third on the squad with five home runs and 16 RBI
- She has also brought a solid average, hitting .278...in the win at Alabama State on February 20, Renneisen posted the first 3-hit game of her career - all three hits were doubles
- Entering the SIUE game, Renneisen was 6-for-36 in her last 10 games, but rebounded to go 2-4 with two runs scored against the Cougars...that game has gotten her back on track as she is 6-for-18 in th last eight games with a home run, five RBI and three walks
Cirino Interviews Ken Burns and Lynn Novick for Hemingway Podcast
Mark Cirino interviewed legendary documentarians Ken Burns and Lynn Novick on the most recent episode of One True Podcast, the podcast sponsored by the Hemingway Society. Burns and Novick discussed their new three-part Hemingway documentary and their challenge to separate the artist from the myth that burdened him. Dr. Cirino is Professor and Chair of English and holds the Melvin M. Peterson Endowed Chair in English.
The Burns/Novick interview is available at: https://www.hemingwaysociety.org/node/923

Paige Johnson Recognized as "Realizing the Dream" Recipient
Paige Johnson, a sophomore at UE, has been named a "Realizing the Dream" recipient by Independent Colleges of Indiana (ICI). Made possible by a grant from Lilly Endowment Inc., this scholarship program annually recognizes 30 first-generation college students from ICI's private, non-profit colleges and universities. Students are selected for the $3,000 award for outstanding achievement during their freshman year as they successfully advance toward completing their bachelor's degrees.
The program historically honored recipients, their families and influential educators at an annual event. However, due to the current pandemic, organizers created individual videos of each student describing what it means to them to be a first-generation college student and thanking the influential educator they have chosen to honor. Videos can be found at icindiana.org/rtd.
In addition to the students' scholarship awards, the influential educators also receive $1,000 in professional development grants.
About Independent Colleges of Indiana
Independent Colleges of Indiana serves as the collective voice for the state's 30 private, non-profit colleges and universities. ICI institutions employ over 22,000 Hoosiers and generate a total local economic impact of over $5 billion annually. Students at ICI colleges have Indiana's highest four-year, on-time graduation rates, and ICI institutions produce 30 percent of Indiana's bachelor's degrees while enrolling 20 percent of its undergraduates.
About Lilly Endowment Inc.
Lilly Endowment Inc. is an Indianapolis-based private philanthropic foundation created in 1937 by J.K. Lilly, Sr. and his sons, Eli and J.K. Jr., through gifts of stock in their pharmaceutical business, Eli Lilly and Company. Although the gifts of stock remain a financial bedrock of the Endowment, it is a separate entity from the company, with a distinct governing board, staff and location. In keeping with the founders' wishes, the Endowment supports the causes of community development, education and religion. The Endowment funds significant programs throughout the United States, especially in the field of religion. However, it maintains a special commitment to its founders' hometown, Indianapolis, and home state, Indiana.
Contribute to AceNotes
To have content considered for inclusion in AceNotes, please submit a Marketing Request Form. Deadline for submission to AceNotes is 10:00 a.m. on the requested date of publication. Only articles concerning UE related/sponsored activities will be accepted. Articles submitted to AceNotes may be edited for length and clarity. Submitter contact information is at the end of each article.