| | |
| --- | --- |
| AceNotes Today | Wednesday, April 7, 2021 |
2021-2022 Benefit Open Enrollment
During the period of April 5 through April 16, benefit-eligible employees may enroll or make changes in the University's health, life, long term disability, and dental insurance, and ACES flexible spending account benefit plans. It is the only chance for benefit-eligible employees to enroll or make changes until the next open enrollment period unless you have a qualifying change in status.
Please review the documents in the Open Enrollment section of the MyUE portal at: https://bit.ly/2GcdKph, beginning with the open enrollment memo, for important announcements, reminders, and changes which will occur June 1 to the University's benefits.
We will once again utilize an on-line enrollment process, eliminating all paper enrollment forms for health, life, dental, and long term disability insurance, as well as the ACES flexible spending account. This will ensure the accuracy of your enrollment elections and maintain records electronically regarding your current and future participation. Enrollment/changes to your TIAA and Emeriti VEBA Trust retirement plan salary deferrals will continue to be processed on paper forms available in the Office of Human Resources. Therefore, you do not need to re-enroll in the TIAA or Emeriti retirement plans. ALL benefit eligible employees (including those who do not want to make any changes to their current coverage) must enter their elections by April 16. Please review the open enrollment memo and On-Line Benefit Enrollment Documents on the HR Area of the MyUE portal, which should answer many of the questions you might have about this system.
Please contact the Office of Human Resources at ext. 2943 with any questions.
TODAY! COVID-19 Vaccine Panel Discussion for UE Campus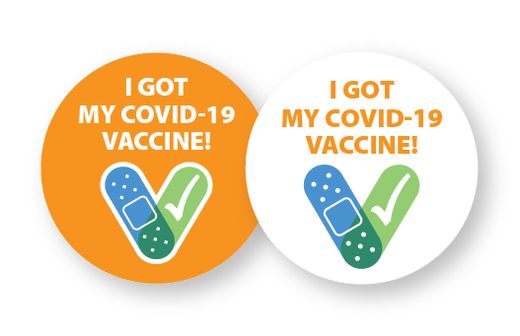 We invite each of you to please join us for a casual, informative discussion about the COVID-19 vaccine. The Zoom meeting will be held on Wednesday, April 7, and it will be led by panelists who have all received both doses of the vaccine. They will share their overall experience with the vaccine, and they will be happy to answer any and all questions you may have.
Wednesday, April 7th – 3:00 p.m.
Join Zoom Meeting:
https://evansville-edu.zoom.us/j/97863835985
If you have any questions, please contact Brooksie Smith at bs267@evansville.edu
Sincerely,
The Coronavirus Task Force
COVID-19 Vaccinations for 16 and Older at Ascension St. Vincent
Currently, the Indiana State Department of Health (ISDH) has identified the following Indiana residents as eligible to receive the COVID vaccine:
Healthcare Workers
First Responders
Teachers and school staff in pre-K through high school, child care centers, Head Start and Early Start programs
Licensed childcare providers, including center-based and family care providers
Age 16 and above
Specific groups of patients at highest risk of severe illness from COVID-19 who are identified by their healthcare provider are also eligible. These individuals will receive a unique registration link by text or email.
We will keep our patients updated as eligibility and administration sites broaden. Although currently there is no cost to patients for the vaccine, insurance information will be collected.
Vaccine Scheduling
The COVID-19 vaccine is available by appointment only. No walk-ins will be permitted. Once listed as eligible by the ISDH, go to www.ourshot.in.gov or by calling 211 or 1-866-211-9966 to schedule an appointment.
Detailed instructions
Go to www.ourshot.in.gov
Enter date of birth and attest to being over age 16
Enter zip code and Select Ascension St Vincent Vaccine Clinic location
Select appointment date and time
Complete demographic information including accurate date of birth
Confirm appointment
Ascension St Vincent Vaccine Clinic
For your convenience, the Ascension St. Vincent Vaccine Clinic is open 7 days a week and located on the hospital campus in the Manor Auditorium. When scheduling an appointment on the state website, select "Ascension St Vincent Evansville VAX" as site location. Directions: Enter the parking garage off of Bellemeade Avenue, immediately turn left and follow the directional signage to the designated vaccine clinic parking area. Patients should enter the clinic using the doors adjacent to the parking garage. Tri State Clinics patients are encouraged to call our office at 1-888-492-8722 with questions or for assistance with scheduling at the Ascension St. Vincent Vaccine Clinic.
Spencer County Residents
Spencer County Local Health Department
Heritage Hills High School
Perry County Residents
Perry County Local Health Department
Perry County Memorial Hospital
Posey County Residents
Posey County Local Health Department
Illinois Residents
Phase 1A: Healthcare workers, those in long term care facilities.
Phase 1B : Frontline essential workers, residents 65 years of age or older and under 65 with comorbidities.
Phase 1B+ : IL residents 16+ with disabilities or serious medical conditions. Higher education staff, gov workers, and media. Details and scheduling info at: https://coronavirus.illinois.gov/s/.
Kentucky Residents
Phase 1a: Long term care facilities, healthcare personnel
Phase 1b: First responders, anyone 70 or older, K-12 school personnel
Phase 1C : KY residents age 60+ AND 16 and older with serious medical conditions and essential workers
For locations and to schedule appointment go to: https://govstatus.egov.com/kentucky-vaccine-map or call the KY COVID-19 Hotline - (800) 722-5725 for more information.
Should you have any additional questions, please contact Ashley Chipps at ashley.chipps@ascension.org or Stacey Smith at stacey.smith1@ascension.org
Center for DEI Presents Religion of the Day #2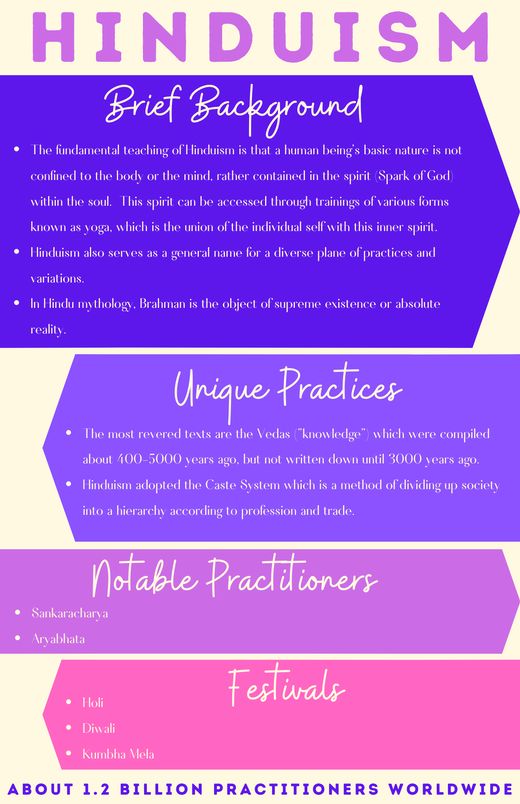 The religion of the day is Hinduism! Hinduism is one of the world's oldest religions and comprises a largely diverse set of beliefs and practices that have varied over time depending on individuals, communities, and regional areas. Already a dominant presence in Southeast Asia, Hinduism continues to spread its global reach, educating people through its unique philosophies and practices.
April is Religious Exploration Month! For the next 9 days in the month of April, the Center for Diversity Equity and Inclusion will send out religious profiles highlighting some interesting information about different religions! Please check Acenotes and our social media for the daily profile posted! These profiles are aimed at presenting our campus community with information to allow a better understanding of UE's diverse religious representation and background.
*Please note that the information in our profile is a summary and not exhaustive of everything encompassed in this specific religion and for more information please do not hesitate to reach out to the Director of Religious Life at jk383@evansville.edu.
University of Evansville Theatre's ZOOMBOX Series Presents CRY IT OUT
The University of Evansville Theatre presents CRY IT OUT, by Molly Smith Metzler at 7:30 p.m., Friday, Apr. 9, and Saturday, Apr. 10, as part of ZOOMBOX, a student-directed play series on the online platform Zoom.
Two "postpartum survivors" find themselves becoming fast friends, as they slog through the day-to-day trials of raising newborn babies. Pushing the boundaries of reception for their baby monitors, they find solace over naptime-coffee-breaks in their adjoining backyards. When a new couple joins their ranks, they bring a different and disturbing socio-economic energy that shakes them out of their reverie and forces them to acknowledge and examine the effect class has on parenthood in America. This bittersweet comedy delves into the absurdity of those first months of parenting and serves as a reminder to not squander those precious moments and truly let the tenderness of life linger.
Sally Walker, a senior theatre management major, from Bettendorf Iowa, directs CRY IT OUT; Madeline Smith, a first-year theatre management major, from Clarksville, Ind., is the zoom environmental designer; Leila Bowman, a senior design and technology major, from Buford, GA., is the costume designer/stylist; Hannah Tarr, a sophomore theatre studies major, from Floyds Knobs, Ind., is the dramaturg; and Jamey Pearson, a first-year stage management major, from Temple, Texas, is the stage manager. The cast features Aivelyn Karsten, a sophomore theatre studies major, from Clackamas Ore., as Jessie; Riley Miller, a sophomore performance major, from Crown Point, Ind., as Lina; Garrett Hale, a first-year performance major, from Haslet, Texas, as Mitchell; and Beverly Buchanan, a freshman performance major, from Tomball, Texas, as Adrienne.
CRY IT OUT was commissioned by Actors Theatre of Louisville where it made its world premiere at the 2017 Humana Festival of New American Plays. Les Walters, Artistic Director; Kevin E. Moore, Managing Director. CRY IT OUT is produced by special arrangement with THE DRAMATIC PUBLISHING COMPANY of Woodstock, Illinois.
Tickets are FREE, but registration is required. To secure your spot, visit www.uealumnionline.com.
This Week in Music
EYKAMP STRING QUARTET
The UE Department of Music Streaming Concert Series continues this week with the Eykamp String Quartet, resident string quartet at University of Evansville. The quartet's members, Alan Snow (violin), Jia-Rong Gan (violin), Mark Hatlestad (viola), and Graham Cullen (cello) also serve as the principal string players of the Evansville Philharmonic Orchestra. The program will feature music by 20th Century composers Yi Chen, Florence B. Price, and Coleridge-Taylor Perkinson. The stream will be available on Tuesday April 6 at 7:30 p.m. and will remain available at the following link for viewing through the end of the week:
https://www.evansville.edu/majors/music/calendar.cfm We hope you will join us online.
Yom HaShoah ("Day of the Catastrophe")
Each year, Yom HaShoah ("Day of the Catastrophe") honors the victims of the Holocaust. On Thursday, April 8, at 11AM, meet at the Interfaith Peace Bell outside Ridgeway for a brief ceremony to remember those who perished and to commit to the work of justice today.
This Week in Religious Life
SPIRITUAL OPPORTUNITIES
1. The Muslim and Christian Prayer Rooms in Neu Chapel are available for use 24/7. Contact the Muslim Student Association for keycard access to the Muslim Prayer Room.
2. The Center for Diversity, Equity, and Inclusion now offers a spirituality library, including books from eleven different religious traditions. From Brene Brown to Thich Nhat Hanh, and from Christian bead prayers to self-reiki, there is something for everyone. Stop by the Center's conference room to borrow one for yourself.
3. Newman Club, UELA, American Medical Women's Association, and the American Red Cross are teaming up to host a blood drive on April 6 in Eykamp. See details below.
4. This week's Newman Night will feature Dr. Kevin Schemenauer talking about moral issues. Join in at the Newman House on Wednesday, April 7, 7PM.
CHRISTIAN WORSHIP
Due to pandemic restrictions, UE will not offer Protestant worship in Neu Chapel this semester. However, there are two churches just across the street from campus that offer services online and in-person just across the street from campus.
Methodist Temple
8:30am, traditional worship
11am, contemporary worship
Redeemer Lutheran
8am and 10:30am, traditional worship
A Catholic Mass is held each Sunday at 1PM in Neu Chapel.
RELIGIOUS HOLY DAYS
1. Yom HaShoah ("Day of the Catastrophe") will be commemorated on April 8 in the Jewish community to honor victims and self-sacrificing heroes of the Holocaust. You are invited to spend a few minutes in silence that day to remember them and pray for peace.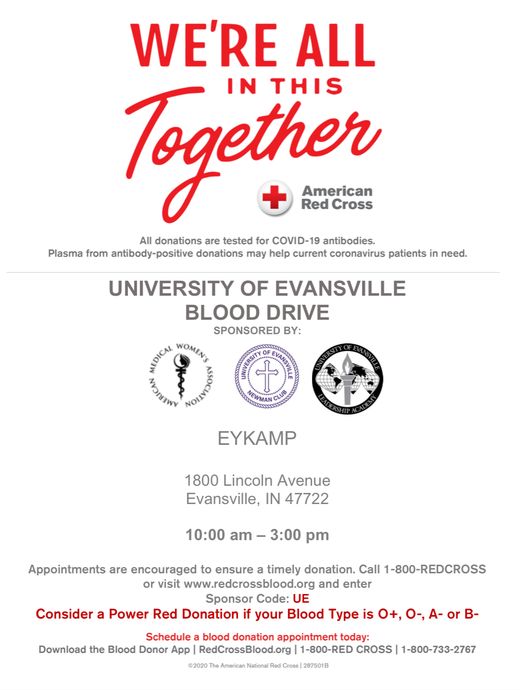 All donations are tested for COVID-19 antibodies.
Plasma from antibody-positive donations may help current Coronavirus patients in need.
April 6, 10 a.m. to 3 p.m.
Appointments are encouraged to ensure a timely donation. Call 1-800-REDCROSS or visit www.redcrossblood.org and enter Sponsor Code: UE.
Consider a Power Red Donation if your Blood Type is O+, O-, A-, or B-.
Spring Healthy Behavior Challenge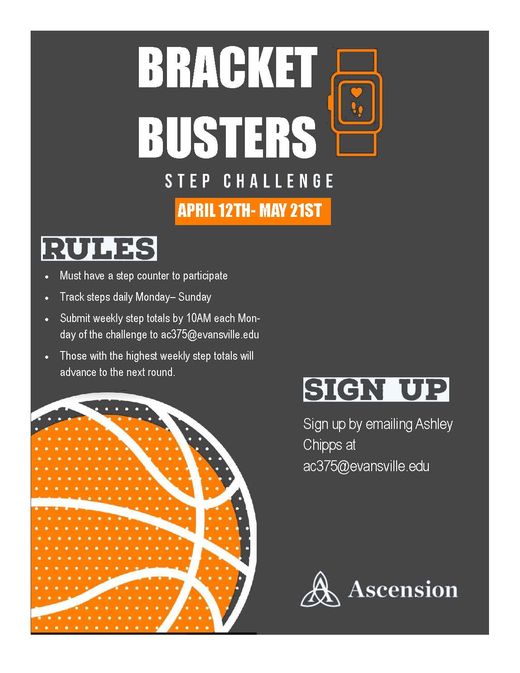 Sign up to participate in the next Healthy Behavior Challenge-- Bracket Busters! Just following March Madness, this is a group step challenge where those with the highest steps advance to the next round! Sign up today!!-- email ac375@evansville.edu. If you are enrolled in the Universities HRA Health Plan, those who complete this challenge can earn an additional $150.00 in HRA credits.
April 12 - May 21
Must have a step counter to participate
Track steps daily Monday– Sunday
Submit weekly step totals by 10AM each Mon-day of the challenge to ac375@evansville.edu
Those with the highest weekly step totals will advance to the next round.
UE Theatre Salon Series Welcomed Actor Nemuna Ceesay for Discussion on the Audition Process and Experience of an MFA Program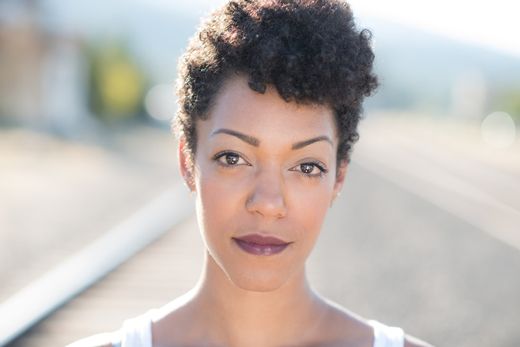 Another installment of the UET Salon Series was held on Wednesday, Mar. 31, featuring Nemuna Ceesay.
Ceesay is currently an actor, coach, and teacher based out of New York. Her regional credits include work with the American Conservatory Theater, PlayMakers Repertory Company, and the Oregon Shakespeare Festival. She has also worked with Theatre Calgary and Moscow Art Theatre internationally. Her TV credits include roles on YOUNGER for TV Land, BROAD CITY for Comedy Central, and MADAM SECRETARY for CBS. She currently teaches acting at both Hunter College and Circle in the Square Theatre School in New York City, and works as an acting coach as well. She received her BA in drama from the University of California, Irvine, and her MFA in acting from the American Conservatory Theater. Ceesay is a member of Actors' Equity Association and Screen Actors Guild-American Federation of Television and Radio Artists (SAG-AFTRA).
This semester, UE Theatre students will have the opportunity to experience over 25 workshops and salons with various professionals from the entertainment industry.
2021-22 Kahn Scholarship Application Available
It was the desire of the donor, Margery Florence Kahn, that her scholarship be awarded to "dedicated and conscientious students who exhibit a true passion for their chosen fields of study, and who, in the opinion of the members of the University of Evansville faculty, are likely to bring the same enthusiasm into the performance of their jobs or the practice of the professions which they will pursue following graduation."
All University of Evansville full-time undergraduate students who will be juniors or seniors in 2021-22 may apply. An essay of about 300 words must accompany the application, along with two to four faculty recommendation letters.
Application is available here: https://forms.office.com/r/8vduXcKZXa
Completed applications and recommendation letters should be returned to the Office of Student Financial Services by MAY 10th.
Questions may be directed to the Office of Student Financial Services via email or by phone at (812) 488-2364
UE Realignment and Perceived Classroom Performance
We are inviting you to participate in a research study. You are eligible to participate if you are 18 years old or older and are currently affiliated with the University of Evansville as either a student or employee. Your participation in this online survey is completely voluntary. If you decide to participate in the survey, you are free to withdraw at any time without any negative effect on your relations with the University or the Department of Psychology. This consent form will give you information about the study to help you decide whether this is of interest to you. This study aims to investigate and understand whether or not a relationship exists between perceived student and teacher performance and the rollout and ramifications of the University of Evansville's realignment.
We are asking you to participate because you are a student or teacher at the University. Although the results of this study may be published, no information that could identify you will be included. This study is low in risk, but may carry some risk of emotional or psychological stress for those most affected by the realignment. This risk is likely no greater than what you have naturally experienced due to the plan itself. Eligible students may receive compensation for their participation in the form of extra credit for courses in the Department of Psychology at the discretion of their professors. Those professors will also offer alternative means of earning extra credit in their classes besides participation in this study. Data will be stored electronically in a way that includes no personal identifiers. No identifying information will be collected. That is, your participation will be entirely anonymous.
Questions regarding this study should be directed to:
Marissa Kiessling mk308@evansville.edu
Nicholas Galloway ng94@evansville.edu
Kienan Corcoran kc313@evansville.edu
Here is the anonymous link: https://uoebusiness.co1.qualtrics.com/jfe/form/SV_8J3X7brpYza4Rvg
Solution Station Wednesday: How's Your Schedule For Fall?
How did registration go? Are you all set - or does your schedule need some more work? Waitlists? Time conflicts? Are you having trouble finding classes? Let's talk! Do you need help with something else and you're not sure who to ask on campus? Come by the Solution Station table in Ridgway from 11:00 AM to 1:00 PM this Wednesday and ask! If we don't know the answer, we'll know who does! We're here to help you find solutions to the issues you're facing - with your schedule for next fall and everything else! Let us help.
Questions? Contact Chad Hart at ch299@evansville.edu.
Sexual Assault Awareness Month / Religious Exploration Month Challenge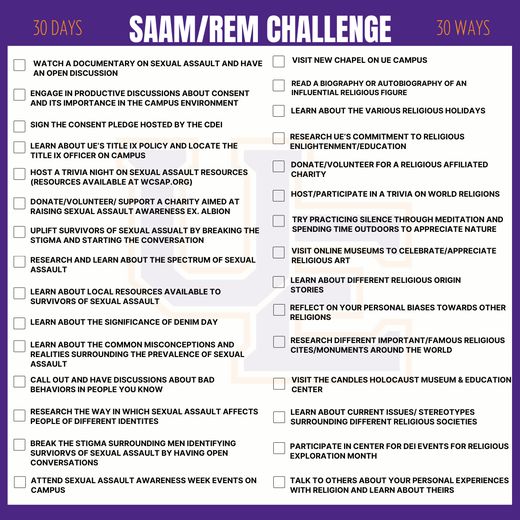 The month of April highlights Sexual Assault Awareness Month and Religious Exploration Month. Join the UE SAAM/REM Challenge sponsored by the Center for Diversity, Equity and Inclusion! In this challenge you will find 30 ways for 30 days of religious exploration and sexual assault awarness to actively learn, engage, support, communicate with individuals across the religion spectrum and survivors of sexual assault, while also breaking the stigma surrounding religion and sexual assault awareness. Items listed in the challenge can be done personally or in a social group! Join the Center in one of our many events for the month focused on religion or sexual assault awareness, research the origins and culture of Denim Day and/ or grab a friend and reflect about what religion means to you. However and whatever you do for the #SAAM/REMChallenge, challenge yourself!
We can't wait to see the ways in which you all #SAAM/REMChallenge yourself!
To make it extra fun, share what you're doing on social media and be sure to tag us!
Instagram: @uediversity Facebook: UE Center for Diversity Equity and Inclusion
Sexual Assault Awareness Month and Religious Exploration Month Task List
Watch a documentary on sexual assault and have an open discussion
Engage in productive discussions about consent and its importance in the campus environment
Sign the consent pledge hosted by the CDEI
Learn about UE's Title IX policy and locate the Title ix officer on campus
Host a trivia night on sexual assault resources (Resources available at WCSAP.org)
Donate/volunteer/ support a charity aimed at raising sexual assault awareness Ex. Albion
Uplift survivors of sexual assault by breaking the stigma and starting the conversation
Research and learn about the spectrum of sexual assault
Learn about local resources available to survivors of sexual assault
Learn about the significance of Denim Day
Learn about the common misconceptions and realities surrounding the prevalence of sexual assault
Call out and have discussions about bad behaviors in people you know
Research the way in which sexual assault affects people of different identities
Break the stigma surrounding men identifying surviorvs of sexual assault by having open conversations
Attend Sexual Assault Awareness Week events on campus
Visit New Chapel on UE Campus
Read a biography or autobiography of an influential religious figure
Learn about the various religious holidays
Research UE's commitment to religious enlightenment/education
Donate/volunteer for a religious affiliated charity
Host/participate in a trivia on world religions
Try practicing silence through meditation and spending time outdoors to appreciate nature
Visit online museums to celebrate/appreciate religious art
Learn about different religious origin stories
Reflect on your personal biases towards other religions
Research different important/famous religious cites/monuments around the world
Visit the Candles Holocaust Museum & Education Center
Learn about current issues/ stereotypes surrounding different religious societies
Participate in center for DEI events for Religious Exploration month
Talk to others about your personal experiences with religion and learn about theirs
Crescent Magazine March 2021 Issue Published Online
Check out the March 2021 issue of the Crescent Magazine featuring articles about UE music, food insecurity, and Harlaxton. https://crescent.evansville.edu/issues/
Be sure to check out the Crescent's brand-new website for monthly issues created by student reporters, designers, and photographers! The Crescent is now accepting content submissions and hiring for all positions. See website for more details. https://crescent.evansville.edu
Crescent Magazine is a monthly student magazine published six times during the academic year by and for the students of the University of Evansville. The magazine serves as an open forum for University of Evansville students, faculty, staff, administrators and alumni through its editorials, columns and letters to the editor. With a focus on student life, the magazine provides coverage of campus news, features and sports, and select local and general-interest items of interest to the audience. The Crescent's aim is to present relevant content in a fair, accurate and unbiased manner, to keep news items free of editorial comment, and to use editorial comment as a tool for informing and persuading through the use of factual information and opinion.
Crescent Magazine welcomes letters from UE students, faculty, staff, administrators and alumni, but material the CMEB regards as libelous, malicious and/or obscene will not be published. Letters should not exceed 250 words. For verification, letters must include the author's name, class standing or title and email address. Crescent Magazine does not print anonymous letters or those that cannot be verified. Letters will be edited as needed.
Crescent Magazine is committed to helping you bring your products and services to University of Evansville students and the UE campus community. To advertise in the Crescent Magazine or on the website email crescentmagazine@evansville.edu.
Deadline Extended: 2021-22 Dr. Marvin E. Hartig Memorial Scholarship
UPDATE: The scholarship deadline has been extended to Friday, May 7.
Family, friends and loved ones of the late Dr. Marvin E. Hartig are pleased to announce the application process for the Dr. Marvin E. Hartig Memorial Scholarship. This scholarship is dedicated to the loving memory of Dr. Hartig, Dean of Evansville College's Evening College in 1967, and administrator for the Center for Advanced Study, director of the Evansville chapter of the American Institute of Banking (AIB), and the international student advisor. In 1974, Dr. Hartig was appointed Dean of Academic Services. He retired in 1984 after serving his alma mater for thirty-five years and passed away in 2007.
This scholarship will be awarded annually to a deserving sophomore student. Preference will be given to a student working while being enrolled as a full-time student. International students are encouraged to apply.
Eligible students for the 2021-2022 Hartig Memorial Scholarship will be sophomores in the 2021-2022 academic year.
Download the 2021-22 Dr. Marvin E. Hartig Memorial Scholarship application.
Deadline: Please return all materials to the Office of Student Financial Services by April 23, 2021. The decision will be announced by June 14, 2021.
Questions: Amanda Wood, administrative assistant to the Office of Student Financial Services, at aw505@evansville.edu or 812-488-2364
DPT Alumni and Professors Collaborate on a Publication in the International Journal of Sports Physical Therapy
The Doctor of Physical Therapy department is proud to congratulate a team of professors and former students for their publication titled, "The Dorsiflexion Range of Motion Screen: A Validation Study" that was recently published in the International Journal of Sports Physical Therapy, Volume 16, Issue 2, 2021. As students, Dr. Mary Beth Garner ('19), Dr. Risa Ricard ('19), and Dr. Josh Hayden ('19), collaborated with DPT professors, Dr. Phil Plisky, Dr. Kate Schwartzkopf-Phifer, Dr. Bethany Huebner, and Dr. Kyle Kiesel, to collect, analyze and publish a validation study of a novel ankle dorsiflexion screen. Publishing reliability and validity reports is an important step in advancing the field of physical therapy in evidence based practice. We are proud of how our students and faculty embrace the value of collaboration and the spirit of the University of Evansville as changemakers. See the article here: https://ijspt.scholasticahq.com/article/21253-the-dorsiflexion-range-of-motion-screen-a-validation-study
Harlaxton Update
Harlaxton College has experienced a surge in applications for Spring 2022. While we are grateful that so many students are ready to come and study with us again, we will have more applications than spaces available. Please speak with your academic advisor to see if another Harlaxton semester may be a possibility if you receive a waitlist message. The entire Harlaxton team will work with you on options for studying at Harlaxton. If you have any questions, please contact harlaxton@evansville.edu.
Spencer Wagner Earns Top 10 at Murray State
University of Evansville golfer Spencer Wagner saved his best for last, shooting a 2-under 70 in the final round of the Murray State Invitational to finish in a tie for 10th place at Greystone Golf Club on Tuesday afternoon.
Ranking in 15th following Monday's rounds, Wagner had an efficient day on the course with his 2-under round. Wrapping up the tournament with a 213, Wagner tied for 10th place. Carson Parker also had his top round of the event on Tuesday. After carding scores of 72 and 73 in the opening day, Parker finished with a 1-under par 71. His 216 tied him for 14th place.
Ranking third on the Purple Aces squad was Isaac Rohleder. He posted a 3-over 75 in the last trip around Greystone to wrap up his three rounds with a 222. Rohleder's scores on Monday finished at 75 and 72. He tied for 31st. Michael Ikejiani wrapped up the tournament five strokes behind Rohleder with a 227. The final round for him checked in at a 79. His top performance on the weekend was an even 72 in the second round on Monday.
Jessie Brumley came in one stroke behind Ikejiani with a 228. His final round finished at 76. Caleb Wassmer made a huge jump in Tuesday's action, posting an even round of 72 on his way to a 3-round total of 236.
Belmont took top honors on both the team and individual sides. Led by medalist Evan Davis, the Bruins completed the tournament with an 844, three in front of UT Martin. Southern Illinois was third with an 854. Davis had another dominant round on Tuesday, shooting a 4-under 68 on his way to the individual championship. He completed the three rounds with a 201, seven in front of his nearest competition.
UE finished in fifth place on the team charts, four in front of a tie between Murray State and Bellarmine and 11 ahead of MVC foe Bradley. The Aces will be right back in Tennessee next week for the Big Blue Intercollegiate. Hosted by Tennessee State, the tournament will be held on Monday and Tuesday.
Aces Ready for Regular Season Finale Against Indiana State
The University of Evansville women's soccer team heads into the final regular season match against in state rival Indiana State at 4 p.m. with post-season seeding on the line at Arad McCutchan Stadium.
Know the Aces
UE has clinched a spot in the Missouri Valley Conference Tournament after their 1-0 win against Loyola last Saturday. Evansville currently sits in fourth place with one game to go and can earn at best the third seed and at worst the six.
The Purple Aces have a chance to host the quarterfinal match of the MVC tournament on April 11 with a win against Indiana State. Or a tie against Indiana State and a tie or loss for Valpo and a tie in the UNI vs. Drake match up.
Evansville took down the undefeated Loyola Ramblers, 1-0, on Saturday. This marked the second win against Loyola in program history, first since 1993 and the first since Loyola joined the Missouri Valley.
UE saw impressive efforts from the back line and from goal against Loyola. Goalkeeper Michaela Till made 11 saves including a massive stop during a penalty kick attempt late in the first half. Till and the rest of the Aces back line faced 20 shots from Loyola to hold up the shutout match. Till's 11 saves are the most for a MVC goalkeeper this season.
Emilie Hill posted her first career goal against Loyola with a header at the top of the box at the 26:56 mark. The cross came off a corner kick and was assisted by Nicole Benati allowing Hill to head the ball in goal for the game winner. Hill's goal was the second goal of the season for the Aces.
UE have started three goalies this season with Michaela Till, Lauren Fischer and Georgia Katsonouri all seeing complete game time. Between the three UE has only given up two goals, faced 80 shots and made 36 saves.
The defense has excelled in keeping the team in each contest it has played while the goalkeepers have averaged 8.00 saves per game.
UE boast the best defense in the MVC, ranking 2nd in the country in save percentage (.947), 10th in goals-against average (.305), 16th in shutout percentage (.667) and 35th in saves per game (6.00).
Sophomore goalkeeper Georgia Katsonouri and junior midfielder Reilly Paterson have been called up by their respective national teams. Katsonouri was a part of the Cyprus team back in November of 2020 to play in the UEFA Women's Euro qualifiers. Paterson will join the Jamaican national team camp in April, with games being played in Spain.
Evansville entered year one under a familiar face in head coach Chris Pfau. Pfau was promoted to head of the Evansville's women's soccer program in December of 2019. Pfau, wo returned to the UE sideline as an assistant coach in May of 2019 will begin his second stint as the Aces head coach, serving at the top spot from 2005-07.
Know the Sycamores
Opening up Missouri Valley Conference play, the University of Evansville women's soccer team played to a scoreless draw on the road against Indiana State, Saturday night. The Purple Aces battled for 110 minutes, recording 12 shots with seven aimed at goal. Jayme-Lee Hunter led the way for the Aces, recording a career high and team season best five shots with three on goal.
Evansville holds a seven game win streak over Indiana State.
Indiana State has clinched the No. 2 seed in the Missouri Valley Conference Championship.
Contribute to AceNotes
To have content considered for inclusion in AceNotes, please submit a Marketing Request Form. Deadline for submission to AceNotes is 10:00 a.m. on the requested date of publication. Only articles concerning UE related/sponsored activities will be accepted. Articles submitted to AceNotes may be edited for length and clarity. Submitter contact information is at the end of each article.