| | |
| --- | --- |
| AceNotes Today | Tuesday, April 6, 2021 |
This Week in Music
EYKAMP STRING QUARTET
The UE Department of Music Streaming Concert Series continues this week with the Eykamp String Quartet, resident string quartet at University of Evansville. The quartet's members, Alan Snow (violin), Jia-Rong Gan (violin), Mark Hatlestad (viola), and Graham Cullen (cello) also serve as the principal string players of the Evansville Philharmonic Orchestra. The program will feature music by 20th Century composers Yi Chen, Florence B. Price, and Coleridge-Taylor Perkinson. The stream will be available on Tuesday April 6 at 7:30 p.m. and will remain available at the following link for viewing through the end of the week:
https://www.evansville.edu/majors/music/calendar.cfm We hope you will join us online.
Yom HaShoah ("Day of the Catastrophe")
Each year, Yom HaShoah ("Day of the Catastrophe") honors the victims of the Holocaust. On Thursday, April 8, at 11AM, meet at the Interfaith Peace Bell outside Ridgeway for a brief ceremony to remember those who perished and to commit to the work of justice today.
This Week in Religious Life
SPIRITUAL OPPORTUNITIES
1. The Muslim and Christian Prayer Rooms in Neu Chapel are available for use 24/7. Contact the Muslim Student Association for keycard access to the Muslim Prayer Room.
2. The Center for Diversity, Equity, and Inclusion now offers a spirituality library, including books from eleven different religious traditions. From Brene Brown to Thich Nhat Hanh, and from Christian bead prayers to self-reiki, there is something for everyone. Stop by the Center's conference room to borrow one for yourself.
3. Newman Club, UELA, American Medical Women's Association, and the American Red Cross are teaming up to host a blood drive on April 6 in Eykamp. See details below.
4. This week's Newman Night will feature Dr. Kevin Schemenauer talking about moral issues. Join in at the Newman House on Wednesday, April 7, 7PM.
CHRISTIAN WORSHIP
Due to pandemic restrictions, UE will not offer Protestant worship in Neu Chapel this semester. However, there are two churches just across the street from campus that offer services online and in-person just across the street from campus.
Methodist Temple
8:30am, traditional worship
11am, contemporary worship
Redeemer Lutheran
8am and 10:30am, traditional worship
A Catholic Mass is held each Sunday at 1PM in Neu Chapel.
RELIGIOUS HOLY DAYS
1. Yom HaShoah ("Day of the Catastrophe") will be commemorated on April 8 in the Jewish community to honor victims and self-sacrificing heroes of the Holocaust. You are invited to spend a few minutes in silence that day to remember them and pray for peace.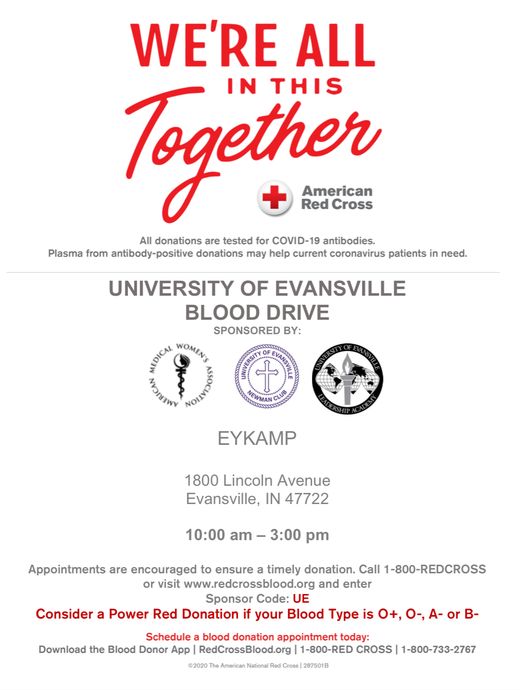 All donations are tested for COVID-19 antibodies.
Plasma from antibody-positive donations may help current Coronavirus patients in need.
April 6, 10 a.m. to 3 p.m.
Appointments are encouraged to ensure a timely donation. Call 1-800-REDCROSS or visit www.redcrossblood.org and enter Sponsor Code: UE.
Consider a Power Red Donation if your Blood Type is O+, O-, A-, or B-.
The Center for Diversity, Equity, and Inclusion Presents: Spill the Tea on Implicit Bias and the LGBTQ+ Community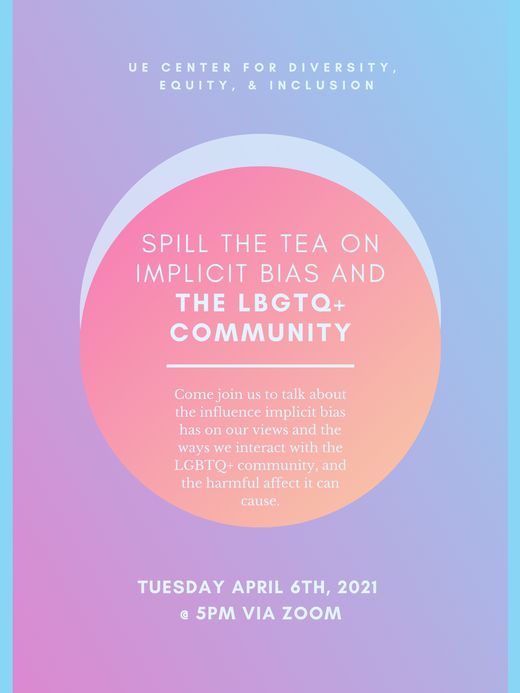 Join The Center for DEI in its fourth and final installment of the Spill the Team on Implicit Bias and... series on Tuesday, April 6th . This final presentation focuses on implicit bias in regarding the LGBTQ+ community. Emma Burns, a CDEI intern will provide a thirty minute training on myths and biases, followed by a student testimonial, and a moderated discussion. Participants can then follow along on Instagram (@UEdiversity) or Facebook (UE Center for Diversity, Equity, and Inclusion) for 20 days of discussion. The program will begin at 5:00PM and run until 6:30 PM.
#OnlyYESmeansYES: Take the Pledge to Get Consent
April is Sexual Assault Awareness Month. Do your part to reduce instances of sexual violence by taking the Center for Diversity, Equity, and Inclusion's pledge against sexual violence. Pledge to always get consent from your partners, be an active bystander in dangerous situations, and to help UE create a safe campus environment.
Encourage your student groups to participate in the pledge. The Student group with the most pledges by April 30th will be featured on the Center for Diversity, Equity, and Inclusion's social media pages (Instagram: @uediversity, Facebook: UE Center for Diversity, Equity, and Inclusion).
Solution Station Wednesday: How's Your Schedule For Fall?
How did registration go? Are you all set - or does your schedule need some more work? Waitlists? Time conflicts? Are you having trouble finding classes? Let's talk! Do you need help with something else and you're not sure who to ask on campus? Come by the Solution Station table in Ridgway from 11:00 AM to 1:00 PM this Wednesday and ask! If we don't know the answer, we'll know who does! We're here to help you find solutions to the issues you're facing - with your schedule for next fall and everything else! Let us help.
Questions? Contact Chad Hart at ch299@evansville.edu.
Center for DEI Presents Religion of the Day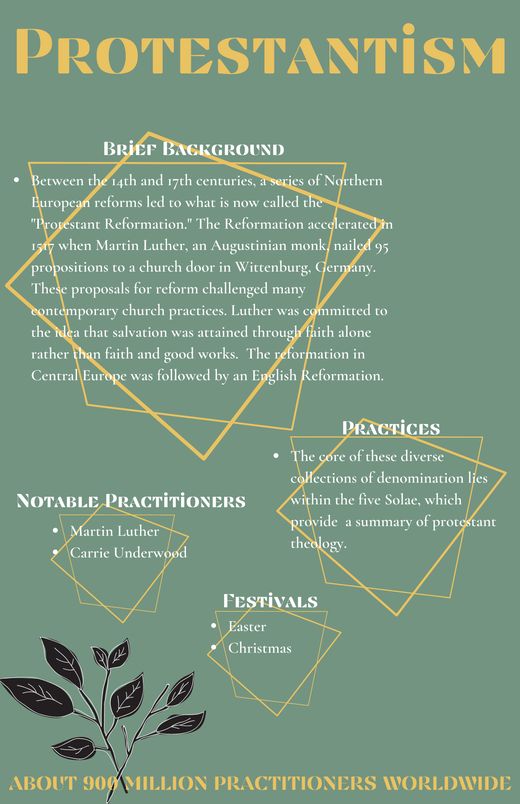 April is Religious Exploration Month! For the next 9 days in the month of April, the Center for Diversity Equity and Inclusion will send out religious profiles highlighting some interesting information about different religions! Please check Acenotes and our social media for the daily profile posted! These profiles are aimed at presenting our campus community with information to allow a better understanding of UE's diverse religious representation and background.
Protestant:
The religion of the day is Protestantism! Protestantism is a largely popular religion that has evolved over the centuries, currently encompassing over a thousand denominations worldwide. It is the second largest form of Christianity and has developed its own culture, which in turn has helped shaped the fabric of many societies we have today.
*Please note that the information in our profile is a summary and not exhaustive of everything encompassed in this specific religion and for more information please do not hesitate to reach out to the Director of Religious Life at jk383@evansville.edu.
Waste Not, Wear Not Clothing Swap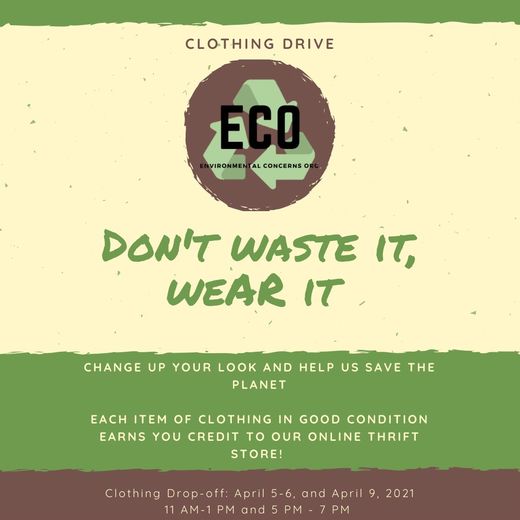 Swap your old look for a new style with ECO! Drop off clothes in good condition at our table in Ridgway on 4/5, 4/6, and 4/9 from 11-1 and 5-7 to earn you credits, then swap your credits for clothes donated by others via our thrift store on Instagram! All remaining clothing after this swap will be donated to a local thrift store.
UE Connect Mentoring Program (last) Lunch & Learn for Spring 2021
Please join us for our last Lunch & Learn for the UE Connect Mentoring Program, Spring 2021
"Finding a Work/Life Balance That Works for You"
Wednesday, April 7th
Noon - 1:00 p.m. CST
Zoom and Facebook Live
Join us for an online networking session and career chat with UE alumna, Alyse Knust.
Alyse graduated from UE with a degree in Theater Management in 2010 and went to work as an admissions counselor for Concordia University in Texas, where she earned her master's in business administration. She went on to work as the assistant director of admissions for the department of theatre and dance at the University of Texas at Austin, before securing her current role as the senior director of alumni engagement at Millikin University.
Alyse has a lot of experience balancing a busy career with her personal life. In this lunchtime discussion, she will share some of her tips on accomplishing your career goals while maintaining a healthy balance with your needs and finding a schedule that works for you.
Join Zoom Meeting – April 7th 12-1 pm
https://evansville-edu.zoom.us/j/98899361151
Meeting ID: 988 9936 1151
Be sure to make your reservation at:
www.uealumnionline.com/worklifebalance
Please RSVP by Tuesday, April 6th
HEERF II Grant Distribution Authorization Now Open
HEERF II Emergency Grant funding is now available. All educationally related expenses are eligible for HEERF II funding and may be applied to current and/or future student account balances. Please be aware that funding is limited, and a valid 2020-21 Free Application for Federal Student Aid (FAFSA) submission is required for grant consideration. Grant recipients requesting a refund must have bank information on file as refunds will only be issued electronically via direct deposit.
Eligible students wishing to claim a portion of HEERF II grant funds are required to submit the HEERF II Grant Authorization and confirm bank account information. The deadline to accept these funds is April 15, 2021.
Financial Aid for Summer Courses
If you are an undergraduate or graduate student seeking financial aid or intending to use loan funds for summer courses at UE, please complete a Summer Financial Aid Application and return to the Office of Student Financial Services (Olmsted 105) however is most convenient. The application will allow our office to assess your aid and loan eligibility.
Work-Study:
On-campus jobs are available for continuing UE students during the summer. You do not need to be eligible for need-based Federal Work-Study during the academic year in order to apply. You may also apply regardless of your enrollment in summer courses. Applications are available within the Student Employment area of WebAdvisor.
Health Risk Assessment for 2020-2021 Medical Plan Year
UE Health Risk Assessments Update:
For those enrolled in the University's HRA Medical Plan, due to the pandemic and current COVID restrictions, offering onsite health screenings has not been a possibility during the 2020-2021 plan year. Due to these circumstances, medical premiums in 2021-2022 will not be affected by your health screening status. If you wish to complete your health risk assessment in order to earn HRA credits for the current plan year, please schedule your appointment with the onsite medical clinic no later than May 1 at 888-492-8722 or message your clinic nurse through the Ascension Patient Portal. Should you have any additional questions or concerns, please contact Ashley Chipps at ac375@evansville.edu.
Submit your 2021-2022 FAFSA
File the 2021-22 FAFSA by April 15 at https://www.fafsa.ed.gov
Continuing students should file the 2021-22 Free Application for Federal Student Aid (FAFSA) to apply for federal, state and University need-based financial aid, including all federal student loans. UE's FAFSA code is 001795.
Filing by April 15 is essential for Indiana residents to receive state aid, and highly recommended for all.
Questions regarding the FAFSA should be directed to the Student Financial Services (Olmsted Administration Hall, Room 105) at 812-488-2364.
UE Granted Accreditation-Continued Status for Physician Assistant Program
The Accreditation Review Commission on Education for the Physician Assistant, Inc. (ARC-PA) has granted Accreditation-Continued status to the University of Evansville Physician Assistant Program sponsored by the University of Evansville. Accreditation-Continued is an accreditation status granted when a currently accredited program is in compliance with the ARC-PA Standards.
Accreditation remains in effect until the program closes or withdraws from the accreditation process or until accreditation is withdrawn for failure to comply with the Standards. The approximate date for the next validation review of the program by the ARC-PA will be March 2031. The review date is contingent upon continued compliance with the Accreditation Standards and ARC-PA policy.
The program's accreditation history can be viewed on the ARC-PA website at http://www.arc-pa.org/accreditation-history-university-of-evansville/.
Congratulations to the faculty, staff, and students of the PA program!
DPT Alumni and Professors Collaborate on a Publication in the International Journal of Sports Physical Therapy
The Doctor of Physical Therapy department is proud to congratulate a team of professors and former students for their publication titled, "The Dorsiflexion Range of Motion Screen: A Validation Study" that was recently published in the International Journal of Sports Physical Therapy, Volume 16, Issue 2, 2021. As students, Dr. Mary Beth Garner ('19), Dr. Risa Ricard ('19), and Dr. Josh Hayden ('19), collaborated with DPT professors, Dr. Phil Plisky, Dr. Kate Schwartzkopf-Phifer, Dr. Bethany Huebner, and Dr. Kyle Kiesel, to collect, analyze and publish a validation study of a novel ankle dorsiflexion screen. Publishing reliability and validity reports is an important step in advancing the field of physical therapy in evidence based practice. We are proud of how our students and faculty embrace the value of collaboration and the spirit of the University of Evansville as changemakers. See the article here: https://ijspt.scholasticahq.com/article/21253-the-dorsiflexion-range-of-motion-screen-a-validation-study
Till Named MVC Defensive Player of the Week
After laying down an impressive performance in goal for the Purple Aces, senior goalkeeper Michaela Till earns Missouri Valley Conference Defensive Player of the Week honors for the University of Evansville women's soccer program.
On Saturday against Loyola, Till made 11 clutch saves and faced 20 shot attempts from the Ramblers, including a penalty kick late in the first half, give the Aces the chance to secure the 1-0 win over Loyola. Till's 11 saves is the most for any goalkeeper in the MVC this season.
The shutout was the 11th of Till's career, which ranks fifth all-time in UE history. Till also ranks third in all-time saves (272), tied for fourth in games played (51) and sixth in goals-against-average (1.38) in UE program history.
Evansville takes on Indiana State in the regular season finale on Wednesday, April 7 at 6 p.m. at home at Arad McCutchan Stadium with post-season seeding on the line.
UE Men in Top Five at Murray State
With two out of three rounds complete at the Murray State Invitational, the University of Evansville men's golf team is in fifth place at Greystone Golf Club.
Spencer Wagner leads the Purple Aces with two strong rounds. He began Monday with a 1-under 71 before carding a 72 in the4 second round. His total of 143 has him tied for 13th. Carson Parker is two behind Wagner. He opened play with an even 72 before shooting a 73 to complete the day. He ranks 19th.
Isaac Rohleder wrapped up the first day third on the UE squad and tied for 23rd on the leaderboard. His rounds finished at 75 and 72. Michael Ikejiani completed Monday's action one behind Rohleder. Following a 76 to begin the event, he scored an even 72 to stand at 148.
Jessie Brumley also improved between the first and second 18 holes. After a 78 in round one, Brumley lowered his score by four strokes to finish with a 152. Playing as an individual, Caleb Wassmer finished with rounds of 85 and 79.
Belmont's Evan Davis leads the field. Davis registered a 68 in round one before firing off a 7-under 65 to finish the day with a 133. He paces Michael Busse of Austin Peay by four strokes. UT Martin's Nick Wolf is in third place with a 139.
On the team side, Belmont leads the way with a 562 and is two in front of UT Martin. Southern Illinois is third with a 569 while Austin Peay (577) and Evansville (583) round out the top five.
Tuesday's final round is set for a 9 a.m. shotgun start.
Kenton Crews Named Mvc Player of the Week for Second Time
For the second time this season, University of Evansville redshirt-junior Kenton Crews has been named Missouri Valley Conference Player of the Week, it was announced in a release by the Conference office.
The honor is the second for Crews in the last three weeks, after earning player of the week honors on March 22 following hitting for the cycle against Butler.
Helping Evansville to a weekend sweep of South Dakota State and now seven-straight wins, redshirt junior Kenton Crews continued his tear this season. On the weekend, Crews hit .733 at the plate, starting all four contests in center field, smashing four doubles, a triple, and home run, while generating seven RBI. This season, Crews is hitting a team-best .452, driving in 18 runs, to go along with 12 extra base hits and five stolen bases. Crews is 13th in the nation in batting average, 12th in slugging percentage, 19th in on-base percentage, and seventh in triples.
Evansville returns to action this weekend with its second road MVC series of the season at Bradley on Friday, Saturday, and Sunday at Dozer Park in Peoria, Ill.
Allison Enchelmayer Finishes 5th at Indiana State
After leading the way for the University of Evansville women's golf team in the opening round of the ISU Invitational, Allison Enchelmayer capped off the tournament on Monday, earning a top five finish at the Country Club of Terre Haute.
Finishing Monday's round with a 78, Enchelmayer clinched a fifth-place finish with a combined score of 149, just five over par. Sophia Rohleder made the largest jump for UE. She followed up an opening-round 81 with a 76 on Monday. Her 157 was good for a 27th place tie.
Alyssa McMinn and Carly Frazier tied for the 27th position. McMinn finished with rounds of 78 and 82 on her way to a 160. Frazier was the third-highest individual in the event after efforts of 79 and 81 gave her a final tally of 160.
Coming in 34th spot was Mallory Russell. Her score of 83 in the final round gave her a 162. Caitlin O'Donnell was just behind her with a 163. Her score on Monday finished at 82.
Evansville came in fifth place in the team standings with a 627, 10 behind 4th-place Indiana State. Northern Iowa took the top team and individual wins. The Panthers' 2-round score of 597 put them five strokes in front of Green Bay. Hannah Bermel of UNI was the medalist, posting a 143. She finished five shots in front of a second-place tie.
UE is right back on the course this weekend, traveling to the Jan Weaver Invitational at Murray State. The tournament is set for Friday and Saturday.
Contribute to AceNotes
To have content considered for inclusion in AceNotes, please submit a Marketing Request Form. Deadline for submission to AceNotes is 10:00 a.m. on the requested date of publication. Only articles concerning UE related/sponsored activities will be accepted. Articles submitted to AceNotes may be edited for length and clarity. Submitter contact information is at the end of each article.