| | |
| --- | --- |
| AceNotes Today | Tuesday, March 30, 2021 |
Campus Closed on Friday for Easter Break
The UE campus will be closed on Friday, April 2, in observance of Easter Break. No classes will be held, and employees will not report to work. The campus will reopen on Monday, April 5.
We hope you enjoy the holiday weekend with your family and friends!
UE Employee Benefit Enrollment Save the Date
During the period of April 5 through April 16, benefit-eligible employees may enroll or make changes in the University's health, life, long term disability, and dental insurance, and ACES flexible spending account benefit plans. It is the only chance for benefit-eligible employees to enroll or make changes until the next open enrollment period unless you have a qualifying change in status.
More information will be available in the coming weeks.
Employees will have the opportunity to learn more about these benefit changes or to speak with a plan representative at one of the following Zoom events:
Monday, April 5 from 2:00 pm to 3:00 pm
Tuesday, April 6 from 10:00 am to 11:00 am
Please contact the Office of Human Resources at ext. 5045 with any questions.
COVID-19 Vaccine Panel Discussion for UE Campus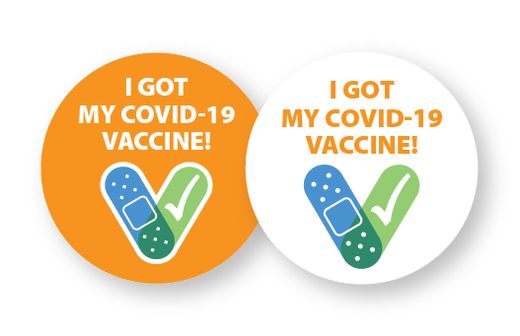 We invite each of you to please join us for a casual, informative discussion about the COVID-19 vaccine. The Zoom meeting will be held on Wednesday, April 7, and it will be led by panelists who have all received both doses of the vaccine. They will share their overall experience with the vaccine, and they will be happy to answer any and all questions you may have.
Wednesday, April 7th - 3:00p.m.
Join Zoom Meeting
https://evansville-edu.zoom.us/j/97863835985
Staff Panel Participants
Sean Harper PA-C
Dr. Dana Clayton
Erin Lewis
Karen Stenstrom
Jason Cullum
Kevin Smith
Student Panel Participants
Daniel Marsden- PA Program
Allison Zajakala- PA Program
Jessica Ganapathy- PA Program
Noele Crawford- Nursing Program
Sarah Kelley- Nursing Program
Moderator
Brooksie Smith
If you have any questions, please contact Brooksie Smith at bs267@evansville.edu. Thank you for all you do to change the world around us!

Sincerely,

The Coronavirus Task Force
Warm Weather Mythbusters
With the warm weather approaching, there is some COVID-19 info you need to know. Don't forget, UE is still enforcing the mask policy. You can obtain COVID-19 even after having the virus or getting the vaccine.
FACT: Exposing yourself to the sun or temperatures higher than 25 degrees C does NOT protect you from COVID-19.
You can catch the coronavirus despite hot temperatures. Many countries with hot weather have reported several COVID-19 cases. Make sure you clean your hands thoroughly and avoid touching your eyes, nose, and mouth.
FACT: The COVID-19 virus CANNOT be spread by mosquito bites.
The new coronavirus is a respiratory virus primarily spread by droplets exposed when an infected person sneezes or coughs, or from droplets of saliva or discharge through the nose.
BSU Game Night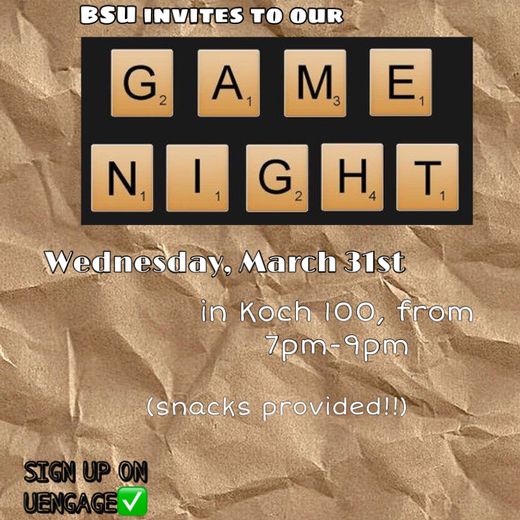 The Black Student Union (BSU) is having a game night on March 31st from 7-9pm.
We will be playing some games and there would snacks provided.
This is an opportunity socialise and destress during this stressful period.
Everyone is welcome. See you then!
This Week in Music
The UE Department of Music Streaming Concert Series continues this week with a Faculty Gala, featuring performances by Professors Leanne Hampton (flute), Anne Fiedler (piano), Thomas Josenhans (clarinet), Elizabeth Robertson (oboe), Ross Erickson (percussion), and Alanna Keenan (voice.) The program will feature music by William Grant Still, Florence Price, Astor Piazzolla, and Richard Strauss among others. The stream will be available at the following link on Tuesday March 30 at 7:30 p.m. and will remain available for viewing through the end of the week:
https://www.evansville.edu/majors/music/calendar.cfm
We hope you will join us online.
Center for DEI Presents: Girlfriend Hour #5
Listen up people- only yes means yes. The Center for Diversity Equity and Inclusion presents our fifth and final Girlfriend Hour of Wom_n's History Month!
Our fifth Girlfriend Hour will be held on Wednesday, March 31st at 12pm via Zoom and the topic is- 'Listen People: Only Yes Means Yes. An Open Discussion about the Prevalence of Sexual Assault'. Lead by Madeline Bogan from the Albion Fellows Bacon Center, this Lunch and Learn serves as a community safe-space to facilitate stigma breaking, difficult conversations surrounding the prevalence of sexual assault in today's society.
March is Wom_n's History Month! Throughout the month of March the Center for Diversity Equity and Inclusion will host a Lunch and Learn series entitled the Girlfriend Hour every Wednesday around 12pm on Zoom! Please check Acenotes and our social media for weekly topics and links! All identifying individuals are welcome to come, share and learn from our weekly speakers.
Please register for- March 31st- Listen People: Only Yes Means Yes. An Open Discussion about the Prevalence of Sexual Assault- here: https://evansville-edu.zoom.us/meeting/register/tJclde2trj0rG9wqKKlUGfIAX2mybPFnA68v
Meeting ID: 938 2450 6118
Passcode: 496461
**Link is not the same for all Girlfriend Hours. Please use the specified link/ Meeting ID and Password listed for the specific week!**
This Week in Religious Life
SPIRITUAL OPPORTUNITIES
1. The Muslim and Christian Prayer Rooms in Neu Chapel are available for use 24/7. Contact the Muslim Student Association for keycard access to the Muslim Prayer Room.
2. The Center for Diversity, Equity, and Inclusion now offers a spirituality library, including books from eleven different religious traditions. From Brene Brown to Thich Nhat Hanh, and from Christian bead prayers to self-reiki, there is something for everyone. Stop by the Center's conference room to borrow one for yourself.
CHRISTIAN HOLY WEEK
Due to pandemic restrictions, UE will not offer Protestant worship in Neu Chapel this semester. However, there are two churches just across the street from campus that will offer in-person Holy Week services (masks required).
Maundy Thursday
Methodist Temple, 12PM
Redeemer Lutheran, 12PM and 7PM
Good Friday
Methodist Temple, 12PM
Redeemer Lutheran, 12PM and 7PM
Easter Sunday
Methodist Temple, 8:30AM and 11AM
Redeemer Lutheran, 8AM and 10:30AM (online RSVP required)
RELIGIOUS HOLIDAYS
1. Jewish Passover lasts from March 27-April 4 this year. Greeting: Chag Pesach sameach!
2. For over a billion Hindus around the world, Holi is on March 29. Greeting: Happy Holi!
2. Easter Sunday is on April 4 for Protestant and Catholic Christians. Greeting: Happy Easter!
Intentional Safe Space in Response to Anti-Asian Hate
The Center for Diversity, Equity, and Inclusion will be offering an opportunity for campus community members to process the recent event in Atlanta and the continual increase in racism towards Asian individuals in a safe and collaborative space.
On Wednesday, March 31, at 5pm Dr. Su Jin Jeong, Assistant Professor and the Director of the Institution for Public Health, will host a Zoom discussion regarding the increase of racism against Asian individuals since the beginning of the COVID-19 pandemic. Dr. Jeong will be joined by Molly Smith, LCSW from our UE Counseling Services to share resources available to students and employees during these difficult times.
We will be asking individuals to register for the Zoom in order to maintain a safe space for everyone.
Register in advance for this meeting:
https://evansville-edu.zoom.us/meeting/register/tJYuc-mspjkiHdMJYXgDb2aYelyBLeqPJoZr
Meeting ID: 923 4048 2877
Passcode: 277424
The Center for Diversity, Equity, and Inclusion and Office of Institutional Equity welcome suggestions on ways we can better support our community, and we encourage you to reach out to us at center4dei@evansville.edu or titleix@evansville.edu.

Disability Awareness Month/ Womxn's History Month Challenge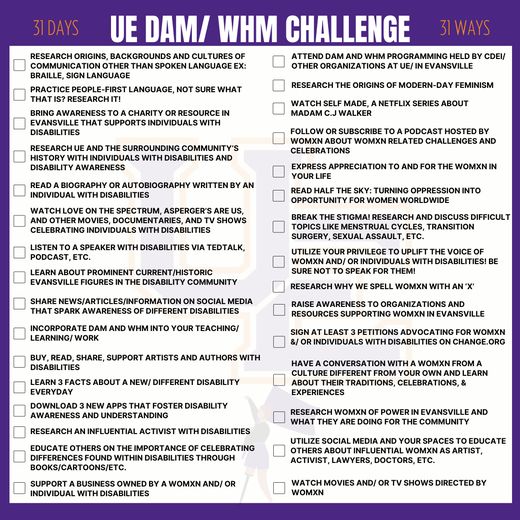 The month of March celebrates Disability Awareness Month and Womxn's History Month. Join the UE DAM/ WHM Challenge sponsored by the Center for Diversity, Equity and Inclusion! In this challenge you will find 31 ways for 31 days of Disability Awareness and Womxn's History Month to actively learn, engage, support, and uplift individual's with disabilities and womxn identifying individuals from Evansville and around the world. Items listed in the challenge can be done personally or in a social group! Hit the library and do some research on why we spell womxn with an 'x', the origins and culture of Sign Language and/ or grab a friend and binge Love on the Spectrum (available on Netflix!). However and whatever you do #DAM/WHMChallenge yourself! To make it extra fun, share what your doing on social media and be sure to tag us!
We can't wait to see the ways in which you all #DAM/WHMChallenge yourself!
Challenge Item List:
Research origins, backgrounds and cultures of communication other than spoken language ex: Braille, Sign Language
Practice People-first language, not sure what that is? Research it!
Bring awareness to a charity or resource in Evansville that supports individuals with disabilities
Research UE and the surrounding community's history with individuals with disabilities and disability awareness
Read a biography or autobiography written by an individual with disabilities
Watch Love on the Spectrum, Asperger's are us, and other movies documentaries and TV shows celebrating individuals with disabilities
Listen to a speaker with disabilities via TedTalk, Podcast, etc.
Learn about prominent current/historic Evansville figures in the disability community
Share news/articles/information on social media that spark awareness of different disabilities
Incorporate DAM and WHM into your teaching/ learning/ work
Buy, read, share, support artists and authors with disabilities
Learn 3 facts about a new/ different disability everyday
Download 3 new apps that foster disability awareness and understanding
Research an influential activist with disabilities
Educate others on the importance of celebrating differences found within disabilities through books/cartoons/etc.
Attend DAM and WHM programming held by CDEI/ other organizations at UE/ in Evansville
Research the origins of modern-day feminism
Watch Self Made, a Netflix series about Madam C.J Walker
Follow or subscribe to a podcast hosted by womxn about womxn related challenges and celebrations
Express appreciation to and for the womxn in your life
Read Half the Sky: Turning Oppression into Opportunity for Women Worldwide
Break the stigma! Research and discuss difficult topics like menstrual cycles, transition surgery, sexual assault, etc.
Utilize your privilege to uplift the voice of womxn and/ or individuals with disabilities! Be sure not to speak for them!
Research why we spell womxn with an 'x'
Raise awareness to organizations and resources supporting womxn in Evansville
Watch movies and/ or tv shows directed by womxn
Have a conversation with a womxn from a culture different from your own and learn about their traditions, celebrations, and experiences
Research womxn of power in Evansville and what they are doing for the community
Utilize social media and your spaces to educate others about influential womxn as artist, activist, lawyers, doctors, etc.
Support a business owned by a womxn and/ or individual with disabilities
Sign at least 3 petitions advocating for womxn and/ or individuals with disabilities on change.org/ other petition websites
THE HUSTACE WORLD VIEW Paintings by Cedric Hustace
ART EXHIBIT IN KRANNERT GALLERY: THE HUSTACE WORLD VIEW
Paintings by
CEDRIC HUSTACE
February 21 – April 4, 2021
Public Reception for the Artist: Thursday, March 18, 2021, 6:30pm
This exhibit is part of the Emerging Contemporary Artist Lecture Series, sponsored by the Department of Art, with the generous support of the Efroymson Family Fund.
UE Theatre Salon Series Welcomed John Milo Train and Liz Coleman for Discussion on Work as Sound/Audio Professionals in the Entertainment Industry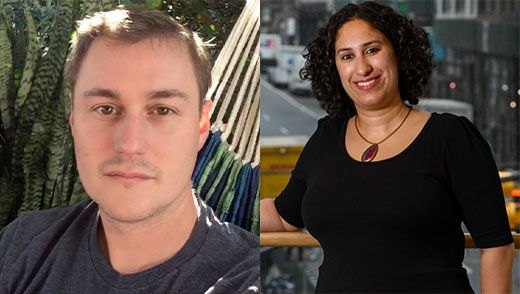 This week's installment of the UET Salon Series was held on Wednesday, Mar. 24, featuring John Milo Train and Liz Coleman and guest hosted by Sid McCarty '20.
John Milo Train is currently working as a Sound Effects Mixer for the television and film industries. He handles all sound effects (backgrounds, foley, and specific sound effects) as part of a two-person mix team. He works at Technicolor Sound on the Paramount lot in Hollywood, and he just finished the second season of FOR ALL MANKIND for Apple TV+ and the first season of YOUR HONOR for Showtime.
Liz Coleman is currently one of about ten women working as a sound engineer on Broadway. In addition to being in high demand as a lead audio engineer, Coleman is committed to helping other women and People of Color gain access to the career through her work with the "Sound Sisters," and by serving on panels and guest lecturing at events and universities around the country. She also serves as a member of the Theatrical Sound Designers and Composers Association. Her first Broadway production as an AI was VIOLET in 2014 and she recently finished working as the audio engineer for THE BAND'S VISIT. Coleman was leading a build for a new production when the pandemic hit last March.
This semester, UE Theatre students will have the opportunity to experience over 25 workshops and salons with various professionals from the entertainment industry.
Seniors Invited to Submit Essays for Klinger Essay Award
Seniors are invited to submit essays for the George Klinger Memorial Prize for Excellence in Writing Academic Essays. There is no length requirement for essay submissions, and research papers and scholarly analyses are equally appropriate. Essays should demonstrate excellence in scholarly writing. Seniors from every major are eligible.
Format: All entries are to be printed on one side of 8 ½ x 11 sheets, double-spaced. Each is to have a title, and pages are to be numbered. The writer's name is not to appear on the work, but each submission is to have an attached (stapled) cover page (8 ½ x 11) listing: the title, author, the UE ID number, class rank, and the name of any teacher who has read or heard the work. PLEASE NOTE: NO SUBMISSIONS WILL BE RETURNED
Entries must be submitted to Michelle Lehman (administrative assistant for Department of English) in Room 320, Olmsted Administration Hall. All entries must be received by Tuesday, April 6, 2021, at 4:00 p.m.
Disabilities Background and Culture Panel Recording
The Center for Diversity Equity and Inclusion in collaboration with ABLE (ACES Bettering Learning for Everyone) hosted a Disabilities Background and Culture Panel and Discussion on Tuesday, March 23rd! If you missed the live session, well you are in luck because we recorded it just for you!
You will hear from a group of current UE students from a range of backgrounds and identities. Students discussed their lived experiences and shared how the intersectionality of having a disability, individual cultures, and societal culture has impacted their experiences throughout life.
The panelist include:
Violet Nassri
Scottie Rapp
Imelda Salgado
Shraya Rao
Josie Hayes
and John Sutter
If you have any questions or comments please feel free to reach out to Abagail Catania (ac532) and/or Debbie Brenton (db132)!
Financial Aid for Summer Courses
If you are an undergraduate or graduate student seeking financial aid or intending to use loan funds for summer courses at UE, please complete a Summer Financial Aid Application and return to the Office of Student Financial Services (Olmsted 105) however is most convenient. The application will allow our office to assess your aid and loan eligibility.
Work-Study:
On-campus jobs are available for continuing UE students during the summer. You do not need to be eligible for need-based Federal Work-Study during the academic year in order to apply. You may also apply regardless of your enrollment in summer courses. Applications are available within the Student Employment area of WebAdvisor.
Deadline Extended: 2021-22 Dr. Marvin E. Hartig Memorial Scholarship
UPDATE: The scholarship deadline has been extended to Friday, May 7.
Family, friends and loved ones of the late Dr. Marvin E. Hartig are pleased to announce the application process for the Dr. Marvin E. Hartig Memorial Scholarship. This scholarship is dedicated to the loving memory of Dr. Hartig, Dean of Evansville College's Evening College in 1967, and administrator for the Center for Advanced Study, director of the Evansville chapter of the American Institute of Banking (AIB), and the international student advisor. In 1974, Dr. Hartig was appointed Dean of Academic Services. He retired in 1984 after serving his alma mater for thirty-five years and passed away in 2007.
This scholarship will be awarded annually to a deserving sophomore student. Preference will be given to a student working while being enrolled as a full-time student. International students are encouraged to apply.
Eligible students for the 2021-2022 Hartig Memorial Scholarship will be sophomores in the 2021-2022 academic year.
Download the 2021-22 Dr. Marvin E. Hartig Memorial Scholarship application.
Deadline: Please return all materials to the Office of Student Financial Services by April 23, 2021. The decision will be announced by June 14, 2021.
Questions: Amanda Wood, administrative assistant to the Office of Student Financial Services, at aw505@evansville.edu or 812-488-2364
Health Risk Assessment for 2020-2021 Medical Plan Year
UE Health Risk Assessments Update:
For those enrolled in the University's HRA Medical Plan, due to the pandemic and current COVID restrictions, offering onsite health screenings has not been a possibility during the 2020-2021 plan year. Due to these circumstances, medical premiums in 2021-2022 will not be affected by your health screening status. If you wish to complete your health risk assessment in order to earn HRA credits for the current plan year, please schedule your appointment with the onsite medical clinic no later than May 1 at 888-492-8722 or message your clinic nurse through the Ascension Patient Portal. Should you have any additional questions or concerns, please contact Ashley Chipps at ac375@evansville.edu.
UE Intramurals Now Offering ESports Gaming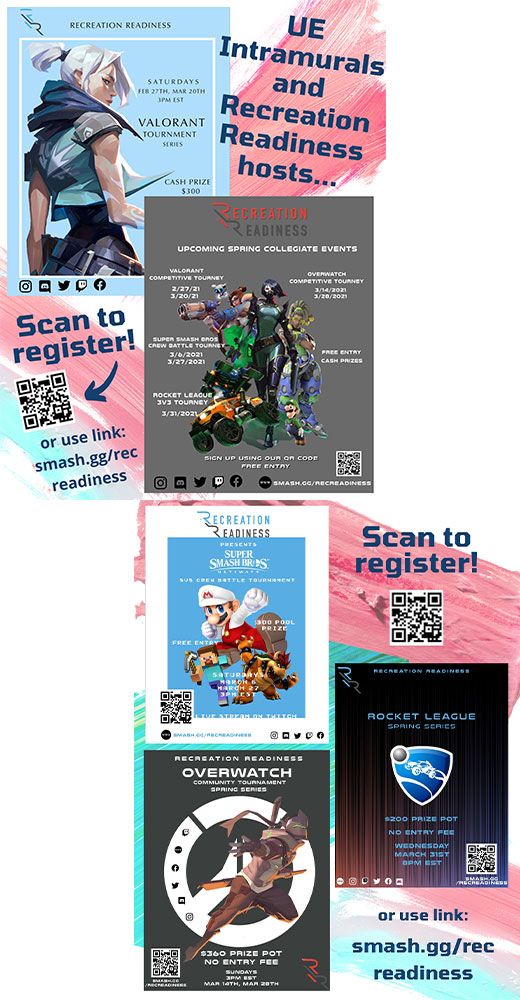 The UE Intramural program is excited to announce upcoming E Sports tournaments provided through Recreation Readiness!
Recreation Readiness invites your esports teams to participate in our FREE spring series and compete against top teams across the country to win cash prizes! For rules and eligibility please contact @ah519 or recreationreadiness@gmail.com.
Games Offered: Valorant, Overwatch, 5v5 Super Smash Bros Crew Battles, 3v3 Rocket League
Schedule:
Sat. 2/27 at 3 pm EST: Valorant ($300 prize pool)
Sat. 3/6 at 3 pm EST: Smash Bros ($300)
Sun. 3/14 at 3 pm EST: Overwatch ($360)
Sat. 3/20 at 3 pm EST: Valorant ($300)
Sat. 3/27 at 3 pm EST: Smash Bros ($300)
Sun. 3/28 at 3 pm EST: Overwatch ($360)
Wed. 3/31 at at 8 pm EST: Rocket League ($200)
Registration closes at Noon EST on day of event
Also, you can find updated info at all social media outlets below:
Discord: bit.ly/recreadiness
Twitch: twitch.tv/recreadiness
Instagram: instagram.com/recreationreadiness
Website: recreationreadiness.org
After registering to play, please contact @ah519 for further instructions.
Recreation Readiness Founders - Jason Gant and Mark Comer
Submit your 2021-2022 FAFSA
File the 2021-22 FAFSA by April 15 at https://www.fafsa.ed.gov
Continuing students should file the 2021-22 Free Application for Federal Student Aid (FAFSA) to apply for federal, state and University need-based financial aid, including all federal student loans. UE's FAFSA code is 001795.
Filing by April 15 is essential for Indiana residents to receive state aid, and highly recommended for all.
Questions regarding the FAFSA should be directed to the Student Financial Services (Olmsted Administration Hall, Room 105) at 812-488-2364.
Hannah Watkins Picks up MVC Scholar-Athlete Honor
University of Evansville sophomore Hannah Watkins was named to the 2020-21 Missouri Valley Conference Scholar-Athlete Honorable Mention Team in an announcement by the league today. The team is selected by a vote of the league's volleyball sports information directors, with approval from the MVC head coaches.
One of the top ten blockers in the MVC, Watkins led the Purple Aces with 12 solo blocks in the spring of 2021 while finishing second on the squad with 46 block assists. Her offensive productivity nearly double from her freshman season as she wrapped up the year with a total of 49 kills, an average of 0.79 per set.
Watkins posted a career-high of four solo blocks in the opener against UNI while adding four block assists in the match. In the season-opening win over Indiana State, she had to solo and three block assists. The Henderson, Ky. native recorded a career mark of six kills in contests against Missouri State and Southern Illinois. Her efforts in the classroom are even more impressive as she currently has a 3.73 GPA as a Global Business major.
The criterion for the honor parallels the CoSIDA (College Sports Information Directors of America) standards for Academic All-America voting. Nominees must be starters or important reserves with at least a 3.30 cumulative GPA (on a 4.00 scale). Also, students must have participated in at least 75-percent of the regular-season matches. Student-athletes must have reached sophomore status in both athletic and academic standing at their institution (true freshmen and redshirt freshmen were not eligible).
McMinn and O'Donnell Lead UE Women at Pinehurst
Alyssa McMinn and Caitlin O'Donnell led the University of Evansville women's golf team in the opening day of the Pinehurst Women's Intercollegiate at Pinehurst No. 6.
Teams played a total of 36 holes on Monday's opening day. Both McMinn and O'Donnell finished the day with a 154. McMinn started the day with an 81 before making a huge leap in round two, carding a 1-over 73. O'Donnell had a consistent day, finishing both rounds at 5-over par 77. They are tied for 18th place.
Next up for UE was Mallory Russell. After recording an 83 to start the day, she also lowered her score significantly, posting a 3-over 75 to cap off the day and finish with a 158, standing in a tie for 31st. Two strokes behind her was Sophia Rohleder, who overcame obstacles to complete the day with scores of 83 and 77 on her way to a standing of 35th. Allison Enchelmayer recorded an 82 in the opening 18 holes before lowering her final by four strokes in the second round, finishing with a 79. Her 161 is tied for 36th.
Individual Carly Frazier completed the opening 36 holes with a 178. Her rounds finished at 87 and 91.
As a team, Evansville is in 6th place with a 625. UE is eight strokes outside of the top five and are four in front of Western Carolina. Rutgers and UNC Greensboro are tied atop the leaderboard with scores of 599 while St. John's is close behind in third place with a 601. Tara Bettle of UNCG leads the individuals with a 140. She is six strokes ahead of her nearest competition.
Tuesday will mark the final day of the even with the teams playing a single round of 18.
Marah Wood Picks up Third MVC Newcomer Award
For the third time in her inaugural season with the University of Evansville softball team, Marah Wood has been named the Missouri Valley Conference Newcomer of the Week.
Wood's strong week saw her bat .417 with two home runs in an undefeated 4-0 week for the Purple Aces. The freshman recorded five hits in 12 at-bats while blasting two homers to finish with four RBI and three runs scored. Wood scored a run while recording two hits in four at-bats against SIUE.
In the doubleheader versus Valpo, Wood added a walk to her tally in the opener before launching a homer as part of a 2-3 effort in game two. Wood had two RBI and a run scored in the 8-4 victory. She made a difference once again on Sunday. With her team trailing 3-0 in the bottom of the fourth, Wood launched her seventh home run of the season, a 2-run shot, that began a comeback that capped off the series sweep.
Time Change Announced for UE/UTM Softball on Tuesday
With potential inclement weather coming into the area on Tuesday evening, the University of Evansville softball team will now face UT Martin in a single game beginning at 3:30 p.m. at Cooper Stadium.
The Purple Aces wrap up what will be a 15-game homestand before taking to the road this weekend against UNI. Evansville added four more wins to its record last week to improve to 17-7 on the season and 5-1 in MVC play. The 17-7 start is the best since the 2007 UE squad had an identical mark through 24 contests. The 5-1 mark through six league games is the top mark since 2002 when the Aces also won five of their first six league games. The 2002 went on to win the conference tournament championship to earn a spot in the NCAA Regionals.

It is often said that players raise their level of play when it matters the most and that is what Eryn Gould has done in the opening portion of the MVC slate. She has raised her numbers in almost every facet of the game while helping the Aces to their best conference start since 2002. Overall, Gould has a .441 average, .779 slugging and .585 on-base percentage, but when focusing on the six conference games, those numbers are even higher. Gould is batting .583, slugging 1.333 while reaching base 77.3% of the time through the first two weekends of conference action.
In the circle last week, Izzy Vetter accumulated two victories, a 1.24 ERA and struck out 25 batters over the course of 17 innings of work. Opponents batted just .102 against her over the course of three appearances during the week. Making the start in the midweek game against SIUE, Vetter tossed three perfect innings without allowing a baserunner while striking out four. In a pitcher's duel to open the Valparaiso series, Vetter picked up win #7 of the season, throwing a complete game 3-hitter where she struck out a career-high 12 batters while allowing just one run in a close 2-1 win. She was at her best once again in Sunday's finale, going the entire distance once again. Vetter gave up three runs (two earned) on three hits while striking out nine on the way to her 8th win of 2021.
Contribute to AceNotes
To have content considered for inclusion in AceNotes, please submit a Marketing Request Form. Deadline for submission to AceNotes is 10:00 a.m. on the requested date of publication. Only articles concerning UE related/sponsored activities will be accepted. Articles submitted to AceNotes may be edited for length and clarity. Submitter contact information is at the end of each article.