| | |
| --- | --- |
| AceNotes Today | Monday, March 29, 2021 |
UE Employee Benefit Enrollment Save the Date
During the period of April 5 through April 16, benefit-eligible employees may enroll or make changes in the University's health, life, long term disability, and dental insurance, and ACES flexible spending account benefit plans. It is the only chance for benefit-eligible employees to enroll or make changes until the next open enrollment period unless you have a qualifying change in status.
More information will be available in the coming weeks.
Employees will have the opportunity to learn more about these benefit changes or to speak with a plan representative at one of the following Zoom events:
Monday, April 5 from 2:00 pm to 3:00 pm
Tuesday, April 6 from 10:00 am to 11:00 am
Please contact the Office of Human Resources at ext. 5045 with any questions.
COVID-19 Vaccinations for 16 and Older at Ascension St. Vincent
Currently, the Indiana State Department of Health (ISDH) has identified the following Indiana residents as eligible to receive the COVID vaccine:
Healthcare Workers
First Responders
Teachers and school staff in pre-K through high school, child care centers, Head Start and Early Start programs
Licensed childcare providers, including center-based and family care providers
Age 16 and above
Specific groups of patients at highest risk of severe illness from COVID-19 who are identified by their healthcare provider are also eligible. These individuals will receive a unique registration link by text or email.
We will keep our patients updated as eligibility and administration sites broaden. Although currently there is no cost to patients for the vaccine, insurance information will be collected.
Vaccine Scheduling
The COVID-19 vaccine is available by appointment only. No walk-ins will be permitted. Once listed as eligible by the ISDH, go to www.ourshot.in.gov or by calling 211 or 1-866-211-9966 to schedule an appointment.
Detailed instructions
Go to www.ourshot.in.gov
Enter date of birth and attest to being over age 16
Enter zip code and Select Ascension St Vincent Vaccine Clinic location
Select appointment date and time
Complete demographic information including accurate date of birth
Confirm appointment
Ascension St Vincent Vaccine Clinic
For your convenience, the Ascension St. Vincent Vaccine Clinic is open 7 days a week and located on the hospital campus in the Manor Auditorium. When scheduling an appointment on the state website, select "Ascension St Vincent Evansville VAX" as site location. Directions: Enter the parking garage off of Bellemeade Avenue, immediately turn left and follow the directional signage to the designated vaccine clinic parking area. Patients should enter the clinic using the doors adjacent to the parking garage. Tri State Clinics patients are encouraged to call our office at 1-888-492-8722 with questions or for assistance with scheduling at the Ascension St. Vincent Vaccine Clinic.
Spencer County Residents
Spencer County Local Health Department
Heritage Hills High School
Perry County Residents
Perry County Local Health Department
Perry County Memorial Hospital
Posey County Residents
Posey County Local Health Department
Illinois Residents
Phase 1A: Healthcare workers, those in long term care facilities.
Phase 1B : Frontline essential workers, residents 65 years of age or older and under 65 with comorbidities.
Phase 1B+ : IL residents 16+ with disabilities or serious medical conditions. Higher education staff, gov workers, and media. Details and scheduling info at: https://coronavirus.illinois.gov/s/.
Kentucky Residents
Phase 1a: Long term care facilities, healthcare personnel
Phase 1b: First responders, anyone 70 or older, K-12 school personnel
Phase 1C : KY residents age 60+ AND 16 and older with serious medical conditions and essential workers
For locations and to schedule appointment go to: https://govstatus.egov.com/kentucky-vaccine-map or call the KY COVID-19 Hotline - (800) 722-5725 for more information.
Should you have any additional questions, please contact Ashley Chipps at ashley.chipps@ascension.org or Stacey Smith at stacey.smith1@ascension.org
This Week in Music
The UE Department of Music Streaming Concert Series continues this week with a Faculty Gala, featuring performances by Professors Leanne Hampton (flute), Anne Fiedler (piano), Thomas Josenhans (clarinet), Elizabeth Robertson (oboe), Ross Erickson (percussion), and Alanna Keenan (voice.) The program will feature music by William Grant Still, Florence Price, Astor Piazzolla, and Richard Strauss among others. The stream will be available at the following link on Tuesday March 30 at 7:30 p.m. and will remain available for viewing through the end of the week:
https://www.evansville.edu/majors/music/calendar.cfm
We hope you will join us online.
Center for DEI Presents: Girlfriend Hour #5
Listen up people- only yes means yes. The Center for Diversity Equity and Inclusion presents our fifth and final Girlfriend Hour of Wom_n's History Month!
Our fifth Girlfriend Hour will be held on Wednesday, March 31st at 12pm via Zoom and the topic is- 'Listen People: Only Yes Means Yes. An Open Discussion about the Prevalence of Sexual Assault'. Lead by Madeline Bogan from the Albion Fellows Bacon Center, this Lunch and Learn serves as a community safe-space to facilitate stigma breaking, difficult conversations surrounding the prevalence of sexual assault in today's society.
March is Wom_n's History Month! Throughout the month of March the Center for Diversity Equity and Inclusion will host a Lunch and Learn series entitled the Girlfriend Hour every Wednesday around 12pm on Zoom! Please check Acenotes and our social media for weekly topics and links! All identifying individuals are welcome to come, share and learn from our weekly speakers.
Please register for- March 31st- Listen People: Only Yes Means Yes. An Open Discussion about the Prevalence of Sexual Assault- here: https://evansville-edu.zoom.us/meeting/register/tJclde2trj0rG9wqKKlUGfIAX2mybPFnA68v
Meeting ID: 938 2450 6118
Passcode: 496461
**Link is not the same for all Girlfriend Hours. Please use the specified link/ Meeting ID and Password listed for the specific week!**
This Week in Religious Life
SPIRITUAL OPPORTUNITIES
1. The Muslim and Christian Prayer Rooms in Neu Chapel are available for use 24/7. Contact the Muslim Student Association for keycard access to the Muslim Prayer Room.
2. The Center for Diversity, Equity, and Inclusion now offers a spirituality library, including books from eleven different religious traditions. From Brene Brown to Thich Nhat Hanh, and from Christian bead prayers to self-reiki, there is something for everyone. Stop by the Center's conference room to borrow one for yourself.
CHRISTIAN HOLY WEEK
Due to pandemic restrictions, UE will not offer Protestant worship in Neu Chapel this semester. However, there are two churches just across the street from campus that will offer in-person Holy Week services (masks required).
Maundy Thursday
Methodist Temple, 12PM
Redeemer Lutheran, 12PM and 7PM
Good Friday
Methodist Temple, 12PM
Redeemer Lutheran, 12PM and 7PM
Easter Sunday
Methodist Temple, 8:30AM and 11AM
Redeemer Lutheran, 8AM and 10:30AM (online RSVP required)
RELIGIOUS HOLIDAYS
1. Jewish Passover lasts from March 27-April 4 this year. Greeting: Chag Pesach sameach!
2. For over a billion Hindus around the world, Holi is on March 29. Greeting: Happy Holi!
2. Easter Sunday is on April 4 for Protestant and Catholic Christians. Greeting: Happy Easter!
Intentional Safe Space in Response to Anti-Asian Hate
The Center for Diversity, Equity, and Inclusion will be offering an opportunity for campus community members to process the recent event in Atlanta and the continual increase in racism towards Asian individuals in a safe and collaborative space.
On Wednesday, March 31, at 5pm Dr. Su Jin Jeong, Assistant Professor and the Director of the Institution for Public Health, will host a Zoom discussion regarding the increase of racism against Asian individuals since the beginning of the COVID-19 pandemic. Dr. Jeong will be joined by Molly Smith, LCSW from our UE Counseling Services to share resources available to students and employees during these difficult times.
We will be asking individuals to register for the Zoom in order to maintain a safe space for everyone.
Register in advance for this meeting:
https://evansville-edu.zoom.us/meeting/register/tJYuc-mspjkiHdMJYXgDb2aYelyBLeqPJoZr
Meeting ID: 923 4048 2877
Passcode: 277424
The Center for Diversity, Equity, and Inclusion and Office of Institutional Equity welcome suggestions on ways we can better support our community, and we encourage you to reach out to us at center4dei@evansville.edu or titleix@evansville.edu.

Mobile Mammography Coming to UE Soon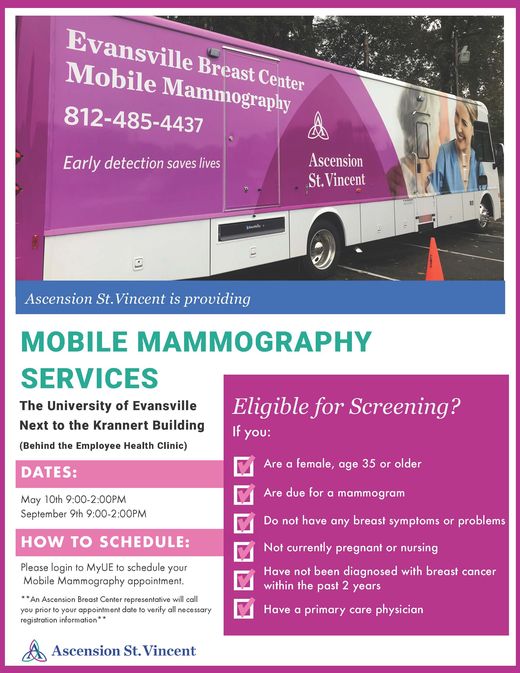 The University of Evansville and the Employee Health Clinic are happy to partner with Ascension St. Vincent to provide onsite Mammography Screenings with their brand new, state of the art, mammography coach! These will be available May 10th and Sept 9th from 9:00-2:00PM. The Mammography Coach will be located on campus next to the Krannert Building--behind the employee health clinic. This preventative screening is a free service for all that qualify. Please click the link below to schedule and see the attached flyer for more details. Email ac375@evansville.edu for additional help.
https://acelink.evansville.edu/Areas/MedicalClinic/MobileMammography/index.cfm
Eligible for Screening?
If you:
Are a female, age 35 or older
Are due for a mammogram
Do not have any breast symptoms or problems
Not currently pregnant or nursing
Have not been diagnosed with breast cancer
within the past 2 years
Have a primary care physician
59th Annual Student Art Exhibition
UE Student Artists are showing their work in this annual, juried show in the Melvin Peterson Gallery. The exhibit includes Paintings, Prints, Drawings, Sculpture, Ceramics, and Jewelry. Awards will be presented on 3/29.
Disability Awareness Month/ Womxn's History Month Challenge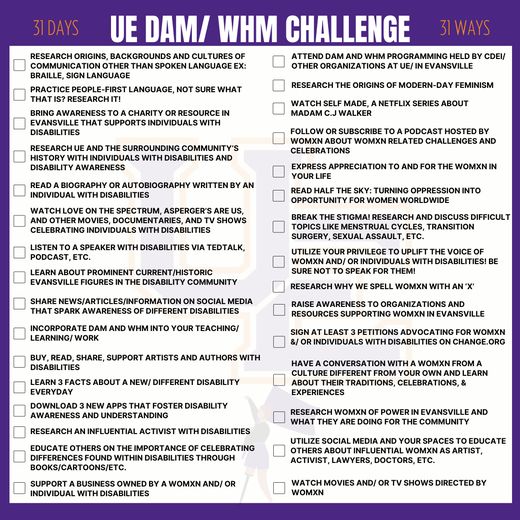 The month of March celebrates Disability Awareness Month and Womxn's History Month. Join the UE DAM/ WHM Challenge sponsored by the Center for Diversity, Equity and Inclusion! In this challenge you will find 31 ways for 31 days of Disability Awareness and Womxn's History Month to actively learn, engage, support, and uplift individual's with disabilities and womxn identifying individuals from Evansville and around the world. Items listed in the challenge can be done personally or in a social group! Hit the library and do some research on why we spell womxn with an 'x', the origins and culture of Sign Language and/ or grab a friend and binge Love on the Spectrum (available on Netflix!). However and whatever you do #DAM/WHMChallenge yourself! To make it extra fun, share what your doing on social media and be sure to tag us!
We can't wait to see the ways in which you all #DAM/WHMChallenge yourself!
Challenge Item List:
Research origins, backgrounds and cultures of communication other than spoken language ex: Braille, Sign Language
Practice People-first language, not sure what that is? Research it!
Bring awareness to a charity or resource in Evansville that supports individuals with disabilities
Research UE and the surrounding community's history with individuals with disabilities and disability awareness
Read a biography or autobiography written by an individual with disabilities
Watch Love on the Spectrum, Asperger's are us, and other movies documentaries and TV shows celebrating individuals with disabilities
Listen to a speaker with disabilities via TedTalk, Podcast, etc.
Learn about prominent current/historic Evansville figures in the disability community
Share news/articles/information on social media that spark awareness of different disabilities
Incorporate DAM and WHM into your teaching/ learning/ work
Buy, read, share, support artists and authors with disabilities
Learn 3 facts about a new/ different disability everyday
Download 3 new apps that foster disability awareness and understanding
Research an influential activist with disabilities
Educate others on the importance of celebrating differences found within disabilities through books/cartoons/etc.
Attend DAM and WHM programming held by CDEI/ other organizations at UE/ in Evansville
Research the origins of modern-day feminism
Watch Self Made, a Netflix series about Madam C.J Walker
Follow or subscribe to a podcast hosted by womxn about womxn related challenges and celebrations
Express appreciation to and for the womxn in your life
Read Half the Sky: Turning Oppression into Opportunity for Women Worldwide
Break the stigma! Research and discuss difficult topics like menstrual cycles, transition surgery, sexual assault, etc.
Utilize your privilege to uplift the voice of womxn and/ or individuals with disabilities! Be sure not to speak for them!
Research why we spell womxn with an 'x'
Raise awareness to organizations and resources supporting womxn in Evansville
Watch movies and/ or tv shows directed by womxn
Have a conversation with a womxn from a culture different from your own and learn about their traditions, celebrations, and experiences
Research womxn of power in Evansville and what they are doing for the community
Utilize social media and your spaces to educate others about influential womxn as artist, activist, lawyers, doctors, etc.
Support a business owned by a womxn and/ or individual with disabilities
Sign at least 3 petitions advocating for womxn and/ or individuals with disabilities on change.org/ other petition websites
Seniors Invited to Submit Essays for Klinger Essay Award
Seniors are invited to submit essays for the George Klinger Memorial Prize for Excellence in Writing Academic Essays. There is no length requirement for essay submissions, and research papers and scholarly analyses are equally appropriate. Essays should demonstrate excellence in scholarly writing. Seniors from every major are eligible.
Format: All entries are to be printed on one side of 8 ½ x 11 sheets, double-spaced. Each is to have a title, and pages are to be numbered. The writer's name is not to appear on the work, but each submission is to have an attached (stapled) cover page (8 ½ x 11) listing: the title, author, the UE ID number, class rank, and the name of any teacher who has read or heard the work. PLEASE NOTE: NO SUBMISSIONS WILL BE RETURNED
Entries must be submitted to Michelle Lehman (administrative assistant for Department of English) in Room 320, Olmsted Administration Hall. All entries must be received by Tuesday, April 6, 2021, at 4:00 p.m.
Disabilities Background and Culture Panel Recording
The Center for Diversity Equity and Inclusion in collaboration with ABLE (ACES Bettering Learning for Everyone) hosted a Disabilities Background and Culture Panel and Discussion on Tuesday, March 23rd! If you missed the live session, well you are in luck because we recorded it just for you!
You will hear from a group of current UE students from a range of backgrounds and identities. Students discussed their lived experiences and shared how the intersectionality of having a disability, individual cultures, and societal culture has impacted their experiences throughout life.
The panelist include:
Violet Nassri
Scottie Rapp
Imelda Salgado
Shraya Rao
Josie Hayes
and John Sutter
If you have any questions or comments please feel free to reach out to Abagail Catania (ac532) and/or Debbie Brenton (db132)!
HEERF II Grant Distribution Authorization Now Open
HEERF II Emergency Grant funding is now available. All educationally related expenses are eligible for HEERF II funding and may be applied to current and/or future student account balances. Please be aware that funding is limited, and a valid 2020-21 Free Application for Federal Student Aid (FAFSA) submission is required for grant consideration. Grant recipients requesting a refund must have bank information on file as refunds will only be issued electronically via direct deposit.
Eligible students wishing to claim a portion of HEERF II grant funds are required to submit the HEERF II Grant Authorization and confirm bank account information. The deadline to accept these funds is April 15, 2021.
Allana Mcinnis Wraps up UE Career
For the final time in a Purple Aces uniform, University of Evansville senior Allana McInnis took to the floor of Meeks Family Fieldhouse as the UE volleyball team wrapped up the season against Valparaiso.
McInnis tallied 20 assists, 10 digs and three service aces in a 3-1 setback against Valpo (11-9, 10-8 MVC). She wraps up her Evansville (6-14, 5-13 MVC) career with a total of 3,452 assists, the third-highest total in program history. Alondra Vazquez paced the team with 22 kills while Melanie Feliciano added 13. Chloe Bontrager and Elise Moeller recorded five and four, respectively. Rachel Basinski had a match-high 22 digs while Brooke Springer added five block assists. Jaclyn Bulmahn posted 15 kills to lead Valparaiso.
Game 1
Evansville grabbed a 3-2 lead before Valpo fought back to go in front at 7-3. A kill by Melanie Feliciano coupled with a Cecilia Thon service ace highlighted UE's rally to tie it up at 9-9. Chloe Bontrager recorded a kill that put the Aces back in front at 12-11 before Valpo wrestled away a 15-14 edge. From there, they would slowly extend the lead to win by a 25-21 final on their way to a 1-0 advantage.
Game 2
A reenergized UE squad came out on fire in the second set, recording the first four points before going up by a score of 8-2. Allana McInnis had an ace in the early stretch while Alondra Vazquez added three kills. Midway through the set, Valpo made a run to cut the Evansville lead to a pair, including 19-17. Laura Ruiz came through with an ace to help UE score three in a row before tying the match at 1-1 on the strength of a 25-19 decision.
Game 3
It was Valparaiso getting the early lead as they would score six of the first eight points to take a 6-2 advantage. Evansville fought back and used consecutive VU errors to go in front by a 9-8 tally. Hannah Watkins added a kill as the UE rally continued with them taking a 14-9 lead. Valpo responded with a 9-4 run to tie the set at 18-18 before Chloe Bontrager added a kill to put the Aces back on top. Unfortunately for the Aces, Valparaiso continued its run and with the set tied at 22-22, they reeled off the final three points to wrap up the set and take a 2-1 lead.
Game 4
A 6-1 start by Valpo set the early tone for the set as they would never trail on their way to a 25-16 win to clinch the match.
Eighth-Inning Outburst Powers Aces to Series Win
A persistent and timely offense lifted the University of Evansville baseball team to a 9-2 victory over Xavier on Sunday, earning the Aces a 3-1 series win over the Musketeers, at German American Bank Field at Charles H. Braun Stadium in Evansville.
"Such a great win for our team today. It started on the mound and defensively I felt like all weekend we played stellar defense that gave us a chance," said Aces head baseball coach Wes Carroll. "Of course on the mound getting the efforts from Donovan Schultz and Caleb Reinhardt today was outstanding and then for our bats to just really come alive and get into their bullpen. Their starter was magnificent today with his ability to keep us off balance with some really good off-speed. For us to take three out of four against such a quality club with four legit rotation arms really gives us a boost of confidence that we're going to have to take into Missouri Valley play."
Xavier found the scoreboard first in the second inning, scoring runs off a double and single to take a 2-0 lead. The long ball helped halve the Musketeers lead in the bottom half of the second as freshman Mark Shallenberger launched a solo shot to right to cut the Xavier lead to 2-1.
Senior Craig Shepherd tied the game in the fourth, ripping a base-hit to center that scored freshman Simon Scherry.
After giving up the two runs in the second, freshman pitcher Donovan Schultz was lights-out. Schultz exited after the fifth, allowing four hits and striking-out a career-high eight batters.
The late innings proved to be key to the Aces win, beginning in the seventh with two outs and a pair of runners on. Junior Tanner Craig came to the plate and drove a single up the middle, scoring redshirt junior Kenton Crews and giving the Aces the 3-2 lead.
Evansville broke the game wide open in the eighth, batting around and scoring six runs, including a two-run single by senior Ben Komonosky, an RBI single from Crews, and an RBI double by redshirt senior Troy Beilsmith.
Junior Caleb Reinhardt closed-out his impressive performance in the ninth, allowing just one runner on and getting out of the inning with a line-out to third. Reinhardt earned the victory, his first of the season, pitching four scoreless innings, giving-up just three hits.
"Just a gutsy effort," remarked Carroll. "Another Sunday win for our club coming into the yard and expecting to win and playing at a high level. I couldn't be more proud of our team right now."
Evansville closes its 11-game home-stand next weekend with a four-game set against South Dakota State on Friday, Saturday, and Sunday at German American Bank Field at Charles H. Braun Stadium in Evansville.
Dominant Pitching Helps Aces Sweep Doubleheader from Xavier
Relying on pitching and timely offense, the University of Evansville baseball team swept a doubleheader from Xavier, 7-4 and 1-0, on Saturday at German American Bank Field at Charles H. Braun Stadium in Evansville.
Game One: Evansville 7, Xavier 4 (7 Innings)
"Great day for Aces Baseball," said Aces head baseball coach Wes Carroll on the sweep. "Game one we had three two-out RBI hits from Komonosky, Scherry and Crews. Roberts and Meyer did a great job out of the pen to secure the game one win."
Xavier's offense opened the scoring the first game, pushing two runs across in the second inning on an RBI triple and a sacrifice fly. Evansville answered in the third with a much-needed big offensive inning. Freshman Brent Widder singled to open the half inning, followed by a walk by redshirt junior Kenton Crews. Redshirt senior Troy Beilsmith laid down a picture-perfect bunt, beating the throw and loading the bases. Junior Tanner Criag then came to the plate and earned a walk, sending home Widder. Evansville tied the game in the next at bat as freshman Simon Scherry grounded into a double play, scoring Crews to tie the game at two.
Evansville was not done in the third as freshman Mark Shallenberger, junior Mason Brinkley, and senior Craig Shepherd each earned free bases by way of walk, a hit by pitch, and another walk, respectively, with Shepherd's walk scoring Beilsmith to give the Aces a 3-2 lead. Still working with two outs, senior Ben Komonosky singled through the left side, scoring two and handing Evansville a 5-2 advantage.
After junior Eric Roberts came on in the fourth, Xavier scored a run on an RBI double to cut Evansville's advantage to two. Evansville was consistent offensively in the fourth and fifth, adding single runs to move in front, 7-3.
Facing trouble in the fifth, Roberts responded getting out of the inning with three-straight outs. After getting out of the fifth, Roberts utilized the momentum in the sixth, sitting Xavier down in order.
In the top of the seventh, Xavier recorded back-to-back base-hits to lead off the inning with Evansville making a pitching change to freshman Jakob Meyer to close things out. After Meyer walked the first batter he faced, loading the bases, the Columbus, Indiana native locked-in. Meyer manufactured a groundout to earn the first out with Xavier scoring a run in the process. With Xavier bringing the tying run to the plate, Meyer struck-out the batter for the second out and induced a pop-up to second to end the game and earn the Aces a 7-4 win.
Game Two: Evansville 1, Xavier 0
For the second time in as many days, the Aces got an important defensive play at home plate. In the first, second baseman Brent Widder threw-out a runner at home, tagged-out by freshman Max Malley, ending the threat in the first for the Musketeers.
Evansville scored the only run it would need in the bottom of the third. With one out, Beilsmith reached on a throwing error, advancing to second on the play. A groundout from Tanner Craig advanced Beilsmith to third with one out. With Shallenberger at the plate, Xavier threw a wild pitch, scoring Beilsmith.
Xavier immediately looked to answer in the fourth, putting runners on first and second with no outs. A sacrifice bunt moved the runners into scoring position, but McMahill closed-out the inning with a pop-up and a groundout.
In the sixth, the Musketeers made another run at Evansville's lead. A walk and base-hit again put runners on first and second with no outs. The key play of the second game unfolded in the third at-bat as Grant Stephenson flew-out to right with Beilsmith making a strong run to grab the rapidly dropping ball. Altenberger, who was at second, took off towards third and eventually home, believing the ball would be dropped and was tagged-out at second for not tagging-up.
The threat was not over for Xavier in the sixth as a walk ended McMahill's day. In came sophomore Michael Parks, who ended the inning on his first pitch, forcing a fly-out to center.
Parks was spectacular, pitching a spotless 3.1 innings for the Aces, sitting the Musketeers down in order in the seventh, eighth, and ninth to earn Evansville the 1-0 shutout victory.
"Game two was a great performance from McMahill and Michael Parks," remarked Carroll on the second game win. "To get a shutout in game two of a DH is rare but we clearly needed it. Really proud of how we responded to last night's loss with energy and focus today."
Evansville and Xavier return to the field on Sunday at 1 PM for the series finale at German American Bank Field at Charles H. Braun Stadium in Evansville.
UE Softball Defeats Valpo to Finish 3-Game Sweep
A 3-run sixth inning helped the University of Evansville softball team finish the series sweep over Valparaiso with a 5-3 victory on Sunday at Cooper Stadium.
The sweep marks the first for the Purple Aces (17-7, 5-1 MVC) since taking all three games in the 2019 trip to Missouri State. With UE trailing 3-0, Marah Wood had a 2-run shot in the contest to get the Aces on the board before Jessica Fehr, Lindsay Renneisen and Alyssa Barela posted RBIs in the sixth to complete the comeback. UE had eight hits on the day while Izzy Vetter held Valparaiso (5-15, 1-5 MVC) to just three hits.
With the wind blowing out to right field, Valparaiso took early advantage when Addi Burke hit a 2-run homer to right in the top of the first. They added a third run in the top of the fourth on a squeeze play.
Evansville posted just one hit through the first three innings, but produced three hits in the fourth. Haley Woolf recorded a double before Marah Wood hit her sixth home run of the season to get the Aces on the board and cut the Valpo lead to 3-2. Looking for a late rally in the sixth, the Aces got exactly what they needed. With one out, Jenna Lis reached on an infield single and was pinch run for by Mackenzie McFeron.
McFeron stole second before scoring on a Jessica Fehr single. Solid baserunning saw Fehr move to second on a passed ball before coming home on a Lindsay Renneisen single. UE added an insurance run later in the frame when Alyssa Barela hit a sacrifice fly.
With her team in front, Vetter kept Valpo off the board in the seventh to clinch her 8th victory of the season and secure the sweep. Vetter tossed the complete game and struck out nine batters.
Next up for UE is a doubleheader against UT Martin on Tuesday at 3 p.m.
Softball Sweeps Saturday Doubleheader over Valpo
Four University of Evansville players belted home runs on Saturday when the Purple Aces softball team earned a doubleheader sweep over Valparaiso at Cooper Stadium.
Game one saw the Aces (16-7, 4-1 MVC) finish with a close 2-1 victory before UE rallied from a 4-3 deficit to post the final five runs in an 8-4 win over Valpo (5-14, 1-4 MVC).
Game 1
Valparaiso stranded the bases loaded in the top of the first and Eryn Gould wasted little time in taking advantage, leading off the bottom of the first with a solo home run to deep center field. Evansville added a second run in the frame on a Jessica Fehr single. Valpo cut the lead in half when Taylor Tonoian homered to left field in the top of the fourth.
The Aces had a chance to add some insurance in the bottom half of the sixth when pinch runner Mackenzie McFeron stole second before reaching third with one out, but Valpo escaped the jam unscathed to keep it a 1-run game. It would not make a difference in the end with Izzy Vetter sitting VU down in order in the seventh co clinch her seventh win of the season. Valpo had three hits while the Aces posted two, both being RBI knocks in the first. UE did reach base with six walks; Gould and Jenna Lis registered two apiece.
Game 2
In the second contest, Valpo once again had early baserunners but took advantage when they got on the board in the top of the second. Three hits, including an RBI from Lauren Kehlenbrink, saw them take a 1-0 lead. It did not take long for the Aces to respond. A Lis walk was followed by a Jessica Fehr single. That is when Lindsay Renneisen belted her fifth home run of the season to give UE a 3-1 lead.
Valpo continued to put runners on base as the first three batters in the third would reach before scoring their second run on another Kehlenbrink single. Jaime Nurrenbern limited the damage to just one run to keep UE in front at 3-2, but Valparaiso continued to battle and would go back in front in the fifth when Alexis Johnson tripled to right-center.
Evansville answered in the bottom of the frame when a 2-run home run by Katie McLean, her first of the season, put Evansville back on top. Also scoring on the play was Eryn Gould, who walked earlier in the inning. Following a Haley Woolf base hit, Marah Wood added the Aces third homer of the game to push the lead to 7-4 before Gould added an RBI single in the sixth. That was all the insurance the Aces would need as Erin Kleffman picked up her third win of the year in an 8-4 final.
Picking up two hits apiece for UE were Haley Woolf, Fehr and Wood while Renneisen paced the team with three RBI. In total, the Aces registered nine hits while Valpo checked in with 11. Jaina Westphal had a team-high three hits.
Volleyball Defeats Valparaiso to Open Weekend
Melanie Feliciano recorded a match-high 18 kills but it was freshman Brooke Springer who emerged as a late hero to help the University of Evansville volleyball team earn a 3-0 win over Valparaiso inside Meeks Family Fieldhouse.
Evansville (6-13, 5-12 MVC) found itself trailing 21-18 in the final set, but that is when Springer stepped up. After a pair of Feliciano kills got UE within one, Springer posted a kill and three block assists to clinch the 3-0 win over Valpo (10-9, 9-8 MVC). Alondra Vazquez finished the night with 12 kills and 12 digs while Springer set her career mark with five kills while adding a total of four block assists. Rachel Basinski led the team with 15 digs while Allana McInnis had 23 assists. Pacing Valpo was Peyton McCarthy, who had 15 kills.
Game 1
Valparaiso jumped out to an early 3-1 lead but the Aces tied it up at 3-3 before a Melanie Feliciano kill gave Evansville its first lead at 5-4. Rachel Basinski added an ace before another Feliciano kill extended the lead to 10-5. With the Aces up 14-9, Valpo scored four in a row to get within one but Evansville would score the next three points, taking advantage of VU errors. Backed by eight kills in the set from Feliciano, UE won by a 25-19 final.
Game 2
A kill by Hannah Watkins helped the Aces take a 4-2 lead before Valpo fought back to go in front at 7-6. A kill by Alondra Vazquez quickly put Evansville back on top and the run continued with a Brooke Springer kill and Cecilia Thon ace that extended the lead to 15-11. Valparaiso stormed back with four in a row to tie it up, but an ace by Feliciano saw the Aces regain control, up 18-15. Allana McInnis added an ace of her own late in the set with UE pulling away for a 25-17 decision.
Game 3
Evansville posted four of the first five points with Feliciano and Vazquez recording kills before Valpo roared back to go in front, 9-5. Vazquez helped the Aces get back within one when her ace made it a 16-15 game. That is when Feliciano posted a kill before combining with Watkins for a block that gave Evansville a 17-16 lead. Valpo countered with a 5-1 run as they regained a 21-18 advantage.
The Aces were not going to give up without a fight and their persistence paid off. Brooke Springer added her fifth kill of the evening before combining with Vazquez on a block assist that gave UE a 23-22 edge. The run continued with two more block assists to give UE the match sweep with a 25-22 victory. Springer played a pivotal role in the final stretch as she had a hand in each of Evansville's final four points. She had a kill and three block assists.
Pitchers' Duel Falls Xavier's Way in Series Opener
In the opening game of the weekend, the University of Evansville baseball team dropped a pitchers' duel to Xavier, 6-1, in game one of the four-game series at German American Bank Field at Charles H. Braun Stadium on Friday night in Evansville.
"Typical Friday night kind of baseball game. Shane Gray gave us a chance on the mound, unfortunately we just didn't compete well enough against their starter," said Evansville head baseball coach Wes Carroll. "(Jared) Olson overmatched our offense throughout. Big day tomorrow for 16 innings."
The two starters for each squad were the stars of the show on the night and they brought it early. Both Xavier's Jared Olson and Evansville's Shane Gray sat their opponents down in order in the opening inning.
Xavier struck first in the top of the second, scoring a run following a walk and a base-hit, eventually pushing one across the plate on an error to take a 1-0 lead. The Aces answered in the bottom half of the inning, as a pair of walks by juniors Tanner Craig and Mason Brinkley helped power the offense. With two on and one out, senior Craig Shepherd ripped a base-hit to right center to score Craig and tie the game.
The Musketeers regained the lead in the third, getting a solo home run from Andrew Walker to take a 2-1 lead. Following Xavier's homer, Olson locked down on the mound, striking-out three in the third to end the Evansville threat.
After both sides went quietly in the fourth, the Aces threatened to tie the match in the fifth. Evansville led off the inning with a walk by senior Ben Komonosky and would advance him to third with two outs. With an opportunity to tie the match, Olson ended the inning for the Aces with a strikeout.
Evansville showcased its defensive strength in the top of the sixth. With two outs, the Musketeers got a single to right field and the runner on second attempted to score. Redshirt senior Troy Beilsmith gathered the ball and fired a strike to home plate as Komonosky tagged the runner, who tried to hurdle him to end the inning and keep the Aces within a run.
As the game waned, Xavier added two runs in both the seventh and ninth innings to secure the 6-1 win.
Gray pitched six innings in the loss, allowing three earned runs on five hits, while striking-out a career-high eight batters.
Evansville and Xavier meet for a doubleheader beginning at 1 PM on Saturday at German American Bank Field at Charles H. Braun Stadium in Evansville.
UE Women Travel to Pinehurst Intercollegiate
Pinehurst No. 6 will be the host for the next event for the University of Evansville women's golf team, who will take part in the Pinehurst Women's Intercollegiate on Monday and Tuesday.
Consisting of 54 holes, the tournament will be played over the course of two days at Pinehurst No. 6 in Pinehurst, North Carolina.
Included in the field are Boston College, Brown, Evansville, Georgetown, Morehead State, UNC Asheville, UNC Greensboro, Rutgers, Southern New Hampshire, St. John's, Western Carolina and Western Illinois.
UE is back in action for the first time since March 9 at the Benbow Invitational in Jacksonville Beach, Fla. Sophia Rohleder picked up her second medalist in as many tournaments this season, edging the competition by one stroke. Rohleder wrapped up the two rounds of play with a 151.

Three Aces finished in the top 12 of the event to lead the team to a second place finish in the final standings. Second on the team and tying for 12th in the tournament was the duo of Allison Enchelmayer and Mallory Russell. Enchelmayer had a strong round on the final day, carding an 80 and putting her final tally at a 164. Russell tied that mark; following a 78 in the first rounhd of 18, Russell clinched a strong finish with an 86 in round two.
Alyssa McMinn and Caitlin O'Donnell each rallied in the final round in Jacksonville. McMinn improved by four strokes between the first and second rounds to finish with a 166 while O'Donnell lowered her score by 11 strokes on her way to a top 30 finish.
UE Receives Grant from Lilly Endowment Inc.
The University of Evansville has received a grant of $5 million from Lilly Endowment Inc. through the competitive Phase 3 of its initiative, Charting the Future of Indiana's Colleges and Universities. The grant will support the establishment of a shared, cloud-based enterprise resource planning (ERP) system with a single set of standardized business practices.
UE is one of 16 Indiana colleges and universities that will be supported by funding in the final phase of Charting the Future, an initiative designed to help colleges and universities in Indiana assess and prioritize the most significant challenges and opportunities they face as higher education institutions and develop strategies to address them.
Over the span of several months, UE collaborated with three other institutions to request the grant. Those institutions included Drake University in Des Moines, Iowa; North Central College in Naperville, Illinois; and Valparaiso University in Valparaiso, Indiana. Valparaiso also received a $5 million from Lilly Endowment through the Charting the Future initiative. That grant will fund Valparaiso's participation in the collaboration.
Through the collaboration, the four institutions will form an independent, non-profit organization called the College and University Sustainability Project (CUSP) to house the collaborative effort toward providing efficient and effective non-academic services. Once significant progress has been achieved, the intention is to enable additional institutions to join CUSP and achieve similar efficiency and effectiveness.
Concepts and initiatives for the grant were established by a steering committee of members from each of the four institutions. In addition to the four presidents, it was comprised of chief financial officers, chief information officers, and other key administrators.
"The University of Evansville is very grateful to Lilly Endowment for its generous grant and commitment to supporting higher education," said Christopher M. Pietruszkiewicz, president of UE. "Technology is an ever-evolving industry that directly impacts our University, and this grant will provide remarkable opportunities and expand our capabilities for modernization among core information systems."
"Indiana's colleges and universities face myriad challenges as they work to fulfill their educational missions while adapting to growing financial pressures, rapid demographic and technological changes, and evolving needs and demands of students," said Ted Maple, the Endowment's vice president for education. "We are pleased with the creative and collaborative approaches the colleges and universities are taking to address these challenges and seize opportunities to better serve their students, institutions, communities and the state of Indiana."
Lilly Endowment launched the three-phased Charting the Future initiative in 2019 to help leaders of the state's 38 colleges and universities engage in thoughtful discernment about the future of their institutions and to advance strategic planning and implementation efforts to address key challenges and opportunities. Collaboration was encouraged, especially in the third phase of Charting the Future, and several schools proposed collaborative programs and strategies. Through three phases of grantmaking, Lilly Endowment awarded more than $138 million to the schools.
Through earlier rounds of the initiative, all 38 schools received planning grants, which were approved in December 2019, and implementation grants approved in June and September 2020. The implementation grants funded strategies to improve efforts to prepare students for successful futures and strengthen the schools' long-term institutional vitality.
About Lilly Endowment Inc.
Lilly Endowment Inc. is an Indianapolis-based, private philanthropic foundation created in 1937 by J.K. Lilly, Sr. and his sons Eli and J.K. Jr. through gifts of stock in their pharmaceutical business, Eli Lilly and Company. Although the gifts of stock remain a financial bedrock of the Endowment, it is a separate entity from the company, with a distinct governing board, staff and location. In keeping with the founders' wishes, the Endowment supports the causes of community development, education and religion. The Endowment funds significant programs throughout the United States, especially in the field of religion. However, it maintains a special commitment to its founders' hometown, Indianapolis, and home state, Indiana.
Contribute to AceNotes
To have content considered for inclusion in AceNotes, please submit a Marketing Request Form. Deadline for submission to AceNotes is 10:00 a.m. on the requested date of publication. Only articles concerning UE related/sponsored activities will be accepted. Articles submitted to AceNotes may be edited for length and clarity. Submitter contact information is at the end of each article.