| | |
| --- | --- |
| AceNotes Today | Friday, March 26, 2021 |
UE Employee Benefit Enrollment Save the Date
During the period of April 5 through April 16, benefit-eligible employees may enroll or make changes in the University's health, life, long term disability, and dental insurance, and ACES flexible spending account benefit plans. It is the only chance for benefit-eligible employees to enroll or make changes until the next open enrollment period unless you have a qualifying change in status.
More information will be available in the coming weeks.
Employees will have the opportunity to learn more about these benefit changes or to speak with a plan representative at one of the following Zoom events:
Monday, April 5 from 2:00 pm to 3:00 pm
Tuesday, April 6 from 10:00 am to 11:00 am
Please contact the Office of Human Resources at ext. 5045 with any questions.
Senior Video Filming: No appointment needed!
If you're a graduating senior and you missed the first filming session for the senior video, don't worry! A second filming session has been scheduled and will be held outdoors. No appointments necessary - walk-ups welcome.
Senior Video Filming
Monday, March 29
11AM-1PM
Near the Grassy Knoll and Memorial Plaza (look for the video camera!)
A senior video will be shown prior to the Commencement ceremonies on May 8, and we want to include as many seniors as possible! Please stop by to record a short video segment, in which you will be asked to answer a question or two (i.e. what's your favorite memory at UE? or who's your favorite professor and why?)
Because the filming will take place outdoors, you may remove your mask for filming if you are socially distanced and filming by yourself.
If you have questions about the video, please contact Julie Bryant, university relations coordinator, at jb855@evansville.edu.
COVID-19 Vaccinations for 16 and Older at Ascension St. Vincent
Currently, the Indiana State Department of Health (ISDH) has identified the following Indiana residents as eligible to receive the COVID vaccine:
Healthcare Workers
First Responders
Teachers and school staff in pre-K through high school, child care centers, Head Start and Early Start programs
Licensed childcare providers, including center-based and family care providers
Age 16 and above
Specific groups of patients at highest risk of severe illness from COVID-19 who are identified by their healthcare provider are also eligible. These individuals will receive a unique registration link by text or email.
We will keep our patients updated as eligibility and administration sites broaden. Although currently there is no cost to patients for the vaccine, insurance information will be collected.
Vaccine Scheduling
The COVID-19 vaccine is available by appointment only. No walk-ins will be permitted. Once listed as eligible by the ISDH, go to www.ourshot.in.gov or by calling 211 or 1-866-211-9966 to schedule an appointment.
Detailed instructions
Go to www.ourshot.in.gov
Enter date of birth and attest to being over age 16
Enter zip code and Select Ascension St Vincent Vaccine Clinic location
Select appointment date and time
Complete demographic information including accurate date of birth
Confirm appointment
Ascension St Vincent Vaccine Clinic
For your convenience, the Ascension St. Vincent Vaccine Clinic is open 7 days a week and located on the hospital campus in the Manor Auditorium. When scheduling an appointment on the state website, select "Ascension St Vincent Evansville VAX" as site location. Directions: Enter the parking garage off of Bellemeade Avenue, immediately turn left and follow the directional signage to the designated vaccine clinic parking area. Patients should enter the clinic using the doors adjacent to the parking garage. Tri State Clinics patients are encouraged to call our office at 1-888-492-8722 with questions or for assistance with scheduling at the Ascension St. Vincent Vaccine Clinic.
Spencer County Residents
Spencer County Local Health Department
Heritage Hills High School
Perry County Residents
Perry County Local Health Department
Perry County Memorial Hospital
Posey County Residents
Posey County Local Health Department
Illinois Residents
Phase 1A: Healthcare workers, those in long term care facilities.
Phase 1B : Frontline essential workers, residents 65 years of age or older and under 65 with comorbidities.
Phase 1B+ : IL residents 16+ with disabilities or serious medical conditions. Higher education staff, gov workers, and media. Details and scheduling info at: https://coronavirus.illinois.gov/s/.
Kentucky Residents
Phase 1a: Long term care facilities, healthcare personnel
Phase 1b: First responders, anyone 70 or older, K-12 school personnel
Phase 1C : KY residents age 60+ AND 16 and older with serious medical conditions and essential workers
For locations and to schedule appointment go to: https://govstatus.egov.com/kentucky-vaccine-map or call the KY COVID-19 Hotline - (800) 722-5725 for more information.
Should you have any additional questions, please contact Ashley Chipps at ashley.chipps@ascension.org or Stacey Smith at stacey.smith1@ascension.org
University of Evansville Theatre Collaborates with Play on! Shakespeare to Present Richard II
The University of Evansville Theatre, in collaboration with Play On! Shakespeare, presents RICHARD II, by William Shakespeare, in a new translation by Naomi Iizuka. Directed by the 2020–21 Virtual-Artist-in-Residence, Lavina Jadhwani, will be presented via Zoom Webinar, 7:30 pm, Friday, Mar. 26, and Saturday, Mar. 27.
A play of power and plotting, this history play is the first in a tetralogy about the House of Lancaster. Richard is a powerful king, but dangerously out of touch with this people. His vanity threatens to divide the great houses of England and drag his people into a civil war that will last 100 years—the War of the Roses. Don't miss this exciting new translation of one of Shakespeare's most luminous and poetic masterpieces.
Lily Rehberg, a first-year design & technology major, from Dalton, Ga., is the Zoom Environmental Designer; Miriam Noemi Cortes, a senior design and technology major, from Omaha, Neb., is the Costume Designer; Andrew Flynn, a senior performance major, from Lilburn, Ga., is the Dramaturg; Corey Cagle, a junior stage management major, from Nashville, Ind., is the Stage Manager, and Assistant Professor of Theatre Mitchell L. Critel is the production manager.
The cast features Kirkland Long, a junior performance major, from Canal Winchester, Ohio, as King Richard; Cassidy Rogers, a junior performance major from, College Station, Texas, as Queen Isabel; Josh Gelman, a junior performance major, from Denver, Colo., as John of Gaunt Duke of Lancaster and Lord Berkeley; Cass Dunn, a junior performance major from Brattleboro, VT., as Henry Bullingbrook Duke of Hereford; Obi Roberts, a junior performance major, from Arvada, Colo., as Edmund of Langley Duke of York; Becky Rusch, a junior performance major, from Newark, Del., as Duchess of York; Chloe Shrieves, a junior performance major, from St. Cloud, Fla., as Duke of Aumerle; Liv Campbell, a junior performance major, from Kingwood, Texas, as Duchess of Gloucester and Lord Fitzwater; Angus Creech, a junior theatre studies major, from Brooklyn, N.Y., as Thomas Mowbray Duke of Norfolk, Earl of Salisbury, and Lord Willoughby; Zachary Scalzitti, a junior performance major, from Saint John, Ind., as Earl of Northumberland; Steph Voteau, a junior theatre studies major, from St. Louis, Mo., as Henry Percy and Keeper; Claire Himstedt, a junior theatre studies major, from St. Louis, Mo., as Sir Stephen Scoop and Lord Marshal; Kayleigh Doyle, a junior performance major, from McKinney, Texas, as Bishop of Carlisle; Kyla Clift, a junior performance major, from Arlington, Texas, as Sir John Bushy and Welsh Captain; Lillie Kolich, a junior performance major, from Albuquerque, N.M., as Sir John Bagot; Delanie Kitzman, a junior performance major, from Tomball, Texas, as Sir Henry Green, Abbot of Westminster, and Groom; and Eli Lomax, from Sellersburg, Ind., as Gardener, Surrey, and Lord Ross.
Tickets are FREE and viewing information can be found on the UE Theatre website at https://www.evansville.edu/majors/theatre/current.cfm. Questions can be emailed to theatre@evansville.edu.
Intentional Safe Space in Response to Anti-Asian Hate
The Center for Diversity, Equity, and Inclusion will be offering an opportunity for campus community members to process the recent event in Atlanta and the continual increase in racism towards Asian individuals in a safe and collaborative space.
On Wednesday, March 31, at 5pm Dr. Su Jin Jeong, Assistant Professor and the Director of the Institution for Public Health, will host a Zoom discussion regarding the increase of racism against Asian individuals since the beginning of the COVID-19 pandemic. Dr. Jeong will be joined by Molly Smith, LCSW from our UE Counseling Services to share resources available to students and employees during these difficult times.
We will be asking individuals to register for the Zoom in order to maintain a safe space for everyone.
Register in advance for this meeting:
https://evansville-edu.zoom.us/meeting/register/tJYuc-mspjkiHdMJYXgDb2aYelyBLeqPJoZr
Meeting ID: 923 4048 2877
Passcode: 277424
The Center for Diversity, Equity, and Inclusion and Office of Institutional Equity welcome suggestions on ways we can better support our community, and we encourage you to reach out to us at center4dei@evansville.edu or titleix@evansville.edu.

3rd International Food Festival: TODAY!
The 3rd International Food Festival is finally here and we cannot be more excited! Highlights of today include:
Photobooth - you can get a free flower crown and a polaroid picture
Time: 11:00 am - 2:00 pm and 5:00pm - 7:00pm
Location: Table 2 - Ridgway
Lollys Pops Food Truck (popsicles)
Time: 11:00 am - 1:00 pm
Location: Hale Hall parking lot
RSVP via UEnage or use this link: https://www.signupgenius.com/go/9040d4aa4ae2ba6fa7-food
International cuisines for Lunch/Dinner
Time: 11:00am - 1:00pm and 5:00pm - 7:00pm
Location: Chartwells Cafe Court
If you already have a meal plan, swipe in as usual. Meal tickets are available for individuals with limited/no meal plan (quick! they're running out fast) - See a board member at either our photobooth or food truck table to pick up the voucher.
International Flag Parade
Time: 4:00pm - 5:00pm
We have a few spots left, contact at208 or se121 before 2:00 pm if you'd like to join us for the parade.
We look forward to seeing you!
Mobile Mammography Coming to UE Soon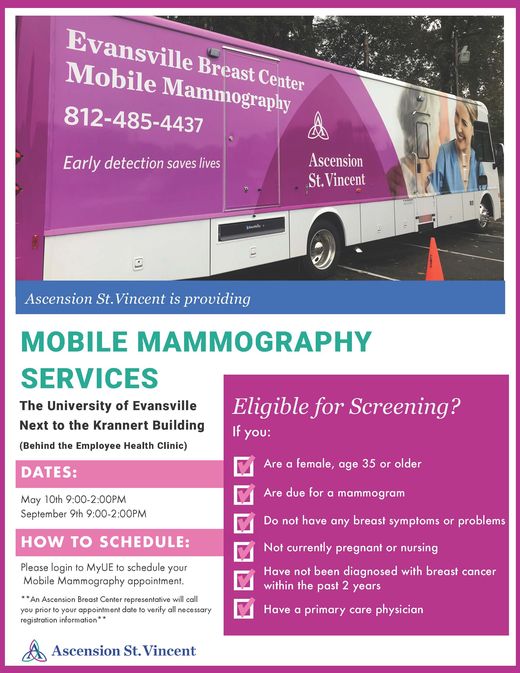 The University of Evansville and the Employee Health Clinic are happy to partner with Ascension St. Vincent to provide onsite Mammography Screenings with their brand new, state of the art, mammography coach! These will be available May 10th and Sept 9th from 9:00-2:00PM. The Mammography Coach will be located on campus next to the Krannert Building--behind the employee health clinic. This preventative screening is a free service for all that qualify. Please click the link below to schedule and see the attached flyer for more details. Email ac375@evansville.edu for additional help.
https://acelink.evansville.edu/Areas/MedicalClinic/MobileMammography/index.cfm
Eligible for Screening?
If you:
Are a female, age 35 or older
Are due for a mammogram
Do not have any breast symptoms or problems
Not currently pregnant or nursing
Have not been diagnosed with breast cancer
within the past 2 years
Have a primary care physician
Health Careers Forum 2021
The Center for Career Development and Exercise and Sports Science Club will be hosting the 2021 annual Health Careers Forum on March 31. The event will run from 6:00 to 8:00 pm.
Panelists will represent various healthcare fields such as Physical Therapy, Physician Assistant, Medical School, Professional Services, and Human Resources. Join us on March 31 to gain insight into future career paths, hear valuable advice, and make connections!
Please submit your RSVP by March 26 on Handshake to receive the Zoom link for the forum.
Disability Awareness Month/ Womxn's History Month Challenge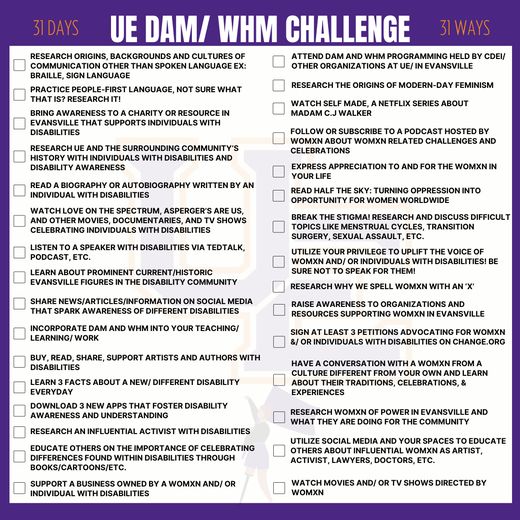 The month of March celebrates Disability Awareness Month and Womxn's History Month. Join the UE DAM/ WHM Challenge sponsored by the Center for Diversity, Equity and Inclusion! In this challenge you will find 31 ways for 31 days of Disability Awareness and Womxn's History Month to actively learn, engage, support, and uplift individual's with disabilities and womxn identifying individuals from Evansville and around the world. Items listed in the challenge can be done personally or in a social group! Hit the library and do some research on why we spell womxn with an 'x', the origins and culture of Sign Language and/ or grab a friend and binge Love on the Spectrum (available on Netflix!). However and whatever you do #DAM/WHMChallenge yourself! To make it extra fun, share what your doing on social media and be sure to tag us!
We can't wait to see the ways in which you all #DAM/WHMChallenge yourself!
Challenge Item List:
Research origins, backgrounds and cultures of communication other than spoken language ex: Braille, Sign Language
Practice People-first language, not sure what that is? Research it!
Bring awareness to a charity or resource in Evansville that supports individuals with disabilities
Research UE and the surrounding community's history with individuals with disabilities and disability awareness
Read a biography or autobiography written by an individual with disabilities
Watch Love on the Spectrum, Asperger's are us, and other movies documentaries and TV shows celebrating individuals with disabilities
Listen to a speaker with disabilities via TedTalk, Podcast, etc.
Learn about prominent current/historic Evansville figures in the disability community
Share news/articles/information on social media that spark awareness of different disabilities
Incorporate DAM and WHM into your teaching/ learning/ work
Buy, read, share, support artists and authors with disabilities
Learn 3 facts about a new/ different disability everyday
Download 3 new apps that foster disability awareness and understanding
Research an influential activist with disabilities
Educate others on the importance of celebrating differences found within disabilities through books/cartoons/etc.
Attend DAM and WHM programming held by CDEI/ other organizations at UE/ in Evansville
Research the origins of modern-day feminism
Watch Self Made, a Netflix series about Madam C.J Walker
Follow or subscribe to a podcast hosted by womxn about womxn related challenges and celebrations
Express appreciation to and for the womxn in your life
Read Half the Sky: Turning Oppression into Opportunity for Women Worldwide
Break the stigma! Research and discuss difficult topics like menstrual cycles, transition surgery, sexual assault, etc.
Utilize your privilege to uplift the voice of womxn and/ or individuals with disabilities! Be sure not to speak for them!
Research why we spell womxn with an 'x'
Raise awareness to organizations and resources supporting womxn in Evansville
Watch movies and/ or tv shows directed by womxn
Have a conversation with a womxn from a culture different from your own and learn about their traditions, celebrations, and experiences
Research womxn of power in Evansville and what they are doing for the community
Utilize social media and your spaces to educate others about influential womxn as artist, activist, lawyers, doctors, etc.
Support a business owned by a womxn and/ or individual with disabilities
Sign at least 3 petitions advocating for womxn and/ or individuals with disabilities on change.org/ other petition websites
Make a Positive Change in the World with Changelab

Do you look at the world around you and ask, "What if"?
Are you interested in helping community to innovate for a more just, prosperous, and sustainable world?
ChangeLab is for YOU!
All ChangeLab Students receive presentation coaching workshops, team building guided by expert coaches and project management resume building skills!
Here are just a FEW of the 16 ChangeLabs you can choose from for the Fall 2021 semester, including Late Starts!
CHNG 310 Y02 Project Citizen: Students will propose public policy solutions to challenges in their community and learn the process of changing their world.
CHNG 310 Y03 Evansville Adaptive Rowing: Students will impact the community for disabled individuals to be able to access empowering physical activity traditionally not accessible to them.
CHNG 310 03 Community Race Project: Students will read contemporary authors on Race in America and work to develop campus education or programs to create a more inclusive community.
CHNG 310 Latinx Community Health: Students will explore the healthcare needs of the Latinx community and work with healthcare providers to help meet those needs.
CHNG 310 Keep Evansville Beautiful *LATE START*: Students will propose environmental sustainability solutions involving littering prevention. If what students propose works, then their initiative will be incorporated and impact multiple areas around Evansville.
"COVID Between the Coasts" ChangeLab received one of Leadership Everyone's COVID-19 Community Awards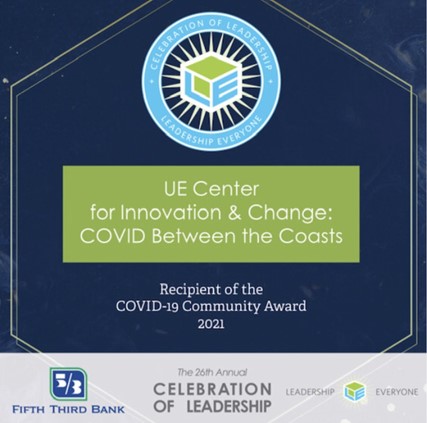 "COVID Between the Coasts" ChangeLab partnership between WNIN, Dr. Tamara Wandel in Communications and Dr. Darrin Weber in the Math received one of Leadership Everyone's COVID-19 Community Awards!! The 26th Annual Celebration of Leadership Ceremony, recognized unique collaborations in the community that stepped up to address COVID-19. This project was one of the recipients.
Congratulations to Steve Burger and Sarah Kuper with WNIN, and our very own Dr. Wandel and Dr. Weber and their students!! Thank you all so much for being willing to take on a project like this. It took a lot of, "Sure, let's try it!" responses to even get this opportunity to the students, so we are filled with gratitude for that servant leadership spirit. Professors, please let your students know the good news! We are so grateful to all of you for doing this incredible work for our region and stepping up in such a unique way during challenging times.
For those of you who haven't had a chance to hear the podcasts yet, you can listen to them here: https://news.wnin.org/post/binge-listen-cbc-season-one#stream/0, and also see the incredible data portal where you can learn about COVID in the Midwest here: https://darrinweber.shinyapps.io/covid_between_coasts/.
"On behalf of WNIN, I want to thank the staff and administration at UE for this collaboration. Because of your contribution to CBC, our area will have a robust story and data resource for the historical record of this time. We are in agreement that Drs. Wandel and Weber are rock stars who coached and mentored their students to stretch and learn, creating this lasting record of the pandemic in our area. Perhaps when things open up more, we can have an in-person gathering to relive and recognize this extraordinary experience." - Steve Burger, VP of Radio WNIN
Mental Health Mythbuster
MYTH: Personality weaknesses or character flaws cause mental health problems.
Mental health problems are not affected by being "lazy" or "weak". Many factors contribute to mental health problems like genes, physical illness, injury, brain chemistry, trauma, abuse, and family history.
ES 103 Offered During Summer Session 2
ES 103 (Fundamentals of Environmental Science), which fulfills the non-lab science General Education credit (Outcome 8), will be offered during Summer Session 2 as an online, asynchronous class. If you have questions about this 3 credit hour course, which will run from June 21-July 23, please contact Dr. Aldred via email - ka59@evansville.edu
BIOL 107 Offered During Summer Session 2
BIOL 107 (General Biology), which fulfills the lab science General Education credit (Outcome 8), will be offered during Summer Session 2 as an online, asynchronous class. Although it is generally intended for those majoring in EXSS, public health, and similar, all majors are welcome! The lab portion of the course will be completed via Labster, an exciting virtual lab simulator! If you have questions about this 4 credit hour course, which will run from June 21-July 23, please contact Dr. Aldred via email - ka59@evansville.edu
HEERF II Grant Distribution Authorization Now Open
HEERF II Emergency Grant funding is now available. All educationally related expenses are eligible for HEERF II funding and may be applied to current and/or future student account balances. Please be aware that funding is limited, and a valid 2020-21 Free Application for Federal Student Aid (FAFSA) submission is required for grant consideration. Grant recipients requesting a refund must have bank information on file as refunds will only be issued electronically via direct deposit.
Eligible students wishing to claim a portion of HEERF II grant funds are required to submit the HEERF II Grant Authorization and confirm bank account information. The deadline to accept these funds is April 15, 2021.
Crescent Magazine New Website
Be sure to check out the Crescent's brand-new website for monthly issues created by student reporters, designers, and photographers! The Crescent is now accepting content submissions and hiring for all positions. See website for more details. https://crescent.evansville.edu
Crescent Magazine is a monthly student magazine published six times during the academic year by and for the students of the University of Evansville. The magazine serves as an open forum for University of Evansville students, faculty, staff, administrators and alumni through its editorials, columns and letters to the editor. With a focus on student life, the magazine provides coverage of campus news, features and sports, and select local and general-interest items of interest to the audience. The Crescent's aim is to present relevant content in a fair, accurate and unbiased manner, to keep news items free of editorial comment, and to use editorial comment as a tool for informing and persuading through the use of factual information and opinion.
Crescent Magazine welcomes letters from UE students, faculty, staff, administrators and alumni, but material the CMEB regards as libelous, malicious and/or obscene will not be published. Letters should not exceed 250 words. For verification, letters must include the author's name, class standing or title and email address. Crescent Magazine does not print anonymous letters or those that cannot be verified. Letters will be edited as needed.
Crescent Magazine is committed to helping you bring your products and services to University of Evansville students and the UE campus community. To advertise in the Crescent Magazine or on the website email crescentmagazine@evansville.edu.
Deadline Extended: 2021-22 Dr. Marvin E. Hartig Memorial Scholarship
UPDATE: The scholarship deadline has been extended to Friday, May 7.
Family, friends and loved ones of the late Dr. Marvin E. Hartig are pleased to announce the application process for the Dr. Marvin E. Hartig Memorial Scholarship. This scholarship is dedicated to the loving memory of Dr. Hartig, Dean of Evansville College's Evening College in 1967, and administrator for the Center for Advanced Study, director of the Evansville chapter of the American Institute of Banking (AIB), and the international student advisor. In 1974, Dr. Hartig was appointed Dean of Academic Services. He retired in 1984 after serving his alma mater for thirty-five years and passed away in 2007.
This scholarship will be awarded annually to a deserving sophomore student. Preference will be given to a student working while being enrolled as a full-time student. International students are encouraged to apply.
Eligible students for the 2021-2022 Hartig Memorial Scholarship will be sophomores in the 2021-2022 academic year.
Download the 2021-22 Dr. Marvin E. Hartig Memorial Scholarship application.
Deadline: Please return all materials to the Office of Student Financial Services by April 23, 2021. The decision will be announced by June 14, 2021.
Questions: Amanda Wood, administrative assistant to the Office of Student Financial Services, at aw505@evansville.edu or 812-488-2364
Volleyball faces Valpo to wrap up spring season
A unique spring 2021 campaign comes to a close this weekend with the University of Evansville volleyball team welcoming Valparaiso to Meeks Family Fieldhouse on Saturday and Sunday. ESPN+ will have coverage of both games, which begin at 6 p.m. and 4 p.m., respectively.
Senior Day
- This weekend marks the final week in the career of one of the best setters in program history - Allana McInnis
- She will finish her career third on the all-time Aces assist list
Last Time Out
- In its final road trip of the season, the Aces dropped both contests at Illinois State
- Melanie Feliciano recorded 16 kills in the opener while Rachel Basinski led Evansville with 16 digs
- Game two saw Alondra Vazquez pace the squad with 17 kills while Basinski added 16 digs and Cecilia Thon registered 16 assists
1-2 Punch
- Alondra Vazquez and Melanie Feliciano have combined to provide the top 1-2 offensive threat in the MVC
- They have combined for 8.22 kills per set, edging Missouri State's Brooklyn Cink and Amelia Flynn, who average 7.36
- Vazquez ranks second in the MVC with 4.38 kills per set while Feliciano checks in with 3.84, putting her 4th in the league
Racking up the Digs
- Since being the primary starter as UE's libero, Rachel Basinski has gotten better and better and is coming off of a career effort at Missouri State where she recorded 31 digs
- Through the first six matches of her freshman season, Basinski finished with 0.95 digs per set, but over the previous 10 contests, she has registered an average of 5.22
- Those performances have seen her move swiftly up the MVC rankings where she is currently 14th
UE Receives Grant from Lilly Endowment Inc.
The University of Evansville has received a grant of $5 million from Lilly Endowment Inc. through the competitive Phase 3 of its initiative, Charting the Future of Indiana's Colleges and Universities. The grant will support the establishment of a shared, cloud-based enterprise resource planning (ERP) system with a single set of standardized business practices.
UE is one of 16 Indiana colleges and universities that will be supported by funding in the final phase of Charting the Future, an initiative designed to help colleges and universities in Indiana assess and prioritize the most significant challenges and opportunities they face as higher education institutions and develop strategies to address them.
Over the span of several months, UE collaborated with three other institutions to request the grant. Those institutions included Drake University in Des Moines, Iowa; North Central College in Naperville, Illinois; and Valparaiso University in Valparaiso, Indiana. Valparaiso also received a $5 million from Lilly Endowment through the Charting the Future initiative. That grant will fund Valparaiso's participation in the collaboration.
Through the collaboration, the four institutions will form an independent, non-profit organization called the College and University Sustainability Project (CUSP) to house the collaborative effort toward providing efficient and effective non-academic services. Once significant progress has been achieved, the intention is to enable additional institutions to join CUSP and achieve similar efficiency and effectiveness.
Concepts and initiatives for the grant were established by a steering committee of members from each of the four institutions. In addition to the four presidents, it was comprised of chief financial officers, chief information officers, and other key administrators.
"The University of Evansville is very grateful to Lilly Endowment for its generous grant and commitment to supporting higher education," said Christopher M. Pietruszkiewicz, president of UE. "Technology is an ever-evolving industry that directly impacts our University, and this grant will provide remarkable opportunities and expand our capabilities for modernization among core information systems."
"Indiana's colleges and universities face myriad challenges as they work to fulfill their educational missions while adapting to growing financial pressures, rapid demographic and technological changes, and evolving needs and demands of students," said Ted Maple, the Endowment's vice president for education. "We are pleased with the creative and collaborative approaches the colleges and universities are taking to address these challenges and seize opportunities to better serve their students, institutions, communities and the state of Indiana."
Lilly Endowment launched the three-phased Charting the Future initiative in 2019 to help leaders of the state's 38 colleges and universities engage in thoughtful discernment about the future of their institutions and to advance strategic planning and implementation efforts to address key challenges and opportunities. Collaboration was encouraged, especially in the third phase of Charting the Future, and several schools proposed collaborative programs and strategies. Through three phases of grantmaking, Lilly Endowment awarded more than $138 million to the schools.
Through earlier rounds of the initiative, all 38 schools received planning grants, which were approved in December 2019, and implementation grants approved in June and September 2020. The implementation grants funded strategies to improve efforts to prepare students for successful futures and strengthen the schools' long-term institutional vitality.
About Lilly Endowment Inc.
Lilly Endowment Inc. is an Indianapolis-based, private philanthropic foundation created in 1937 by J.K. Lilly, Sr. and his sons Eli and J.K. Jr. through gifts of stock in their pharmaceutical business, Eli Lilly and Company. Although the gifts of stock remain a financial bedrock of the Endowment, it is a separate entity from the company, with a distinct governing board, staff and location. In keeping with the founders' wishes, the Endowment supports the causes of community development, education and religion. The Endowment funds significant programs throughout the United States, especially in the field of religion. However, it maintains a special commitment to its founders' hometown, Indianapolis, and home state, Indiana.
Contribute to AceNotes
To have content considered for inclusion in AceNotes, please submit a Marketing Request Form. Deadline for submission to AceNotes is 10:00 a.m. on the requested date of publication. Only articles concerning UE related/sponsored activities will be accepted. Articles submitted to AceNotes may be edited for length and clarity. Submitter contact information is at the end of each article.