| | |
| --- | --- |
| AceNotes Today | Wednesday, March 24, 2021 |
UE Employee Benefit Enrollment Save the Date
During the period of April 5 through April 16, benefit-eligible employees may enroll or make changes in the University's health, life, long term disability, and dental insurance, and ACES flexible spending account benefit plans. It is the only chance for benefit-eligible employees to enroll or make changes until the next open enrollment period unless you have a qualifying change in status.
More information will be available in the coming weeks.
Employees will have the opportunity to learn more about these benefit changes or to speak with a plan representative at one of the following Zoom events:
Monday, April 5 from 2:00 pm to 3:00 pm
Tuesday, April 6 from 10:00 am to 11:00 am
Please contact the Office of Human Resources at ext. 5045 with any questions.
Senior Video Filming: No appointment needed!
If you're a graduating senior and you missed the first filming session for the senior video, don't worry! A second filming session has been scheduled and will be held outdoors. No appointments necessary - walk-ups welcome.
Senior Video Filming
Monday, March 29
11AM-1PM
Near the Grassy Knoll and Memorial Plaza (look for the video camera!)
A senior video will be shown prior to the Commencement ceremonies on May 8, and we want to include as many seniors as possible! Please stop by to record a short video segment, in which you will be asked to answer a question or two (i.e. what's your favorite memory at UE? or who's your favorite professor and why?)
Because the filming will take place outdoors, you may remove your mask for filming if you are socially distanced and filming by yourself.
If you have questions about the video, please contact Julie Bryant, university relations coordinator, at jb855@evansville.edu.
COVID-19 Vaccinations for 16 and Older at Ascension St. Vincent
Currently, the Indiana State Department of Health (ISDH) has identified the following Indiana residents as eligible to receive the COVID vaccine:
Healthcare Workers
First Responders
Teachers and school staff in pre-K through high school, child care centers, Head Start and Early Start programs
Licensed childcare providers, including center-based and family care providers
Age 16 and above
Specific groups of patients at highest risk of severe illness from COVID-19 who are identified by their healthcare provider are also eligible. These individuals will receive a unique registration link by text or email.
We will keep our patients updated as eligibility and administration sites broaden. Although currently there is no cost to patients for the vaccine, insurance information will be collected.
Vaccine Scheduling
The COVID-19 vaccine is available by appointment only. No walk-ins will be permitted. Once listed as eligible by the ISDH, go to www.ourshot.in.gov or by calling 211 or 1-866-211-9966 to schedule an appointment.
Detailed instructions
Go to www.ourshot.in.gov
Enter date of birth and attest to being over age 16
Enter zip code and Select Ascension St Vincent Vaccine Clinic location
Select appointment date and time
Complete demographic information including accurate date of birth
Confirm appointment
Ascension St Vincent Vaccine Clinic
For your convenience, the Ascension St. Vincent Vaccine Clinic is open 7 days a week and located on the hospital campus in the Manor Auditorium. When scheduling an appointment on the state website, select "Ascension St Vincent Evansville VAX" as site location. Directions: Enter the parking garage off of Bellemeade Avenue, immediately turn left and follow the directional signage to the designated vaccine clinic parking area. Patients should enter the clinic using the doors adjacent to the parking garage. Tri State Clinics patients are encouraged to call our office at 1-888-492-8722 with questions or for assistance with scheduling at the Ascension St. Vincent Vaccine Clinic.
Spencer County Residents
Spencer County Local Health Department
Heritage Hills High School
Perry County Residents
Perry County Local Health Department
Perry County Memorial Hospital
Posey County Residents
Posey County Local Health Department
Illinois Residents
Phase 1A: Healthcare workers, those in long term care facilities.
Phase 1B : Frontline essential workers, residents 65 years of age or older and under 65 with comorbidities.
Phase 1B+ : IL residents 16+ with disabilities or serious medical conditions. Higher education staff, gov workers, and media. Details and scheduling info at: https://coronavirus.illinois.gov/s/.
Kentucky Residents
Phase 1a: Long term care facilities, healthcare personnel
Phase 1b: First responders, anyone 70 or older, K-12 school personnel
Phase 1C : KY residents age 60+ AND 16 and older with serious medical conditions and essential workers
For locations and to schedule appointment go to: https://govstatus.egov.com/kentucky-vaccine-map or call the KY COVID-19 Hotline - (800) 722-5725 for more information.
Should you have any additional questions, please contact Ashley Chipps at ashley.chipps@ascension.org or Stacey Smith at stacey.smith1@ascension.org
3rd International Food Festival: Food Trucks
The International Club is holding a Food Truck event for the 3rd International Food Festival at the following schedule:
(Today!) Wednesday, March 24th: La Plaza
11:00am - 1:00pm
Location: Hale Hall parking lot
(Tomorrow!) Thursday, March 25th: Mr. Bubble and Lollys Pops
12:00pm - 2:00pm
Location: Hale Hall parking lot
You can RSVP via UEngage or come to our table at Hale Hall to sign up for a time slot.
DON'T MISS THIS!!!
Please contact Ifechi Umeh (iu15), if you have any questions.
This Week in Music
The UE Department of Music Streaming Concert Series continues this week with the Wind Ensemble, led by Dr. Kenneth Steinsultz, and the Symphony Orchestra led by Dr. Chun-Ming Chen. The program will feature American composers Libby Larsen, Paul Creston, John Barnes Chance and Grammy Award winning composer Michael Daugherty as well as music by the famous 19th century German composer Johannes Brahms. Made up of music majors, students majoring in subjects outside of music, as well as community members, the musicians of the UE Wind Ensemble and Symphony Orchestra have been hard at work preparing an eclectic program of music. The stream will be available on Tuesday March 23 at 7:30 p.m. and will remain available for viewing through the end of the week. The link can be found here: https://www.evansville.edu/majors/music/calendar.cfm We hope you will join us online.
Center for DEI Presents: Girlfriend Hour #4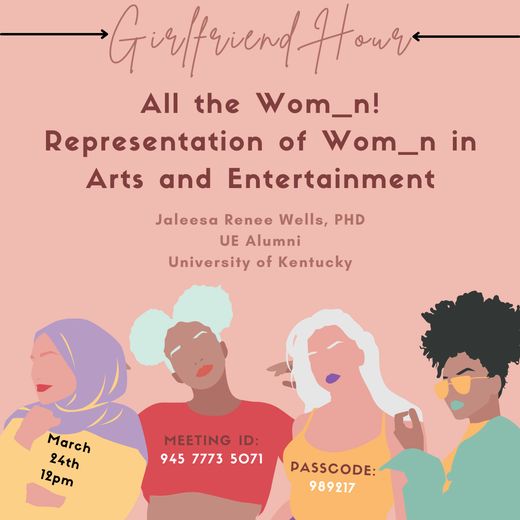 All the wom_n who are independent throw your hands up! Our fourth Girlfriend Hour will be held on Wednesday, March 24th at 12pm via Zoom and the topic is- 'All the Wom_n: Representation of Wom_n in Arts and Entertainment'. Lead by Dr. Jaleesa Renee Wells, a UE Theatre and Business Administration alumni! Dr. Wells is currently an Assistant Professor for Arts Administration at the University of Kentucky. This Lunch and Learn will be an eye opening, stigma breaking conversation exploring ways in which intersectional wom_n are portrayed in the arts and entertainment industries!
March is Wom_n's History Month! Throughout the month of March the Center for Diversity Equity and Inclusion will host a Lunch and Learn series entitled the Girlfriend Hour every Wednesday around 12pm on Zoom! Please check Acenotes and our social media for weekly topics and links! All identifying individuals are welcome to come, share and learn from our weekly speakers.
Please register for- March 24th- All the Wom_n!: Representation of Wom_n in Arts and Entertainment- here: https://evansville-edu.zoom.us/meeting/register/tJAocO6rrT4qHdXLXYhBsKifd4YX8rIXzypu
Meeting ID: 945 7733 5071
Password: 989217
**Link is not the same for all Girlfriend Hours. Please use the specified link/ Meeting ID and Password listed for the specific week!**
Mobile Mammography Coming to UE Soon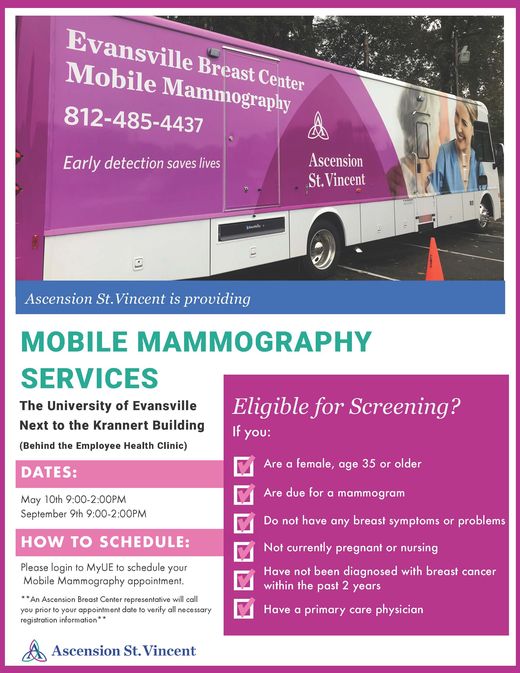 The University of Evansville and the Employee Health Clinic are happy to partner with Ascension St. Vincent to provide onsite Mammography Screenings with their brand new, state of the art, mammography coach! These will be available May 10th and Sept 9th from 9:00-2:00PM. The Mammography Coach will be located on campus next to the Krannert Building--behind the employee health clinic. This preventative screening is a free service for all that qualify. Please click the link below to schedule and see the attached flyer for more details. Email ac375@evansville.edu for additional help.
https://acelink.evansville.edu/Areas/MedicalClinic/MobileMammography/index.cfm
Eligible for Screening?
If you:
Are a female, age 35 or older
Are due for a mammogram
Do not have any breast symptoms or problems
Not currently pregnant or nursing
Have not been diagnosed with breast cancer
within the past 2 years
Have a primary care physician
This Week in Religious Life
SPIRITUAL OPPORTUNITIES
1. The Muslim and Christian Prayer Rooms in Neu Chapel are available for use 24/7. Contact the Muslim Student Association for keycard access to the Muslim Prayer Room.
2. The Center for Diversity, Equity, and Inclusion now offers a spirituality library, including books from eleven different religious traditions. From Brene Brown to Thich Nhat Hanh, and from Christian bead prayers to self-reiki, there is something for everyone. Stop by the Center's conference room to borrow one for yourself.
3. Sign up for Newman Club's Busy Person Retreat from March 28th to March 31st. https://docs.google.com/forms/d/e/1FAIpQLSe7x4W5QTwP7zqOHp3q7jNvTjmNcF9ETUtbVeJ1xao420oirg/viewform?vc=0&c=0&w=1&flr=0
CHRISTIAN WORSHIP
Due to pandemic restrictions, UE will not offer Protestant worship in Neu Chapel this semester. There are several churches in walking distance of our campus that are open for virtual and/or in-person worship on Sundays.
Methodist Temple (masks required)
8:30am, traditional worship
11:00am, contemporary worship
Redeemer Lutheran (masks required)
8:00am and 10:30am, traditional worship
A Catholic Mass is offered each Sunday in Neu Chapel at 1PM.
Health Careers Forum 2021
The Center for Career Development and Exercise and Sports Science Club will be hosting the 2021 annual Health Careers Forum on March 31. The event will run from 6:00 to 8:00 pm.
Panelists will represent various healthcare fields such as Physical Therapy, Physician Assistant, Medical School, Professional Services, and Human Resources. Join us on March 31 to gain insight into future career paths, hear valuable advice, and make connections!
Please submit your RSVP by March 26 on Handshake to receive the Zoom link for the forum.
Disability Awareness Month/ Womxn's History Month Challenge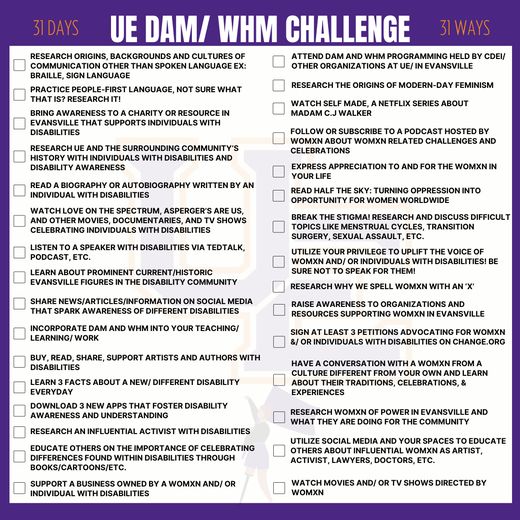 The month of March celebrates Disability Awareness Month and Womxn's History Month. Join the UE DAM/ WHM Challenge sponsored by the Center for Diversity, Equity and Inclusion! In this challenge you will find 31 ways for 31 days of Disability Awareness and Womxn's History Month to actively learn, engage, support, and uplift individual's with disabilities and womxn identifying individuals from Evansville and around the world. Items listed in the challenge can be done personally or in a social group! Hit the library and do some research on why we spell womxn with an 'x', the origins and culture of Sign Language and/ or grab a friend and binge Love on the Spectrum (available on Netflix!). However and whatever you do #DAM/WHMChallenge yourself! To make it extra fun, share what your doing on social media and be sure to tag us!
We can't wait to see the ways in which you all #DAM/WHMChallenge yourself!
Challenge Item List:
Research origins, backgrounds and cultures of communication other than spoken language ex: Braille, Sign Language
Practice People-first language, not sure what that is? Research it!
Bring awareness to a charity or resource in Evansville that supports individuals with disabilities
Research UE and the surrounding community's history with individuals with disabilities and disability awareness
Read a biography or autobiography written by an individual with disabilities
Watch Love on the Spectrum, Asperger's are us, and other movies documentaries and TV shows celebrating individuals with disabilities
Listen to a speaker with disabilities via TedTalk, Podcast, etc.
Learn about prominent current/historic Evansville figures in the disability community
Share news/articles/information on social media that spark awareness of different disabilities
Incorporate DAM and WHM into your teaching/ learning/ work
Buy, read, share, support artists and authors with disabilities
Learn 3 facts about a new/ different disability everyday
Download 3 new apps that foster disability awareness and understanding
Research an influential activist with disabilities
Educate others on the importance of celebrating differences found within disabilities through books/cartoons/etc.
Attend DAM and WHM programming held by CDEI/ other organizations at UE/ in Evansville
Research the origins of modern-day feminism
Watch Self Made, a Netflix series about Madam C.J Walker
Follow or subscribe to a podcast hosted by womxn about womxn related challenges and celebrations
Express appreciation to and for the womxn in your life
Read Half the Sky: Turning Oppression into Opportunity for Women Worldwide
Break the stigma! Research and discuss difficult topics like menstrual cycles, transition surgery, sexual assault, etc.
Utilize your privilege to uplift the voice of womxn and/ or individuals with disabilities! Be sure not to speak for them!
Research why we spell womxn with an 'x'
Raise awareness to organizations and resources supporting womxn in Evansville
Watch movies and/ or tv shows directed by womxn
Have a conversation with a womxn from a culture different from your own and learn about their traditions, celebrations, and experiences
Research womxn of power in Evansville and what they are doing for the community
Utilize social media and your spaces to educate others about influential womxn as artist, activist, lawyers, doctors, etc.
Support a business owned by a womxn and/ or individual with disabilities
Sign at least 3 petitions advocating for womxn and/ or individuals with disabilities on change.org/ other petition websites
Make a Positive Change in the World with Changelab

Do you look at the world around you and ask, "What if"?
Are you interested in helping community to innovate for a more just, prosperous, and sustainable world?
ChangeLab is for YOU!
All ChangeLab Students receive presentation coaching workshops, team building guided by expert coaches and project management resume building skills!
Here are just a FEW of the 16 ChangeLabs you can choose from for the Fall 2021 semester, including Late Starts!
CHNG 310 Y02 Project Citizen: Students will propose public policy solutions to challenges in their community and learn the process of changing their world.
CHNG 310 Y03 Evansville Adaptive Rowing: Students will impact the community for disabled individuals to be able to access empowering physical activity traditionally not accessible to them.
CHNG 310 03 Community Race Project: Students will read contemporary authors on Race in America and work to develop campus education or programs to create a more inclusive community.
CHNG 310 Latinx Community Health: Students will explore the healthcare needs of the Latinx community and work with healthcare providers to help meet those needs.
CHNG 310 Keep Evansville Beautiful *LATE START*: Students will propose environmental sustainability solutions involving littering prevention. If what students propose works, then their initiative will be incorporated and impact multiple areas around Evansville.
"COVID Between the Coasts" ChangeLab received one of Leadership Everyone's COVID-19 Community Awards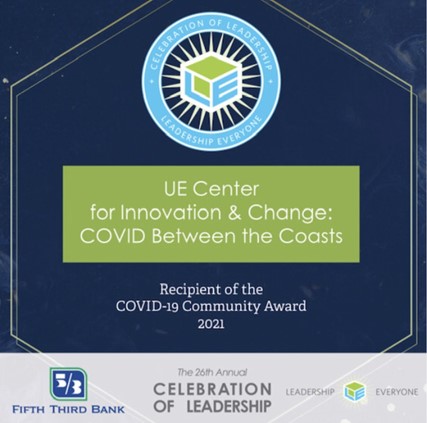 "COVID Between the Coasts" ChangeLab partnership between WNIN, Dr. Tamara Wandel in Communications and Dr. Darrin Weber in the Math received one of Leadership Everyone's COVID-19 Community Awards!! The 26th Annual Celebration of Leadership Ceremony, recognized unique collaborations in the community that stepped up to address COVID-19. This project was one of the recipients.
Congratulations to Steve Burger and Sarah Kuper with WNIN, and our very own Dr. Wandel and Dr. Weber and their students!! Thank you all so much for being willing to take on a project like this. It took a lot of, "Sure, let's try it!" responses to even get this opportunity to the students, so we are filled with gratitude for that servant leadership spirit. Professors, please let your students know the good news! We are so grateful to all of you for doing this incredible work for our region and stepping up in such a unique way during challenging times.
For those of you who haven't had a chance to hear the podcasts yet, you can listen to them here: https://news.wnin.org/post/binge-listen-cbc-season-one#stream/0, and also see the incredible data portal where you can learn about COVID in the Midwest here: https://darrinweber.shinyapps.io/covid_between_coasts/.
"On behalf of WNIN, I want to thank the staff and administration at UE for this collaboration. Because of your contribution to CBC, our area will have a robust story and data resource for the historical record of this time. We are in agreement that Drs. Wandel and Weber are rock stars who coached and mentored their students to stretch and learn, creating this lasting record of the pandemic in our area. Perhaps when things open up more, we can have an in-person gathering to relive and recognize this extraordinary experience." - Steve Burger, VP of Radio WNIN
UE Theatre Welcomed Renowned Industrial Hygienist Monona Rossol for Theatre Safety Workshop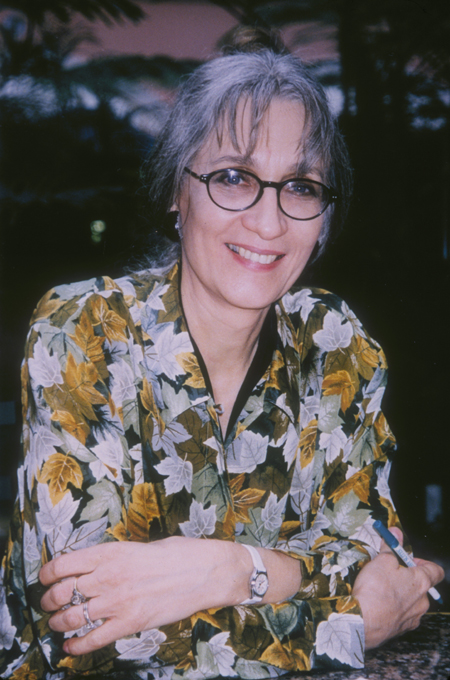 UE Theatre hosted another installment of their 2020–21 Workshop Series on Mar. 21 with Monona Rossol. In this workshop, Rossol discussed the hazards and best safety practices of using materials commonly used in theatrical dye rooms, prop shops, and costume craft rooms.
Rossol is a chemist, artist, and industrial hygienist. She was born into a theatrical family and worked as a professional entertainer from age 3 to 17. She enrolled in the University of Wisconsin where she earned a BS in Chemistry with a minor in Math, an MS in Ceramics and Sculpture, and an MFA in Ceramics and Glassblowing and a minor in Music. While in school, she worked as a chemist, taught and exhibited artwork, performed with University music and theatre groups, and worked yearly in summer stock. After leaving school, she performed in acting roles in Off Broadway theatres and cabarets. Currently, Rossol is President/Founder of Arts, Crafts, and Theatre Safety, Inc., a not-for-profit corporation dedicated to providing health and safety services to the arts. She also is the Health and Safety Director for Local 829 of the United Scenic Artists, International Alliance of Theatrical Stage Employees (IATSE). She has lectured and consulted in the US, Canada, Australia, England, Mexico, and Portugal.
UE Theatre Welcomed Brian Russman, Costume Designer and Associate Teaching Professor at Carnegie Mellon University, for Natural Dye Workshop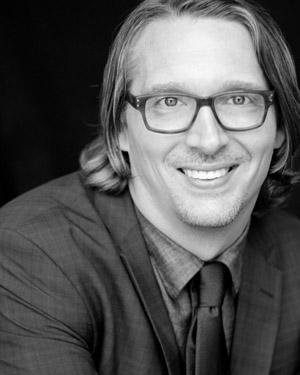 UE Theatre hosted another installment of their 2020–21 Workshop Series on February 28 and March 14 with Brian Russman, costume designer and Associate Teaching Professor at Carnegie Mellon University. In this two-part workshop, students explored safe and approachable dyeing techniques and learned how to pair proper dyestuff to fiber content and utilize mordants in order to obtain the best dye affinity.
Russman has worked in New York City as a design assistant and associate on such notable projects as: THE PILLOWMAN, BILLY ELLIOT, THE WEDDING SINGER, BOEING BOEING, SPAMALOT, FROST/NIXON, ANNIE GET YOUR GUN, Walt Disney's AIDA, MAMMA MIA!, SWEET SMELL OF SUCCESS, AMOUR, and TOM SAWYER. Russman has also worked at many of the leading New York costume houses including Barbara Matera, Ltd., Tricorne, Carelli Costumes, and Rodney Gordon, Ltd.
Russman's film and television work include assistant design responsibilities on LIFE WITH JUDY GARLAND: ME AND MY SHADOWS, THE DARK KNIGHT RISES, AMERICAN GANGSTER, DR. T AND THE WOMEN, and WAR OF THE WORLDS, as well as work on THE NEXT THREE DAYS and ABDUCTION. Russman has worked regionally as an assistant designer or a craftsperson/milliner with The Shakespeare Theatre, PlayMaker's Repertory Company, Goodspeed Opera, Papermill Playhouse, Arena Stage, New York Theatre Workshop, Houston Grand Opera, Santa Fe Opera, The Utah Shakespeare Festival, Chicago Lyric Theatre, Atlanta Ballet, Holland American Cruise Lines, The Alley Theatre, Pittsburgh Public Theater, Second Stage Theatre, and Geva Theatre.
Russman's costume design work has been seen on the stages of The Shakespeare Theatre of New Jersey (LIFE OF GALILEO, THE RIVALS, THE PLAY'S THE THING, THE LITTLE FOXES), Porthouse Theatre (AND A NIGHTINGALE SANG, DEATHTRAP), TheDrillingCompaNY (DEALERS), Rattlestick Playwright's Theatre (BOISE), and PlayMaker's Repertory Company (MOLLY SWEENEY). Russman is a member of the United States Institute for Theatre Technology and United Scenic Artists Local 829/489.
UE Theatre Welcomed Brooke Ishibashi, Carson Elrod, Jenny Grace Makholm, and Matthew-Lee Erlbach, Co-Organizers of Be An #ArtsHero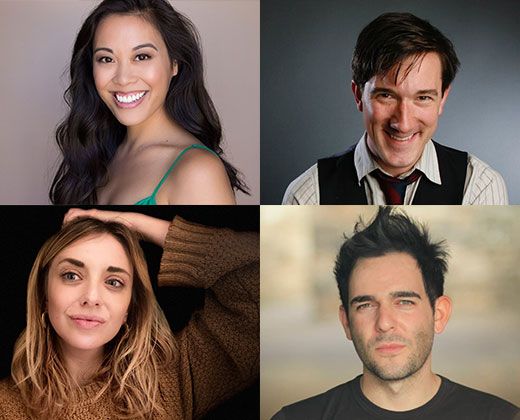 Brooke Ishibashi, Carson Elrod, Jenny Grace Makholm, and Matthew-Lee Erlbach
UE Theatre hosted another installment of their 2020–21 Workshop Series on Tuesday, March 16 with Brooke Ishibashi, Carson Elrod, Jenny Grace Makholm, and Matthew-Lee Erlbach, Co-Organizers of the Be An #ArtsHero campaign. Throughout the session, panelists discussed the arts, activism, and the group's work lobbying the United States government to advocate for arts workers in the wake of the pandemic.
Be An #ArtsHero is an intersectional grassroots campaign comprised of arts and culture workers, unions, and institutions in the United States pushing the Senate to allocate proportionate relief to the arts and culture sector of the American economy. Their aim is to make arts workers a legislative priority by highlighting the economic impact of the millions of arts workers–performers, playwrights, designers, ushers, museum docents, administrators, publicists, and more. The movement helped push Congress to extend unemployment benefits back in December. At that time, they had met with representatives from dozens of House members and over 60 Senate offices.
Ishibashi is a fourth-generation Japanese American, who hails from a showbiz family. As a professional actor/singer, she originated the role of "Neary" in CAMBODIAN ROCK BAND and is passionate about exploring anti-racism, social justice, and trans-generational trauma. Ishibashi has clowned with Taylor Mac at The Public, been plucked by DJ Nash and Pam Fryman to star in an NBC comedy, crashed American Idol as a sketch character, "Akiko," and performed at La Jolla Playhouse, Oregon Shakespeare Festival, Geffen Playhouse, Joe's Pub, and many more. Ishibashi is a core member of Fair Wage Onstage and is a National Councilor for Actors' Equity Association.
Elrod is a professional actor, organizer, and advocate. In 2014, Carson co-founded the #FairWageOnStage campaign that secured up to 83% increases in wages for Off-Broadway Actors' Equity workers. Elrod's career has included major motion pictures including WEDDING CRASHERS and KISSING JESSICA STEIN. His Broadway credits include PETER AND THE STARCATCHER, RECKLESS, and NOISES OFF. Off-Broadway: IMPORTANT HATS OF THE 20TH CENTURY, SHAKESPEARE IN THE PARK, and many more. He has performed everywhere from the Upright Citizens Brigade Theatre to The Metropolitan Opera.
Makholm is a polymath Brooklyn-based writer, actor, director, visual artist, activist, and producer committed to creating and participating in intersectional feminist work. Her most recent play, VANQUISHED, was a Eugene O'Neill conference 2019 finalist, 21st Century Voices New Play Festival 2020 finalist, and Jane Chambers Excellence in Feminist Playwrighting Award 2020 finalist. Her musical RELENT was an NYIT nominee for best musical. As an actress, Makholm is most known as the romantic lead in the indie darling COMPLETELY NORMAL (Amazon Prime Video), Tina Cesa Ward's PRODUCING JULIET (Amazon Prime Video), and the award-winning feature SUMMERTIME IN NEW YORK. Makholm proudly worked for the Knowledge Project coordinating a five-borough literacy, theatre, and mentoring program with at-risk youth. Makholm has co-produced and directed the films HE LOOKS AND LOOKS, ONE ART, and SKIN BALLOON. She co-produced the plays SAVAGE IN LIMBO (with Henry Zebrowski), Tony-award winner Michael Aronov's Off-Broadway production of MANIGMA, as well as the hit podcast THE BLONDES.
Erlbach is a writer, actor, and labor activist from Chicago and New York. He has written for WE ARE THE CHAMPIONS and GYPSY (Netflix), MASTERS OF SEX (Showtime), as well as for WWE, Nickelodeon, and MTV. As a playwright, his latest play, THE DOPPELGÄNGER (An International Farce), starring Rainn Wilson and directed by Tina Landau premiered at Steppenwolf Theatre in Chicago, where he is currently developing a new play with Artistic Director Anna D. Shapiro. He has received support from the National Endowment for the Arts, Laurents/Hatcher Foundation, Elizabeth F. Cheney Foundation, Puffin Foundation, was a member of Ars Nova's Play Group, MVMNT Theatre's Play Group, and is a HUMANITIS New Voices recipient. He also works with various homeless organizations and Habitat for Humanity.
Mental Health Mythbuster
MYTH: Personality weaknesses or character flaws cause mental health problems.
Mental health problems are not affected by being "lazy" or "weak". Many factors contribute to mental health problems like genes, physical illness, injury, brain chemistry, trauma, abuse, and family history.
AAUP Condemns Violence against Asian Americans
The University of Evansville Chapter of the AAUP strongly condemns the violence against Asian American and Asian people nationwide. We stand in solidarity and support of all Asian-American/Pacific Islander faculty, staff, and students at UE and everywhere.
REL 120: Summer Writing Across the Curriculum and Outcome 4
REL 120 Religion in America will be offered asynchronously online during Summer 1 (May 17-June 18). This course fulfills Gen Ed requirements for both Writing Across the Curriculum and Outcome 4. Please contact Dr. Valerie Stein (vs9) for more information.
ES 103 Offered During Summer Session 2
ES 103 (Fundamentals of Environmental Science), which fulfills the non-lab science General Education credit (Outcome 8), will be offered during Summer Session 2 as an online, asynchronous class. If you have questions about this 3 credit hour course, which will run from June 21-July 23, please contact Dr. Aldred via email - ka59@evansville.edu
BIOL 107 Offered During Summer Session 2
BIOL 107 (General Biology), which fulfills the lab science General Education credit (Outcome 8), will be offered during Summer Session 2 as an online, asynchronous class. Although it is generally intended for those majoring in EXSS, public health, and similar, all majors are welcome! The lab portion of the course will be completed via Labster, an exciting virtual lab simulator! If you have questions about this 4 credit hour course, which will run from June 21-July 23, please contact Dr. Aldred via email - ka59@evansville.edu
HEERF II Grant Distribution Authorization Now Open
HEERF II Emergency Grant funding is now available. All educationally related expenses are eligible for HEERF II funding and may be applied to current and/or future student account balances. Please be aware that funding is limited, and a valid 2020-21 Free Application for Federal Student Aid (FAFSA) submission is required for grant consideration. Grant recipients requesting a refund must have bank information on file as refunds will only be issued electronically via direct deposit.
Eligible students wishing to claim a portion of HEERF II grant funds are required to submit the HEERF II Grant Authorization and confirm bank account information. The deadline to accept these funds is April 15, 2021.
Crescent Magazine New Website
Be sure to check out the Crescent's brand-new website for monthly issues created by student reporters, designers, and photographers! The Crescent is now accepting content submissions and hiring for all positions. See website for more details. https://crescent.evansville.edu
Crescent Magazine is a monthly student magazine published six times during the academic year by and for the students of the University of Evansville. The magazine serves as an open forum for University of Evansville students, faculty, staff, administrators and alumni through its editorials, columns and letters to the editor. With a focus on student life, the magazine provides coverage of campus news, features and sports, and select local and general-interest items of interest to the audience. The Crescent's aim is to present relevant content in a fair, accurate and unbiased manner, to keep news items free of editorial comment, and to use editorial comment as a tool for informing and persuading through the use of factual information and opinion.
Crescent Magazine welcomes letters from UE students, faculty, staff, administrators and alumni, but material the CMEB regards as libelous, malicious and/or obscene will not be published. Letters should not exceed 250 words. For verification, letters must include the author's name, class standing or title and email address. Crescent Magazine does not print anonymous letters or those that cannot be verified. Letters will be edited as needed.
Crescent Magazine is committed to helping you bring your products and services to University of Evansville students and the UE campus community. To advertise in the Crescent Magazine or on the website email crescentmagazine@evansville.edu.
Interested in Helping Professions, Non-profits, or Human Services?
Virtual Career Connections: Helping Professions/Non-Profits/Human Services is on March 25th from 4:00-5:15 pm.
Non-profit careers can be very rewarding. Come talk to experienced professionals and see what opportunities may await you!
Helping professions and human services are vital aspects of our community. If you are considering a helping field as a career, don't miss this opportunity to see what it takes to get started and how to be successful.
Students looking for an internship or volunteering opportunity should not miss this event!
The first 20 students who register and attend receive their choice of a FREE Chick-Fil-A fry or UE Coffee Mug! Register on Handshake today! https://evansville.joinhandshake.com/events/704007
Call for Nominations: Dean of Students Leadership Awards
Call for Nominations: Dean of Students Leadership Awards
Nominations are now being accepted for consideration of The Howard S. Rosenblatt "Dean of Students Leadership Awards." These awards will be presented at the 28th Annual Leadership Awards Reception scheduled for April 22, 2021 (details of reception will follow at a later date). Invitations will be prepared by the Center for Student Engagement.
Awards are presented in the following categories:
Student Organization Advisor of the Year
Student Organization of the Year
Student Leader of the Year
Over 80% of UE students participate in at least one student organization or program. These organizations are successful because of the commitment of the student leaders and the advisors who give freely of their time and support. The recipients of these awards are selected based on their commitment to the University of Evansville as well as the development and success of their efforts within their chosen student organization.
The deadline for nominations is March 26, 2021. Submit your nomination.
Nomination/Application - Howard S. Rosenblatt Dean of Students Leadership Awards
If you have any questions, please contact the Vice President for Student Affairs/Dean of Students office at 812-488-2500 or by e-mail via cb131@evansville.edu.
Thank you in advance for celebrating our student leaders' achievements!
Deadline Extended: 2021-22 Dr. Marvin E. Hartig Memorial Scholarship
UPDATE: The scholarship deadline has been extended to Friday, May 7.
Family, friends and loved ones of the late Dr. Marvin E. Hartig are pleased to announce the application process for the Dr. Marvin E. Hartig Memorial Scholarship. This scholarship is dedicated to the loving memory of Dr. Hartig, Dean of Evansville College's Evening College in 1967, and administrator for the Center for Advanced Study, director of the Evansville chapter of the American Institute of Banking (AIB), and the international student advisor. In 1974, Dr. Hartig was appointed Dean of Academic Services. He retired in 1984 after serving his alma mater for thirty-five years and passed away in 2007.
This scholarship will be awarded annually to a deserving sophomore student. Preference will be given to a student working while being enrolled as a full-time student. International students are encouraged to apply.
Eligible students for the 2021-2022 Hartig Memorial Scholarship will be sophomores in the 2021-2022 academic year.
Download the 2021-22 Dr. Marvin E. Hartig Memorial Scholarship application.
Deadline: Please return all materials to the Office of Student Financial Services by April 23, 2021. The decision will be announced by June 14, 2021.
Questions: Amanda Wood, administrative assistant to the Office of Student Financial Services, at aw505@evansville.edu or 812-488-2364
Aces Face Cougars in Midweek Clash
A non-conference midweek game pits the University of Evansville softball team against SIU Edwardsville on Wednesday at 5 p.m. at Cooper Stadium.
Last Time Out
Evansville took two out of three games against Loyola in the first Missouri Valley Conference series of the season. After dropping a 1-0 contest, UE rebounded to take victories by finals of 7-3 and 7-4. Eryn Gould batted .600 in the series while finishing with a .833 on-base percentage. Jenna Lis hit .500 in the series, accumulating five hits, three doubles and a home run. Appearing in all three games, Izzy Vetter finished with a 2.00 ERA while striking out 19 batters.
Player of the Week
Senior Eryn Gould was named the MVC Player of the Week on Monday following a spectacular weekend against the Ramblers. She had an unbelievable .833 on-base percentage while slugging 1.800. She reached base with six walks, three of which were intentional, while also being hit by a pitch. Gould batted .600 with three hits in five at-bats but made the most out of those changes, belting two home runs while tallying six RBI.

In the Circle
In Evansville's opening conference series of the 2021 campaign, Izzy Vetter appeared in all three while striking out a total of 19 batters and finishing with a 2.00 ERA. She threw another gem on Sunday, striking out the first seven Loyola batters of the game before picking up her 7th win of the year. She gave up two hits and struck out 10 batters in six innings.

Starting Strong
Evansville has had a nice start to the 2021 campaign, going 13-7 through its first 20 games while picking up two wins over Loyola to clinch the opening MVC series. It is the best start for the program since 2008 when the Aces had an identical 13-7 mark. The Aces are home for six more games as they wrap up a 16-game homestand next week.

Patience at the Plate
Over the course of the Loyola series, Evansville accumulated a total of 18 walks while the Ramblers reached on a walk just four times in the three contests. Eryn Gould tied the season conference mark with three walks in the series opener. Evansville has recorded 19 walks through its first 20 games, that total ranks 12th in the nation. The Aces also have two of the nation's top 51 individuals in that category with Eryn Gould ranking 40th in the NCAA with 0.80 walks per game and Marah Wood sitting 51st with 0.75 per contest.
Scouting the Opponent
SIUE enters Wednesday's game with an overall record of 2-12 while standing at 2-7 in Ohio Valley Conference play. Their wins came in their last road series when they took two out of three games against Tennessee State. Amber Storer is batting a team-best .348.
Contribute to AceNotes
To have content considered for inclusion in AceNotes, please submit a Marketing Request Form. Deadline for submission to AceNotes is 10:00 a.m. on the requested date of publication. Only articles concerning UE related/sponsored activities will be accepted. Articles submitted to AceNotes may be edited for length and clarity. Submitter contact information is at the end of each article.