| | |
| --- | --- |
| AceNotes Today | Tuesday, March 23, 2021 |
UE Employee Benefit Enrollment Save the Date
During the period of April 5 through April 16, benefit-eligible employees may enroll or make changes in the University's health, life, long term disability, and dental insurance, and ACES flexible spending account benefit plans. It is the only chance for benefit-eligible employees to enroll or make changes until the next open enrollment period unless you have a qualifying change in status.
More information will be available in the coming weeks.
Employees will have the opportunity to learn more about these benefit changes or to speak with a plan representative at one of the following Zoom events:
Monday, April 5 from 2:00 pm to 3:00 pm
Tuesday, April 6 from 10:00 am to 11:00 am
Please contact the Office of Human Resources at ext. 5045 with any questions.
Welcome Keely Cutts, Registrar
We would like to welcome Keely Cutts as our new University Registrar. Keely comes to us from Rosemont College in Ardmore, Pennsylvania, where she served as Registrar. Her office is located in the Registrar's Office in Olmsted Hall, and she can be reached at ext. 2602 and email address kc391@evansville.edu. We are thrilled to have her, and she will be a valuable asset to our university. Welcome aboard, Keely!
Ashley Nels has been promoted to Associate Registrar. She has been at UE since January 2016 and previously held the position of Assistant Registrar. Ashley can still be reached at extension 2615 and at email address an89@evansville.edu. Congratulations, Ashley!
COVID-19 Vaccinations for 16 and Older at Ascension St. Vincent
Currently, the Indiana State Department of Health (ISDH) has identified the following Indiana residents as eligible to receive the COVID vaccine:
Healthcare Workers
First Responders
Teachers and school staff in pre-K through high school, child care centers, Head Start and Early Start programs
Licensed childcare providers, including center-based and family care providers
Age 16 and above
Specific groups of patients at highest risk of severe illness from COVID-19 who are identified by their healthcare provider are also eligible. These individuals will receive a unique registration link by text or email.
We will keep our patients updated as eligibility and administration sites broaden. Although currently there is no cost to patients for the vaccine, insurance information will be collected.
Vaccine Scheduling
The COVID-19 vaccine is available by appointment only. No walk-ins will be permitted. Once listed as eligible by the ISDH, go to www.ourshot.in.gov or by calling 211 or 1-866-211-9966 to schedule an appointment.
Detailed instructions
Go to www.ourshot.in.gov
Enter date of birth and attest to being over age 16
Enter zip code and Select Ascension St Vincent Vaccine Clinic location
Select appointment date and time
Complete demographic information including accurate date of birth
Confirm appointment
Ascension St Vincent Vaccine Clinic
For your convenience, the Ascension St. Vincent Vaccine Clinic is open 7 days a week and located on the hospital campus in the Manor Auditorium. When scheduling an appointment on the state website, select "Ascension St Vincent Evansville VAX" as site location. Directions: Enter the parking garage off of Bellemeade Avenue, immediately turn left and follow the directional signage to the designated vaccine clinic parking area. Patients should enter the clinic using the doors adjacent to the parking garage. Tri State Clinics patients are encouraged to call our office at 1-888-492-8722 with questions or for assistance with scheduling at the Ascension St. Vincent Vaccine Clinic.
Spencer County Residents
Spencer County Local Health Department
Heritage Hills High School
Perry County Residents
Perry County Local Health Department
Perry County Memorial Hospital
Posey County Residents
Posey County Local Health Department
Illinois Residents
Phase 1A: Healthcare workers, those in long term care facilities.
Phase 1B : Frontline essential workers, residents 65 years of age or older and under 65 with comorbidities.
Phase 1B+ : IL residents 16+ with disabilities or serious medical conditions. Higher education staff, gov workers, and media. Details and scheduling info at: https://coronavirus.illinois.gov/s/.
Kentucky Residents
Phase 1a: Long term care facilities, healthcare personnel
Phase 1b: First responders, anyone 70 or older, K-12 school personnel
Phase 1C : KY residents age 60+ AND 16 and older with serious medical conditions and essential workers
For locations and to schedule appointment go to: https://govstatus.egov.com/kentucky-vaccine-map or call the KY COVID-19 Hotline - (800) 722-5725 for more information.
Should you have any additional questions, please contact Ashley Chipps at ashley.chipps@ascension.org or Stacey Smith at stacey.smith1@ascension.org
This Week in Music
The UE Department of Music Streaming Concert Series continues this week with the Wind Ensemble, led by Dr. Kenneth Steinsultz, and the Symphony Orchestra led by Dr. Chun-Ming Chen. The program will feature American composers Libby Larsen, Paul Creston, John Barnes Chance and Grammy Award winning composer Michael Daugherty as well as music by the famous 19th century German composer Johannes Brahms. Made up of music majors, students majoring in subjects outside of music, as well as community members, the musicians of the UE Wind Ensemble and Symphony Orchestra have been hard at work preparing an eclectic program of music. The stream will be available on Tuesday March 23 at 7:30 p.m. and will remain available for viewing through the end of the week. The link can be found here: https://www.evansville.edu/majors/music/calendar.cfm We hope you will join us online.
Center for DEI Presents: Girlfriend Hour #4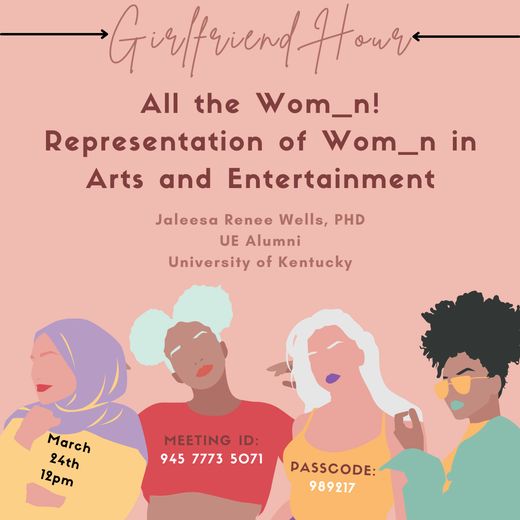 All the wom_n who are independent throw your hands up! Our fourth Girlfriend Hour will be held on Wednesday, March 24th at 12pm via Zoom and the topic is- 'All the Wom_n: Representation of Wom_n in Arts and Entertainment'. Lead by Dr. Jaleesa Renee Wells, a UE Theatre and Business Administration alumni! Dr. Wells is currently an Assistant Professor for Arts Administration at the University of Kentucky. This Lunch and Learn will be an eye opening, stigma breaking conversation exploring ways in which intersectional wom_n are portrayed in the arts and entertainment industries!
March is Wom_n's History Month! Throughout the month of March the Center for Diversity Equity and Inclusion will host a Lunch and Learn series entitled the Girlfriend Hour every Wednesday around 12pm on Zoom! Please check Acenotes and our social media for weekly topics and links! All identifying individuals are welcome to come, share and learn from our weekly speakers.
Please register for- March 24th- All the Wom_n!: Representation of Wom_n in Arts and Entertainment- here: https://evansville-edu.zoom.us/meeting/register/tJAocO6rrT4qHdXLXYhBsKifd4YX8rIXzypu
Meeting ID: 945 7733 5071
Password: 989217
**Link is not the same for all Girlfriend Hours. Please use the specified link/ Meeting ID and Password listed for the specific week!**
Mobile Mammography Coming to UE Soon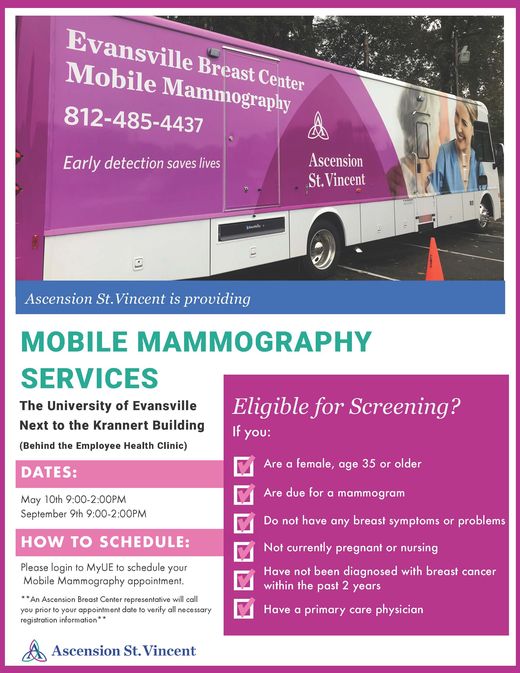 The University of Evansville and the Employee Health Clinic are happy to partner with Ascension St. Vincent to provide onsite Mammography Screenings with their brand new, state of the art, mammography coach! These will be available May 10th and Sept 9th from 9:00-2:00PM. The Mammography Coach will be located on campus next to the Krannert Building--behind the employee health clinic. This preventative screening is a free service for all that qualify. Please click the link below to schedule and see the attached flyer for more details. Email ac375@evansville.edu for additional help.
https://acelink.evansville.edu/Areas/MedicalClinic/MobileMammography/index.cfm
Eligible for Screening?
If you:
Are a female, age 35 or older
Are due for a mammogram
Do not have any breast symptoms or problems
Not currently pregnant or nursing
Have not been diagnosed with breast cancer
within the past 2 years
Have a primary care physician
This Week in Religious Life
SPIRITUAL OPPORTUNITIES
1. The Muslim and Christian Prayer Rooms in Neu Chapel are available for use 24/7. Contact the Muslim Student Association for keycard access to the Muslim Prayer Room.
2. The Center for Diversity, Equity, and Inclusion now offers a spirituality library, including books from eleven different religious traditions. From Brene Brown to Thich Nhat Hanh, and from Christian bead prayers to self-reiki, there is something for everyone. Stop by the Center's conference room to borrow one for yourself.
3. Sign up for Newman Club's Busy Person Retreat from March 28th to March 31st. https://docs.google.com/forms/d/e/1FAIpQLSe7x4W5QTwP7zqOHp3q7jNvTjmNcF9ETUtbVeJ1xao420oirg/viewform?vc=0&c=0&w=1&flr=0
CHRISTIAN WORSHIP
Due to pandemic restrictions, UE will not offer Protestant worship in Neu Chapel this semester. There are several churches in walking distance of our campus that are open for virtual and/or in-person worship on Sundays.
Methodist Temple (masks required)
8:30am, traditional worship
11:00am, contemporary worship
Redeemer Lutheran (masks required)
8:00am and 10:30am, traditional worship
A Catholic Mass is offered each Sunday in Neu Chapel at 1PM.
Center for DEI & ABLE Present: Disabilities, Background and Culture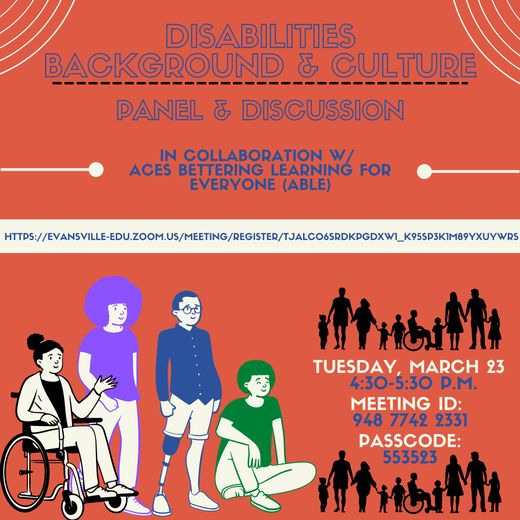 Disability is not inability. Join the Center for Diversity Equity and Inclusion in collaboration with ACES Bettering Learning for Everyone (ABLE) this Disability Awareness Month for a Disabilities, Background and Culture panel and open discussion on March 23rd at 4:30pm via Zoom.
You will hear from a group of current UE students from a range of backgrounds and identities, as well as have the opportunity to share your own thoughts and experiences. Students will discuss their lived experiences and share how the intersectionality of having a disability, individual cultures, and societal culture has impacted their experiences throughout life. This program serves as a safe, inclusive space to ask questions and tackle the stigma surrounding disabilities.
Please register for March 23rd: Disabilities, Background and Culture
Meeting ID: 948 7742 2331
Passcode: 553523
Closed Captioning Available
Disability Awareness Month/ Womxn's History Month Challenge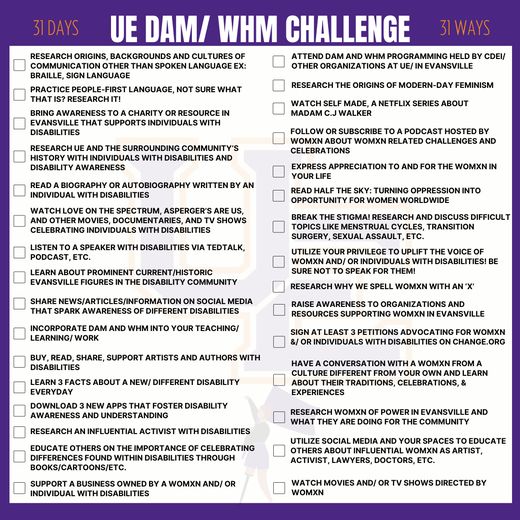 The month of March celebrates Disability Awareness Month and Womxn's History Month. Join the UE DAM/ WHM Challenge sponsored by the Center for Diversity, Equity and Inclusion! In this challenge you will find 31 ways for 31 days of Disability Awareness and Womxn's History Month to actively learn, engage, support, and uplift individual's with disabilities and womxn identifying individuals from Evansville and around the world. Items listed in the challenge can be done personally or in a social group! Hit the library and do some research on why we spell womxn with an 'x', the origins and culture of Sign Language and/ or grab a friend and binge Love on the Spectrum (available on Netflix!). However and whatever you do #DAM/WHMChallenge yourself! To make it extra fun, share what your doing on social media and be sure to tag us!
We can't wait to see the ways in which you all #DAM/WHMChallenge yourself!
Challenge Item List:
Research origins, backgrounds and cultures of communication other than spoken language ex: Braille, Sign Language
Practice People-first language, not sure what that is? Research it!
Bring awareness to a charity or resource in Evansville that supports individuals with disabilities
Research UE and the surrounding community's history with individuals with disabilities and disability awareness
Read a biography or autobiography written by an individual with disabilities
Watch Love on the Spectrum, Asperger's are us, and other movies documentaries and TV shows celebrating individuals with disabilities
Listen to a speaker with disabilities via TedTalk, Podcast, etc.
Learn about prominent current/historic Evansville figures in the disability community
Share news/articles/information on social media that spark awareness of different disabilities
Incorporate DAM and WHM into your teaching/ learning/ work
Buy, read, share, support artists and authors with disabilities
Learn 3 facts about a new/ different disability everyday
Download 3 new apps that foster disability awareness and understanding
Research an influential activist with disabilities
Educate others on the importance of celebrating differences found within disabilities through books/cartoons/etc.
Attend DAM and WHM programming held by CDEI/ other organizations at UE/ in Evansville
Research the origins of modern-day feminism
Watch Self Made, a Netflix series about Madam C.J Walker
Follow or subscribe to a podcast hosted by womxn about womxn related challenges and celebrations
Express appreciation to and for the womxn in your life
Read Half the Sky: Turning Oppression into Opportunity for Women Worldwide
Break the stigma! Research and discuss difficult topics like menstrual cycles, transition surgery, sexual assault, etc.
Utilize your privilege to uplift the voice of womxn and/ or individuals with disabilities! Be sure not to speak for them!
Research why we spell womxn with an 'x'
Raise awareness to organizations and resources supporting womxn in Evansville
Watch movies and/ or tv shows directed by womxn
Have a conversation with a womxn from a culture different from your own and learn about their traditions, celebrations, and experiences
Research womxn of power in Evansville and what they are doing for the community
Utilize social media and your spaces to educate others about influential womxn as artist, activist, lawyers, doctors, etc.
Support a business owned by a womxn and/ or individual with disabilities
Sign at least 3 petitions advocating for womxn and/ or individuals with disabilities on change.org/ other petition websites
THE HUSTACE WORLD VIEW Paintings by Cedric Hustace
ART EXHIBIT IN KRANNERT GALLERY: THE HUSTACE WORLD VIEW
Paintings by
CEDRIC HUSTACE
February 21 – April 4, 2021
Public Reception for the Artist: Thursday, March 18, 2021, 6:30pm
This exhibit is part of the Emerging Contemporary Artist Lecture Series, sponsored by the Department of Art, with the generous support of the Efroymson Family Fund.
"COVID Between the Coasts" ChangeLab received one of Leadership Everyone's COVID-19 Community Awards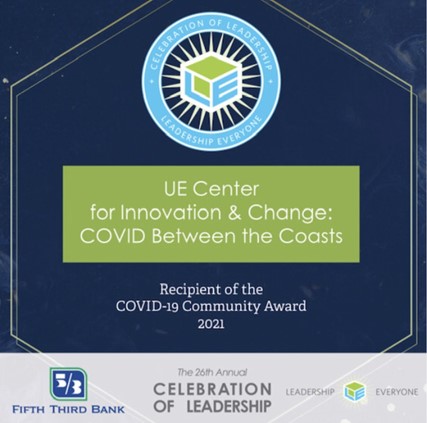 "COVID Between the Coasts" ChangeLab partnership between WNIN, Dr. Tamara Wandel in Communications and Dr. Darrin Weber in the Math received one of Leadership Everyone's COVID-19 Community Awards!! The 26th Annual Celebration of Leadership Ceremony, recognized unique collaborations in the community that stepped up to address COVID-19. This project was one of the recipients.
Congratulations to Steve Burger and Sarah Kuper with WNIN, and our very own Dr. Wandel and Dr. Weber and their students!! Thank you all so much for being willing to take on a project like this. It took a lot of, "Sure, let's try it!" responses to even get this opportunity to the students, so we are filled with gratitude for that servant leadership spirit. Professors, please let your students know the good news! We are so grateful to all of you for doing this incredible work for our region and stepping up in such a unique way during challenging times.
For those of you who haven't had a chance to hear the podcasts yet, you can listen to them here: https://news.wnin.org/post/binge-listen-cbc-season-one#stream/0, and also see the incredible data portal where you can learn about COVID in the Midwest here: https://darrinweber.shinyapps.io/covid_between_coasts/.
"On behalf of WNIN, I want to thank the staff and administration at UE for this collaboration. Because of your contribution to CBC, our area will have a robust story and data resource for the historical record of this time. We are in agreement that Drs. Wandel and Weber are rock stars who coached and mentored their students to stretch and learn, creating this lasting record of the pandemic in our area. Perhaps when things open up more, we can have an in-person gathering to relive and recognize this extraordinary experience." - Steve Burger, VP of Radio WNIN
UE Theatre Welcomed Dinah Berkeley, Actor and American Conservatory Theater Graduate, for Audition Workshop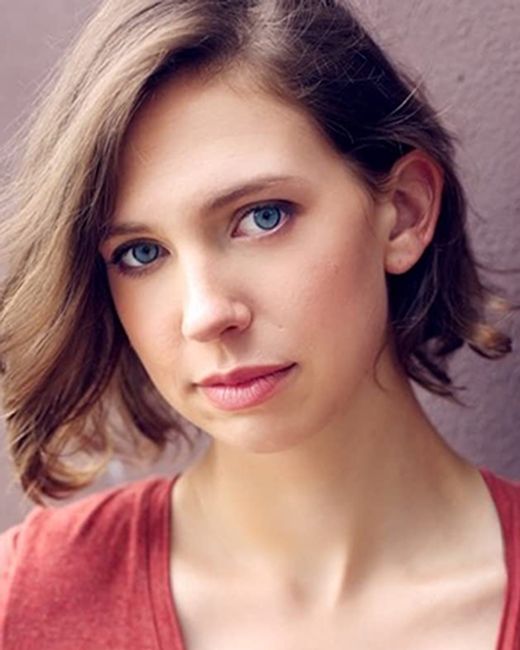 UE Theatre hosted another installment of their 2020–21 Workshop Series on March 14 with Dinah Berkeley. In this workshop, students explored audition techniques that can be used in various graduate school and professional settings.
Berkeley has performed in new works at the ACT, St. Ann's Warehouse, The Humana Festival, Ars Nova, HERE Arts Center, The PIT (People's Improv Theatre) amongst others. They have done extensive work with Dutch Kills and Broken Box Mime Theater companies. They are originally from Chicago and a proud graduate of A.C.T.'s MFA Class of 2020. They received a BFA from Ohio University and attended the Professional Training Company at The Actor's Theatre of Louisville.
AAUP Condemns Violence against Asian Americans
The University of Evansville Chapter of the AAUP strongly condemns the violence against Asian American and Asian people nationwide. We stand in solidarity and support of all Asian-American/Pacific Islander faculty, staff, and students at UE and everywhere.
REL 120: Summer Writing Across the Curriculum and Outcome 4
REL 120 Religion in America will be offered asynchronously online during Summer 1 (May 17-June 18). This course fulfills Gen Ed requirements for both Writing Across the Curriculum and Outcome 4. Please contact Dr. Valerie Stein (vs9) for more information.
Financial Aid for Summer Courses
If you are an undergraduate or graduate student seeking financial aid or intending to use loan funds for summer courses at UE, please complete a Summer Financial Aid Application and return to the Office of Student Financial Services (Olmsted 105) however is most convenient. The application will allow our office to assess your aid and loan eligibility.
Work-Study:
On-campus jobs are available for continuing UE students during the summer. You do not need to be eligible for need-based Federal Work-Study during the academic year in order to apply. You may also apply regardless of your enrollment in summer courses. Applications are available within the Student Employment area of WebAdvisor.
Successful Strategies for Virtual Work
Virtual Career Connections: Successful Strategies for Virtual Work is on March 23rd from 4:00-5:15 pm.
Many positions post-pandemic will remain remote. Are you interested in exploring virtual career options? Join us to hear from alumni/employers in several remote-friendly fields including the finance industry, marketing, communication/multi-media, and more.
Are you interested in searching for remote internships or jobs? Join the discussion with Indianaintern.net and Ascend.
Gain tips and tricks for being successful while working in a virtual world!
The first 20 students who register and attend receive their choice of a FREE Chick-Fil-A fry or UE Coffee Mug! Register on Handshake today! https://evansville.joinhandshake.com/events/703871
Interested in Helping Professions, Non-profits, or Human Services?
Virtual Career Connections: Helping Professions/Non-Profits/Human Services is on March 25th from 4:00-5:15 pm.
Non-profit careers can be very rewarding. Come talk to experienced professionals and see what opportunities may await you!
Helping professions and human services are vital aspects of our community. If you are considering a helping field as a career, don't miss this opportunity to see what it takes to get started and how to be successful.
Students looking for an internship or volunteering opportunity should not miss this event!
The first 20 students who register and attend receive their choice of a FREE Chick-Fil-A fry or UE Coffee Mug! Register on Handshake today! https://evansville.joinhandshake.com/events/704007
International Club is Recruiting Volunteers
Dear Aces,
The International Club is holding an event called International Food Festival on the 26th of March. We are currently looking for volunteers to assist in decorations and setting up for the event. We would be very grateful if you could assist us. Volunteers are more than welcome to stay longer to help. The hours will count as volunteer hours and there will be souvenirs Here's a link you can sign up! Thank you so much in advance for helping us.
https://www.signupgenius.com/go/9040D4AA4AE2BA6FA7-international
Health Risk Assessment for 2020-2021 Medical Plan Year
UE Health Risk Assessments Update:
For those enrolled in the University's HRA Medical Plan, due to the pandemic and current COVID restrictions, offering onsite health screenings has not been a possibility during the 2020-2021 plan year. Due to these circumstances, medical premiums in 2021-2022 will not be affected by your health screening status. If you wish to complete your health risk assessment in order to earn HRA credits for the current plan year, please schedule your appointment with the onsite medical clinic no later than May 1 at 888-492-8722 or message your clinic nurse through the Ascension Patient Portal. Should you have any additional questions or concerns, please contact Ashley Chipps at ac375@evansville.edu.
UE Intramurals Now Offering ESports Gaming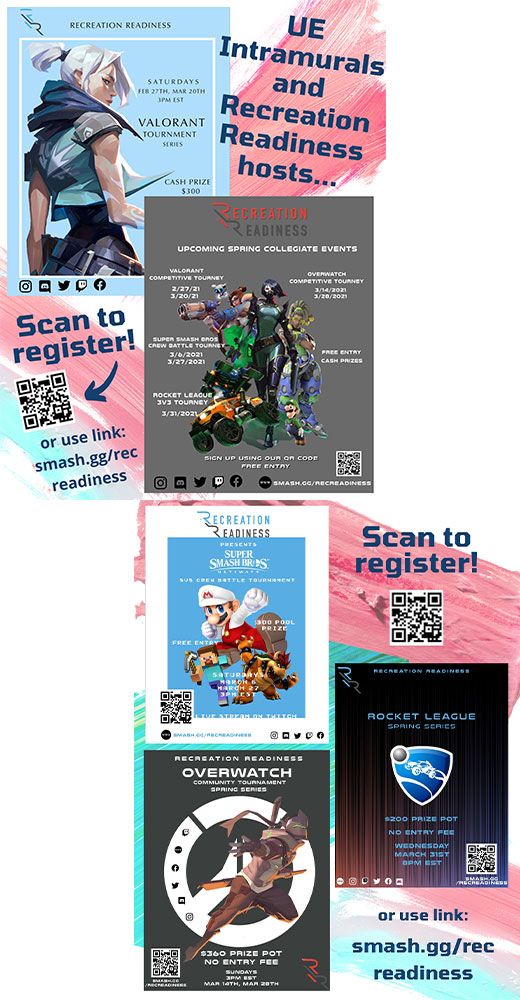 The UE Intramural program is excited to announce upcoming E Sports tournaments provided through Recreation Readiness!
Recreation Readiness invites your esports teams to participate in our FREE spring series and compete against top teams across the country to win cash prizes! For rules and eligibility please contact @ah519 or recreationreadiness@gmail.com.
Games Offered: Valorant, Overwatch, 5v5 Super Smash Bros Crew Battles, 3v3 Rocket League
Schedule:
Sat. 2/27 at 3 pm EST: Valorant ($300 prize pool)
Sat. 3/6 at 3 pm EST: Smash Bros ($300)
Sun. 3/14 at 3 pm EST: Overwatch ($360)
Sat. 3/20 at 3 pm EST: Valorant ($300)
Sat. 3/27 at 3 pm EST: Smash Bros ($300)
Sun. 3/28 at 3 pm EST: Overwatch ($360)
Wed. 3/31 at at 8 pm EST: Rocket League ($200)
Registration closes at Noon EST on day of event
Also, you can find updated info at all social media outlets below:
Discord: bit.ly/recreadiness
Twitch: twitch.tv/recreadiness
Instagram: instagram.com/recreationreadiness
Website: recreationreadiness.org
After registering to play, please contact @ah519 for further instructions.
Recreation Readiness Founders - Jason Gant and Mark Comer
Submit your 2021-2022 FAFSA
File the 2021-22 FAFSA by April 15 at https://www.fafsa.ed.gov
Continuing students should file the 2021-22 Free Application for Federal Student Aid (FAFSA) to apply for federal, state and University need-based financial aid, including all federal student loans. UE's FAFSA code is 001795.
Filing by April 15 is essential for Indiana residents to receive state aid, and highly recommended for all.
Questions regarding the FAFSA should be directed to the Student Financial Services (Olmsted Administration Hall, Room 105) at 812-488-2364.
Dr. Harmon Delivers Invited Talk at World's Largest Annual Physics Conference
Dr. Harmon, Assistant Professor of Physics, gave an invited talk titled "Theory of Oblique-Field Magnetoresistance from Spin Centers in Three Terminal Spintronic Devices" at the American Physical Society's March Meeting on Monday (held virtually). The presentation was part of a symposium of invited talks named "Advances in Spin Transport and Proximity Near Nanoscale Interfaces and Materials". Dr. Harmon's presentation was concerned with clearing up a decade plus old conundrum in spintronics dealing with spin injection into semiconductors using a method called three-terminal detection. Experimental signatures which have been mistakenly interpreted as spin injection are in fact due to magnetic-field dependent hopping through magnet/semiconductor interfaces.
Nerd Wars Champions Crowned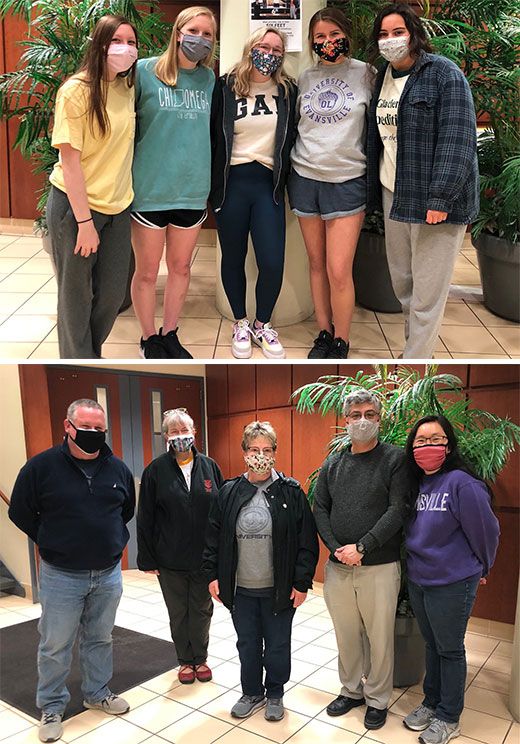 The Honors Activity Board wishes to thank everyone who participated in Nerd Wars on Tuesday, March 16. Our hybrid in-person/virtual event included twenty-three teams of students, faculty, administrators and staff using their trivia knowledge to compete for the title of Nerd Wars Champions. Congratulations to the overall champions, a team of students known as "Ur Mom's Favorite Nerds", consisting of team members Elise Deeg, Anna Bury, Abby Watters, Kendyl Guzman, and Hope Miller. Also, congratulations to the top-finishing faculty team, "Consilience", with team members Dr. Daniel Byrne, Dr. Kristie Hochwender, Dr. Ann Powell, Dr. John Stamm, and Dr. Joyce Stamm.
In addition to providing a night of trivia and entertainment, Nerd Wars is also a philanthropic event to benefit HACER, the Honors Program's community service initiative. All proceeds from the event will support HACER. Nerd Wars participants also took time during the event to write thank you letters that will be delivered to local healthcare heroes.
As a final note, the Honors Program would like to take this opportunity to extend our appreciation for a team with a long-standing history of participation in Nerd Wars – known this year as "So Long and Thanks for all the Fish" but more commonly recognized as the "Enginerds". Thank you for sharing your knowledge, camaraderie and support over the years.
Thanks to all for a fun evening, and we hope to see you again next year!
Vazquez Leads Aces in Finale at Illinois State
University of Evansville junior Alondra Vazquez posted a match-high 17 kills on Monday with the Purple Aces volleyball team falling at Illinois State by a 3-0 final at Redbird Arena.
Vazquez added 10 digs to her kill tally on the way to a double-double. Melanie Feliciano was next up for UE (5-13, 4-12 MVC) with nine kills while adding 10 digs. Rachel Basinski led the way with 16 digs while Cecilia Thon posted 16 assists. Brooke Springer posted a solo block and four block assists while Chloe Bontrager matched Springer's assist total. Sydney Holt led the ISU (11-5, 9-3) offense with 13 kills while Stef Jankiewicz had 41 assists.
Game 1
Illinois State had an excellent start, recording the first five points of the match before going up 7-1. Evansville used a balanced attack to make its way back. Down 11-6, the Aces saw five different players record a kill with Melanie Feliciano, Hannah Watkins, Alondra Vazquez, Chloe Bontrager and Brooke Springer helping UE storm back to tie it up at 11-11. ISU countered with four in a row, but the Aces fought back once again to get back within a point at 17-16. The Redbirds slowly regained control from there, finishing with a 25-20 decision.
Game 2
Evansville once again found itself in an early hole with Illinois State jumping out to a 5-1 lead. Trailing by a 12-8 score, UE scored five in a row to take its first lead of the set. Chloe Bontrager got it started with a kill before Vazquez added one to cap off the streak. Eight ties ensued, leading to a 22-22 score. Evansville scored the next two points, but could not get the clincher. The Redbirds took advantage, outlasting UE by a 28-26 final to open up a 2-0 lead.
Game 3
In a close battle in the early portion of the set, the Redbirds were the first to extend the lead, breaking a 4-4 tie to go up 9-5. The Aces got back within two (11-9) thanks to an ISU service error, but the Redbirds had the upper hand, extending the lead before earning a 25-19 win to seal the match.
Evansville returns to Meeks Family Fieldhouse this weekend to complete the regular season against Valparaiso.
Eryn Gould Named MVC Player of the Week
Eryn Gould slugged 1.800 and reached base 83.3% of the time in the University of Evansville softball team's series against Loyola and was recognized on Monday as the Missouri Valley Conference Player of the Week.
Gould's efforts helped the Purple Aces earn the series victory over the Ramblers with UE taking the final two games of the series. The Mt. Carmel, Ill. native finished with a .833 on-base percentage over the weekend. She reached base with six walks, three of which were intentional, while also being hit by a pitch. Gould batted .600 with three hits in five at-bats but made the most out of those changes, belting two home runs while tallying six RBI.
In Saturday's opener, the senior was walked on three occasions. That tied for the conference's highest mark by a player in a game this season. In the second contest, she garnered another walk, but took full advantage of the pitches that were thrown her way, going 2-3 with a grand slam that lifted UE to a 7-3 victory. On Sunday, another home run was pivotal to Evansville clinching the series. Her 2-run home run in the 5th inning added some important insurance that helped UE finish with a 7-4 triumph. She also walked two more times in the game.
The last time Gould earned a MVC Player of the Week accolade was on April 22, 2019.
Evansville's homestand continues on Wednesday with a 5 p.m. contest against SIU Edwardsville inside Cooper Stadium.
Kenton Crews Named MVC Player of the Week
After recording the first cycle since 1977 for the Aces, University of Evansville baseball redshirt senior Kenton Crews has been named Missouri Valley Conference Player of the Week, it was announced in a release by the Conference office on Monday.
Achieving a feat that has not been accomplished at Evansville in nearly 45 years, Crews turned-in a strong weekend. After making a pinch hit appearance on Saturday and going 1-for-1, Crews shined on Sunday. The Lincoln City, Ind. native opened the game with a triple in the first inning, followed by a double in the third. In the seventh, Crews smashed a two-run home run in the seventh and in the bottom of the eighth completed the first cycle in program DI history with a base hit. Crews was 4-for-5 on the day, recording four RBI and scoring two runs.
The honor follows junior Shane Gray's Pitcher of the Week honor earned after the opening week of the season. The last MVC Player of the Week award was earned by junior Tanner Crews, who received the recognition on Feb. 17, 2020.
The Aces are back at German American Bank Field at Charles H. Braun Stadium this weekend with a four-game set against Xavier, beginning Friday at 6 PM.
UE Reports 91% Outcomes Rate for 2020 Graduates
A recent survey of UE's 2020 graduating class revealed that 91 percent of graduates were employed or pursuing further education within six months of graduation. The median salary of those employed full-time was reported to be $47,500.
The survey was a collaborative effort between UE's Center for Career Development, Office of Institutional Effectiveness, Office of Alumni and Parent Relations, academic departments, and more. Career information was identified from 86 percent of the 518 members of the class of 2020.
UE takes an active role to ensure the success of each student every step of the way, from their first visit on campus to several years after graduation. For over eight years, the Center for Career Development has taken this "end to end" approach and provided a multitude of services that are free to all students and alumni.
When a prospective student first visits campus, they can meet with the Center to review career interests, take a free career assessment, and explore future job opportunities. Current students can make appointments with the Center to receive help with resume and cover letter preparation, mock interviews, career advising, job fairs, and more. The department also has a mentorship program that pairs students with alumni to enhance connections and develop professional relationships. After graduation, the Center conducts ongoing outreach and communication to help ensure each alum's success.
Contribute to AceNotes
To have content considered for inclusion in AceNotes, please submit a Marketing Request Form. Deadline for submission to AceNotes is 10:00 a.m. on the requested date of publication. Only articles concerning UE related/sponsored activities will be accepted. Articles submitted to AceNotes may be edited for length and clarity. Submitter contact information is at the end of each article.