| | |
| --- | --- |
| AceNotes Today | Monday, March 22, 2021 |
Welcome Keely Cutts, Registrar
We would like to welcome Keely Cutts as our new University Registrar. Keely comes to us from Rosemont College in Ardmore, Pennsylvania, where she served as Registrar. Her office is located in the Registrar's Office in Olmsted Hall, and she can be reached at ext. 2602 and email address kc391@evansville.edu. We are thrilled to have her, and she will be a valuable asset to our university. Welcome aboard, Keely!
Ashley Nels has been promoted to Associate Registrar. She has been at UE since January 2016 and previously held the position of Assistant Registrar. Ashley can still be reached at extension 2615 and at email address an89@evansville.edu. Congratulations, Ashley!
This Week in Music
The UE Department of Music Streaming Concert Series continues this week with the Wind Ensemble, led by Dr. Kenneth Steinsultz, and the Symphony Orchestra led by Dr. Chun-Ming Chen. The program will feature American composers Libby Larsen, Paul Creston, John Barnes Chance and Grammy Award winning composer Michael Daugherty as well as music by the famous 19th century German composer Johannes Brahms. Made up of music majors, students majoring in subjects outside of music, as well as community members, the musicians of the UE Wind Ensemble and Symphony Orchestra have been hard at work preparing an eclectic program of music. The stream will be available on Tuesday March 23 at 7:30 p.m. and will remain available for viewing through the end of the week. The link can be found here: https://www.evansville.edu/majors/music/calendar.cfm We hope you will join us online.
Center for DEI Presents: Girlfriend Hour #4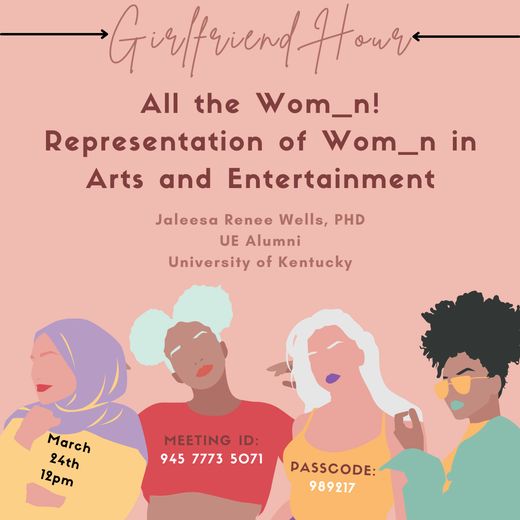 All the wom_n who are independent throw your hands up! Our fourth Girlfriend Hour will be held on Wednesday, March 24th at 12pm via Zoom and the topic is- 'All the Wom_n: Representation of Wom_n in Arts and Entertainment'. Lead by Dr. Jaleesa Renee Wells, a UE Theatre and Business Administration alumni! Dr. Wells is currently an Assistant Professor for Arts Administration at the University of Kentucky. This Lunch and Learn will be an eye opening, stigma breaking conversation exploring ways in which intersectional wom_n are portrayed in the arts and entertainment industries!
March is Wom_n's History Month! Throughout the month of March the Center for Diversity Equity and Inclusion will host a Lunch and Learn series entitled the Girlfriend Hour every Wednesday around 12pm on Zoom! Please check Acenotes and our social media for weekly topics and links! All identifying individuals are welcome to come, share and learn from our weekly speakers.
Please register for- March 24th- All the Wom_n!: Representation of Wom_n in Arts and Entertainment- here: https://evansville-edu.zoom.us/meeting/register/tJAocO6rrT4qHdXLXYhBsKifd4YX8rIXzypu
Meeting ID: 945 7733 5071
Password: 989217
**Link is not the same for all Girlfriend Hours. Please use the specified link/ Meeting ID and Password listed for the specific week!**
Mobile Mammography Coming to UE Soon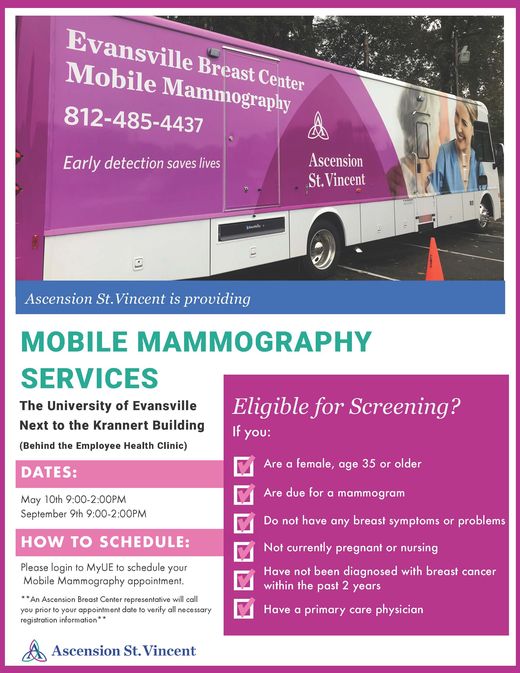 The University of Evansville and the Employee Health Clinic are happy to partner with Ascension St. Vincent to provide onsite Mammography Screenings with their brand new, state of the art, mammography coach! These will be available May 10th and Sept 9th from 9:00-2:00PM. The Mammography Coach will be located on campus next to the Krannert Building--behind the employee health clinic. This preventative screening is a free service for all that qualify. Please click the link below to schedule and see the attached flyer for more details. Email ac375@evansville.edu for additional help.
https://acelink.evansville.edu/Areas/MedicalClinic/MobileMammography/index.cfm
Eligible for Screening?
If you:
Are a female, age 35 or older
Are due for a mammogram
Do not have any breast symptoms or problems
Not currently pregnant or nursing
Have not been diagnosed with breast cancer
within the past 2 years
Have a primary care physician
This Week in Religious Life
SPIRITUAL OPPORTUNITIES
1. The Muslim and Christian Prayer Rooms in Neu Chapel are available for use 24/7. Contact the Muslim Student Association for keycard access to the Muslim Prayer Room.
2. The Center for Diversity, Equity, and Inclusion now offers a spirituality library, including books from eleven different religious traditions. From Brene Brown to Thich Nhat Hanh, and from Christian bead prayers to self-reiki, there is something for everyone. Stop by the Center's conference room to borrow one for yourself.
3. Sign up for Newman Club's Busy Person Retreat from March 28th to March 31st. https://docs.google.com/forms/d/e/1FAIpQLSe7x4W5QTwP7zqOHp3q7jNvTjmNcF9ETUtbVeJ1xao420oirg/viewform?vc=0&c=0&w=1&flr=0
CHRISTIAN WORSHIP
Due to pandemic restrictions, UE will not offer Protestant worship in Neu Chapel this semester. There are several churches in walking distance of our campus that are open for virtual and/or in-person worship on Sundays.
Methodist Temple (masks required)
8:30am, traditional worship
11:00am, contemporary worship
Redeemer Lutheran (masks required)
8:00am and 10:30am, traditional worship
A Catholic Mass is offered each Sunday in Neu Chapel at 1PM.
Animal Behavior Expert to Give Crick Lecture Monday at 4:00pm
Dr. Ellen Furlong (Psychology, Illinois Wesleyan University) will deliver the Spring 2021 Crick Lecture in Cognitive Science and Neuroscience at 4:00pm Monday, March 22nd. Dr. Furlong is a renowned specialist on animal behavior (specializing in dogs and nonhuman primates), and her talk should be of broad interest. The title and abstract of Dr. Furlong's talk are listed below.
You can join us next Monday via the following link: https://evansville-edu.zoom.us/j/96575636017.
From Chimp to Chump: The deep origins of bad decisions
Despite our intelligence humans make many puzzling decisions—we compete when we should cooperate, risk when we should play it safe, and prefer receiving nothing to anything less than our perceived fair share. Why do we make such strange decisions? What are the psychological mechanisms underlying them? I will share some surprising insights my students, collaborators, and I have gained about these questions through our exploration of ape, monkey, and dog minds. Specifically I will discuss how evolution has shaped the way we reason, the mistakes we make, and why apparently irrelevant factors have such sway over our behavior.
Center for DEI & ABLE Present: Disabilities, Background and Culture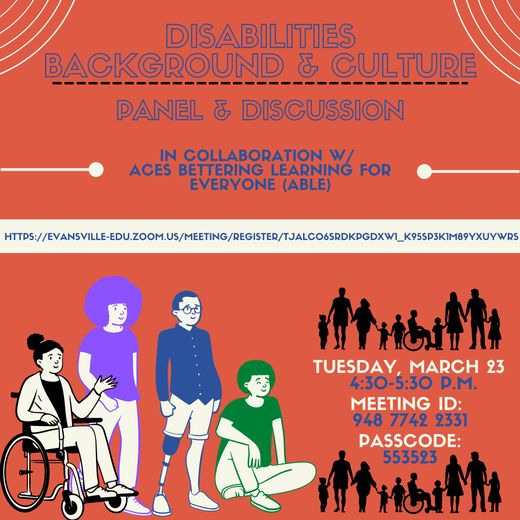 Disability is not inability. Join the Center for Diversity Equity and Inclusion in collaboration with ACES Bettering Learning for Everyone (ABLE) this Disability Awareness Month for a Disabilities, Background and Culture panel and open discussion on March 23rd at 4:30pm via Zoom.
You will hear from a group of current UE students from a range of backgrounds and identities, as well as have the opportunity to share your own thoughts and experiences. Students will discuss their lived experiences and share how the intersectionality of having a disability, individual cultures, and societal culture has impacted their experiences throughout life. This program serves as a safe, inclusive space to ask questions and tackle the stigma surrounding disabilities.
Please register for March 23rd: Disabilities, Background and Culture
Meeting ID: 948 7742 2331
Passcode: 553523
Closed Captioning Available
59th Annual Student Art Exhibition
UE Student Artists are showing their work in this annual, juried show in the Melvin Peterson Gallery. The exhibit includes Paintings, Prints, Drawings, Sculpture, Ceramics, and Jewelry. Awards will be presented on 3/29.
Disability Awareness Month/ Womxn's History Month Challenge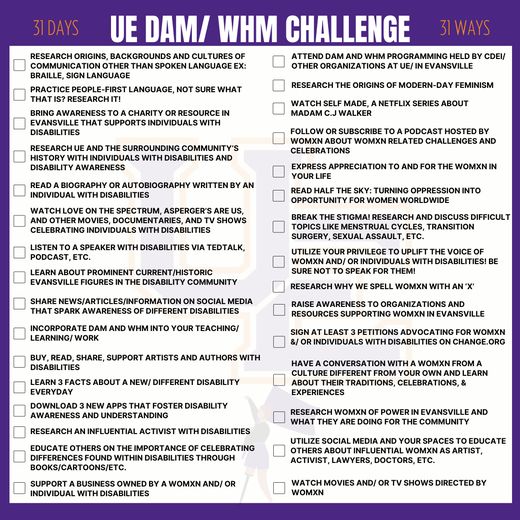 The month of March celebrates Disability Awareness Month and Womxn's History Month. Join the UE DAM/ WHM Challenge sponsored by the Center for Diversity, Equity and Inclusion! In this challenge you will find 31 ways for 31 days of Disability Awareness and Womxn's History Month to actively learn, engage, support, and uplift individual's with disabilities and womxn identifying individuals from Evansville and around the world. Items listed in the challenge can be done personally or in a social group! Hit the library and do some research on why we spell womxn with an 'x', the origins and culture of Sign Language and/ or grab a friend and binge Love on the Spectrum (available on Netflix!). However and whatever you do #DAM/WHMChallenge yourself! To make it extra fun, share what your doing on social media and be sure to tag us!
We can't wait to see the ways in which you all #DAM/WHMChallenge yourself!
Challenge Item List:
Research origins, backgrounds and cultures of communication other than spoken language ex: Braille, Sign Language
Practice People-first language, not sure what that is? Research it!
Bring awareness to a charity or resource in Evansville that supports individuals with disabilities
Research UE and the surrounding community's history with individuals with disabilities and disability awareness
Read a biography or autobiography written by an individual with disabilities
Watch Love on the Spectrum, Asperger's are us, and other movies documentaries and TV shows celebrating individuals with disabilities
Listen to a speaker with disabilities via TedTalk, Podcast, etc.
Learn about prominent current/historic Evansville figures in the disability community
Share news/articles/information on social media that spark awareness of different disabilities
Incorporate DAM and WHM into your teaching/ learning/ work
Buy, read, share, support artists and authors with disabilities
Learn 3 facts about a new/ different disability everyday
Download 3 new apps that foster disability awareness and understanding
Research an influential activist with disabilities
Educate others on the importance of celebrating differences found within disabilities through books/cartoons/etc.
Attend DAM and WHM programming held by CDEI/ other organizations at UE/ in Evansville
Research the origins of modern-day feminism
Watch Self Made, a Netflix series about Madam C.J Walker
Follow or subscribe to a podcast hosted by womxn about womxn related challenges and celebrations
Express appreciation to and for the womxn in your life
Read Half the Sky: Turning Oppression into Opportunity for Women Worldwide
Break the stigma! Research and discuss difficult topics like menstrual cycles, transition surgery, sexual assault, etc.
Utilize your privilege to uplift the voice of womxn and/ or individuals with disabilities! Be sure not to speak for them!
Research why we spell womxn with an 'x'
Raise awareness to organizations and resources supporting womxn in Evansville
Watch movies and/ or tv shows directed by womxn
Have a conversation with a womxn from a culture different from your own and learn about their traditions, celebrations, and experiences
Research womxn of power in Evansville and what they are doing for the community
Utilize social media and your spaces to educate others about influential womxn as artist, activist, lawyers, doctors, etc.
Support a business owned by a womxn and/ or individual with disabilities
Sign at least 3 petitions advocating for womxn and/ or individuals with disabilities on change.org/ other petition websites
UE Theatre Welcomed Dinah Berkeley, Actor and American Conservatory Theater Graduate, for Audition Workshop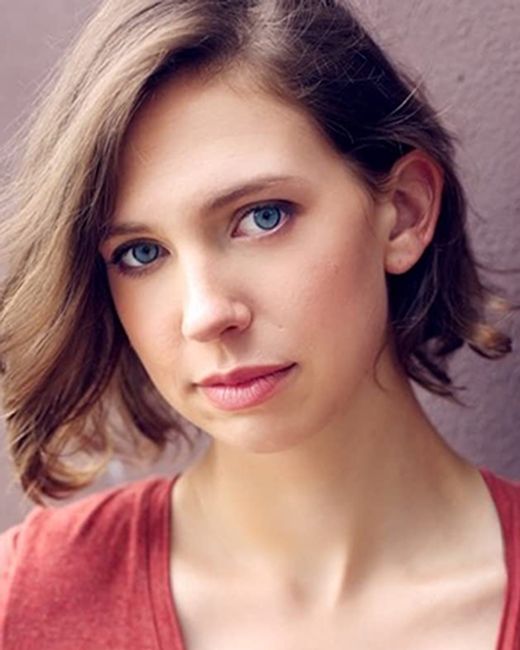 UE Theatre hosted another installment of their 2020–21 Workshop Series on March 14 with Dinah Berkeley. In this workshop, students explored audition techniques that can be used in various graduate school and professional settings.
Berkeley has performed in new works at the ACT, St. Ann's Warehouse, The Humana Festival, Ars Nova, HERE Arts Center, The PIT (People's Improv Theatre) amongst others. They have done extensive work with Dutch Kills and Broken Box Mime Theater companies. They are originally from Chicago and a proud graduate of A.C.T.'s MFA Class of 2020. They received a BFA from Ohio University and attended the Professional Training Company at The Actor's Theatre of Louisville.
AAUP Condemns Violence against Asian Americans
The University of Evansville Chapter of the AAUP strongly condemns the violence against Asian American and Asian people nationwide. We stand in solidarity and support of all Asian-American/Pacific Islander faculty, staff, and students at UE and everywhere.
REL 120: Summer Writing Across the Curriculum and Outcome 4
REL 120 Religion in America will be offered asynchronously online during Summer 1 (May 17-June 18). This course fulfills Gen Ed requirements for both Writing Across the Curriculum and Outcome 4. Please contact Dr. Valerie Stein (vs9) for more information.
ES 103 Offered During Summer Session 2
ES 103 (Fundamentals of Environmental Science), which fulfills the non-lab science General Education credit (Outcome 8), will be offered during Summer Session 2 as an online, asynchronous class. If you have questions about this 3 credit hour course, which will run from June 21-July 23, please contact Dr. Aldred via email - ka59@evansville.edu
BIOL 107 Offered During Summer Session 2
BIOL 107 (General Biology), which fulfills the lab science General Education credit (Outcome 8), will be offered during Summer Session 2 as an online, asynchronous class. Although it is generally intended for those majoring in EXSS, public health, and similar, all majors are welcome! The lab portion of the course will be completed via Labster, an exciting virtual lab simulator! If you have questions about this 4 credit hour course, which will run from June 21-July 23, please contact Dr. Aldred via email - ka59@evansville.edu
HEERF II Grant Distribution Authorization Now Open
HEERF II Emergency Grant funding is now available. All educationally related expenses are eligible for HEERF II funding and may be applied to current and/or future student account balances. Please be aware that funding is limited, and a valid 2020-21 Free Application for Federal Student Aid (FAFSA) submission is required for grant consideration. Grant recipients requesting a refund must have bank information on file as refunds will only be issued electronically via direct deposit.
Eligible students wishing to claim a portion of HEERF II grant funds are required to submit the HEERF II Grant Authorization and confirm bank account information. The deadline to accept these funds is April 15, 2021.
Crescent Magazine New Website
Be sure to check out the Crescent's brand-new website for monthly issues created by student reporters, designers, and photographers! The Crescent is now accepting content submissions and hiring for all positions. See website for more details. https://crescent.evansville.edu
Crescent Magazine is a monthly student magazine published six times during the academic year by and for the students of the University of Evansville. The magazine serves as an open forum for University of Evansville students, faculty, staff, administrators and alumni through its editorials, columns and letters to the editor. With a focus on student life, the magazine provides coverage of campus news, features and sports, and select local and general-interest items of interest to the audience. The Crescent's aim is to present relevant content in a fair, accurate and unbiased manner, to keep news items free of editorial comment, and to use editorial comment as a tool for informing and persuading through the use of factual information and opinion.
Crescent Magazine welcomes letters from UE students, faculty, staff, administrators and alumni, but material the CMEB regards as libelous, malicious and/or obscene will not be published. Letters should not exceed 250 words. For verification, letters must include the author's name, class standing or title and email address. Crescent Magazine does not print anonymous letters or those that cannot be verified. Letters will be edited as needed.
Crescent Magazine is committed to helping you bring your products and services to University of Evansville students and the UE campus community. To advertise in the Crescent Magazine or on the website email crescentmagazine@evansville.edu.
Successful Strategies for Virtual Work
Virtual Career Connections: Successful Strategies for Virtual Work is on March 23rd from 4:00-5:15 pm.
Many positions post-pandemic will remain remote. Are you interested in exploring virtual career options? Join us to hear from alumni/employers in several remote-friendly fields including the finance industry, marketing, communication/multi-media, and more.
Are you interested in searching for remote internships or jobs? Join the discussion with Indianaintern.net and Ascend.
Gain tips and tricks for being successful while working in a virtual world!
The first 20 students who register and attend receive their choice of a FREE Chick-Fil-A fry or UE Coffee Mug! Register on Handshake today! https://evansville.joinhandshake.com/events/703871
BIOL 100 Summer Online Course
Are you interested in taking a non-majors biology course with a lab this summer to fulfill one of your scientific literacy general education requirements? Then take BIOL 100 D01 – Fundamentals of Biology during Summer I (May 17 to June 18). Please contact Dale Edwards (de3) for more details.
Deadline Extended: 2021-22 Dr. Marvin E. Hartig Memorial Scholarship
UPDATE: The scholarship deadline has been extended to Friday, May 7.
Family, friends and loved ones of the late Dr. Marvin E. Hartig are pleased to announce the application process for the Dr. Marvin E. Hartig Memorial Scholarship. This scholarship is dedicated to the loving memory of Dr. Hartig, Dean of Evansville College's Evening College in 1967, and administrator for the Center for Advanced Study, director of the Evansville chapter of the American Institute of Banking (AIB), and the international student advisor. In 1974, Dr. Hartig was appointed Dean of Academic Services. He retired in 1984 after serving his alma mater for thirty-five years and passed away in 2007.
This scholarship will be awarded annually to a deserving sophomore student. Preference will be given to a student working while being enrolled as a full-time student. International students are encouraged to apply.
Eligible students for the 2021-2022 Hartig Memorial Scholarship will be sophomores in the 2021-2022 academic year.
Download the 2021-22 Dr. Marvin E. Hartig Memorial Scholarship application.
Deadline: Please return all materials to the Office of Student Financial Services by April 23, 2021. The decision will be announced by June 14, 2021.
Questions: Amanda Wood, administrative assistant to the Office of Student Financial Services, at aw505@evansville.edu or 812-488-2364
Dr. Harmon Delivers Invited Talk at World's Largest Annual Physics Conference
Dr. Harmon, Assistant Professor of Physics, gave an invited talk titled "Theory of Oblique-Field Magnetoresistance from Spin Centers in Three Terminal Spintronic Devices" at the American Physical Society's March Meeting on Monday (held virtually). The presentation was part of a symposium of invited talks named "Advances in Spin Transport and Proximity Near Nanoscale Interfaces and Materials". Dr. Harmon's presentation was concerned with clearing up a decade plus old conundrum in spintronics dealing with spin injection into semiconductors using a method called three-terminal detection. Experimental signatures which have been mistakenly interpreted as spin injection are in fact due to magnetic-field dependent hopping through magnet/semiconductor interfaces.
Nerd Wars Champions Crowned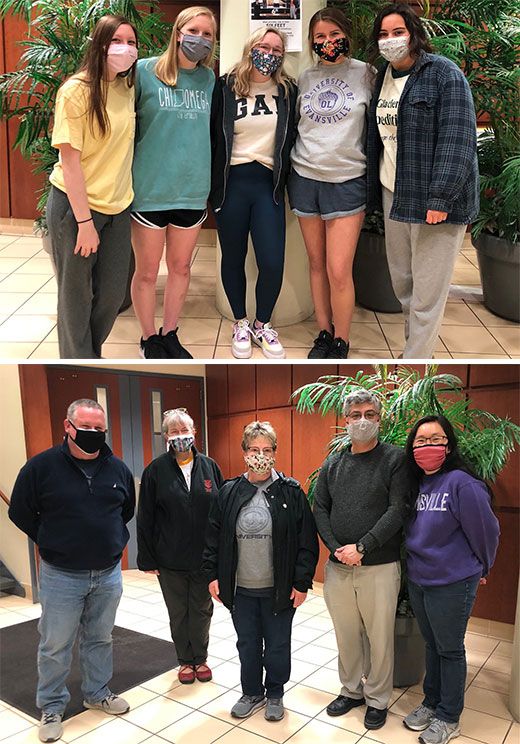 The Honors Activity Board wishes to thank everyone who participated in Nerd Wars on Tuesday, March 16. Our hybrid in-person/virtual event included twenty-three teams of students, faculty, administrators and staff using their trivia knowledge to compete for the title of Nerd Wars Champions. Congratulations to the overall champions, a team of students known as "Ur Mom's Favorite Nerds", consisting of team members Elise Deeg, Anna Bury, Abby Watters, Kendyl Guzman, and Hope Miller. Also, congratulations to the top-finishing faculty team, "Consilience", with team members Dr. Daniel Byrne, Dr. Kristie Hochwender, Dr. Ann Powell, Dr. John Stamm, and Dr. Joyce Stamm.
In addition to providing a night of trivia and entertainment, Nerd Wars is also a philanthropic event to benefit HACER, the Honors Program's community service initiative. All proceeds from the event will support HACER. Nerd Wars participants also took time during the event to write thank you letters that will be delivered to local healthcare heroes.
As a final note, the Honors Program would like to take this opportunity to extend our appreciation for a team with a long-standing history of participation in Nerd Wars – known this year as "So Long and Thanks for all the Fish" but more commonly recognized as the "Enginerds". Thank you for sharing your knowledge, camaraderie and support over the years.
Thanks to all for a fun evening, and we hope to see you again next year!
Aces Drop Opener at Illinois State
Melanie Feliciano led all players with 16 kills in Sunday's series opener at Illinois state that saw the Redbirds take a 3-0 win over the University of Evansville volleyball team on Sunday afternoon at Redbird Arena.
Feliciano hit .286 for the Purple Aces (5-12, 4-11 MVC) and added four digs. Alondra Vazquez recorded 13 kills and 8 digs while Rachel Basinski added 16 digs and four assists. Cecilia Thon and Allana McInnis tied for the team lead with 12 helpers. Leading ISU (10-5, 8-3 MVC) was Kaylee Martin, who totaled 13 kills and hit .345.
Game 1
The teams battled back and forth early on, leading to a 5-5 score. The first significant run of the day belonged to the Redbirds, who scored four in a row to go up 9-5. Evansville took advantage of a pair of ISU errors to get within two at 13-11 before consecutive service aces pushed the Illinois State lead back to four. With ISU still up by four (19-15), they went on to post the final six points of the game to take the opening set by a 25-15 final.
Game 2
Evansville had a nice start to the second frame. After ISU scored the first two points, the Aces registered seven of the next nine points to go up 7-4. Melanie Feliciano had it going, recording four kills over that span. The Redbirds came back to tie it at 9-9, but UE fended off the challenge with Alondra Vazquez posting a pair of kills in a 3-0 stretch. That is when Illinois State turned the tide. A 7-1 run put them back in front by a 16-13 margin and they would go on to take the set by a 25-19 score to grab a 2-0 lead.
Game 3
Another kill by Feliciano saw the Purple Aces tie the set up at 7-7 in the early-going. The teams would force several ties before the Aces jumped in front at 13-12 on an ISU error. Evansville also took a 14-13 lead, but the with the game knotted at 15-15, the Redbirds scored two in a row. The Aces responded, using a Rachel Basinski ace to tie the game at 20-20. Unfortunately, the Redbirds had a counter of their own, going on another late run to clinch the match. ISU reeled of the final five tallies to finish the 3-0 win.
On Monday, the teams meet up for another 4 p.m. match.
Crews Hits for Cycle as Aces Earn Series Win
Redshirt senior Kenton Crews became the first Ace in the NCAA Division I era to hit for the cycle as the University of Evansville baseball team captured the series with a 10-1 win over Butler on Sunday at German American Bank Field at Charles H. Braun Stadium in Evansville.
"So proud of our team to have that kind of performance in the rubber match. We played well in every aspect," remarked Aces head baseball coach Wes Carroll on the win. "We saw the first of many wins for Donovan Schultz in an Aces uniform and Kenton Crews having the cycle! Great day for the Aces."
Evansville flipped the script on the Bulldogs from Saturday's game, scoring four runs in the bottom of the first to take an early advantage. After senior Troy Beilsmith was hit by a pitch in the first at bat of the inning, freshman Simon Scherry promptly stepped to the plate and ripped a double down the left field line to score Beilsmith. Following another free pass with junior Tanner Craig taking a walk, Crews began his big day with a triple to left center that scored Scherry and Crews. The speedy Crews then scored from first on a base hit by senior Craig Shepherd to close the scoring in the inning.
After Butler scored a run in the second, Evansville answered with freshman Mark Shallenberger driving a base hit to center, scoring senior Ben Komonosky.
The fourth inning represented another offensive explosion for Evansville, both coming in quick succession. Komonosky led off the inning and drove a home run to left field, the Canadian's first homer since May 17, 2019. Butler responded with a pitching change, which Beilsmith took advantage of. On the first pitch from the Bulldog reliever, Beilsmith copied Komonosky with a solo shot to nearly the exact same spot, increasing the Aces lead to 7-1.
Freshman Donovan Schultz finished his day on the mound after the fifth with a strong performance, allowing just one run and three hits, while striking-out five.
In the seventh, Crews rounded-out the most difficult portions of his cycle, slapping a two-run homer to left, scoring junior Eric Roberts. Later in the seventh, Komonosky drove in another run with a single to score senior Craig Shepherd.
Replacing Schultz, Roberts slid from designated hitter to the mound where he excelled, finishing the day with a perfect three innings of work with two Ks.
Crews completed his cycle with a base hit that slipped past the shortstop and rolled into left in the eighth.
The Aces recorded 15 hits on the afternoon, while limiting the Bulldogs to just three, closing-out the weekend with the 10-1 win. Through five weeks of the season, Evansville has won all three of its home series.
The senior's cycle was the first for the Aces since Mike Platt completed the feat against Western Kentucky in 1977.
Evansville continues its homestand next weekend with a four-game set against Xavier on Friday, Saturday, and Sunday at German American Ballpark at Charles H. Braun Stadium in Evansville.
Aces Smash Records at Bill Cornell Invite
Multiple school records fell at the Bill Cornell Invite as the University of Evansville track and field team closed out the first outdoor meet of the season.
Continuing where she left off during indoor season, Anna Lowry broke two school records, including the 1500-meter run, finishing second at 4:36.57, and the 5,000-meter at 17:01.17, also taking second, both times rank as the fastest in the Missouri Valley Conference this season. Her 5K time currently sits as the 16th fastest in the NCAA.
Trey Riggs posted a program record in the 110-meter hurdles at a time of 14.66, which helped him finish second in the event. Riggs also took first in the long jump at 6.83-meters, which also ranks as the best mark in the MVC.
Taiza Alexander took down her own school record in the long jump with a mark of 5.41-meters, finishing in fourth.
Evansville will next be in action at the Bill Smith Open hosted by Vincennes University on March 27.
Softball Clinches Opening MVC Series against Loyola
A 5-run fifth inning made the difference on Sunday as the University of Evansville softball team earned a 7-4 victory over Loyola to clinch its first Missouri Valley Conference series of the 2021 season.
Evansville (13-7, 2-1 MVC) picked up six hits on the day but saw seven different players record a walk. Jenna Lis was 2-4 with her second home run of the season and three RBI while Eryn Gould launched her second homer of the weekend. Izzy Vetter picked up her seventh win of the season, fanning 10 batters in six frames. She gave up just two hits.
Vetter was locked in to begin the game, striking out the first seven Loyola (5-13, 1-2 MVC) batters. The first hit of the game was a big one in the third when the Ramblers got on the board with a solo home run from Caitlin Engleking. Evansville's first big scoring opportunity came in the bottom half of the third when the Aces loaded the bases on three walks, but could not push the tying run across the plate.
In the fourth, Evansville's offense came through. After Marah Wood reached on a walk, Jenna Lis connected on her second home run of the season to put the Aces on top – 2-1. One inning later, the bats were right back at it. Halie Fain led off with a walk before Eryn Gould drilled her fifth home run of the season to make it a 4-1 game. Jenna Lis added an RBI hit down the left field line before two more runs scored on an error. In total, the Aces scored five runs in the frame to extend the lead to 7-1.
Loyola made a furious rally, hitting a 2-run homer in the 6th before adding two baserunners with no outs. Vetter regrouped and recorded three consecutive outs to preserve the 4-run lead. The Ramblers scored once in the seventh, but could get no closer with the Aces earning the series win with a 7-4 decision.
Caitlin Engelking and Madison Ebeling posted two hits apiece for LUC.
Next up for Evansville is a 5 p.m. contest against SIU Edwardsville on Wednesday inside Cooper Stadium.
Gould's Grand Slam Helps Aces Earn Split against Ramblers
A 7-run fourth inning helped the University of Evansville softball team earn a 7-3 win to clinch a doubleheader split against Loyola in Saturday's conference opener.
Eryn Gould hit a grand slam while Haley Woolf added a 2-run home run to lift the Purple Aces (12-7, 1-1 MVC) to a 7-3 win in the second contest of the day after Loyola (5-12, 1-1 MVC) took game one by a 1-0 final.
Game 1
Following three scoreless innings, Amelia Thomas got Loyola on the board with a solo home run in the top of the fourth. Evansville stranded two runners in the third and fifth innings, but was ready to make a final push in the bottom of the seventh. Pinch hitting in her first at-bat of the season, Alyssa Barela laced a single to center before being pinch run for by Mackenzie McFeron. UE picked up two walks to load the bases, but a strikeout by Loyola starter Sydney Ruggles ended the game.
Barela had one of the Aces three hits in the contest. Izzy Vetter went the distance, allowing one run on three hits while striking out eight batters. Eryn Gould reached via three walks as Evansville posted eight in the game.
Game 2
After earning three walks in game one, Eryn Gould led the second contest off in the same fashion before reaching second on a wild pitch. Marah Wood singled to shallow left, allowing Gould to reach third with one out, but UE was unable to get on the board. Loyola was poised to take advantage in the top of the second, advancing runners to second and third with just one out. That is when the Evansville defense shined. On a groundout to shortstop, the Ramblers brought their runner home where Haley Woolf threw her out at home. Catcher Jenna Lis defended the plate to preserve the run.
Just as they did in game one, Loyola scored first in the fourth inning, belting a home run to left field at almost the exact same spot as the one in the opener. This one came off the bat of Sydney Barnett, which gave LUC a 1-0 lead. Evansville did not waste any time countering in the bottom half of the frame. After a hit by Marah Wood led the inning off, Haley Woolf hit a home run to left center to put UE in front, 2-1.
The runs kept coming for UE. Lindsay Renneisen had an RBI single before the Aces loaded the bags for Gould. The senior sent the first pitch she faced over the right field fence for a grand slam that put the Aces up by a 7-1 score. Loyola cut the deficit to four with a pair of runs in the sixth. That is where the scoring would finish as the Aces clinched a 7-3 win.
UE had 10 hits in the second game with Gould, McLean, Wood and Lis recording two apiece. Jaime Nurrenbern won her fifth game of the season, going six innings while allowing three runs on seven hits. Gould led all players with four RBI with her grand slam.
Tomorrow, the Aces and Ramblers wrap up the series at 11 a.m.
Aces Fall to Butler's Hot Offense on Saturday
Done in by a hot Butler offense, the University of Evansville baseball team attempted to battle back late, but dropped its Saturday matchup with the Bulldogs, 12-8, at German American Bank Field at Charles H. Braun Stadium in Evansville.
"We were able to get the game tying run to the plate which is all you can ask as a coach when you give up 12 runs," said Aces head baseball coach Wes Carroll. "However we didn't play well enough to win in any aspect of the game. Butler's starter did an outstanding job. Tomorrow is an important day at the Braun."
Evansville found itself in an early hole on Saturday as the Bulldogs got their offense going early. Butler tallied five runs in the first three innings with two runs in each of the first and second innings and another run in the third to take a 5-0 lead.
The Aces scored their first run of the game in the bottom of the fourth as designated hitter Eric Roberts hit a sacrifice fly to score left fielder Mark Shallenberger.
Butler would answer with a run in the top half of the fifth, but Evansville again was there to chip away at the Bulldogs lead. The Aces pushed across a pair of runs in the fifth, cutting the deficit to three runs at 6-3.
The seventh inning saw Butler push its lead back to four at 7-3 and made it difficult for the Aces in the top of the eighth. The Bulldogs put five runs on the board in the eighth, giving them a 12-3 lead.
As has been true all season, Evansville did not go quietly on the day, popping for three runs in the bottom half of the eighth, fueled by three free bases in the inning.
Trailing 12-6 entering the bottom of the ninth, the Aces again gave themselves a chance. With the bases loaded, catcher Max Malley drove a base hit through the left side, scoring Brinkley and Roberts. After Troy Beilsmith walked in the next plate appearance, Evansville brought the tying run to the plate, but Butler's Jack Pilcher closed the door with a strikeout to earn the 12-8 win for the Bulldogs.
Evansville and Butler close their series with a rubber match on Sunday at 1 PM at German American Bank Field in Evansville.
Gray's Gem Powers Aces past Butler in Series Opener
Behind sophomore Shane Gray's brilliant performance on the mound, the University of Evansville baseball team captured a 7-0 shutout victory in its series opener with Butler on Friday evening at German American Bank Field at Charles H. Braun Stadium in Evansville.
"Outstanding effort from Shane Gray tonight. I felt like he was in command all night," said Aces head baseball coach Wes Caroll. "Our offense was able to put a 5 spot up on a very talented pitcher for Butler. It's great to have your 3 and 4 hitters provide 4 RBI's like we got tonight from Tanner Craig and Mark Shallenberger. I also thought Ben Komonosky had a great game."
Gray pitched a dominant eight innings, allowing just two hits and striking-out seven in a return to form for the West Jefferson, Ohio native.
Evansville was able to drop five runs on Butler starter Connor Schultz in the third inning, fueled both by strong offense and struggling defense. The Aces loaded the bases in the inning without an out and generated runs on consecutive at-bats from junior Tanner Craig, freshman Mark Shallenberger, and freshman Simon Scherry.
The five runs in the third helped provide Gray a comfortable lead as four times on the night Gray pitched clean innings, sitting the Bulldogs down in order, including key innings in the top of the fourth and fifth following Evansville's five-run third.
Down the stretch, Evansville added single runs in the seventh and eighth to help pad the advantage as the game entered the ninth. With a seven-run lead, the Aces turned to junior Drew Dominik in the ninth, who picked-up where Gray left off, dealing back-to-back strikeouts to open the inning before producing a groundout to secure Evansville's shutout win.
Senior Ben Komonosky continued a recent hot streak, going 2-for-3 at the plate, scoring twice, and driving in another run. Joining the catcher with multiple hits on the night were Shallenberger (2-for-4, two RBI) and second baseman Brent Widder (2-for-3).
Butler's defense plagued the Bulldogs all night, committing four errors and spoiling a 10 strikeout effort from pitcher Connor Schultz.
The Aces and Bulldogs continue their series at 1 PM on Saturday at German American Bank Field at Charles H. Braun Stadium in Evansville.
Volleyball Travels to Illinois State
As the season is quickly winding down, the University of Evansville volleyball team is looking to set itself up in a position to make its second-consecutive Missouri Valley Conference Championship. That quest continues on Sunday when the Purple Aces open up a series at Illinois State. The teams meet up on Sunday and Monday with each match beginning at 4 p.m.
Last Time Out
A return to Meeks Family Fieldhouse was advantageous for the Aces, who earned a series sweep over Southern Illinois last weekend
Evansville opened with a 3-1 win on March14 before picking up a 3-0 sweep a day later
Alondra Vazquez was the top performer in each contest, recording 22 kills in the first match before adding 17 in the finale...she averaged 5.57 kills and 4.43 digs in the series
Melanie Feliciano added 32 kills in two tries versus the Salukis and led the Aces with 32 digs while Elise Moeller had the top offensive game of her career in the first contest, posting nine kills
Player of the Week
Alondra Vazquez had a spectacular week of action in the sweep over SIU, posting an average of 5.57 kills and 4.43 digs per set while accumulating four service aces, six block assists and one solo while hitting .327
She was recognized as the MVC Player of the Week on March 15 for her efforts, which saw her rise to the top of the MVC with an average of 4.32 kills per set
In her last eight outings, Vazquez has averaged 4.96 kills while finishing with at least 20 in four of those games
The junior currently has an average of 14.00 attacks per set, which leads the Valley and is 2nd in the NCAA
Off to a Nice Start
In the opener against the Salukis, freshman Elise Moeller set her career mark with nine kills before adding seven in the finale...in what was the top series of her freshman campaign, Moeller averaged 2.29 kills while hitting .471
She stepped up defensively in game 2 at Loyola, posting five block assists and has recorded at least one in each of the last four matches
NCAA Rankings
Evansville's season performances have resulted in several national stat rankings on the team and individual side including:
NCAA TEAM RANKINGS
Team Digs - 18th - 1,097
Total Attacks - 25th - 2,413
Attacks/set - 25th - 38.92
Digs/set - 32nd - 17.69
NCAA INDIVIDUAL RANKINGS
Attacks/Set - Alondra Vazquez - 2nd - 14.05
Total Attacks - Alondra Vazquez - 5th - 871
Total Kills - Alondra Vazquez - 15th - 268
Points - Alondra Vazquez - 16th - 298.5
Total Attacks - Melanie Feliciano - 19th - 708
Kills/set - Alondra Vazquez - 33rd - 4.32
Total Kills - Melanie Feliciano - 33rd - 236
UE Reports 91% Outcomes Rate for 2020 Graduates
A recent survey of UE's 2020 graduating class revealed that 91 percent of graduates were employed or pursuing further education within six months of graduation. The median salary of those employed full-time was reported to be $47,500.
The survey was a collaborative effort between UE's Center for Career Development, Office of Institutional Effectiveness, Office of Alumni and Parent Relations, academic departments, and more. Career information was identified from 86 percent of the 518 members of the class of 2020.
UE takes an active role to ensure the success of each student every step of the way, from their first visit on campus to several years after graduation. For over eight years, the Center for Career Development has taken this "end to end" approach and provided a multitude of services that are free to all students and alumni.
When a prospective student first visits campus, they can meet with the Center to review career interests, take a free career assessment, and explore future job opportunities. Current students can make appointments with the Center to receive help with resume and cover letter preparation, mock interviews, career advising, job fairs, and more. The department also has a mentorship program that pairs students with alumni to enhance connections and develop professional relationships. After graduation, the Center conducts ongoing outreach and communication to help ensure each alum's success.
Contribute to AceNotes
To have content considered for inclusion in AceNotes, please submit a Marketing Request Form. Deadline for submission to AceNotes is 10:00 a.m. on the requested date of publication. Only articles concerning UE related/sponsored activities will be accepted. Articles submitted to AceNotes may be edited for length and clarity. Submitter contact information is at the end of each article.