| | |
| --- | --- |
| AceNotes Today | Friday, March 19, 2021 |
Welcome Keely Cutts, Registrar
We would like to welcome Keely Cutts as our new University Registrar. Keely comes to us from Rosemont College in Ardmore, Pennsylvania, where she served as Registrar. Her office is located in the Registrar's Office in Olmsted Hall, and she can be reached at ext. 2602 and email address kc391@evansville.edu. We are thrilled to have her, and she will be a valuable asset to our university. Welcome aboard, Keely!
Ashley Nels has been promoted to Associate Registrar. She has been at UE since January 2016 and previously held the position of Assistant Registrar. Ashley can still be reached at extension 2615 and at email address an89@evansville.edu. Congratulations, Ashley!
COVID-19 Mythbuster
FACT: Drinking alcohol does NOT protect you against COVID-19. The harmful use of alcohol can cause many underlying health conditions, alcoholism, and mental health problems.
COVID-19 Vaccinations for 16 and Older at Ascension St. Vincent
Currently, the Indiana State Department of Health (ISDH) has identified the following Indiana residents as eligible to receive the COVID vaccine:
Healthcare Workers
First Responders
Teachers and school staff in pre-K through high school, child care centers, Head Start and Early Start programs
Licensed childcare providers, including center-based and family care providers
Age 16 and above
Specific groups of patients at highest risk of severe illness from COVID-19 who are identified by their healthcare provider are also eligible. These individuals will receive a unique registration link by text or email.
We will keep our patients updated as eligibility and administration sites broaden. Although currently there is no cost to patients for the vaccine, insurance information will be collected.
Vaccine Scheduling
The COVID-19 vaccine is available by appointment only. No walk-ins will be permitted. Once listed as eligible by the ISDH, go to www.ourshot.in.gov or by calling 211 or 1-866-211-9966 to schedule an appointment.
Detailed instructions
Go to www.ourshot.in.gov
Enter date of birth and attest to being over age 16
Enter zip code and Select Ascension St Vincent Vaccine Clinic location
Select appointment date and time
Complete demographic information including accurate date of birth
Confirm appointment
Ascension St Vincent Vaccine Clinic
For your convenience, the Ascension St. Vincent Vaccine Clinic is open 7 days a week and located on the hospital campus in the Manor Auditorium. When scheduling an appointment on the state website, select "Ascension St Vincent Evansville VAX" as site location. Directions: Enter the parking garage off of Bellemeade Avenue, immediately turn left and follow the directional signage to the designated vaccine clinic parking area. Patients should enter the clinic using the doors adjacent to the parking garage. Tri State Clinics patients are encouraged to call our office at 1-888-492-8722 with questions or for assistance with scheduling at the Ascension St. Vincent Vaccine Clinic.
Spencer County Residents
Spencer County Local Health Department
Heritage Hills High School
Perry County Residents
Perry County Local Health Department
Perry County Memorial Hospital
Posey County Residents
Posey County Local Health Department
Illinois Residents
Phase 1A: Healthcare workers, those in long term care facilities.
Phase 1B : Frontline essential workers, residents 65 years of age or older and under 65 with comorbidities.
Phase 1B+ : IL residents 16+ with disabilities or serious medical conditions. Higher education staff, gov workers, and media. Details and scheduling info at: https://coronavirus.illinois.gov/s/.
Kentucky Residents
Phase 1a: Long term care facilities, healthcare personnel
Phase 1b: First responders, anyone 70 or older, K-12 school personnel
Phase 1C : KY residents age 60+ AND 16 and older with serious medical conditions and essential workers
For locations and to schedule appointment go to: https://govstatus.egov.com/kentucky-vaccine-map or call the KY COVID-19 Hotline - (800) 722-5725 for more information.
Should you have any additional questions, please contact Ashley Chipps at ashley.chipps@ascension.org or Stacey Smith at stacey.smith1@ascension.org
Animal Behavior Expert to Give Crick Lecture Monday at 4:00pm
Dr. Ellen Furlong (Psychology, Illinois Wesleyan University) will deliver the Spring 2021 Crick Lecture in Cognitive Science and Neuroscience at 4:00pm Monday, March 22nd. Dr. Furlong is a renowned specialist on animal behavior (specializing in dogs and nonhuman primates), and her talk should be of broad interest. The title and abstract of Dr. Furlong's talk are listed below.
You can join us next Monday via the following link: https://evansville-edu.zoom.us/j/96575636017.
From Chimp to Chump: The deep origins of bad decisions
Despite our intelligence humans make many puzzling decisions—we compete when we should cooperate, risk when we should play it safe, and prefer receiving nothing to anything less than our perceived fair share. Why do we make such strange decisions? What are the psychological mechanisms underlying them? I will share some surprising insights my students, collaborators, and I have gained about these questions through our exploration of ape, monkey, and dog minds. Specifically I will discuss how evolution has shaped the way we reason, the mistakes we make, and why apparently irrelevant factors have such sway over our behavior.
Center for DEI & ABLE Present: Disabilities, Background and Culture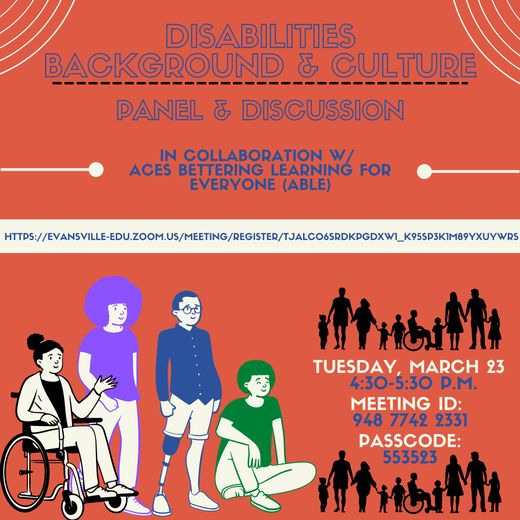 Disability is not inability. Join the Center for Diversity Equity and Inclusion in collaboration with ACES Bettering Learning for Everyone (ABLE) this Disability Awareness Month for a Disabilities, Background and Culture panel and open discussion on March 23rd at 4:30pm via Zoom.
You will hear from a group of current UE students from a range of backgrounds and identities, as well as have the opportunity to share your own thoughts and experiences. Students will discuss their lived experiences and share how the intersectionality of having a disability, individual cultures, and societal culture has impacted their experiences throughout life. This program serves as a safe, inclusive space to ask questions and tackle the stigma surrounding disabilities.
Please register for March 23rd: Disabilities, Background and Culture
Meeting ID: 948 7742 2331
Passcode: 553523
Closed Captioning Available
UE Music Concerto Competition on March 21 at 3:00 PM
The 2021 Vukovich Concerto Competition is on March 21 (Sun) at 3:00 PM. Due to the pandemic, the performance will not be open to any live audience. However, the performance will be live stream through the Department of Music YouTube Channel.
The Winner Announcement will hold through Zoom shortly after the last performer finishes the performance.
Meeting ID: 948 9245 7781
Passcode: GoAces!
This year, we have 12 musicians enter the competition to perform for you. The winner will have the opportunity to perform as a soloist with the University of Evansville Symphony Orchestra next year.
Please join us to cheer for your friends and colleagues.
Health Careers Forum 2021
The Center for Career Development and Exercise and Sports Science Club will be hosting the 2021 annual Health Careers Forum on March 31. The event will run from 6:00 to 8:00 pm. RSVPs are required by March 26 through Handshake and a Zoom link will be sent to join the forum.
Panelists will represent various healthcare fields such as Physical Therapy, Physician Assistant, Medical School, Professional Services, and Human Resources. Join us on March 31 to gain insight into future career paths, hear valuable advice, and make connections!
Disability Awareness Month/ Womxn's History Month Challenge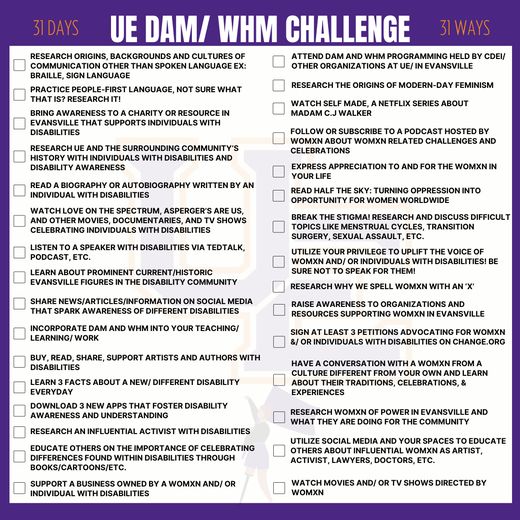 The month of March celebrates Disability Awareness Month and Womxn's History Month. Join the UE DAM/ WHM Challenge sponsored by the Center for Diversity, Equity and Inclusion! In this challenge you will find 31 ways for 31 days of Disability Awareness and Womxn's History Month to actively learn, engage, support, and uplift individual's with disabilities and womxn identifying individuals from Evansville and around the world. Items listed in the challenge can be done personally or in a social group! Hit the library and do some research on why we spell womxn with an 'x', the origins and culture of Sign Language and/ or grab a friend and binge Love on the Spectrum (available on Netflix!). However and whatever you do #DAM/WHMChallenge yourself! To make it extra fun, share what your doing on social media and be sure to tag us!
We can't wait to see the ways in which you all #DAM/WHMChallenge yourself!
Challenge Item List:
Research origins, backgrounds and cultures of communication other than spoken language ex: Braille, Sign Language
Practice People-first language, not sure what that is? Research it!
Bring awareness to a charity or resource in Evansville that supports individuals with disabilities
Research UE and the surrounding community's history with individuals with disabilities and disability awareness
Read a biography or autobiography written by an individual with disabilities
Watch Love on the Spectrum, Asperger's are us, and other movies documentaries and TV shows celebrating individuals with disabilities
Listen to a speaker with disabilities via TedTalk, Podcast, etc.
Learn about prominent current/historic Evansville figures in the disability community
Share news/articles/information on social media that spark awareness of different disabilities
Incorporate DAM and WHM into your teaching/ learning/ work
Buy, read, share, support artists and authors with disabilities
Learn 3 facts about a new/ different disability everyday
Download 3 new apps that foster disability awareness and understanding
Research an influential activist with disabilities
Educate others on the importance of celebrating differences found within disabilities through books/cartoons/etc.
Attend DAM and WHM programming held by CDEI/ other organizations at UE/ in Evansville
Research the origins of modern-day feminism
Watch Self Made, a Netflix series about Madam C.J Walker
Follow or subscribe to a podcast hosted by womxn about womxn related challenges and celebrations
Express appreciation to and for the womxn in your life
Read Half the Sky: Turning Oppression into Opportunity for Women Worldwide
Break the stigma! Research and discuss difficult topics like menstrual cycles, transition surgery, sexual assault, etc.
Utilize your privilege to uplift the voice of womxn and/ or individuals with disabilities! Be sure not to speak for them!
Research why we spell womxn with an 'x'
Raise awareness to organizations and resources supporting womxn in Evansville
Watch movies and/ or tv shows directed by womxn
Have a conversation with a womxn from a culture different from your own and learn about their traditions, celebrations, and experiences
Research womxn of power in Evansville and what they are doing for the community
Utilize social media and your spaces to educate others about influential womxn as artist, activist, lawyers, doctors, etc.
Support a business owned by a womxn and/ or individual with disabilities
Sign at least 3 petitions advocating for womxn and/ or individuals with disabilities on change.org/ other petition websites
ES 103 Offered During Summer Session 2
ES 103 (Fundamentals of Environmental Science), which fulfills the non-lab science General Education credit (Outcome 8), will be offered during Summer Session 2 as an online, asynchronous class. If you have questions about this 3 credit hour course, which will run from June 21-July 23, please contact Dr. Aldred via email - ka59@evansville.edu
BIOL 107 Offered During Summer Session 2
BIOL 107 (General Biology), which fulfills the lab science General Education credit (Outcome 8), will be offered during Summer Session 2 as an online, asynchronous class. Although it is generally intended for those majoring in EXSS, public health, and similar, all majors are welcome! The lab portion of the course will be completed via Labster, an exciting virtual lab simulator! If you have questions about this 4 credit hour course, which will run from June 21-July 23, please contact Dr. Aldred via email - ka59@evansville.edu
HEERF II Grant Distribution Authorization Now Open
HEERF II Emergency Grant funding is now available. All educationally related expenses are eligible for HEERF II funding and may be applied to current and/or future student account balances. Please be aware that funding is limited, and a valid 2020-21 Free Application for Federal Student Aid (FAFSA) submission is required for grant consideration. Grant recipients requesting a refund must have bank information on file as refunds will only be issued electronically via direct deposit.
Eligible students wishing to claim a portion of HEERF II grant funds are required to submit the HEERF II Grant Authorization and confirm bank account information. The deadline to accept these funds is April 15, 2021.
UE Theatre Salon Series Welcomed C. Touchet '11, Cypress Staelin '13, Stoli Stolnack '15, and Avery Reagan '17 for Panel Discussion on Lighting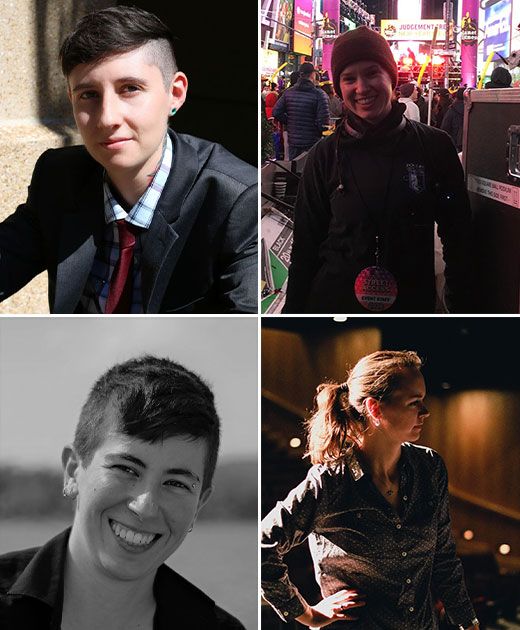 Another installment of the UET Salon Series was held on Wednesday, Mar. 10, with C. Touchet '11, Cypress Staelin '13, Stoli Stolnack '15, and Avery Reagan '17.
Touchet (top left) is currently the Instructor of Entertainment Lighting and Media Production at Louisiana State University (LSU) in Baton Rouge, Louisiana. They hold an MFA in Theatre, with a minor in Women's and Gender Studies, from LSU. In addition to teaching classes, they have been designing lighting and media for LSU Mainstage and Swine Palace for the last three years. Their additional credits include two seasons as the Festival Lighting Designer at the Texas Shakespeare Festival, two seasons as the Production Electrician at Texas Shakespeare Festival, Production Electrician at Utah Festival Opera and Musical Theatre, and Assistant Projection Designer for THE LARAMIE PROJECT at the Ford's Theatre in Washington, D.C. They have taught at The Santa Fe University of Art and Design and have freelanced at The Alley Theatre, Mildred's Umbrella Theatre, University of Houston, and New Aspect Design in Texas, Titan Theatre Company in New York City, and LSU Opera in Los Angeles.
Staelin (top right) graduated from UET in 2013 and moved to Chicago, where she worked as a stagehand across the city at a variety of theatres and production companies before moving to New York City, in 2015. Staelin freelanced for several Off-Broadway companies, as well as for television and events, before beginning to work with IATSE Local 1, in 2018. She now works primarily as both a stagehand and as an ETC programmer on network television, special events, and Broadway productions.
Stolnack (bottom left) is currently a NYC-based lighting designer and associate. Lighting design credits include: TERMINUS (Monk Parrots, NYTW's Next Door Series), QUEEN OF SPADES, STOMPING GROUNDS, and LOST LUGGAGE (Pavilion at The Glimmerglass Festival), and THE MISANTHROPE (Moliere in the Park). Assistant Designer credits include: UNDERGROUND RAILROAD GAME, THE LUCKY ONES, and DR. RIDE (Ars Nova), DANCE NATION and WIVES (Playwrights Horizons), BOESMAN and LENA (Signature Theater Center), FIRE IN DREAMLAND (The Public), SHOW BOAT and LA TRAVIATA (The Glimmerglass Festival), and WEST SIDE STORY (Atlanta Opera). Special effects work includes Assistant Special Effects Designer on BEETLEJUICE THE MUSICAL and effects crew member for New Year's Rockin' Eve 2018–2020. Stoli is also the lighting director for The Glimmerglass Festival in Cooperstown, New York.
After graduating UET in 2017, Reagan (bottom right) spent a summer with The Glimmerglass Festival. She decided to pursue graduate school and studied at the University of California, Irvine, under lighting designer Lonnie Alcaraz. While at UCI, she did as much freelance designer and assistant work as she could find, working as a theatrical, dance, and special event lighting designer. Reagan also worked at Soka University throughout her time in grad school, where she was a Lighting Supervisor. At the end of her time at UCI, she received the Hemsley Lighting internship and is currently working with them to organize this year's portfolio review. She will be continuing with the internship later this fall and early next winter/spring. During the pandemic, she has worked with an architectural lighting company. Post-COVID, she plans to continue her work with San Francisco Opera, NYC Ballet, and Alvin Ailey Dance Company. Most recently, Avery accepted a teaching position with UCI for this spring, where she will be teaching their Intro to Lighting class.
This semester, UE Theatre students will have the opportunity to experience over 25 workshops and salons with various professionals from the entertainment industry.
Financial Aid for Summer Courses
If you are an undergraduate or graduate student seeking financial aid or intending to use loan funds for summer courses at UE, please complete a Summer Financial Aid Application and return to the Office of Student Financial Services (Olmsted 105) however is most convenient. The application will allow our office to assess your aid and loan eligibility.
Work-Study:
On-campus jobs are available for continuing UE students during the summer. You do not need to be eligible for need-based Federal Work-Study during the academic year in order to apply. You may also apply regardless of your enrollment in summer courses. Applications are available within the Student Employment area of WebAdvisor.
Successful Strategies for Virtual Work
Virtual Career Connections: Successful Strategies for Virtual Work is on March 23rd from 4:00-5:15 pm.
Many positions post-pandemic will remain remote. Are you interested in exploring virtual career options? Join us to hear from alumni/employers in several remote-friendly fields including the finance industry, marketing, communication/multi-media, and more.
Are you interested in searching for remote internships or jobs? Join the discussion with Indianaintern.net and Ascend.
Gain tips and tricks for being successful while working in a virtual world!
The first 20 students who register and attend receive their choice of a FREE Chick-Fil-A fry or UE Coffee Mug! Register on Handshake today! https://evansville.joinhandshake.com/events/703871
BIOL 100 Summer Online Course
Are you interested in taking a non-majors biology course with a lab this summer to fulfill one of your scientific literacy general education requirements? Then take BIOL 100 D01 – Fundamentals of Biology during Summer I (May 17 to June 18). Please contact Dale Edwards (de3) for more details.
Champion Ballroom Dance Teacher is Back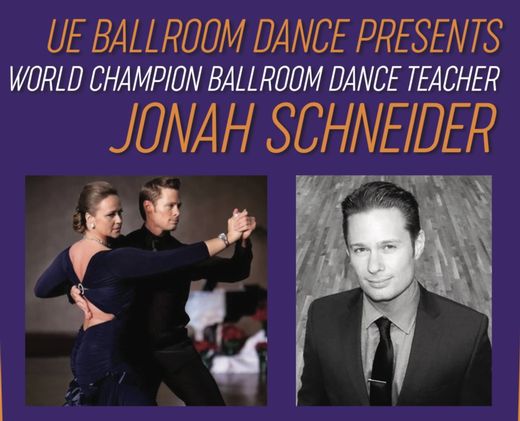 Champion Ballroom Dance Teacher is Back! Saturday, 3/27, Jonah Schneider returns to teach ballroom dance lessons to anyone interested! Ever wanted to learn Waltz, Swing, Cha Cha, Rumba, Fox Trot, Tango or more? He's teaching starting at 10am and going through 5:30pm in 45 minute blocks. First come, first serve. To sign up, text 812-449-1044 or email EL131. Private or group lessons available, masks required. All levels are welcome, no experience necessary! Final details sent upon RSVP.
Summer Sessions Payment Plan
Summer session courses can be added to your monthly payment plan now with no additional set-up fee. If your student is enrolling in summer courses, anticipated summer charges can be included in the spring semester payment plan and the plan extended through May (for Summer 1 charges) or June (Summer 2 charges). The tuition rate for Summer 2021 is $570 per credit hour. Fees per summer term include a $50 registration fee and a $35 technology fee. Online courses are assessed a $50 online course fee. Payment arrangements are due prior to the start of the summer term.
Students should contact the Office of Student Financial Services no later than Reading/Study Day, April 30, 2021 to determine if financial aid is available for their summer courses.
To modify your current payment plan to include summer, contact the cashiers in the Office of Student Financial Services at 812-488-2565.
Dr. Harmon Delivers Invited Talk at World's Largest Annual Physics Conference
Dr. Harmon, Assistant Professor of Physics, gave an invited talk titled "Theory of Oblique-Field Magnetoresistance from Spin Centers in Three Terminal Spintronic Devices" at the American Physical Society's March Meeting on Monday (held virtually). The presentation was part of a symposium of invited talks named "Advances in Spin Transport and Proximity Near Nanoscale Interfaces and Materials". Dr. Harmon's presentation was concerned with clearing up a decade plus old conundrum in spintronics dealing with spin injection into semiconductors using a method called three-terminal detection. Experimental signatures which have been mistakenly interpreted as spin injection are in fact due to magnetic-field dependent hopping through magnet/semiconductor interfaces.
Nerd Wars Champions Crowned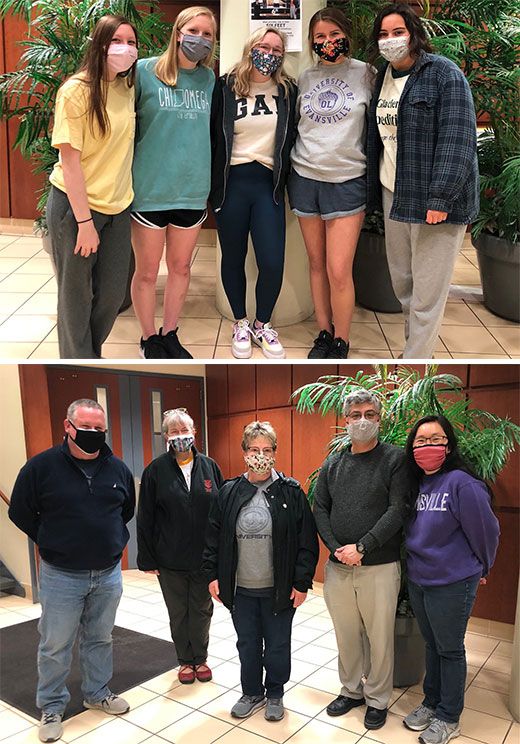 The Honors Activity Board wishes to thank everyone who participated in Nerd Wars on Tuesday, March 16. Our hybrid in-person/virtual event included twenty-three teams of students, faculty, administrators and staff using their trivia knowledge to compete for the title of Nerd Wars Champions. Congratulations to the overall champions, a team of students known as "Ur Mom's Favorite Nerds", consisting of team members Elise Deeg, Anna Bury, Abby Watters, Kendyl Guzman, and Hope Miller. Also, congratulations to the top-finishing faculty team, "Consilience", with team members Dr. Daniel Byrne, Dr. Kristie Hochwender, Dr. Ann Powell, Dr. John Stamm, and Dr. Joyce Stamm.
In addition to providing a night of trivia and entertainment, Nerd Wars is also a philanthropic event to benefit HACER, the Honors Program's community service initiative. All proceeds from the event will support HACER. Nerd Wars participants also took time during the event to write thank you letters that will be delivered to local healthcare heroes.
As a final note, the Honors Program would like to take this opportunity to extend our appreciation for a team with a long-standing history of participation in Nerd Wars – known this year as "So Long and Thanks for all the Fish" but more commonly recognized as the "Enginerds". Thank you for sharing your knowledge, camaraderie and support over the years.
Thanks to all for a fun evening, and we hope to see you again next year!
Softball Opens MVC Action with Home Series against Loyola
Missouri Valley Conference play gets under way this weekend at Cooper Stadium when the University of Evansville softball team plays host to Loyola. A noon doubleheader on Saturday begins the weekend before Sunday's final game is set for an 11 a.m. first pitch. The opening two games on Saturday will be carried by ESPN+.
Last Time Out
In its final non-conference series, the Purple Aces wrapped up the weekend with a 6-2 victory over Western Michigan to grab some momentum heading into MVC action
Jenna Lis posted three RBI in the finale and had a strong weekend, batting .500 with four RBI and a .625 on-base percentage
In the three games against the Broncos, Hannah Hood swiped six bases and batted .500 while Hannah Woolf wrapped up the series batting .455 with five hits and three doubles
Perfection
Sophomore Hannah Hood has converted all 11 of her stolen base attempts in 2021...her tally leads the team and is third in the Valley
In the Western Michigan series, Hood recorded six steals as she reached base 60% of the time...she had four hits in eight at-bats while picking up two walks
Her efforts in three games against the Broncos saw her average rise from .194 to .250 following the weekend
Heating Up
Playing at her home stadium has provided a boost for Haley Woolf, who is batting .471 over the last five games
After starting the season with six hits in her first 19 at-bats, Woolf is 8-for-17 since March 7 while posting five RBI and three doubles
Woolf enters the Loyola series with a 5-game hit streak
Making a Leap
Jenna Lis entered the WMU series batting .250, but a 4-8 showing at the plate in the series saw her average rise to .306
Lis had one of her best collegiate games in the finale, going 2-4 with three RBI to pace her team to a 6-2 win...the three RBI tied her top mark of the season
Aces Back Home for Weekend Series with Butler
After opening MVC play at SIU last weekend, the University of Evansville baseball trip comes back home to open an 11-game homestand beginning with a weekend series against Butler on Friday, Saturday, and Sunday at German American Bank Field at Charles H. Braun Stadium in Evansville.
Last Time Out: Evansville 7, SIU 3
In the series finale, the University of Evansville baseball team snapped a 19-game winning streak for No. 25 SIU with a 7-3 win over the Salukis on Sunday afternoon at Itchy Jones Stadium in Carbondale, Ill.
Great team win today. SIU was one of the hottest team I've ever ran into so it was great to see us show up and play at a high level," said Evansville head baseball coach Wes Carroll. "Great to see our offense get hits and execute when needed. Bullpen came up big to close out the game."
For the first time this series, Evansville scored first, pushing across a run as redshirt senior Troy Beilsmith scored on a groundout by junior Tanner Craig in the top of the first. In the bottom half of the first, freshman pitcher Donovan Schultz got off to a strong start with a pair of strikeouts.
SIU took the lead in the bottom of the third inning as the Salukis put together a three-run inning to open up a two run advantage on the Aces. Evansville responded in the top of the next inning, inching closer with a run on freshman Simon Scherry's fielder's choice that scored freshman Brent Widder.
The sixth inning was key for Evansville on both the offensive and defensive fronts. In the top half, the Aces opened the inning with a Widder walk.
Senior Ben Komonosky came to the plate next and delivered a double, advancing to third on an error, that scored Widder to tie the game at three.
Evansville was not finished in the inning as the next at bat saw Beilsmith drive a sacrifice fly to center that scored Komonosky and gave the Aces a 4-3 lead.
After Komonosky scored, Evansville scored two more runs in the inning on a double by freshman Mark Shallenberger and another sacrifice fly, this one coming from junior Mason Brinkley as UE took a 6-3 lead to the bottom of the sixth.
SIU threatened in the bottom half of the inning, placing runners on first and second with no outs.
Junior Erif Roberts responded, getting the Salukis to ground into a fielder's choice and striking-out a batter for the second out.
Roberts was replaced by Parks for what would be the final at-bat of the inning as Parks struck-out Ian Walters to end the inning.
Evansville padded-on an insurance run in the seventh as Widder opened the inning with a single and found his way home with an RBI single from Scherry.
Leading into the ninth, sophomore Michael Parks pitched valiantly, going 2.1 innings with just one hit and striking-out two.
In the bottom of the ninth, Evansville brought in closer Jakob Meyer, who continued his spectacular spring by sitting the Salukis down in order including an inning opening strikeout to secure the 7-3 win for Evansville.
The win for the Aces was the first for UE over SIU since May 27, 2016, snapping a 13-game win streak in the series for the Salukis.
Previewing the Matchup: Butler
Evansville and Southern Illinois are meeting 111th time when the two sides meet on Friday for the series opener with the Aces owning a 73-37 advantage in the all-time series.
Evansville has won 13-straight games over the Bulldogs, dating back to an 8-3 loss to Butler on March 7, 1997.
The Aces swept a three-game series from the Bulldogs a season ago, taking 8-3, 4-1, and 4-3 wins over Butler on Feb. 28, 29, & March 1, 2020 at Bosse Field.
Butler enters the weekend series with a 2-2 record after taking a game from Purdue Fort Wayne (2-0) and Depauw (16-4) so far this season.
Evansville has won both of its home series to start the season after taking 2-of-3 from NIU and 3-of-4 from Western Illinois.
The Aces look to make it back-to-back seasons winning three-straight home series with a series win this weekend.
Back on Track
After three losses to open the weekend at SIU, Evansville got back on track in its Sunday win over the Salukis.
On Sunday, Evansville recorded seven runs on 13 hits.
The 13 hits were tied for second-most on the season and the seven runs were the most for Evansville on the road this season.
The Aces did all this without generating many free bases, receiving only two walks and being hit by a pitch just twice.
Strong Debut for Roberts
Making his first start of the season for the Aces, Eric Roberts impressed with a strong day at the plate.
Roberts went 1-for-2 at the dish, recording a double and a RBI, while also scoring two runs and earning two walks in Friday's series opener at SIU.
UE Reports 91% Outcomes Rate for 2020 Graduates
A recent survey of UE's 2020 graduating class revealed that 91 percent of graduates were employed or pursuing further education within six months of graduation. The median salary of those employed full-time was reported to be $47,500.
The survey was a collaborative effort between UE's Center for Career Development, Office of Institutional Effectiveness, Office of Alumni and Parent Relations, academic departments, and more. Career information was identified from 86 percent of the 518 members of the class of 2020.
UE takes an active role to ensure the success of each student every step of the way, from their first visit on campus to several years after graduation. For over eight years, the Center for Career Development has taken this "end to end" approach and provided a multitude of services that are free to all students and alumni.
When a prospective student first visits campus, they can meet with the Center to review career interests, take a free career assessment, and explore future job opportunities. Current students can make appointments with the Center to receive help with resume and cover letter preparation, mock interviews, career advising, job fairs, and more. The department also has a mentorship program that pairs students with alumni to enhance connections and develop professional relationships. After graduation, the Center conducts ongoing outreach and communication to help ensure each alum's success.
Contribute to AceNotes
To have content considered for inclusion in AceNotes, please submit a Marketing Request Form. Deadline for submission to AceNotes is 10:00 a.m. on the requested date of publication. Only articles concerning UE related/sponsored activities will be accepted. Articles submitted to AceNotes may be edited for length and clarity. Submitter contact information is at the end of each article.